Garden Diary - November 2011
---
If you have any comments, observations, or questions about what you read here, remember you can always Contact Me
All content included on this site such as text, graphics and images is protected by U.S and international copyright law.
The compilation of all content on this site is the exclusive property of the site copyright holder.
---
November
---
Monday, 21 November 2011
Cranberry Chutney
Cranberries, native American. No one eats them raw. They're baked into muffins, cranberry juice is popular, as are dried (sweetened) cranberries, aka craisins. Cranberries are obligatory on the Thanksgiving table but here's the dichotomy: one school of thought requires the canned version, neatly slid from its metal container complete with the embossed ridges. Then there are those who chop up cranberries with oranges and sugar, stirring all together for a raw relish. Better, but . . . . how about something like cranberry chutney, with some flavor and savor, fruit and sugar and spices.
Here's the recipe for cranberry chutney from my book,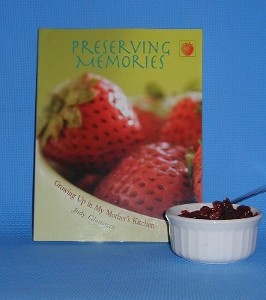 Preserving Memories: Growing Up in My Mother's Kitchen
My daughter had been given the recipe from her friend DeeDee Stevens, whose husband was my son-in-law's Marine Corps flight instructor. Every fall DeeDee would make cranberry chutney to serve with turkey or ham, put in after-Thanksgiving sandwiches, and on pork chops or pork loin roast. I like it with a small round of brie, baked. Or with cheddar cheese.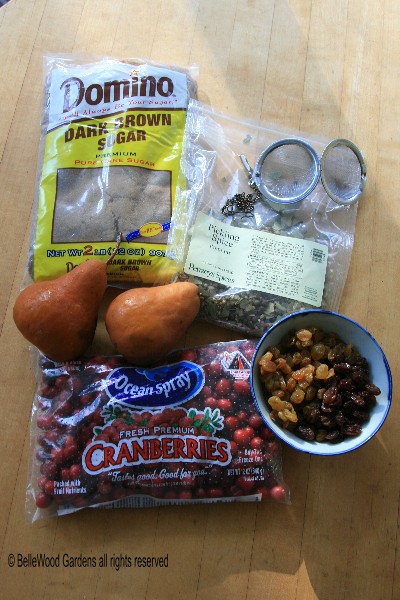 Cranberries and brown sugar, with winter pears, raisins, and pickling spices.
Place 2 teaspoons of pickling spice, 6 whole cloves, and 5 whole allspice in a large tea ball, or tie in cheesecloth. Set aside.
Place 1/2 cup water in a large, non-reactive saucepan or Dutch oven (avoid aluminum or copper.)
Rinse and pick over 4 cups of fresh cranberries, then add to saucepan.
Measure 1/2 to 3/4 cup each dark raisins and golden raisins, and add to saucepan.
Peel, core, and coarsely chop 3 or 4 firm ripe winter pears (my preference is for Bosc) and add to saucepan.
Add 2 1/2 cups dark brown sugar. Stir to mix the ingredients.
Add tea ball with spices, burying it in the other ingredients.
Bring to a boil over high heat, then reduce heat to low, stirring occasionally to prevent scorching.
Cook until thickened, about 40 minutes. Remove spices.
You can either allow the chutney to cool, pack into jars and refrigerate, where it will keep well fro a couple of months.
OR
you can pack while hot into sterilized canning jars, sealing the jars with two piece metal lids and processing in a boiling water bath for 10 minutes.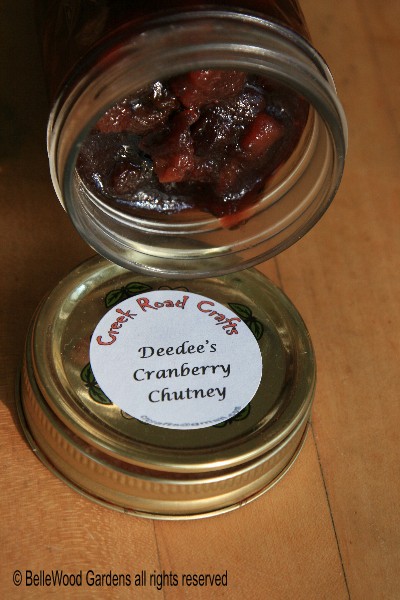 I'd suggest making this chutney a week or two ahead, which allows
the flavors to mellow. It's good right from the preserving kettle too.
---
Back to Top
---