Garden Diary - September 2011
---
If you have any comments, observations, or questions about what you read here, remember you can always Contact Me
All content included on this site such as text, graphics and images is protected by U.S and international copyright law.
The compilation of all content on this site is the exclusive property of the site copyright holder.
---
September
---
Wednesday, 28 September 2011
Gardens of Bryn Athyn Cathedral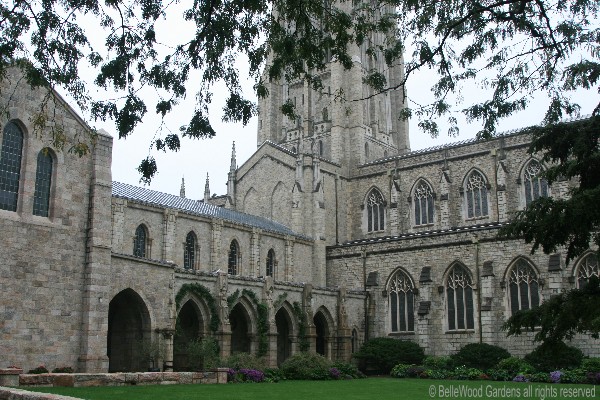 Today's outing of the Tohickon Garden Club saw more than a dozen members carpooling to Bryn Athyn, Pennsylvania to visit the gardens of Bryn Athyn Cathedral. An international Swedenborgian church built in the early 20th century, Bryn Athyn Cathedral serves as the episcopal seat of the General Church of the New Jerusalem.The main cathedral building in Gothic style while the northern and southern buildings are in the early Romanesque tradition. The background details of the cathedral's construction are fascinating.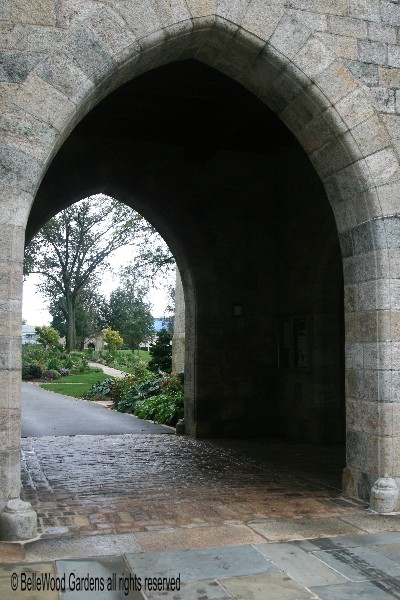 The little brochure we're each given recommends beginning a tour
at the port-cochère and circling the cathedral counter-clockwise, thus
moving from north to west. Today is so overcast I'm unable to tell.
Head gardener Danielle Ohdner is our guide. Starting as a volunteer, over time she's moved to this position and now supervises paid crew and the volunteers. And indeed, the gardens are beautifully maintained. As we begin our tour she mentions how she uses color in the gardens, not merely as an aesthetic component of the plantings (though that is also important) but as part of the Swedenborgian theology. (Keep in mind that the spectrascope had not yet been invented when Emmanuel Swedenborg put forth his theological writings in the 18th century.)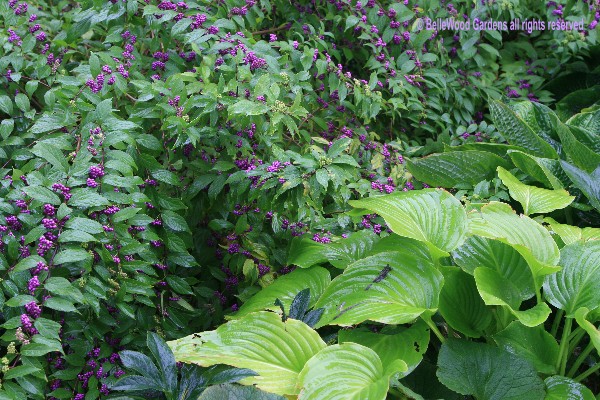 We start off with the Shade Garden, where beautyberry, Callicarpa, displays its vividly purple fruits
against hostas with leaves in various shades of green. Note the dark green of Helleborus × orientalis.
We're actually at the edge of the Shade Garden, near port-cochère and adjacent to the car parking area.
On-line information provides details about this combination of theology and color theory. For example: "Green is composed of blue combined with yellow. It is the general color of foliage, prevailing everywhere in nature, all over the surface of the earth. Now, blue is the color of the love of truth, and yellow is the color of good works, which are spiritual grains and fruits. Green, therefore, represents the love of truth for the sake of uses."
Also: " The many purples that are composed of shades of blue and red combined are to be understood in the same way, as the colors of intelligent love of truth from various kinds of warm affection, according to the quality of the red." According to Swedenborg, the warmest red, the pure crimson of the finest rubies, is the color of that deepest human love -love to the Lord. "Blue represents the truth, on the intellectual side of our nature, as distinguished from red, which represents our affectional side." It was 19th century artist George Inness who took these concepts to heart both in his paintings and with published articles, describing colors as exhibiting identifiable properties determined by an intrinsic relationship between particular hues and values, and particular spiritual and emotional qualities.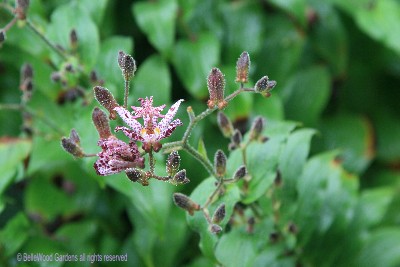 Seasonal plants are making a grand display. Tricyrtis hirta was next
to vivid magenta Lespedeza thunbergii 'Gibraltar' which was, alas,
beaten down by all the rain. But I could imagine how fine it would be.
Forget the common name of Montauk daisy since Nipponanthemum nipponicum is native to Japan.
Elegant pure white flowers in early autumn on an easy-care cut-back subshrub. Prune almost to the
ground in early Spring, then wait for September / October flowering. Nice with ornamental grasses,
or here, with Aster 'Purple Dome'. Requirements are pretty basic. Full sun, good drainage, and it's happy.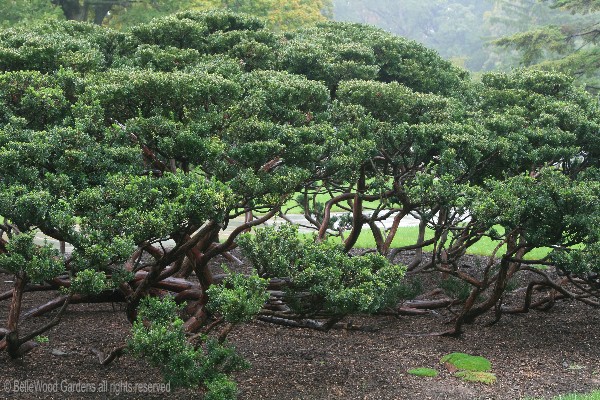 Druids associate the yew with immortality, renewal, rebirth, and transformation. Churchyards, especially
English and Irish, have yews. So it is not especially surprising to find one here. But I love the pruning,
creating see-through trunks and cloud-pruned green billows of foliage on this 60-year-old specimen.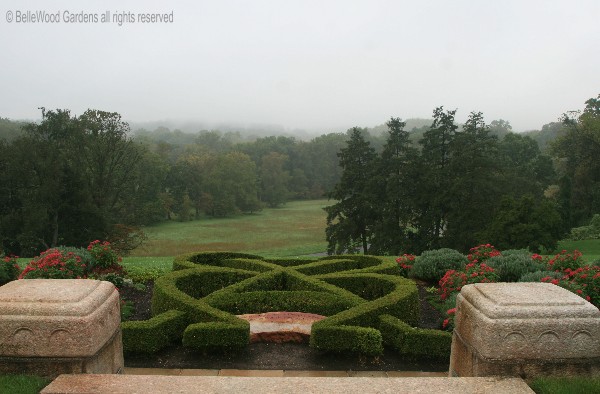 Facing west, looking over a rolling expanse of lawn and distant trees is the Alpha and Omega Terrace,
with the Greek letters formed from low growing, immaculately clipped boxwood. Parterre with a purpose.

.

An aside here: the turf used to be golf course bent grass, mown 3 times a week and, in Danielle's words,
constantly on chemotherapy. A few years ago it was replaced with rye grass which needs much less care.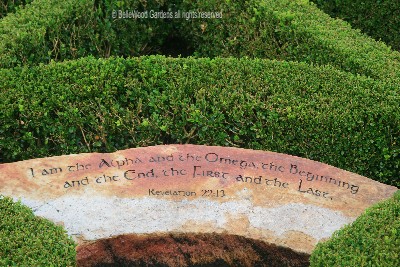 One of the on-staff stone masons carved the inscription from the twenty-second chapter of Revelation.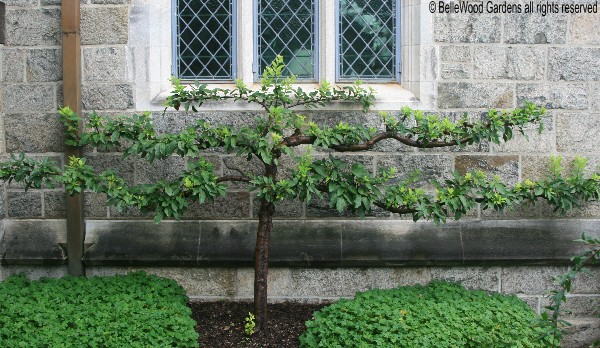 We continue our pleasant stroll around to the sheltered South Terrace and Chapel Gardens. A lovely
espaliered apple, as well as crepe myrtles, several Brown Turkey figs, and even a pomegranate, symbolizing
fruitfulness and the full cycle of human life and regeneration. Danielle appreciates it when people eat the fruit.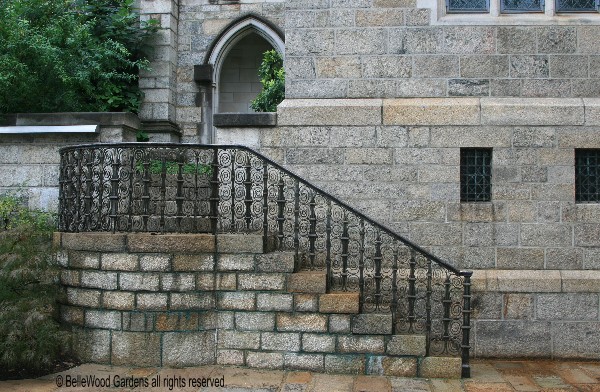 The delicate scrolling ironwork of the bridal staircase railing, a perfect location for wedding photos.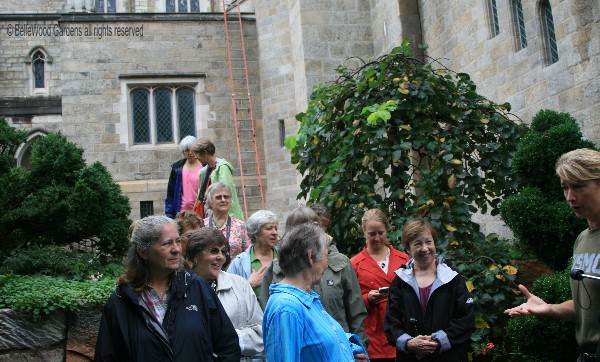 Down a few steps and we're clustered together, listening to another of Danielle's fascinating stories.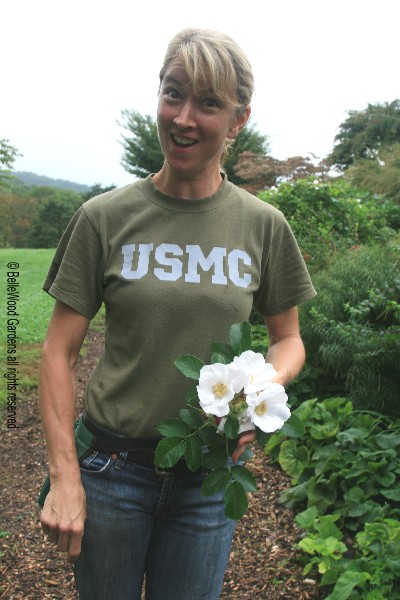 She's very good about snipping off and handing over a piece of this or
that plant she was talking about, so we could pass it around to get
a good look. Here, it was delightfully fragrant Rosa rugosa 'Alba'.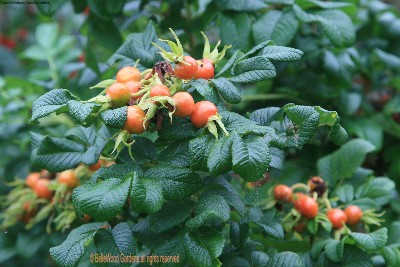 Most of the Rosa rugosa had formed their hips, just now turning
orange. I love to wait just after a light frost, then forage for hips to turn
into a delicious jam. It's easy. Cook, puree, half as much sugar as pulp.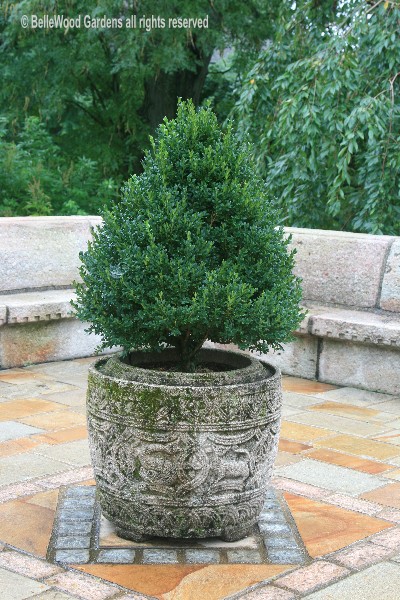 Our circumnavigation of the cathedral is nearly complete. We pause
on yet another terrace with stone seat and partial backdrop of various
Japanese maples, now subdued but soon to be in vibrant autumnal hues,
fiery shades of red, the color Swedenborgians believe given to love of the
Lord. And also, evergreen, a boxwood in a magnificently carved stone pot.
---
Back to Top
---