Garden Diary - May 2011
---
If you have any comments, observations, or questions about what you read here, remember you can always Contact Me
All content included on this site such as text, graphics and images is protected by U.S and international copyright law.
The compilation of all content on this site is the exclusive property of the site copyright holder.
---
May
---
Thursday, 26 May 2011
Peony Talk at Back to Nature Home and Garden Center
---
It's peony season. Fabulous plants that live for 50 years, even more. Now that's perennial! And today Back to Nature Home and Garden Center in Basking Ridge, New Jersey is hosting a talk by Chris Rubino of Monrovia. Who's that? A reputable wholesale source of many new and exciting as well as familiar and reliable plants. No wonder that Back to Nature Home and Garden Center is a purveyor of their plants, including Itoh peonies, an intersectional cross of herbaceous and tree peonies. Hence today's talk.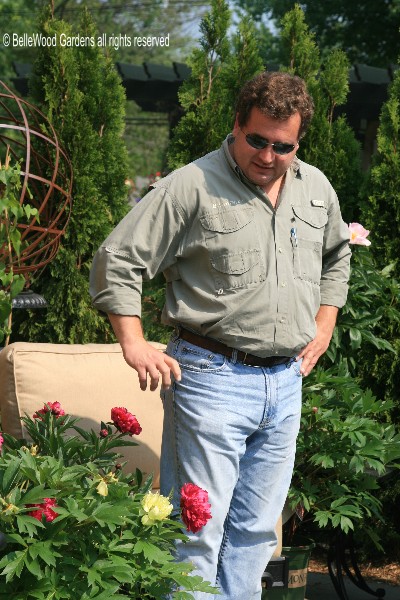 Chris takes a look at a couple of the demonstration peonies for his lecture.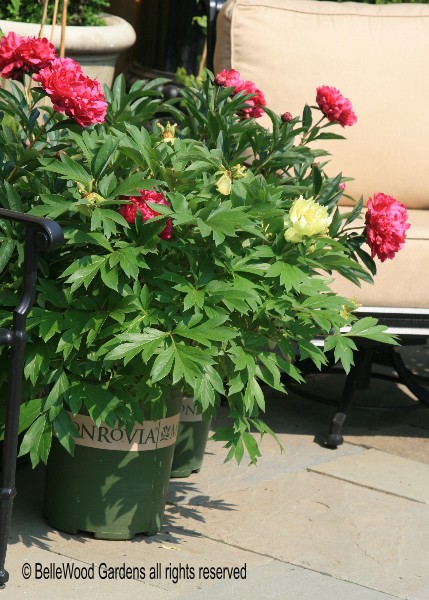 Look at the size of those flowers! And notice the branded containers -
Monrovia's plants are always offered for sale in sturdy forest green pots
with that tan band, name in green. Large or small, always the same design.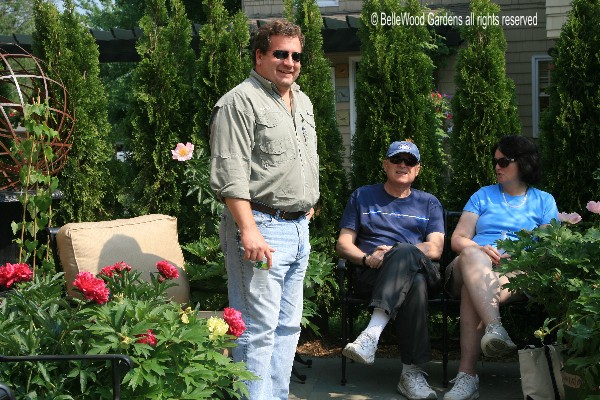 Chris and a couple of his students. He packed a lot of information into his presentation, even discussing
the conundrum of ants on peony buds (Chris says ants eat the sticky sap, which helps the buds to open),
and if you cut peonies just as the buds show color and feel a little soft when gently squeezed that they'll
last up to six weeks in the refrigerator. Take the flower buds out, place in a vase, and watch them open.
.
A friend of mine has a couple of Itoh peonies. The flowers are 8 inches across, with a dozen on the plant.
.
Later this summer and into fall I have lectures scheduled at Back to Nature Home and Garden Center.
The first talk will be on Thursday morning, June 23, all about familiar and exotic"Sizzling Summer Bulbs"
Caladiums, cannas, elephant ears and more. You can register here on the Back to Nature Home and Garden website