Garden Diary - December 2011
---
If you have any comments, observations, or questions about what you read here, remember you can always Contact Me
All content included on this site such as text, graphics and images is protected by U.S and international copyright law.
The compilation of all content on this site is the exclusive property of the site copyright holder.
---
December
---
Saturday, 10 December 2011
Bulb, Bird, Kitten
When I was at Atlock Farm just last week (see here) there was a bulb in the staff greenhouse with a large green flower bud. "You should come back next week, when the flower opens." said Ray Rogers. "It's a Paramongaia weberbaueri" But of course. And today I came back to see it in bloom.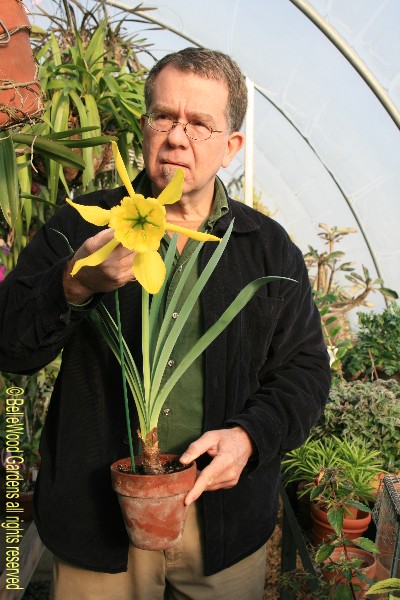 The stunning golden flower is huge. It looks somewhat like a daffodil
and also reminds me of Hymenocallis. It has a light, floral perfume.
Ray's looking so serious because it's an awesome responsibility, holding
the pot. If the stem breaks it's like the world will end. Careful now . . . .
Two different specimens were in flower, and there are several offsets, potted separately. I foresee
a future Atlock farm event, with a bench filled with paramongaia in bloom. Champagne all around.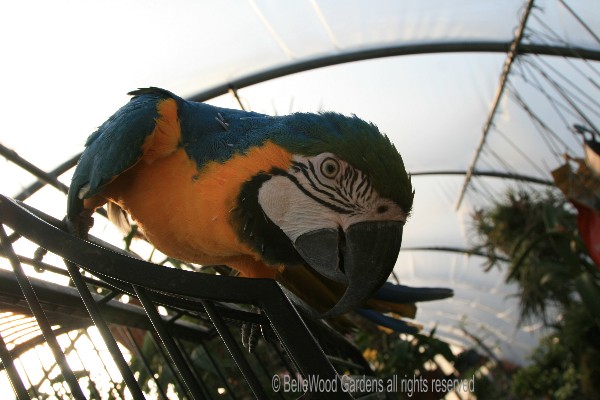 This is the same greenhouse where Isabelle, the blue and gold macaw is also at home.
She often goes by Izzy or Isabird. I swear she's waving at me but Ken Selody claimed she's
just exercising. What's your opinion? Unfortunately she doesn't take to strangers so I couldn't
scritch her head feathers while cooing to her. Will have to find treats to bring next time I visit.
.
Peanut was having a nap, comfortably curled up on a synthetic fur throw, ignoring Isabird. And me.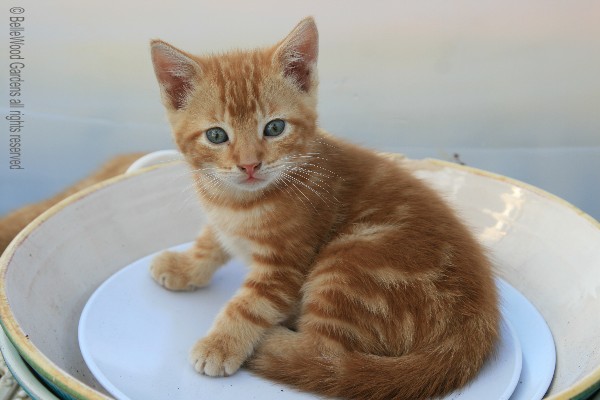 A week is a long time in the life of a kitten. Big changes from five to six weeks old. Even more adorable.
I always have a wonderful time at Atlock Farm. Great plants to admire and / or buy, good people, charming cats.
---
Back to Top
---