Garden Diary - December 2011
---
If you have any comments, observations, or questions about what you read here, remember you can always Contact Me
All content included on this site such as text, graphics and images is protected by U.S and international copyright law.
The compilation of all content on this site is the exclusive property of the site copyright holder.
---
December
---
Saturday, 3 December 2011
Winter Open House at Atlock Farm
A message arrived from Atlock Farm with an invitation to a winter open house at their nursery in Somerset, New Jersey. What fun! I've always enjoyed their events. Lovely garden-related items to purchase, superb plants for sale, their display gardens in winter guise - and, the weather is going to be perfect, with sun and mild temperatures. Circled the date on my calendar, invited a friend to join me, and made plans for a morning outing.
Slowing down, waiting for the turn . . . . . here's the sign. Into the driveway. We've arrived.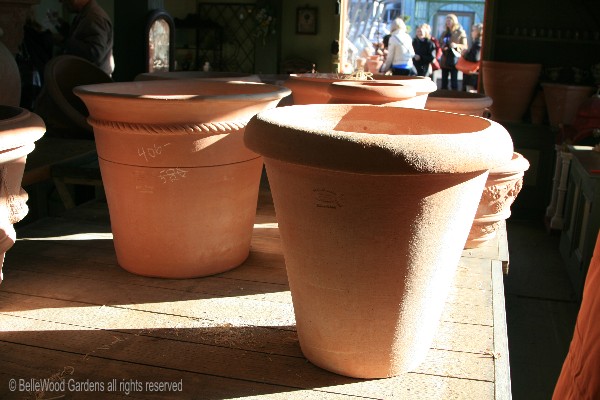 One special feature of the open house: it's a joint event of Atlock Farm with Seibert & Rice, purveyors
of classic terra cotta made in Impruneta, Italy. Stately pots large enough for specimen trees, small ones
for a hand-size plant. Hand built in the traditional manner by the third generation of family artisans, and
others made in a mold then finished by hand. There are classical rolled rim pots, elegantly simple.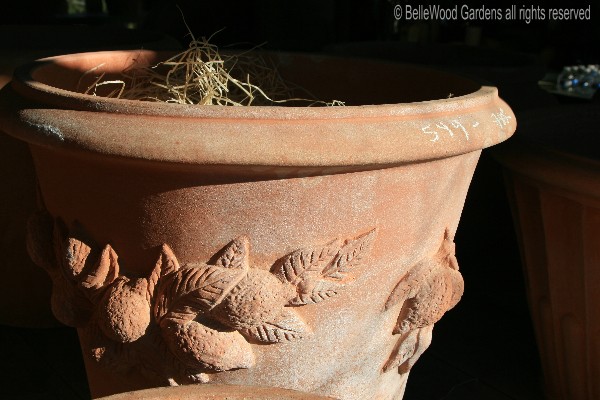 Other pots are beautifully embellished with swags and garlands of terra cotta foliage and fruit.
The first building and its attached greenhouse has a diversity of pots. A few "things" - teapots,
a dollhouse size tea set, little glazed chickens that double as containers - for a ring, salt & pepper.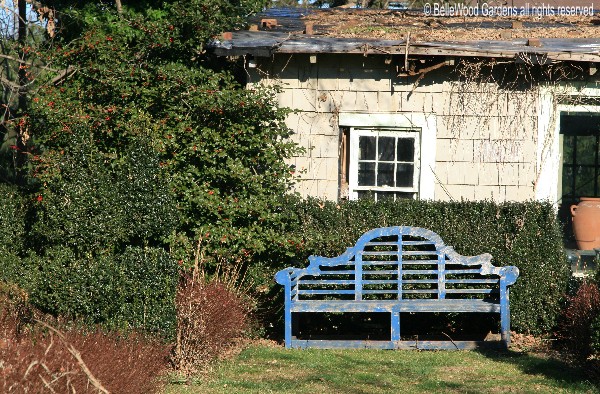 Georgia and I step outside into the sunshine, and enjoy the focal point of a weathered, peeling paint blue bench.
With a chortling chorus of cackles a group of Guinea fowl trundle into view. No wonder the paint peels.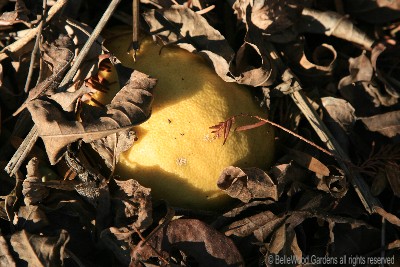 As we continue to stroll down the path, passing another garden room
I see something golden in the leaves. What's this? A Ponderosa lemon
that must have fallen off the trees when they were moved from outdoors
into a greenhouse for the winter. Some of the trees, when we found them,
have lemons the size of grapefruits. There's another tree with very odd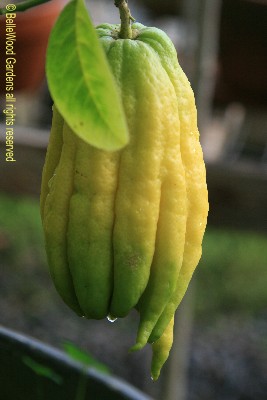 fruit. It's a rarity, a Buddha's hand lemon.
And two kumquats, loaded with fruit. I made
polite, admiring, covetous noises. However
Ken Selody is very fond of kumquats. So no
marmalade from these orange-hued fruits.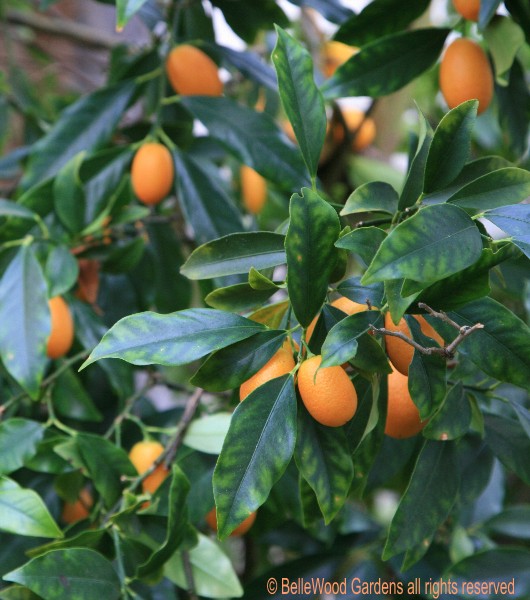 .
Atlock Farm is renown for their standards, plants trained to a single trunk.
Produced on site with a diversity of plants, some, like coleus are easy since
they are quick growing. This scented geranium with attractively variegated
and fragrant leaves, takes more time. I like its festive holiday garlands.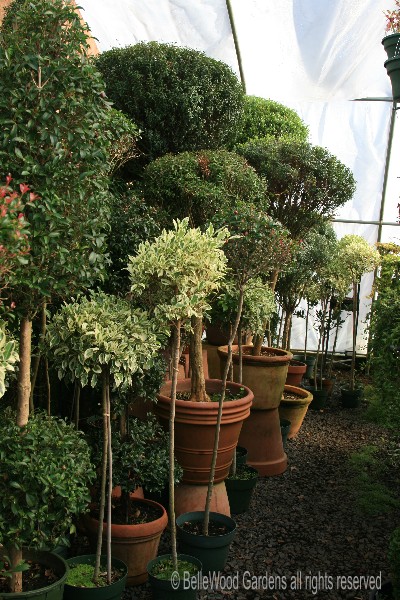 Standards created from shrubs such as sweet myrtle and jasmine take even longer.
Greenhouses filled with citrus and topiaries are just the start. There are
for example, a diversity of succulents, all well grown and impeccably groomed.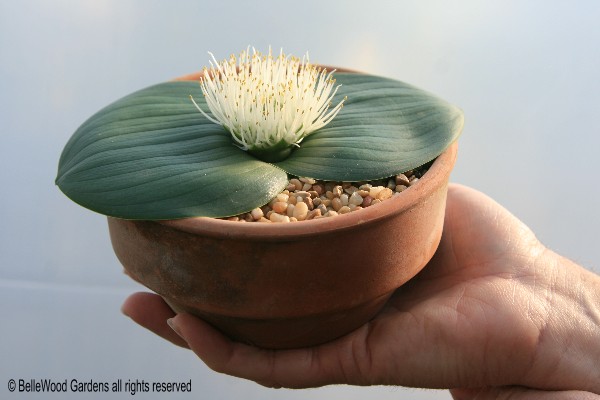 Massonia echinata, a South African bulb. Not for sale.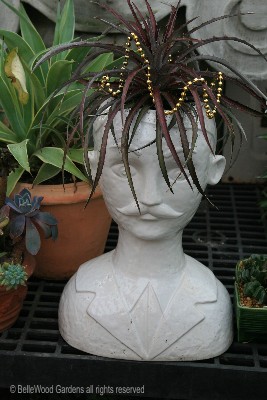 Atlock Farm. It's not a staid and stodgy sort of place.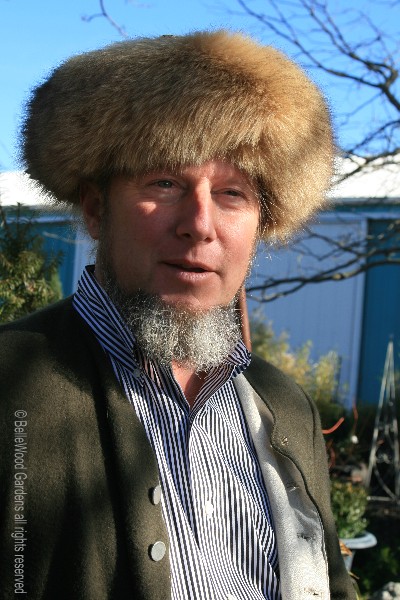 Ken Selody, amiable founder and focus of the place.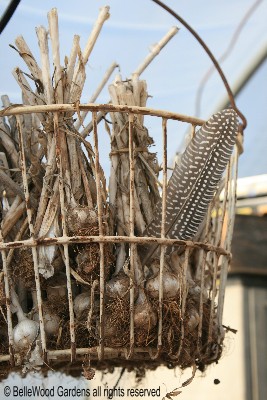 Along with such kitchen gear as a coffee pot
the staff greenhouse has a basket of garlic and
a Guinea hen feather. Plus kittens, three of them.
At 5 weeks old this is one of the three youngest kitties. I confess
I'm a sucker for orange cats. Never had one. Do have three cats
at home and I'm told that they're enough. Still and all - he's sweet.
This is the youngest of the several generations of cats who live at Atlock Farm, a respected lineage of cat begats: (herewith, and with thanks to Ray Rogers): Ivy the calico begat six kittens. We kept longhaired Posey (gray and white.) Posey begat five kittens, and we kept male Black and female Jill (both very black except for a few white hairs on their chests.) Every kitten we didn't keep ended up in good hands. Another line begins with Madera, the wood-grained semi-feral who begat two male cats - Pat (strongly marked gray and black; maybe considered a mackerel tabby?) and Tony (orange/ginger tabby) and their sister Alice, the ghostly patterned mother of two litters (and the only mature one who has not gone under the knife to revoke privileges, but she will soon, that's for sure.) She begat four in the first litter (all placed in good homes) and three in this current one of two orange/ginger kittens and one black and brown stripe-y little tabby.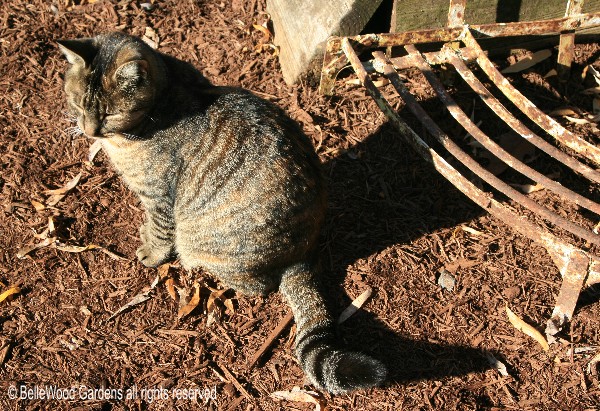 Peanut is a "miscellaneous" kitty, the remaining one of four kittens born to a very feral mother
who disappeared soon after the kittens were rescued from the barn when about a month old.
Very affectionate, she welcomes visitors and enjoys a perch up on Ray Roger's shoulder.
Time spent in the company of friends, in a garden. Quality items for purchase. Superb weather.
Guinea hens. And cats. Wonderful day.
---
Back to Top
---