Garden Diary - September 2011
---
If you have any comments, observations, or questions about what you read here, remember you can always Contact Me
All content included on this site such as text, graphics and images is protected by U.S and international copyright law.
The compilation of all content on this site is the exclusive property of the site copyright holder.
---
September
---
Thursday, 8 September 2011
After the Rain
The visitation of Hurricane Irene was accompanied by torrential rains that toppled trees whose roots
simply could not hold in the saturated soil. But that was a week and a half ago. Streams and rivers are
receding, muddy basements cleared out, electricity restored. Things are getting back to sort of normal.
We heard it raining, last night. Sounded kind of heavy. Didn't think anything much of it, just went back to sleep.
It doesn't have to be a hurricane to precipitate a problem, especially with the previous, recent drenching.
There was 3.55 inches in the rain gauge when we got up. In less than 12 hours. And yes, it was a problem.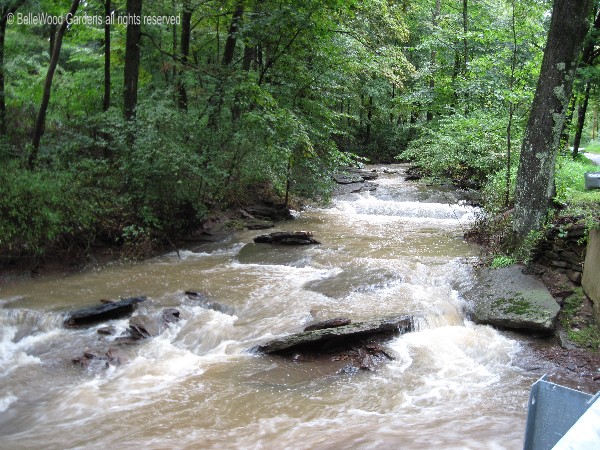 By afternoon the Nishisackwick Creek was still a raging torrent.
We drove into town to see how things were.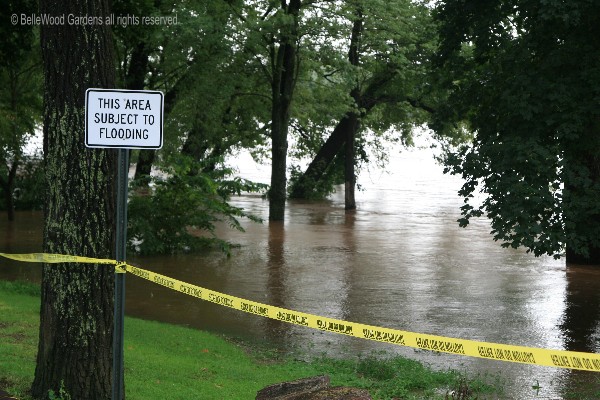 This sign says it all, in a sort of understated manner. And the Delaware River isn't done rising.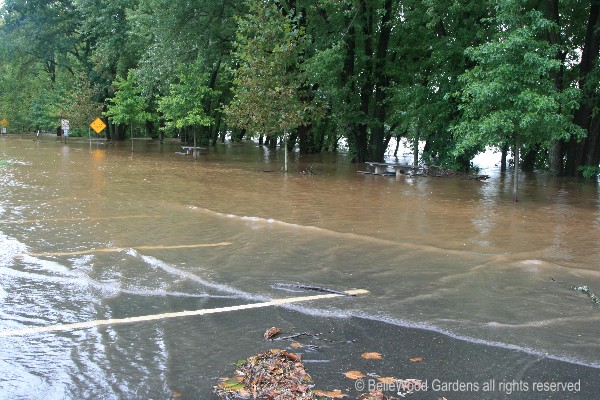 The parking lot was under water. Wavelets kept lapping in, each time a little higher than before.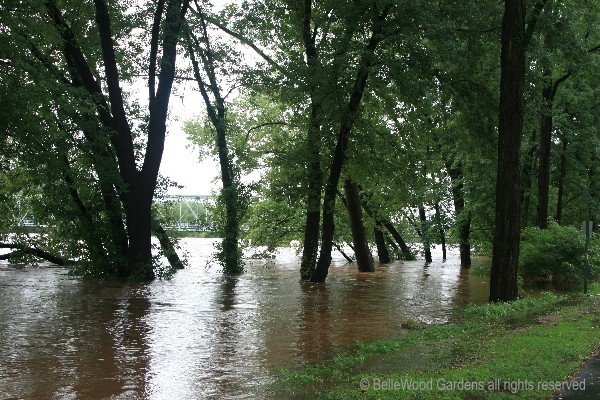 You can catch a glimpse of the Frenchtown / Uhlerstown bridge through the trees.
Riparian, from Latin ripa, meaning river bank, is the interface between land and a river or stream.
These trees can tolerate damp soil. But not like this. Fortunately they'll accept temporary inundation.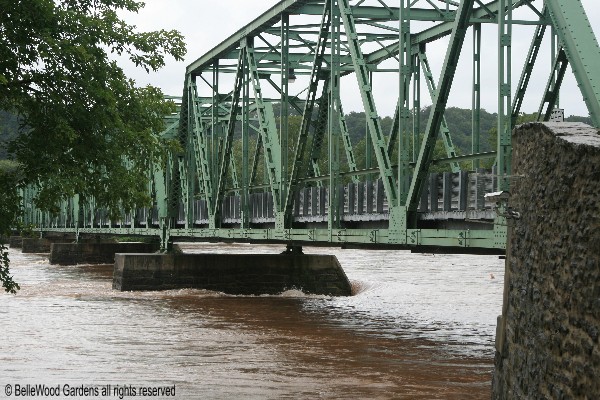 At 6:30 p.m. today the Uhlerstown-Frenchtown bridge was closed because of flooding on approach roads. The next two down river toll-free bridges are also closed: New Hope-Lambertville because something - possibly a tree and entangled debris - is wedged under the first span on the Pennsylvania side. The Centre Bridge-Stockton bridge was closed earlier by impassable roadways on either end of the span. Due to flooding, Route 29 is closed in Frenchtown. The Delaware is still rising and isn't projected drop until Saturday. The water is up to the top two courses of stone of the bridge piers. And just look at the surge of upstream water muscling around the pier. Many rivers are approaching flood stage and there's more and more water coming in from feeder streams. Just when everyone thought they'd begun to clean up . . . . .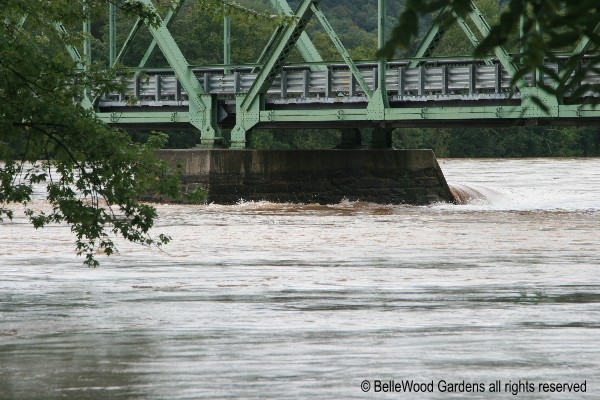 Remember "Rain, rain, go away. Come again another day."? Bite your tongue. Hush up.
It might just be that all the times you chanted that in childhood have now caught up with us.
.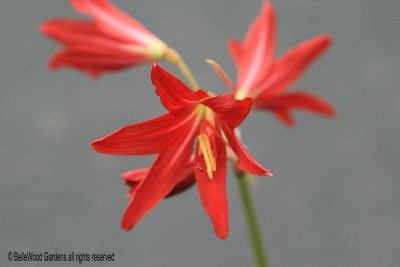 Update: Saturday, 10 September -
When I'd heard that we'd have "some rain" Wednesday night I moved all my pots of
Rhodophiala bifida out of the greenhouse for a soaking. Oxblood lily is a charming
little South American bulb that flowers in response to autumn rains. So here it is
just 3 days later and I have four pots in full flower, and more on the way. Magic.
Forget those "April showers bring May flowers." This happened much more rapidly.
---
Back to Top
---