Garden Diary - July 2010
---
If you have any comments, observations, or questions about what you read here, remember you can always Contact Me
All content included on this site such as text, graphics and images is protected by U.S and international copyright law.
The compilation of all content on this site is the exclusive property of the site copyright holder.
---
August
---
Wednesday, 4 August 2010
PANTS
Not trousers. Not bluejeans. It's PANTS, the Penn Atlantic Nursery Trade Show, a once-a-year three-day event with several hundred vendors from across the United States (and even a few from Canada) aimed at the retail garden center operator and landscape designer. Whatever you need, it's here. Plants, pots, tools, trees, labels, liners, decorative seasonal trinkets and more. Tsotchkes abound, from the shopping bag practically thrust into my hand at the door (already embellished with a catalog listing vendors both alphabetically and by product) to catalogs (but of course), yardsticks, calendars, posters, candy, and more, more, more.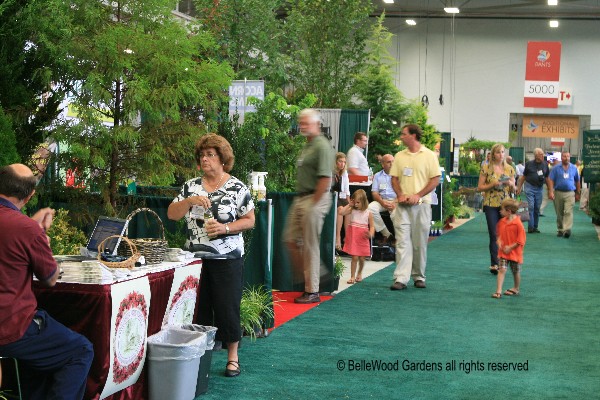 Shakespeare had it right. Birnam Wood is on the move. Trees. Big trees. Impeccably groomed, like this Fraser fir.
.
How do you move big trees? Why, with a big tree spade, of course.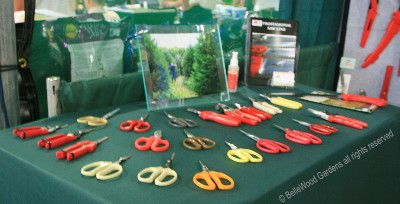 There are hand tools too. At the Grow Tech Inc. booth I was entranced by
ARS pruning saws and these delightful clippers. There was a magnificent pair
of Japanese-made bonsai shears. No bonsai here but they'd shape boxwood . . . .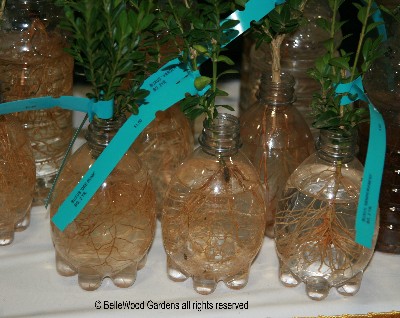 And speaking of boxwood, look at these well-rooted cuttings in fat bellied bottles.
Once plants are produced, they'll be shipped out. Live plants demand Rush! Perishable! transport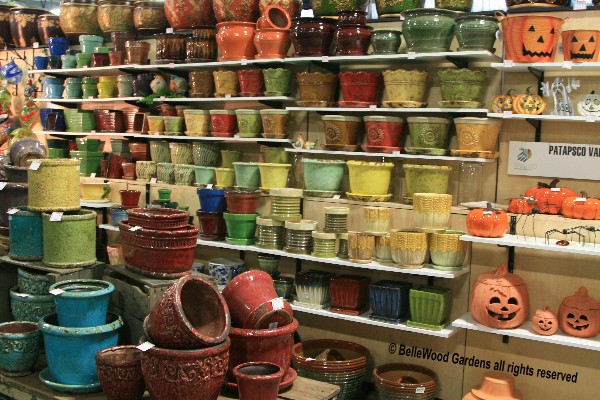 As well as growing plants in the ground people grow them in pots. So there were vendors of plastic pots
of divers shapes and sizes, clay pots, glazed pots, like these well filled shelves of rainbow hued pots.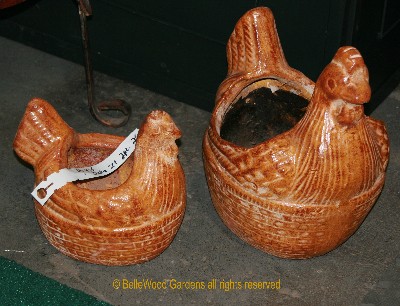 Pots that look like chickens (ideal, one surmises, for hen-and-chicks)
and other pots that look like kits. Perhaps for pussy toes? Whatever.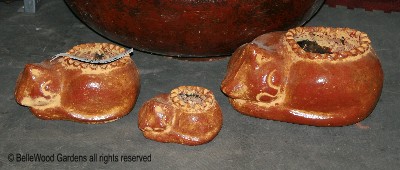 .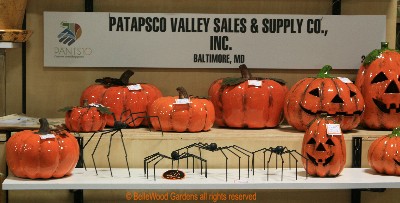 Never mind it's only mid-August. There were pumpkins and spiders,
cobwebs and ghosts, in anticipation of Halloween. At other booths
you could stock up with strings of lights and Christmas baubles too.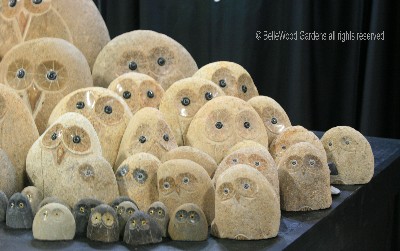 I adore these stone owls. But wonder how just one would look
by itself. Lonely, I expect. A parliament like this would be terrific.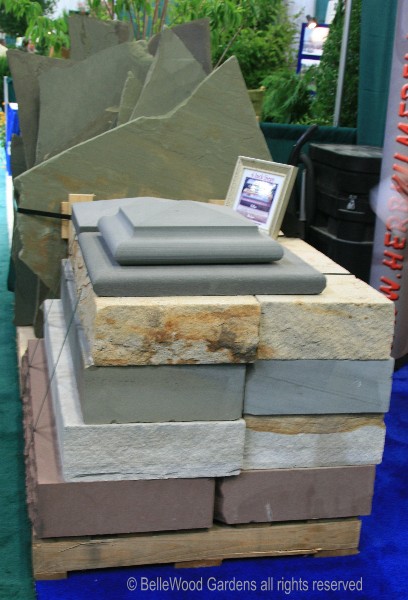 There's polished cobbles of different hues, and dressed stone such as
these substantial slabs stocked by Herb Kilmer & Sons of Pennsylvania.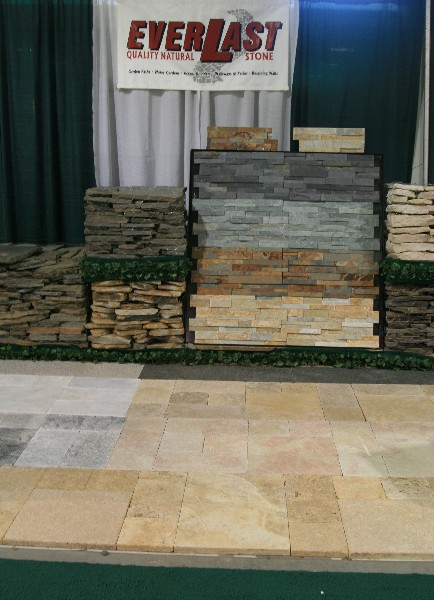 and Everlast Stone with pavers in all the subtle shades of natural stone.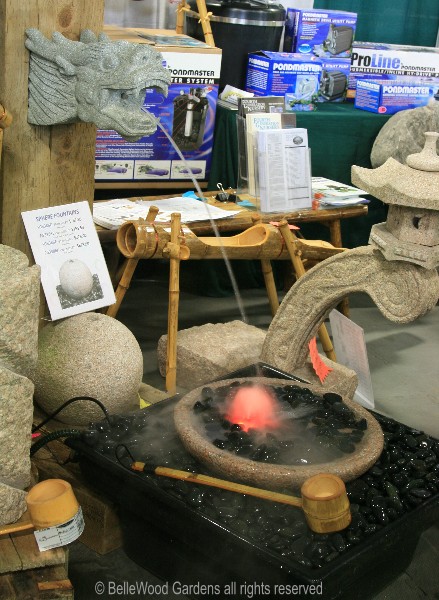 Have a pond? Need a pump or a filter in your choice of sizes?
Perhaps you'd rather have a dragon spouting not fire but a stream of water.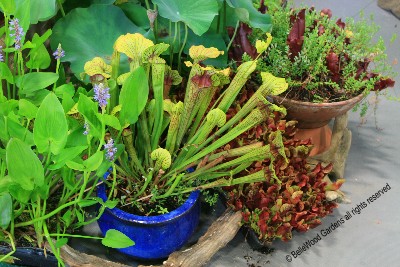 Or maybe you'd like to make a bog of your own. Look no further than
Aquascapes Unlimited in Pipersville, Pennsylvania. In addition to
a wide range of plants for water gardens they hybridize sarracenia,
even offer them for sale as cut "flowers" to the florist trade.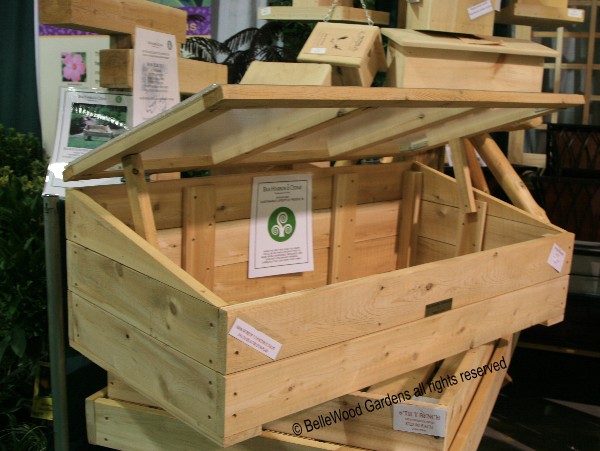 Every gardener can make use of a cold frame. (I have two.) Forcing bulbs, raising seedlings,
hardening off annuals before they go into the garden, winter protection of semi-hardy plants -
that's just a start. Here's a sturdy one of northern white cedar from Bar Harbor Cedar in Maine.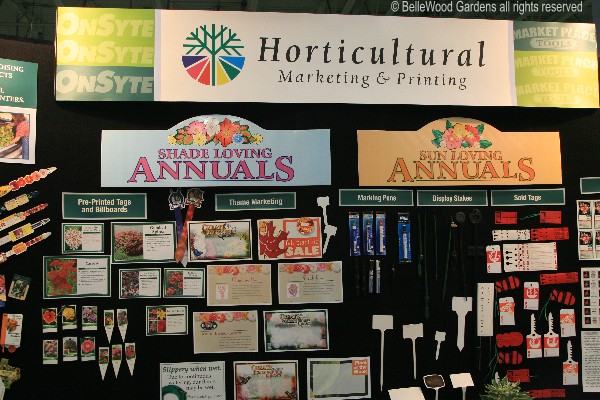 Every time you buy a plant it has a label of one sort or another - little flimsy ones stuck in the dirt, big ones
stapled to the pot. Nurseries and garden centers have section labels for sun loving / shade tolerant perennials.
Somebody has to print them up, and clearly Horticultural Marketing & Printing are behind many of the labels you see.
The merest soupçon of an overview of the vendors at PANTS. I wandered the convention center for four hours
and know I didn't see it all. Even so, be glad I didn't try to post every one I did see and photograph. Enough's enough.
After all, there's always next year.
---