Garden Diary - January 2010
---
If you have any comments, observations, or questions about what you read here, remember you can always Contact Me
All content included on this site such as text, graphics and images is protected by U.S and international copyright law.
The compilation of all content on this site is the exclusive property of the site copyright holder.
---
January
---
Thursday, 7 January 2010
Nakashima Reading Room at the Michener Museum
A bright sunny winter day. I proposed an outing to the James A. Michener Art Museum, in Doylestown, Pennsylvania. Paul programed the address into my GPS and off we went. It was the scenic route we ended up taking, as the GPS was blissfully unaware of the fact that the bridge on Geigle Hill Road is still out. Since last Spring. Still out. No matter, it recalculated and got us there without much further ado. No great matter, as Doylestown is no more than 20 miles or so from home.
The primary reason I wanted to visit, other than the fact that I enjoy museums, is that the Michener has furniture by George Nakashima. An eminent artisan woodworker and furniture designer of the 20th century, Nakashima's reverence for the soul of the tree created furniture that turns checks and cracks, what others see as defects, into sculptural expressions.
As Wikipedia notes in the brief entry on butterfly joints,
"Butterfly joints are common in the work of George Nakashima."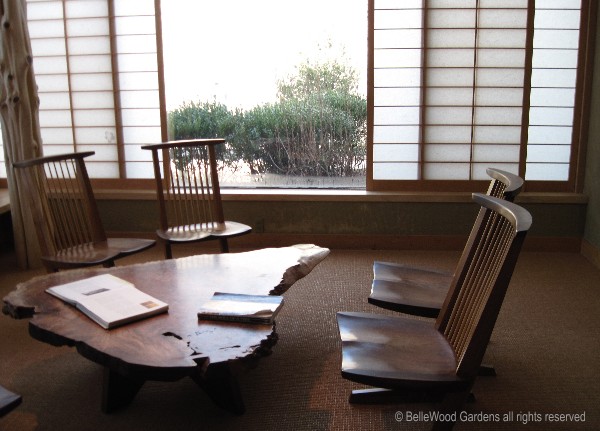 The Reading Room is spare and simple. Shoji-like screens, a couple of windows. A shelf, or is it a seat.
maybe both, at window sill height. Four chairs. The focus, the center, is a magnificent table
made from one massive slab of wood polished to a silken sheen and with its natural edge.
It is claro walnut, a term used to refer to the wood cut from the lower bole of orchard trees
especially those grown in California. English walnut, Juglans regia is grafted onto a rootstock
of a native walnut species. This might be black walnut, J. nigra, or California walnut, J. hindsii.
California walnut has an especially lovely grain with beautiful dark brown and tan marble-like figuring.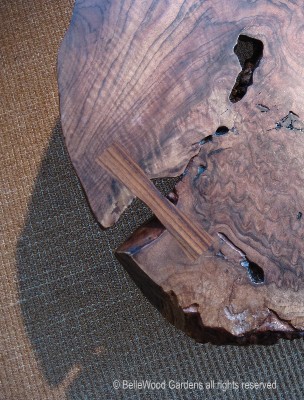 Here is a closer view of the butterfly joint which stabilizes the void at table's edge.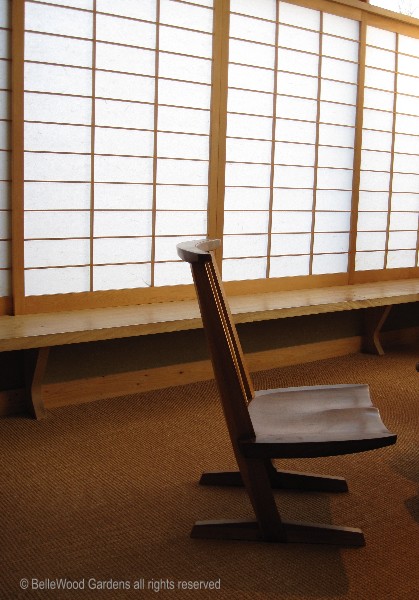 Nakashima designed these chairs to be easily movable on carpeting.
Built from a slab of walnut cantilevered over two legs, he named the design
Conoid chair, after his studio in New Hope, Pennsylvania, which was modeled
on the section of a cone. Thin spindles support a gently arced cross-member,
reminiscent of simple, functional, spindle-back chairs of the colonial era.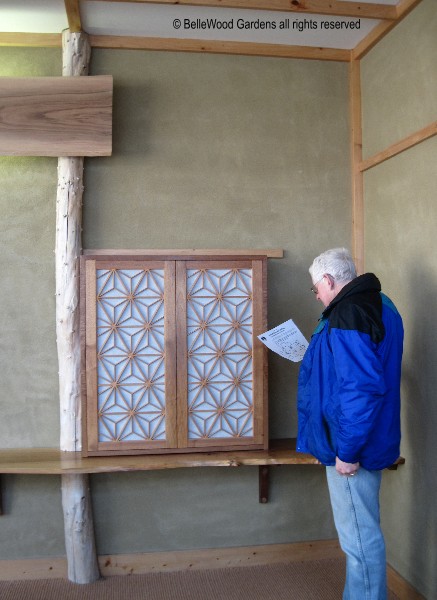 Paul stands near a beautiful wall cabinet, its intricately pieced wooden latticework of snowflake complexity.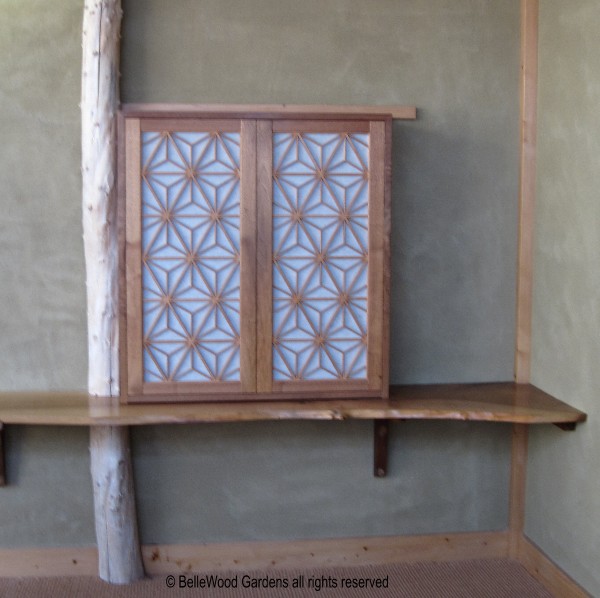 The cabinet sits on a shelf with a natural edge to the board, a peeled log for support.
There is another log-as-column across the room, sinuous, sturdy, muscular.
.
The winter-bare shrubs in the courtyard are appropriate landscaping for the room.
Spare. Serene. I'll come back in spring, to see swelling buds and greenery.
---
Back to Top
---