Garden Diary - May 2010
---
If you have any comments, observations, or questions about what you read here, remember you can always Contact Me
All content included on this site such as text, graphics and images is protected by U.S and international copyright law.
The compilation of all content on this site is the exclusive property of the site copyright holder.
---
May
---
Tuesday, 4 May 2010
Homage to Emily Dickinson
In her lifetime she was known as a gardener. Nothing much remains - no lists of flowers, no notebook of blooming plants or even a sketch of how the flower borders were arranged. Instead it is Emily Dickinson's poetry that today provides clues to the flowers, the gardener, and the poetess.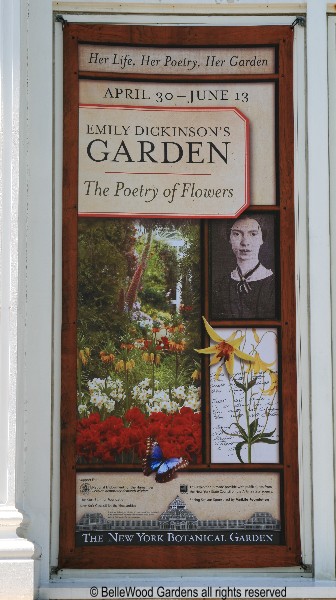 There's an exhibition at the New York Botanical Garden on her life,
her poetry, and her garden. Come visit "Emily Dickinson's Garden
The Poetry of Flowers" as Spring fills the grounds with flowers.
The Poetry Walk is a self-guided tour highlighting 35 poems set
among the plants and blossoms that inspired them, as well as audio
commentary accessible by cell phone illuminating her life and love
of gardens and nature, a woman who was "always attached to mud."
Enter the conservatory through gateposts similar to those at the Homestead.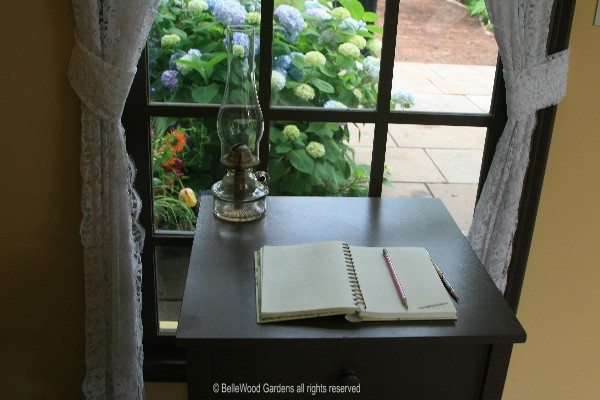 There's a small replica of her second-floor bedroom, with a replica of the poet's cherry writing table,
that was located in the southwest corner of her southwest corner room, occupying the room's interior
within an interior, its sanctum sanctorum near the window overlooking her beloved plants and garden.
Her garden is gone but more than a third of her poems and almost half of her letters mention plants.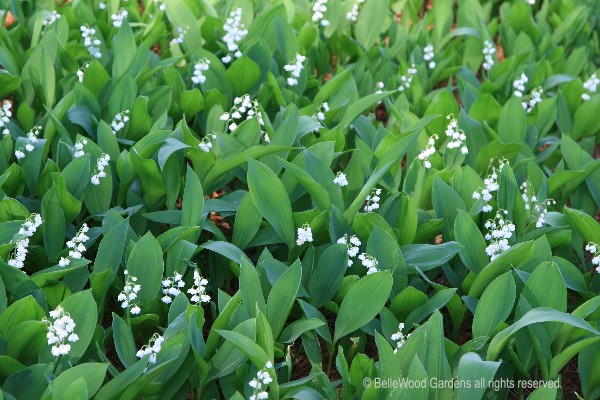 Her niece, Martha Dickinson Bianchi, remembered "carpets of lily-of-the-valley and pansies,
platoons of sweetpeas, hyacinths, enough in May to give all the bees of summer dyspepsia.
There were ribbons of peony hedges and drifts of daffodils in season, marigolds to distraction"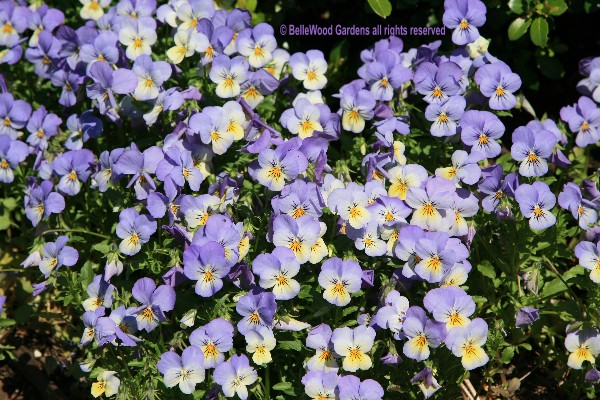 Pansies were a favorite of Emily Dickinson because their early appearance announced
the longed-for spring and could bravely withstand cold, even an April snow flurry or two
in her Amherst garden. In her poem the pansy announces itself boldly, telling her it has
been 'resoluter' than the 'Coward Bumble Bee' that loiters by a warm hearth waiting for May.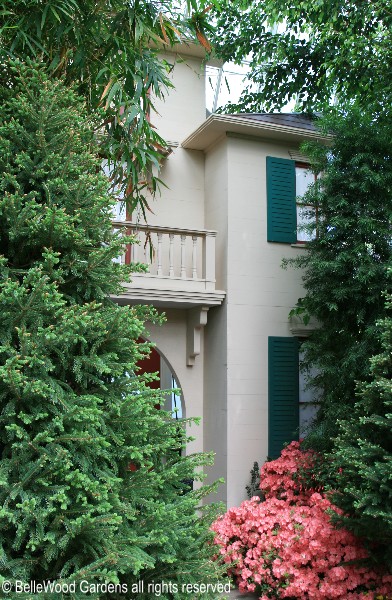 Near the Homestead facade is a representation of the Evergreens, next-door home
of Emily's brother, Austin, and his wife Susan. The two houses are connected
by a pathway "just wide enough for two who love," according to the poet.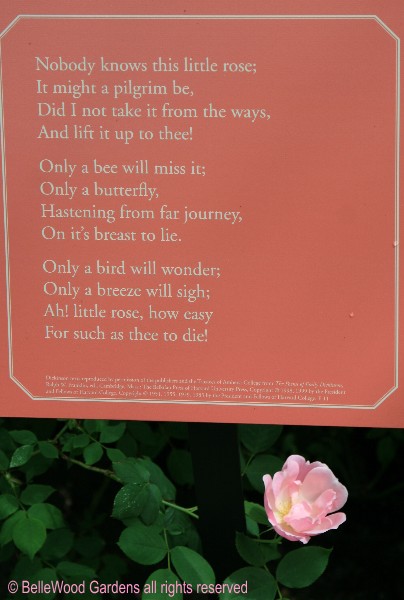 Roses are in bloom inside the conservatory, most frequently mentioned flower
in Dickinson's writings. As well, there are columbines and lush peonies in flower,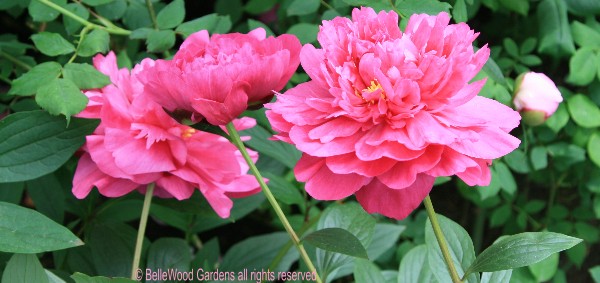 .
foxgloves and delphiniums, and her favorites: daffodils, hyacinths, tulips.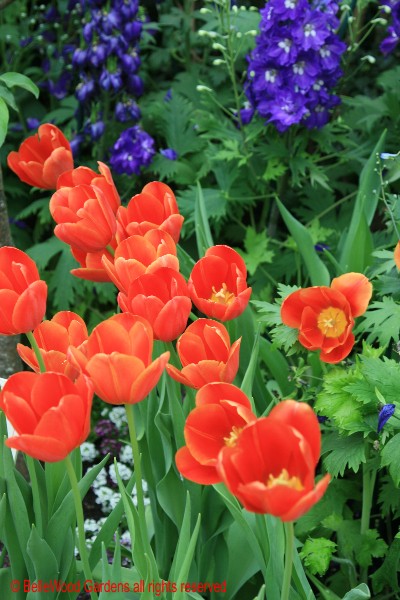 In a thank you note for a gift of bulbs Emily once wrote, "I have long
been a Lunatic for Bulbs, though screened by my friends, as Lunacy
on any theme is better undivulged . . . They came in happy safety, and
rest in their subterranean Home." A proper gardener's sense of priority
- plant the bulbs first, and only then write the thank you note.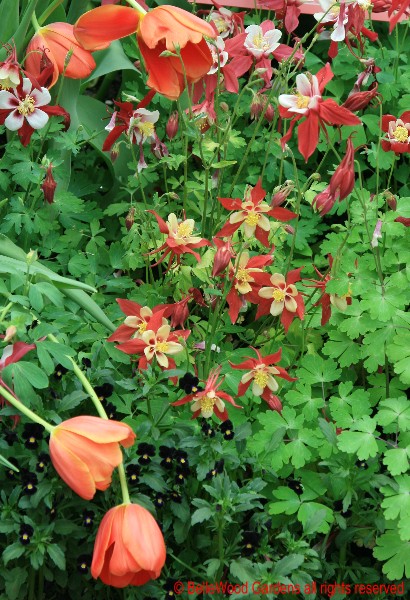 Emily was especially fond of bulbs. Daffodils were potted up and then
coaxed into early bloom during the long, snowy Amherst winters. Each
to their season in the garden she enjoyed crocus and daffodils, tulips
and lilies. It was their regeneration that so fascinated her, once writing
to a friend, "Did you ever know that a flower once withered and
freshened again, became an immortal flower - that is, that it rises again?"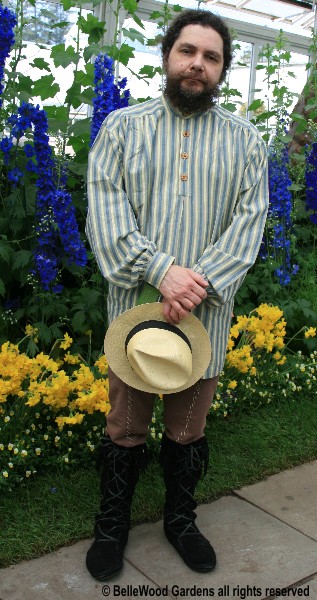 Who this is I do not know. Did he travel through time
to accompany the garden? Perhaps. We can travel
with Emily's poetry into her world of flowers, thought, insight.
Is it serendipity? Perhaps a meme. Suddenly I'm finding links to Emily and her poetry and this exhibition
here and here in the New York Times, and this on the NYBG blog site. where my friend Marta has this
Who's Marta McDowell? Author of Emily Dickinson's Gardens: A Celebration of a Poet and Gardener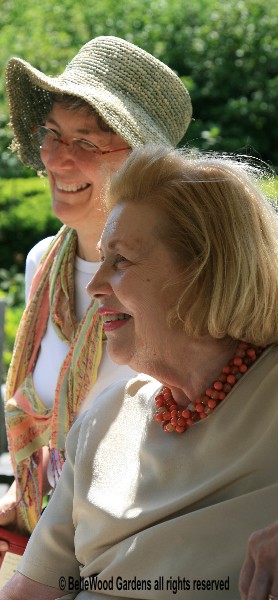 As Marta succinctly phrased it when she saw this image,
"Ah, the Wallace / Darwin moment.." For here we have
Judith Farr, author of Gardens of Emily Dickinson
and Marta, author of Emily Dickinson's Gardens. Now,
which one looks like a woman who has had her hands in the dirt?
You learn to love plants by living with them. That's what Emily did.
"Emily Dickinson's Garden: The Poetry of Flowers" is at the New York Botanical Garden. The exhibition runs through Sunday, June 13, 2010. Hours are Tuesday through Sunday, 10:00 a.m. through 6:00 p.m.; also open Memorial Day. An all-garden pass includes admission to the grounds, exhibitions, specialty gardens and tram tour. Cost is $20. Tickets for seniors and students with ID is $18; $8 for children 2-12 while there is no charge for children under 2. Parking is $12 per vehicle.
---