Garden Diary - November 2010
---
If you have any comments, observations, or questions about what you read here, remember you can always Contact Me
All content included on this site such as text, graphics and images is protected by U.S and international copyright law.
The compilation of all content on this site is the exclusive property of the site copyright holder.
---
November
---
Tuesday, 16 November 2010
Holiday Train Show at the New York Botanical Garden
Half a mile of tracks. Garden gauge trains. New York City landmarks, 140 of them crafted to scale from pods and cones, seeds and sticks, acorn caps and twigs, . . . . and imagination, lots of imagination, Applied Imagination. The Holiday Train Show is back in town at the New York Botanical Garden Paul Busse, his son Brian, and the crew started setting up in Sunday, 14 November. Tuesday, off to the flower market to get plants. There's no point in pre-ordering, Paul told me, as you never know how well the crops will turn out. Much better, he thinks, to go there and just cherry pick the best - everything from African violets and anthuriums to calla lilies and crotons, bromeliads and gardenias, and more. One week, that's all the time available to create a dazzling miniature world inside the Enid A. Haupt Conservatory.
This is the 19th year. I think I may have missed one or two, but maybe not. I remember the year it was
outdoors in the snow on the museum building lawn. And every year it becomes more firmly a part
of my holiday traditions, always magical and never the same. Come on. It's time. All aboard!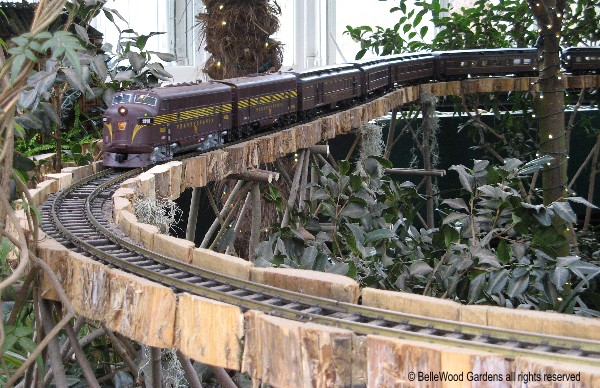 photograph courtesy Paul Glattstein all rights reserved
More than one dozen large-scale model trains running on nearly a quarter-mile of track.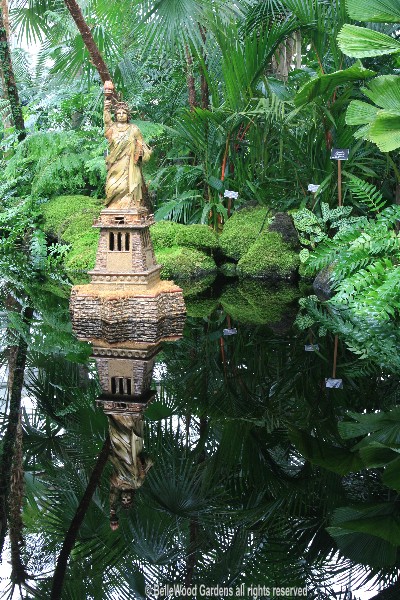 The Statue of Liberty, torch held high, serenely mirrored in the
Enid A. Haupt Conservatory's Palm Court reflecting pool.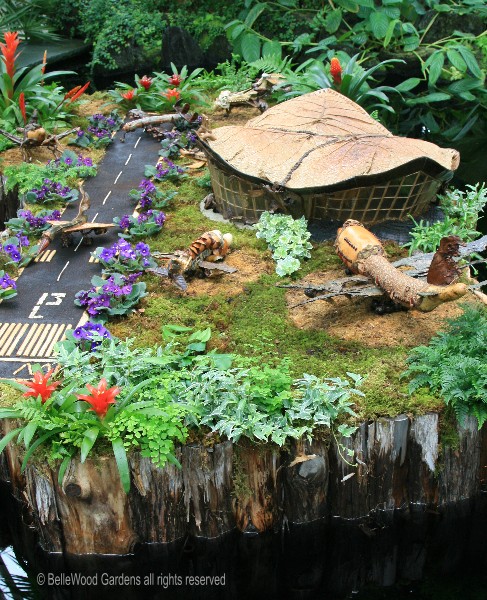 New this year, the Eero Saarinen icon of modern design Trans World Airline Terminal
at JFK International Airport (1962). Complete with airplanes and even a news helicopter.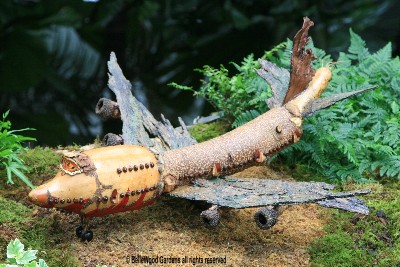 .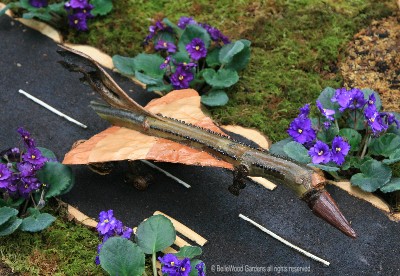 A mighty four-engine airplane is parked off to the side while once again a Concorde taxies down the runway past purple African violets,
luminous, floriferous counterparts to runway lights. Paul cleverly used a length of London plane tree for the body, reminder of its destination.

photograph courtesy Paul Glattstein all rights reserved
Another train comes chugging by the Metropolitan Museum of Art.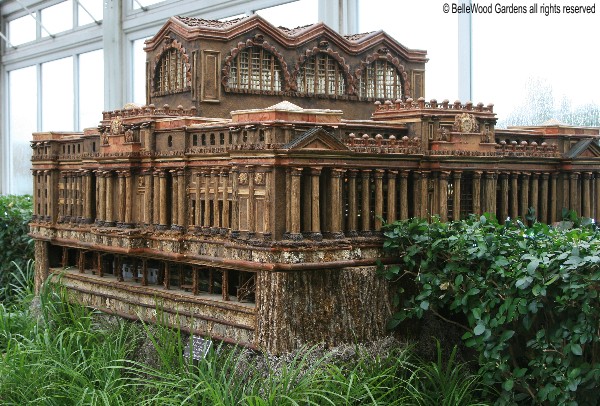 Perhaps it is heading for Pennsylvania Station. Here at the holiday train show the building is still extant.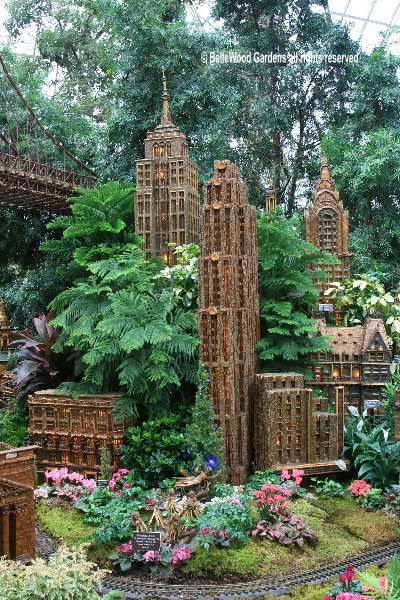 Skyscrapers soar. Rockefeller Center complete with statue of Prometheus.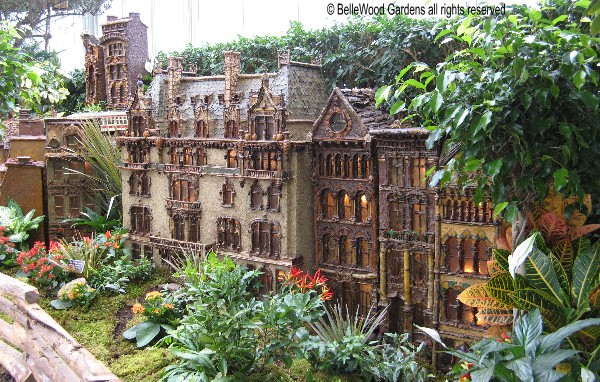 photograph courtesy Paul Glattstein all rights reserved
A streetscape row of brownstones, their windows softly lit.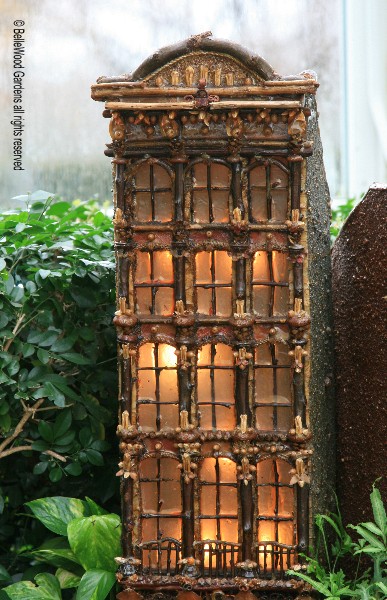 .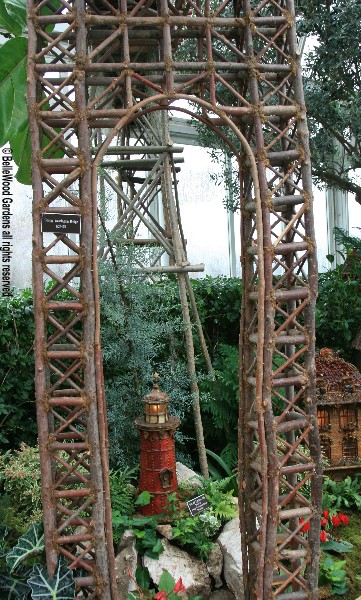 . . . . . .
The little red lighthouse. The real lighthouse still stands today under the shadow of the great gray bridge.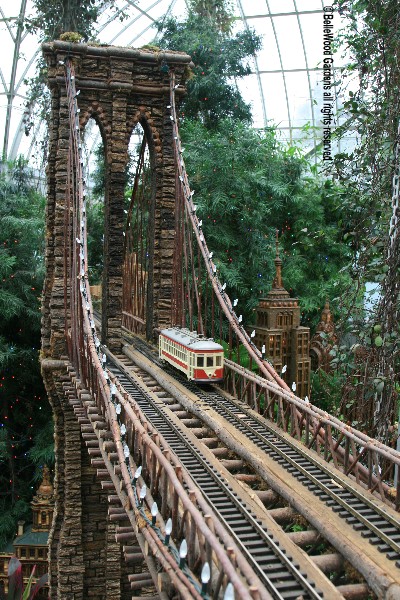 I'm way up on a ladder, with a bird's eye view of the tracks.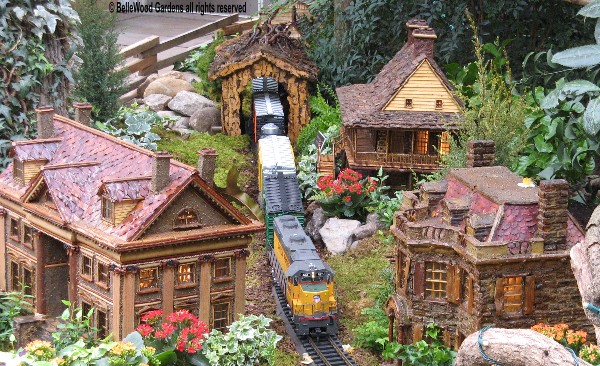 photograph courtesy Paul Glattstein all rights reserved
Yet another train! There are realistic trains of different styles and periods. Freight trains. Passenger trains.
A single car, busily bustling fanciful lady bug, difficult to photograph. After all, it is the holiday train show.
The Holiday Train Show is open 20 November 2010 through 9 January 2011. Hours are Tuesday through Sunday, 10am - 6pm, with extended hours until 7pm on selected Fridays and weekends. Closing at 3pm on 25 November and 24 December. Remember that the Garden will be closed on 25 December. The All Garden Pass ticket include the holiday train show and may be purchased on-line. Tickets for the peak period between 22 December and 2 January are very popular, and tend to sell out quickly.
---
Back to Top
---