Garden Diary - March 2010
---
If you have any comments, observations, or questions about what you read here, remember you can always Contact Me
All content included on this site such as text, graphics and images is protected by U.S and international copyright law.
The compilation of all content on this site is the exclusive property of the site copyright holder.
---
March
---
Tuesday, 2 March 2010
Orchids at the New York Botanical Garden
Winter is reluctant to release its grasp this year. Just look at the landscape that greets me
as I approach the conservatory after my class on cold frame gardening. Snowed out
of the press preview last week, I'll enjoy a glimpse of the exhibit before going home.
While I've enjoyed many other of the themed exhibitions at NYBG, I've not previously
attended any of the previous seven orchid shows. This year's display was designed by
Jorge Sánchez, of Sánchez & Maddux, Inc. An award-winning landscape architect,
his concepts draw on his childhood in Cuba, and South Florida where he is now based.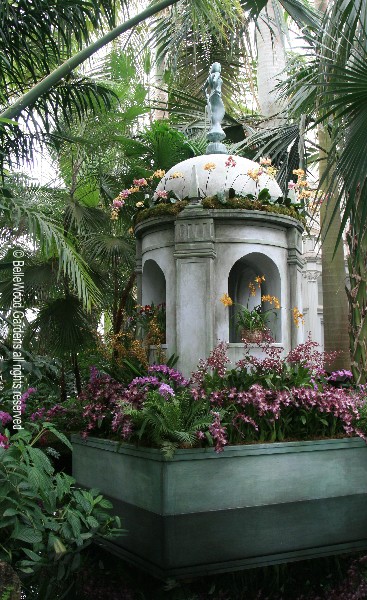 One of the most ancient and beloved symbols of the city of Havana
is the tower and statue of La Giraldilla. Encircled with orchids,
the towering palms and still, reflective water offer an enticing entrance
to this year's orchid show, with the theme of Cuba in Flower.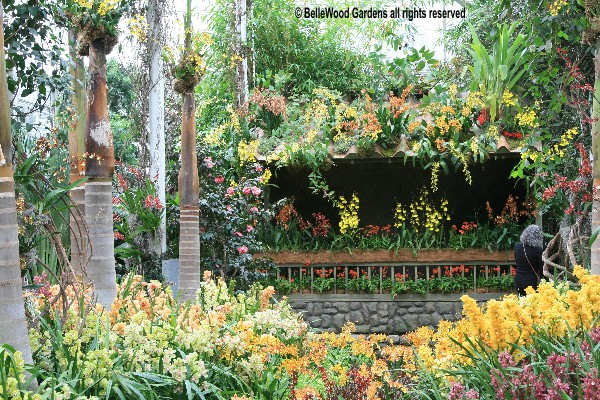 A small pavillion pays hommage to the Soroa Orchidarium, a 67-year-old botanical garden
in the Sierra del Rosario mountain range in western Cuba dedicated to education, the cultivation
and conservation of orchids. After all, 300 species of orchids call Cuba home, some native only here.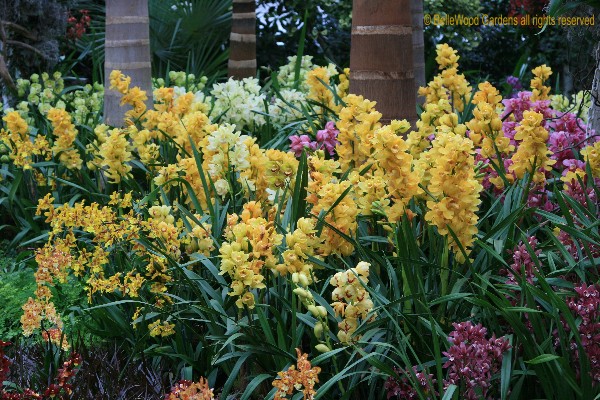 .
Cymbidium Mother's Ruby 'Dehlia'
intertwined with lush ferns and
equally attractive in closer view.
.
Armloads, bushels of orchids, fantastical shapes
and wonderful colors
Cymbidium Happy Face 'Amaranth'.
The naming of orchids is a complicated matter. Above, Cymbidium is the genus name, Happy Face is the grex name, and 'Amaranth' is this orchids cultivar name. The genus name of Cymbidium, is Italicized and with the inital letter capitalized. Next would come the species name, also italicized but all in lower case. Plants of garden origin can be given a cultivar name to distinguish a clone of particular merit: unusual color, dwarf rather than tall, disease resistant, especially flavorful, and so on. The term is horticultural shorthand for = cultivated variety and is applied to identical, asexually propagated plants. Cultivar names are written in Roman typeface and bounded by single quotation marks.
Orchids (and lilies) may also have a grex name. Grex, from the Latin term for a flock, is applied to all seedlings growing from the seed pod resulting from a hybrid cross. They'll all have the same grex name, written in Roman typeface, initial cap but no quote makes. Within the same grex the individual clones may have some, none, or strong resemblace to each other. A clone of particular merit may be given a cultivar name to distinguish it from the grex siblings. Happy Face is a grex name, and 'Amaranth' is a cultivar name that distinguishes this particular clone of the Happy Face grex .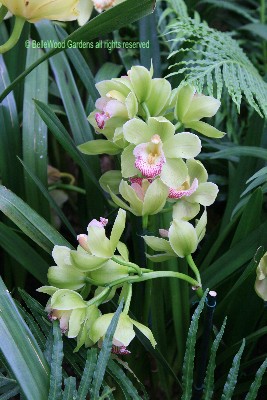 Cymbidium Tranquility × Sleeping Dawn 'Green Gold Alba'
.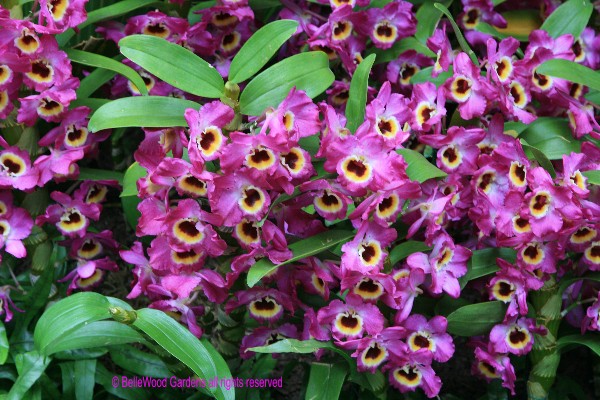 Dendrobium Red Emperor 'Prince'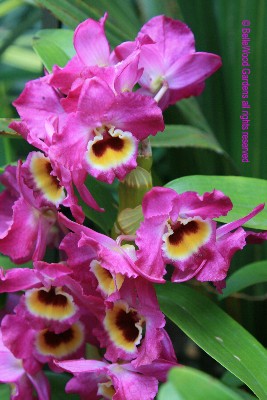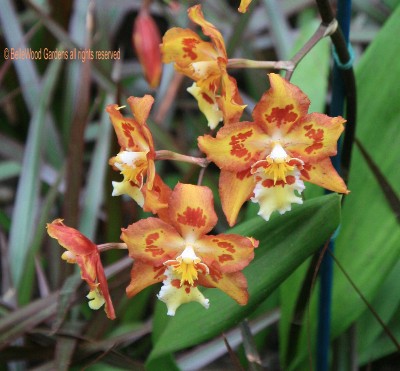 ×Wilsonara Sheila Anne 'Golden Gate' is a complex hybrid cross
from three genera - Odontoglossum, Oncidium, and Cochlioda,
with the first ×Wilsonara created in 1916.
The Orchid Show is open from February 27 through April 11, 2010.
---