Garden Diary - March 2010
---
If you have any comments, observations, or questions about what you read here, remember you can always Contact Me
All content included on this site such as text, graphics and images is protected by U.S and international copyright law.
The compilation of all content on this site is the exclusive property of the site copyright holder.
---
March
---
Tuesday, 2 March 2010
Orchid Portraits, from the New York Botanical Garden's Orchid Show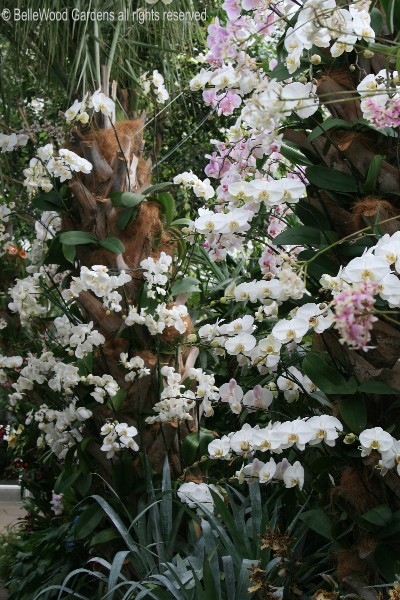 Walk into the exhibition gallery and each side of the walk has showers of orchids.
Cascades of white moth orchids, Phalanopsis,mimicry of winter's snow.
The trunks of 21 massive booted sabal palm trees (each nearly 20-feet tall
and weighing more than 1,200 pounds) festooned with epiphytic orchids.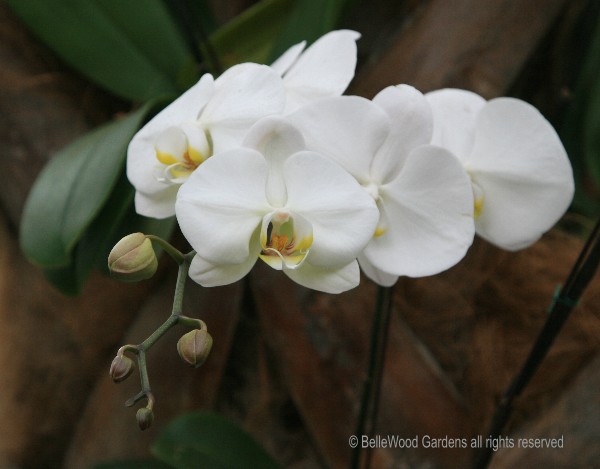 Popular and often available for sale at big box stores and in supermarkets, Phalanopsis
are one of the easiest orchids to grow, with long-lasting flowers.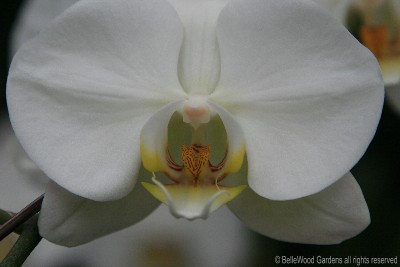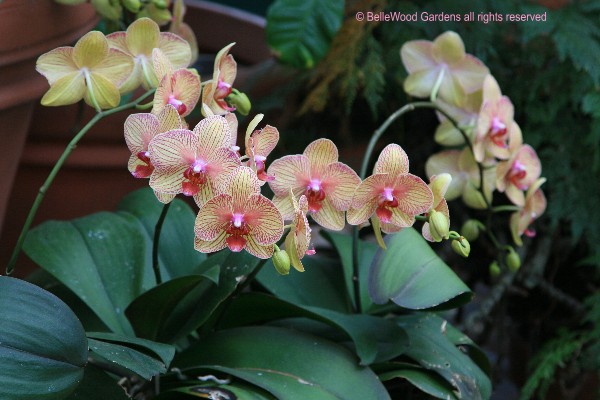 Of course there are moth orchids in colors other than white, for example, this biscuit hued beauty
overlaid with a tracery of wine colored veining suffused at the center.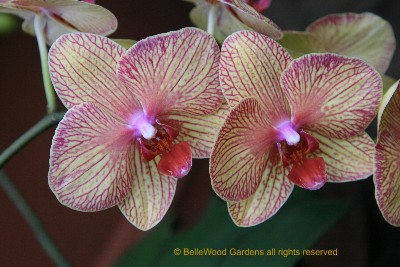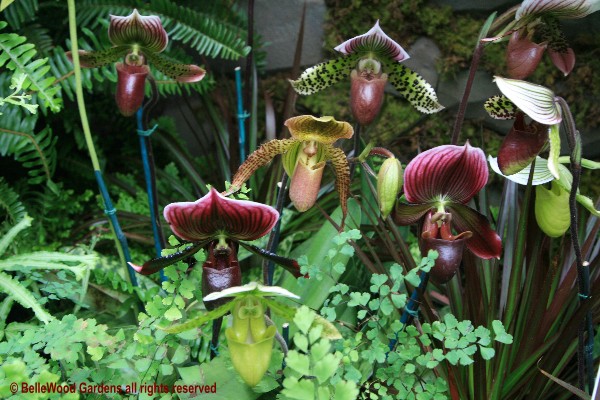 Other relatively easy to grow orchids are the tropical lady slippers, with glossy, enamel-bright colors.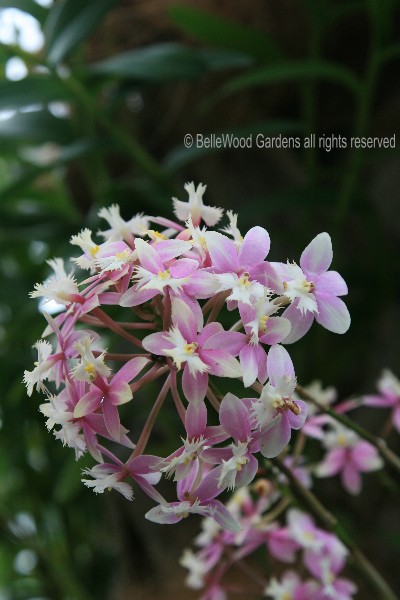 Like a wheeling flock of tiny birds, the clustered flowers of reed orchid, Epidendrum.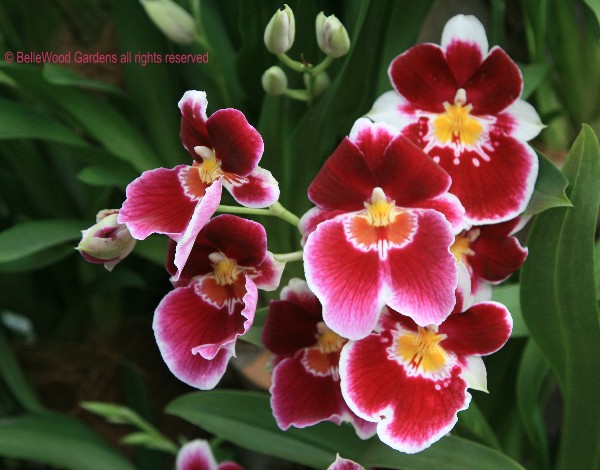 Pansy orchid, Miltoniopsis Isler's Red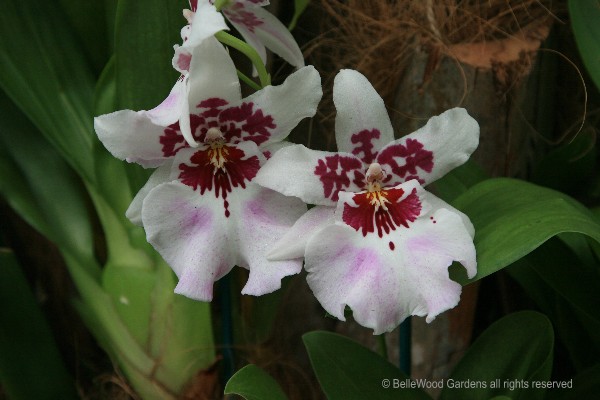 ×Beallara Purple Haze 'Jimi Hendrix'
Rainbow orchid, Vanda Trevor Rathbone 'Banjong'
Phaius tankervilleae 'Rabin's Raven'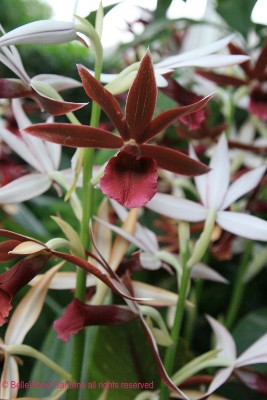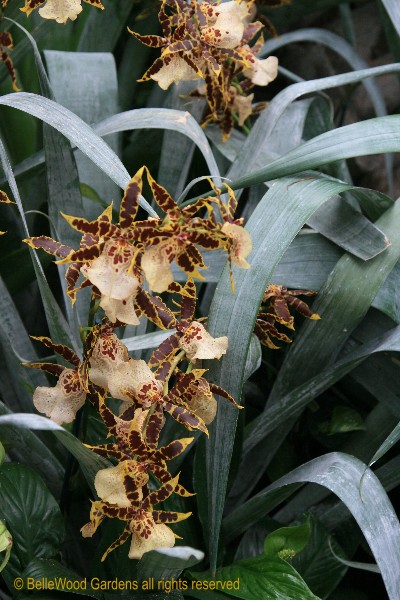 ×Degamoara Flying High 'Stars 'n Bars'
You can visit the New York Botanical garden's 8th Annual Orchid Show from February 27 through April 11, 2010.
---
In Breezy Love or the Sacking of the Bees - Olivia Judson's March 10, 2010 Opinionater column in the New York Times - this sentence jumped out at me: "In a tropical forest, for example, the advantages of insects are great: they provide highly targeted pollen-delivery in a complex milieu."
Orchids are tricksy plants with elaborate, highly evolved flowers. Flowers that mimic an insect so closely that they coax the males into pseudocopulation, or develop so long a spur that Charles Darwin predicted that there must be an insect with a proboscis adapted to reach the nectar at the base.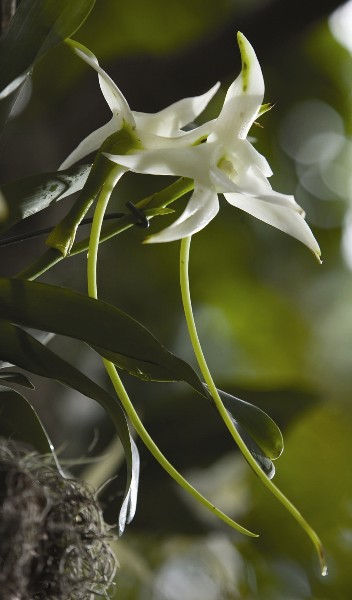 photo credit and © copyright Talisman Brolin/TalismanPHOTO
And he was right. Angraecum sesquipedale, beautiful orchid from Madagascar
ignores the wind, ordinary bees, and other mundane pollinating options.
With a flower spur 10 1/2 to 17 inches long, the orchid favors one and
only one moth, with a sufficiently long proboscous to right the nectar while
its head touches the pollinia and carries out the necessary cross pollination.
Marvellous and wonderful the ways of nature.
---