Garden Diary - March 2010
---
If you have any comments, observations, or questions about what you read here, remember you can always Contact Me
All content included on this site such as text, graphics and images is protected by U.S and international copyright law.
The compilation of all content on this site is the exclusive property of the site copyright holder.
---
March
---
Saturday, 27 March 2010
Flowering Trees at Rutgers Gardens
This has been a poor season for making maple syrup. The best sap flow comes with mild sunny days and chilly nights with temperatures dropping below freezing. The weather in late March has been unseasonably warm with milder night temperatures. The last couple of nights below the freezing point but that doesn't help. Red maples are already in flower, and sugar maples are only 10 days behind. Once the buds begin to open the quality of sap for syrup production seriously declines.
Today I had an afternoon class to teach on Care of the Garden in Spring, at Rutgers Gardens in New Brunswick, New Jersey. I was anticipating bulbs and early perennials in flower around Holly House, but not much more. But as I drove on Log Cabin Road what did I see but Prunus 'Okame' in full and magnificent bloom.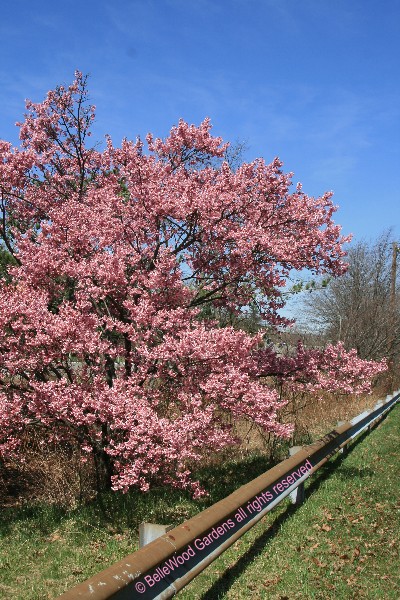 One of the earliest of the flowering cherries, 'Okame' has deep carmine-rose buds
that open to lighter tinted flowers before leaves appear. Very consistent year-to-year
bloom makes this small- to medium-sized tree an excellent choice for small gardens.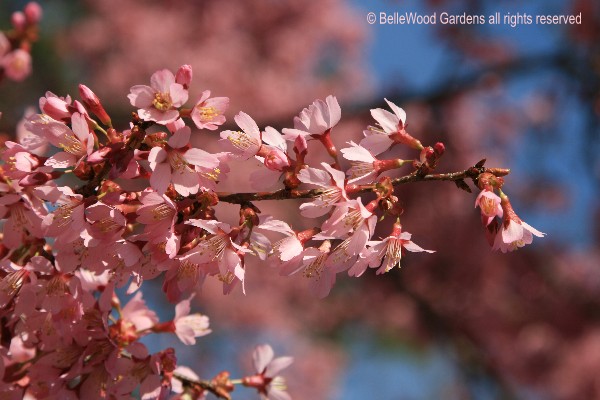 Captivated by its appearance I put my car in park, set the 4-way flasher,
and hopped out to take some pictures. Just see the carmine-pink petals,
rose-red calyx, and reddish flower stalks, fully open before leaf break.
A hybrid of the Formosan and Fuji cherries, 'Okame' was introduced to Europe in 1947 by Captain Collingwood Ingram, and it is for this tree that he is most famous. A plant collector universally known as 'Cherry' Ingram because of the reference work he wrote about flowering cherries, his work included travelling across China to locate specimens, hybridising them back in England and researching the various diseases to which cherry trees are prone.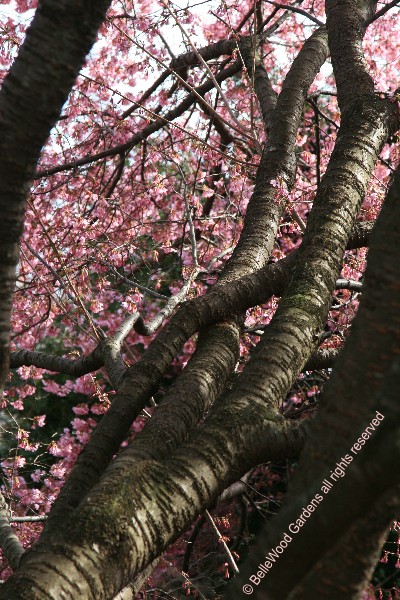 There are other, older specimens elsewhere on the grounds. This mature tree
displays the sinuous branching pattern and lens-shaped lenticels on the bark.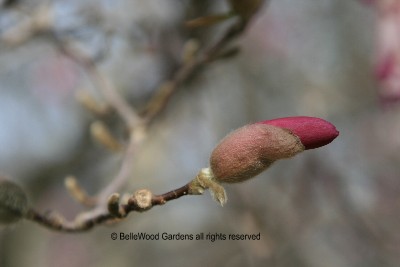 Also near the Log Cabin was a star magnolia coming into bloom
with deep hued flower buds just emerging from their furry calyces.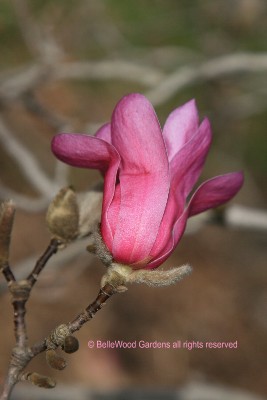 Other buds had managed to emerge, but not yet fully open
while others had expanded to offer a beautiful study
in color and contrast, their narrow petals white
on the inside and purplish-pink on the outside.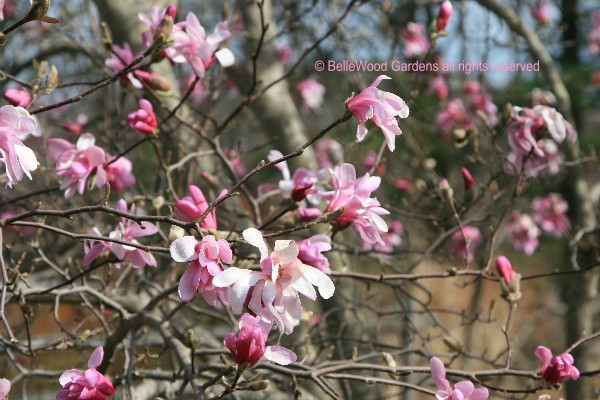 Magnolia × loebneri 'Leonard Messel' is a cross of M. kobus
and M. stellata 'Rosea'. The fragrant blossoms, somewhat resistant
to frost, appear well before the leaves in early to mid-spring.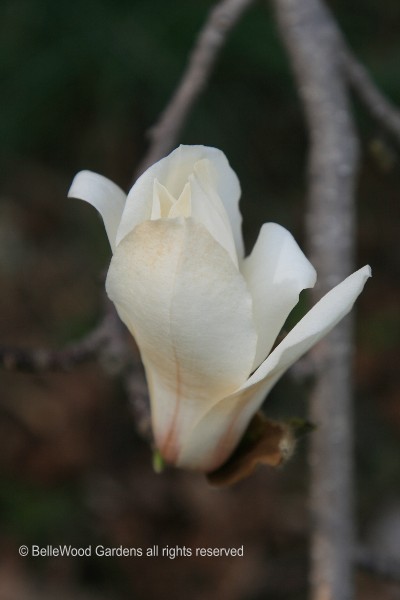 Would that the same could be said of Magnolia denudata. Alas, the large,
pure white flowers (regarded as a symbol of purity in the Tang Dynasty)
are prone to browning if subjected to frost. Beautiful and with a lemon fragrance
its habit of flowering in early spring often places them at risk. Flowers at the tips
of the branches were ruined, with only a few nearer the trunk showing their beauty.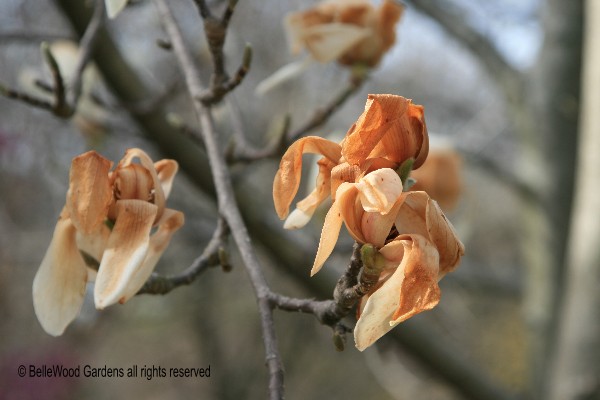 .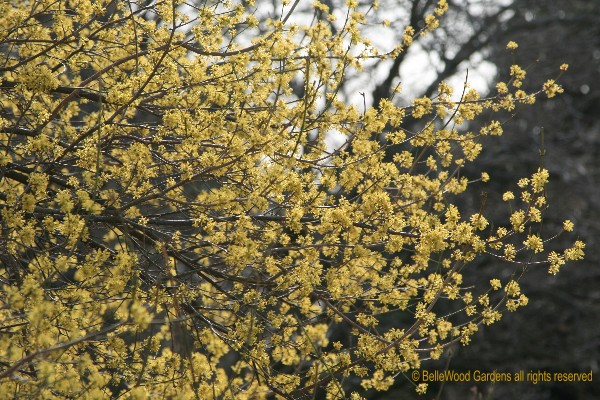 Not a problem with the tiny flowers of Cornelian Cherry, Cornus mas. What each flower may lack
in size is made up by numbers. The greenish yellow little flowers (like those at the center of our native
flowering dogwood, C. florida) are followed by red fruits that make an excellent jelly or flavorful syrup.
A delightful day. Enthusiastic students who enjoyed my class and said they found it helpful. And with
the bonus of a pleasant diversity of trees in bloom, assuring me that Spring is definitely on the move.
I have another class scheduled for next Saturday, 3 April, on Cottage Gardening, or how to grow
vegetables and flowers together, for an attractive, edible garden. Wonder what will then be in bloom.
---