Garden Diary - May 2010
---
If you have any comments, observations, or questions about what you read here, remember you can always Contact Me
All content included on this site such as text, graphics and images is protected by U.S and international copyright law.
The compilation of all content on this site is the exclusive property of the site copyright holder.
---
June
---
Saturday, 5 June 2010
Digging Bamboo
Don't be fooled by modest growth the first year, or two, or even three that you have bamboo in your garden. The old saying, "First it sleeps, then it creeps, third year it leaps." is all too true. Hardy genera of bamboo are spreading plants. Underground runners are able to pierce asphalt. Mine has not reached the driveway, not yet. But it does love making a surprise appearance in the compost heap. I eat the new shoots, simply breaking them away and rubbing off the papery sheaths. A quick blanching, cut into bite size pieces, and they're ready for adding to a stir fry.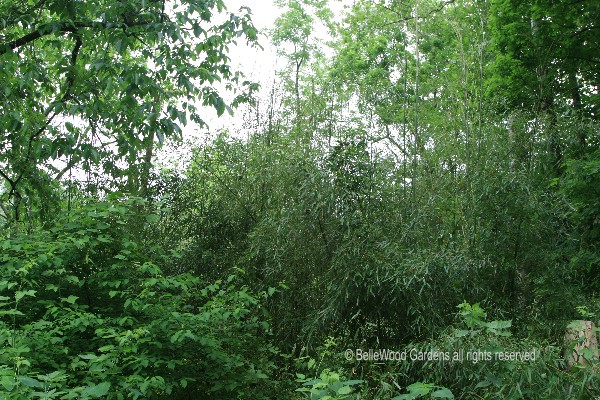 The feathery looking portion of the grove is previous years' growth. The whip-like poles are this season.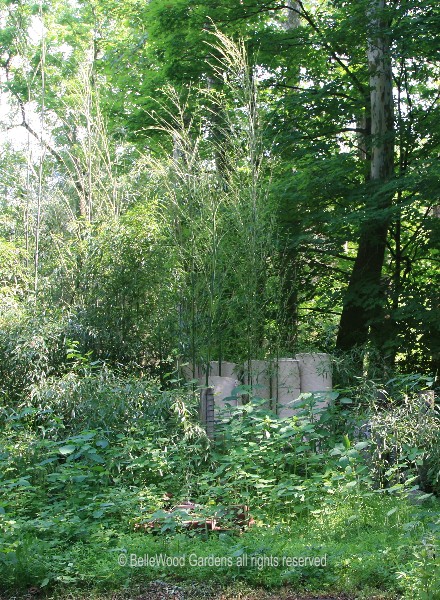 Each new bamboo culm makes all its growth in one season. Compare them
to the 5 foot high carpet rolls (intended as weed barrier on paths) for scale.
Having broken my ankle early in May I was not foraging very much, not even in my garden. By early June and with ample rain the new culms were quite sizeable. What to do? Easy answer - put an offer on Freecycle. What's that? Yahoo groups for people who want to keep "stuff" out of landfulls. Post wants, post offers. Want bamboo? Yes, apparently people do.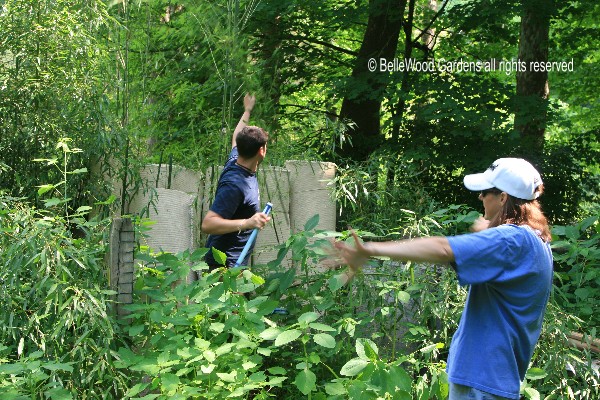 These Freecyclers came as a team. She supervises, he digs. Me, I'm leaning on my walker taking pictures.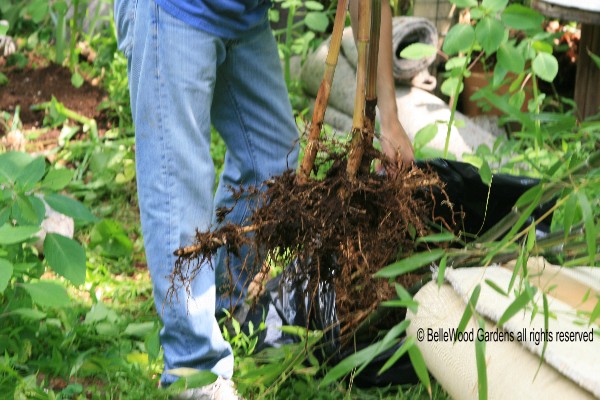 As you can see yellow stem bamboo produces a vigorous root system.
Bag it up, then dig some more. I suggested they cut the culms way back. Easier to fit in the SUV
and easier for the divisions to reestablish in the new location. Water well was my other advice.
Rain is forecast but if it isn't coming down as I'm planting I don't trust it. Bamboo now evicted
from my compost heap. Something I'm currently incapable of managing and it's a happy win / win
situation as these folks go home with free plants while Paul chauffeurs me back up the driveway.
---