Garden Diary - December 2010
---
If you have any comments, observations, or questions about what you read here, remember you can always Contact Me
All content included on this site such as text, graphics and images is protected by U.S and international copyright law.
The compilation of all content on this site is the exclusive property of the site copyright holder.
---
December
---
Sunday, 26 December 2010
Dead Trees for Christmas
---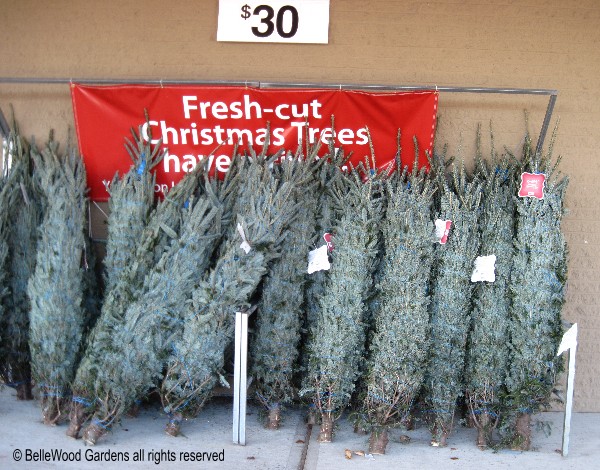 Okay. We know these trees are dead. For one thing, they have no roots. We expect the endless drop
of their needles and anticipate the onerous chore of undecorating and dragging their sad remnants
of the holiday outdoors for disposal. Or possibly use branches as winter mulch over semi-tender plants.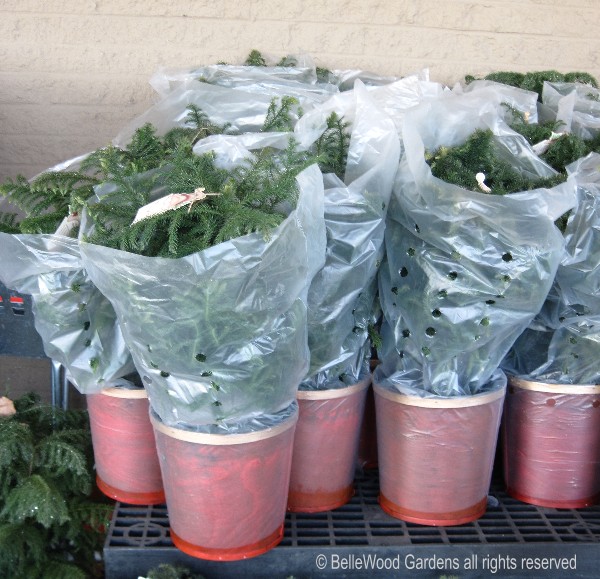 Then there's this piece of seasonal stupidity. Knowing it was doubtless a waste of my time I entered
Wal-mart and told the staff at customer service that these potted trees were not cold hardy. I said
that our recent nighttime temperatures in the teens (and that's Fahrenheit, well below the freezing point)
are lethal for Norfolk Island pine trees. They don't even thrive in Florida, for pity's sake! or appreciate
temperatures below 50° Fahrenheit. The people at the service desk looked at me blankly when I said
"Those trees are dead. You are selling dead trees. You should throw them in a dumpster." But alas
that was on Tuesday, December 14. And when I happened to be back there again on Sunday,
26 December, the trees were still they. looking a little more dispirited, a little more bedgraggled,
even less alive. But Wal-Mart has made a change. The trees are discounted, marked down by
50% along with all the other holiday leftovers such as ornaments, wrapping paper, and cards.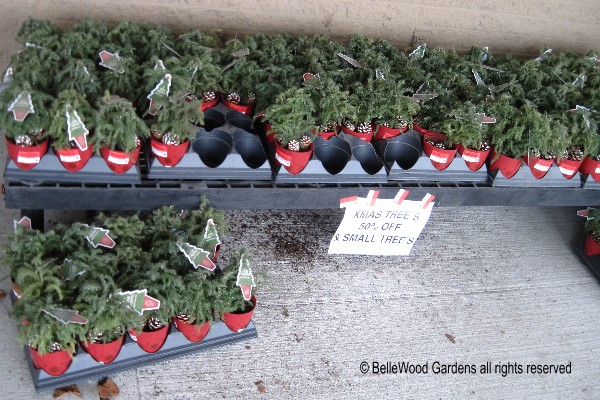 They're dead, people! They were outdoors, it got cold, they froze. And they died.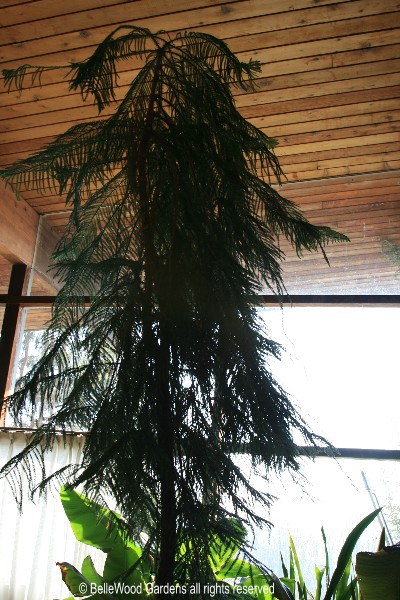 This is what a Norfolk Island pine looks like when it is treated well.
That's the ceiling above it. A problem in the making as there is not much
head room available. And Norfolk Island pines cannot be pruned. Nor
can an upright tree be propagated from anything other than the leader.
Use a branch, and the resulting plant stubbornly insists that it will only
grow sideways. But at least, having never been frozen, it will grow.
Back to Top
---