Garden Diary - August 2010
---
If you have any comments, observations, or questions about what you read here, remember you can always Contact Me
All content included on this site such as text, graphics and images is protected by U.S and international copyright law.
The compilation of all content on this site is the exclusive property of the site copyright holder.
---
August
---
Thursday, 26 August 2010
Cows at the Fair
It's one thing if you want to keep chickens. Even the standard breeds are modest in size, and bantams are even smaller. You don't need much space to keep a modest flock of even 6 laying hens. Cows are a different story. They're huge, compared to a chicken. They need significantly more of everything - food, water, shelter, space. More time to get into production too. So you'd be pardoned for thinking that all 4-H members in the dairy or beef clubs are in familes with active dairy herds, or some beef cattle. There's a way around this however. It is possible to lease a cow. My granddaught does this. She goes to the barn to care for "her" cow, a Jersey, training her to lead and be mannerly in the show ring, and learning how to groom to show standards.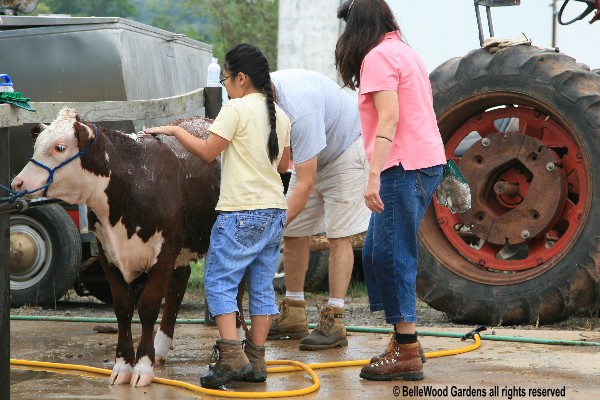 The Hunterdon County 4-H Beef club is new this year. With just four members (all girls, 11 to 18 years old)
they're hoping that their presence at the fair will attract some additional members. Alexa got her first cow,
Josie, from a family friend last summer. Her parents bought her another cow, and last winter Chloe was born.
Alexa admits it's a lot of work feeding and training them to lead, teaching the cows and calf to become
accustomed to being washed. Alexa is entering the cow / calf class, heifer class, and showmanship class.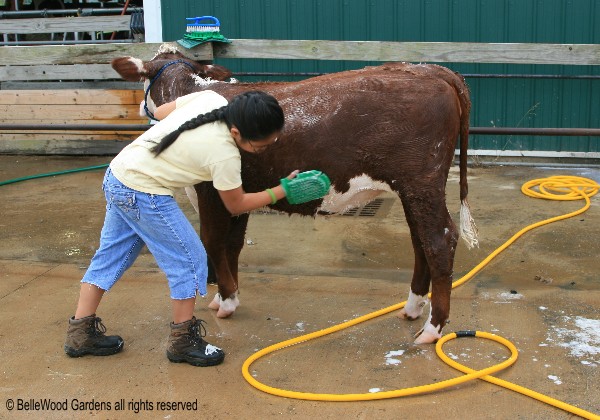 At the cow wash station outside the cow barn:
Chloe looks very patient as Alexa gives her a through shamoo and rinse.
Washing the cow is just the beginning. At least a week before she'll have
been clipped on the face, body, and legs for a smooth, trim appearance.
This day-of-show wash in the morning allows ample drying time - though
blow dryers are part of the grooming kit - before this afternoon's show time.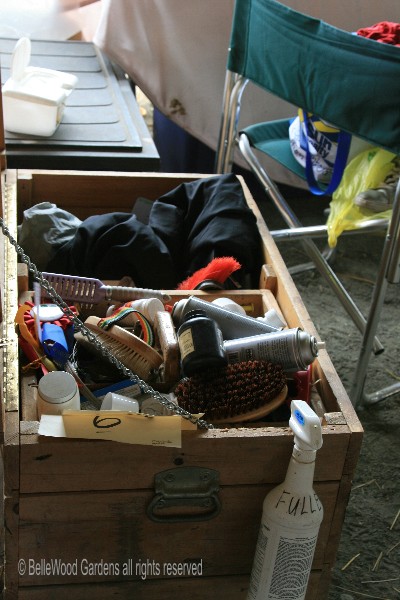 Here's someone's grooming kit, to prepare their cow for the show ring.
Several brushes - a rice root brush (preferable to plastic), massage brush,
a scotch comb, tail comb (for ratting tail hair), clippers, sprays, and more.
Dairy people dress all in white for the show ring. Here's a Jersey heifer who has been washed and
clipped. Her tail has been brushed out - good bush and elegant shape. What are they doing up front?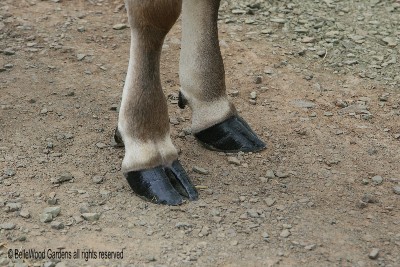 Oiling her hooves for that glossy, polished, cared for appearance.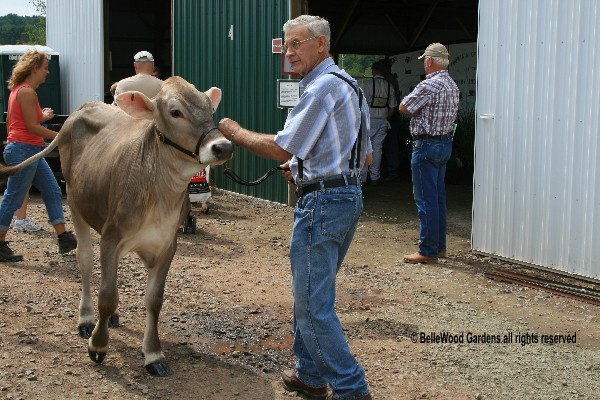 Here's a really charming brown Swiss heifer. She's wearing a nice leather show halter.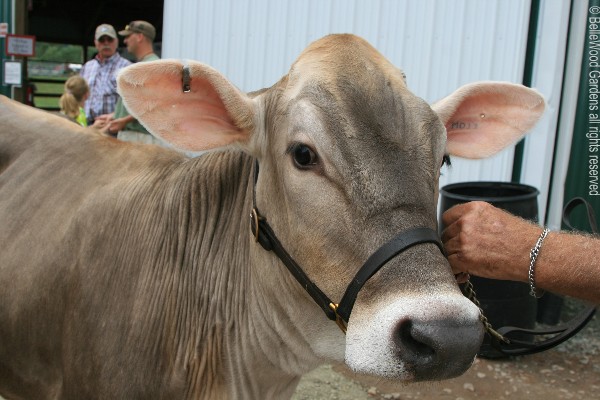 .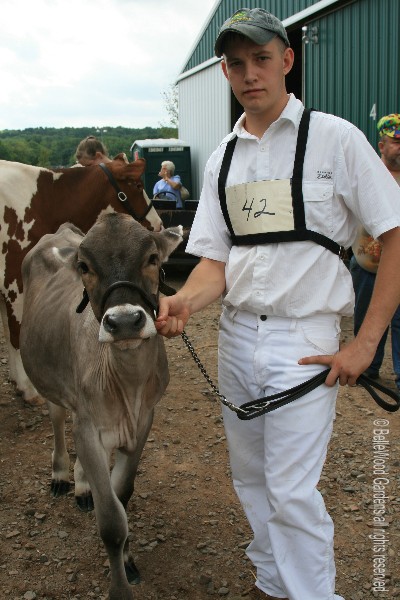 Different Brown Swiss heifer, about to enter the show barn.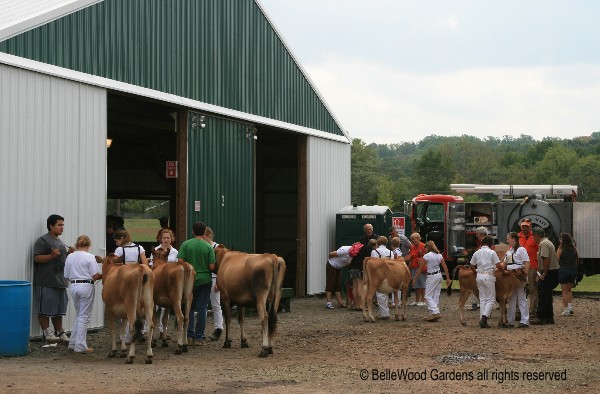 A group of Jersey heifers and their handlers outside the show barn, waiting for their class to be called.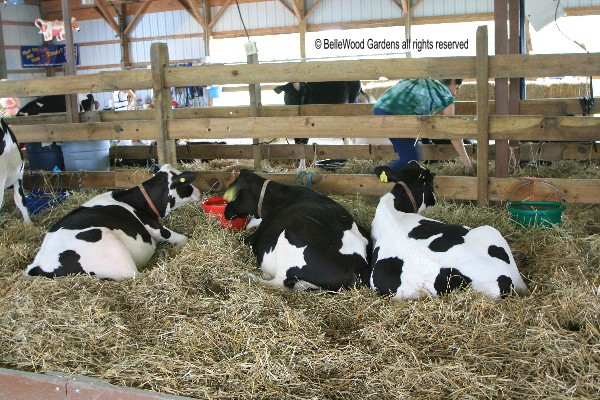 Some Holsteins, just taking it easy and loafing in the cow barn.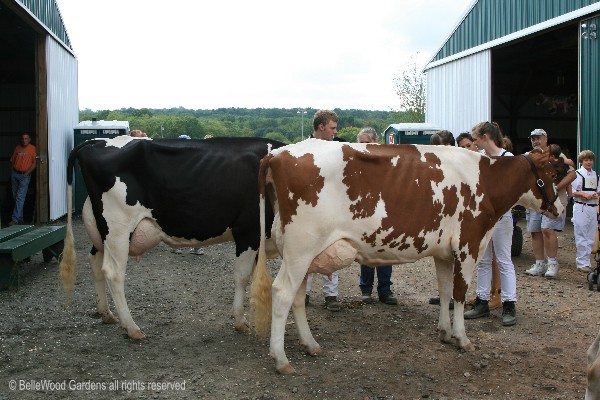 The brown and white cow is, I believe, an Aryshire. Dairy cows should be shown with a bag mostly full of milk.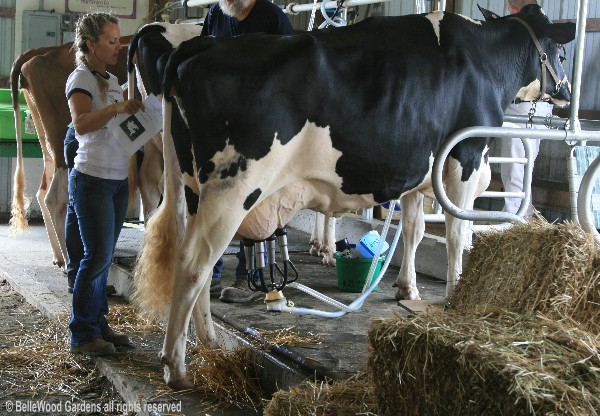 They will, however, need to be milked at some point. So the cow barn is set up with three
or four milking stations. I read that cows producing a normal flow of milk should be milked
about 12 hours in advance of showing. And it was also advised not to overbag the cow,
since, among other things, it may cause the cow to be nervous and hard to handle.
No idea what they do with the milk. This Holstein looks so well groomed that I wonder
if she just came out of the show ring. Just look at that elegant styling of her tail.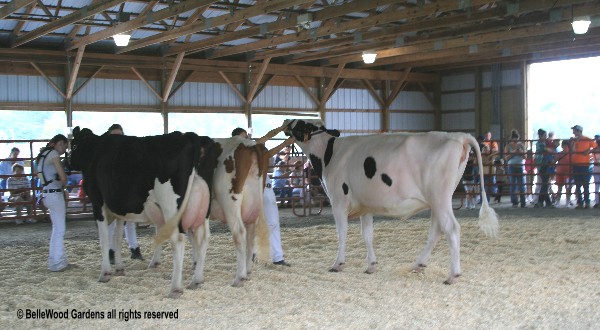 In the show ring. There are conventions for showing cows. Stand to the left of your animal.
Dairy people walk backwards when before the judge. With beef cattle, you are supposed
to walk next to their head, and often use a show stick to place their feet just so, for best
pose (and scratch under their belly to calm them down, if they seem distracted.)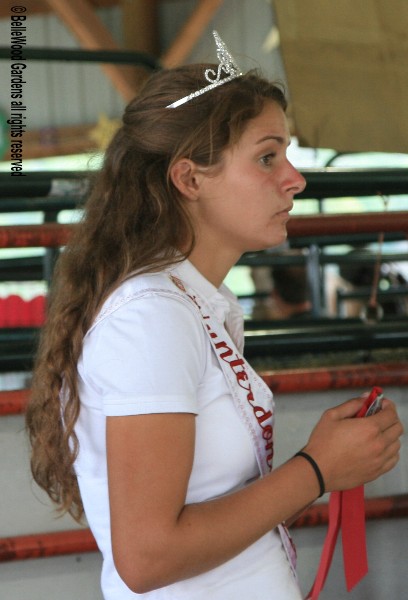 Sarah is the Hunterdon County Dairy Princess for 2010-2011. A high school senior,
she's been a member of the Mt. Airy 4-H Dairy Club for eight years and currently
serves as their vice-president. She's also a member of the State and National Holstein
Associations. Sarah will make presentations promoting milk and the dairy industry.
---