Garden Diary - September 2010
---
If you have any comments, observations, or questions about what you read here, remember you can always Contact Me
All content included on this site such as text, graphics and images is protected by U.S and international copyright law.
The compilation of all content on this site is the exclusive property of the site copyright holder.
---
September
---
Wednesday, 22 September 2010
Chanticleer in Autumn
This year there was first a visit to Chanticleer early in May . Not even five months later and I'm back again, this time with the Tohickon Garden Club. What changes, from May to September. I confess that - naughty of me, I know - I left the other club members to their tour and rambled off with Bill Thomas, Chanticleer's director, for some quiet conversation and garden viewing.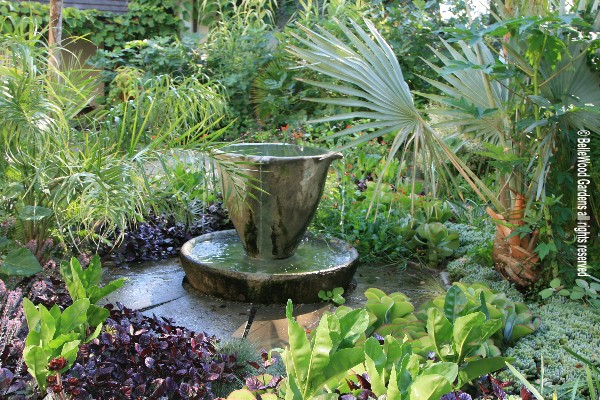 Into the gardens via the Teacup Garden, lush with tropical foliage and overflowing fountain.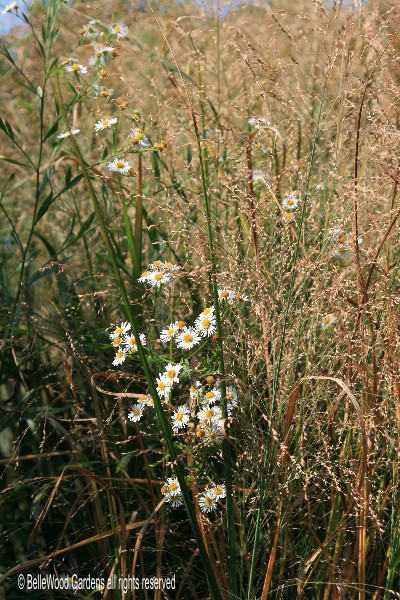 An autumnal vignette of tawny grasses as glimmering backdrop for small white asters.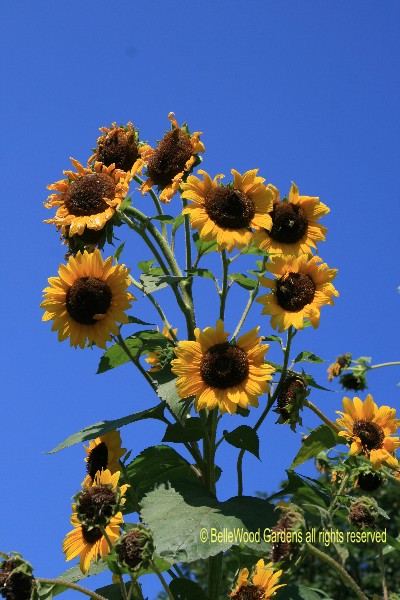 The field crop serpentines were first planted to flax. Alas, it seems
that flax is only open early in the morning. So if visitors arrived as
the gates open at 10:00 a.m. they'd get to see shimmering ribbons
of blue flowers, just green leaves for the rest of the day. After the flax
finished it was replaced with mixed sunflowers, supposedly just 5 feet
tall. Care to try 7 feet or more? No matter, they're wonderful. And also
very much enjoyed by goldfinches excitedly feeding on the ripening seeds.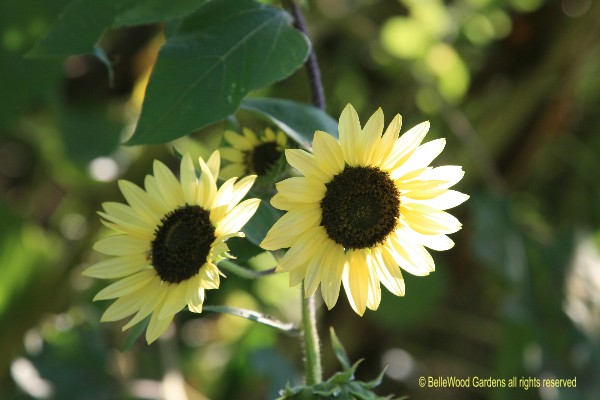 .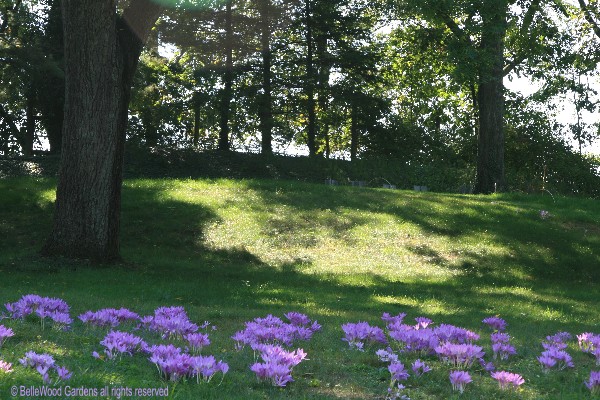 Continuing along the perimeter path I come upon a lawn dappled with sunlight and spangled with colchicums.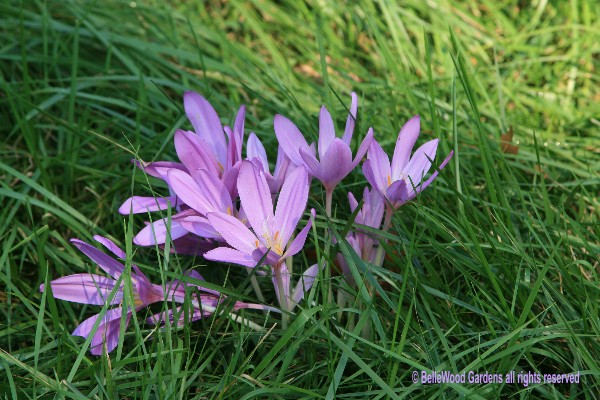 Admittedly I am quite fond of bulbs, otherwise why would three of my eight books focus on them.
When asked which is my favorite it is a difficult question to answer - which child do you love best?
Each in their own special way. But there is something about colchicums - unexpected flowers in autumn
that are excellent in a bouquet, resistant to predation, and ease of cultivation that wins my heart.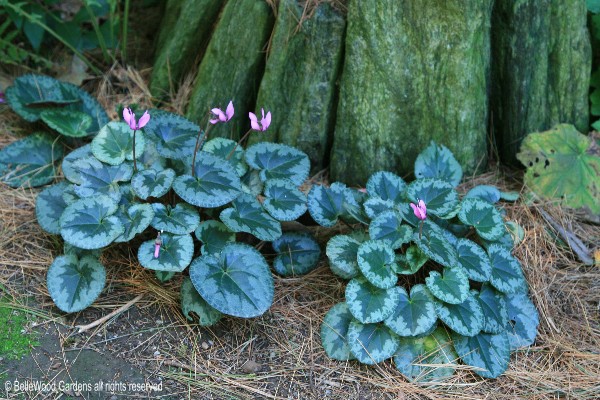 Then there are cyclamen. I'm very fond of them also, from the tender Christmas time pot plants
to hardy spring flowering Cyclamen coum, autumn flowering C. hederifolium, and this pretty
species C. purpureum with charming shuttlecock flowers and elegantly silver marked leaves.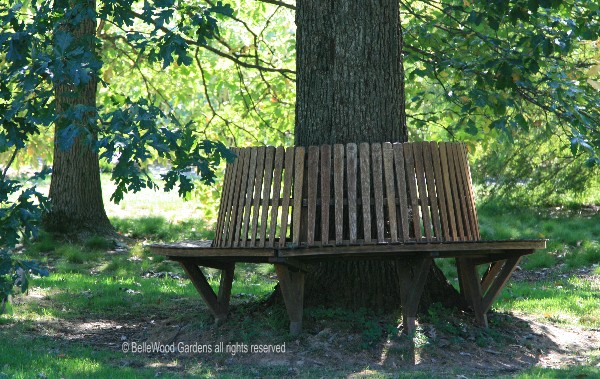 Fortunately, Chanticleer is gracious towards those overcome by its superb horticultural exuberance.
Not explosive displays of gaudy-bright technicolor flowers mind you, but superbly grown
plants in amiable combination perfectly suited to their sites. Pardon me while I sink down
onto this conveniently located and comfortable bench in the shade of a sizeable oak and recover.
I love rex begonia vine, Cissus discolor. Its silver splattered
leaves are burgundy red beneath while tendrils allow it to cling
and climb. This potful has been sleeved with a cylinder of fencing,
barely visible beneath the lush foliage. By the bye, as I discovered
when I cut some for an arrangement it is easily propagated from cuttings.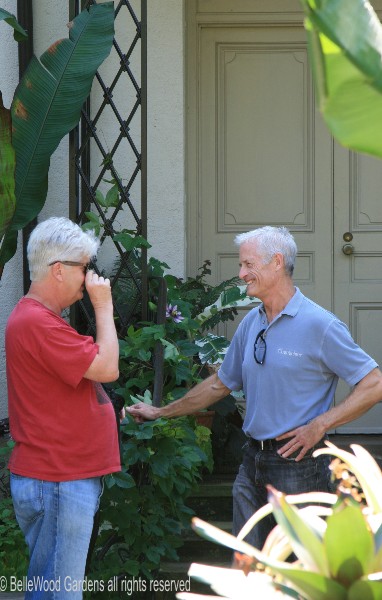 To the left, Chris Woods and on the right, Bill Thomas.
Chanticleer's original director of horticulture who transformed
a private estate with possibilities into a superb public garden.
Its current director who has developed, embellished
and grown it into the magnificent garden mecca it is today
while at the same time making sustainability a subtle focus.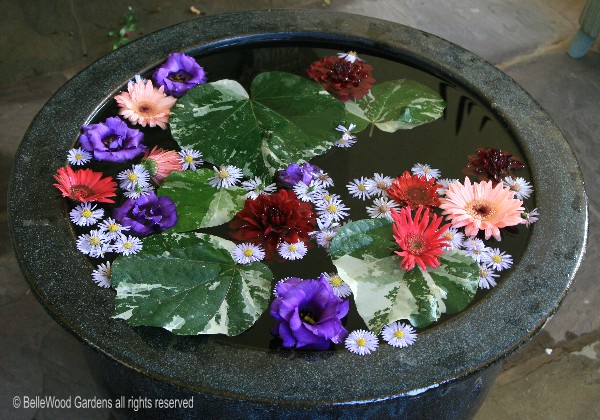 ---
Back to Top
---