Garden Diary - March 2010
---
If you have any comments, observations, or questions about what you read here, remember you can always Contact Me
All content included on this site such as text, graphics and images is protected by U.S and international copyright law.
The compilation of all content on this site is the exclusive property of the site copyright holder.
---
March
---
Tuesday, 16 March 2010
Little Bulbs in Bloom
At last! A day with sunshine. I drove over to Bea and Jerry's to drop off some seeds but even more, to see them both as it has been a while. Jerry had his usual bags full of ribbons from the Philadelphia flower show. Apparently he swept the board, taking first, second, and third in some classes for cacti and succulents. Had a cup of coffee, chit-chat, and then outdoors to see what's up in the suntrap of the rock garden.
Mostly I think of "golden" as a misnomer for flower color. They're yellow.
Here's an exception. These Crocus chrysanthus cannot be called anything other than gold.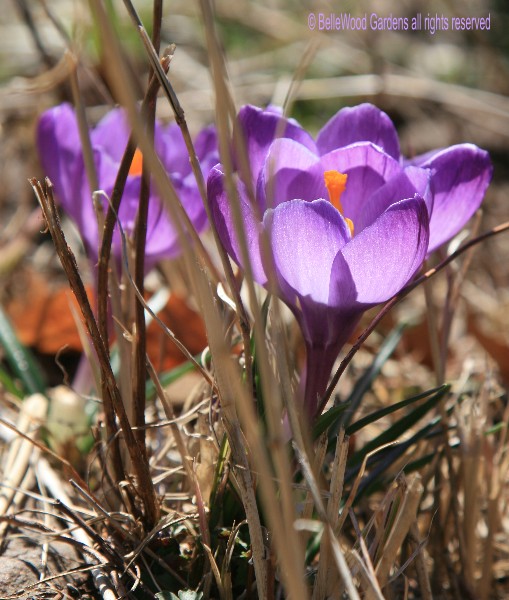 These much larger Dutch hybrid crocus, on the other hand, are a wonderfully luminous purple.
Love the contrast with the frilly orange stigma. Might be the cultivar 'Remembrance'.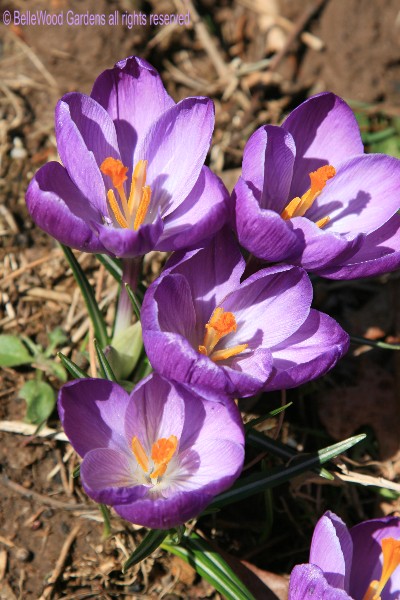 .
Next we perused the little bulbous iris flowering with gay abandonment.
Again, unlabelled. For sure it is an Iris histrioides cultivar, maybe 'George'.
Beautiful, subtle colors are unique to Iris 'Katharine Hodgkin'. A hybrid of
Iris histrioides and I. winogradowii Katharine may look delicate but she's a nice sturdy plant.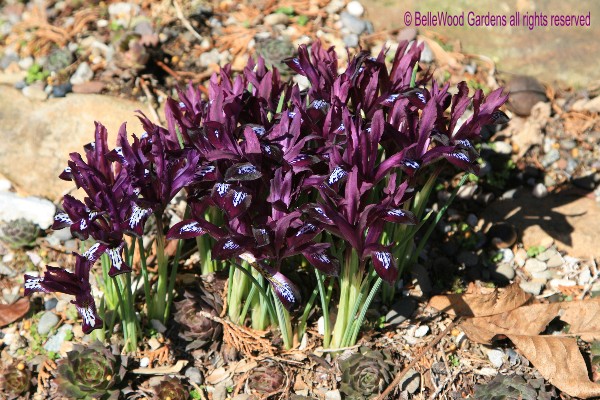 Clearly, the bulbous iris like the places Jerry's found for them in his rock garden. Little rice-grain-size
offsets have matured to flowering size, resulting in a vigorous colony from the original few bulbs.
He does scatter some granular fertilizer in early spring - if he remembers. So not every year.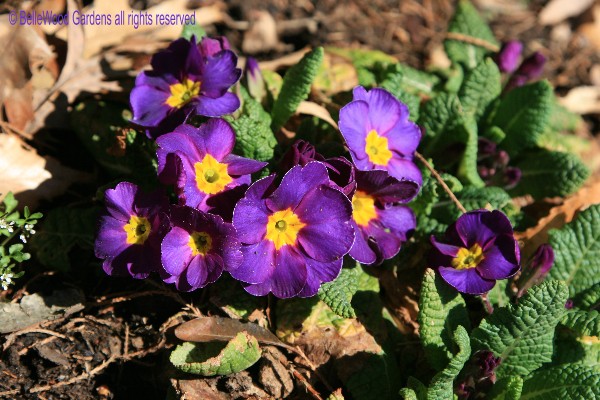 Every spring the primroses at the bottom of the steps put on quite a show. And every spring
I reiterate that it would be a good idea to separate the massive clumps in June. Perhaps
it will happen this year. And if we marked the site, plant some near the purple crocus.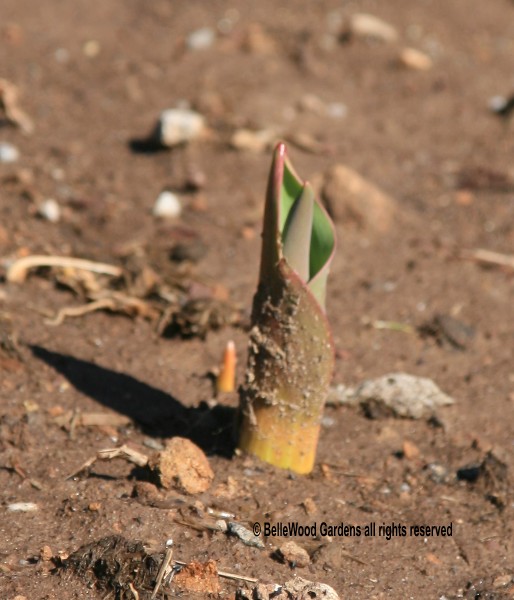 It's a promising time of year, is Spring. Emerging tulips promise flowers to follow
the little early bulbs. The paler yellowish green at the base is growth that's been made
since yesterday. Ah Spring, when all the world's in a rush to grow. Especially this Spring
when cold and snow held things back. The change from cold to milder is so abrupt that
nights remain above freezing and maple trees gave little yield of their sweet sap.
If you'd like to read more about early bulbs allow me to recommend "The Plantfinder's Guide to Early Bulbs" written by Rod Leeds and published in the UK by David & Charles Publisher in the year 2000, and in North America by Timber Press. A nicely written and well illustrated book that includes some tender, cool greenhouse bulbs together with "the usual suspects" of crocus and galanthus, muscari and narcissus, tulips and scilla and more.
---