Garden Diary - June 2010
---
If you have any comments, observations, or questions about what you read here, remember you can always Contact Me
All content included on this site such as text, graphics and images is protected by U.S and international copyright law.
The compilation of all content on this site is the exclusive property of the site copyright holder.
---
June
---
Wednesday, 30 June 2010
Soirée at Bamboo Brook
It's a garden party. Every year the Watnong chapter of the North American Rock garden Society has an evening soirée. This year it is the very last day of June at Bamboo Brook Outdoor Education Center in Chester Township, New Jersey.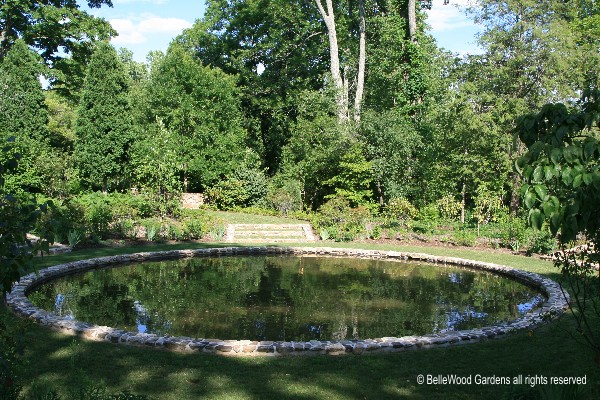 "The garden is not only the exquisite playground of the home but a place of inspiration
and promise, of tranquility and intense personal calm. And we are held and inspired by it."
Who said that? Martha Brookes Hutchinson, landscape architect and designer of Bamboo Brook.
Once a private estate called Merchiston Farm, the gardens at Bamboo Brook are believed to be the last remaining examples of her work. One of the few female landscape architects who trained and worked in the early 20th century, the gardens are now owned and operated as public parkland by the Morris County Park Commission. Their $750,000 grant provides funding for the first phase of restoration of the gardens to their circa 1944 appearance. The one concession to modernity is the fencing around 25-acres to keep out deer. Areas of the garden to be restored include the Coffee Terrace, East Lawn, Orchard, and water areas, with adaptations for public safety.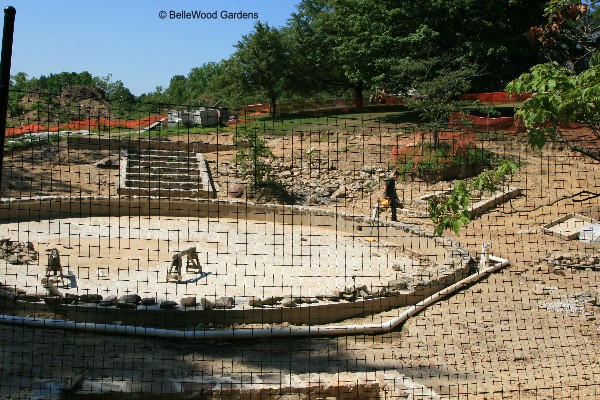 Originally deep enough to swim in, the restoration, seen here in August 2008
is instead a shallower reflecting pool.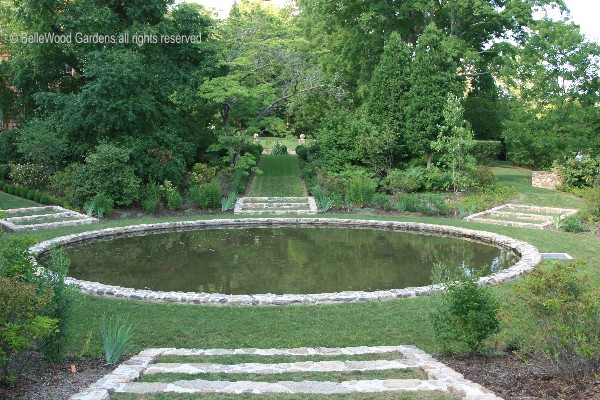 This aspect of the historic garden's water features restoration phase was completed
in May 2010.
There is an interesting article here, and another one here, both
with illustrations and some discussion of the water features at
Bamboo Brook, both the original design and today's restoration.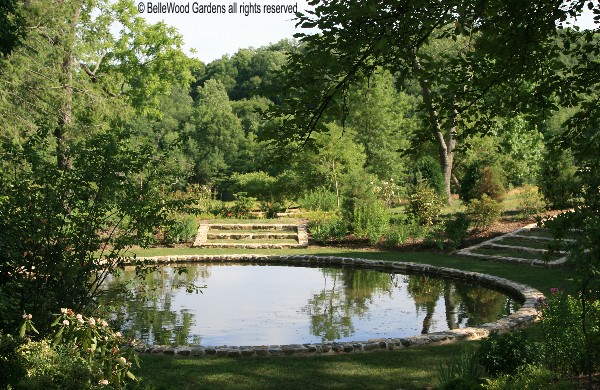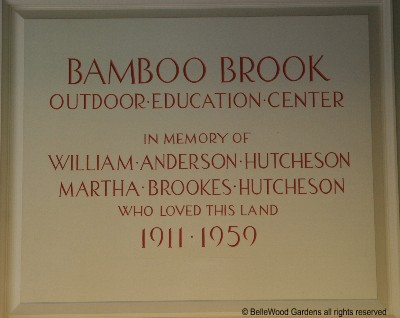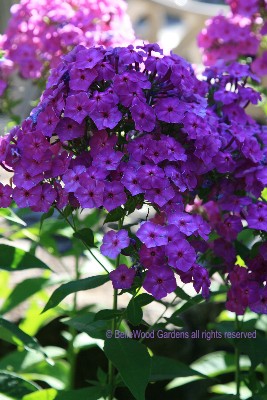 .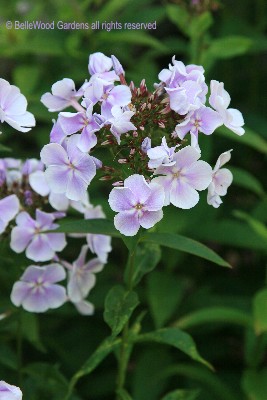 Familiar, casual, country flowers add to the ambiance. Summer phlox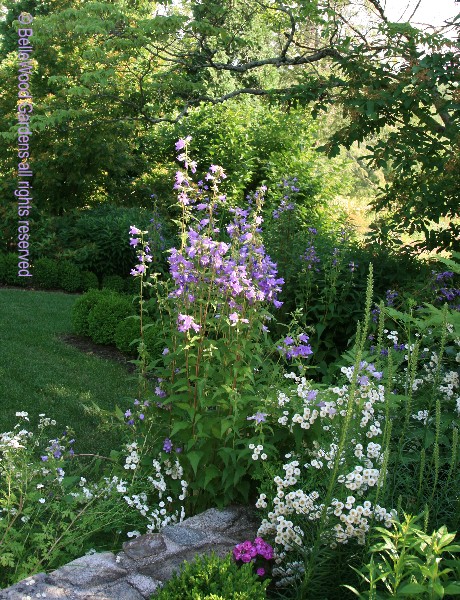 small white daisies of feverfew and the pale lavender bells of campanula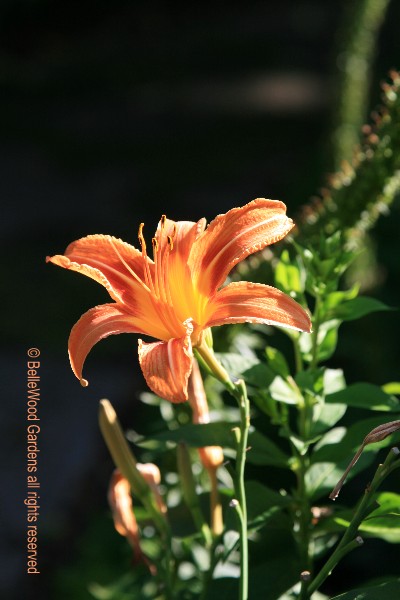 the pumpkin orange flowers of ditch lilies, Hemerocallis fulva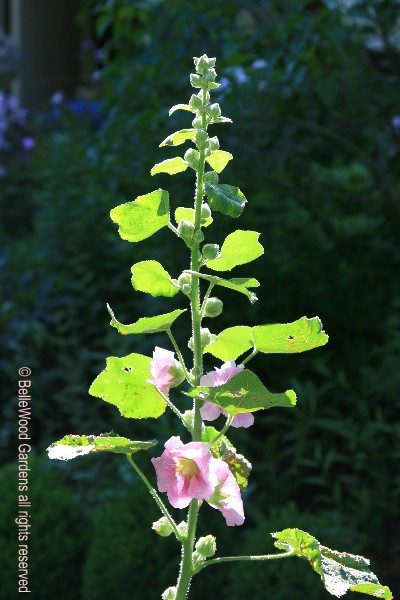 and the cottage garden spires of hollyhocks.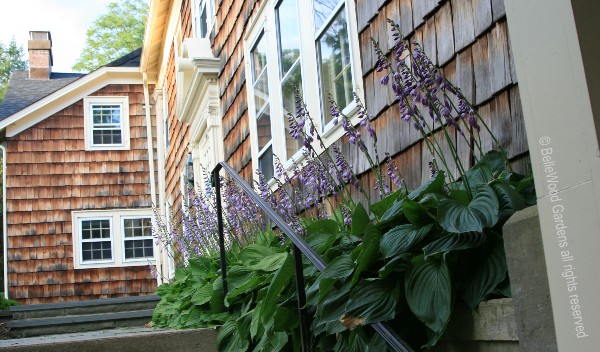 Then called funkia or plantain lily, today named hosta. Ah well, the plants know who they are.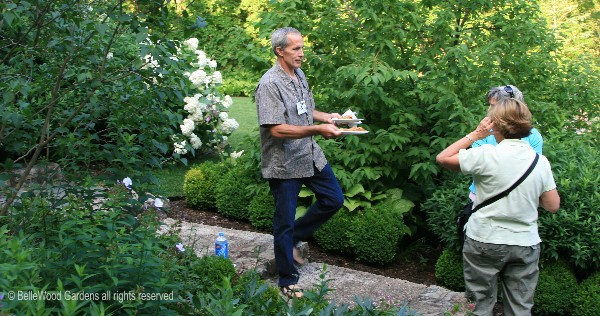 Enough strolling about the grounds. Time for dining alfresco. Food is now being (self) served.
Pam gives us a condensed version of the history and renovation of Bamboo Brook.
Born in 1871, Martha Brookes Hutcheson was one of the first women to become established in the field of landscape architecture in the early twentieth century. In 1900, at the age of 29 she entered the Massachusetts Institute of Technology's new landscape architecture program, studying for two years before leaving without degree in 1902. At that time only the second woman trained in landscape architecture in the United States, she became well known as a remarkable landscape architect, consulting for wealthy northeastern families.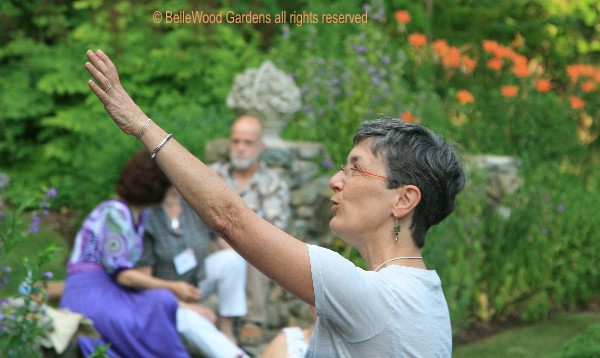 And Marta tells us about Martha's life.
Her magnum opus and last surviving work is her home garden, designed in 1911 after her marriage to William Hutcheson. She sketched out and presided over the construction of its pools, summer cottage and lush lawn with picturesque views of the surrounding hills and bluffs. Originally known as Merchiston Farm, Bamboo Brook was her personal home for the second half of her life. Considered by some to be her personal masterpiece, the natural beauty of trees and meadows intermingle with formal gardens on the property. Martha died in 1959. Her daughter, Martha Hutcheson Norton, donated Bamboo Brook to the Morris County Park Commission in 1972, along with the rest of the 100-acre property.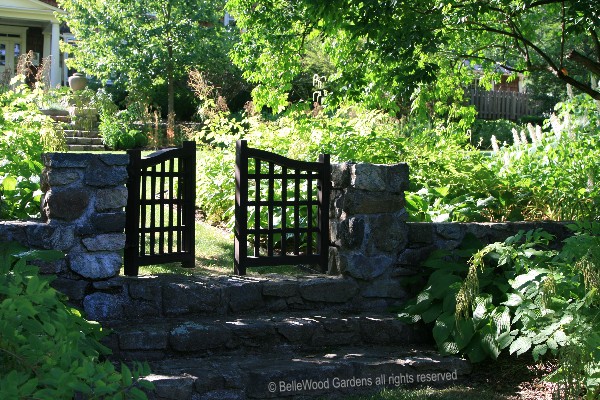 A pair of gates that lead from dappled tree shadows up to the house where a second flight of steps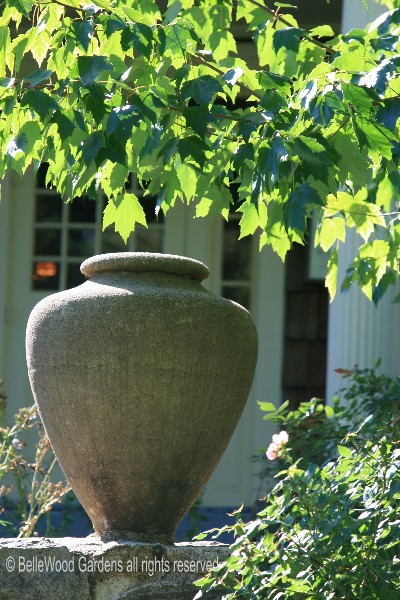 is embellished with this graceful urn, complete in and of itself.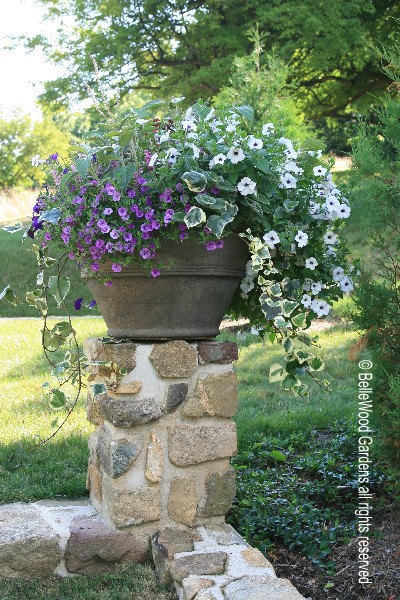 Which is not to say that flower-filled containers are absent. On the far side
of the reflecting pool a sturdy pillar supports a pot overflowing with flowers
and trailing sprays of variegated ivy. The stonework's new - it will age.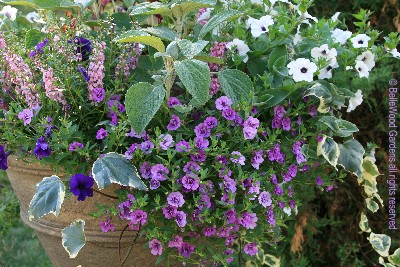 .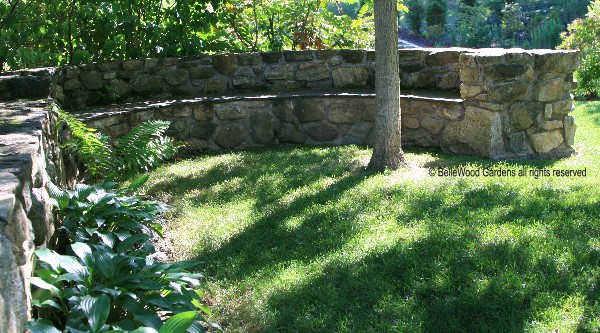 Today, the Bamboo Brook Outdoor Education Center makes up 100 acres of woods, fields, trails, water features and gardens. A visit to Bamboo Brook Gardens is a peaceful one, with the opportunity to enjoy the wordless beauty of a space inspired by a love of landscape, harmony of plants and nature, restored.
---