Garden Diary - August 2009
---
If you have any comments, observations, or questions about what you read here, remember you can always Contact Me
All content included on this site such as text, graphics and images is protected by U.S and international copyright law.
The compilation of all content on this site is the exclusive property of the site copyright holder.
---
August
---
Tuesday, 4 August, 2009
The Edible Garden at the New York Botanical Garden
Local corn is available across the river in Pennsylvania. True, I'm crossing state lines but only driving about 5 miles. Peaches sweet and juicy enough that I should bend over the sink when devouring one are ripe and ready at Dick Nagy's orchard. Even in the city the focus is on fresh food, with the New York Botanical Garden joining in: this summer's theme for special exhibits is The Edible Garden. Early August is the mid-summer height of the event, which opened to the public on June 27th and closes on September 13th. A summer-long exploration of growing and eating great food, there are display gardens, vegetables growing in places you might not have considered, gardening demonstrations, and live cooking demonstrations with celebrity chefs. Shirley and I drove to the Bronx for a day in the Garden, and an exploration of their take on the edible garden.
.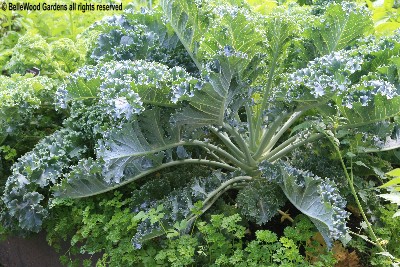 Vegetables can be so beautiful that they're sometimes grown as ornamentals.
On the left, rose-red, white, and golden stems of 'Five Color Silverbeet' Swiss chard,
and ruffled, glaucous blue kale, charmingly edged with crisp parsley on the right.
They're growing in the Home Gardening Center's Louise Loeb vegetable garden.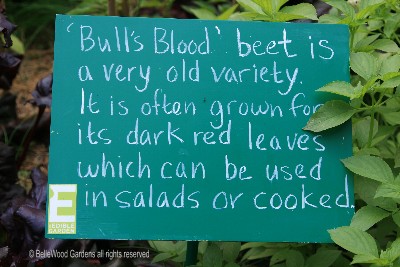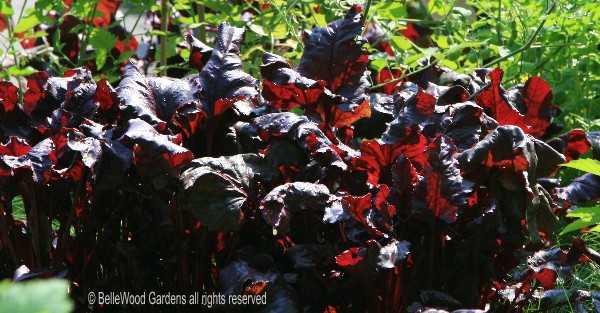 Another "looks great, looks good enough to eat" vegetable is Bulls Blood beet, with leaves as luminously dark as a beet itself.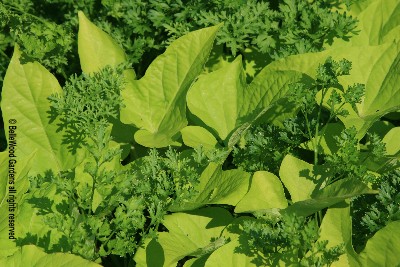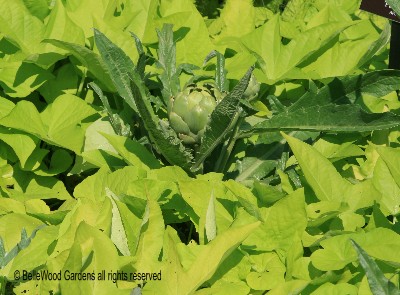 At the entrance to the Home Gardening Center is a wonderfully attractive and totally inspiring combination
of chartreuse leaved ornamental sweet potato (I have found tubers when I dig them at summer's end.
but cannot say I've ever eaten one) interplanted with parsley and short, dwarf, little artichokes.
.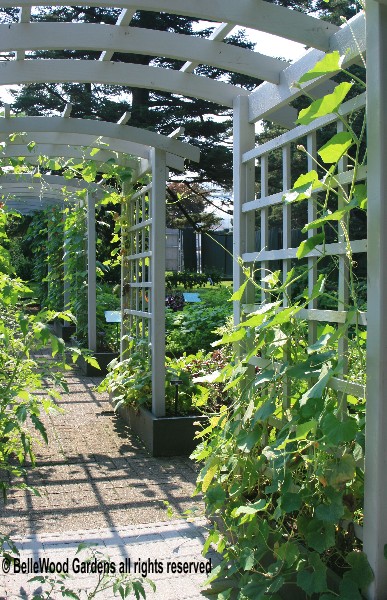 Arbors and trellises are decorative architectural features in a garden
that also serve a practical purpose - vertical gardening. Usually
they support ornamental vines such as climbing roses or clematis. But
who's to say they cannot support a vegetable, like scarlet runner beans.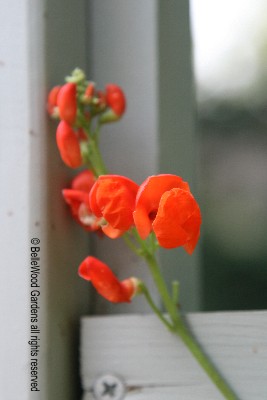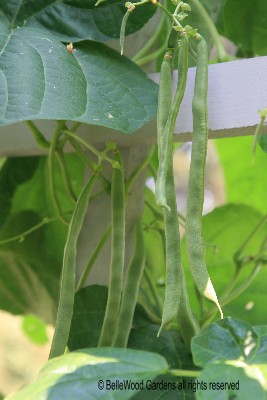 Scarlet flowers are ornamental, and runner beans are good to eat. It's a win / win, two-for-one situation.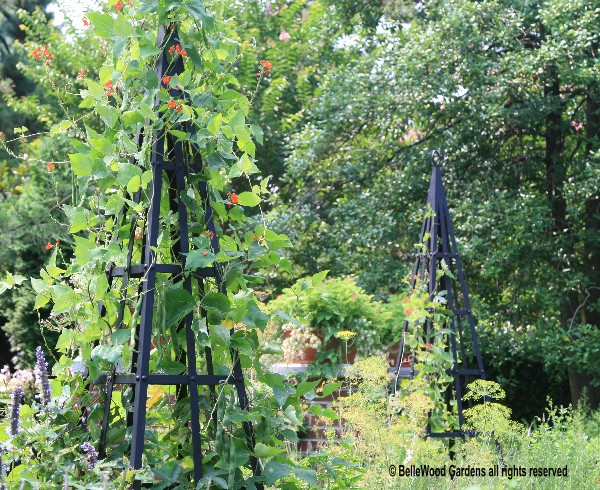 Clearly, scarlet runner beans are a favorite: here, they're trellised
on obelisks in the Jane Watson Irwin Perennial Garden.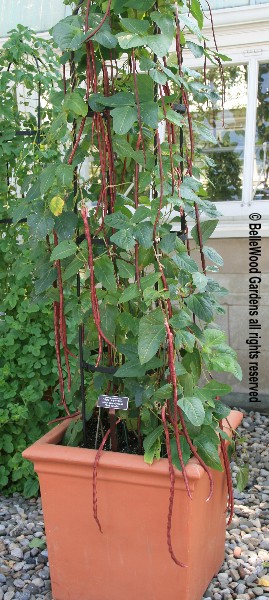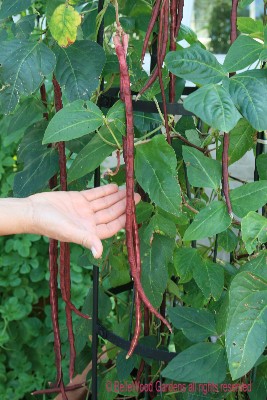 The water lily courtyards behind the conservatory featured huge pots of
well known and unfamiliar vegetables, such as these red yard long beans.
I can find the green version in Asian grocery stores but have never seen
red ones. I wouldn't be surprised if the red ones turn green when cooked.
Not only must a trellis be sturdy enough to hold the vine's weight
it's got to offer enough support. And clearly this cucurbit, coming loose
and slumping to the ground, needs more places where it could attach.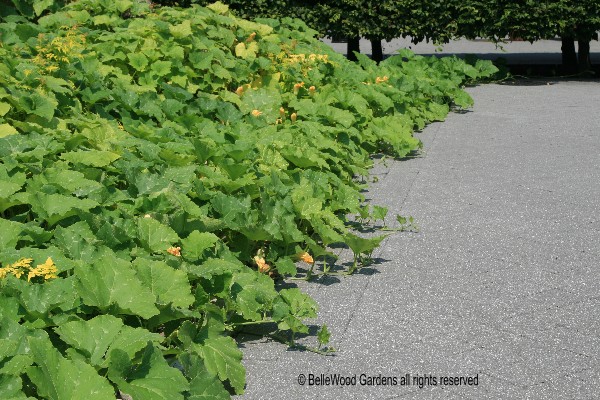 This mound of squash has no such problem, instead happily
sprawling over a mounded planting bed. In fact, it is even
extending over the pavement. Perhaps, we should walk faster!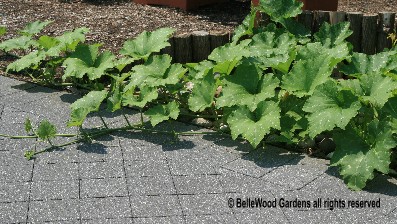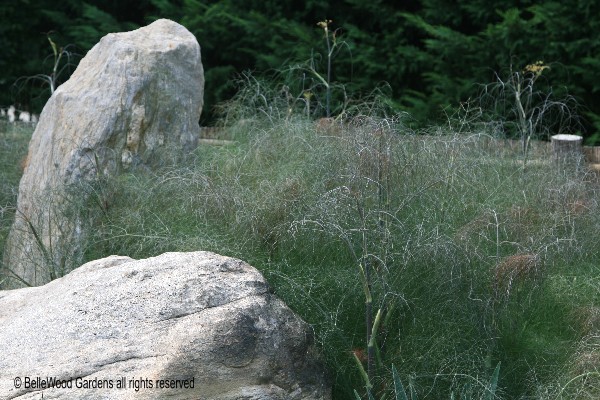 Another bed, in the hardy water lily courtyard, is filled with an airy scrim of fennel.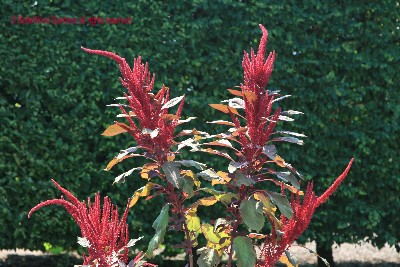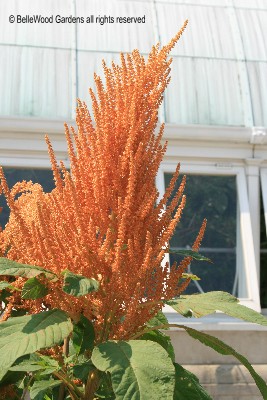 One unfamiliar vegetable that makes multiple appearances, in gardens and in pots,
are these attractive grain amaranths: Amaranthus hypochondriacus 'Burgundy'
and its glowing amber counterpart' Amaranthus cruentus 'Golden Giant'.
.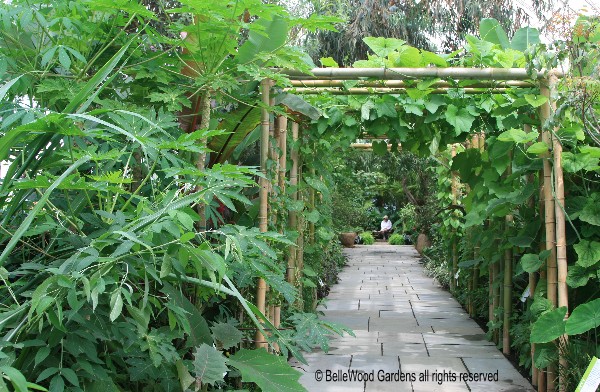 There's also a good display in the conservatory, featuring yams and rice and quinoa, and tropical edibles
such as sugarcane and coffee, Meyer lemon and tamarind, Solanum quitoense and pineapples.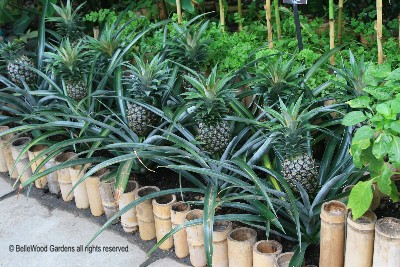 .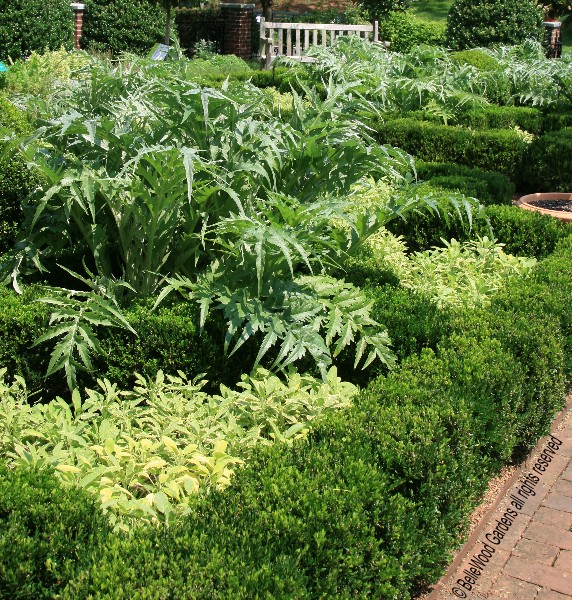 The Nancy Bryan Luce herb garden has a diverse selection of culinary herbs on display.
The parterres are infilled with the jagged leaves of cardoon (an artichoke relative) and
the golden foliage of sage, Salvia officinalis 'Ickterina', bordered by boxwood hedges.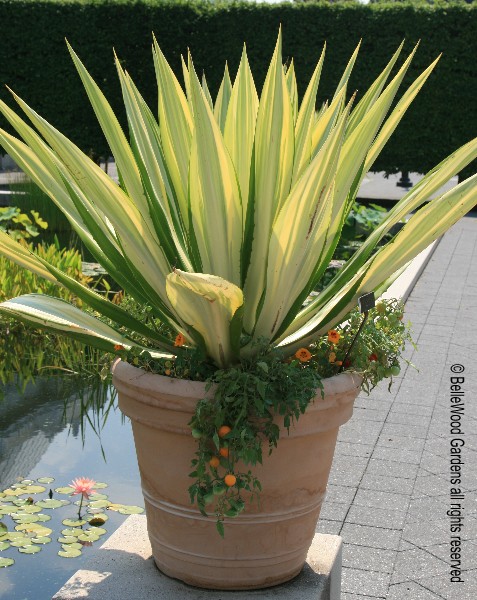 Vegetables are everywhere. Look closely at this Furcraea. What's that sharing its pot?
Why, some marigold, whose scent deters bean beetles and nematodes, and edible flowers,
and golden yellow cherry tomatoes, deliciously sweet and far from insipid, with a rich flavor.
So much to see. I'll have to try for another visit before summer's end.
---
Back to Top
---
Back to August 2009
---