Garden Diary - August 2009
---
If you have any comments, observations, or questions about what you read here, remember you can always Contact Me
All content included on this site such as text, graphics and images is protected by U.S and international copyright law.
The compilation of all content on this site is the exclusive property of the site copyright holder.
---
August
---
Wednesday, 26 August, 2009
Brief Visit to Linden Hill
It's garden club today, the once-a-month meeting of the Tohickon Garden Club. We're off on a field trip, we're going to car pool, so in order to make life easy we're meeting at Linden Hill Gardens. I arrive 15 minutes early. What to do with 15 minutes? Easy, look at one of the display gardens. I even have company, having coaxed Carol Ann into accompanying me. Quickly, chatting all the while we stroll on the grassy path between the sheep paddock and wall of metasequoia, arriving at the deer-resistant garden.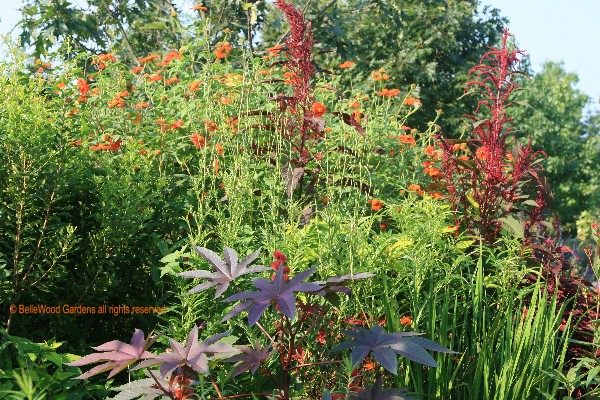 Lovely combinations of colors, hot colors, with annuals on display - bold palmate leaves of castor bean,
Ricinus 'Carmencita' dark against towering red amaranthus and orange daisies of Tithonia, Mexican sunflower.
Castor bean 'Pink Carmencita' has seed pods of a softer hue than the more common spiky red,
attractively paired with the tall spikes of black millet, Pennisetum glaucum 'Black Majesty'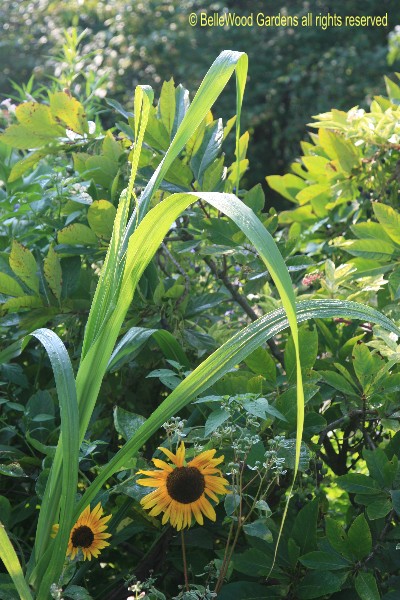 Morning light is the best, softly flattering the broad leaves of sugar cane
that arch over a pair of sunflowers.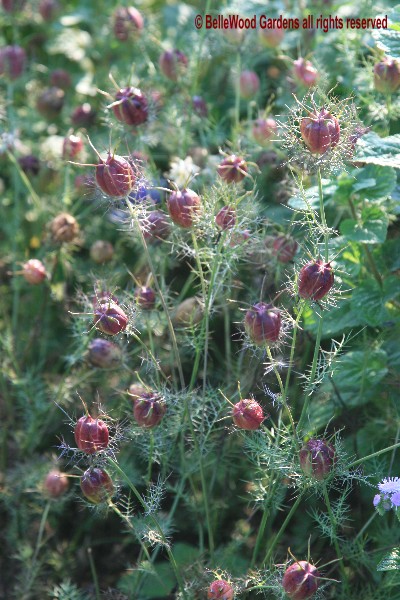 I find the seed pods of love-in-a-mist, Nigella damascena delightfully attractive.
Charming on their own, even better here in combination with a tall ageratum.
.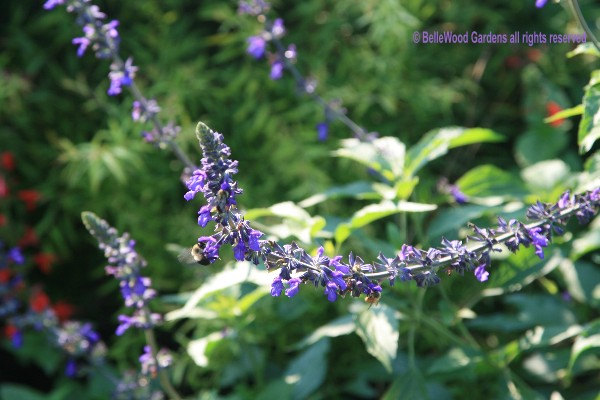 Bees are out, smaller honey bees and larger bumblebees, industriously gathering pollen and nectar
and incidentally pollinating flowers. I better industriously join the group that's now arrived so we
can be on our way to today's meeting place. It is so easy for me to become distracted in a garden.
---
Back to Top
---
Back to August 2009
---