Garden Diary - February 2009
---
If you have any comments, observations, or questions about what you read here, remember you can always Contact Me
All content included on this site such as text, graphics and images is protected by U.S and international copyright law.
The compilation of all content on this site is the exclusive property of the site copyright holder.
---
February
---
Saturday, 21 February 2009
Linden Hill Gardens Horticultural Chat Room
Winter still has a firm grip on the landscape. No cracks for Spring to push through with an intimation of what's to come.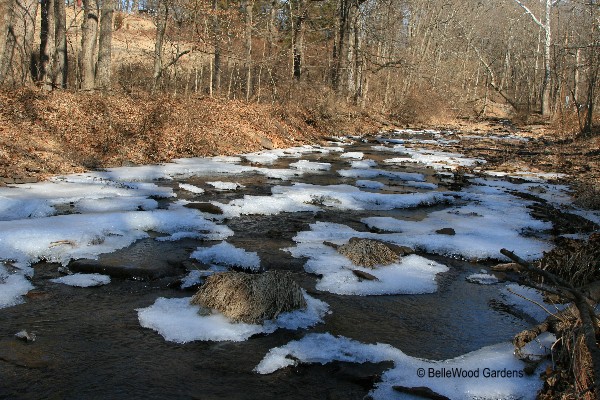 Layers of ice crystals cluster on the Nishisakiwick Creek, needles of ice
that form, then form again as the water level drops, again and again.
Not yet this year are snowdrops and winter aconites in bloom. They are, in fact, just barely poking up. Forget "April is the cruelest month . . ." What did T. S. Elliot know when he wrote those five words to open his poem, "The Wasteland." Seems clear to me that he was not a gardener. February is the worst month. Days are longer, the weather is still chilly, gardeners are frustrated, the season wavers forward and backward, flip-flopping from winter is on the wane to no it is not about to soften and fade away, no, not just yet. All I can say is that it is a good thing February is the shortest month of the year. In fact, I've often thought of getting up a petition to cancel February. We'd tack two extra weeks on the end of April, and use the other two weeks for early May. You'd sign, wouldn't you? But I digress.
Then I got an invitation to join Jerry Fritz in the potting shed at his Linden Hill Gardens for a preview of their spring 2009 orders, claiming it would be great fun, informative, and yes, refreshments would be served I was interested. So I marked Saturday, February 21st, 2009 at 10:00 a.m. on my calendar and made plans to go.
Refreshments were set up in the office building. Coffee and tea,
and cheese platters and lovely baked goods - a blueberry cake,
carrot and nut cake, miniature little bundt cakes, and more.
Nothing super sweet (other than some "bought-in" donuts.)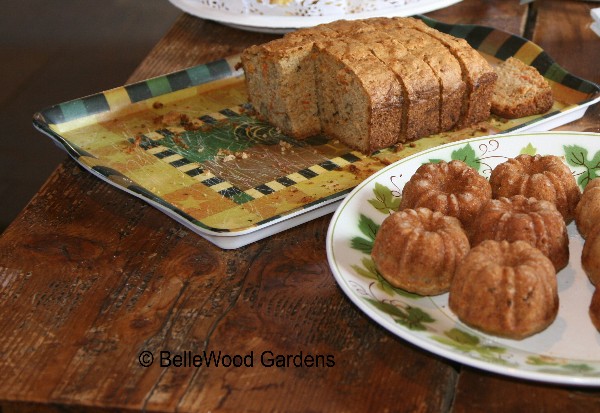 Then we wandered next door to a large greenhouse for the garden chat room.
As it happens, this is the one where Jerry winters over specialty container plants such as
these phormiums for his clients at Twin Silo Farm. (That was one of the private gardens
that the Perennial Plant Association visited during its symposium in July 2008. See here
and click on the Twin Silo Farm link.) It was spacious and sunny and bright, with benches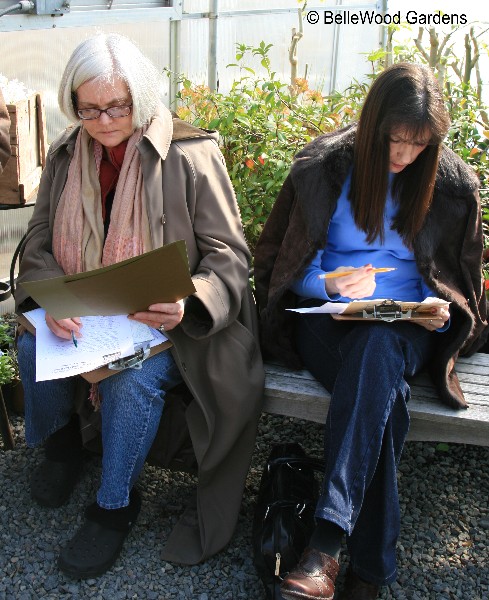 set up for attentive people to make notes on their handouts as Jerry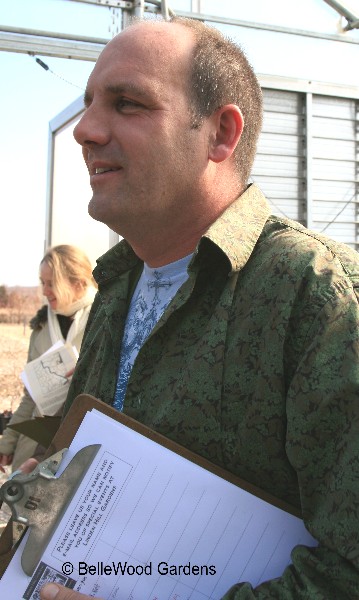 briskly discussed a diversity of new shrubs, perennials, vines, annuals, & edibles
that will be available at Linden Hill this Spring. He even passed around pages
with pictures to further whet our appetites for Winter Jewels strain of hellebores,
a funky red and green zinnia 'Queen Red Lime', purple-leaved 'Violetta'
pak choi, 'Cora Louise', a lovely semi-double white peony that is a cross
between tree & herbaceous peony. I'm busily scribbling down the details.
We're done. People stroll up and down between the benches and among the plants.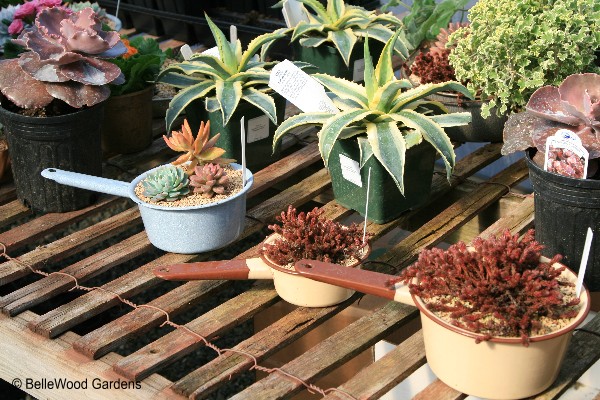 There are literal pots of succulents in funny old enamelled tinware. Don't worry -
I picked one up and looked. There were drain holes drilled in the bottom of the pots.
They were for sale, along with other plants offering an intimation of Spring.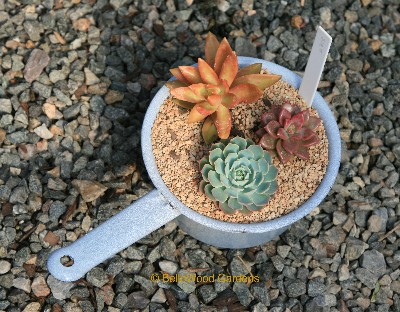 Such as these luminous blue ruffle-edged pansies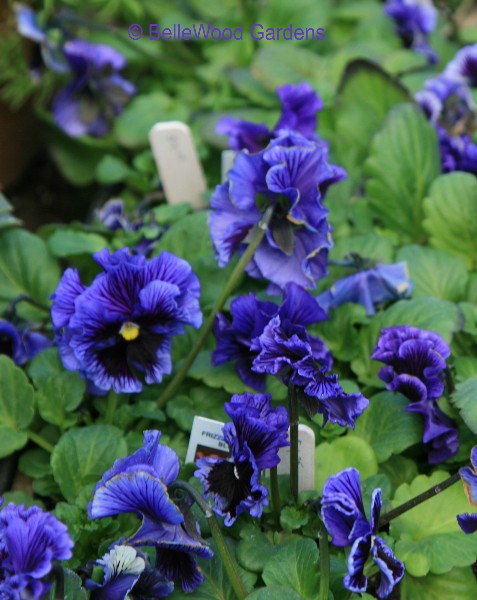 and pots of double primroses like these butterfat creamy ivory
with dainty blue forget-me-nots just ready for a windowbox.
Not just yet. Better keep them inside the window, safe from frost.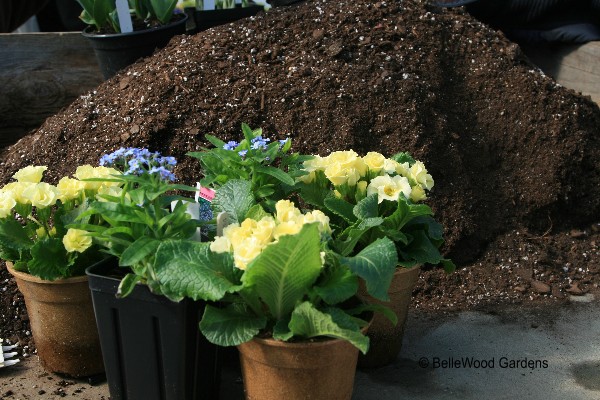 There are even a couple of pots of Primula obconica. Not often seen,
it is grown as a spring-blooming annual for early color. Handle with care,
as many people have an allergic dermatitis, developing a nasty rash
from exposure to the leaves. Whenever I've handled plants I then
wash with soap and water afterwards, and haven't had a problem.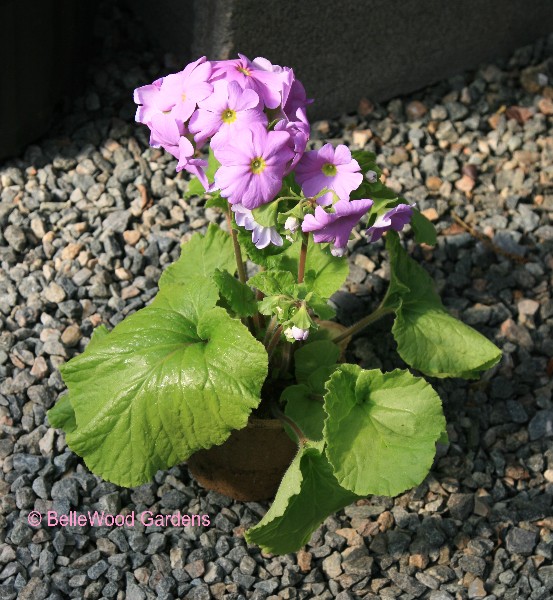 Back into the office next door for another cup of coffee,
and admire the casual still life of bench and painting, worn red
watering can and open-sided clay urn of branches & dried flowers.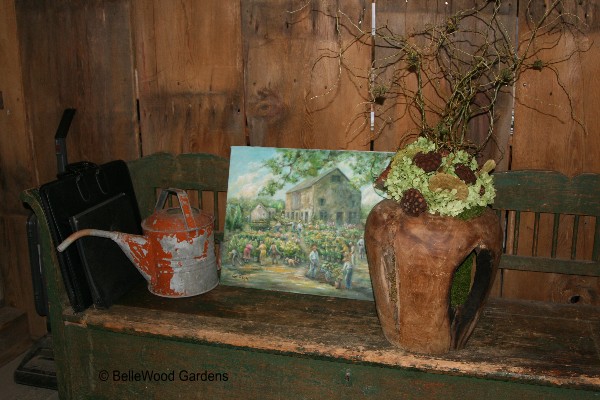 .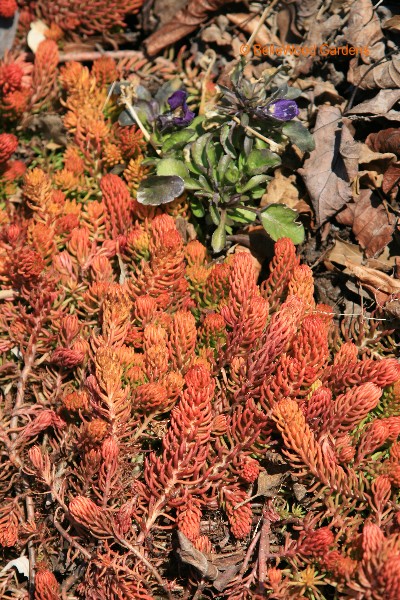 At the edge of the parking area some Sedum 'Angelina' has turned fiery orange.
A pansy surviving from last year attempts to acknowledge the turn of the seasons.
Not yet a flower, but for sure a couple of buds just awaiting a couple of warm days.
It has been a long hard winter and the freezing cold has certainly stressed this urn.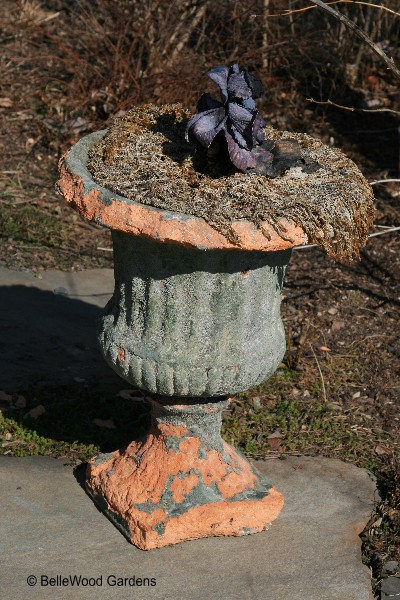 But we gardeners are hardy folk, and have faith that Spring is just around the corner.
While we wait, Linden Hill Gardens next tool shed chat will be on March 28 & 29
with their Hellebore Festival and 7th annual open house to celebrate the return of spring.
See you there: 8230 Easton Road in Ottsville, Pennsylvania. There will even be
Garden walks on Saturday at 10:30 a.m. and on Sunday at 1:30 p.m.
---
Back to Top
---
Back to February 2009
---