Garden Diary - February 2009
---
If you have any comments, observations, or questions about what you read here, remember you can always Contact Me
All content included on this site such as text, graphics and images is protected by U.S and international copyright law.
The compilation of all content on this site is the exclusive property of the site copyright holder.
---
February
---
Tuesday, 24 February 2009
Lady Lumberjack
.
Well, not really. Yes, yes, I remember Monty Python's "I'm a lumberjack
and I'm O.K." What I'm really doing is bucking wood to stove length.
There's a back story. We heat in part with a Vermont Castings stove.
That takes, on average, about 3 cords of wood. (Each cord is 128 ft³
of firewood.) This has been a very cold & quite windy winter. We're
running very low on burnable wood. Paul jests that we could burn
the furniture but I don't think so. However since it has been windy
there are numerous branches falling down, some of them of a
reasonable size. So I dragged a few of them out of the woods and
up to the house, then charged up my cute little Remington electric
battery operated chain saw that I got last September. (Paul won't
let me use his Stihl with the 18 inch bar, or even the little Homelite.)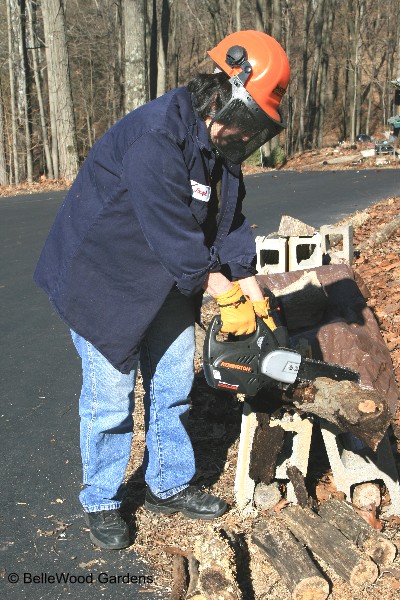 But I'm doing very nicely with this one, thank you very much.
For one thing it is quiet enough that I don't need ear protectors.
Paul is starting me off under his supervision: wear the safety hat
with face shield. Wear gloves. Keep your left arm straight in case of
kick-back. Keep your body, especially your legs, out of the line
of the cut. Cut downward, not up, towards your face. Don't force
the saw - let the chain do the work.
And I'm very pleased to be bucking even this small amount
of wood for the fires we need morning and evening. It is clear though,
that given my enthusiasm, a second battery would be useful. It takes
a while to charge, and I can keep going longer than the battery does.
Energizer bunny it isn't. I'll have to look on the Remington Power Tools
web site and place an order. Spring will arrive.
.
Eventually.
---
Back to Top
---
Back to February 2009
---