.
Garden Diary - August 2009
---
If you have any comments, observations, or questions about what you read here, remember you can always Contact Me
All content included on this site such as text, graphics and images is protected by U.S and international copyright law.
The compilation of all content on this site is the exclusive property of the site copyright holder.
---
August
---
Sunday, 30 August, 2009
Banana Leaf Cookery
I have these banana plants growing in my garden for several years. Musa basjoo, Japanese fiber banana, from southern Japan.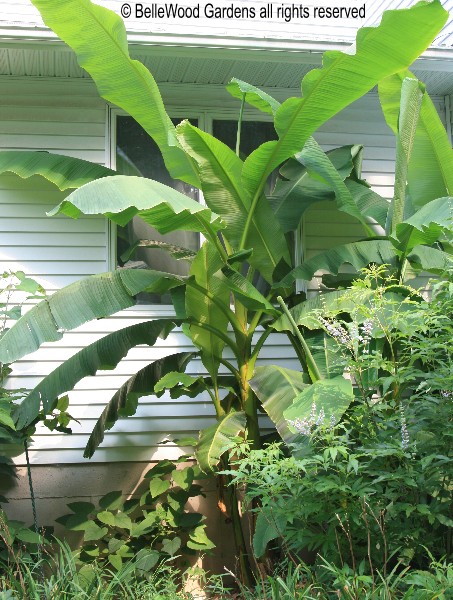 As you can see, they are growing quite vigorously. One summer, one culm even flowered and produced some little bananas. Didn't quite ripen and besides, I understand they're not very tasty. But just today I learned to cook with banana leaves.
Pick a leaf. Remove midrib. Soak in hot salted water for 30 minutes. Cut into wrapper-size pieces. Notice the differed shades of green? The darker green, on right, is the upper side of the leaf, and the paler green, on left, is the under side. My directions were to have top side outermost.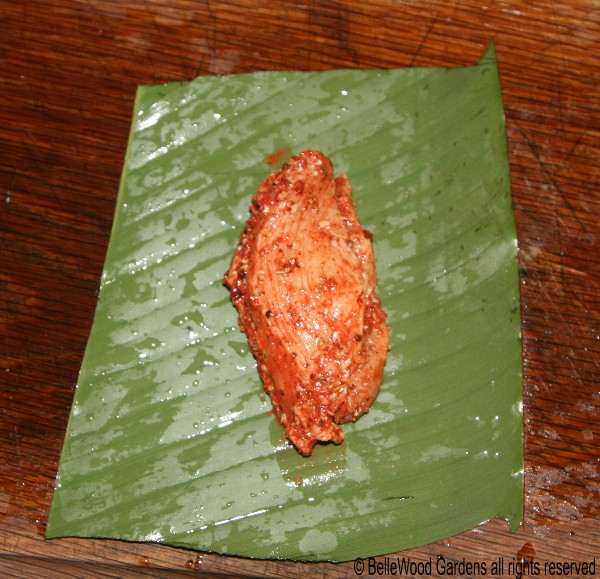 While the leaf was relaxing, I cut chicken breast into strips and then marinated it with achiote, mashed garlic, salt, dried oregano, some black pepper, red wine vinegar, and orange juice. Refrigerate.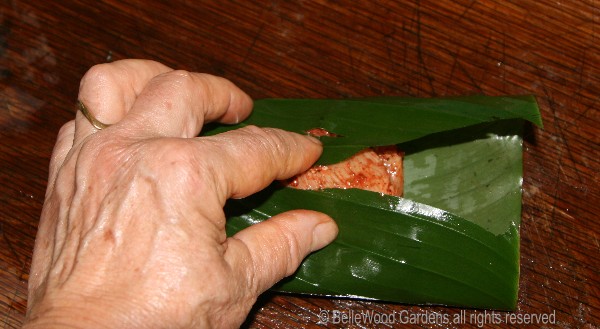 Take a piece of banana leaf. Make a neat pile of chicken strips
with marinade clinging to them. Fold top and bottom towards center.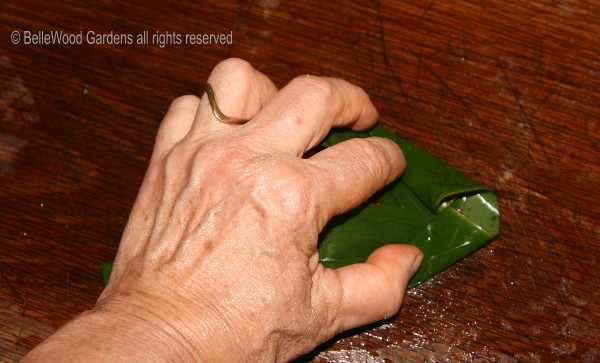 Fold in the corners on one side, making it narrower.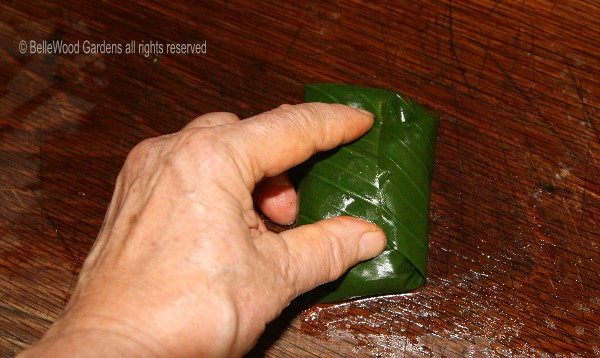 Fold both sides towards center, overlapping with wider piece.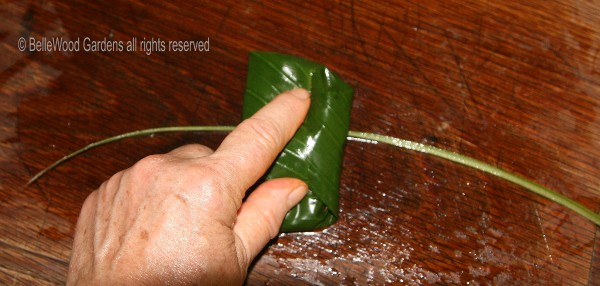 Tie packet with a narrow strip trimmed off midrib that had earlier been cut away.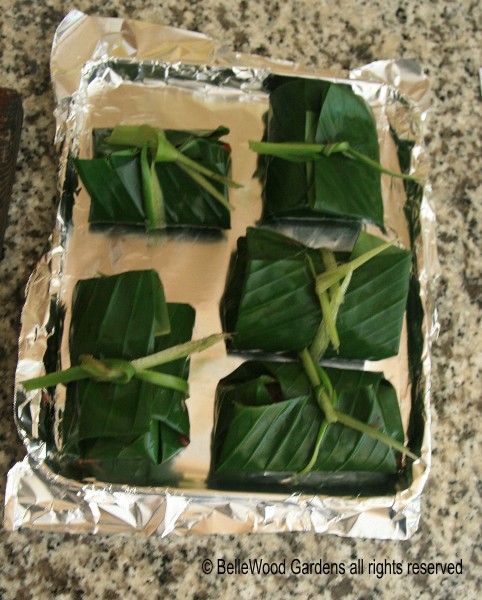 Nice tidy little bundles, aren't they. Cook in 350 degrees Fahrenheit oven
for 25 to 30 minutes. I used a toaster oven to avoid heating up kitchen.
The weather was so beautiful this evening that Paul suggested we eat outdoors on the deck. With the banana leaf wrapped chicken I served local corn cut off the cob and sauteed with chanterelles that I foraged in our woods and some fresh tomato diced and added, served cold. Black beans with slivered onion, culantro and achiote, served hot.
But the pièce de résistance was the banana leaf wrapped chicken. Very yummy! I think I shall have to harvest some banana leaves and prepare them for the freezer. We can continue to enjoy banana leaf wrapped food next winter. Maybe shrimp . . . .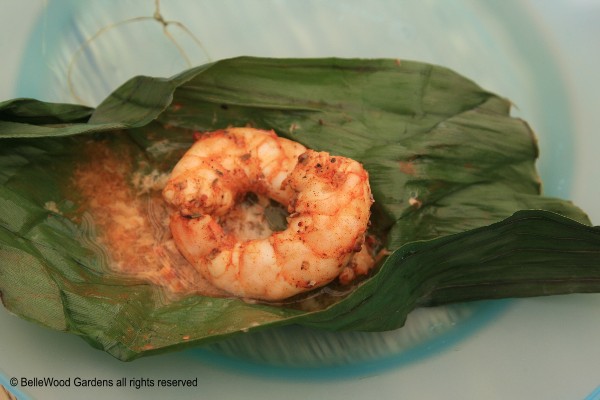 UPDATE: Yes! also very nice with shrimp. I used very large shrimp, just 2 to a packet. Cooked for 25 minutes at 350 degrees Fahrenheit. Might try just 20 minutes next time, as shrimp continue cooking in the packet and my third packet was on the edge of overdone. Served with black beans and white rice, mixed together.
---
Back to Top
---
Back to August 2009
---