---
If you have any comments, observations, or questions about what you read here, remember you can always Contact Me
September
Garden Writers Association in Portland, Oregon
---
Tuesday, September 23rd
Wildwood Restaurant
The sun was setting. Here at the western edge of the Pacific time zone, three hours difference from the eastern edge of the country, it may set later but set it still does. A full day of garden touring, a bonus visit to Portland's Classical Chinese Garden, and now we need dinner. Someone on my bus spoke enthusiastically about Wildwood Restaurant. Locavore food, she said, well prepared. From the restaurant's web site: Cherishing the land, its people, and local produce, Cory Schreiber opened Wildwood 13 years ago. His mantra is "cooking from the source," emphasizing sustainably grown produce from the Pacific Northwest prepared in ways that allow the natural beauty and flavors of the ingredients to shine through.
Sounds good to me. I ran the idea by Gloria Day, my roommate. She concurred. Kirk and Sara Brown were interested. Sabine Stezenbach from the New York Botanical Gardens had no previous plans. Charlotte Kidd was happy to join us. And Eva Monheim, who teaches at Temple University made seven. Kirk said it best, "Dinner in a foreign city at a place you've never tried is only ever measured on the strengths of your dinner companions."
A quick telephone call to see if we could be accommodated, two taxis, ten minutes, and we were there.
Their menu changes weekly. Eleven starters, eight entrées. Fortunately there was only one entrée duplication, my dining companions were agreeable to sharing tastes, and remarkably patient with my cries of "no, wait, let me photograph before you eat." Some had a cocktail or a glass of wine, others didn't. Some had a starter, others not. I began with a salad of Mizuna Gardens seasonal greens with toasted hazelnuts (signature nut of Oregon) balsamic vinaigrette and currants with goat cheese.
My choice of entrée was slow cooked Cattail Creek lamb shoulder,
accompanied by creamy polenta, pan fried Flamingo Ridge tomatoes
and roasted broccoli. The coating on the tomato slice was too crunchy,
the broccoli was only fair. Polenta was rather good. And the lamb -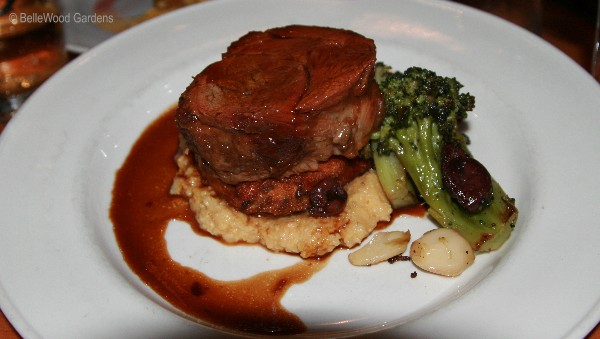 oh my. It had been boned, rolled into a cylinder and was
fork-tender perfection. I had been curious to try it because
ordinarily I like lamb rather rare, quite pink. At home I slow cook
pork shoulder for pulled pork, beef chuck for barbecue beef. But
had never thought of trying this technique with lamb. Slow cooking
melts connective tissue while fat permeates the meat which remains moist.
And a glass of dry, powerful syrah was the perfect choice to compliment the lamb.
.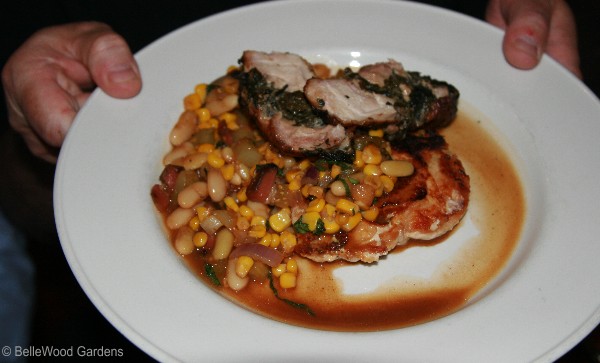 Kirk had the Draper Valley chicken paillard, served with
fresh shell beans, sweet corn, crispy bacon and roasted green tomatoes.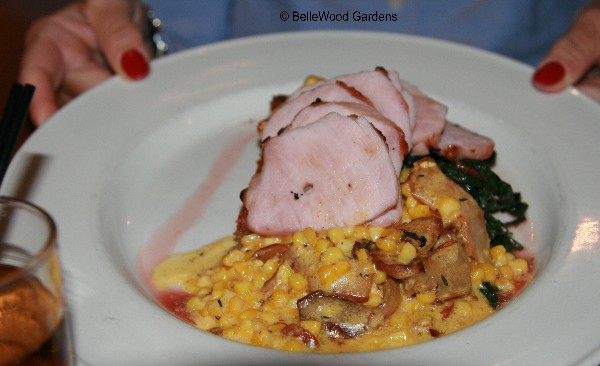 Sara enjoyed mesquite roasted Sweet Briar Farms pork, accompanied
by creamed corn, lobster mushrooms, wilted chard and potato hash cake.
Someone had the pan seared Pacific ling cod, and vegetables were
Your Kitchen Garden cauliflower, torpedo onions and Creative Growers gypsy peppers.
I think it was Sabine who had the grilled Alaskan halibut,
with Viridian Farms cannellini beans, Sheldon's leeks, chanterelle mushrooms
and crème fraîche. Her beverage of choice was a local beer microbrewed
just a few blocks away. Lovely beer is brewed in Oregon.
.
A small hiatus while we regrouped for dessert.
There was vanilla bean crème brûlée with mixed berry butter cakes.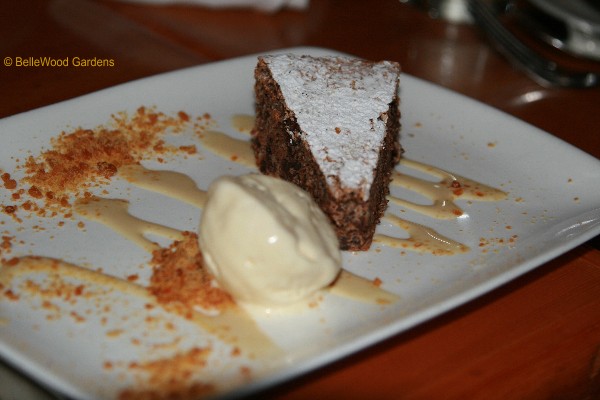 Valrhona 'Manjarii chocolate hazelnut torte
with a creamy marsala semifreddo, toffee and expresso crème anglaise.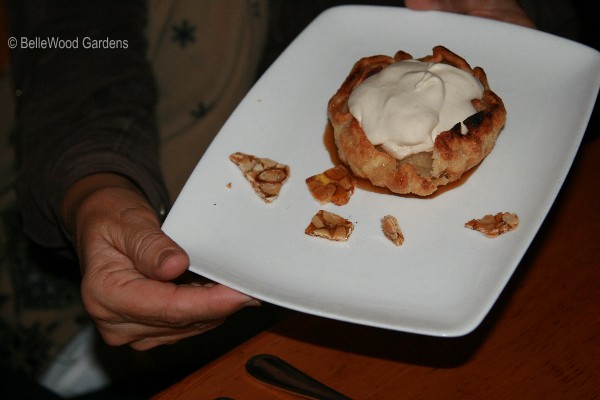 French apple-almond tart made with Queener Farms apples,
served with caramelized almonds and brown sugar crème fraîche.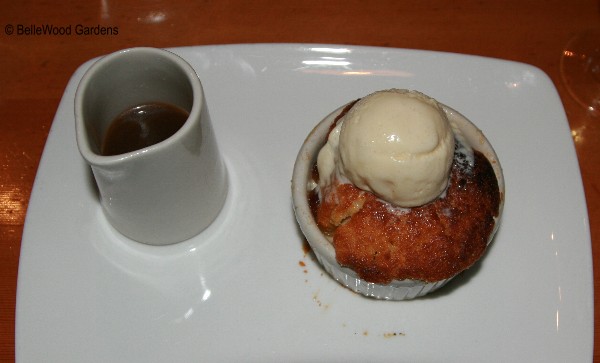 And for me, I had the warm pear and golden raisin cobbler
served with vanilla ice cream and hot butterscotch sauce. Good thing the sauce
sort of glued the ramekin to the plate. Otherwise I might have attempted to pick it up
and lick it clean. A glass of 2006 Andrew Rich late harvest Gewürztraminer made
a sublime, not-quite syrup-y rich beverage-of-choice.
.
My flight out isn't until late tomorrow evening. Not tonight. Packing can wait.
Back to Top
---
Back to Garden Writers Association in Portland, Oregon
---