Garden Diary - December 2008
---
If you have any comments, observations, or questions about what you read here, remember you can always Contact Me
All content included on this site such as text, graphics and images is protected by U.S and international copyright law.
The compilation of all content on this site is the exclusive property of the site copyright holder.
---
December
---
Saturday, 13 December 2008
Well Sweep Herb Farm
"Where" said my friend Carol, "can I get some herb plants?" Mid-December not being the usual time that she's planting her garden, I asked for more background information. Seems her daughter Jessie just moved into a carriage house. There's a small space attached to the house. It has a door into the house, no outside door, solid roof, and a wall with the upper portion made of small pane windows. Jessie, annoyed at the high price of cut herbs at the grocery store, asked her mama for some herb plants for her Christmas present. O.K., now we're getting somewhere. I asked how cold that little room gets at night (apparently it is not heated) and also how warm to hot it gets in the daytime (think closed car sitting in the sun.) Apparently Carol has no idea, and no one has a min / max thermometer to check it out. My suggestion: get a small shallow container of water, and a glass of ice cubes. Check morning and evening. If there's ice on the water, it gets below 32° Fahrenheit at night. And if the ice cubes melt, it's getting rather warm during the day. Still doesn't tell Carol where to buy herb plants at this time of year. Then I thought of Well Sweep Herb Farm in Port Murray, New Jersey. They're open and they have potted herbs for sale. So off we went on a very chilly Saturday to purchase some herbs for Jessie's Christmas presents. By the bye, it's been longer than I thought since I last visited here, June 2005 to be exact. There's a Diary entry but you'll need to scroll down, down, down, way down the page. And there aren't any pictures - that was in the dark ages before I had a digital camera.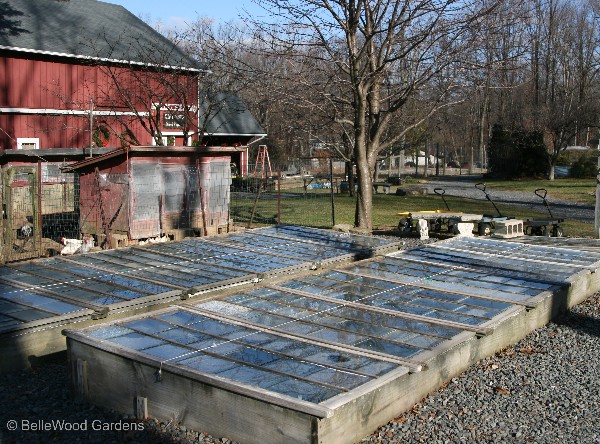 After parking in the big field next to the road we walk through the opening
in the stone wall, past the cold frames and heading for the gift shop in the barn.
Go to greenhouse number 3, we're told. Just down the gravel driveway / road.
My eyeglasses instantly fog up. There's the delicious smell of green, growing plants.
Carol talks to the very pleasant woman who is working there. They choose thyme
and rosemary, mint and sage and oregano and basil and I don't know what all else.
The bay, seen here, was the most expensive. To be expected, since it is grown
from cuttings. So is rosemary, but I think that's easier. The others are sown
from seed, or layers, or by division.
I asked if they had any fragrant violets,
sweet violets, Viola odora. The woman used the intercom to ask David.
He came in with a purple flowered one, showed it to me, then brought out
a white one that was in his other hand, behind his back. Happy, happy me.
The violets will be pleased to grown in my cool, 50° Fahrenheit night temp
greenhouse, and I'll be happy with their deliciously fragrant little flowers.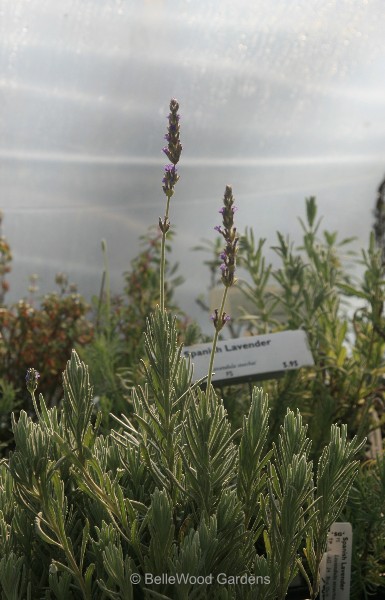 And speaking of fragrance, greenhouse # 3 had Spanish lavender in bloom. Delightful.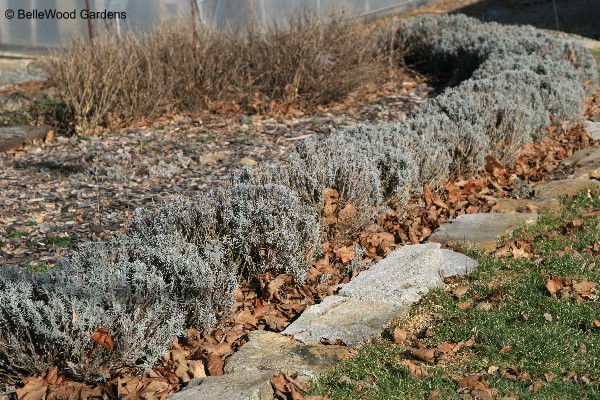 Outdoors, the sweeping curve of Hidcote lavender makes a great little hedge.
However flowers are a fantasy. Winter is a time for dreaming away the cold.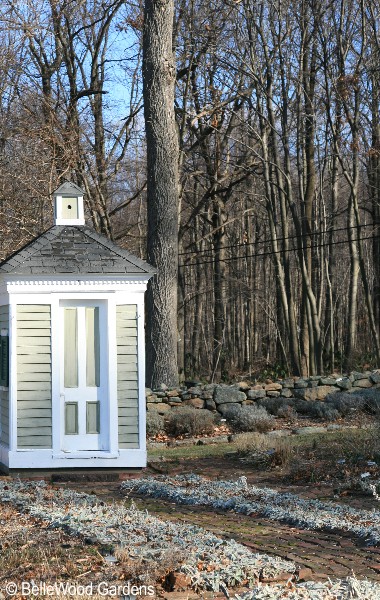 The herb garden is mostly bare, perennial plants underground and annuals
absent, waiting to be sown in the spring. There are a few, evergreen. Or better,
described as ever gray, silver foliage holding up to winter's cold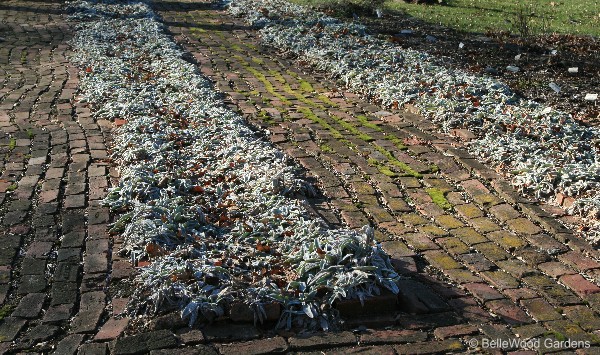 like this double row of lambs ear, Stachys byzantinus.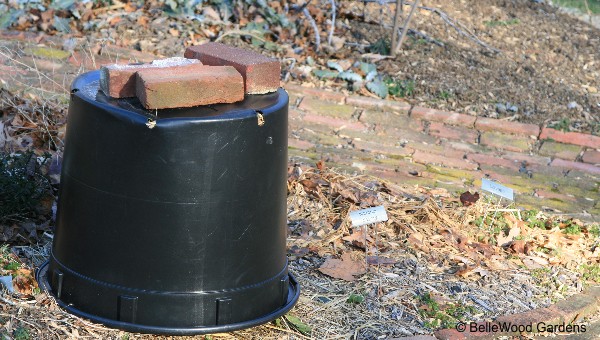 The bucket, filled with dry leaves, protects a bay laurel, Laurus nobilis.
Mine, potted up, is living in my kitchen for the winter. I asked David
why this sweet bay is in-ground and covered over. "Because
it's cool," he said, "it's fun, to have one living in the ground."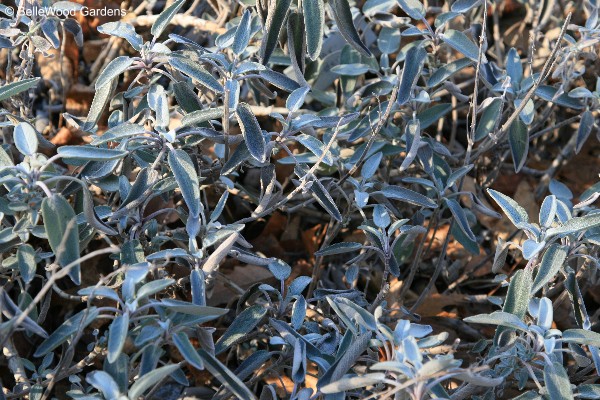 Sage is another sturdy herb that keeps its silver leaves all winter long.
It's actually a small woody shrub, easy to grow and kept happy - like most herbs -
with a place in full sun and a well drained soil. Right now the leaves remind me of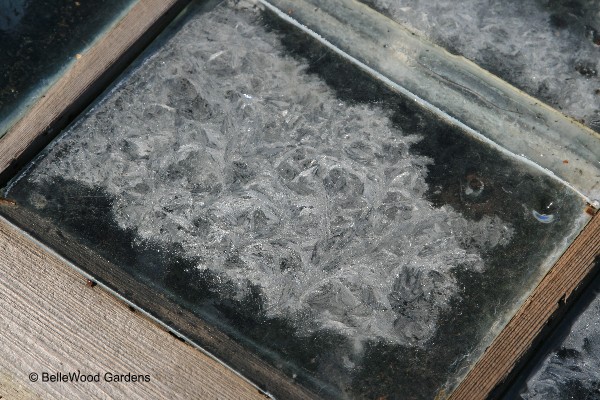 hoarfrost, ice flowers painted on the cold frame glass.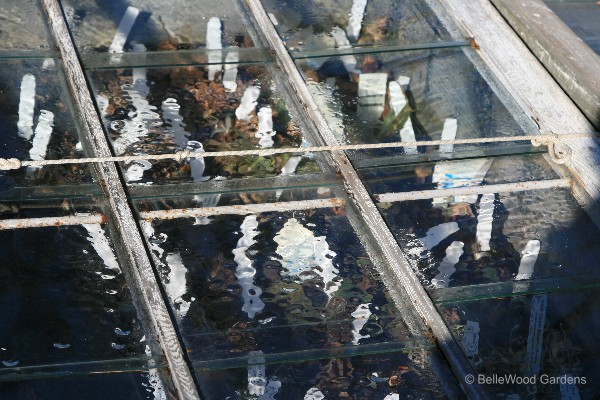 Even with the low temperature outdoors (ice cubes would not melt)
the weak winter sunshine warms the air within the cold frames and re-melts
the condensation from solid state back into liquid water.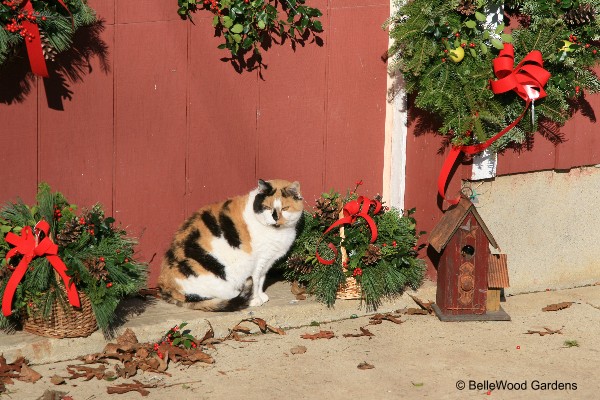 There's more than living, growing herbs in greenhouse # 3. All sorts of gifts
in the barn, greenery and roping and wreaths outdoors. And a very sweet calico cat
who is part of the staff. She came running over to greet me and accept a friendly
stroking. Go visit. There are plants now, even more next spring. And all sorts
of decorative accoutrements to bring holiday cheer to home and garden.
---
Back to Top
---