---
If you have any comments, observations, or questions about what you read here, remember you can always Contact Me
September
Garden Writers Association in Portland, Oregon
---
Sunday, September 21
Terra Nova Nursery
Morning lectures, afternoon tours. To quote from the symposium schedule: "Oregon is renown for its nursery industry, which ships 75 percent of the stock grown in the state to cities across the U.S. and Canada. Today, you will visit two world-class wholesale nurseries, both of which display their plants on site in extraordinary gardens. Plants don't just happen. These nurseries invest time, care and attention to detail to deliver exceptional plants to local garden centers across the country. Photo opportunities at the nurseries will give your readers great ideas for their own gardens." Today's story tour has two stops: Terra Nova Nurseries and Iseli Nursery. The arrangement was that half the buses went first to Iseli Nursery, and the others went to Terra Nova Nurseries, then swap around.

Fascinated with variegated plants, Dan Heims started Terra Nova Nurseries 13 years ago. Beginning with Pulmonaria andHeuchera he's expanded operations to all sorts of unique and fascinating plants. Perennials, mostly, but also shrubs and tender plants. He'll search for them at home and around the world, ever eager for the next discovery. Variegated horseradish? Check. And what might be next? Who knows, but if you find a variegated poison ivy, Dan's the man to call.
.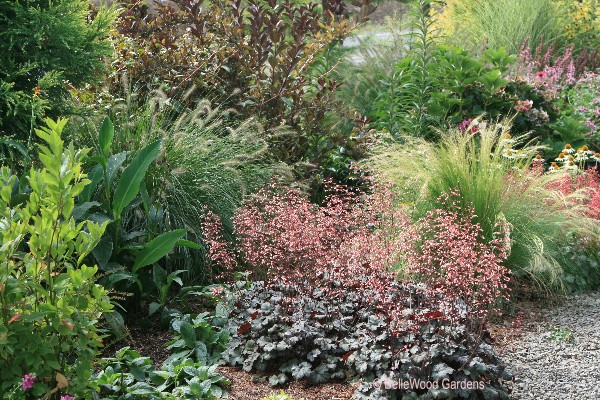 Lovely demonstration border filled with beautiful plants.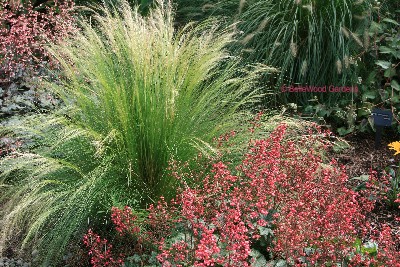 A great combination of Lobelia 'Grape Knee-Hi' and Coreopsis 'Autumn Blush'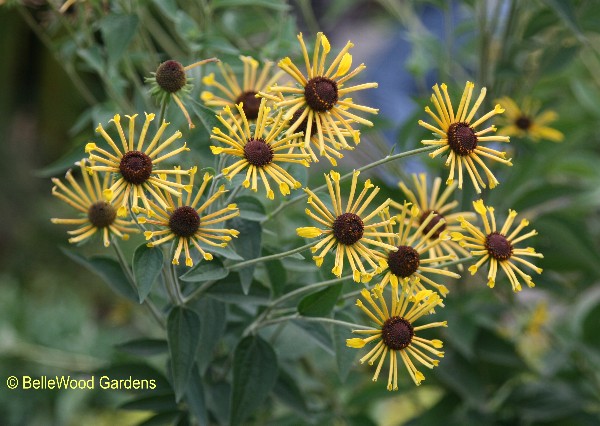 Unique Rudbeckia 'Henry Eilers', with pinwheel petals opening into a tiny spoon.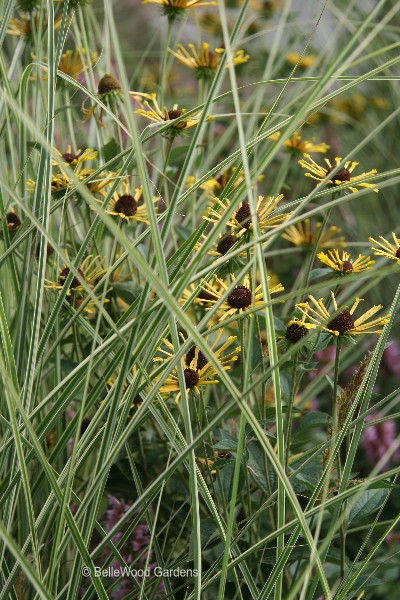 A fascinating combination of the rudbeckia with a variegated miscanthus.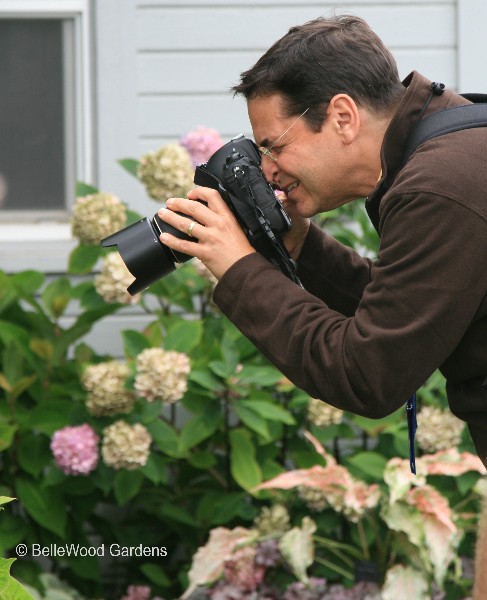 Photographers, both casual point-and-shootists and the professionals who make their living from garden photography were delighted with their options for enticing, delectable images. Rob Cardillo, for one. You've seen his work in a host of magazines and illustrating books. Now you know - it's whatever the photographic equivalent of carpe diem might be. Be in the right place at the right moment (even if you have to wait for the light) and seize the image.
Pulmonaria 'Trevi Fountain' and Ophiopogon planiscapus 'Nigrescens'
A pretty combination, pairing up the narrow ribbons of black mondo grass
with the bolder, silver-speckled green leaves of the lungwort.
I'm in love, but it wasn't for sale, at least not here. Tibouchina urvilleana 'Variegata' has velvety green leaves, each edged with a creamy border and flushed with rose-pink. Just think how it will look when spikes of royal purple flowers appear above the leaves.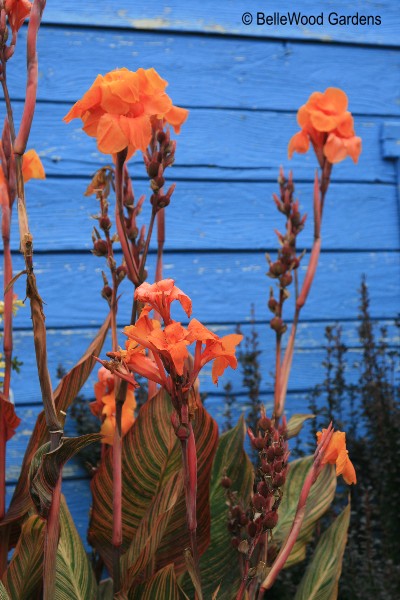 Even plants more familiar to the gardening world get shown off with a flair.
The apricot-orange flowers Canna 'Tropicana' just pop out with excitement
displayed against the bright blue wall of a shed.
The man himself, Dan Heims, making a presentation to an attentive audience of garden writers.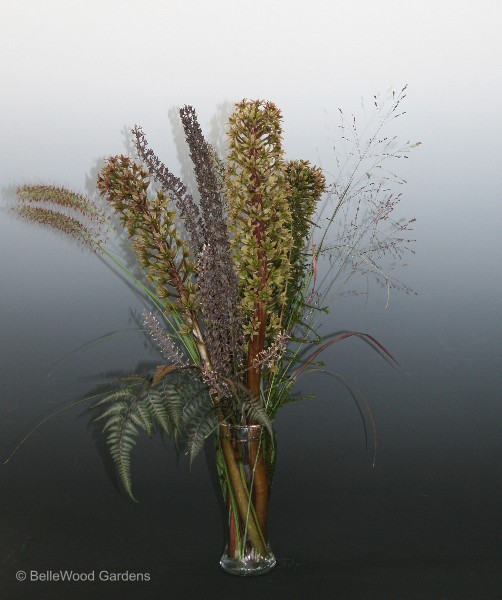 A wonderful lagniappe - a table with containers of flowers and foliage cut from the garden. Plain clear glass vases offered the opportunity to create mix-and-match arrangements. Against the wall was a fade to black backdrop, where arrangements could be photographed. I especially liked this combination of Japanese painted fern, some wispy grasses and the seed heads of pineapple lily, Eucomis bicolor. Simple, elegant, lovely.
If you enjoyed this entry, be sure to also visit Heuchera Heaven.
---
Back to Top
---
Back to Garden Writers Association in Portland, Oregon
---