.
If you have any comments, observations, or questions about what you read here, remember you can always Contact Me
September
---
Garden Writers Association in Portland, Oregon
---
Monday, September 22nd
Portland's Japanese Garden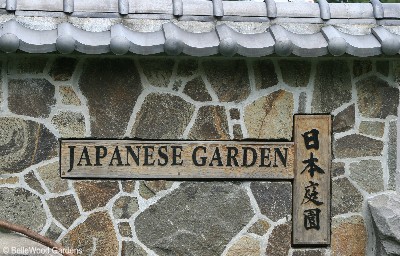 Washington Park in Portland's western hills has views of the Cascade Mountains, and of downtown Portland. Just under 130 acres, it has room for: the Oregon Zoo, Hoyt Arboretum, World Forestry Center, International Rose Test Garden, acres of forest with miles of trails, and more. Among the "more" is an exceptional Japanese garden said to be the most authentic outside Japan. Designed in 1963 by Professor Takuma Tono (head of Landscape Architecture at Tokyo Agricultural University) and opened to the public four years later, its 5.5 acres make excellent use of the mostly steep, wooded hillsides that form the park's terrain, combining stone to represent mountains and islands, water symbolizing purity, and plants that provide texture, color, and a link to the year's changing seasons. Through subtle "hide and reveal" design, winding paths offer shifting views of the garden's amenities, fascinating in broad sweeps like a scroll painting, and inviting close inspection of detail.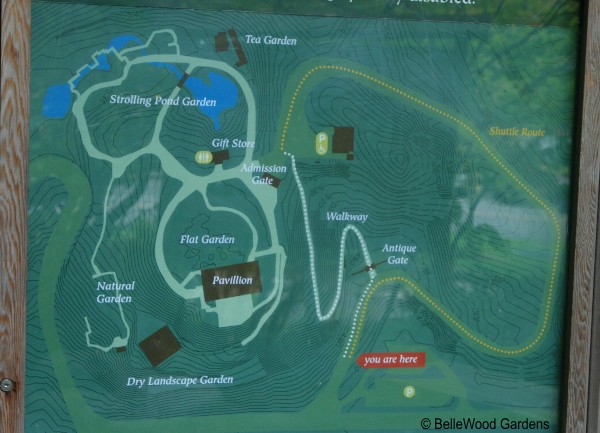 There are five different gardens: the Strolling Pond Garden is the largest, with multiple spaces to contemplate and enjoy. The Flat Garden offers islands of moss in a sea of raked gravel. These two, and a glimpse of the Tea Garden were all I could manage in the time allotted to us, and did not make it to the Natural Garden or the Dry Landscape Garden.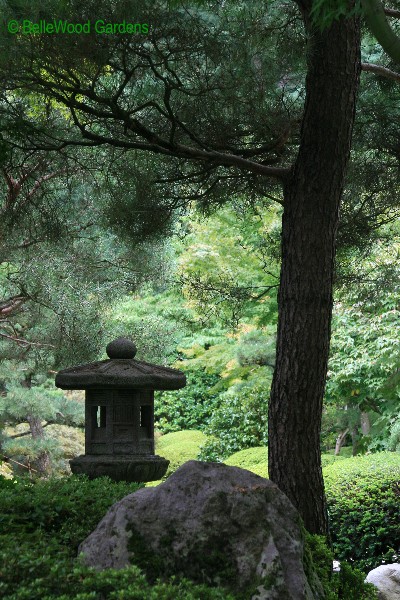 What makes a garden "Japanese? To the uninitiated, plunk down a lantern and a rock under a pine tree, and you're done. Having studied in the first two-week-long intensive seminar about Japanese garden art at Kyoto University School of Art and Design I have a beginning understanding of what's involved. And it is more, much more. You must appreciate the geography and cultural history of Japan. And it is uniquely a country that developed its gardens relying on its rich and diverse native flora (unlike England which hauled plants home from around the world.)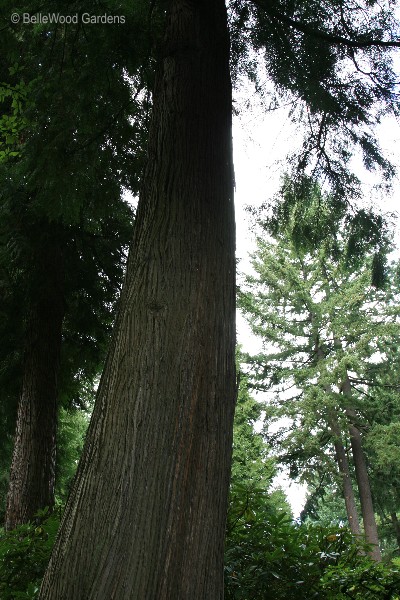 The soaring trunk of a conifer lift the eye in appreciation of it venerable age.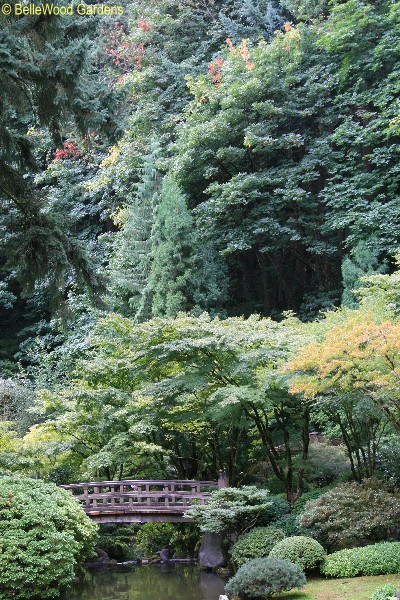 The Moon Bridge of the Strolling Pond Garden offers an accent of structure, something built rather than growing. Japanese gardens rely more on foliage than on flowers. Here the shifting, subtle shades of green and the first intimation of autumnal hues paint a serene, calming landscape picture.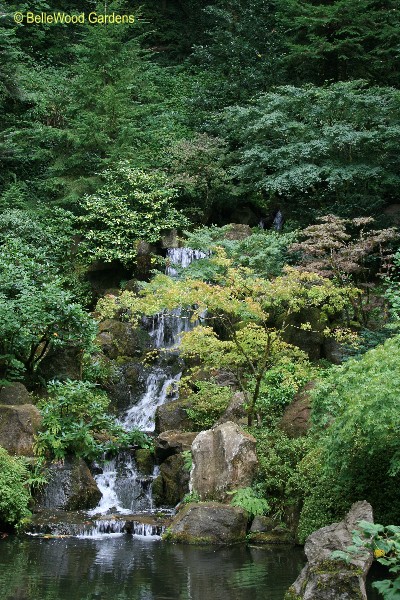 Water hurries downward in a splashing cascade bouncing from boulder to boulder in its rush to join the pond, making music as it it goes. A Japanese garden, said one of my professors, must be an amenity garden. It must appeal to all of our senses, not just the visual. Sound, and scent - the fragrance of pine needles, the pleasant warmth of sunlight as we step out of the pine trees' shade, the stony feel of a path's surface underfoot or the furry softness of moss to our hands.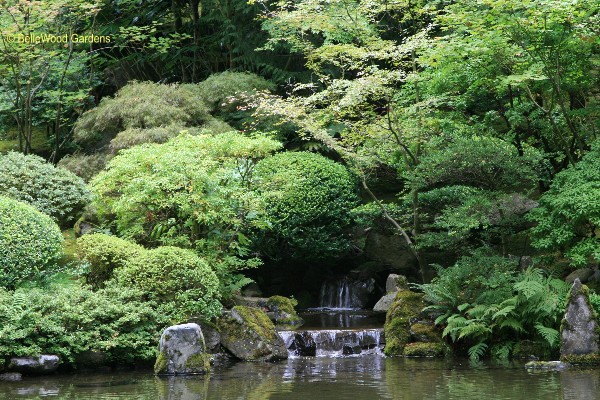 Another, this one a two-step waterfall. And another, even smaller. A hollow behind the falling water amplifies its music, much like a guitar's soundbox. Bubbles dance on the surface of the pond, then melt back into the water. A meticulously clipped shrubs offer contrast to the softer look of the maple behind it.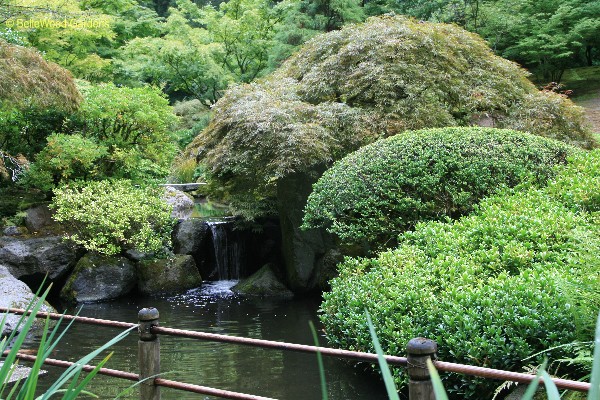 .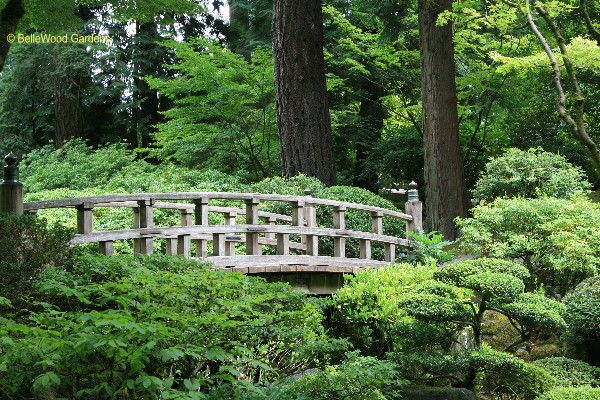 I've reached the Moon Bridge. Notice the cloud-pruned shrub to the lower right.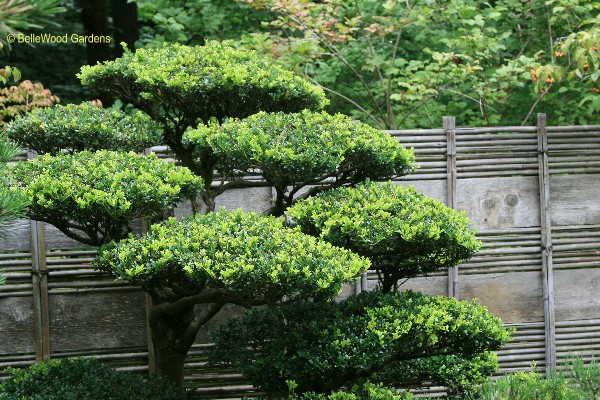 Here's another example. This is a popular technique. In Japan I saw large Cryptomeria
pruned in this style to screen and reveal unwanted portions of a view yet not close it away.
The reverence for nature in Japanese gardens does not mean plants grow wild. Far from it. They are guided, trained, clipped, pinched, shaped to the desired aesthetic goal. Here, bamboo serves as support bringing branches to the trailing approximation of age.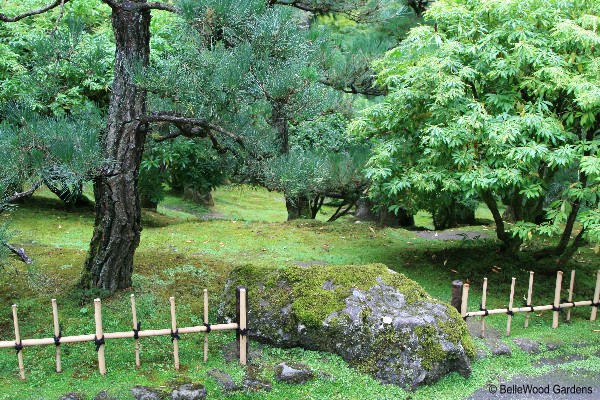 Bamboo has many uses. Here, a little fence, scarcely more than ankle high serves
as an attractive notice to walk on the path and not wander off among the plants.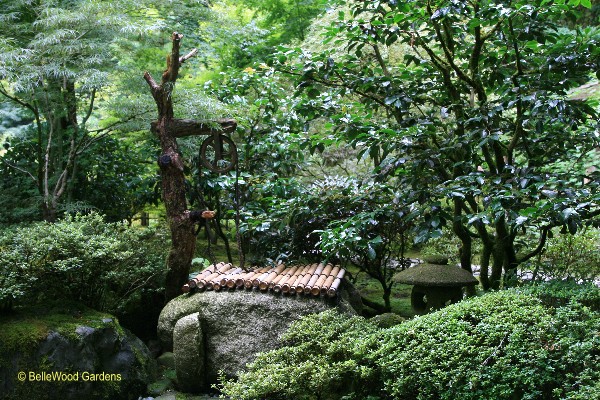 A bamboo mat covers a well, or so I think. There's a pulley wheel attached
to the dead tree. Such covering would keep leaves out of the well's water.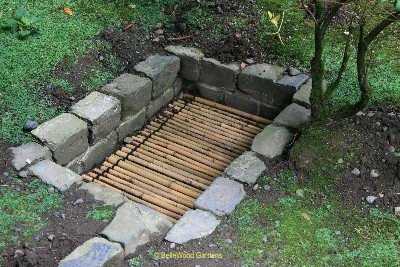 A stone-edged sump collects runoff, a bamboo mat filters any debris.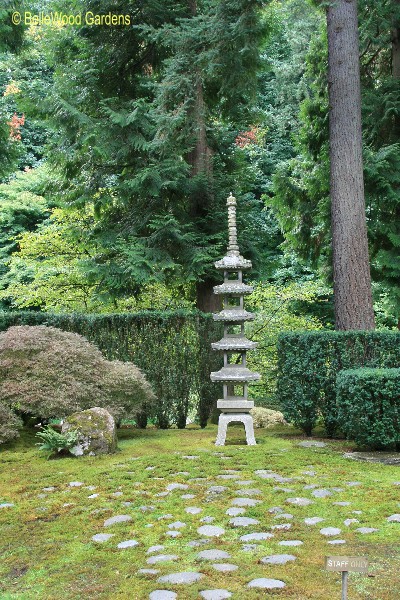 An antique multi-tiered pagoda lantern in the Strolling Pond Garden, a gift from Portland's sister city of Sapporo. White stones at its base form the shape of Hokkaido, with Sapporo's position marked by a red stone (not visible in this image.)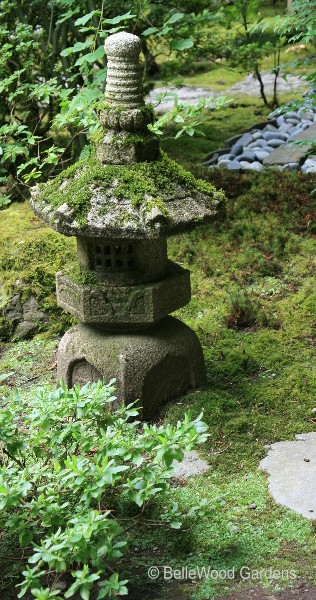 Moss on the ground. Moss on the plump little lantern. It is not that Portland is so very wet, perhaps 36 inches of precipitation per year. The moisture scatters itself through fall and winter and spring (summers are dry) and there are many gray days. Clearly, as its rich green tints show, moss loves it here.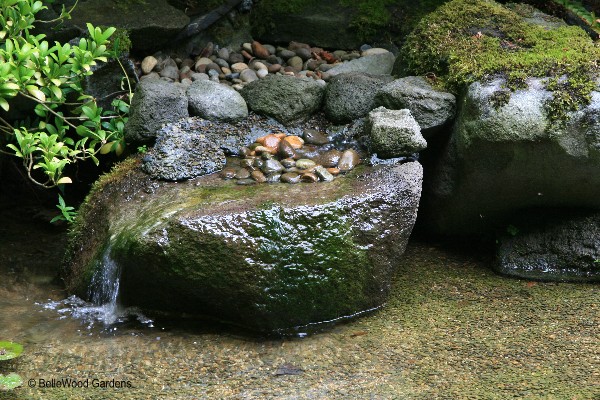 "God", said Mies van der Rohe, "is in the details." Look here, at this detail. Water gently flowing over a slightly dished stone, somewhat mossy. Pebbles to the rear, and in the water's flow, glistening with moisture, a handful more. Attention to detail.
.
Water, piped this time, bamboo again put to use, dripping into a moss-cloaked basin.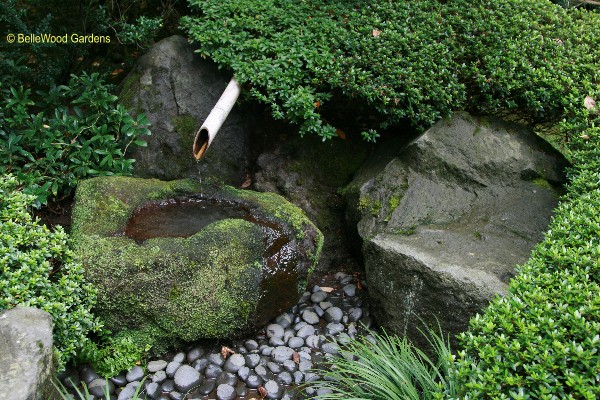 .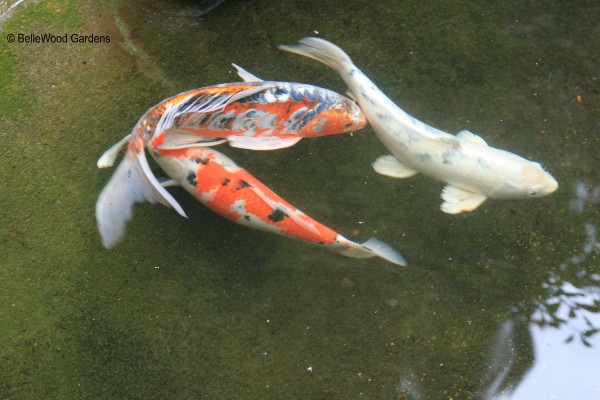 Three fish in a watery dance.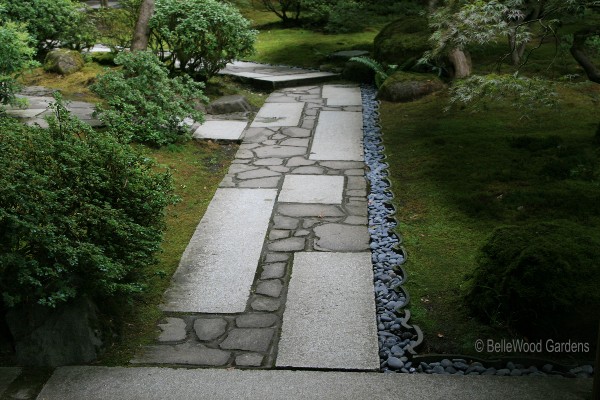 Marvellous path to the tea garden. Crisp geometry of cut stone against the softer shapes of field stones. And to the right, a curb of roof tiles on edge containing black pebbles that act as a drain, serve to catch runoff water when it rains.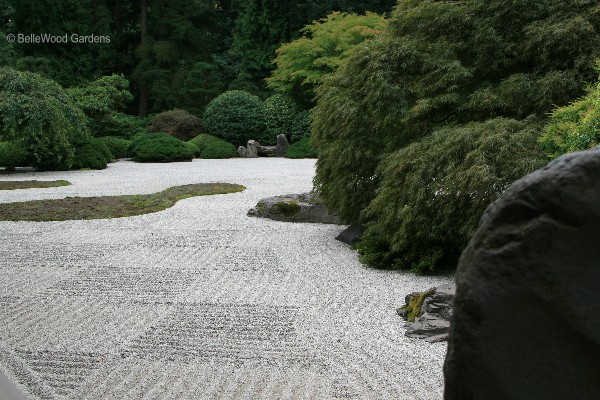 The Flat Garden contrasts with the folds and contours of the Japanese Garden's natural landscape. Raked white sand represents an ocean of water and contrasts with islands of moss, and the evergreens, azaleas, and maples that border its crisp geometry, as viewed from the pavilion's veranda.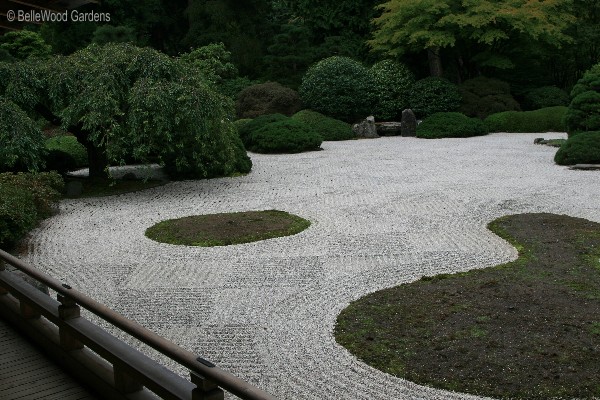 There is another veranda at the rear of the pavilion.
Its unpatterned gravel may be walked upon, not merely observed.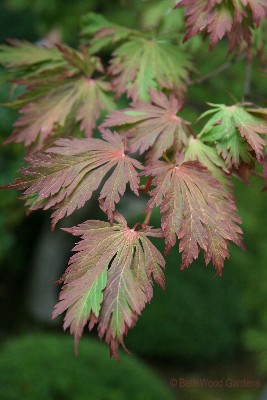 A full moon maple, Acer japonicum 'Aconitifolium', begins its fiery autumn change.
Borrowed scenery, a dramatic view across the city from behind the pavilion.
A serene garden that calms the spirit and invites a return, at all seasons.
---
Back to Top
---
Back to Garden Writers Association in Portland, Oregon
---