---
If you have any comments, observations, or questions about what you read here, remember you can always Contact Me
September
Garden Writers Association in Portland, Oregon
---
The conference proper starts mid-day on Friday, 19 September. So why am I heading out on Thursday morning? A couple of reasons. These days, air travel is subject to delays. If I am subject to any such aggravation I'd rather it was not the day things were actually scheduled to happen. Furthermore (and better yet) I know that if I get there early I'm sure to find something unanticipated and very pleasant to do. Making the time change of "as you go west, time is less" work for me. So off I head to Newark Liberty Airport in the dark on Thursday morning for a 9:10 a.m. departure and happily enough find another four garden writers are on the same flight. Six hours later we're in Portland, where it is barely afternoon.
Collect my luggage, off to the hotel, unload luggage in my room, and call Dan Heims. He's collecting a van-load of people for a welcome-to-Portland tour of a nursery, his garden, drive-by in Washington park, micro-brewery, and dinner. Welcome to Portland, indeed!

Dan's choice is Portland Nursery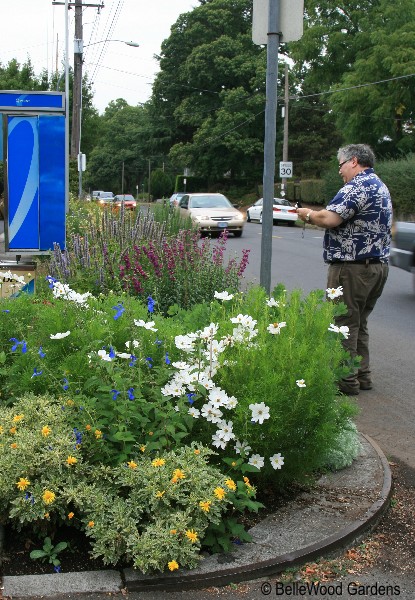 There's me and Dan and Candy and Sharee and a couple more people. We pile out of the van
and start ooh-ing and aah-ing over the hell strip. If you are unfamiliar with that term, it refers to
the narrow strip of potentially plantable soil between the sidewalk and the street. Usually it's
crappy scuffed up crabgrass and weeds. Not here. Which is why Dan is almost out in traffic
with his camera. I'm embarrassed to admit it, but this is better than my garden at home. Let's
ascribe it to the clement climate of the Pacific Northwest, similar to that of the UK. That, and
the enthusiastic horticultural expertise of the local garden mavens. So here's a hell strip
planted in a colorful pastiche with perennials, annuals, shrubs, and bulbs. Good stuff, too,


like a variegated peanut butter shrub, Clerodendron trichotomum, which - now that I know it exists -
I seriously covet, and a bright rose-pink Anemone japonica. Very nice together.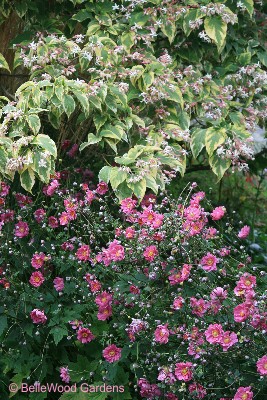 And we haven't even made it into the nursery.
Once we do, oh my, there are display gardens and plants for sale and all sorts of things to admire.
.
Just consider this kiosk.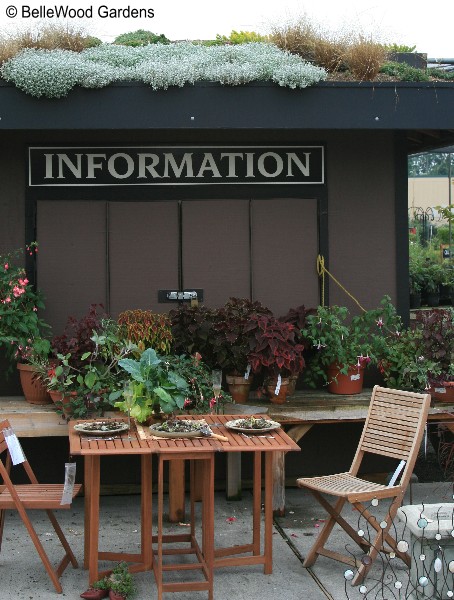 .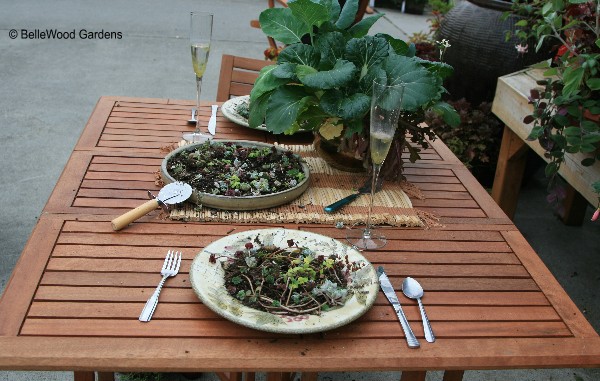 The table is set with sedum pizza, a serving sliced and plated up.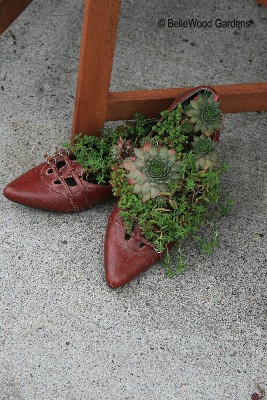 A pair of shoes tucked under a chair, planted with sempervivums.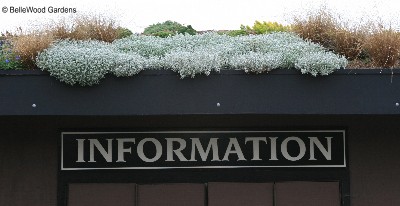 And the kiosk's roof is a green roof. This popular concept is gaining ground
- or should I say covering roofs - from coast to coast.
Go to Perennial Plant Association in Philadelphia and then
see the Green Roof at Swarthmore College for a recent entry.
.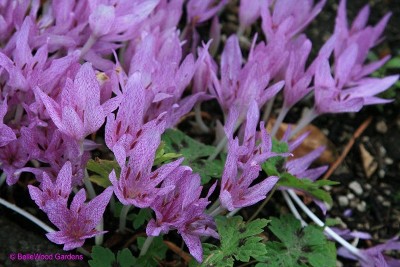 My passionate fondness for bulbs received several tweaks. One example is this marvellous clump
of Colchicum aggripinum, one of the tessellated species of this autumn-flowering, deer-resistant bulbs
that's also great as a cut flower. I am fortunate enough to have it
growing and blooming back home at BelleWood Gardens.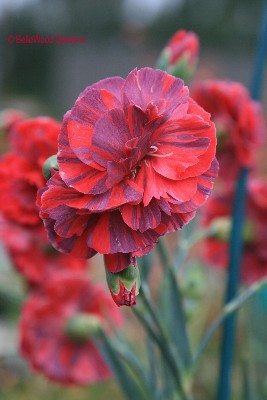 A perennial I didn't have and simply had to buy is this fantastic tie-dye carnation,
Dianthus 'Chomley Farran'. The flowers are gorgeous combination stripes of mulberry purple and cherry pink.
It's a very special plant that originated in Ireland as a sport from a crimson border carnation.
Clearly, as their other sign mentions, Portland Nursery
is a special place for people passionate about plants.
Back to Top
---