---
If you have any comments, observations, or questions about what you read here, remember you can always Contact Me
September
Garden Writers Association in Portland, Oregon
---
Monday, 22 September 2008
Paperwork for Plants: Phytosanitary Certificate
What thoughtful people! The Garden Writers Association symposium planners made an offer that's hard to refuse. The heading read
Plant Shipping and Packing Service.
then continued:
Have you wanted to take plants home from a cross-country trip, but
* thought they wouldnít fare so well in your luggage?
* didnít want to risk carrying exotics across state lines?
* couldnít find the right packing box?
* didnít know where the FedEx office was?
Well, let Portlandís local committee help you out.
We have arranged for phytosanitary inspectors
to clear the plants you select and
professional plant packer/shippers
to get your plants home safely and legally.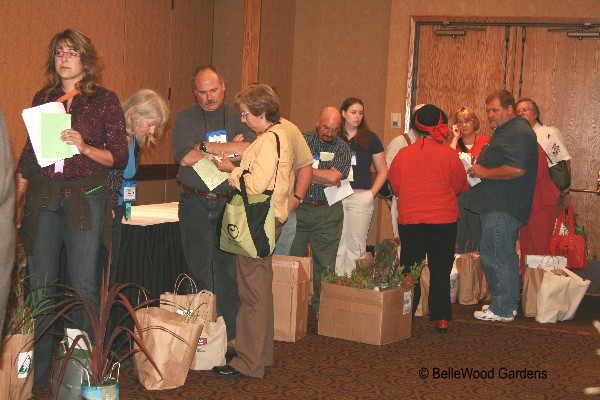 What no one apparently took into account were the facts that
there were hundreds and hundreds of people attending the conference.
Many of us (see my hand going up?) had been to nurseries.
Even those of us who had not done so had been at the trade show.
Where vendors were giving away plants. Also an offer that cannot
be refused. No big deal, I thought to myself. Only people crossing
international boundaries, Canadians or the handful from the UK, etc
will need a phytosanitary certificate. WRONG. Everybody with plants
going anywhere other than within Oregon needs a phyto. Start queueing.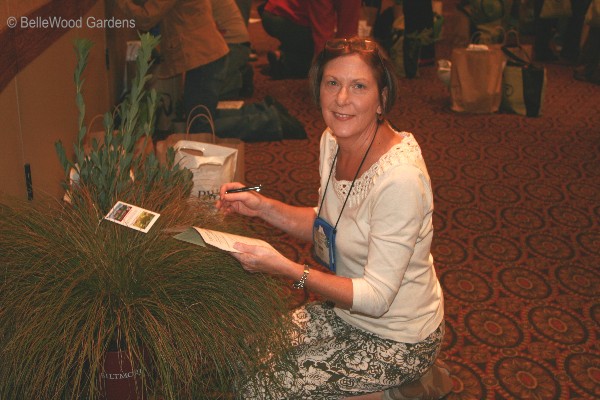 My plants were relatively small. Some folks had plants
that were, hmm, let's just say some folks had bigger plants.
There were some issues. Iseli Nursery had graciously
given each of us a gift bag with five very choice dwarf conifers.
They'd even thoughtfully provided a packing list with a copy
of the nursery's shipping permit from Oregon Dept. of Agriculture.
However, three conifers were Picea or Pinus. Which are
on a black list for Canada. So you'd see three little conifers
with a note propped up, "Can you give these plants
a good home?" That's how I came to go home with 8
little conifers. People were checking lists to see if their home state
had issues with something or another of their acquisitions.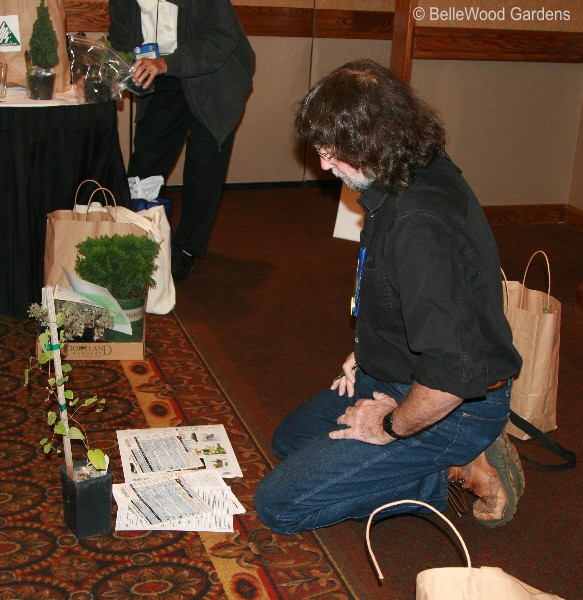 And then you weren't sure what level of detail was required. Was "dianthus" good enough,
or do I need the cultivar name too? As it turned out I received a slip of paper,
the white copy for licensee (there's also a yellow copy for the office and a
pink copy for the horticulturist) that notes "meets entry requirements
of New Jersey. 14 plants misc. Dianthus, coreopsis gardening, echinacea,
clematis, buddhlia (sic), chamaecyparis, picea, pinus". And a label
for the shipping carton. It was UPS, not FedEx. They underestimated
the plantaholics and quickly ran out of cartons. There was only one
inspector and while he looked a little grim he wasn't snarling at us.
I did miss two concurrent session lectures due to length of lines
and the speed - or lack thereof - with which they moved.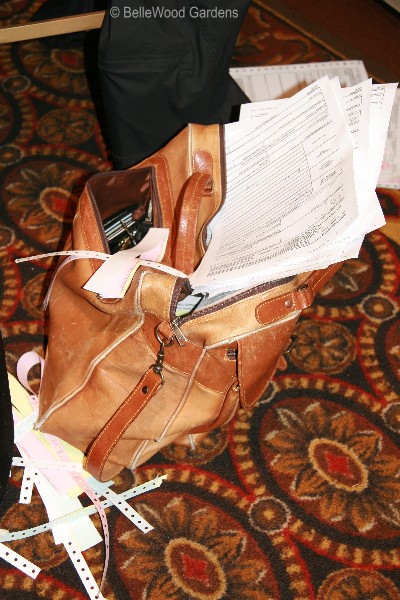 Methinks he needed a bigger briefcase. Rules were followed,
I's dotted, T's crossed. And I doubt that the State of New Jersey
really cared. But the rules and regulations were obeyed.
An interesting experience.
Back to Top
---
Back to Garden Writers Association in Portland, Oregon
---