---
If you have any comments, observations, or questions about what you read here, remember you can always Contact Me
September
Garden Writers Association in Portland, Oregon
---
Saturday, September 20th
Lilyvilla Garden
Another 60 foot by 100 foot urban lot. Very different from Urban Edibles, both in geography and design. This site is well above street level before it flattens out. There are steps up to enter the garden and reach the house.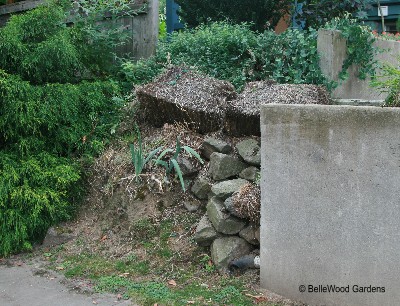 An area in need of assistance. But this graphically illustrates
the change of grade from street to garden.
It's a young garden, and most of the plants are only one to four years old. Other, that is, than some fruit trees, an Italian cypress, lilac, and a winter daphne that were already there and were "adopted" by Lauren Hall-Behrens. There's a jungle-like feel with lush foliage of hardy bananas, Musa basjoo and dense plantings. Fascinating use of rusted steel fence panels for fencing. So much to see that the garden gives the sense of spaciousness, an intentional aspect of its design, slowing the visitor to offer them an appreciation of more than just the visual beauty.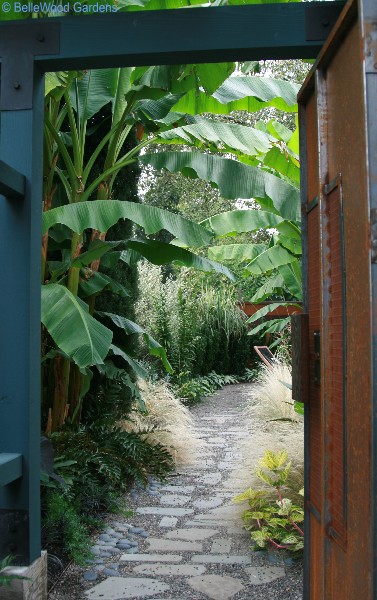 An enticing view through the entry gateway.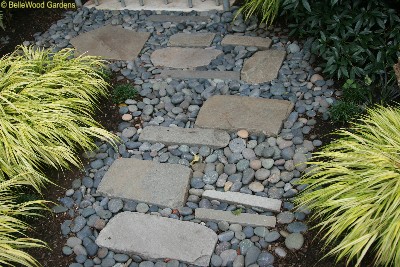 A path detail - rounded cobbles and small stepping stones.
Imagine their appearance dark / wet with rain, and the moisture-laden mounds of
Japanese forest grass, Hakonechloa macra 'Aureola' dripping as you walk by.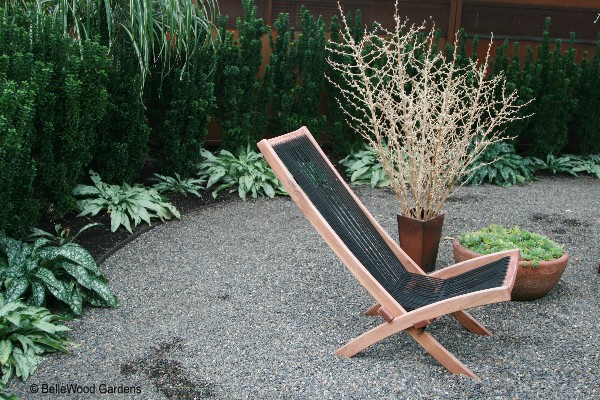 Modern, spare. A black-strung deck chair voyaging on a gravel patio.
Silver-leaved lungwort, Pulmonaria saccharata, a vase of
I know not what. Dried flower stems, sans flowers. Perhaps.
And a low round bowl of hen and chicks, Sempervivum
A private space. Decluttered. Sufficient. Enough.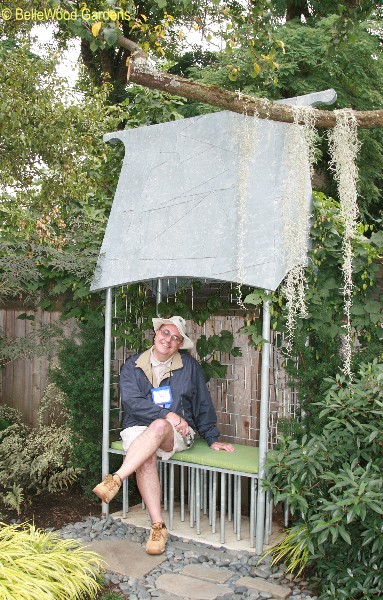 Another seating area, with a steep roof of galvanized sheet metal.
I cannot decide if the weld lines are an add-on for effect or if
they actually join separate pieces. No matter. It must be
a comfortable place to sit, as Kirk is clearly enjoying himself.
A trailing spike of flowers in a hue that reminds me
of crushed raspberry, rose pink. Some sort of penstemon perhaps.
It is clear that Portland's weather is milder than I enjoy
back home in New Jersey. My hardy banana must huddle close
to the house. And I'd never be able to leave fuchsia outdoors
all year long. Isn't it remarkable, and wonderful, that gardens
(unlike malls) are not homogenized across the country.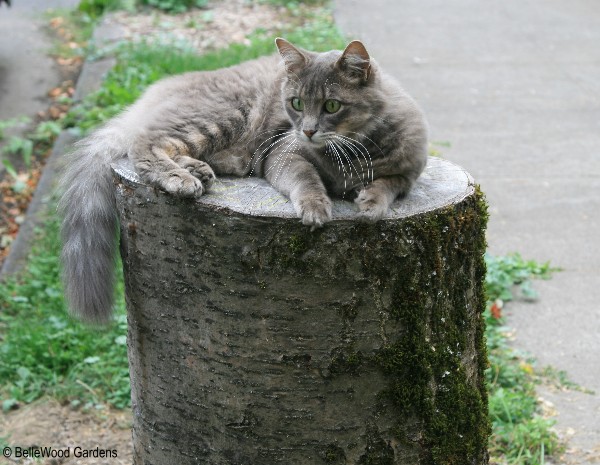 Several days away from home and I begin to suffer from fur withdrawal.
Its symptoms - the wish to find a friendly cat or dog
who'll allow me to pet them. No idea to whom this elegant feline
belongs, lounging on a tree stump out by the street. Homage
regally accepted. Portland, I learned, has sufficient cats that
a calender of garden cats could easily be accomplished.
Back to Top
---
Back to Garden Writers Association in Portland, Oregon
---