---
If you have any comments, observations, or questions about what you read here, remember you can always Contact Me
September
Garden Writers Association in Portland, Oregon
---
Saturday, September 20th
Laughing Spirit Garden
This garden, with ten old, large trees, is on a triple lot. Its spacious size, so much more than the other gardens we've visited, provides Susan Fries and Lew Bowers with the ability to explore different themes and styles. Mixed borders of perennials and shrubs, where flowers and colorful foliage are chosen for varied effects from tranquil to exuberant. There's a shady woodland path that winds under trees and amongst shrubs along one portion of the property's perimeter. Extended interest around the seasons is important to the owners, and along the sidewalk there's a bed especially for plants with winter interest of evergreen foliage, berries, and bark.
I guess some gardens have a better class of weeds than does mine.
I cope with multiflora rose and Japanese honeysuckle, garlic mustard
and stilt grass. These folks have ivy-leaved cyclamen, Cyclamen hederafolium
spread around by ants, appearing here and there by surprise
like a Jack-in-the-box even between this wall's stones.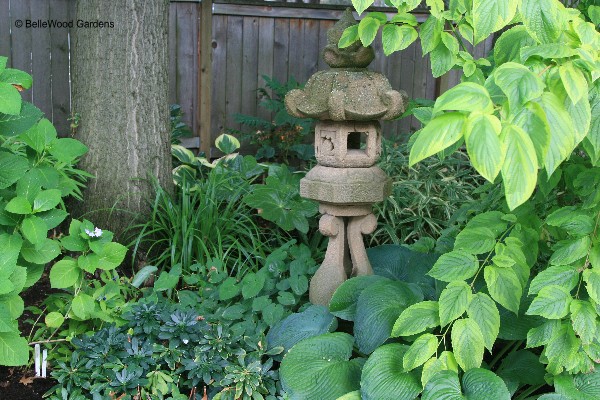 Hostas and epimedium and evergreen wood spurge, Euphorbia robbiae,
liriope, and more create the woodland walk's tapestry carpet, where variegated
dogwood brightens the shade and a Japanese-style lantern suggests tranquility.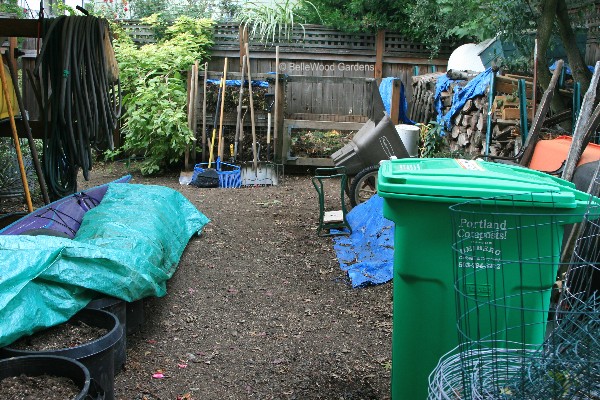 Neat and tidy, the utility area stores tools and hoses and buckets of mulch,
firewood for winter that's on its way, and across the back, several bins to contain
weeds and leaves and garden debris while it metamorphoses into compost.
A dark and narrow, plain little passageway leading from front to back
is enlivened and brightened with a lounge of brightly colored lizards.
Shades of blue. Leadwort, Ceratostigma plumbaginoides. Spiderwort, Tradescantia, on the left,
with just a few flowers. Glaucous blue sheep's fescue, Festuca ovins 'Glauca'. Embellished
with a blue glazed sphere lurking off to the right, and a ceramic fragment, a wedge of white
with a disc of blue. Flowers and foliage and art, thoughtfully blended together for effect.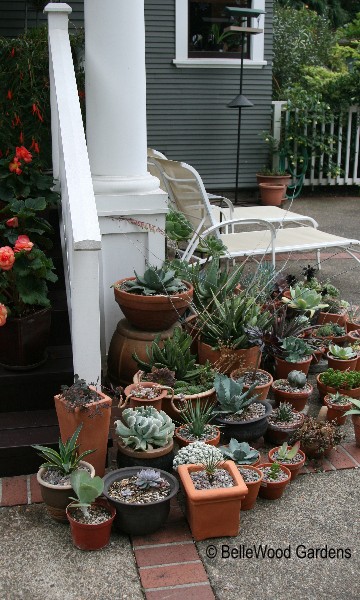 A collection of cacti and succulets, each meticulously potted one by one
in a round or a square, short or a tall terra cotta pot. Foliage varies, pot color varies,
but the unifying gray gravel mulch brings all into harmony.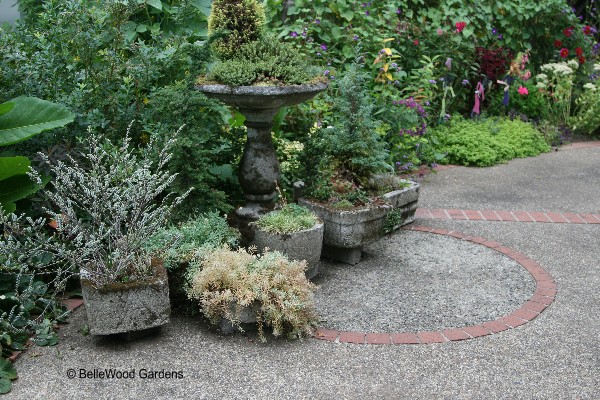 A few hypertufa toughs enhance the edge of a concrete and brick terrace.
Their shapes, rectangular and round, play off the lichen-coated concrete birdbath,
also planted up rather than serving as a watering hole for feathered visitors.
.
Do you think this might this be the reason the bird bath is re-purposed?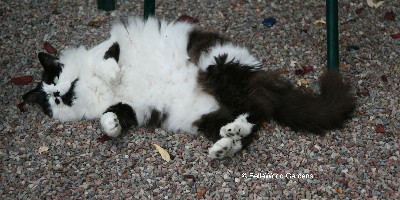 Back to Top
---
Back to Garden Writers Association in Portland, Oregon
---