September
Garden Writers Association in Portland, Oregon
---
Tuesday, September 23rd
Heuchera Heaven
Terra Nova Nurseries are renown for their breeding work with heucheras and heucherellas. In fact, their introductions of these plants have become the industry standard. Dan is co-author of Heucheras and Heucherellas: Coral Bells and Foamy Bells, published by Timber Press. As might be expected, they play a prominent role in the Terra Nova display gardens.
As pretty as a plant might be on its own, gardens are made by placing plants in combination so that they look better together than they do individually. Consider a simple yet elegant combination of pewter-gray heuchera and the intricate texture of a lacy fern frond. Good looking foliage. Or, a burgundy heuchera paired with a froth of small fuchsia-pink flowers.
.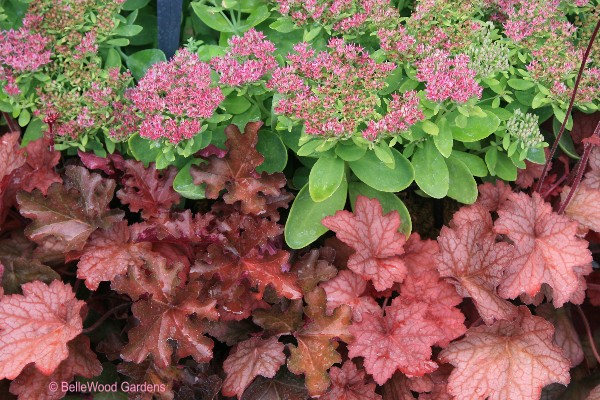 Here's a pleasant pairing of Heuchera 'Georgia Peach' and Sedum 'Hot Stuff'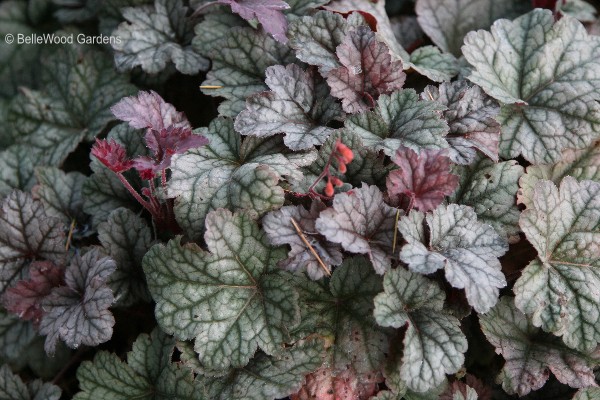 So take a minute and think: who would you choose to pair with 'Cinnabar Silver'? Its new growth is flushed deep rose-red and matures to a wonderful gray-silver with darker veins.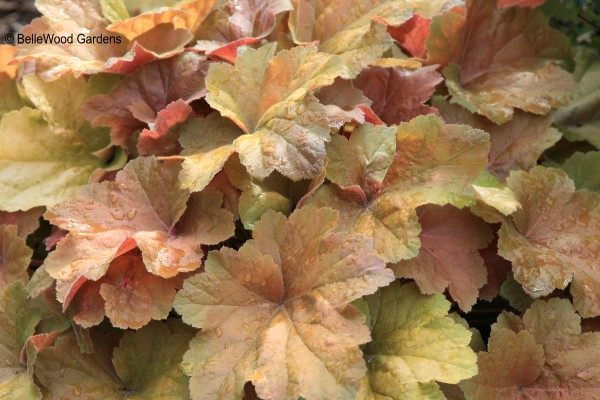 'Southern Comfort' is something completely different,
deep tawny tones of a good sippin' whiskey.
Richly colored 'Mahogany' shades to the russet red of autumn leaves.
Some cupping creates a more dimensional look to a carpet of this cultivar.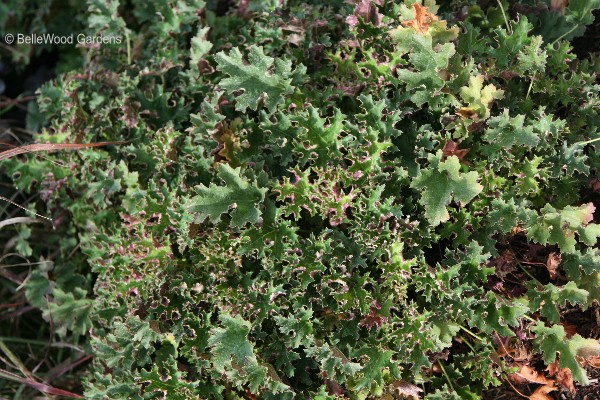 Well named 'Sashay' is so crispy that it looks rather flirtatious to me.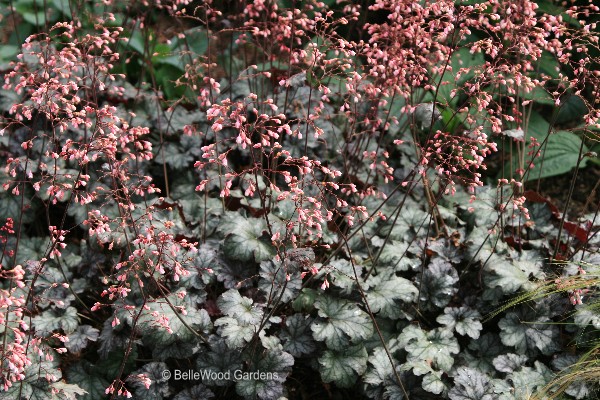 Fond as I am of heuchera foliage, they have other excellent attributes.
Just look at the froth of airy pink flowers on 'Paris'.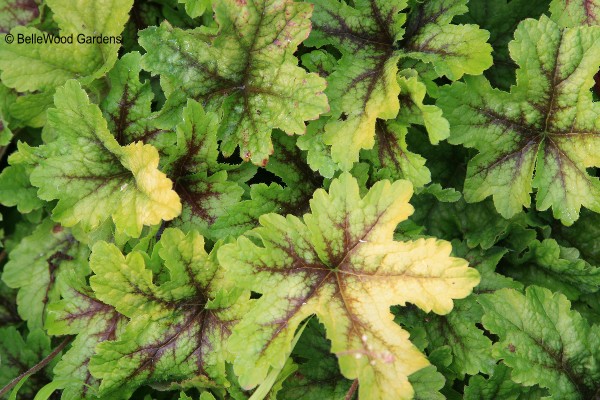 There are heuchera, and there are tiarella. Then there are bigeneric hybrids between the two. Heucherella have some pleasing intermediate forms, such as 'Alabama Sunrise'. Deeply lobed leaves display a dark wine stain along the main veins, accentuating their form.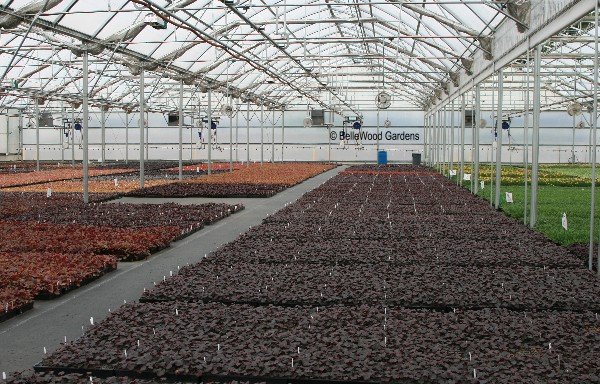 If heuchera, tiarella, or their horticulturally-derived hybrid, heucherella, attract your attention, be assured that the production capacity at Terra Nova Nurseries can meet the most intense garden lust. Surely there are places in any woodland garden or shaded urban plot where these charming plants would enhance the display.
---
Back to Top
---
Back to Garden Writers Association in Portland, Oregon
---