---
If you have any comments, observations, or questions about what you read here, remember you can always Contact Me
September
Garden Writers Association in Portland, Oregon
---
Tuesday, 23 September 2008
The Eugene After Tours: Garden of
Ernie and Marietta O'Byrne
Ernie and Marietta O'Byrne's Northwest Garden Nursery, was the grand finale of today's after-conference multi-stop Eugene area tour. Originally the organizers had scheduled one bus. By the time I registered for the conference the best they could offer me was a place on the wait-list, with a fair number of people ahead of me. When it was time to board the buses there were three of them. Guess I wasn't the only one who figured Eugene would be a great place to go. It is a bit of a haul from Portland but there were scenic views out the windows, friends to talk to, even the option of a nap to catch up on late night / early morning lack of sleep. On arrival in Eugene we had our pleasant walking tour and lunch, three more gardens, and now the O'Byrnes magnificent garden to conclude the day. The bus I was on was the last to arrive. We'd had an unscheduled stop at a roadside produce stand. Willamette Valley blackberries and plums, blueberries and apples and more. I wasn't the only one savoring some wonderful fresh local produce from Oregon's fertile soil.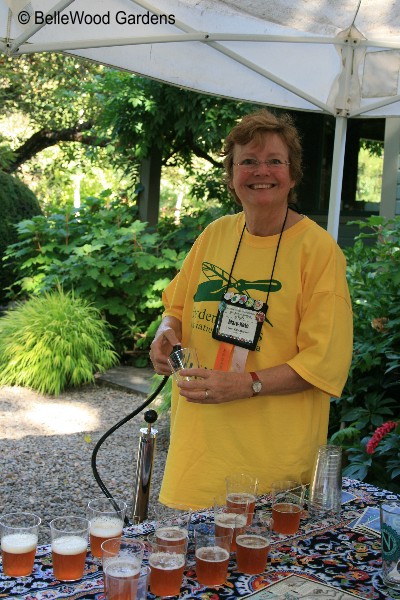 And when we arrived there was Mary Kate
serving some of Oregon's excellent microbrewed beer
and wonderful wines with a fetching smile.
Back to Top
---
Back to Eugene After Tours
---
Back to Garden Writers Association in Portland, Oregon
---