.
---
If you have any comments, observations, or questions about what you read here, remember you can always Contact Me
September
---
Garden Writers Association in Portland, Oregon
---
Monday, September 22nd and Tuesday, September 23rd
Classical Chinese Garden
Difficult to believe that less than ten years ago this site was a parking lot. Today Portland's Classical Chinese Garden, poetically named Lan Su Yuan, The Garden of the Awakening Orchid, is a magical labyrinth of buildings, pavilions, walkways and walls, plants and sinuously water-hollowed limestone in the style of a Ming dynasty scholar's garden.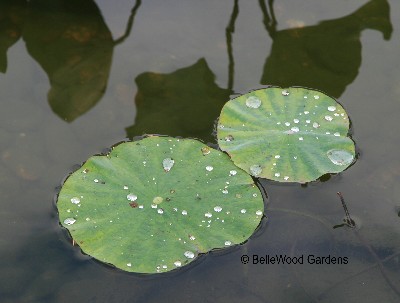 Glistening like moonstones, water droplets shimmer and coalesce on a lotus leaf.
The pavilion shows its serene reflection in the still waters of the lake. More than 60 artisans and craftmen from Suzhou came to Portland, bringing tools and materials from China - roof and floor tiles, pebble stones for mosaic pathways and courtyards, latticed windows, hand-carved woodwork, Tai Hu rocks, and granite. All the plants, the great majority of which are native to China, were sourced in the United States. It took 14 months from groundbreaking to opening day, September 14, 2000. One square city block = 40,000 square feet.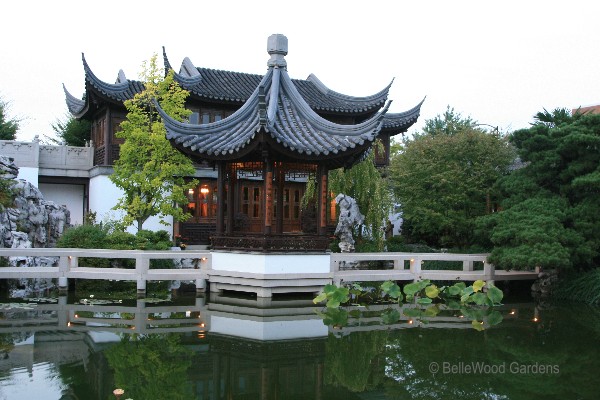 The many changing scenes as visitors stroll along a walkway, through a courtyard,
turn, and glimpse . . . . a narrow alley planted with Musa basjoo, hardy banana.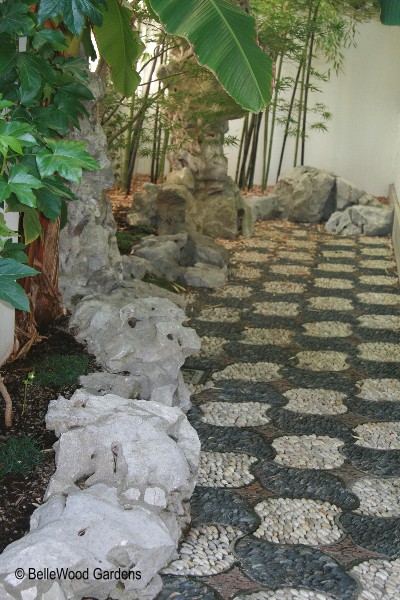 I imagine its great leaves, dried up in late autumn, clattering in the rain.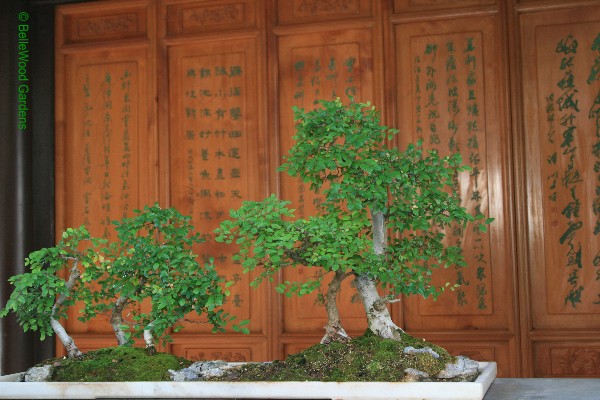 Perhaps a bonsai, subtly set against a six-panel screen of polished wood, inscribed
with descriptions of famous Suzhou scenes on their obverse, four of them of gardens.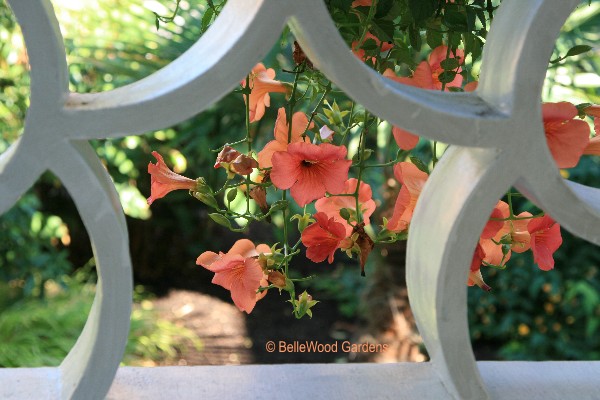 Campsis grandiflora, Chinese trumpet creeper, backlit by afternoon sun as it dangles by a lattice.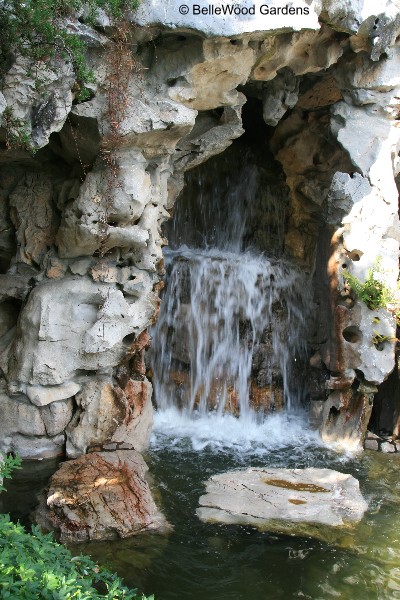 Still water in the lake, like a mirror. Rushing water falling down. The Chinese phrase for landscape is shan shui, mountain and water. Tai hu stones from Lake Tai are highly prized, regarded as the best for gardens. The hard, brittle limestone rocks from underwater are most precious, for their nooks and crannies, hollows resulting from wave action and water erosion. Pale gray or ivory, tai hu rocks show their age, like the wrinkled face of an honored citizen, configured in the garden to remind us of mountains and clouds.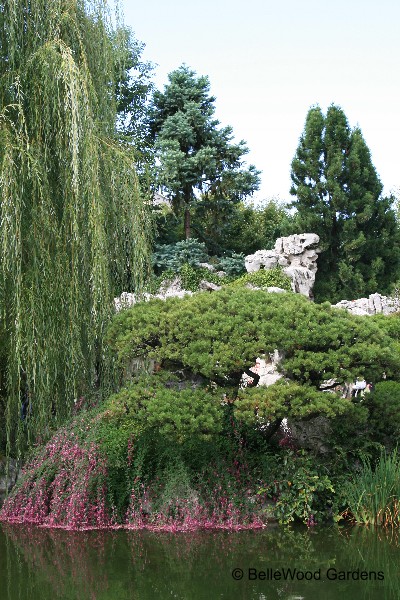 Like falling water, a weeping willow spills into the water. On a small island at the western end of the zig-zag bridge, a vivid green shore pine glows against the tai hu stones, partnered with the cascading branches of bush clover, Lespedeza thunbergii, its brilliant fuchsia flowers dipping down to the water and pooling on its surface.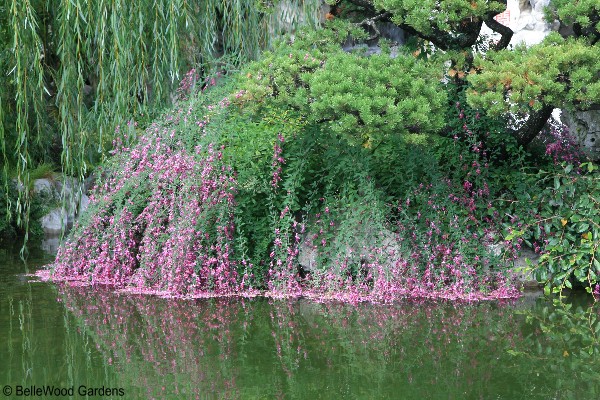 .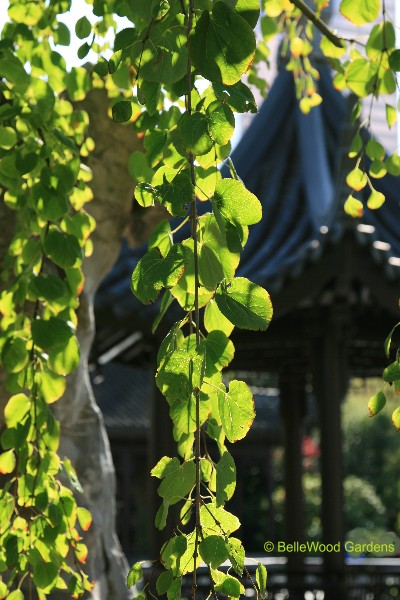 Its leaves illuminated by the lowering sun, trailing branches of weeping katsura tree,
Cercidiphyllum japonicum 'Pendulum', glow like a stained glass window
.
And with my passion for bulbs, how delightful to find these spider lilies, aka naked ladies, Lycoris radiata, in flower, its stamen protruding like the antenna of shrimp. It will not survive outdoors for me. New Jersey's winters are too harsh for a foolish bulb that flowers in September and then insists on sending up its narrow ribbonlike green leaves in late October, to freeze to mush in December.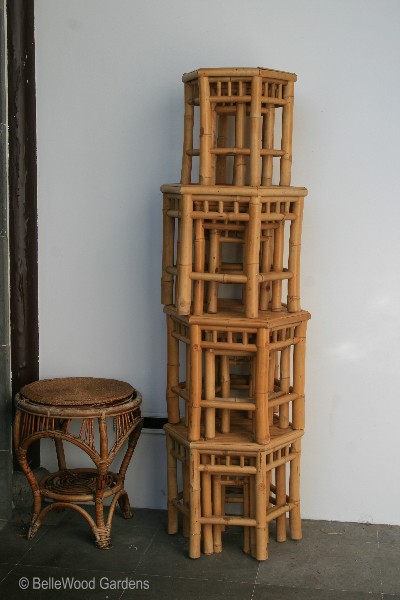 A stack of bamboo tables, awaiting the scholar's visitors.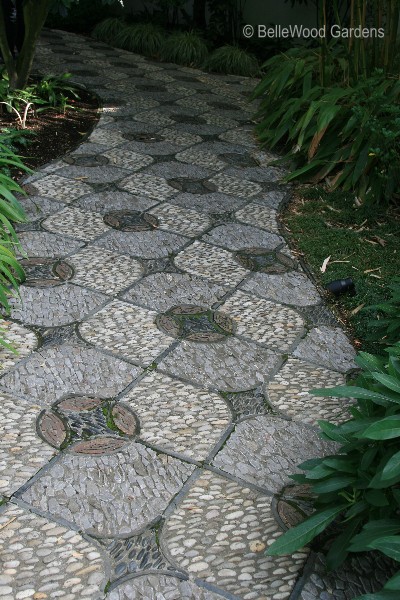 The different yet subtly colored pebbles were brought from China for use in the mosaic pathways. It fascinated me to see the diversity created in the various designs, all while using the same limited palette of colors.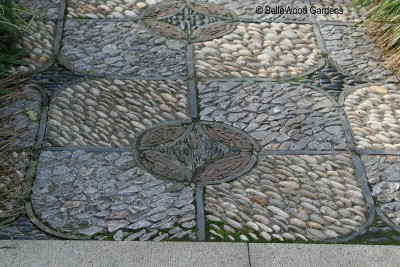 And with what poetic names - crabapple blossom in the Courtyard of Tranquility. In the Scholar's Courtyard the mosaic pattern is named plum blossoms on cracked ice. While outside and to the left of Knowing the Fish Pavilion the design is named square crabapple paving.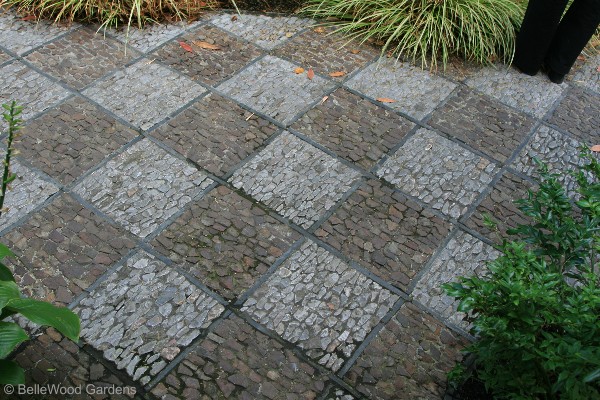 .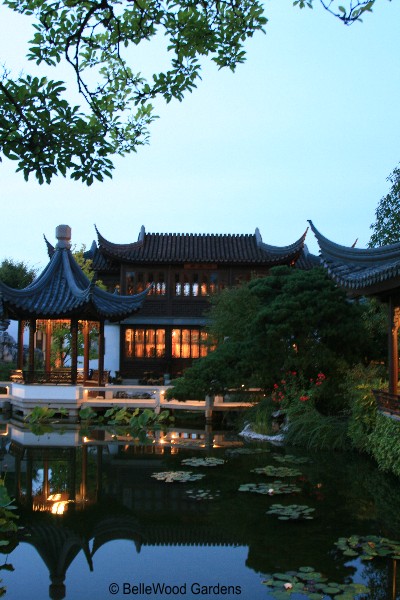 The Portland Classical Chinese Garden opened in the evening, a special event for those of us who had stayed an extra day for a post-symposium tour or workshop. Luminous hues of dusk, and the glimmering capture of light over water. Which is real, the garden, its reflections, or my memories . . . .
---
Back to Top
---
Back to Garden Writers Association in Portland, Oregon
---