Garden Diary - June 2008
---
If you have any comments, observations, or questions about what you read here, remember you can always Contact Me
All content included on this site such as text, graphics and images is protected by U.S and international copyright law.
The compilation of all content on this site is the exclusive property of the site copyright holder.
---
June
---
The most recent entry appears at the top of the page. Scroll down for earlier topics.
Fourth Week: Locavore: At the Dvoor Farm Farmers Market; Locavore: At Nagy's Orchard
Third Week: Atlock: Plants, People, Pets, and More; Getting Potted: Options at Atlock; Elderflower Cordial; Solstice Festivities
Second Week: In the Bamboo Jungle; A Bounty of Bulbs
First Week: Grounds for Sculpture: Pattern Play, Mannequins, Water; Watnong Soirée
---
---
Sunday to Sunday, 22 - 29 June 2008
Locavore: At the Dvoor Farm Farmers Market
What's locavore? A locavore is someone who eats locally grown or produced food, usually within a certain radius such as 50, 100, or 150 miles. One important part of their tenets is that fresh, local products are more nutritious and taste better. So gastronomy is part of it. The locavore movement encourages consumers to buy from farmers' markets or even to produce their own food. Also, locally grown food travels fewer miles from producer to consumer.
I'm fortunate that here in Hunterdon County, New Jersey there are orchards and farms nearby. And the Dvoor Farm Farmers Market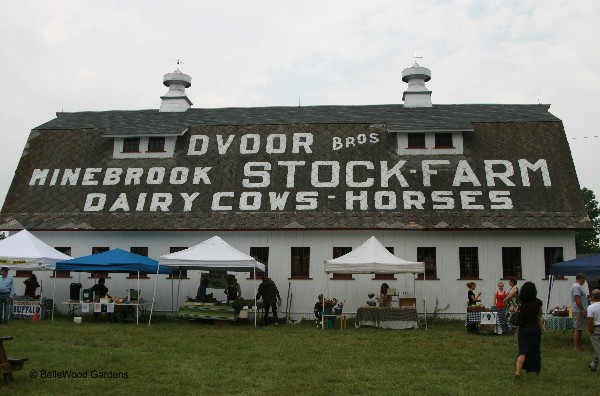 has again opened in June, with even more vendors than at last year's start-up.
They've moved from the courtyard to the roadside field. I'm sure even more people will come
now that it is more visible to cars driving by on Route 12. They'll benefit from the lovely produce,
cheeses, meats, honey, bread, even yarn and soaps handcrafted by local vendors.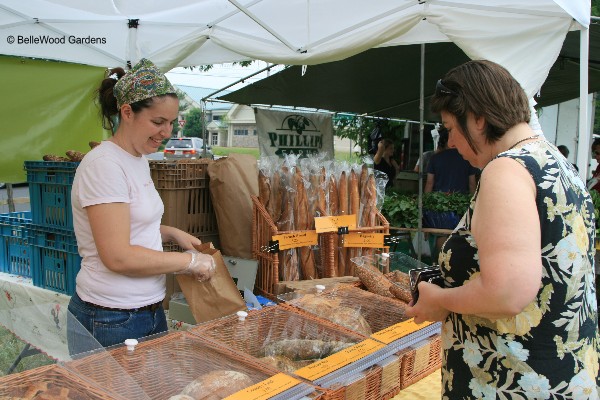 Ana and her husband Sergio bake superb artisanal bread.
This fall Rise will open a shop in Clinton.
For now, I'm happy to come every Sunday, trying a sourdough boule one week,
something different the next. Great crust, good crumb, fine flavor. Staff of life.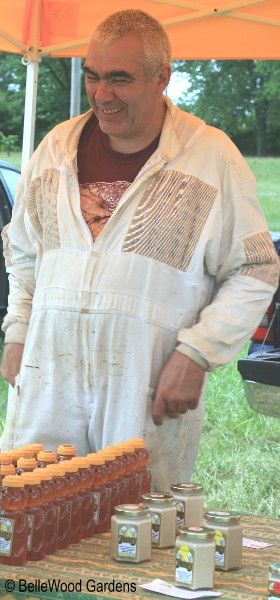 Jean-Claude is back with his excellent honey
and beeswax candles from Tassot Apiaries.
Georgeann has organic blueberries right now, quarts and
quarts of them. Strawberries and asparagus are over, alas.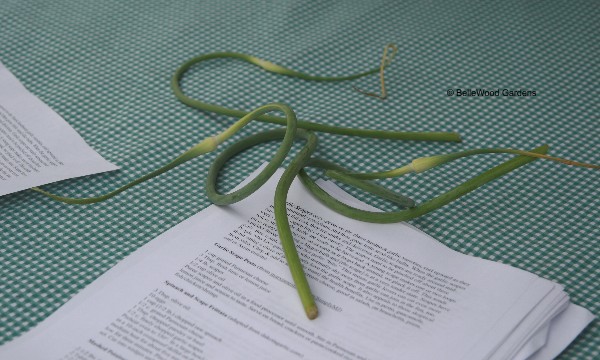 There was an article about garlic scapes in the New York Times just last Wednesday, June 18.
The scapes have a less assertive flavor, and recipes suggest their use with potatoes or white beans,
in a soup, even simply sprinkled with salt and roasted on their own.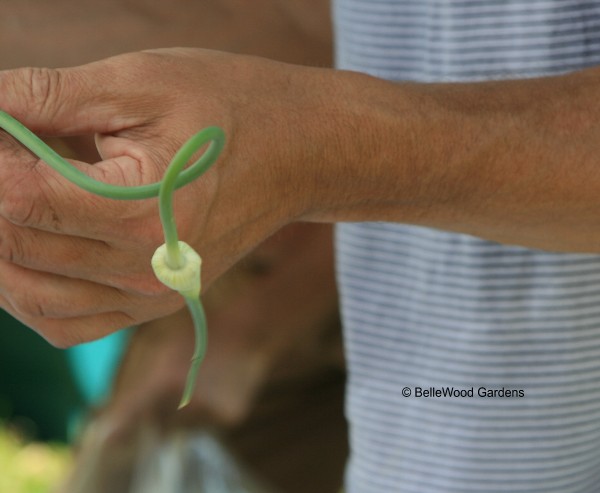 .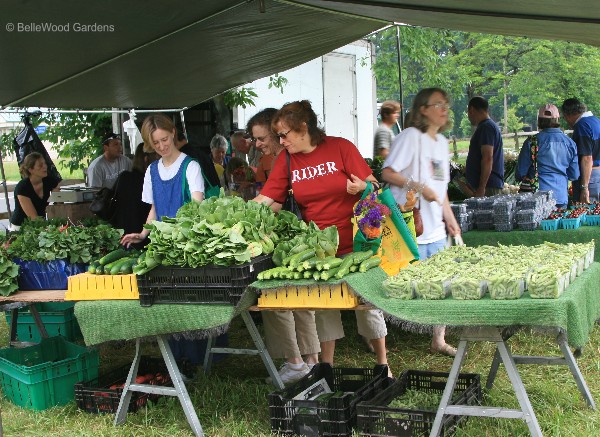 As well as small vendors with one or two specialty items
there's a vendor with a wide range of produce, from arugula and beets
to carrots and lettuce and radishes, kohlrabi and peas and potatoes.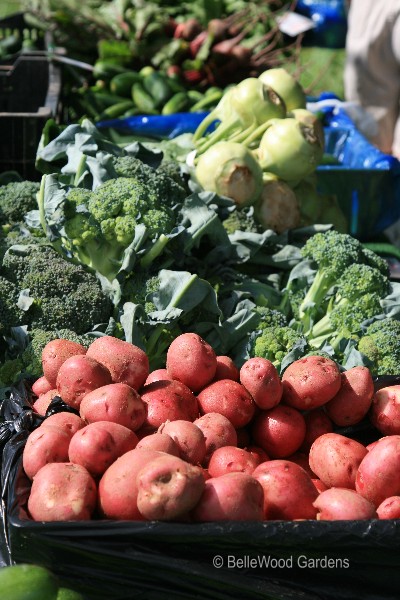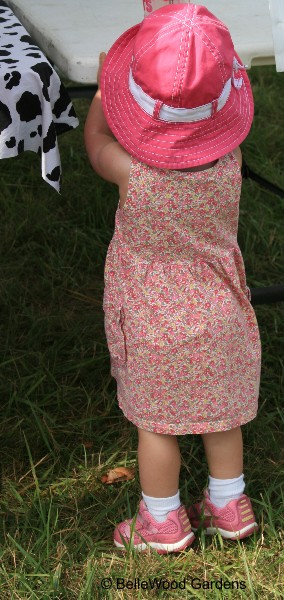 Life is difficult when you are barely tall enough to see over the top of a table.
Especially when there are such fascinating produce and products at the farmers market
every Sunday from 9:00 a.m. to 1:00 p.m., from now until fall.
Back to Top
---
Friday, 27 June 2008

Locavore: At Nagy's Orchard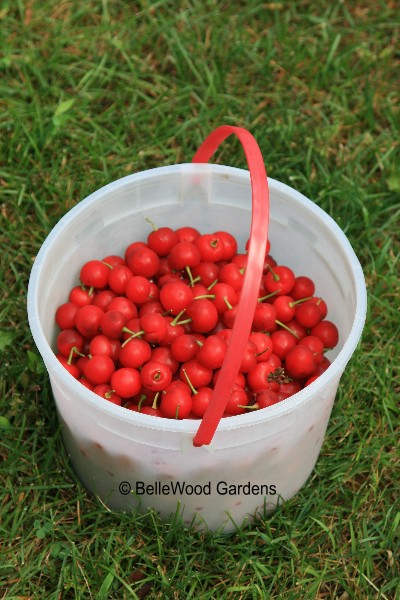 Dick called to tell me he had sour cherries. His orchard has the best fruit.
I'm one of the few passionately fond of sour cherries (for preserves
such as kippered cherries and sour cherry chutney, and more.) He knows
all he has to do is call and I'll come running to pick a bucket full or more.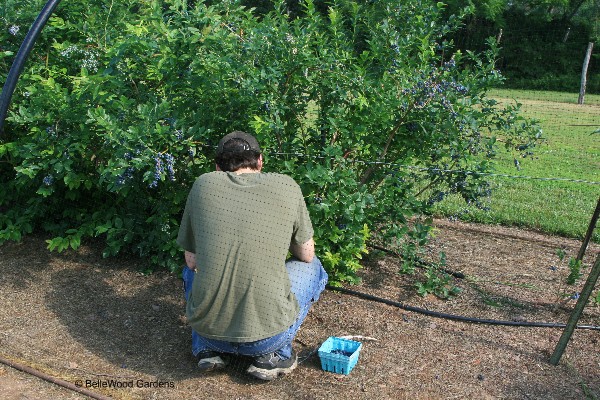 When I got there he and his son Mike were picking blueberries from the heavy ladden bushes
well caged against the birds. The feathered fiends had pecked a fair number of sour cherries.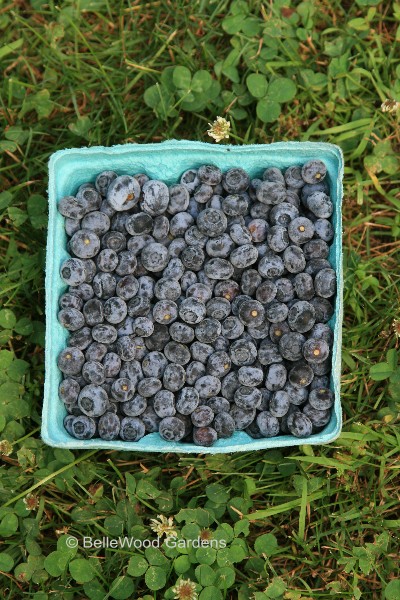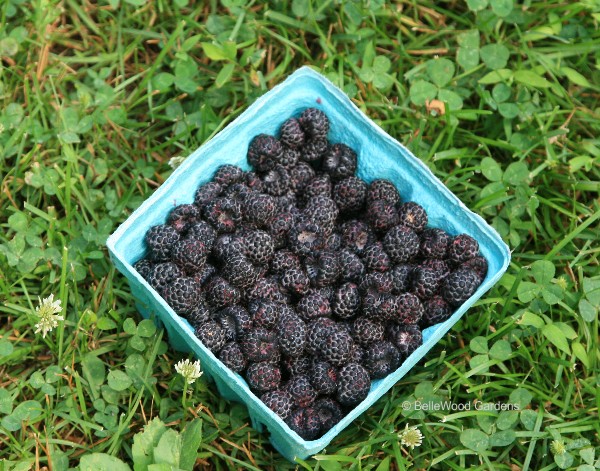 As well as my sour cherries I bought a couple of quarts of sweet cherries, one of blueberries,
and two of black raspberries, with their intense flavor. Some for the freezer and most for eating fresh.
There's a problem with the sweet cherries, Paul says. They don't last that long. What he means is that
we scoff them down by the handful.

As well, I got a bucket of little green apples, thinnings from the heavy set of fruit. These are off
an Ida Red. I'll use them for pectin extract and a puree that helps me get a good set and / or texture
with fruit too low in pectin, that otherwise are syrup or sauce rather than jellies and jams.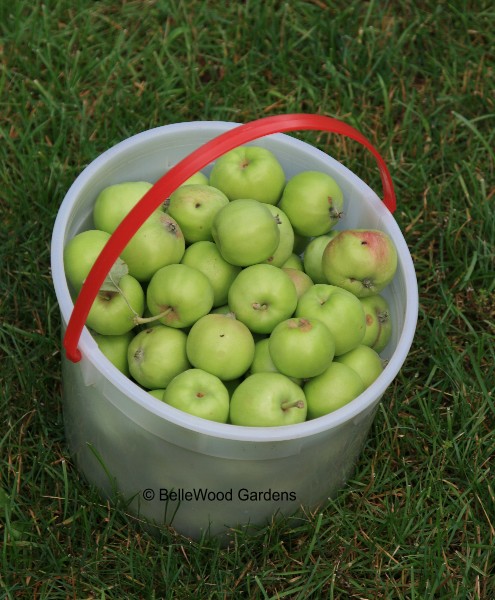 Back to Top
---
---
Saturday, 21 June 2008

Solstice Festivities

It's the longest day. The sun stands still on the horizon, then begins its slow retreat to winter. Today has more than 15 hours of daylight. The winter solstice will be a tick over 9 hours. The further north, the greater the disparity. South at the equator day and night remain the same, equally divided. There's no Stonehenge here in New Jersey, but the solstice remains a great reason for a celebration. Thus every year our neighbors John and Carol host a grand event with potluck food, accomplished musicians, and - oh yes, an anniversary celebration of the passing of Pussface the Magnificent ( or should I say Magnificat?)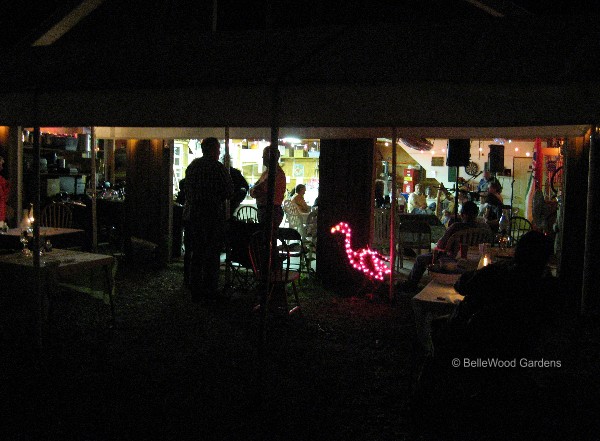 Photograph Credit Paul Glattstein, all rights reserved.

The party barn, tables loaded with food, coolers with soda, beer, and water.
Guests milling about, sound system set up, and decorations embellishing the place.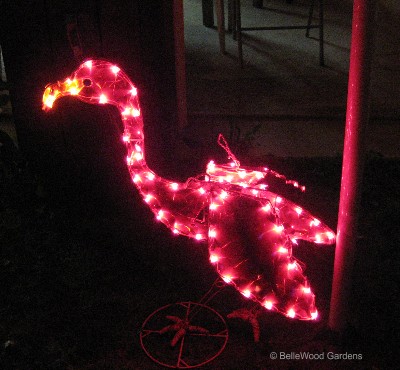 Photograph Credit Paul Glattstein, all rights reserved.

The flamingo is something new, just flew in this year.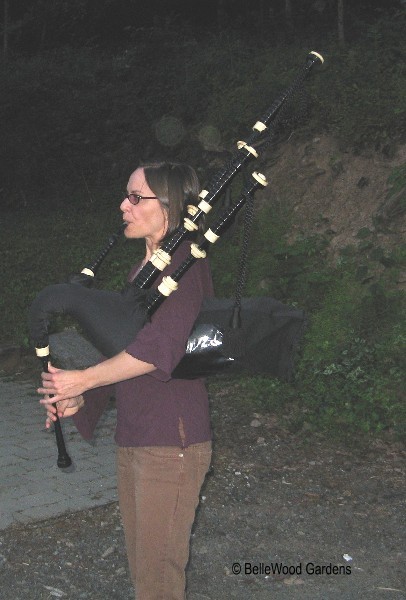 Photograph Credit Paul Glattstein, all rights reserved.

There's always a bagpiper. This year it is Carol's daughter Jessie.
She'll pipe us up into the woods, to the tomb of Pussface the Magnificat.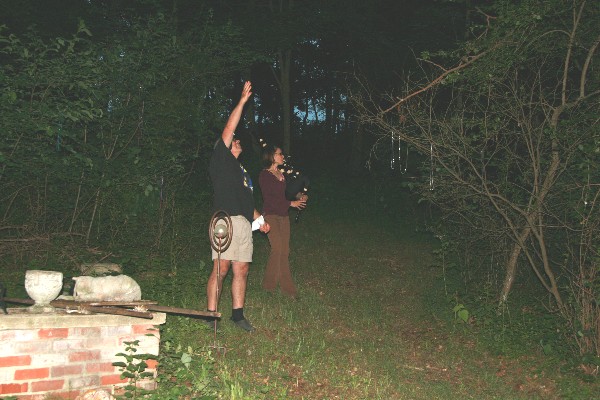 John declaims the obituary he wrote for Pussface when he died over a decade ago.
The local newspaper declined to print it. The object near him is not, as you might think
for a solstice celebration, some sort of simplified orrery. It is, rather, the hairball reliquary
which has, over time, lost its shaggy coating. We need to refurbish it before
next summer. Pussface is not alone. Little Heap, his housemate,
was also interred here when she passed on a couple of years later.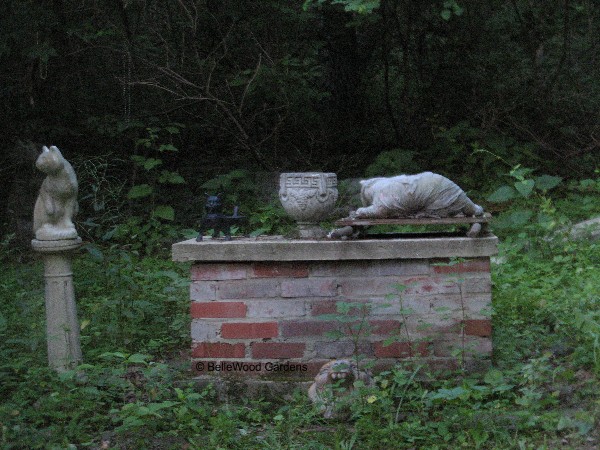 Photograph Credit Paul Glattstein, all rights reserved.

John built this magnificent tomb, complete with statue,
urn, and a mummy. He cast the slab that covers it,
and even wrote a Latin inscription for it.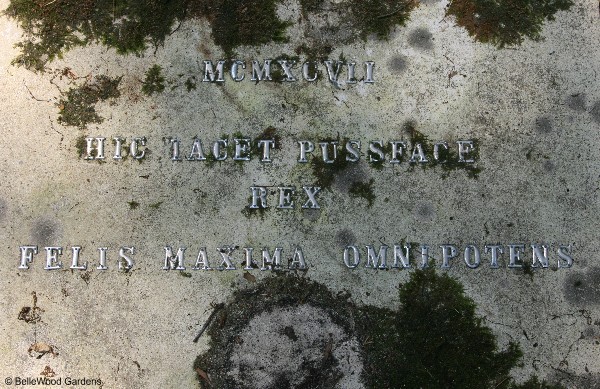 It has the year of his demise, 1997. And reads
"Here lies King Pussface.
Omnipotent great cat."

.

And then back to the barn for the musical portion of the evening.

.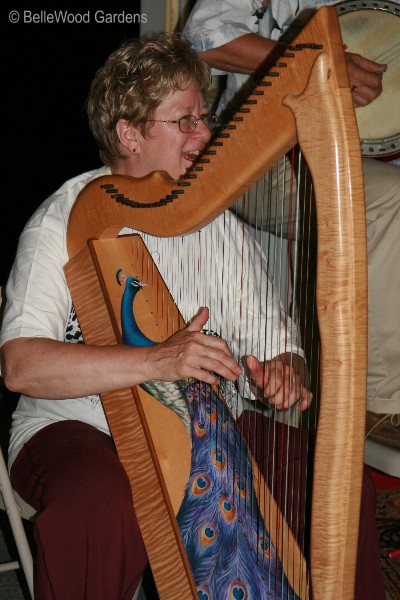 Carol, our hostess, with one of her many harps.
Professionally she plays as Carol Thompson.
She has CDs of her own, played with the Paul Winters Consort
on a a Grammy-winning CD. She plays at weddings and other events,
and teaches harp to students. Let's just say she loves to harp - musically, that is.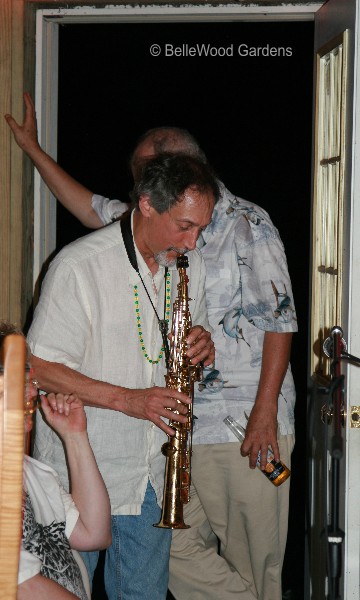 Charlie came with his saxophone. He was good at changing key.
Apparently harpist use something other than what sax players usually do.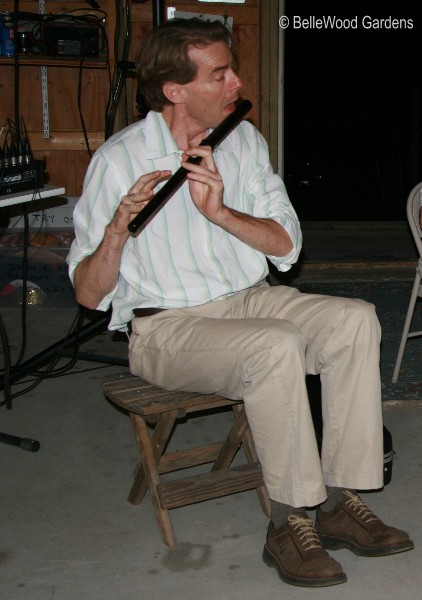 Brian had his flute. Very convenient and portable, compared to a harp.
And he made sweet music that accompanied the varied assortment
of harp and guitar, accordion and banjo, saxophone and singers.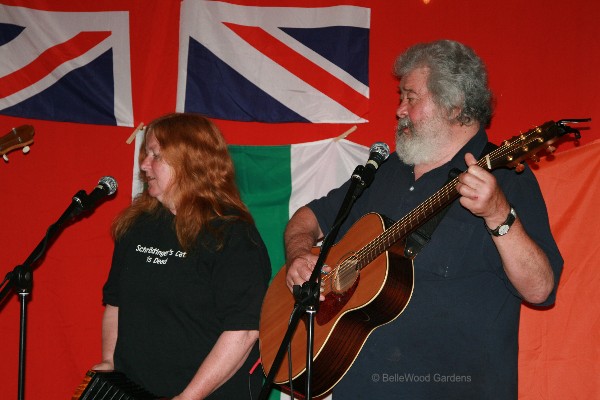 Lynn and Tony gave us rousing songs, some favorites I'd heard them
perform previously, and others new to me that are now added to that list.
Celtic classics and light-hearted ditties, backed with music, and some as
hmm, call them a vocal soliloquy.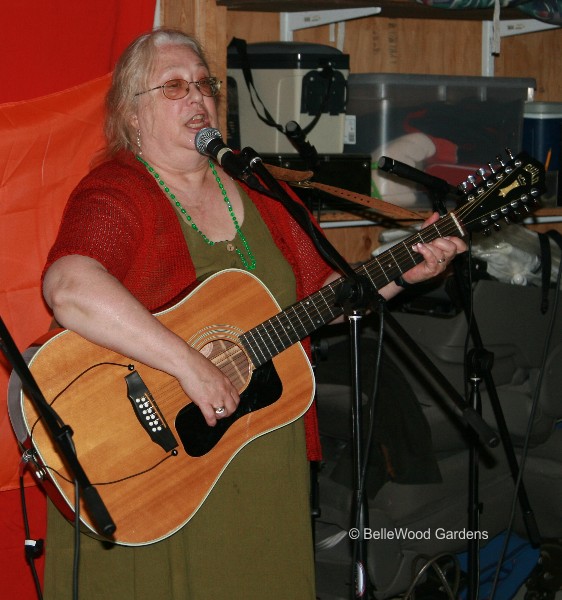 Darcy again had me clapping with glee as she rendered
the spoonerized Ballad of Rindercella, her mugly other and
her two sad bisters. Plus she knows, and sang, the entire song
(you've heard it condensed to a TV commercial)
"There Ain't No Bugs On Me", and the haunting
"Chocolate Chip Cookies". Campfire songs
for grownups at a solstice party. Doesn't get any better
than this evenings entertainment. Good company,
good food, good times had by all. Thank you, John and Carol.

Back to Top
---
Wednesday, 18 June 2008

Elderflower Cordial

It's that time of year again, when elderflowers are in bloom. Last year I made elderflower and apple jelly. It is a delicate, light preserve with a delicious flavor good as a spread on thin slices of toasted pound cake. Or, thin the jelly with a little white wine or appropriate stock, and use it as a glaze for chicken or a white-fleshed fish such as flounder.

Having found a different site this year with even more numerous elder bushes (and located in a "clean", i.e. non-poison ivy groundcover area) I was able to quickly collect two plastic grocery bags full of flowers. I go prepared with scissors as well as bags, preferring to cleanly snip off the flower clusters rather than risk breaking the brittle, hollow stems on the shrubs.

Home again, I inspected the flower trusses for incidentally collected insects, of which there were none. The flowers were in prime condition. This year, this year I decided to make elderflower cordial.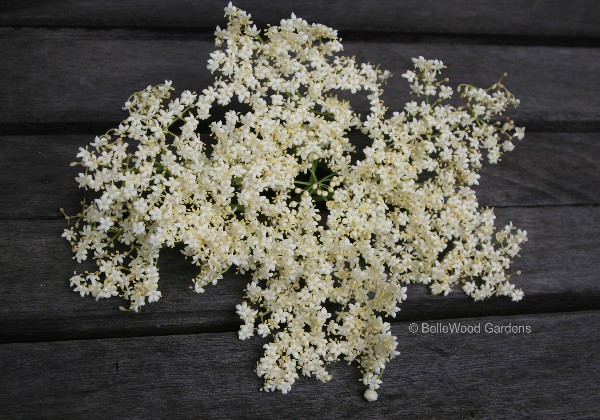 The elderflowers are each quite small, but occur in large flat clusters.
Turned over, you can see all the wonderful fractal geometry of support,
small coalescing into moderate, gathering into medium, forming the cluster.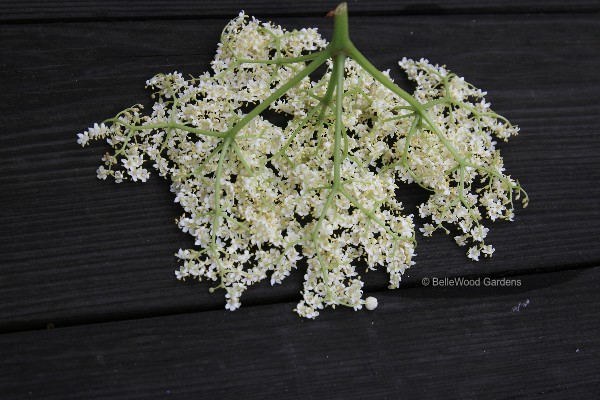 Time, I believe, is of the essence. Prompt handling yields the best results.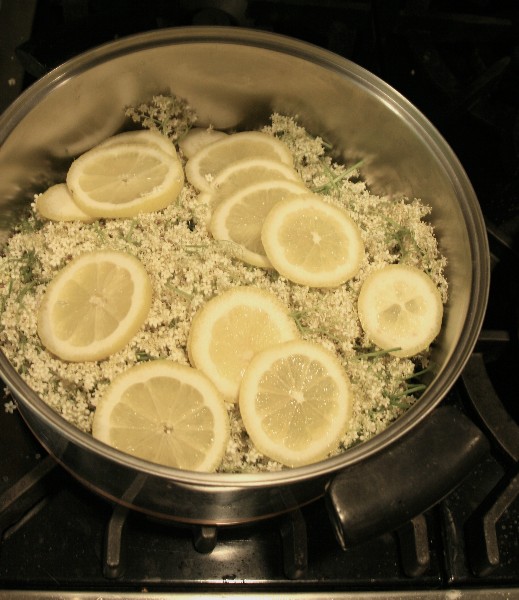 Strip the flowers mostly off the stems. I had 2 1/2 quarts. Thinly slice a whole lemon, peel and all.
Prepare a sugar syrup with 3 cups sugar to 3 pints water, plus 3 Tablespoons citric acid
(Fruit Fresh is one brand that is often readily available in supermarkets.)
Cook over medium high heat until the sugar is dissolved. Pour over elderflowers and sliced lemons.
I used a plate just a little smaller than the pot to hold the lemons and flowers under the surface, then
draped clean dish towel over the pot. Let sit for 3 days. Strain, and refrigerate. Freeze the portion
that will not be used in the next few weeks. Use plastic containers and leave sufficient space for expansion.

To enjoy, dilute one part cordial with 4 to 5 parts sparkling water and serve over ice. Delicious!

Back to Top
---
Sunday, 15 June 2008

Getting Potted: Options at Atlock

There are two options: grow your plants in the ground or grow them in a pot.
If you make the latter choice, that's only phase one. Phase two is what pot?
Production nurseries go for inexpensive plastic.
Perhaps you prefer traditional clay. It could be plain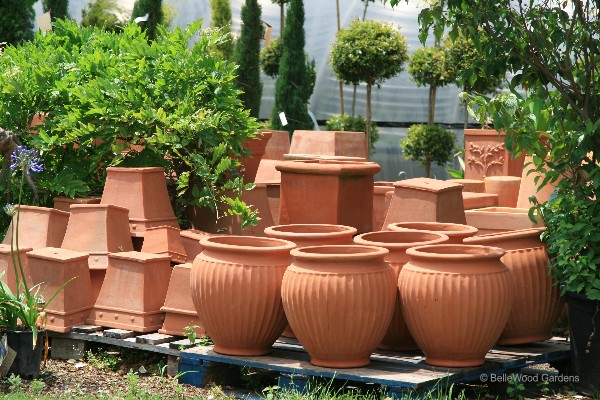 or embellished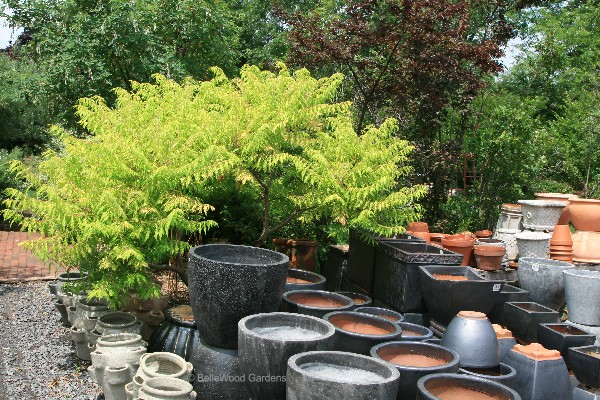 mayhap glazed.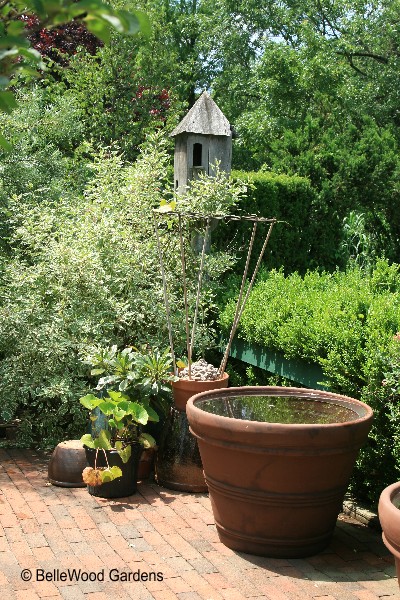 Fiberglass pots can become water-filled pools, a coating of bubbles,
tiny bubbles, on the inside. And the first little water bugs already at home.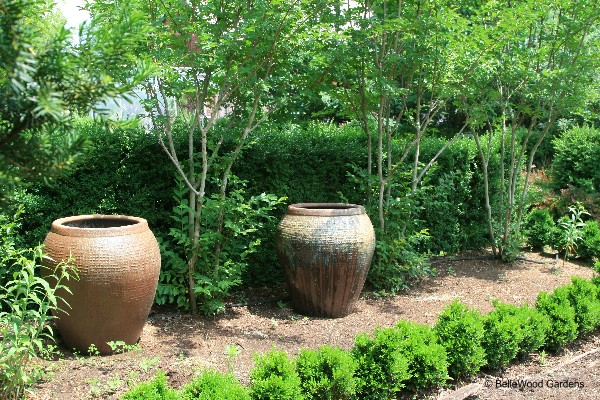 Bold pots as ornaments in their own right,
embellishments for the garden.

Back to Top
---
Sunday, 15 June 2008

Atlock: Plants, People, Pets, and More

Today is the garden party at Atlock Farm. The weather is hot and humid, at least it isn't raining. But then, it's June. We should expect these conditions. And when better to visit with like-minded people, saunter through display gardens, acquire more plants, and have a great time.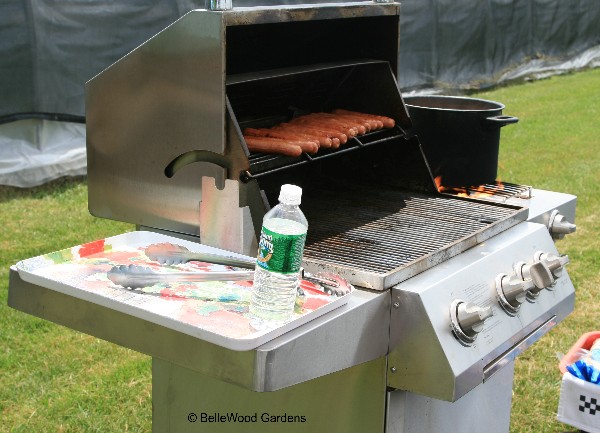 Light refreshments were provided in the form of hot dogs
with the usual accompaniments, potato salad, potato chips, and beverages.
The tubs of iced drinks were most welcome - I'd plunge my hands in
and cool the blood running close to the skin on my wrists. Refreshing.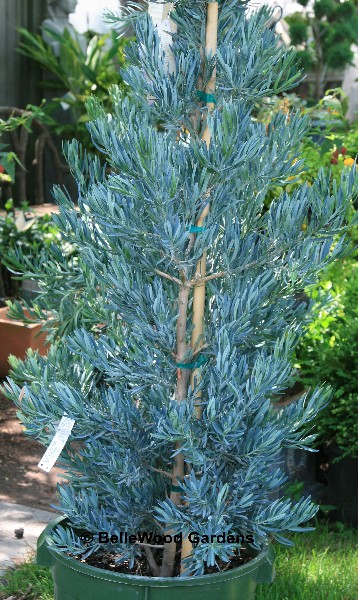 Nearly as cooling, this stunning Podocarpus elongatus 'Icee Blue'
has stunning color that it keeps year-round. It grows well in containers,
useful because it is only hardy to USDA zones 9 to 11,
and needs winter protection here in New Jersey. If only
my greenhouse was bigger . . . . . No wonder
it is already popular in the southern United States
where it makes a great specimen plant or attractive hedge.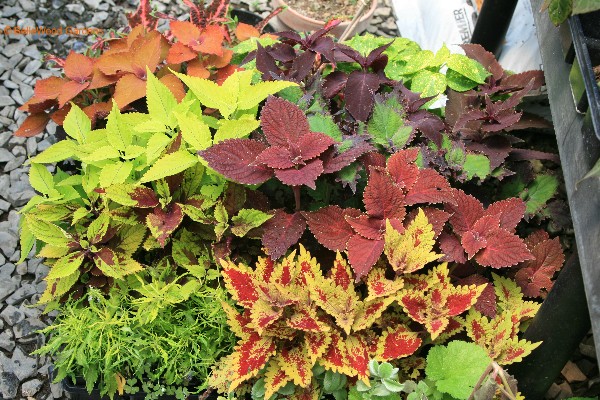 Atlock Farm not only has unfamiliar plants like 'Icee Blue', it is also home
to variations on familiar themes. Would you believe an ark, a small hoop house
with stock plants of 100 different coleus cultivars. Who needs that many?
Well, it's like this. Not everyone likes the same ones. And for sure there are
incredible variations. No doubt that's why there is even a Coleus Society.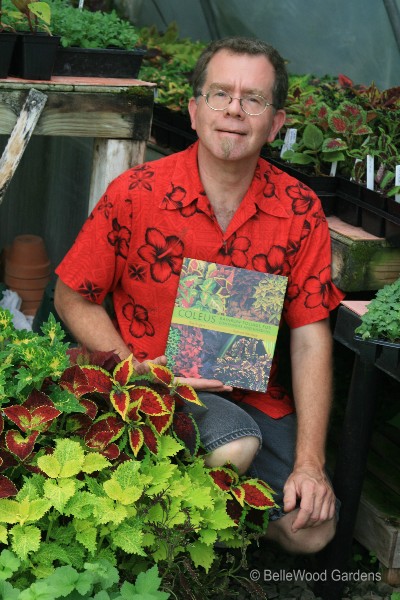 Guiding light behind all these coleus is Ray Rogers, author of
"Coleus: Rainbow Foliage for Containers and Gardens"
He is a friend who volunteers at Atlock in return for greenhouse space for his plants.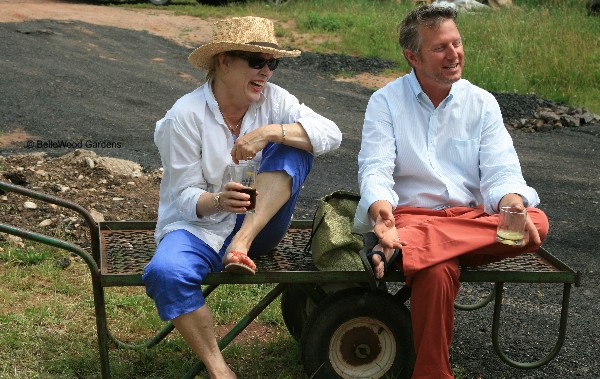 When the first crush of visitors have slackened their horticultural lust,
purchasing coveted plants and sauntering through display gardens and greenhouses,
proprietor Ken Selody enjoys a brief respite, sitting down and sharing some conversation
and a refreshing beverage with a friend.

Photograph Credit Ray Rogers, all rights reserved.

And I have also found a friend.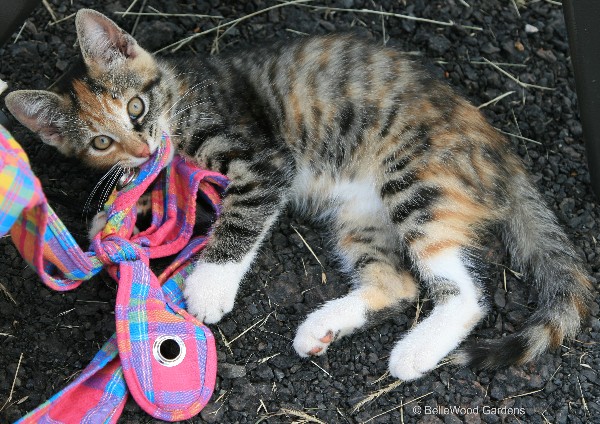 This is Myrtle, a new staff member here at the nursery.
There are also members of the tick patrol
busily darting into the undergrowth
cackling and chortling and rushing around.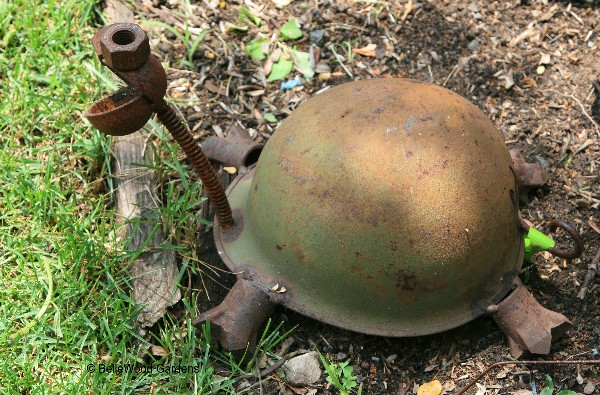 Even live turtles don't rush at any great speed.
This one? This one stays right where he's placed.
As does this bold little alligator (or is it a crocodile)
floating in a sizeable birdbath. Fear not, he's only plastic.

Back to Top
---
---
Thursday, 12 June 2008

A Bounty of Bulbs

A package arrived today, with a bounty of bulbs from Brent and Becky Heath. They're the proprietors of Brent and Becky's Bulbs, a valuable mail order source for a diversity of bulbs from the familiar tulips, daffodils, hyacinths, and more, planted in autumn to bloom in the spring. As well, they offer other bulbs for more instant gratification, planted in late spring and early summer to enhance the hot weather garden. By the calender, summer is almost here, arriving in just over a week. By the weather - well, by the weather we've already had some late summer days with heat and humidity. What does this have to do with my box of bulbs?

I'm a member of Garden Writers Association, a professional organization for garden communicators. So are Brent and Becky. They sell bulbs. I'm besotted with bulbs. That's a fair statement, considering that three of my eight gardening books are about bulbs. It's true that the two earliest books, both The American Gardener's World of Bulbs and Flowering Bulbs for Dummies® are out of print. However Bulbs For Garden Habitats, published by Timber Press in 2005 and a reasonable $29.95, is still available. From me, if you want an autographed copy, otherwise from Timber Press or your favorite book seller. And having planted 40,000 bulbs here at BelleWood Gardens (8,000 the first year) I think you'll agree I have some practical experience. But I'm digressing, wandering off to one side of the garden path down which I was wandering.

Brent and Becky shipped out samples of critter-proof bulbs for summer interest to garden writers who will grow the bulbs, observe their performance, and report back on the results. What fun! It's like my birthday and Christmas rolled into one, with a bunch of bulbs to first find a home for, then plant. Next - watch and see if the deer, rabbits, ground hogs (aka woodchucks), voles, and other critters that saunter around here indeed agree these bulbs have no appeal as cuisine. And I get to enjoy their ornamental appeal. I'm not sure the wildlife have much aesthetic interest in plants.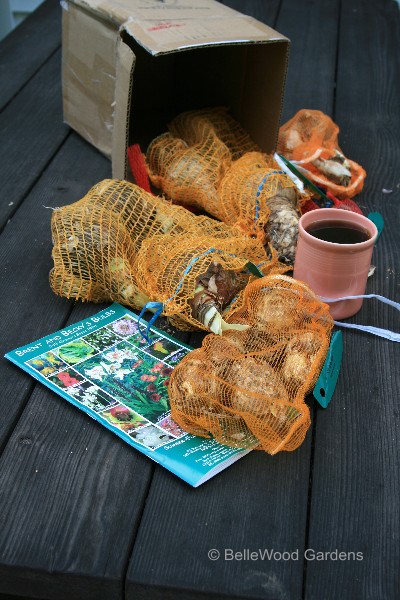 My morning cup of coffee and a box full of bulbs. Good way to start the day.

So what do I have here. I start with a certain level of triage. There are some rain lilies, both Habranthus robustus and Zephyranthes candida. These will be potted up rather than planted in the garden. Both have flowers resembling a crocus, the former pink and the latter white. Their bulbs are small, and I'm concerned that they might need a push to get them going. Little bulbs, you see, have proportionately more surface to volume than do larger bulbs, and dry out more quickly. Taking two shallow plastic containers, I put the bulbs to soak overnight in a little water. Good deal, it gave them a kick start and a couple of each kind were showing the barest beginning of roots when I potted them up. I've grown these before, and don't find any need to soak the bulbs when repotting in May.

Next priority goes to Hippeastrum 'San Remo'. Why this one? Hippeastrum, like lilies, have permanent fleshy roots at the base of the bulb. Obviously, it is best if these do not severely dry out. Also, all three bulbs had begun pushing leaves. Since they'd been in the dark, the leaves were quite pale as chlorophyll doesn't develop in the absence of light. But if they're shocked by suddenly exposed to strong sunlight that portion of the leaf may never turn a good functional green. So, gradual exposure.

And the rest, all good big plump bulbs, are three ×Amarcrinum, an Amaryllis belladona × Crinum moorei cross with fragrant pink flowers; five Hymenocallis 'Sulphur Queen', a wonderful bulb with soft yellow flowers and a difficult-to-describe shape; and five Nerine bowdenii 'Stefani', with variable, but mostly white flowers.

None of these will be winter hardy in my New Jersey garden. But winter is months and months away. I'll enjoy this unexpected largess from Brent and Becky, and keep my reporting form in a safe place, to let them know how this bounty of critter-proof bulbs perform here at BelleWood Gardens.

Back to Top
---
Sunday, 8 June 2008

In the Bamboo Jungle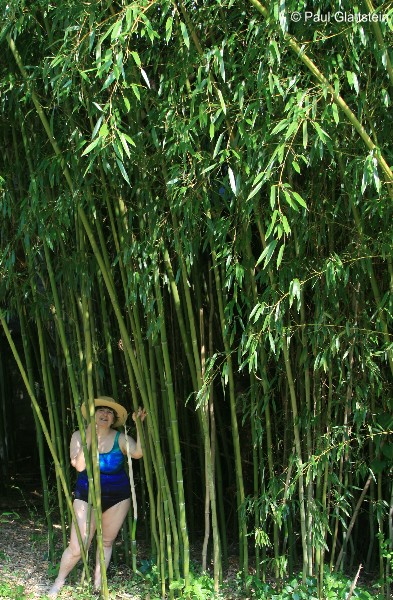 Photograph Credit Paul Glattstein, all rights reserved.

"Ten or 15 years ago." said Jerry. "I think that's when we planted the bamboo."
Wonderful afternoon, immersing myself in their pool on an exceptionally hot June day,
and then playing jungle girl in the bamboo forest. Or should I say bathing beauty.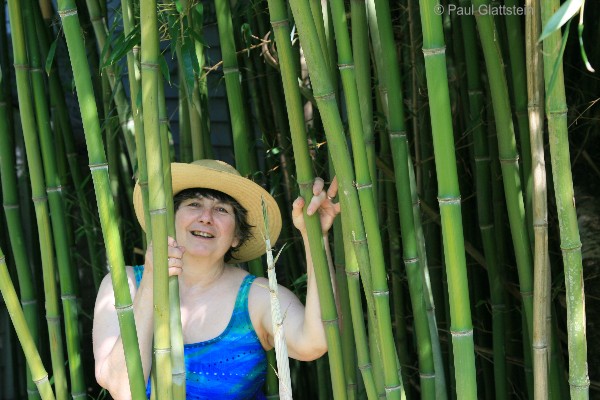 Photograph Credit Paul Glattstein, all rights reserved.

Back to Top
---
---
Thursday, 5 June 2008

Watnong Soirée

Time again for the June soirée of the Watnong Chapter of the North American Rock Garden Society. The morning weather was iffy, but behaved well enough that there was an excellent turnout in the evening, of members ready and willing to visit a lovely garden, socialize with like-minded friends, and eat delicious food. Our member and chef, Benjamin, did her usual fabulous job with the entrees, desserts, and table decor. Members brought so many side dishes, salads, and desserts that table space was at a premium, to set out all the delicious food. A great time was had by all.

It's clearly a gardener's event. From street to house the driveway is lined with plants for sale,
donated by members. Avid gardeners all, Watnong members brought good plants well potted
and especially choice material for a silent auction. There wasn't anything much left at evening's end.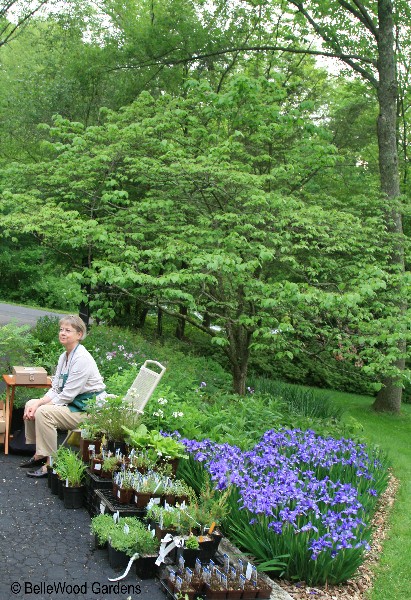 The soirée began with a saunter through Ruby and Martin's garden, perhaps with drink in hand.
Frog Pond Hollow does indeed include water, with a wonderful little brook that feeds into a pond
that the Weinbergs had dug before their house was even built. Japanese primroses thrive along the banks.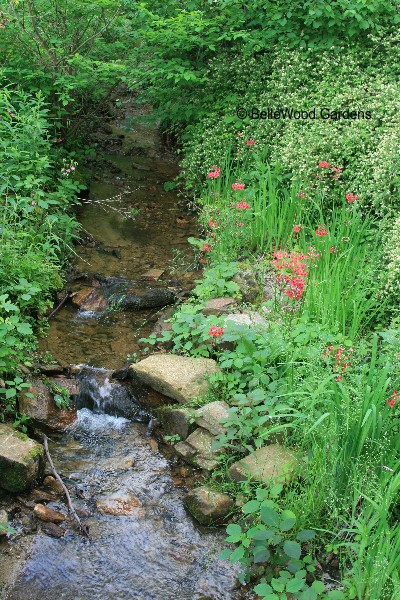 A sturdy bridge crosses the babbling brook, with bold Petasites leaves leaning through the railing
and flower petals sprinkled on the decking boards from the nearby viburnum. The garden is securely fenced
against deer, which allows Ruby (who has professionally designed gardens) to grow whatever she fancies.
Shrubs provide the backbone, the framework for her garden, with a lovely silverbell, Halesia, in bloom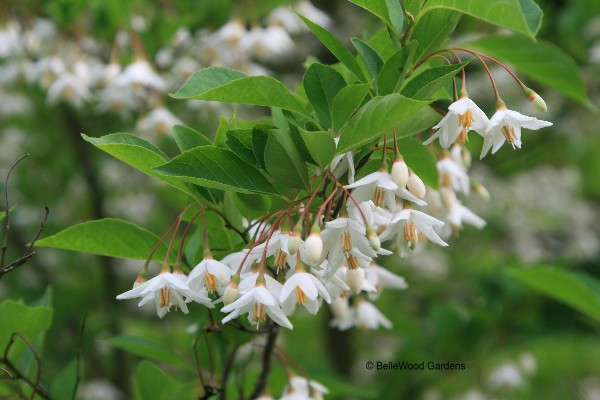 and a Japanese dogwood, Cornus kousa, just smothered with flowers.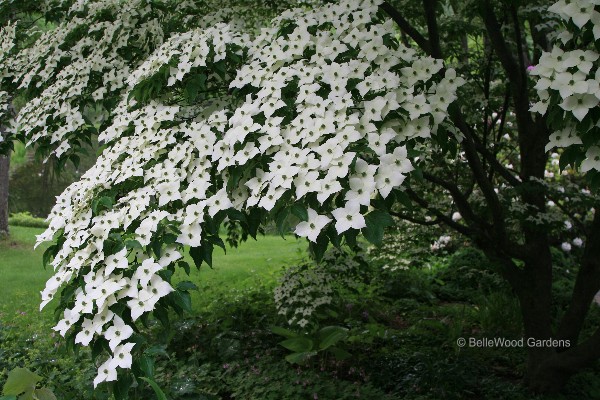 Mature rhododendrons and azaleas form a backdrop, a screen, adjacent to the terrace behind the house.
It is a delightful sitting area. As you can see here, these two fellows are enjoying their conversation.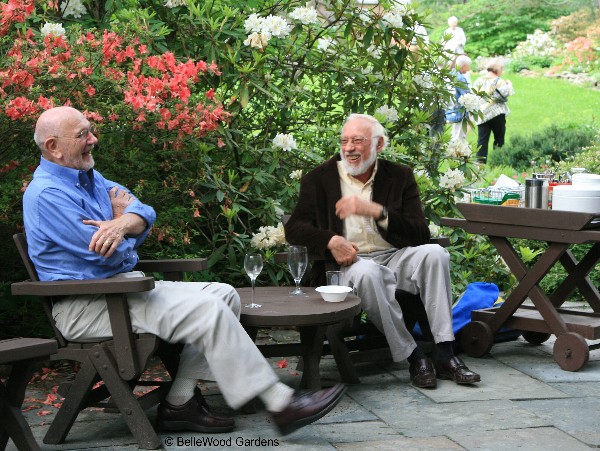 A festive table, set with succulents in a handsome glazed container and embellished with a gleaming candelabra.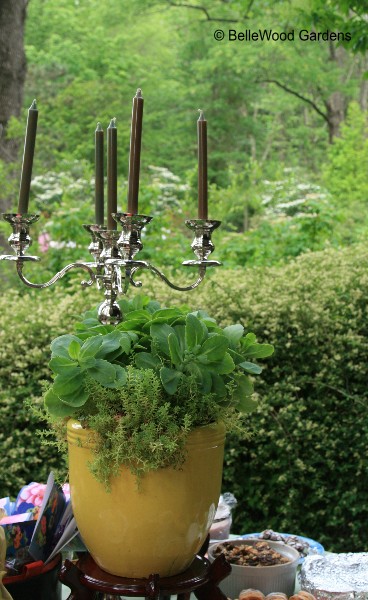 Conversation was more subdued when everyone was busy enjoying the tasty food - not nice to talk with your mouth full.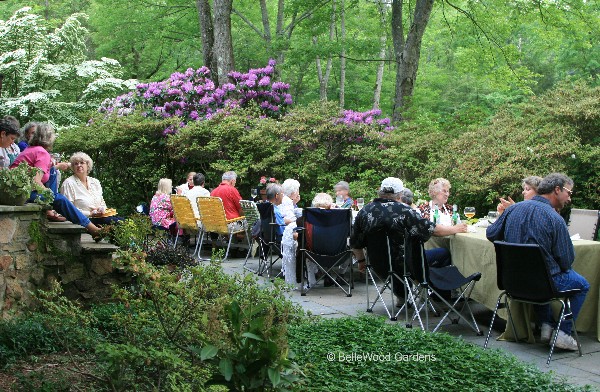 Benjamin's usual professional efforts - a plate of pizzelle cookies, garnished with roses.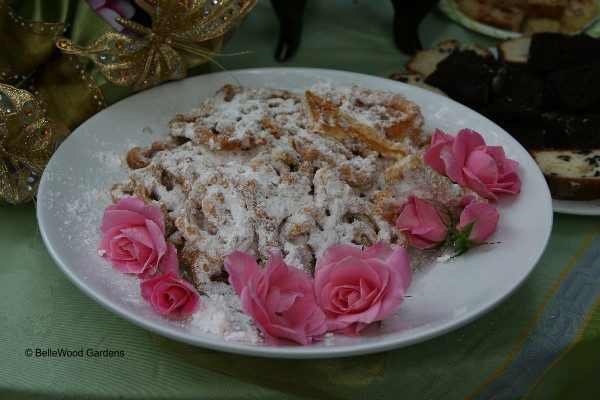 Another wonderful chapter meeting, with a good time had by all. This one had everything:
lovely garden to saunter through, good plants to purchase, luscious food to enjoy, and
most especially, the company of friends.

Back to Top
---
Tuesday, 3 June 2008

Grounds for Sculpture: Water

Water adds life to the landscape. If it is moving, there's the shifting surface and shadows of light, and the music as it flows and drops. When still, water is a mirror that offers a reflection. Grounds for Sculpture has water incorporated in many ways and places throughout the grounds. There's a lake and a couple of ponds, all connected by a small stream. The various waters are backdrops for J. Seward Johnson's Sailing the Seine, Déjeuner Déjà Vu, and other figured sculptures. There is a Monet-style bridge near the main restaurant, with fog-emitters at the water's edge providing mist over the water, and frogs for aural accompaniment. And there is a water garden. It is more Moorish in style, a channel of water flowing in a linear manner through a walled, paved courtyard. No water lilies. Some of the sculptures on display here incorporate water, with bubblers making umbrellas of smooth water in a little pool, or drip emitters falling from a suspended cat's cradle of mini-tubing and wire above the ground. Or a sculpture may be placed nearby.
Masonry walls, angled walkways, shallow water over cobblestones,
green grass and greenery make the Water Garden an inviting place.
A large bronze, Facing Couple by Itzak Benshalom, shelters beneath a huge maple tree.
This must be one of the fifteen mature trees that were on the site when J. Seward Johnson
founded Grounds for Sculpture on the site of the former New Jersey State Fairgrounds in 1992.
Bold foliage of butterbur, Petasites hybridus, and a few thin spears of cattail
surround an untitled work by Kiki Smith. The girl, secreted in the concealing leaves is crouched
over a saucer of water trickling quietly over a cobblestone beach of smooth rocks.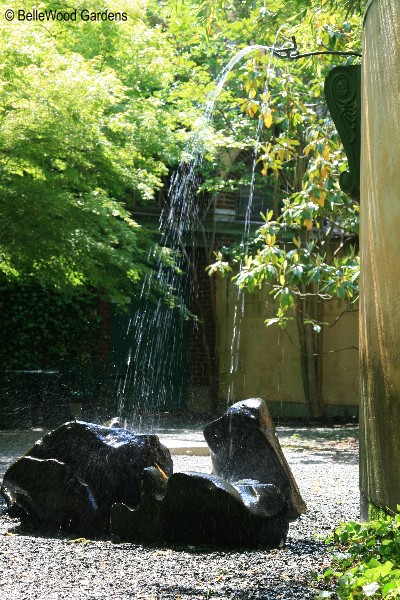 A courtyard on the opposite side of the Domestic Arts Building has a very appealing fountain.
Water showers out from a bronze fitting, fastened high on the mustard colored masonry wall
splashing down onto a grouping of boulders that somehow manage to be both smooth and
somewhat jagged at the same time, shining and darkening the stone before the water vanishes
into the gravel.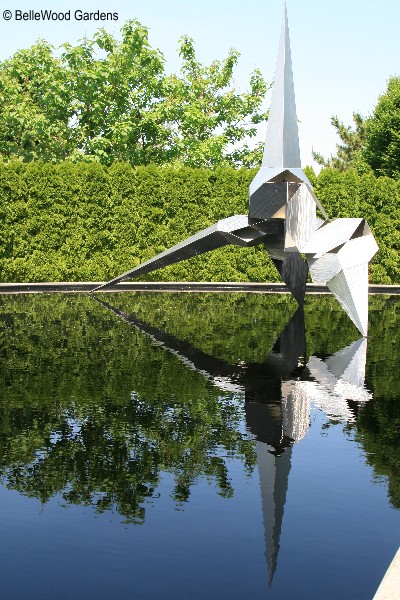 Another section of Grounds for Sculpture is walled with plants, tall evergreen hedging
that provides a backdrop and focuses attention on the sculptures on display here.
One monumental piece, Dorion by Bruce Beasley, is magnificently displayed in a reflecting pool.
The angular stainless steel sculpture appears to float, barely touching the dark water as it soars
upward. A space ship, a cathedral, origami - what do you see?

Back to Top
---
Tuesday, 3 June 2008

Grounds for Sculpture: Mannequins

Grounds for Sculpture in Hamilton, New Jersey is a 35 acre sculpture park open to the public.
It was founded in 1992 by J. Seward Johnson, an heir to the Johnson and Johnson fortune
and himself an American sculptor known for his cast bronze trompe l'oeil statues of people,
( here is a link to his studio's home page)
with the goal of promoting an appreciation for contemporary sculpture in an outdoor, landscape setting.
There are a number of Seward Johnson's sculptures displayed on the grounds.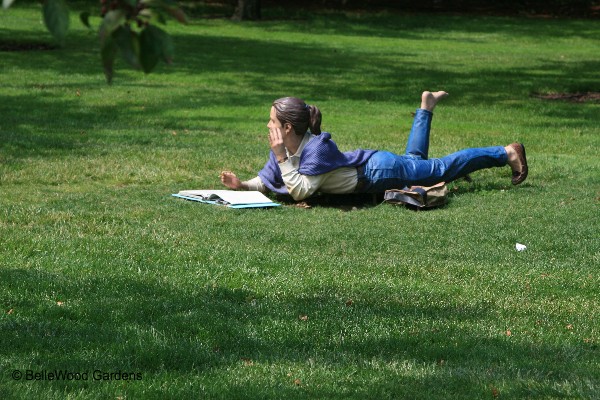 Summer Thinking belongs to the earlier Man On The Street series depicting one or more figures in a public landscape.
The young girl here portrayed lies on the grass, propped up on her elbows. It could be late spring, cool enough for a sweater,
warm enough that it is tossed over her shoulders and she's kicked off one shoe. It is just this sort of viewer participation
that Seward Johnson has as one of his goals, to involve the art and the visitor in a collaborative effort.

.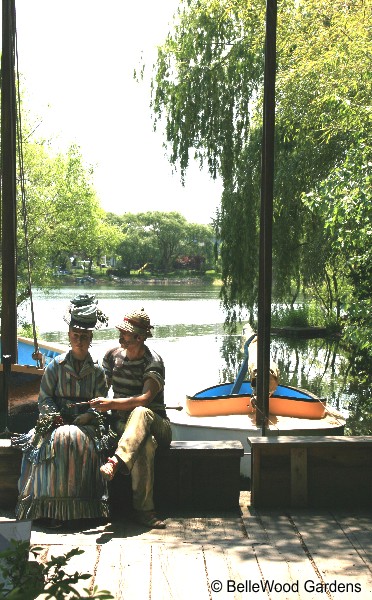 Some of his works, those in the later Beyond the Frame series, are inspired by Impressionist paintings,
as here, where Sailing the Seine is based on Manet's Argenteuil. Seward Johnson added a touch of his own,
and the amorous sailor strokes the derrière of his companion. Cleverly sited in the the landscape
the two figures, large pond, weeping willows, and pair of sailboats complete the setting in a remarkable manner.

.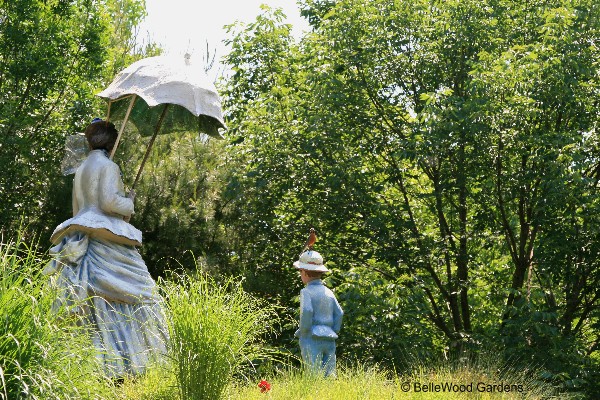 On Poppied Hill was inspired by Monet's Woman with Parasol in a Field of Poppies.
By the way, that's a real live robin sitting on the boy's hat. The poppies, on the other hand,
are also bronze.
.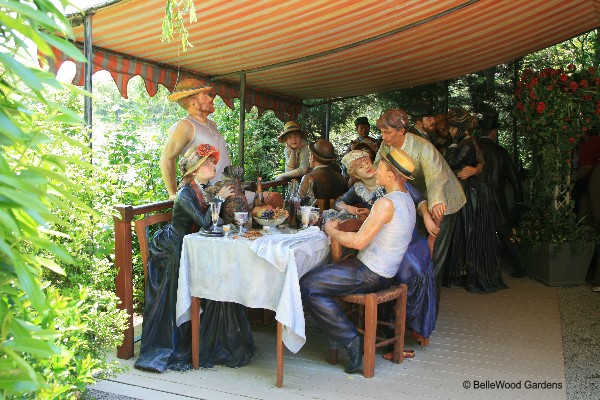 Were You Invited? is perhaps one of Seward Johnson's most ambitious works. Based upon Renoir's masterpiece,
The Luncheon of the Boating Party this three dimensional version allows viewers to actually step into the scene
and mingle with the diners. In addition to Renoir's boating party, four figures seated at another table at the far end of the grouping.
There is a realistic representation of Seward Johnson himself, with artists Bill Barrett, Red Grooms, and Andrzej Pitynski.
A dashing character in period costume brandishes his cane and addresses those at the table as if asking
"Were you invited?" Yes, in a manner of speaking. Having paid my admission fee, here I am.

But no doubt the most astonishing painting-into-sculpture is Déjeuner Déjà Vu,
a three-dimensional recreation of Edouard Manet's painting, Le déjeuner sur l'herbe.

When first exhibited in 1863 the painting itself was extremely controversial. It depicts four figures,
two men, two women, having their Luncheon on the Grass. Dressed like dandies, the men are lounging at ease.
One woman is paddling about in a pond. And unlike these fully clothed figures, the fourth woman is nude.
And unlike the previously mentioned sculptures which are more or less in plain view this one is not.
It is concealed behind some shrubbery so that the visitor stumbles across it with some surprise.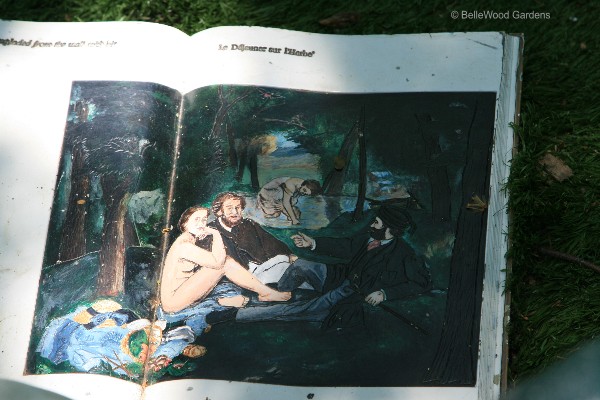 There is a "book" opened to an image of the painting.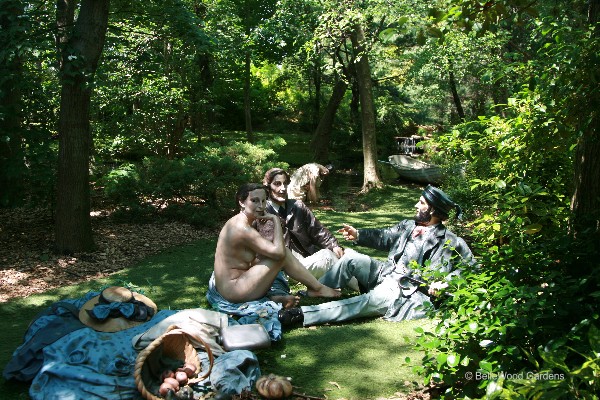 The men and the nude are at ease on the grass (Astroturf or some other artificial turf)
her clothes casually heaped up and the remains of their luncheon piled up like a still life.
Sunlight dapples her gleaming skin. And in the background the other woman bends over into the water
while ducks (real live ducks) paddle about her.
Fascinating. And today, a warm June day with green trees and shrubs creating the walls
of the secret space wherein they picnic, is ideal. But how would it look, do you think,
should we return in January, perhaps with snow. Statues don't get goosebumps.

Back to Top
---
Tuesday, 3 June 2008

Grounds for Sculpture: Pattern Play

Art is interpretation, two-fold. First is how the artist observes, then translates from natural world
to a different medium, be it paint or sculpture. The second level, how the viewer sees the results.
It is easy to say "I like it. I don't like it." But to be able to say why you feel one way
or the other - that's the hard part. I like the following natural patterns for their repetition and variation.
Limited, however, as you can see but other senses of touch and taste and sound and scent are not available
in a picture.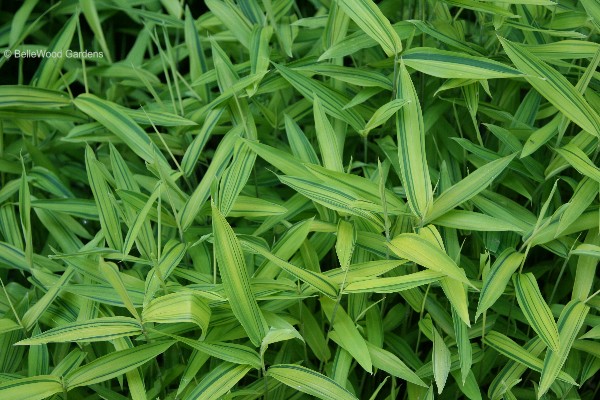 Gold stripe dwarf bamboo, Pleioblastus auricoma. It is a running species
that has been here confined between building and concrete sidewalk. If you ever come across it
gently stroke a leaf between thumb and forefinger. It is pleasantly fuzzy underneath.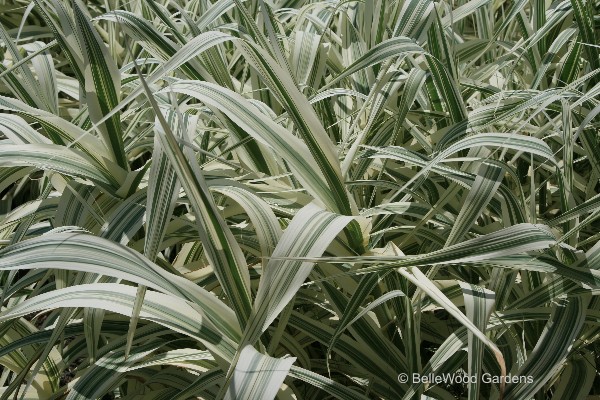 Early growth on massive giant reed grass, Arundo donax 'Variegata'. It will, this summer,
easily reach a stately 9 or 10 feet tall. The susurrus it makes with each passing breeze is delightful,
as is the music made with a clarinet (whose reeds are cut from the green form of this grass.)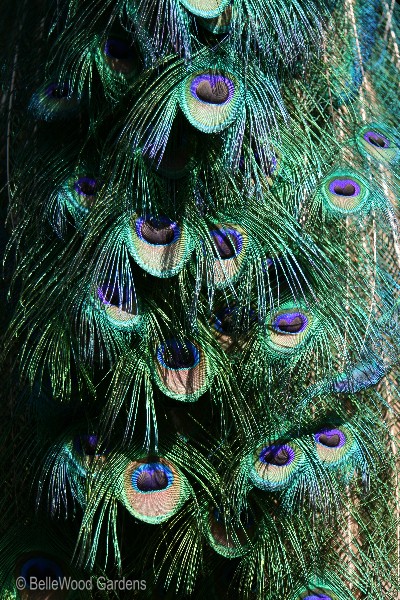 The same cannot be said of the peacock's strident call, qwark, qwark, qwark that seemingly did little
to impress the two drab hued peahens. They even turned away from his elevated tail feathers, as he strutted
first to the left, then around to the right, all the while making a dry, rattling vibration with his stiff, rust-brown wing feathers.
He doesn't hold the immense feather display upright for long. It has to be like a reverse pushup, a fatiguing muscular effort.
But the squawking, that's another story. And if the peahens are nearby, he's quick to display again. After all, it's that time of year.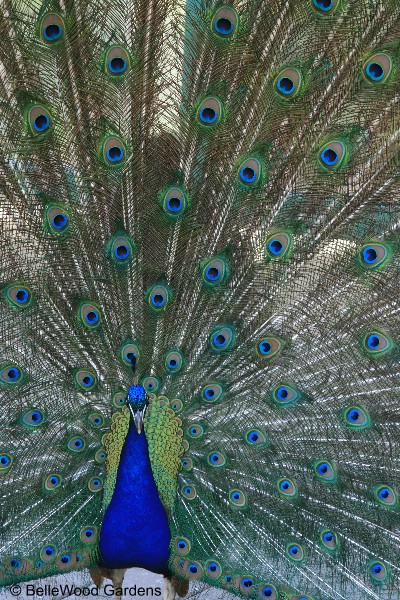 Back to Top
---