Garden Diary - March 2008
---
If you have any comments, observations, or questions about what you read here, remember you can always Contact Me
All content included on this site such as text, graphics and images is protected by U.S and international copyright law.
The compilation of all content on this site is the exclusive property of the site copyright holder.
---
March
---
Wednesday, 26 March 2008
Bountiful Bouquets
The Tohickon Garden Club's monthly meeting today offered us a wonderful view of flower arranging on the custom side of the florist's trade. Joyce Murphy, a former member of the garden club, is not only a skillful designer but also an excellent, informative presenter. Her company, Murphy & Klein Floral Studio in Ottsville, Pennsylvania creates stunning designs for weddings, banquets, bar mitzvahs, and similar events. What they don't do are mass market individual posies for Valentine Day and such.
Now, if you are like me, this aspect of gardening is one outside my ken. I'm of the "stuff it in a container and hope things don't fall over" school of design. Even FTD "by the book" floral arrangements are unknown territory. So I was here as a member of the garden club, with small expectations. Joyce's engaging presentation made it all sound so easy. As she selected flowers, snipped stems, talking steadily and explaining as she went - it was a fascinating presentation.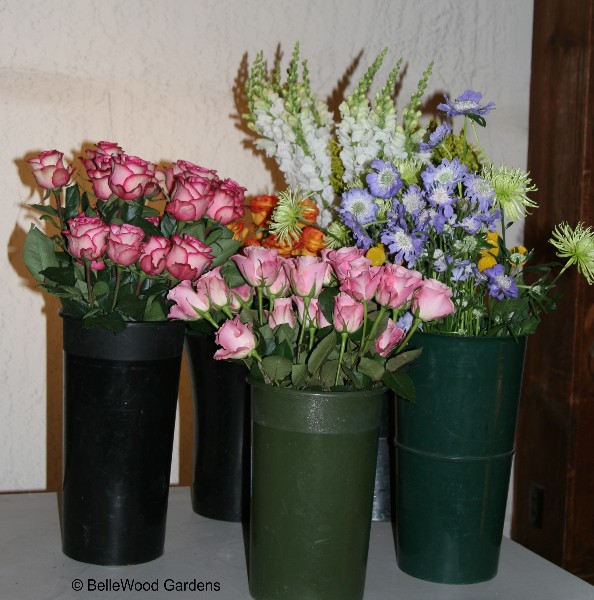 We meet at Stovers Mill. Well prepared, Joyce had buckets of flowers on the table, ready to get to work.
There were the usual suspects: roses in luscious colors. As well, snapdragons, green chrysanthemums, and scabiosa.
Out of sight are more containers with hypericum and sweetly fragrant stock, bear grass, variegated pittosporum, and more.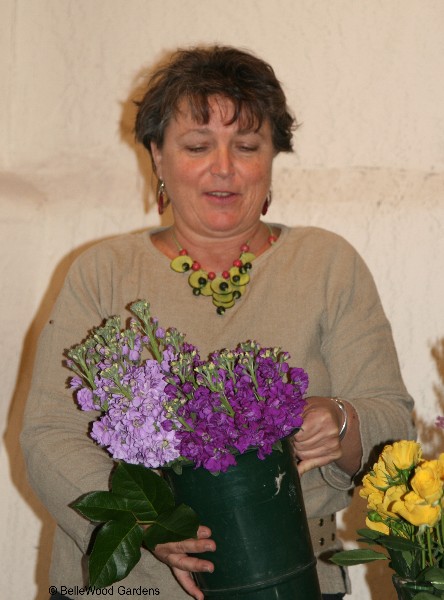 Joyce begins her first design with fragrant stock in rich purple and pale lilac.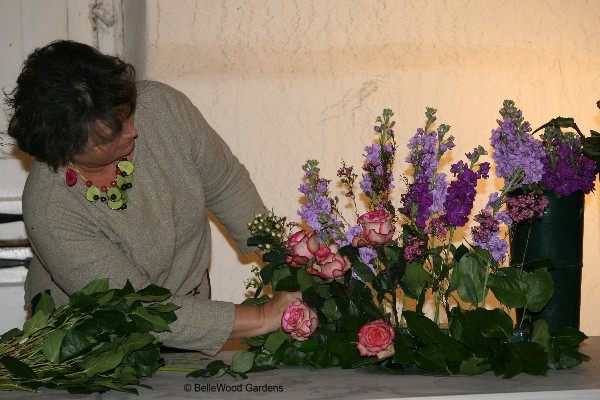 The two colors intermingle as background. Roses, asymmetrically placed.
Some hypericum. Green salal foliage hides the floral foam and is added in among the stock.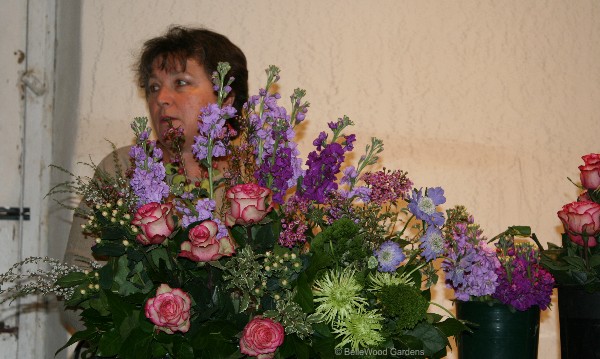 Spider-y pale green chrysanthemums, scabiosa, a bit of this, a smidge of that.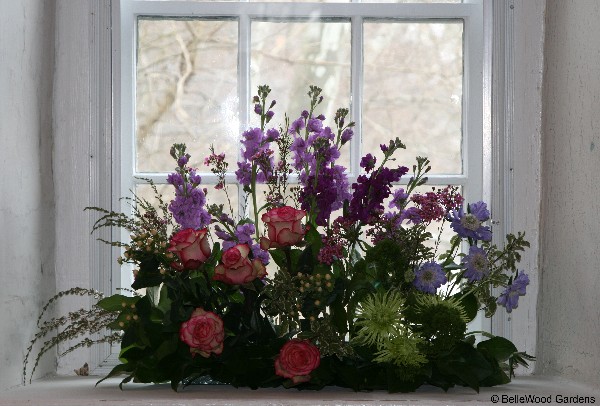 Completed. Set on the deep windowsill of the stone mill. Elegant.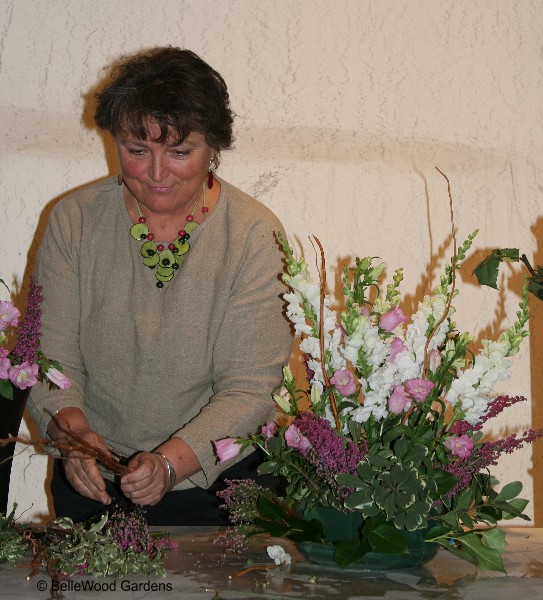 Off again, another arrangement taking place under her flying fingers. This time,
the point Joyce was making was that the container alters the appearance of the arrangement.
This design was created in a shallow clear plastic saucer. Charming on its own, there are other advantages.
Set the completed arrangement in urns on a podium, then move just the arrangement to the buffet table.
It's not as heavy (or as sloppy) as a large container full of water.
Set on a tall and rather narrow apple green pail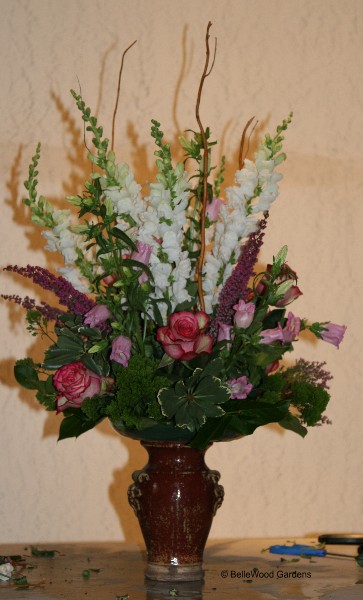 or on a vaguely Oriental oxblood red ceramic vase.
Point well taken.
In little more than an hour Joyce whipped up at least half a dozen arrangements large and small,
even a sunny yellow chrysanthemum kissing ball. A simple raffle,
and happy members went home with classy bouquets.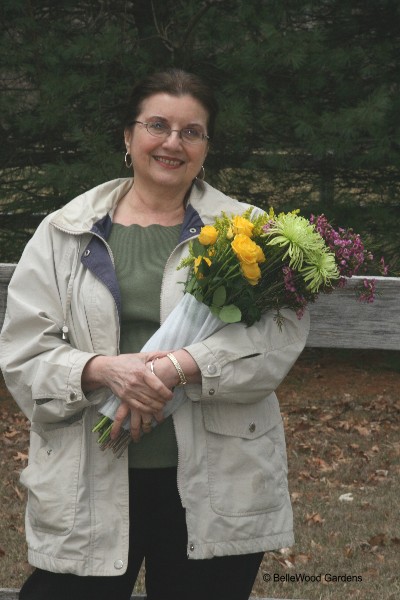 Even the remaining flowers were distributed. Now here's someone who will be "do it yourself."
And you know, after this I might, I just might do better than stuff things in a vase.
Back to Top
---
Tuesday, 11 March 2008

After The Show Is Over

You don't just grab a plant off a store shelf, toss it into competition, and find yourself a winner. Read the rules. Pay attention to details such as size of pot (seemingly minute details such as measuring the inside or the outside pot diameter is important, and put a plant in a different class.) Months of effort, in selecting plants for exhibition and grooming them for competition. Painstaking attention to detail in preparing them for show. Choosing what class which plant shall be entered in. After the show is over and all the plants have been brought back home, it's time to tally up the ribbons. After decades of exhibiting it becomes obvious that skill in growing, showmanship, and attention to detail reaps just rewards. There are the first-class blues, some seconds, a few thirds. Even more impressive, rosettes.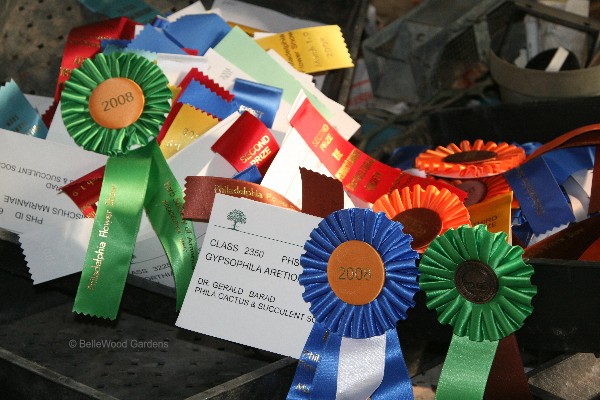 And most impressive of all, not one, not two, but three medals for best of day.
(I'm the one who "presented" Jerry with the medals in this manner.)
Awarded for the absolutely best plant entered in the entire show on a given day's judging.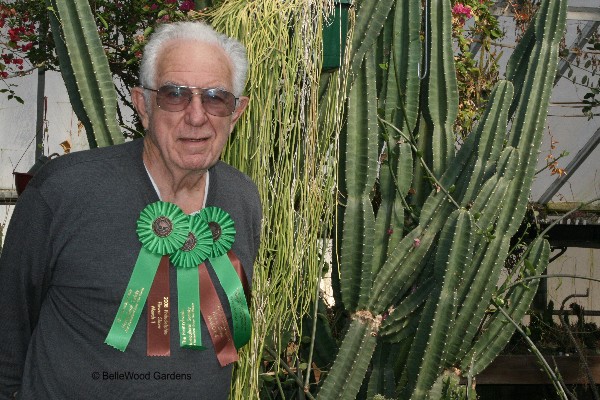 Best of Day is the ultimate accolade.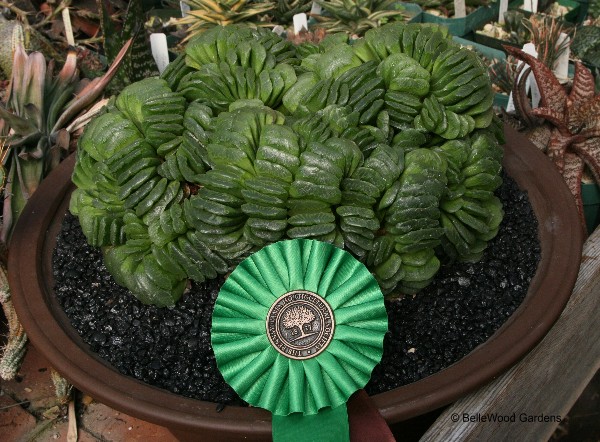 Shaped like a fan with its tops cut off, Haworthia truncata 'Lime Green'
is a very attractive cultivar of the South African species, with distinctive lime green coloration.
Jerry has had this plant for 11 or 12 years. When he acquired it, there were only two fans.
Just look at it now! No wonder it was awarded a Best of Day medal.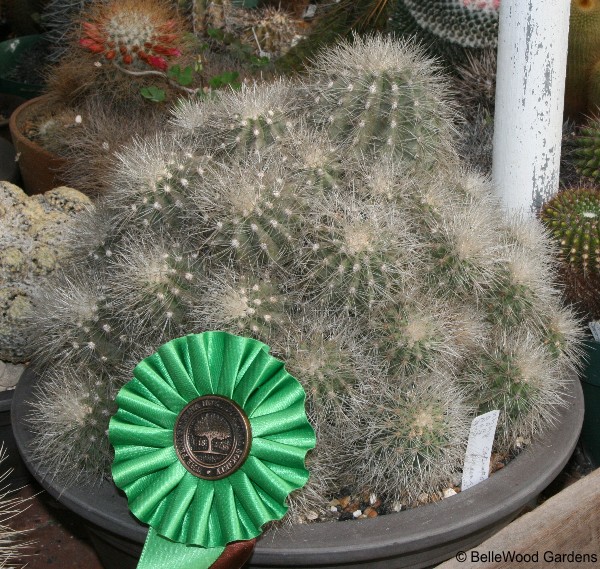 Copiapoa krainziana

The name Copiapoa comes from the city of Copiapů in northern Chile.
This cactus is native to the Atacama desert, a virtually rainless plateau
fifty times more arid than California's Death Valley, on the country's northern coastline.
In their native habitat these cacti meet their water needs from a marine fog
known locally as the camanchaca, water droplets condensing on the spines.
Jerry has grown this plant for at least 20 years, starting with a single offset.
Another day, another Best of Day medal.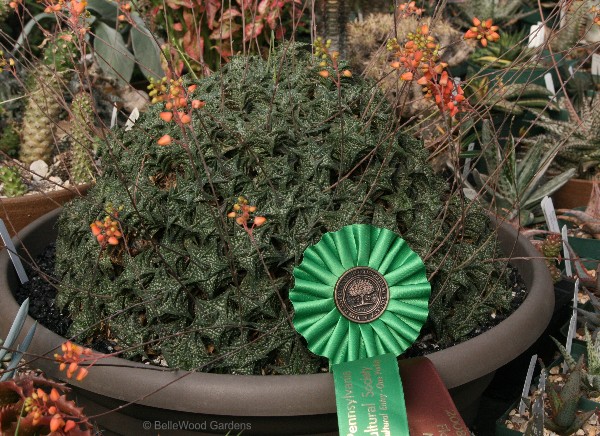 Perhaps you have an aloe on the kitchen windowsill, using the gel-like goo
from a deliberately broken leaf for soothing small burns and scrapes. It's very different
from Aloe desciongsii, smallest of all the suckering aloes and a native of Madagascar
with stiff, short, thick spotted leaves in rosettes up to two inches in diameter.
Thirty plus years ago, Jerry received a single rosette from Reynolds, who discovered
and described the species. Thus, Jerry is growing the type plant. What's that?
It refers to the specimen of the individual plant from which a species was first described.
But it is not rarity, provenance, historical importance that gains ribbons, rosette, or medals.
Rather, having been well cultivated, the plant displays horticultural perfection.
And, unheard of, a third Medal of the Day awarded to a single exhibitor at the Philadelphia Flower Show..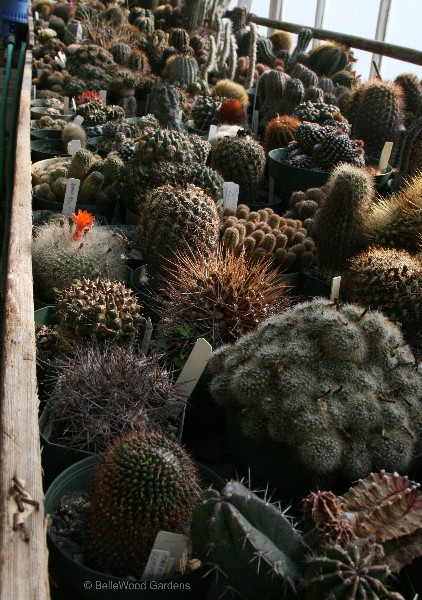 One of the greenhouse benches, filled with pot after pot of cacti and succulents.
Year after year of passion, knowledge and skill in cultivation that is as enduring as these plants.

Back to Top
---
Thursday, 6 March 2008

Leonard J. Buck Gardens

It was late afternoon when we returned to The Leonard J. Buck Gardens. The sunny day and Jim's offer of a stroll around the grounds was something I accepted with delight. Granted, after all the recent rain there were muddy places. And this early in the season some plants were still covered with evergreen boughs as winter mulch. But there were flowers to see, vistas to appreciate, and on-going improvements to the landscape.
The gazebo, seen from a new vantage point. A broad connecting path
now traverses a slope. Simple design of a few massive stone steps,
a graveled slope and repeat with more steps and slopes, guides visitors
to a spacious terrace with two teak benches and a view through the trees
to the valley below. Jim tells me it was magnificent in autumn. I want to see
the azaleas in bloom. The grand opening to the public will be soon.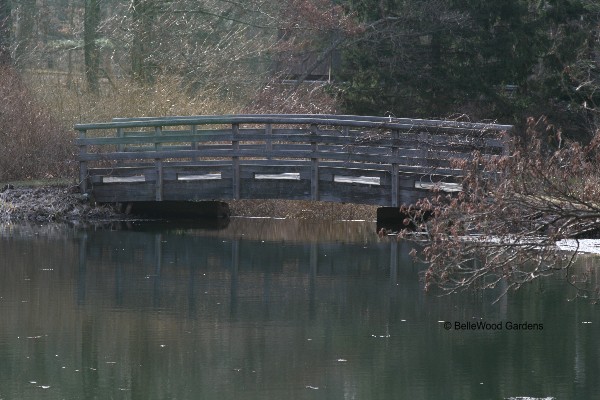 I adore the Monet style bridge. It is a lovely focal point from any vista,
and delightful as a water-borne platform from which to view the garden.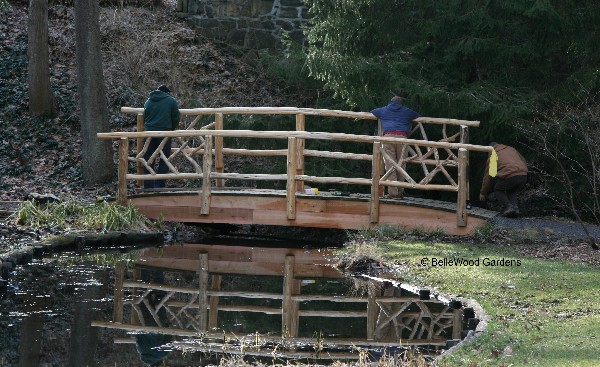 Work on a new bridge, downstream, in Adirondack rustic style.
Still fresh and white, the wood will darken with time, harmonizing
with the dark green of the hemlocks and barn red stone retaining wall.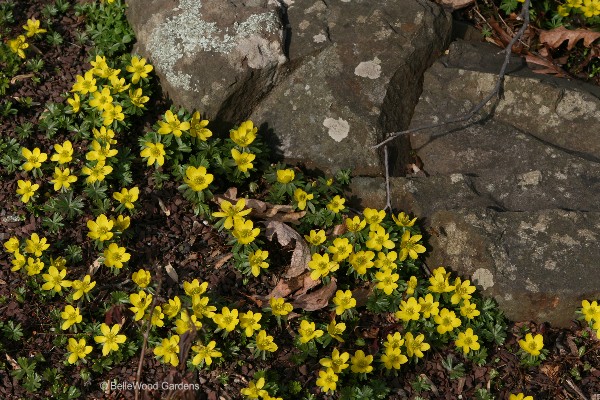 Masses of winter aconite, Eranthis hiemalis, spangle the ground.
A stubborn little tuber, it resents being dried for shipment from abroad. Only a small percentage
of fall planted tubers will awaken in the Spring. Yet clearly, those few will happily establish
and multiply into a golden tapestry of flowers, today being ravished by hungry honey bees.
Pristine white flowers of Christmas rose, Helleborus niger praecox, appear
luminous against the soggy remnants of last year's fallen leaves.
What's in a name?
Nothing to do with roses or Christmas,
praecox for early, and niger in reference to the black roots.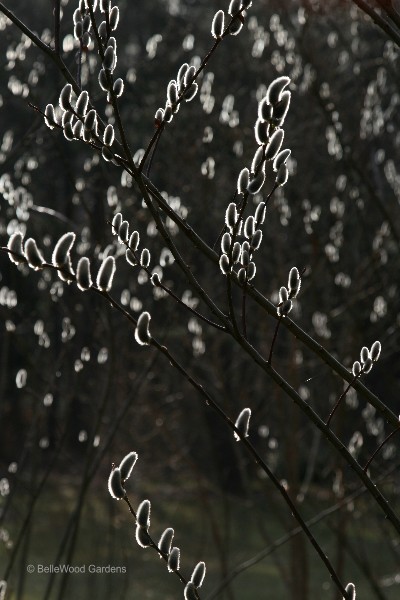 Wonderful big catkins of Japanese giant pussy willow, Salix chaenomeloides
limned with sunlight. Willows like wet places, and these are growing near the stream.
Right plant, right place. Buck Gardens. Come visit.

Back to Top
---
Thursday, 6 March 2008

Springfest

"I'm going to Springfest on Thursday." Jim said. We were talking about my upcoming St. Patrick's Day lecture on March 20th, on The Gardens of Ireland and England at The Leonard J. Buck Gardens. Where's that, what's that? was my response. When he told me it was a flower and garden show at the Sussex County Fairgrounds, March 6th through 9th, I shamelessly invited myself along.

Jim was going to man the Garden State Gardens educational booth. A consortium of public gardens and arboreta in New Jersey, their goal is to increase public awareness and appreciation of New Jersey's public gardens, something I enthusiastic support. So this was a real win / win situation. I get to go, and in return we both had company for the ride, I provided another pair of hands to carry material from the van to the venue, plus Jim and I could take turns at the booth, and both have a chance to see Springfest.

The fairgrounds are in Augusta (New Jersey, not Georgia) , up in the northwestern portion of the state. While small compared to the Philadelphia Flower Show, Springfest has much to recommend it. Currently, the event is held in a conservatory and a huge 100 foot by 40 foot tent, which has "windows". The result - most of the garden exhibits were sunlit, for a very spring-like ambience. As an aside, let me tell you that next year will be even better, with the construction of another spacious conservatory that will replace the tent.

A lovely welcome to the event begins with a competitive window box class just as you enter, which was judged by Ken Druse and Vicki Johnson of Real Dirt podcast. There are flowers and some gardens, boutiques and educational booths, and lots of happy visitors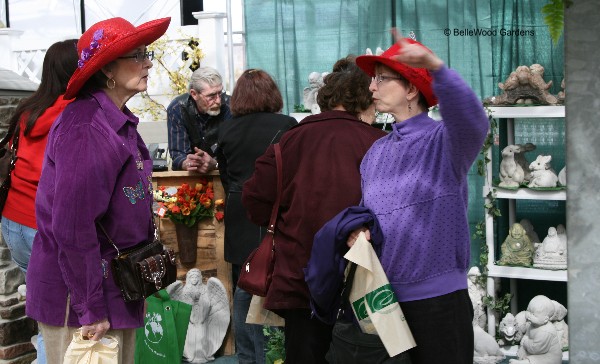 such as these Red Hat Society ladies.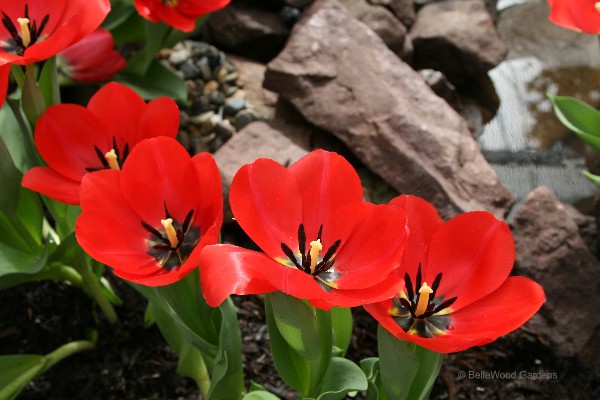 Some 'Red Emperor' tulips with glowing, satiny petals.

Funky details that add to the show's ambience: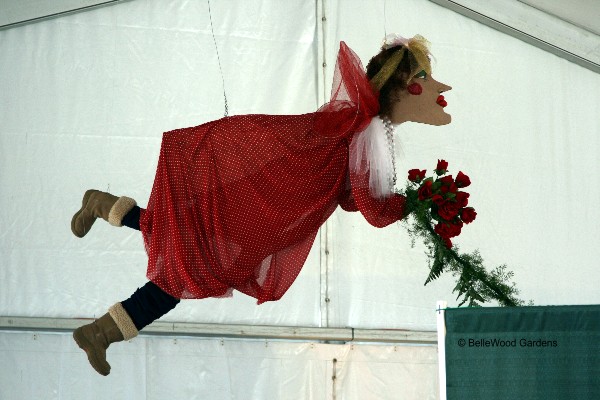 Flower fairies floating overhead
Charming bugs as shades for droplights over the cafe tables,
crafted from whimsically embellished bottle gourds.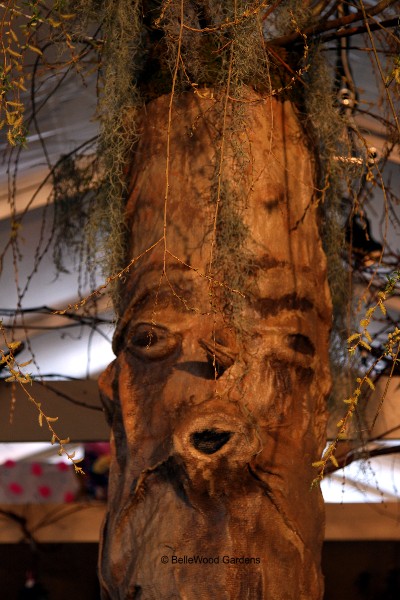 Ent-like tree pillars made of sheet fiberglass and epoxy resin
(the stuff used for auto body repairs I think), minimally shaped
and details added with paint, forced willow branches as drooping crown.

The most impressive garden, for me, was created by Three Seasons, Inc. / Marty Carson Garden Designs
along the side wall of the exhibition hall. Perfect for my upcoming Gardens of Ireland talk!
Roses and foxgloves, astilbe and beebalm and lilies and more.
A flagstone path meandering through a country / cottage garden ambience.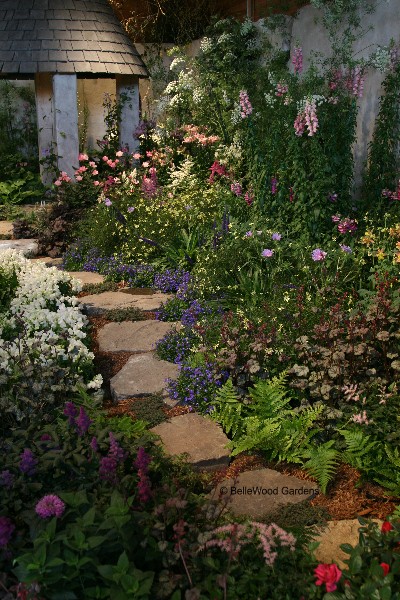 Two slate roofed, open sided structures, each with a gentle bubble of water as a fountain floor.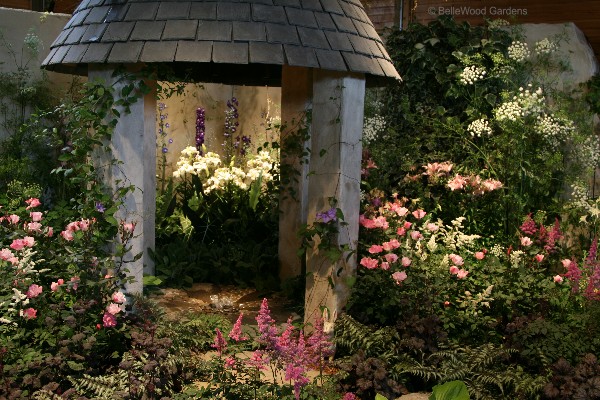 Attention to details, with pleasing foliage combination of the silver fronds of
Athyrium niponicum 'Pictum', Japanese painted fern
and somber plum purple heuchera.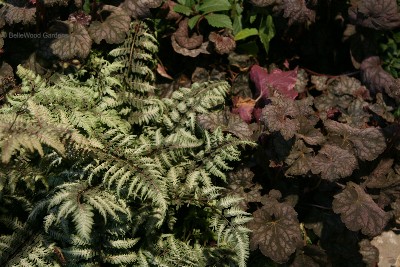 Tall white Rocket snapdragons with red beebalm and lacy Ammi majus.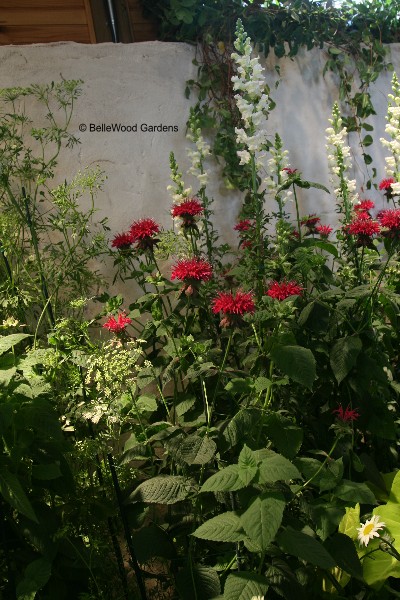 A lovely event. I'll certainly plan on attending next year.

Back to Top
---
Wednesday, 5 March 2008

After the Rain

Heavy rain, drumming on the skylights. Lightening and thunder in the night, with more rain.
By Wednesday afternoon the Nishisackawick Creek was the color of chocolate milk,
filled with sediment, fast running, and plucking at the roots of creek-side trees.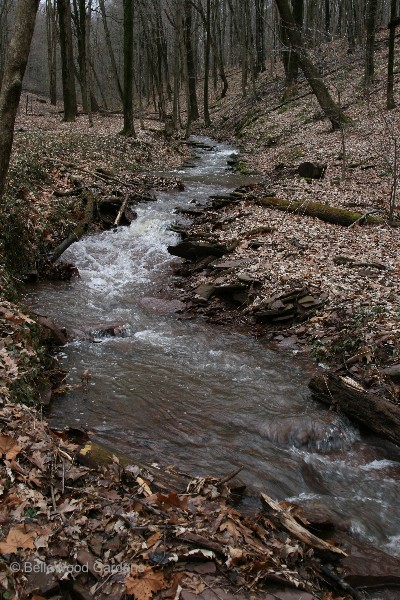 And the intermittent drainage creek along the northeastern side
of BelleWood Gardens was purling and rushing to join it,
and the marriage of the waters finding its way to the Delaware River.

Back to Top
---
Saturday, 1 March 2008

Philadelphia Flower Show: Part Six - Stuff For Sale

Outdoors things are still rather wintery. Branches are bare, snowdrops show but a few flowers. Then here we are at the flower show, surrounded with greenery and a bounty of blooms. Work your way through garden displays, potted plants in competitive horticulture classes, then find your way to the sales area - we're enthusiastic gardeners all, and ready to shop for garden-related merchandise, get a gardening fix that will carry us through into Spring.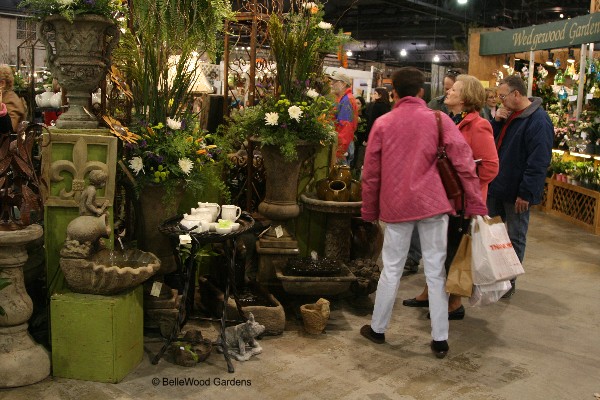 Whatever the reason, there are some booths selling branches.
Pussy willow and curly willow must be very popular.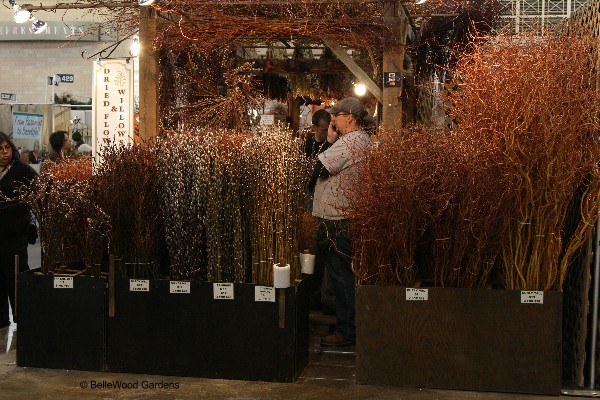 Pastel-colored egg-shaped soap. Easter?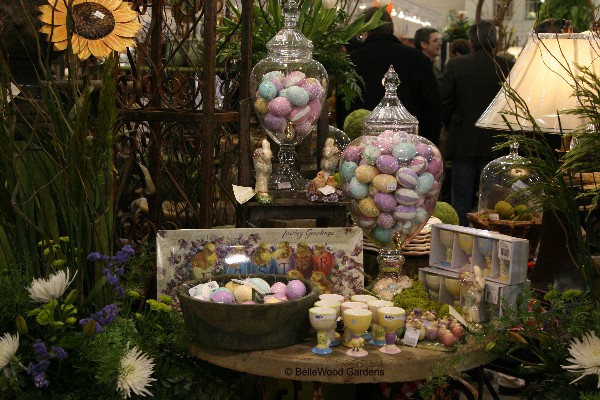 Gargoyles for the garden.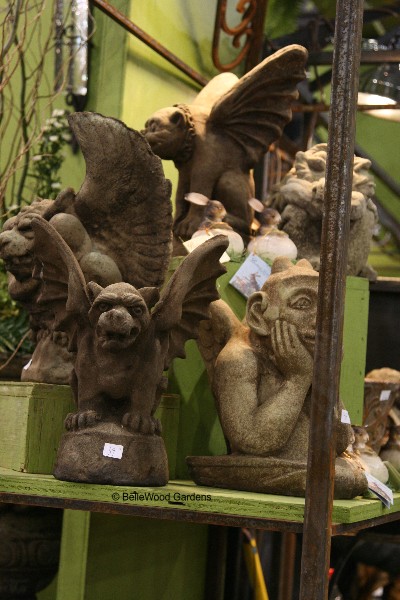 Bulbs. Now this is somewhat problematic. It's just too early.
Agapanthus in my cool greenhouse is semi-dormant, still green
but barely watered. What to do with a bare tangle of roots early in March?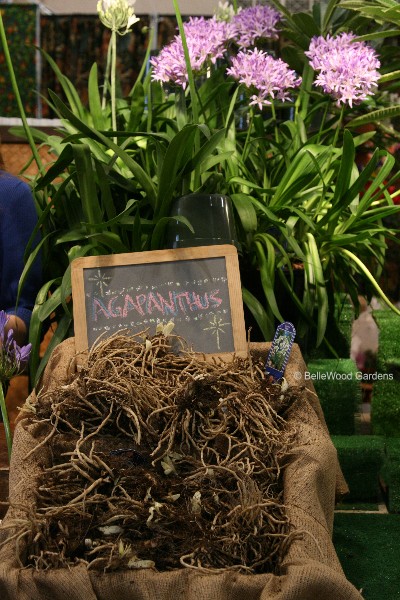 And then there's eremurus, fox-tail lily. I was successful with these
in Connecticut, where the soil was well drained. Here in New Jersey clay,
the octopus-like roots rot in winter's cold wet soil. And these are starting to grow
but there's not a chance they could be planted in still-frozen soil.
Perhaps pot them up, like dahlias?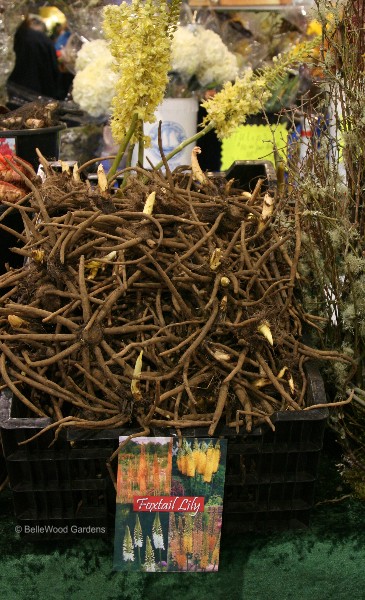 I was delighted to see the booth for Swamp Fox pottery.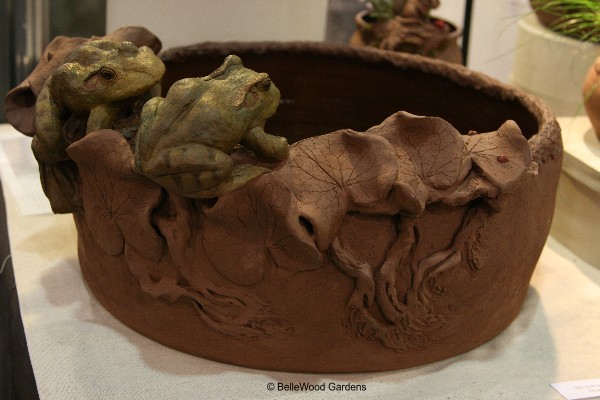 Joan Gale makes enchanting pots, nature-themed works of art.
There used to be a shop across the road from the Brandywine Museum,
but no longer. Joan took the name when her partner retired,
and sells her wares are events such as this, at craft fairs, and privately.
You can e-mail her for more information. I find her work very appealing.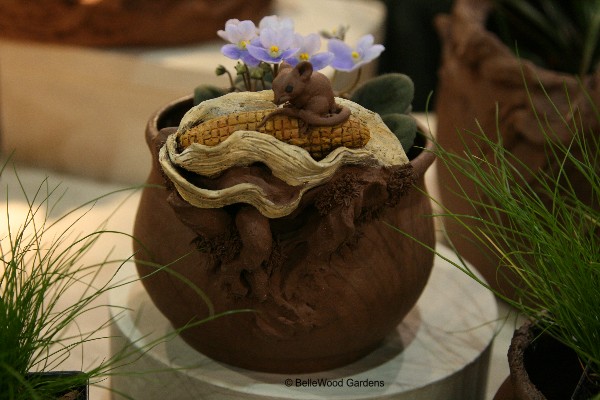 Back to Top
---
Saturday, 1 March 2008

Philadelphia Flower Show: Part Five - Look and Learn

I look forward to the flower show for an intimation of Spring in winter. (And as an aside, why do we capitalize Spring, but not the other seasons?) The first week in March may have the earliest of flowers in my garden - some giant snowdrops, Galanthus elwesii, a couple of winter aconites, Eranthis hiemalis, the swelling buds of pussy willow, maybe witch hazel. But here, filling an entire floor of the Convention Center, are seasons mixed in a delightful jumble. Trees and shrubs, perennials and annuals and bulbs are green and growing and glowing with color.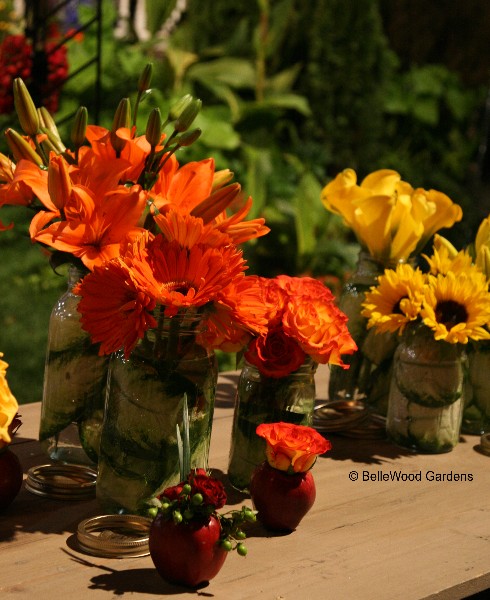 I come to refresh myself as days lengthen into Spring, though not quite arrived out-of-doors. And, as I always tell students, "Gardening is the never-ending story. There is always more to learn." So it is here. I always find something new, be it a plant or a technique.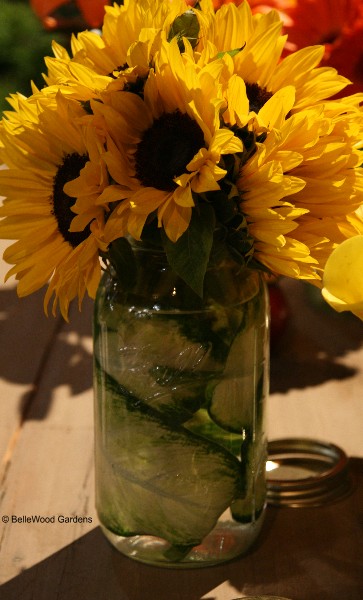 Consider this simple bunch of sunflowers, shoved into a quart canning jar.
I could do that, so could you. But would we have though of lining the jar with dieffenbachia leaves?

Then there are displays that deliberately focus on educating the public on some aspect of horticulture.
Consider this well-done display geared at helping folks grow wonderful containers. Not just plants, but getting potted.
Remember the old saying, "Put a $1 plant in a $5 hole."? Did you apply that message to containers"?
Contain Yourself, winning second place, is an exhibition by Delaware County Technical School
landscape design and greenhouse operations class. It clearly and effectively shows how to prepare containers for planting.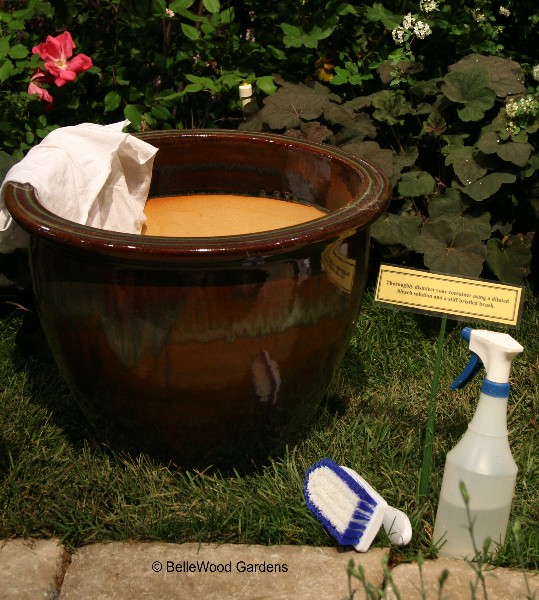 Good signage informs you to "Thoroughly disinfect your container using a dilute bleach solution and a stiff brush."
I know that, perhaps you do too. But there are many gardeners just starting down the garden path who can benefit from this information.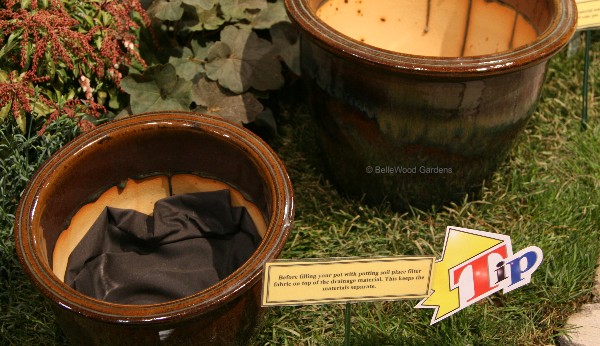 Once cleaned up, "Before filling pots with potting soil place filter fabric on top of the drainage material.
This keeps the materials separate." What drainage materials?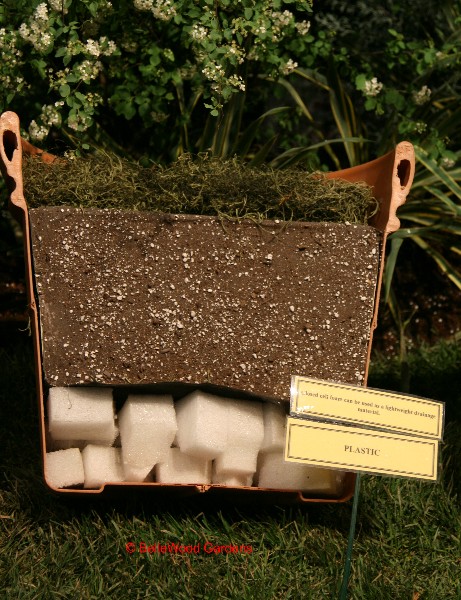 There are three well done examples in cut-away pots. One using traditional broken clay flower pots
(crocking), coarse gravel, or - seen here - light weight foam plastic blocks.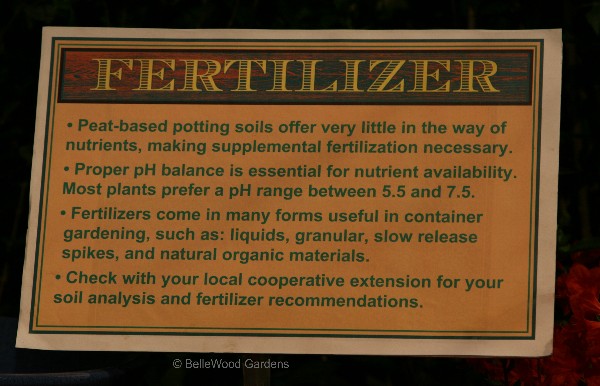 Simple bullet points to keep in mind about fertilizing. As I said, good signage.

Feel you are experienced enough that potting plants in containers is old hat, routine stuff?
Then how about Green Roof, presented by Philadelphia Water Department.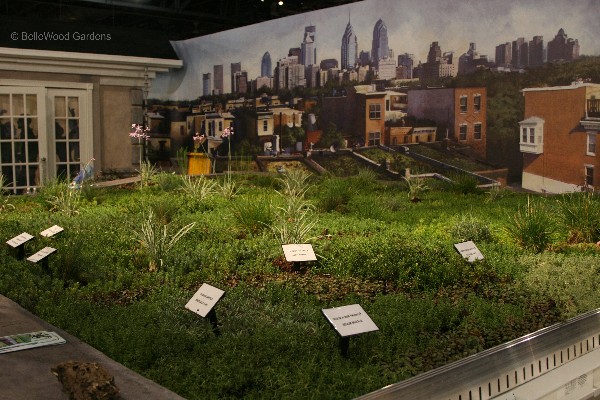 This wonderful display, complete with a mural of a bird's eye view of rooftops for a backdrop, offers an informative look
at a this special roofing system with many environmental benefits, such as reduced stormwater runoff, moderating temperatures,
and rest stops for migrating song birds.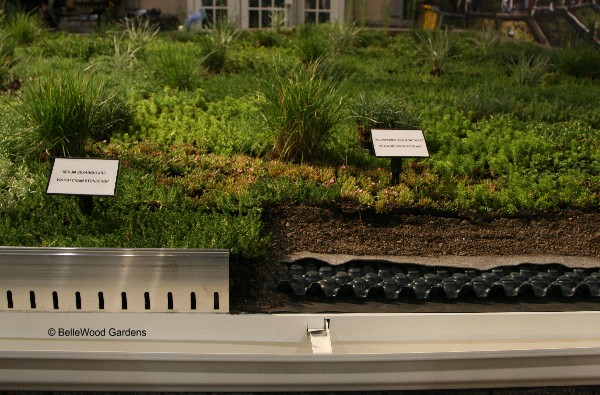 It is not as obvious as shoveling dirt onto a roof and letting grow what will.
A cut-away section displays the green roof's foundation, signage names the plants.
And if that's not enough, they even provide a labeled drawing.
The 2008 Philadelphia Flower Show, March 2nd through 9th, offers something for everyone who comes:
color and greenery, flowers and gardens, plants familiar and exotic, and something to learn in the company of kindred spirits.

Back to Top
---
Saturday, 1 March 2008

Philadelphia Flower Show: Part Four - Horticulture Competitions

Something for everyone, the horticulture classes and their subdivisions offer the viewing public magnificent specimens of a diversity of plants: orchids and flower bulbs, cacti and succulents, terrariums and miniature gardens, and more, and more, and more. Rules are precisely spelled out. If it is stipulated "pot size 3 1/2 inches" do you measure inside or outside diameter? (Inside, as it turns out.) Is this magnificent large coleus with variable leaf patterns a single, well-grown plant of cultivar that sports (spontaneously changes) or is it the sneaky result of multiple cuttings growing in the same container? (The former, but you are not allowed to talk to the judges while they're at work.)
Judges at work, with public kept back by (appropriately) green tape.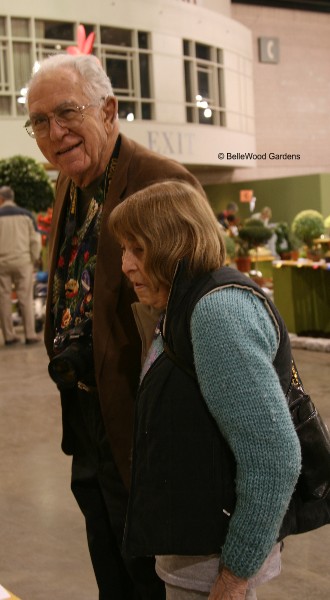 Happy, happy. A great smile on Jerry's face as he tallies up today's ribbons.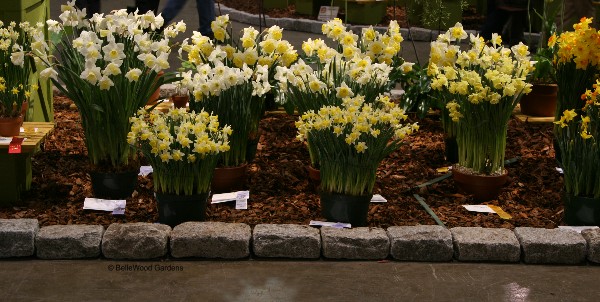 It's enough to make us think of spring. A host of golden, white, and bicolor daffodils
crammed into pots, coaxed into thinking winter is over, and now it is time for early bloom.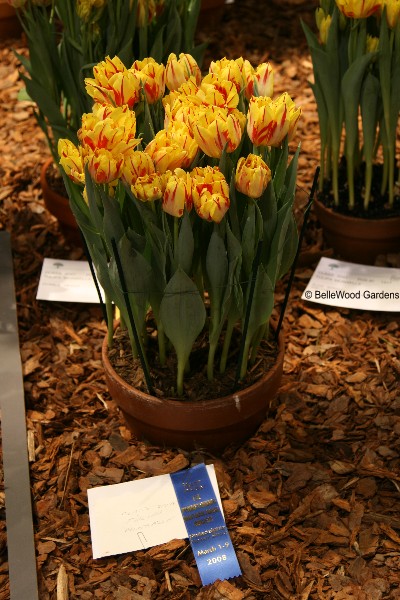 There was a division specifically for this cultivar. Other tulips competed in other divisions.
The blue ribbon winner of tulip 'Monsella', canary yellow streaked and flamed with blood red
(and it's fragrant too.) One of the longest lasting Single Early Group.
A blue ribbon for a pot full of hyacinth 'Blue Jacket', 10 bulbs in synchronous full bloom
Glossy leaves look polished. Three bulbs of Veltheimia bracteata in bloom
Arisaema sikokianum, with the Japanese name of "snow rice-cake plant", for its rounded white spadix.
A cousin of our native Jack in the pulpit, and also a pest-resistant dweller in deciduous woodland.

Back to Top
---
Saturday, 1 March 2008

Philadelphia Flower Show: Part Three - Jacques Armand Bulb Company

If you visit here at BelleWood Gardens you might gather that I'm passionately fond of bulbs. The Philadelphia Flower Show is a perfect place to indulge my passion. There are horticultural classes for daffodils and tulips, hyacinths, and more. Display gardens generally include a plethora of spring-blooming bulbs. And then there's the display garden of the Jacques Armand bulb company, with offices in London U.K. and New York, U.S.A. Their display was, effectively, in two parts. One, a landscape complete with water feature, was devoted to hardy bulbs that we could grow outdoors. There were little blue and purple bulbous iris such as Iris histriodes and I. reticulata that will soon be in bloom, and the less common yellow and white I. bucharica. As well,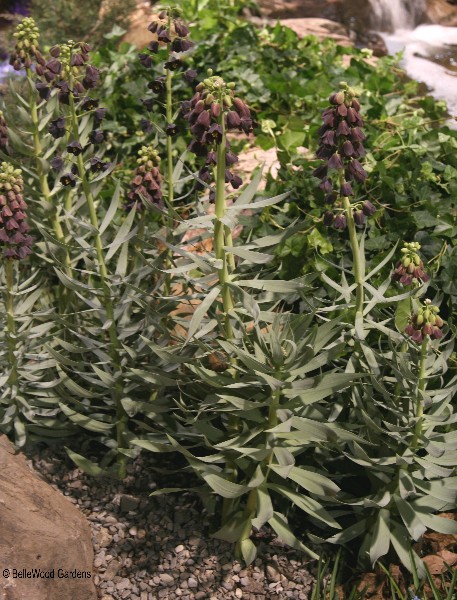 Fritillaria persica with its somber purple bells atop stately 3-foot tall stems of gray-green leaves.

The other portion of the exhibit was given over to tender bulbs, those that don't survive our cold and snowy winters. Some are familiar as container-grown house plants or perhaps as cut flowers. The framework, foundation if you will, was a metalwork sketch of a horse made of strap iron, rebar, and a snippet of mesh to enhance his head and haunches.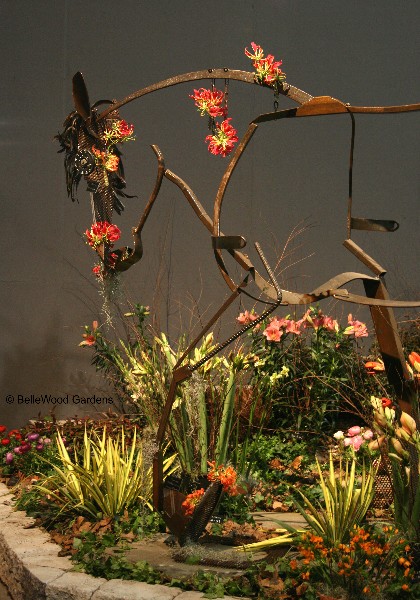 He was pulling an open cart loaded with bunches of amaryllis.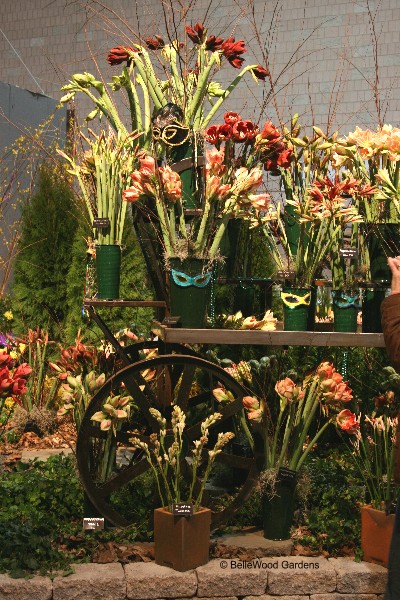 There were also a few potted samples, like this exquisite Hippiastrum papilio
.
Other bulbous plants, here and there on the ground, included a wonderful bunch
of Eucharis amazonica with its pristine white flowers. Familiar as a house plant,
it requires a dry period, then watering, to trigger its blooming cycle.
Ranunculus will soon make their appear in shops, their silken, petal-filled flowers
in a wide array of colors. I've tried to grow them from the shrivelled claw-like tubers,
but never with any success. Ranunculus are also popular as cut flowers.

Back to Top
---
Saturday, 1 March 2008

Philadelphia Flower Show: Part Two - Del Valley Chapter NARGS

As well as the stunning gardens created by design / build firms, there are displays created by various plant societies, such as the Delaware Valley Chapter of the North American Rock Garden Society. In previous years, their award-winning exhibits have been small landscapes, garden vignettes, one might say. This year they did something completely different. They built an alpine house.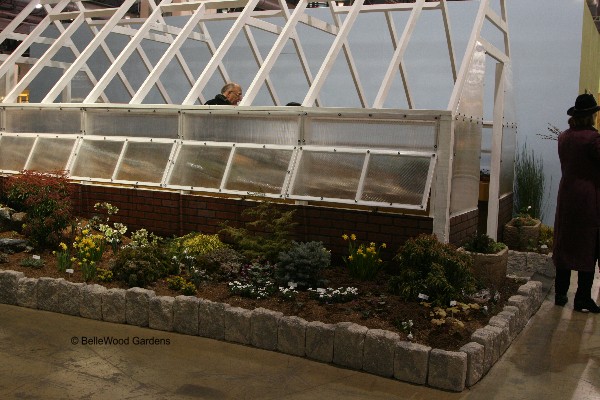 What's an alpine house?
It's a greenhouse heated to just barely above the freezing point,
perfect for pots of high mountain plants that want a little cosseting
and bulbs coaxed into early bloom.

The elegant alpine house built for the flower show has all the accoutrements one would wish:
raised benches filled with sand in which to plunge the pots of cyclamen and snowdrops, daffodils and little iris.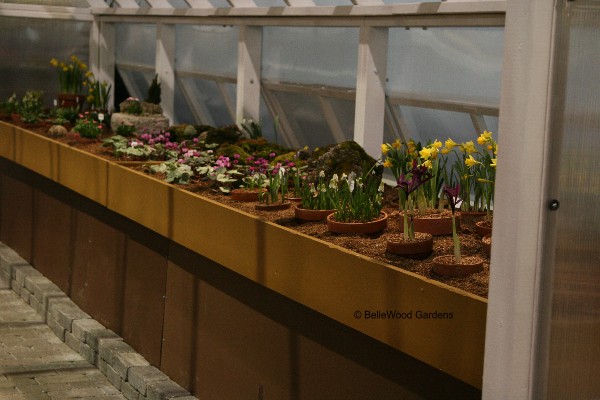 Outside, lovely foundation plantings complete with shrubs, bulbs, and perennials that complement a rock garden.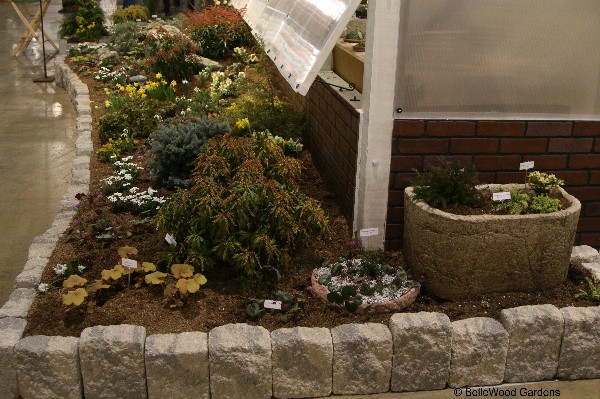 and some stunning hypertufa troughs made of cement, sand, and peat moss,
mimicking the appearance of stone and providing a sturdy home
to shrubs and hellebores and bulbs and more.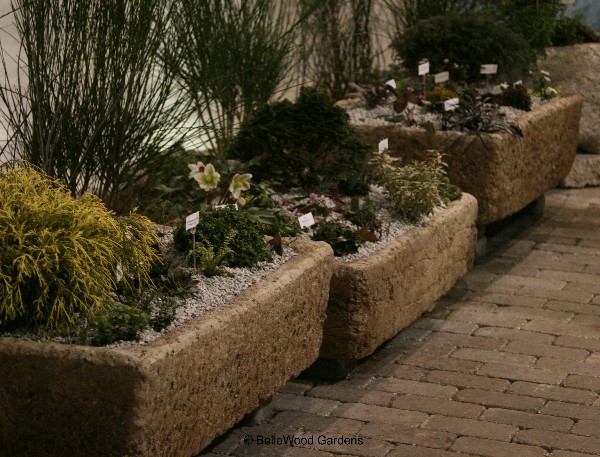 Small wonder that the exhibit received the recognition due it with this award.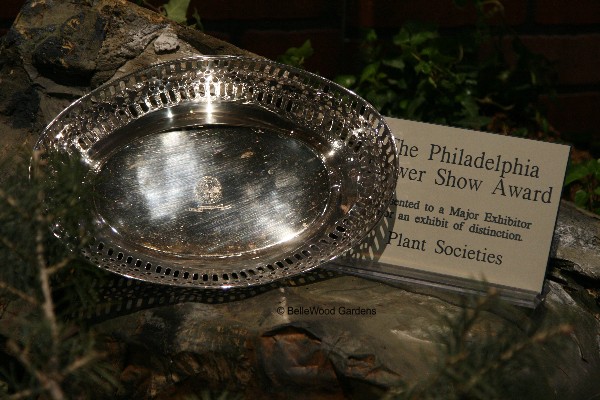 Back to Top
---
Saturday, 1 March 2008

Philadelphia Flower Show: Part One - Jazz It Up

Today was Members Day preview of the Philadelphia Flower Show, which officially opens for the public on March 2nd. This may not be the biggest garden show in the world (I sort of think Chelsea might be larger, but keep in mind that Chelsea is an outdoor event and the Philadelphia Flower Show is held indoors in the Pennsylvania Convention Center) but the Pennsylvania Horticultural Society certainly puts on an impressive event.

Jazz It Up! is the theme for this year's gala,
with New Orleans providing a scintillating backdrop. From the garden district to the Rue Bourbon,
with toe-tapping music of The French Quarter to set the mood,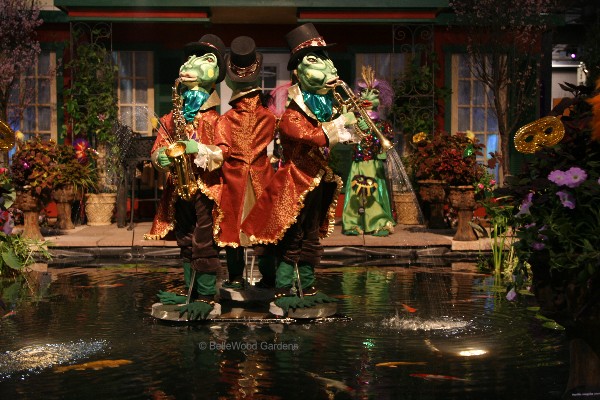 musicians by The Ponds &Gardens of Limekiln, in Glenside, Pennsylvania.

.

Opps! I meant these musicians.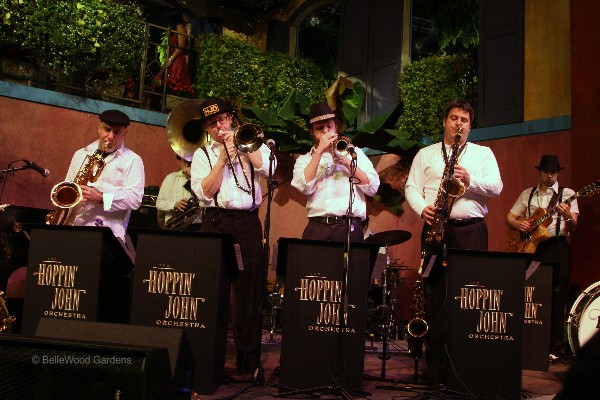 There were cleverly designed, pumped-up versions of walled courtyards and cast-iron balconies.
.

A brassy, splashy fountain, this one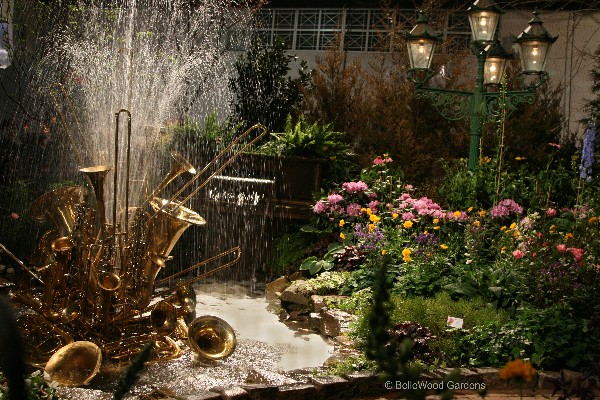 in the garden of the Lee Lynn Music Repair Shop created by
Lorenz Landscape Contractors of Glendale, Pennsylvania.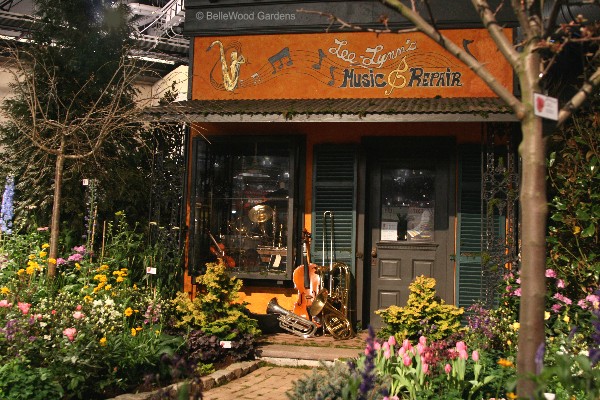 and with fabulous attention to detail, around the back of the shop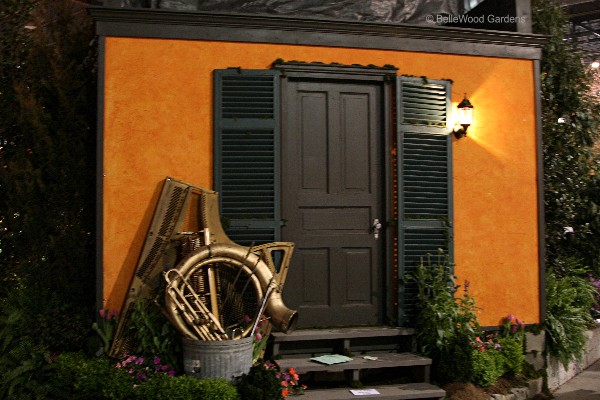 discarded instruments too worn out to repair or recycle.

Back to Top
---