Garden Diary - January 2008
---
If you have any comments, observations, or questions about what you read here, remember you can always Contact Me
All content included on this site such as text, graphics and images is protected by U.S and international copyright law.
The compilation of all content on this site is the exclusive property of the site copyright holder.
---
January
---
Thursday, 31 January 2008
Bought a Bouquet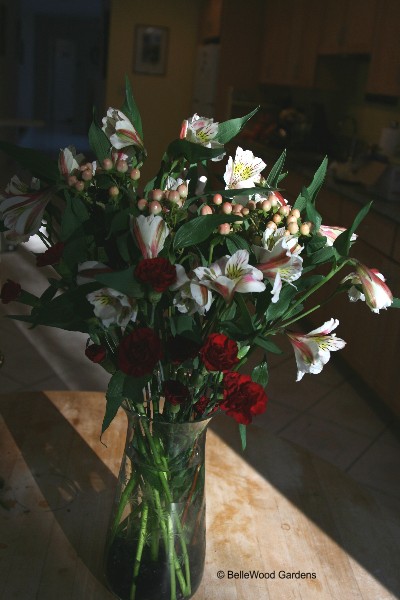 Yes, an indulgence. But there have been so many gray days this winter,
even if not much snow. So when the supermarket had flowers at 4 bunches for $10
I was tempted. And succumbed. Two bunches of Alstromeria Rebecca,
shipped up from Chile, a bunch of garnet-red mini-carnations, and the last bunch
I chose was five stems of Hypericum berries in a delicious pale pink.
They all look good together, and there's sufficient alstromeria and mini-carnations
for a second arrangement. Funny, but flowers from Chile don't disturb me
while asparagus from below the equator seems absurd.
---
Monday, 28 January 2008
Forcing Spring
Every day is another day closer to Spring. That's my mantra, and confirmation comes with the lengthening days, a little more daylight each morning and evening. Not that winter has been exceptionally snowy. Just that there seems to have been an inordinate number of overcast, gloomy, gray days. So when there were some mild temperatures early in the month I delighted in a few outdoor chores: raking leaves (there's still more to deal with, piled where they shouldn't be) and doing a little pruning on the star magnolias. I brought the clippings in to force, along with some branches of forsythia.
Trees and shrubs that bloom in spring form their flower buds in autumn, making it possible, even easy, to coax them into early bloom indoors. Forsythia is popular, as are non-stone fruits such as apple. So that's what I did.
Pretty, aren't they.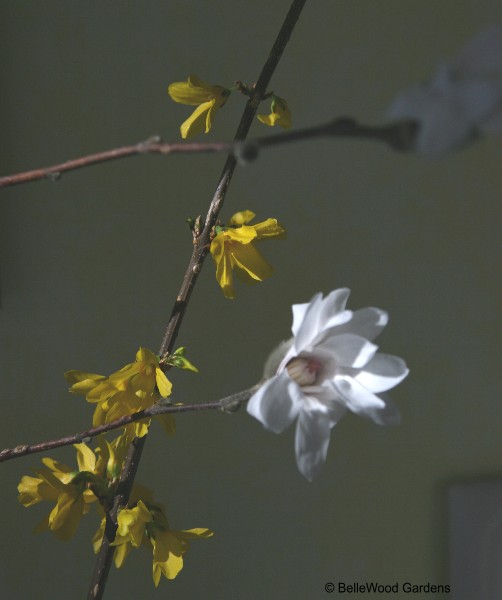 Especially when I look out the windows at snow, still present in the shade places.
Back to Top
---
Saturday, 19 January 2008

A Gathering of Grackles

They're here by the thousands. No joking. I saw them in a cut-over cornfield in the morning, and they flock in my woodland every afternoon, so numerous that I hear them from within the house and their wheeling flight shifts the sunlight on the kitchen table. Grackles. Probably a couple thousand grackles, numerous enough that the trees seem suddenly again in leaf. Their kerrick, kerrick, kerrick murmurous in the wintry afternoon. They're foraging in the cut-over fields, kicking leaves in their hunt for dormant insects in the woodlands, weighing down the treetops, then wheeling in flight as they move on. Nearly a week have they been here. I don't recall another year when they've been so numerous. Common grackles, in uncommon numbers.
Back to Top
---
Thursday, 10 January 2008

Who Needs a Mouse?

I stopped off at Wave Hill on my way home from the New York Botanical Garden, where I'd been teaching a class on color and combination in the perennial garden. A gray day, rain forecast, and it is, after all, early January. Nothing much to see in the gardens, now all tidy and rather bare. But the conservatory, ah, the conservatory was a very different story. A huge mimosa dripping clusters of sunny yellow flowers. A bougainvillea smothered under hot pink flowers (well, papery bracts. But they look like flowers.) And pots of South African bulbs brought out from the growing area, to show off to visitors now that they're enticingly in bloom and have something to display.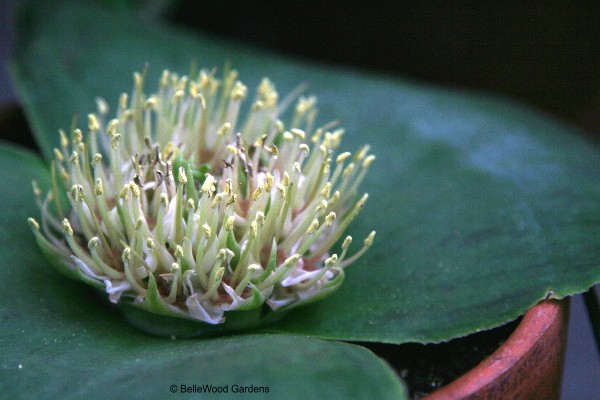 "Did you smell the Massonia when it was in bloom last winter?"
Scott Canning, direct of horticulture enthusiastically asked.
When I confessed that I had not he tenderly lifted the pot for me.
"They're pollinated by mice." he explained "They poke their little snouts
into the flowers and get pollen on their whiskers, so when they sniff another one
it gets pollinated. Smell that cheesy odor?" And indeed I did!
Marvellous, weird, and wonderful are the ways of sex in the garden.

Back to Top
---
Tuesday, 8 January 2008

A Change in the Weather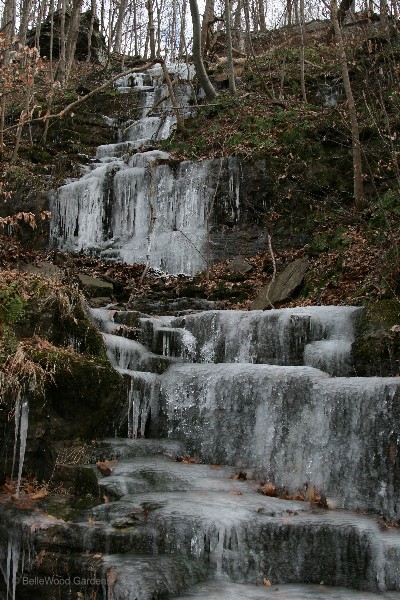 The year has barely begun, scarcely a week into the new year.
Already the weather is something to comment on. It has been cold.
Last Friday was chilly enough that the small cascades were motionless, frozen solid.
Where the roadcut sliced through a rock stratum that layered below some ground water,
it trickled out and froze into icicles large and small.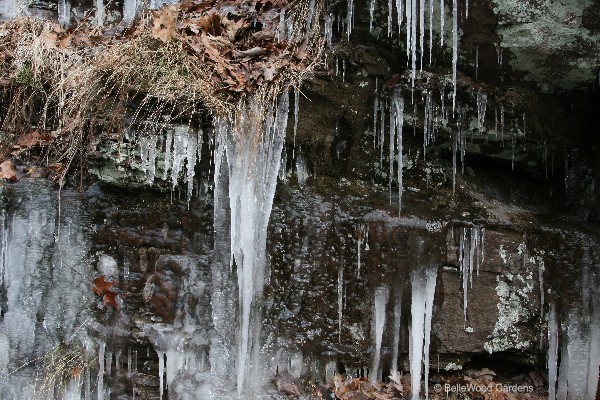 First bloom. Galanthus nivalis 'Potter's Prelude' was then in bud.
Today is absurdly mild, and the two flowers are perfect. Glistening, pristine, white.
BelleWood Gardens always has something to reward me for a stroll
down one path or another. Here, the silver-netted dark green leaves of
a cultivar of Arum italicum, fresh and elegant, and winter-growing.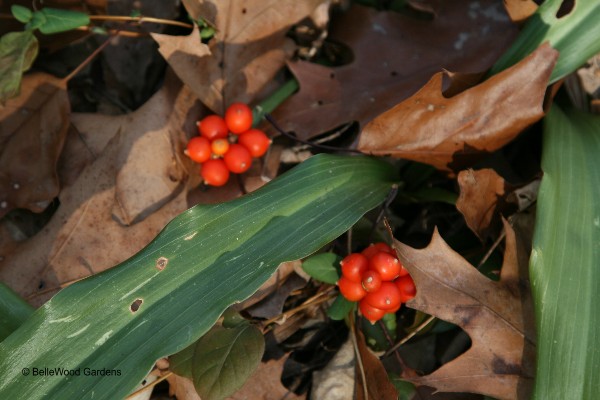 Nippon lily, Rohdea japonica, is such a sturdy plant. Shade tolerant,
drought tolerant, ignored by deer and rabbits and voles and such. Strappy green leaves,
a short dumpy bottlebrush of flowers crouched down among them in summer. In autumn,
Heian red berries in a small cluster. There are many cultivars of this Japanese native,
with leaves marked in cream, edged in white, twisted, ridged, all very expensive. Their seeds
seem always to return to the plain green strappy leafed version, charming with ferns,
and welcome in my winter garden.

Back to Top
---
Sunday, 6 January 2008

Houseplant How-To

My husband assures me that there are people uninterested in plants. Difficult to believe but I suppose it could be true. Clearly, all they need for a life-changing awakening would be a small step onto the garden path. Something simple, something easy, something that works for homeowners and apartment dwellers alike, to wit, houseplants. The Frelinghuysen Arboretum in Morristown, New Jersey had a sign-up sheet at their gingerbread festivities last month.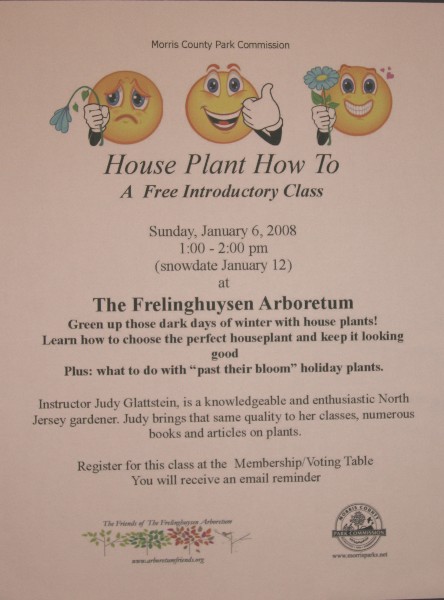 A one hour class, no charge to participants.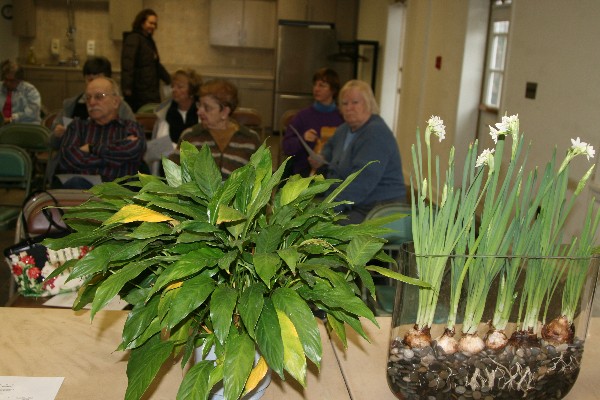 Lesley and I sorted through plants in the greenhouse adjacent to the classroom.
An exceedingly pot-bound Chinese evergreen, Aglaeonema, some paperwhites,
an amaryllis in bloom . . . . students are beginning to file in and choose seats.
Pass around the handouts and start off explaining how to keep houseplants happy.
Potting, watering, fertilizing, lighting, pest control - I have an hours. This will be interesting.

A few highlights from my talk:

1. Sunny windows and sunny skies are different. That's why so many houseplants come from dim conditions on the tropical forest floor.

2. Don't just dig dirt out of the garden, or use top soil. Purchase sterilized potting soil to avoid introducing insect eggs and weed seeds.

3. Different plants need different potting mixes incorporating varying proportions of soil, peat moss, and sand. (I provided recipes.)

4. Dry air is harmful for people, plants, and furniture. Improve humidity by grouping plants and setting them on pebble-filed trays of water.

5. More plants are killed by over- than by under-watering. Let city water stand to remove chlorine. Tepid water is better than cold water.

6. Some plants, camellias, primroses, and cast iron plant, are fine with downright chilly locations. Others, such as citrus, take cool places
Begonias, African violets, and dieffenbachia, need 60° Fahrenheit minimum temperature. None like drafts or hot spots.

7. Some plants, such as paperwhite daffodils, are temporary acquisitions. After they bloom - toss 'em out.
Even amaryllis / hippeastrum that are forced in water should be discarded. Beautiful while in bloom,
but they'll consume all their stored nutrients with no chance of replenishment unless grown in potting soil.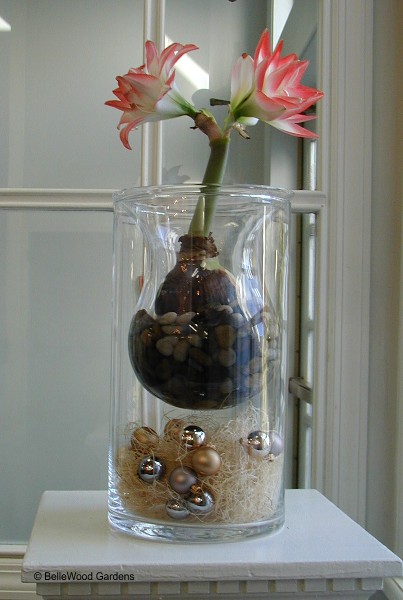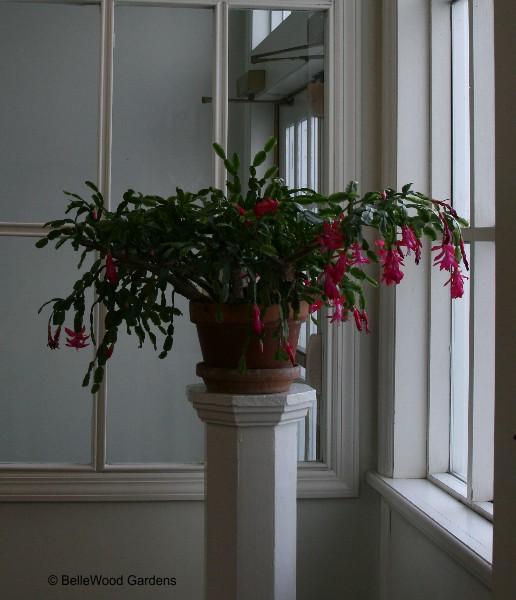 Christmas cactus, on the other hand, can become family heirlooms handed down from one generation to the next.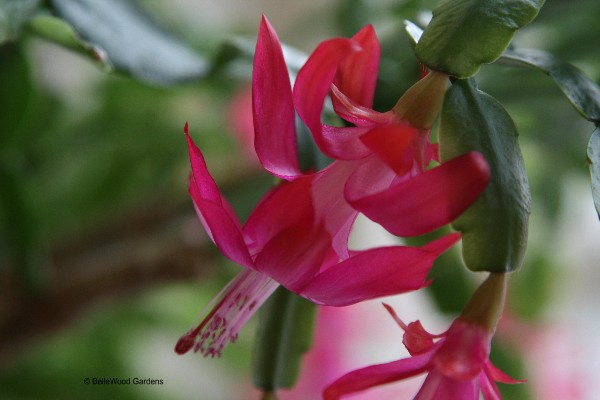 Questions, laughter, talking, fun. And perhaps, just perhaps, I'll see some of the two dozen people who came to today's class in another one.
Or in the garden. Frelinghuysen Arboretum has some lovely display areas, sweeps of lawn, magnificent trees.
Even people who don't care for gardening can enjoy a stroll around the grounds.
I just think it's more fun if you know what's going on. And enjoy sauntering down the garden path at home.

Back to Top
---
Thursday, 4 January 2008

House of Coffee

Tea later in the day but I like coffee to start my morning. I buy beans, keep them in the freezer in a vacuum-sealed bag (the Reynolds® Handi-Vac is great for this, size and approximate shape of an electric toothbrush, used with ziplock plastic bags that I open, remove beans, close, and vacuum again - but back to the coffee beans.) Grind sufficient beans for two or three days, and keep the ground beans in a tightly capped jar in the refrigerator. Storage is important, good beans absolutely critical. Woody reiterates that there's an excellent place that roasts its own coffee. I guess I said, "So take me there." enough times that he got tired of listening to me. And today we went to House of Coffee at Peddler's Village in Lahaska, Pennsylvania.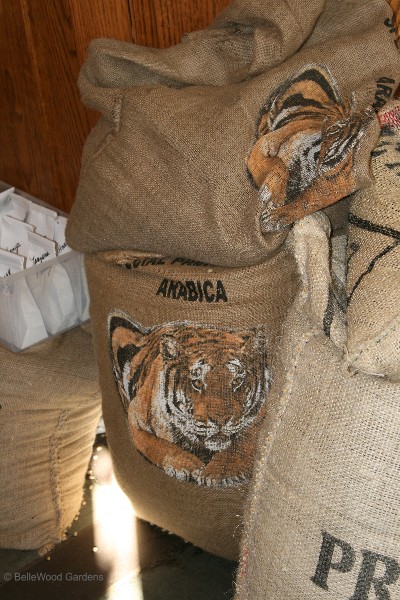 Fascinating burlap bags of coffee beans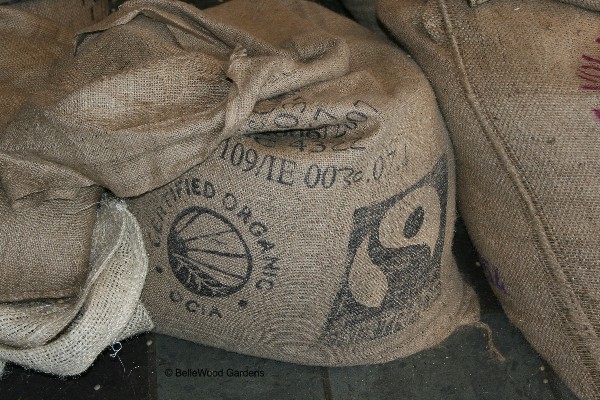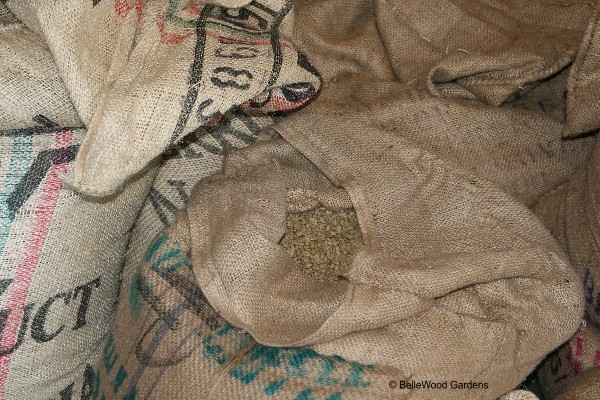 green, unroasted coffee beans.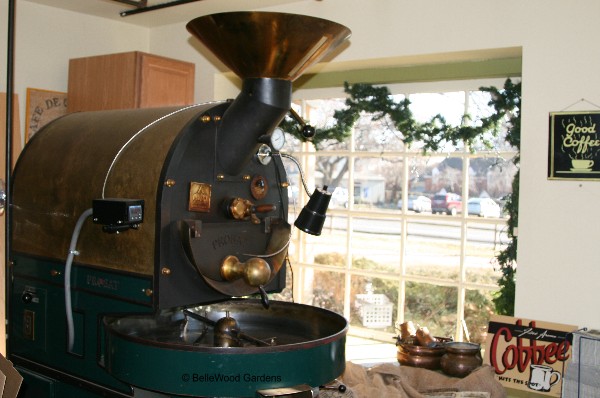 There's a magnificent coffee roaster at the front of the store
in operation as we enter. Beans don't roast for long, maybe 15 minutes.
And a minute too long can spoil the whole batch. So there are thermometers
and a tester that allows the removal of a small sample, to check color and aroma.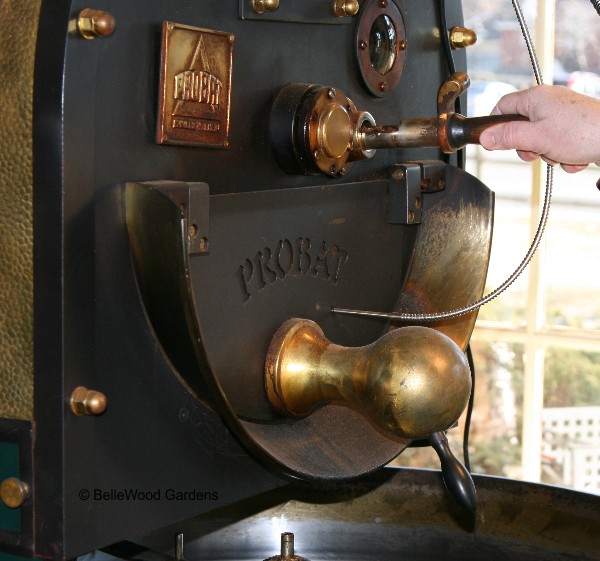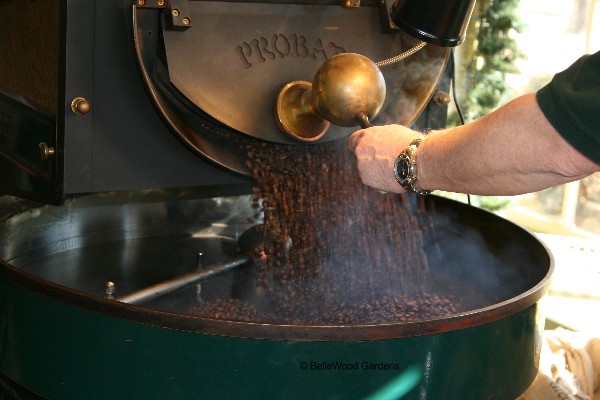 Done! And out the batch comes, steaming. Like other skills,
coffee roasting takes experience. Dry weather like today means
that the beans roast more quickly than in damp humid weather.
And once out, must be gently stirred to quickly cool them down.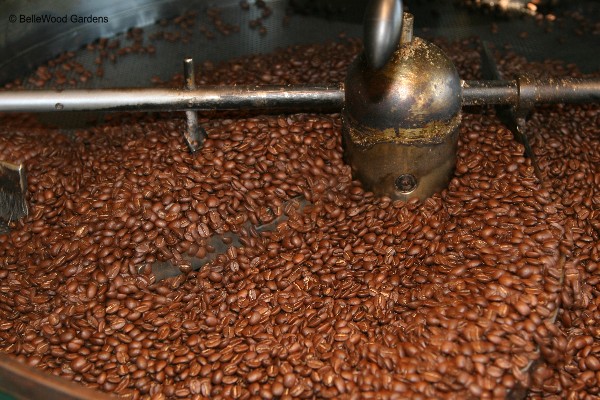 A half pound of this, of that, of something else. It's nice to be able to balance the blend and tomorrow perhaps it will be some French roast and a little Columbian supremo, which House of Coffee offers as Danish roast. Some mornings I need more of the "leaded high test" than others.

Back to Top
---
Thursday, 3 January 2008

Wild Geese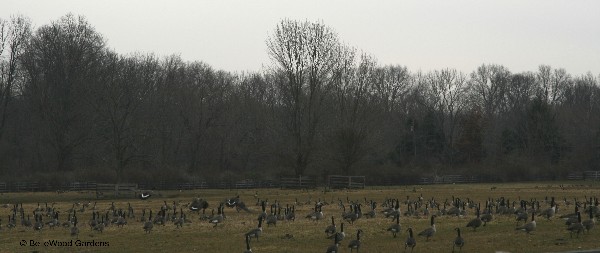 Not the Irish Jacobite soldiers who left for France in 1691, but a sizeable flock of Canada geese foraging in the horse pastures along Route 513 in Alexandria Township of Hunterdon County, New Jersey. In springtime I see nesting pairs, then groups of several couples and their goslings gathered in a crèche. In fall and winter they gather in flocks of a dozen or thirty, or more, gleaning in a harvested cornfield or on grassland. But it is rare to see a grazing flock the size of this one. Better had they been high flying migrants in autumn. In many areas non-migratory Canada geese are now regarded as pests, fouling drinking water, damaging turf grass on lawns, in parks, and golf courses.

Some wildlife fades away when people move in. Others, such as these Canada geese and white-tail deer, are adaptable to human-altered areas. These geese have become the most common waterfowl species in North America. There is something magnificent, though, to see their numbers in the winter-bare landscape. Lifting up with a rush of wings and stretching in skeins out across the sky at dusk, to gather at a lake or reservoir in even greater numbers for the night.

Back to Top
---
Tuesday, 1 January 2008

Corsage for Clerodendron

As you can see here this wonderful corsage is my prize in the Human Flower Project
end-of-year name this plant contest. Three ivory white rose buds, some stephanotis,
and a sprig or two of eucalyptus buds as fillers.

When I was growing up, a corsage was made of a huge purple cattleya orchid. This is much more elegant. Puss got the cream - just look at the link and see the smile on my face as I curl up on the sofa at our friends' house, which is where we went for New Year's eve. As people arrived and saw my corsage I'd be asked, "Is there some special event?"

Knowledge is golden. Like Kipling's insatiable elephant child I want to know why is the grass green, how come the sky is blue, why can't a cow have kittens. And in this case, that the name of what's that plant is Clerodendron.

After we got home from the New Year festivities I refrigerated the corsage before going to bed. A telephone call from our friend Carol made me realize the wisdom of that. Her husband John may be English but they both love any excuse to socialize. So over we went for Ne'erday, the day after Hogmanay. And I got to wear my corsage again.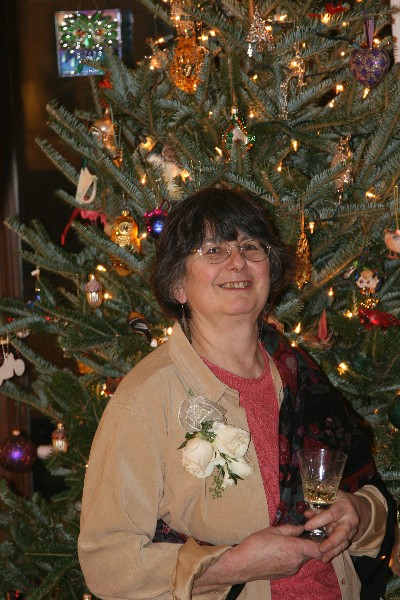 What a wonderful, elegant, special start to the New Year.
Here's wishes for peace, health, happiness, and flowers,
just the right amount of rain, few weeds easily removed,
and friends to share "what's that plant?" and the answers.

Back to Top
---