---
If you have any comments, observations, or questions about what you read here, remember you can always Contact Me
August
---
A Week on North Carolina's Crystal Coast
---
Water Dogs and Sea Horses
Woody assured me and Paul that for our outing to Cape Lookout National Seashore, we needed to get to the ferry on Harkers Island reasonably early. The drive takes about an hour, so we should leave the condo at 7:30 a.m. or so. Arriving at Calico Jack's reasonably on schedule, we were the first passengers of the day. Not a problem, the three of us would be shuttled across the three mile stretch of water without any need to wait. As we collected various camera bags, sunscreen, hats, water bottles, sunglasses and other necessities for our visit I was amused by the water dogs at the boat slip. Three generations of Chesapeake Bay retrievers were having endless fun jumping into the water, standing in it, swimming in it, and just in general getting all wet.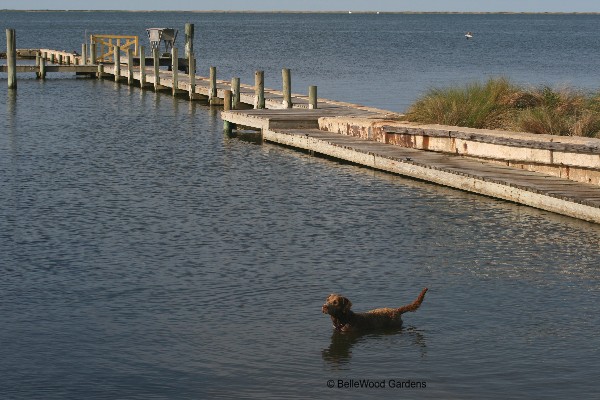 There was grandma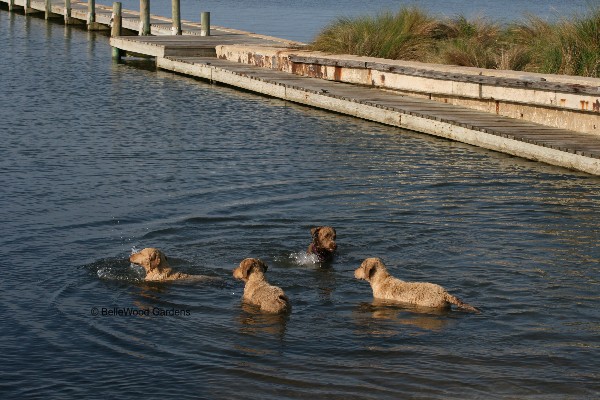 mom, and three pups.
The woman collecting money for our ferry ride informed us that the pups are for sale, but she didn't get any takers.
I have visions of a dash for the Delaware River, giving "dog paddle" back its true meaning.
The pleasant ride on a sunny morning didn't take very long. There was something important to see on the way. Ever since as a child I had read Marguerite Henry's "Misty of Chincoteague" I'd been fascinated by the story of the ponies of Assateague island off the Virginia coast. And today I just might get my chance to see wild ponies of a barrier dune island. Approximately 9 miles long and averaging less than a mile wide, Shackleford Banks, southernmost island in Cape Lookout National Seashore is home to more than 110 wild horses. Called Banker ponies by some people, the horses of Shackleford Banks are able to survive without human assistance. Ponies are not provided with supplemental food. They graze on marsh grass and sea oats. When the grass looks greener on another island, they swim there, then swim back to Shackleford. Nor is water provided. If the limited fresh water on Shackleford becomes sparse, the ponies will dig down into the sand and drink the brackish water that wells up. These are wild animals.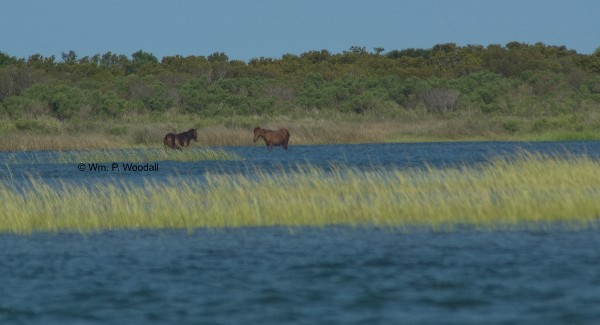 Photograph Credit Wm. P. Woodall 2007. All rights reserved.
Yes! Two of the Banker ponies standing around in shallow water just off shore,
lush green Spartina grass swaying in the wavelet-ruffled water. See their big hay bellies?
Horses that get all their food through grazing develop a bigger gut than domesticated horses
provided grain and concentrate as part of their diet.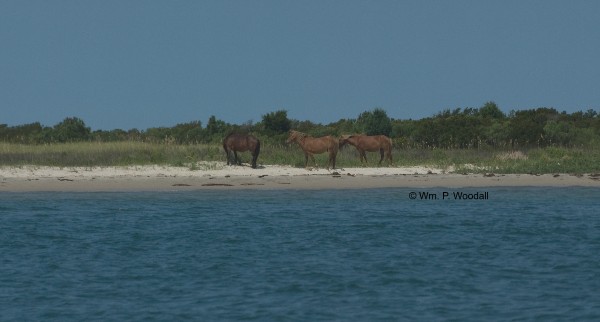 Photograph Credit Wm. P. Woodall 2007. All rights reserved.
And on the way back, three more of the Shackleford ponies.
That afternoon we were in Beaufort, walking in and out of shops along the main street with the waterfront across the road.
And there was a pony on Carrot Island, ignoring the boats, traffic, and people just a few yards away across Taylor's Creek.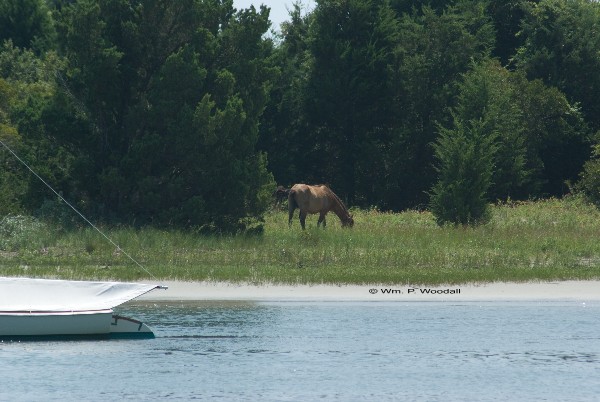 Photograph Credit Wm. P. Woodall 2007. All rights reserved.
Carrot Island is part of the Rachel Carson reserve of the North Carolina National Estuarine Research Reserve. This herd is smaller, and has had its ups, with a population of 60 or so horses, and downs, when the population crashed due to overcrowding, disease, and winter weather. Living as feral animals with minimal human interference, the Carrot Island Banker ponies are another group of the fascinating sea horses of the Outer Banks.
Back to By the Sea on a Barrier Island
---