---
If you have any comments, observations, or questions about what you read here, remember you can always Contact Me
August
---
A Week on North Carolina's Crystal Coast
---
In and Out of Gardens
---
Governor Tryon's Palace
Knowing that I'm easy to entertain - take me to a garden and I'm happy - one day we made the moderate drive from Emerald Isle to New Berne, for a visit to Governor Tryon's Palace. This summer, North Carolina was suffering though a record drought, and watering restrictions were in place. The gardens were showing clear signs of stress. Even so, there were interesting plants and gardens to be seen.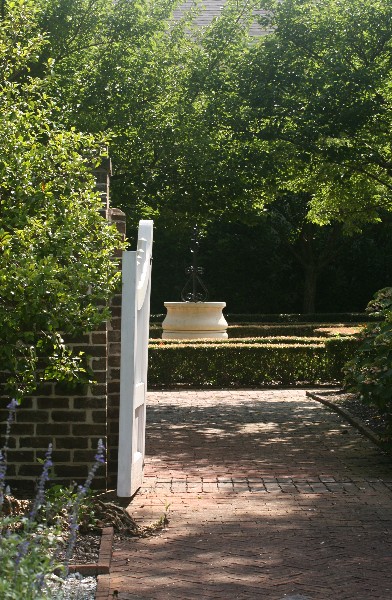 There are four attractive gardens across from the Palace, along Pollock and George Street.
In the style of the period or that of the 19th century, they feature clipped boxwood and yaupon parterres,
antique roses, old-fashioned perennials, historic flowers, with an admixture with modern plants.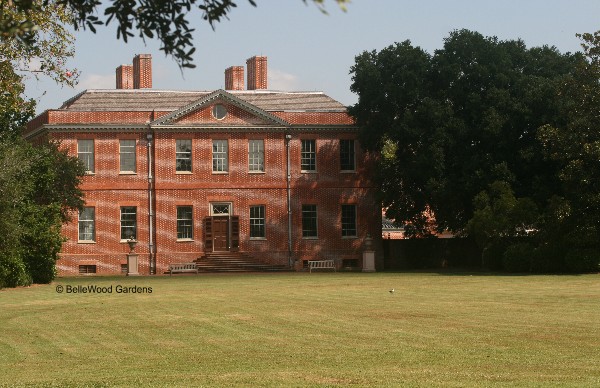 A view of the Palace' back facade from the great lawn which sweeps down to a view of the water.
Built between 1767 and 1770, the original building was destroyed by fire less than 30 years later.
In the 1950s a new Palace was built on the original site, using the original architect's drawings.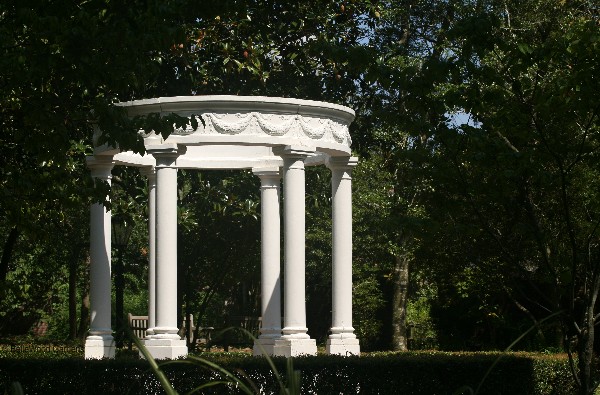 An elegant gazebo stands glowing in the sunlight.
.
An elaborate terracotta urn, embellished with swags of fruit
is one of a pair displayed on columns leading into the formal garden.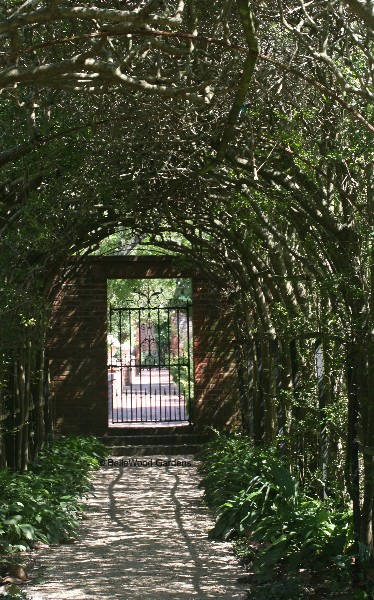 Reminding me of the berceaux at the Palais Het Loo in Apledoorn, The Netherlands,
this pleached allée of yaupon, Ilex vomitoria, forms a shady walk between the great lawn
and a formal garden embellished with statues of the four seasons.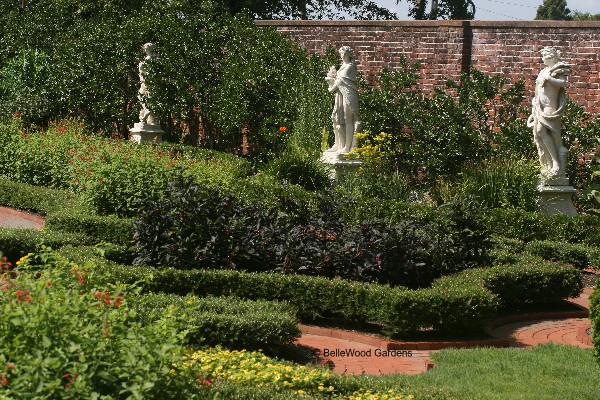 Statues of the four seasons overlook scrollwork hedges of dwarf yaupon that define the beds
which form the parterres and the seasonally changing displays of spring bulbs, summer annuals,
and autumn chrysanthemums. Tulips and yaupon were used in colonial landscapes. Others,
such as chrysanthmums and crape myrtles were not known in Governor Tryon's time.
.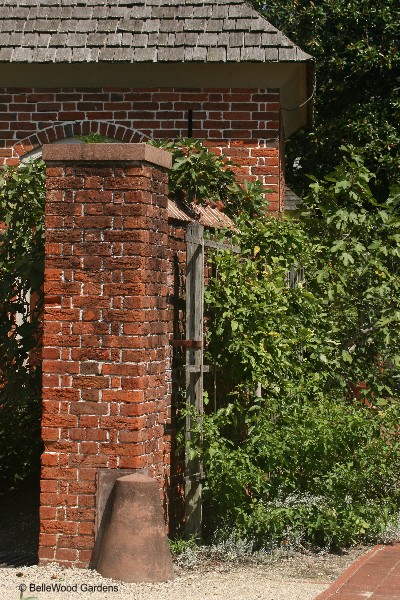 Brickwork embellished the gardens with walks and walls, forming separate garden rooms.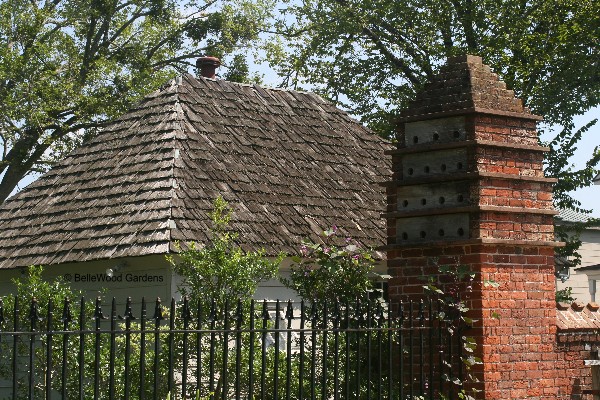 I was especially fascinated with this fat column, clearly hollow at the top and used as a birdhouse.
The openings look rather small for pigeons. Perhaps martins? And how would you clean it?
Back to By the Sea on a Barrier Island
---