---
If you have any comments, observations, or questions about what you read here, remember you can always Contact Me
August
---
A Week on North Carolina's Crystal Coast
---
---
Southern Fried
I learned four important things about food in North Carolina, concerning iced tea, hush puppies, coleslaw, and fried. Iced tea is, to effete Eastern tastes, very sweet. At Woody's suggestion, I tried asking for "half and half"' which is equal parts typically sweetened and unsweetened iced tea. Still too sweet, so I just asked for unsweet tea and sugared it to taste, my taste. Of course, the waitresses called it "untea," but that was O.K.
Hush puppies are the local amuse, like salsa in a Mexican restaurant. Sometimes as we were being escorted to our table a waitress would be right there, walking with us, oval lattice plastic basket piled with hush puppies in hand, setting it on the table as we were being seated. We had sweet hush puppies and spicy hush puppies, shaped like short sticks. But the best were when we were passing through Bayboro, the county seat of Pamlico County on our way to the fossil museum in rural Aurora. "I know there's something better than a fast-food restaurant." said Woody. "This is the county seat. There has to be a restaurant where the lawyers eat." Charlie's Restaurant was the place. Their hush puppies, hot from the fryer, were uniquely donut-shaped, about 3-inches in diameter, and delicious!
Coleslaw came with just about every lunch and dinner. It could be had as a side order, or on the "burger." If you didn't want it on your burger, it would be served in a small pleated paper cup. While hamburgers never had coleslaw on the patty, anything else served on a bun, I discovered, is a burger. Shrimp burgers are not, as I thought, chopped shrimp formed into a patty. Whole shrimp, sometimes fried, sometimes not, piled on a bun. Soft shelled crab burgers. You could have coleslaw on your barbecue, which is served on a bun, seasoned with a touch of vinegar and not of that red tomato-based sauce. The best coleslaw I had was in New Berne, a side dish made from tender red cabbage finely slivered with even thinner bits of carrot. I had a little chat with the chef, and he agreed that it was a creamy dressing, thinned with a touch of vinegar, and some celery seed.
Fried is the driving force in food preparation. Shrimp, large or small, are batter-dipped and fried, even the tiny little popcorn shrimp. So is the tender, sweet, mullet fillets. Don't forget hush puppies. Okra is cut in pieces, batter-dipped, and fried. There's corn nuggets, little clusters of corn kernels, batter-dipped, and fried. At Charlie's I had sweet potato stix. I was expecting something like French fries made with sweet potato. Not sure how it was accomplished, but it was mashed sweet potato formed into a French fry-like shape, batter-dipped, and fried. And it was here at Charlie's that I had what was probably the best fried chicken I've ever eaten in my life. Did I want white or dark, I was asked, and happily said, "Dark." A thigh and a drumstick, crisp coating that shattered when I bit down into the succulent juicy chicken. But not all of my meal was fried. I had collards, chopped rather small and boiled to an olive drab hue. Green beans, I discovered elsewhere, are similarly well cooked. I think that down South, "al dente" equates with "raw."
Not that the food was bad. In fact, it was usually delicious because even the smallest places we ate paid attention to the fryers, obviously keeping separate fryolaters for different foods, replacing used oil with fresh as needed, and keeping the oil sizzling hot so the batter cooked up crisp, never soggy. It's just that I'm not used to fried food for lunch and dinner every day. And there are roadside stands even closer to the condo than the egret rookery, selling channel-netted shrimp caught earlier that morning.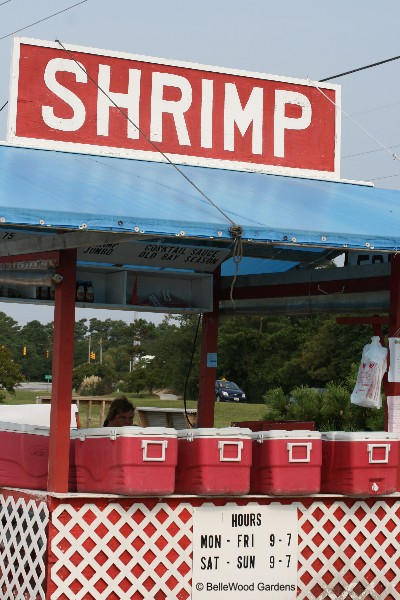 When they trawl for shrimp the nets are dragged by moving boats.
Channel netting means the boat stays still and the shrimp swim into the nets.
These beauties, graded for size (large, not even jumbo), beheaded, and well-iced,
were just $7 per pound.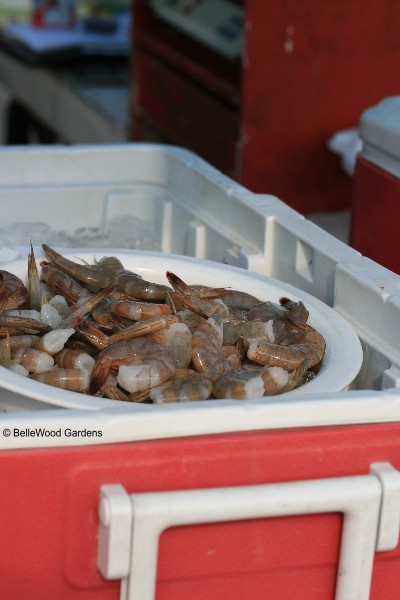 So, even though we were on vacation, I cooked dinner three of the seven nights. It was interesting - the condo actually had a zester but the knives were not at all sharp, or even close. Had I mentioned that the water was so mineralized, even though filtered and reverse-osmosed that we were buying bottled water to drink, to brush our teeth, for coffee and tea? We bought more bottle water, for me to cook with. The first night I just boiled the shrimp with some Zaterain crab boil, sauteed some local scallops I bought at the Food Lion, and served it with rice and salad. The next time I made a shrimp stock with the leftover broth from boiling the shrimps and the shells from the second batch of shrimp. The last night I again intensified the stock with the additional shrimp shells, the skin and juice from some tomatoes, and the coarse outer part of a red onion. Made a lightly colored roux, using the beater from an electric mixer as a whisk. Sauteed chopped tomato and chopped red onion, set aside. Sauteed shrimps and scallops, set aside. Poured in some good shrimp stock and scraped up the fond, added the roux, thickened the liquid, then tossed back shrimp, scallops, tomatoes, onion. Served over a pound of thin spaghetti and the three of us ate every last bit, it was that yummy.
---
Back to By the Sea on a Barrier Island
---