---
If you have any comments, observations, or questions about what you read here, remember you can always Contact Me
August
---
A Week on North Carolina's Crystal Coast
---
Farming and Fields Crops

.
---
Though there are changes, here along the Crystal Coast farming the sea has long been important, and continues so today. In Shelling I wrote about oystering, and how the empty shells are used by the barge-load to create habitat that attracts tiny oysters after their three weeks of free-swimming life. Shrimp are another crop produced by the sea. Then there is (or should I say, was) trawling for menhaden. Don't recall ever eating menhaden, also known as pogy? You won't find them on a restaurant menu. The little oily fish that swims in schools of thousands upon thousands are eaten by fish higher on the food chain, such as bass, bluefish, bonito, cod, mackerel, swordfish, and tuna. But have you taken any fish oil capsules lately? Probably menhaden. Refined, the clear, odorless, tasteless fish oil is very high in omega-3 compounds. The fish meal residue, ground up and dried, becomes a high-protein feed for farm-raised salmon, chickens, pigs, and cattle, cat food and fertilizer. But this is changing.
Just this past August the North Carolina legislature passed a bill to keep purse seine factory boats away from the Brunswick County coast. If signed by the governor, house bill 1017 would prohibit the taking of Atlantic menhaden (Brevoortia tyrannus) with purse-seine nets within 3 miles of the Brunswick shoreline from May 1 through October 31 each year, the height of tourist and angling seasons. Beaufort Fisheries, the state's last menhaden factory, closed down in 2005, and was replaced with an up-market housing development.
Interestingly, this was a plot line in a book Woody found for me at "The Reader's Place." One title in a series by Margaret Maron featuring Judge Deborah Knott, "Shooting at Loons" is set on North Carolina's Crystal Coast. It was a pleasant read, made more so by that frisson of recognition - she's mentioned the Sanitary, we ate there! Woody said that the author has a good ear for capturing the rhythms of the region's language. We stopped twice at the book store, located at 4915 Arendell Street in Morehead City. That's the Parkway Shopping Center, and they're next to K-Mart, selling. new and used books. I came away with a couple of older gardening books and a delightfully illustrated small cookbook devoted to berries. I found a book for Paul, on making wooden boxes on a band saw. And Woody found a handful of books too. Pleasant place, good selection, moderate prices, and conveniently located.
Work songs, menhaden chanteys, were sung by African American work crews
in the days of hand-pulling nets filled with 50,000 pounds or more of fish.
By the 1950s, block and tackle were utilised,
and today the few remaining boats use winches.
Farming is a term more commonly associated with land-based activities. With this summer's major drought, every corn field we saw was bleached and brown. Peanuts seemed to be O.K., the fields leafy and green, and every farm stand I saw featuring big black covered vessels boiling peanuts. A couple of home gardens has rows of tall plants with lovely pale yellow mallow flowers, which would be okra. Too late in the season, but there were several signs for "U Pick" strawberries and blueberries. And of course there were grapes, the Southern native scuppernong and muscadine.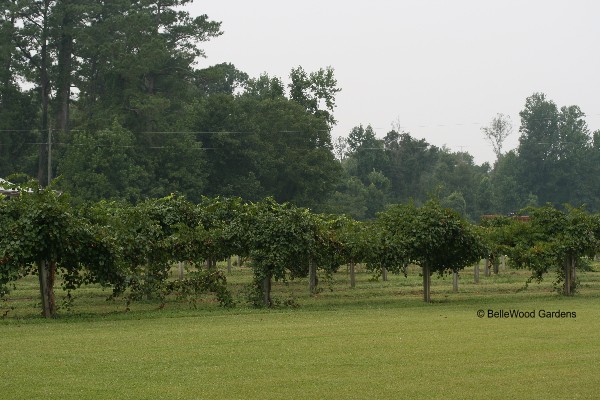 Grape vines at Miz Gilette's place, where I bought muscadines.
One of the Tar Heel State's biggest crops continues to be pine trees, perhaps no longer for tar and turpentine as much as for pulp wood used in paper making. There's even a Department of Wood and Paper Science at NC State University. We'd drive by tracts of land with even-age stands of trees, different stages from recently planted to a decade or more old. Apparently all it takes is good land, time, and some cooperation from the weather. Once planted, the saplings are neither watered nor fertilized, just left alone to get on with growing on their own.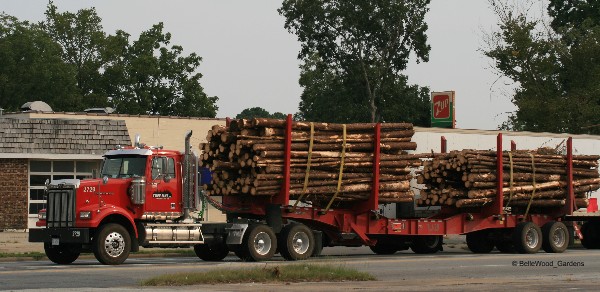 I was impressed by the logging trucks we'd see driving down the road.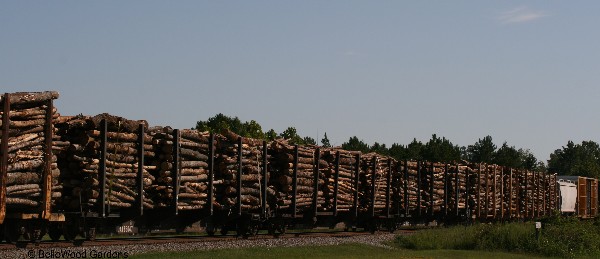 That is, I was impressed until we were stopped by a freight train at a railroad crossing in Aurora.
Now that's a lot of logs headed off to a pulp mill. Three engines, level ground - this train was making time.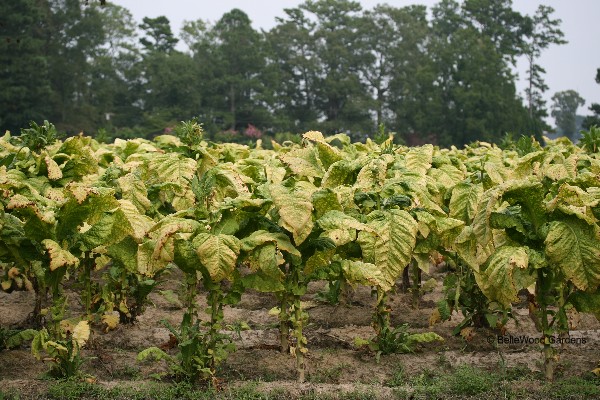 Subsidies may be gone, no longer paid by the federal government but
tobacco is still grown in the South. The old tobacco barns, tall wooden buildings
usually painted green for some reason, were heated with wood.
These days, if still standing they are often tangled in vines and saplings,
forlorn and forgotten, replaced by long low structures heated by a modern furnace.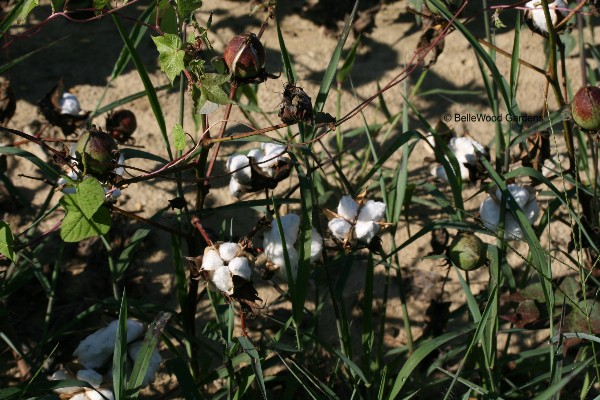 And we saw a few cotton fields in Johnston County, the bolls just beginning to open in puffy white.
---
Back to By the Sea on a Barrier Island
---