Garden Diary - December 2007
---
If you have any comments, observations, or questions about what you read here, remember you can always Contact Me
All content included on this site such as text, graphics and images is protected by U.S and international copyright law.
The compilation of all content on this site is the exclusive property of the site copyright holder.
---
December
---
Wednesday, 26 December 2007
Boxing Day at The Ship Inn
It has been a very social season. There was the cookie swap on December 18,
More than a dozen friends from Knit on Wednesday, the Tohickon Garden Club, and just friends not from either group,
and everybody brought a plethora of cookies, all different, so we each had a diversity of holiday baking to take home.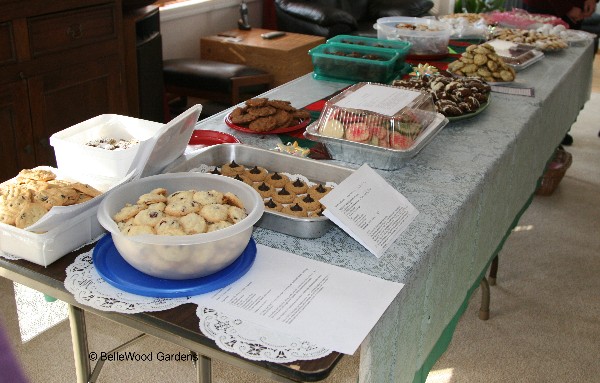 We invited a few friends to come here for dinner one evening, and another couple another time. Christmas eve was spent at Hank and Darcy's, then Christmas brunch with John and Carol. Let the good times roll on - and so we decided to meet John and Carol at The Ship Inn in Milford, New Jersey for Boxing Day. And what is that? The day after Christmas, it originated as a day for giving gifts to employees and poor people. There are sporting traditions, especially fox hunting. And in contemporary traditions, it is the day when UK, Canadian, and Australian stores launch their most significant sales period in the retail cycle. Equivalent, I suppose, to the American "Black Friday" following Thanksgiving.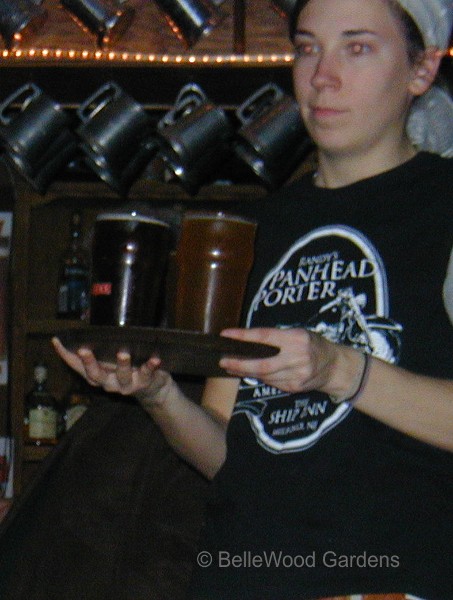 Now, as New Jersey's first post-Prohibition brew-pub, The Ship has excellent beer.
My pint of Tim's Peculiar Porter and Paul's favorite, Best Bitter, are about to be delivered.
And as you'd expect when visiting your local you're bound to meet a friend or two.
Tonight who should we find here but Tony and Lynn.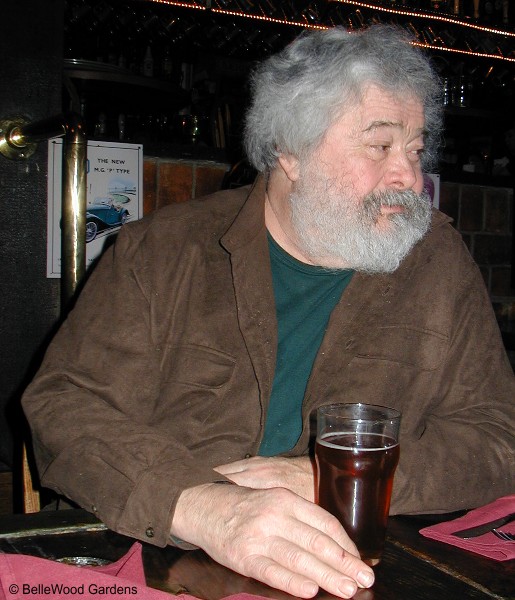 They often entertain at The Ship, being fine musicians and singers in the Celtic tradition.
They were, however, off-duty tonight. Instead we were entertained by the lively efforts
of Millstone River Morris dancers, from Princeton-under-Construction.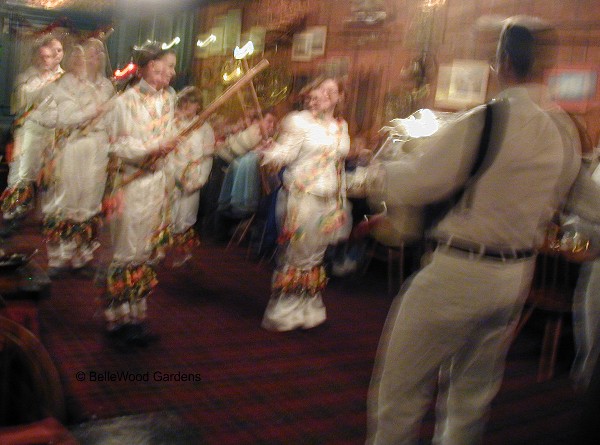 They leap and bound and twirl around, following in the Cotswold tradition. This mixed side
(men and women) wears kit of green, yellow & orange braided baldricks, over white shirts and trousers.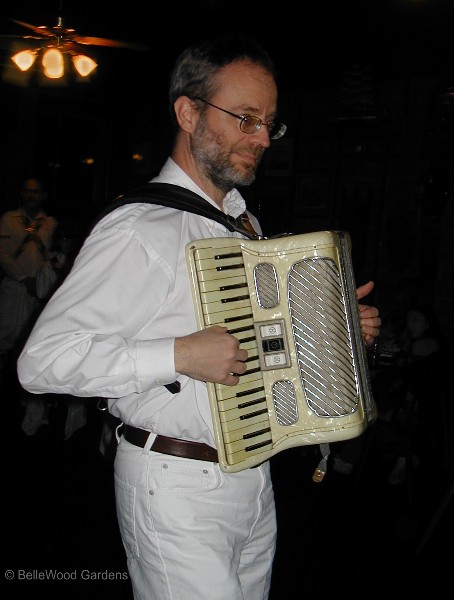 Two accordionists provide the music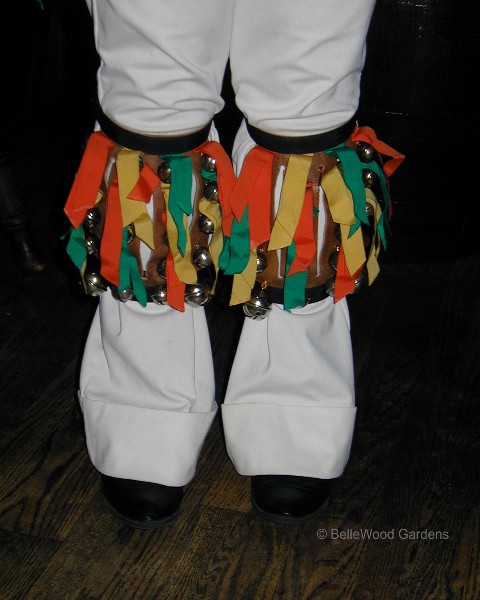 and the stamping feet add bell-ringing accompaniment.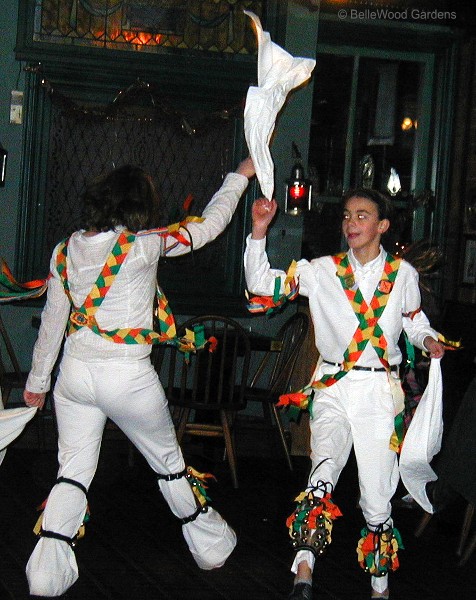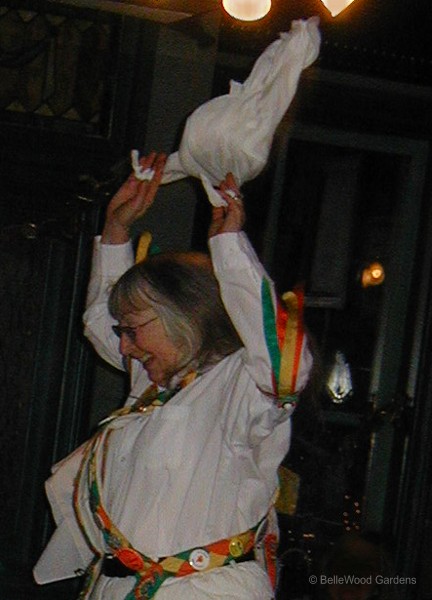 White handkerchiefs flutter above their heads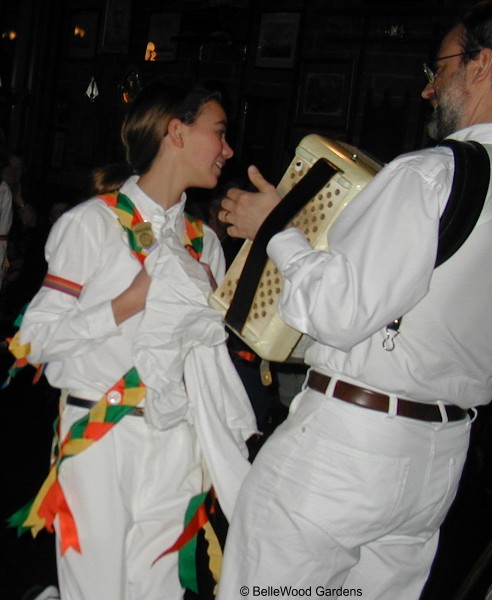 and merry smiles add happiness to the dancing traditions that mark the seasons
and the solstices, May Day, Boxing Day, Twelfth Night, and more.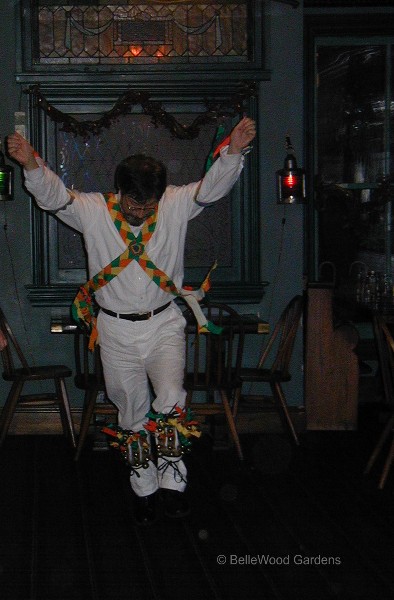 Good company, fine beer, pub grub, and special entertainment.
Boxing Day at The Ship Inn.
---
Friday, 14 December 2007
Winter Greens
Another storm sweeping in yesterday, variable in quality and quantity. A friend near Boston got 10 inches of light dry, easily shoveled snow. We got some sleet, then about an inch of snow, then rain. The result - a snow sponge sucking up the water, then freezing overnight. That was the cause of the all too familiar icy driveway-becomes-toboggan-run. We'd parked at the bottom, today was warmer, and between the application of some calcium chloride snow-melter and assiduous shoveling the driveway is now clear. Until the next storm.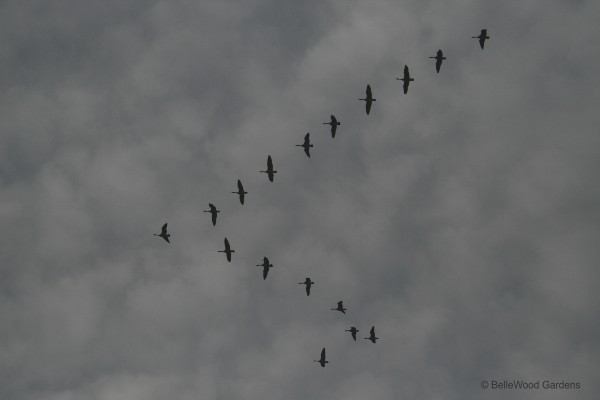 I heard that winter cry in the sky as a flock of geese went winging over.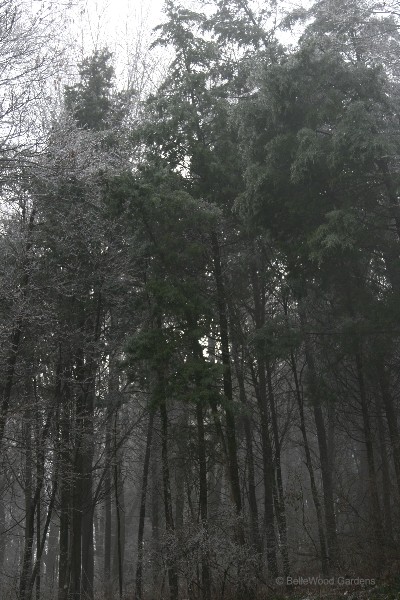 There was a thin rime of ice on the deciduous trees little twigs, and the field cedars' green needles.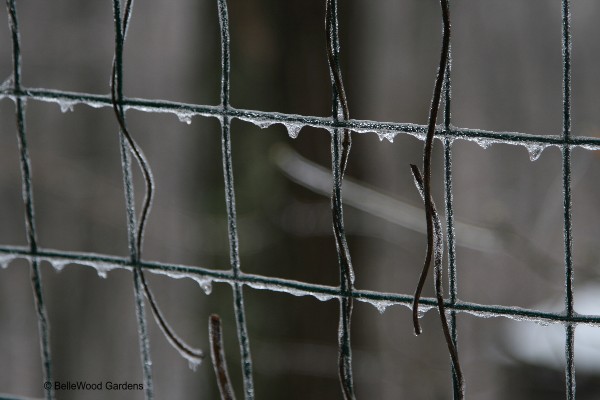 And on the fencing wire trellis of the gazebo.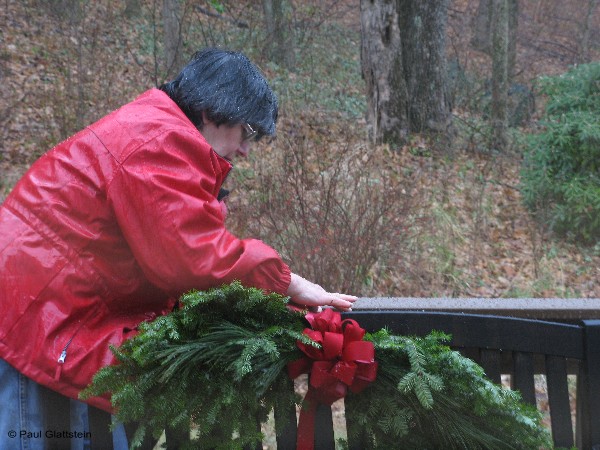 Photo courtesy of Paul Glattstein
I was out in the sleety rain yesterday, fastening an evergreen spray to a bench on the deck.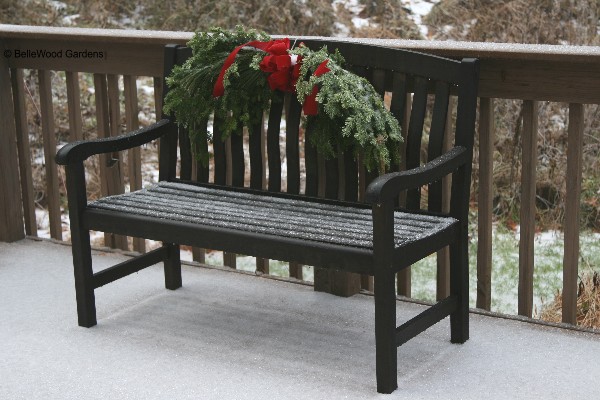 Together with its cheery red ribbon there's now a note of color in the winter-limited palette.
My tool shed is embellished too, with evergreens filling the window boxes.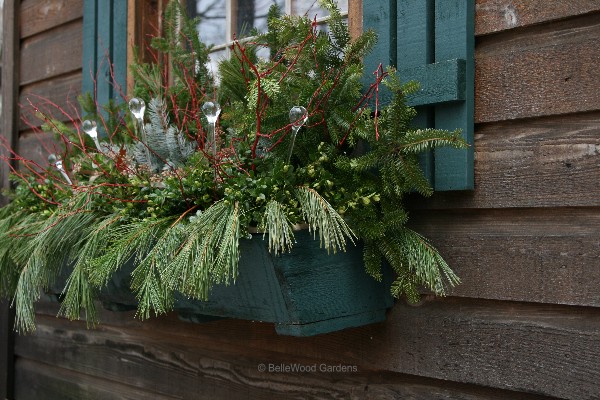 A closer view shows the elegant mix of pine, spruce, and boxwood, red-sprayed birch twigs,
and the icy globes of some old chandelier drops. Mark at Ubel's did a great job.
Back to Top
---
Tuesday, 4 December 2007

Gingerbread Wonderland

It's that most wonderful time of the year, when visions of sugarplums dance through our heads . . .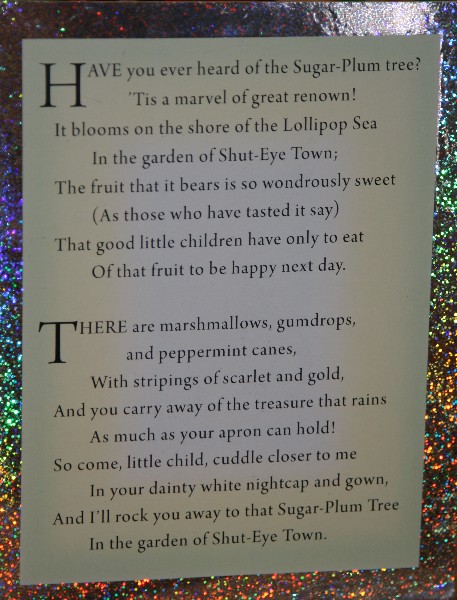 There's a festival of gingerbread at the Frelinghuysen Arboretum in Morristown, New Jersey.
And what a wonderland it is. Perhaps you've always thought of gingerbread as, well, cookies.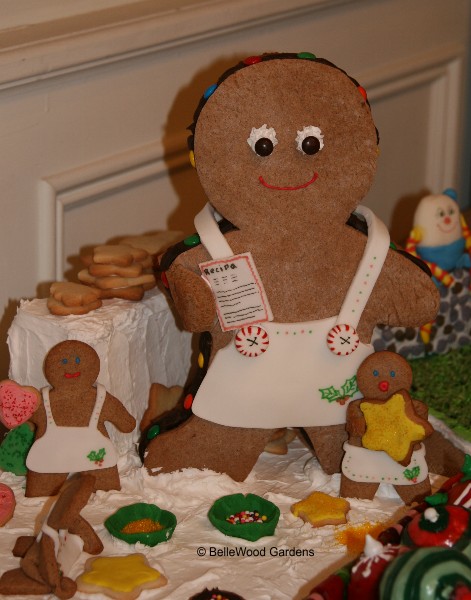 Like the gingerbread boy.

Or gingerbread houses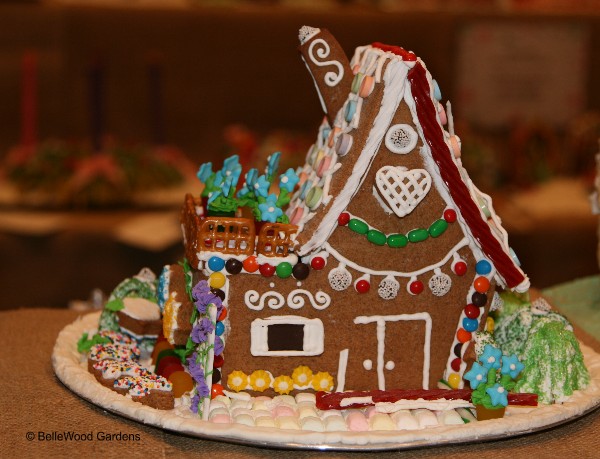 like this charming cottage, bedecked with flowers.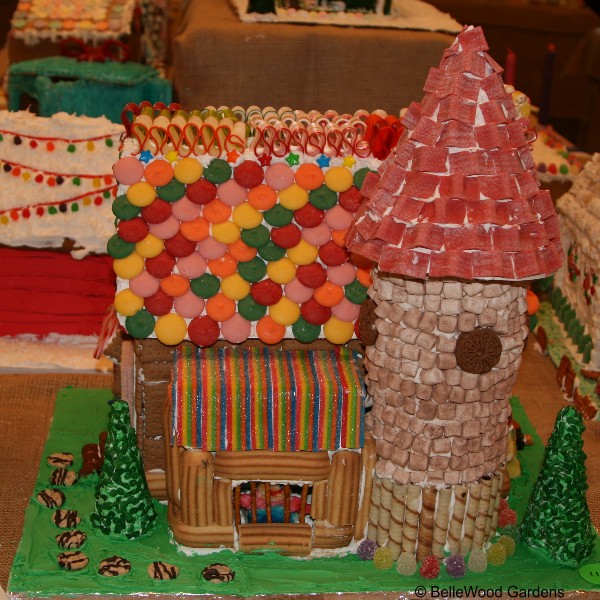 Or maybe the witch's cottage Hansel and Gretel found in the forest.
That's Hansel peering out the dungeon window,
just before Gretel pushes the nearsighted witch into the oven.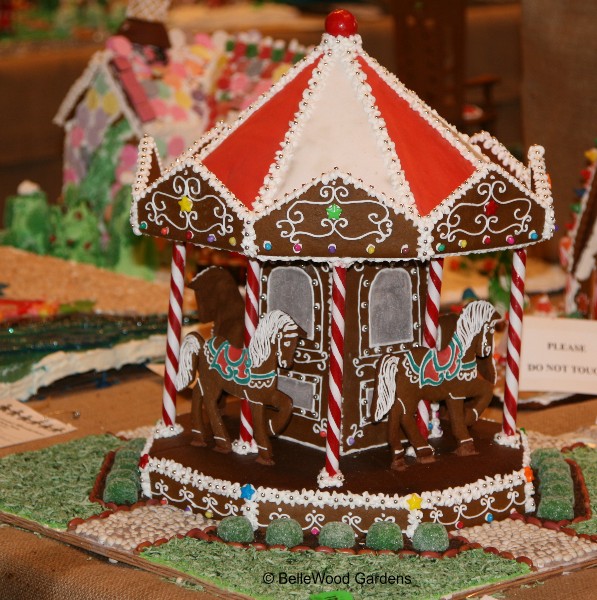 Perhaps when they return home their happy father will take them to ride on the gingerbread carousel.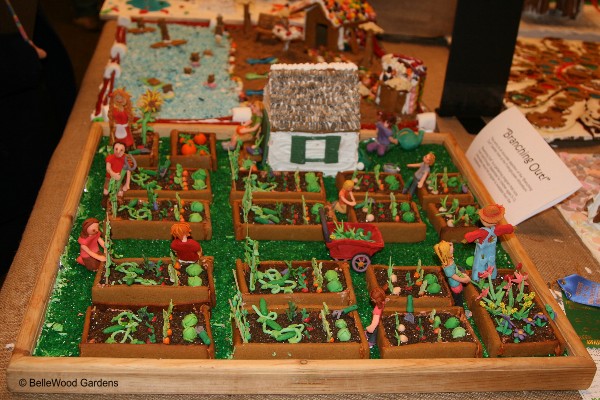 And maybe when summer comes they'll help in the family garden.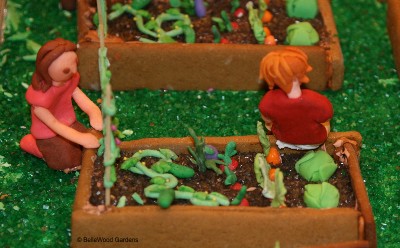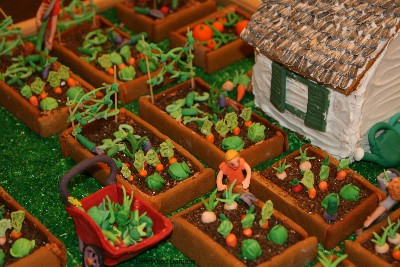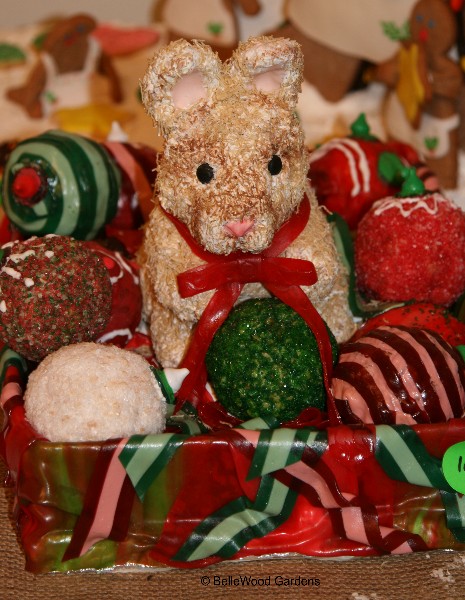 Let's hope the rabbit doesn't get in and eat everything up!

.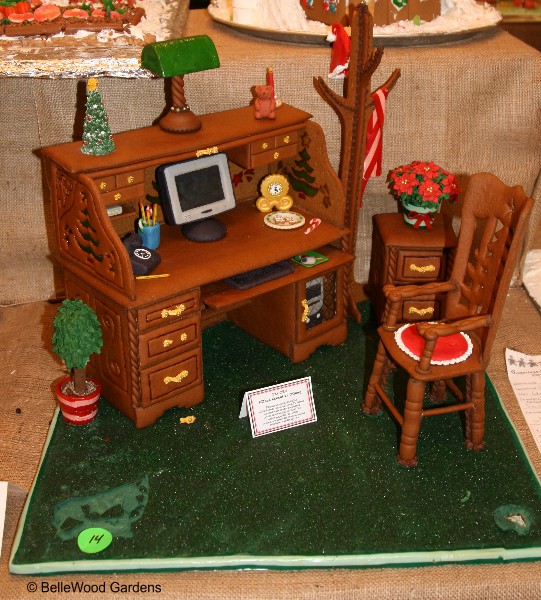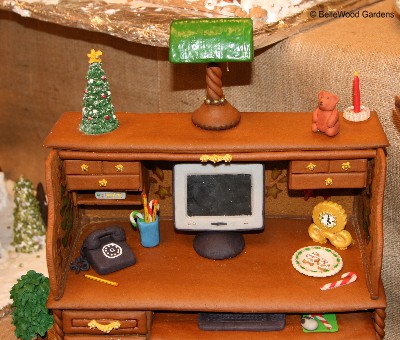 Then there's Santa's office. Mr. Claus is a very up-to-date executive, with an immaculate desk,
telephone, pencil mug . . . and his computer, ready to keep track of who's naughty and who's nice.

.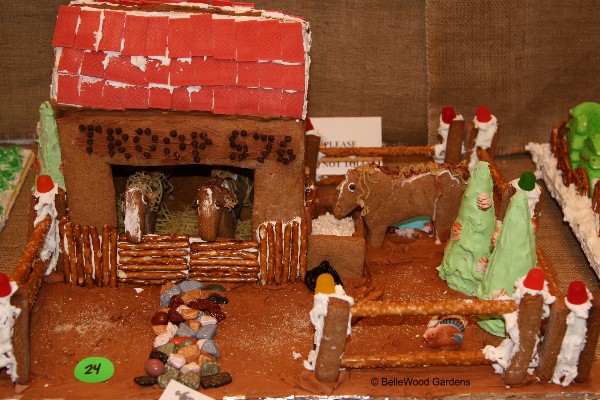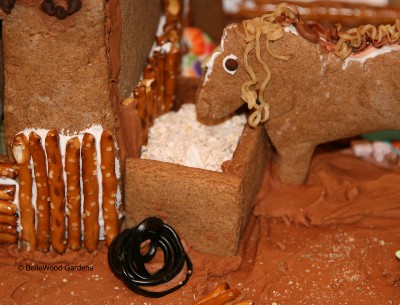 A stable with some sturdy horses, well sheltered for the winter. Dobbin in the farmyard
has a trough of oats to eat. They'll keep him warm when the weather's cold and snow is falling.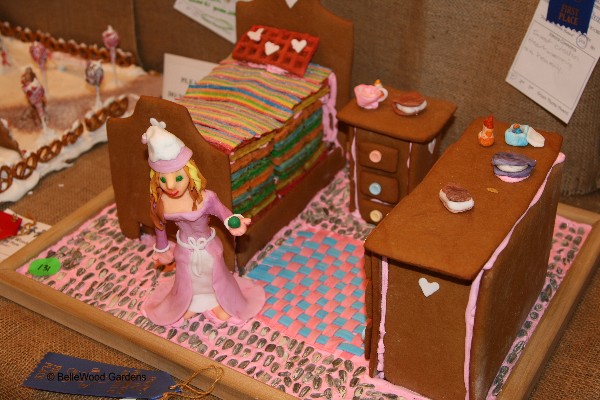 The princess had snuggled into bed but that darn pea, even under all those mattresses, kept her awake.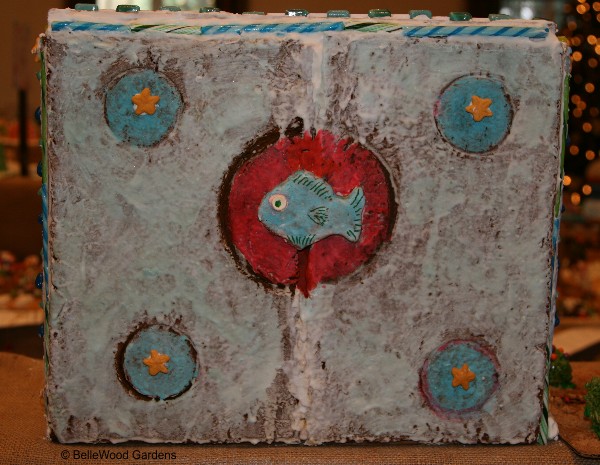 But what's this?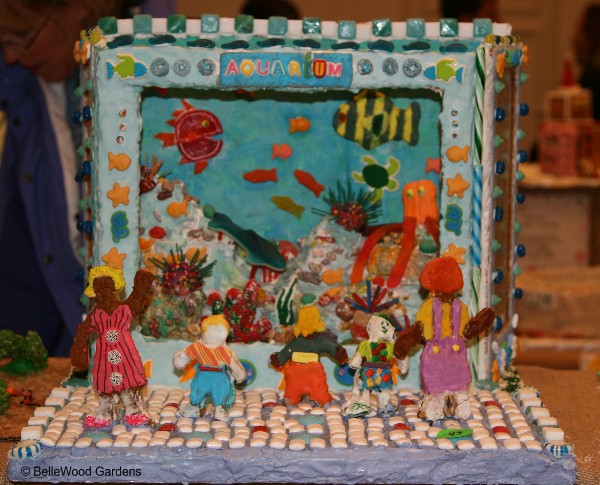 It's the gingerbread aquarium!

The gingerbread wonderland at Frelinghuysen Arboretum is open through Sunday, December 9, 2007.
It's a wonderful display of more than 250 gingerbread fantasies created by families, children, school groups, and more.
Come and see what can be created with some imagination and gingerbread. Georgeann and I enjoyed ourselves, and you will too.

Back to Top
---
Saturday, 1 December 2007

Lights, Camera, Action

I got an e-mail from Shanika, who had asked me to participate in the kiku, Japanese art of the chrysanthemum exhibition at The New York Botanical Garden earlier this fall. New Tang Dynasty TV wanted someone to talk about Japanese gardens. Shanika wanted to know if I would be interested. Indeed yes. A few e-mails and a couple of telephone calls with Henny, producer for the Asia Talks segments at NTDTV, and we scheduled an interview at the New York Botanical Garden. That was my idea. After all, a program about gardening should have at least one segment out in the open air. After discussion with Nick Leshi in the public relations department, we chose the Benenson Ornamental Conifer Collection. It is somewhat isolated from the conservatory and cafe, which means we are also separated from the hordes of garden railroad visitors. The landscape here features rocky outcrops and magnificent conifers. It's a wonderful place. Most conifers, like pines, firs, cedars, and spruces, are evergreen,with dark green or blue needles. A few, like the bald-cypress, larch and dawn redwood, turn gold, amber or orange before dropping their needles in the fall. There's a grove of giant dawn redwoods, a prehistoric conifer thought to be extinct until 1941, when a Chinese forester, T. Kan, found it growing in a remote valley in central China. Those in the conifer collection were planted in 1950, from seeds collected in 1947.

Nucleus of the collection are 200 conifers given to the garden in the late 1940's by Robert H. Montgomery. He had a keen eye for dwarf varieties , anything with a weeping form, or blue needles. Picea pungens 'R. H. Montgomery' a dwarf Colorado spruce with dense powder-blue needles and a pyramid shape is one of his finds, and arguably one of the most widely planted conifers in America. But with the budget cuts of the 1970s the collection was neglected. It was in 1999 that a garden board member, James Benenson Jr., and his wife, Sharen, helped underwrite a $5 million restoration and expansion, adding 200 new specimens well suited to the home garden. So there are examples of unique and quirky conifers that would be cherished in Japanese gardens. As well, there are towering oaks and tulip poplars, some with massive roots gripping the stony ridges, symbols of endurance in the face of adversity. Good choice.

The day arrived and Paul and I drove in, complete with a picnic lunch and thermos of hot tea. It was sunny, breezy, and on the chilly side, but we were snug enough in the solar heated car. Then Henny, along with Shelly, my interviewer, and three man camera crew arrived with all the necessary equipment: two Canon digital video cameras, microphones, power cords, reflectors, and more.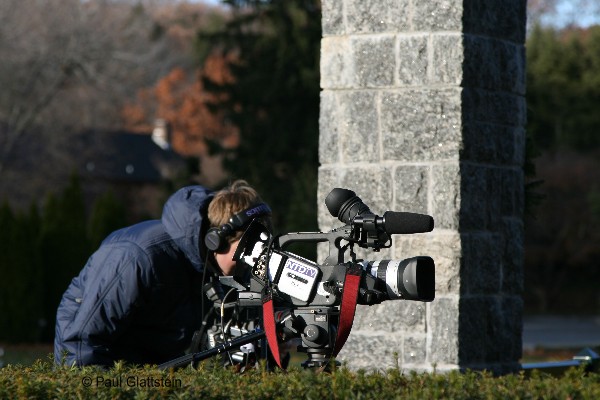 Photo courtesy of Paul Glattstein

Lights (well, the sun was shining), camera, action.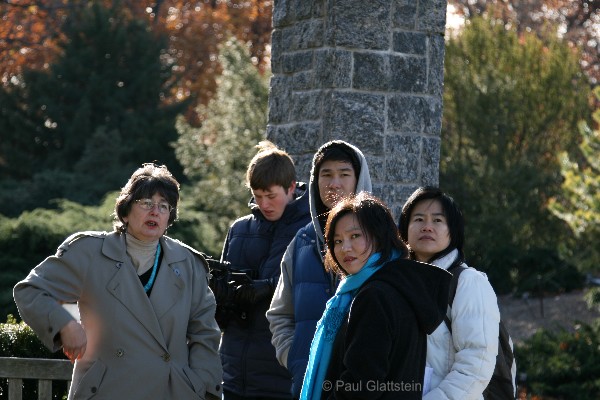 Photo courtesy of Paul Glattstein

Before we jumped into the actual recording, there was some necessary discussion.
What did we want for a backdrop. Where to position talent (that's me and Shelley) and crew.
From the left that's me, Paulio and Eric who are two of the camera men, Shelley, and Henny.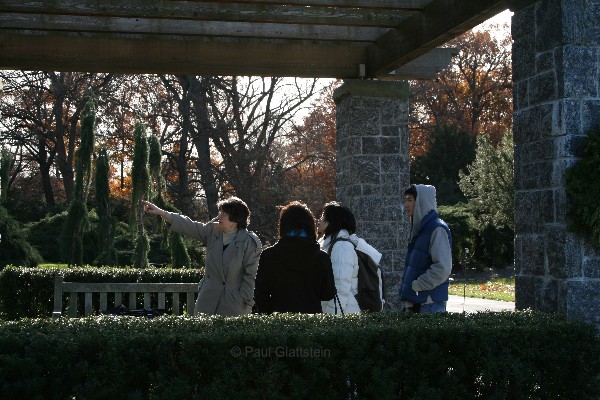 Photo courtesy of Paul Glattstein

Of course I had to add my nickel's worth of opinion as to most Japanese-related landscape and plants.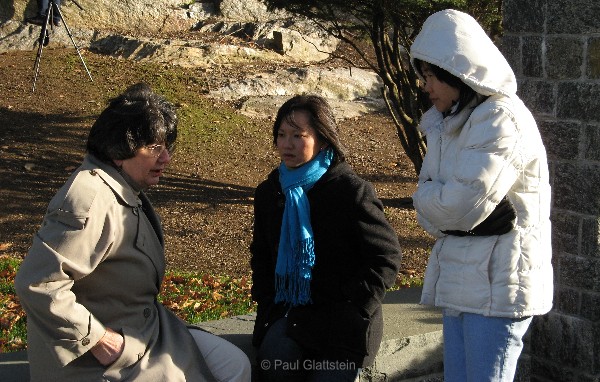 Photo courtesy of Paul Glattstein

And while the sun was brightly shining it was getting colder and colder.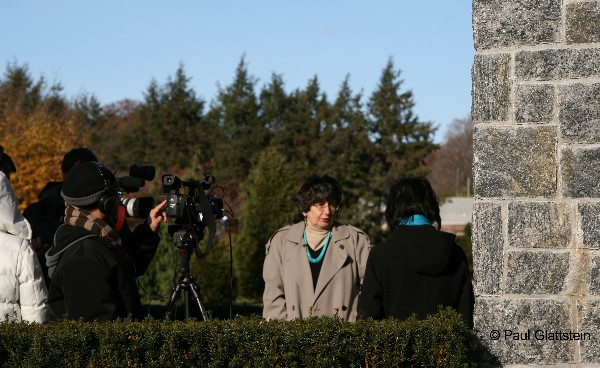 Photo courtesy of Paul Glattstein

We got set up. There was a very loose script, more of an outline that I had provided.
We'd film three 8-minute-long segments, and talk about Japanese garden styles and some history,
Japanese plants, their popularity in Western gardens, and the introduction of Japanese plants to the West.
That's Colin, third camera man, in striped scarf and warm hat (clever man) with his finger on the camera.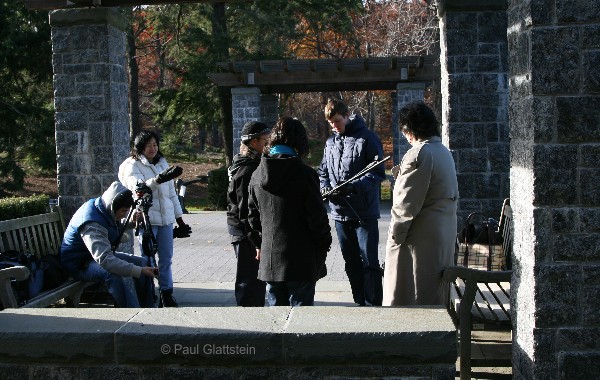 Photo courtesy of Paul Glattstein

Henny would keep us on track and hold the watch on us too.
But it was now getting colder, the sun lowering in the sky, and shadows lengthening.
After we filmed one segment, indoors seemed like a good option for the other two.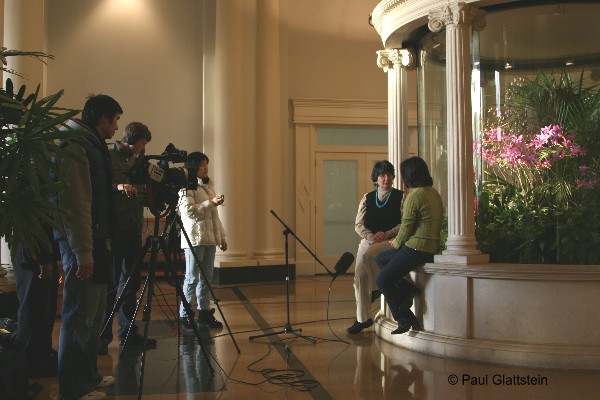 Photo courtesy of Paul Glattstein

I suggested a couple of possibilities: lobby of the Watson building was to busy;
lobby on the 6th floor between the LuEsther T. Mertz library and the gallery had too much signage.
But the Thekla T. Johnson Rotunda with its display case of orchids was just about perfect.
People sometimes walking through meant we'd occasionally need to repeat a sentence or two.

Photo courtesy of Paul Glattstein

We were filming - well, recording is probably a better term in this digital age - for three hours.
That will be edited down to the required 24 minutes, and air in January 2008. As well as the actual interview portions
they filmed some bits and pieces that will smooth the transition from one segment to the next.

Photo courtesy of Paul Glattstein

It was late in the afternoon as we started home, heading down the Henry Hudson Parkway
towards the George Washington Bridge and the longish drive to New Jersey

Photo courtesy of Paul Glattstein

following the tail lights of other westward-bound cars across the bridge.
Lights on the highway, cameras put away, action of cars and drivers going here and there.
A very interesting afternoon. I'm looking forward to the finished, edited, final cut.

Back to Top
---