Garden Diary - June 2007
---
If you have any comments, observations, or questions about what you read here, remember you can always Contact Me
---
June
---
Saturday, 30 June 2007
Water Barrels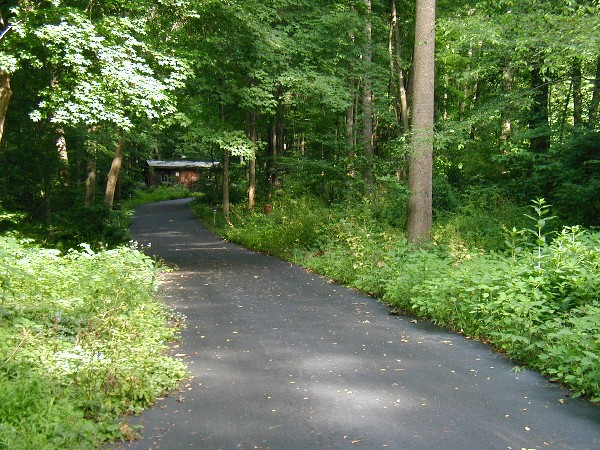 We have a long driveway, here at BelleWood gardens. It is an uphill driveway.
Our water comes from a well. Even if I had enough hoses to reach from the house
down the driveway into the woods and all the way to plants needing a drink
watering would be difficult.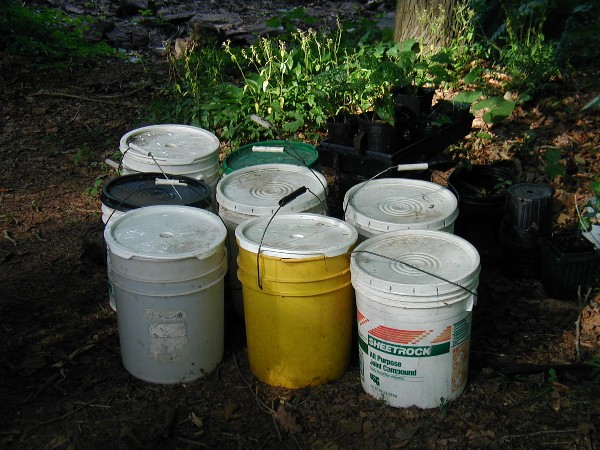 Sometimes, when Paul has the cart out and hitched up to the Quad
(moving firewood, most often) he moves sheet rock buckets
filled with water down the driveway for me.
I leave them near the compost heap until needed.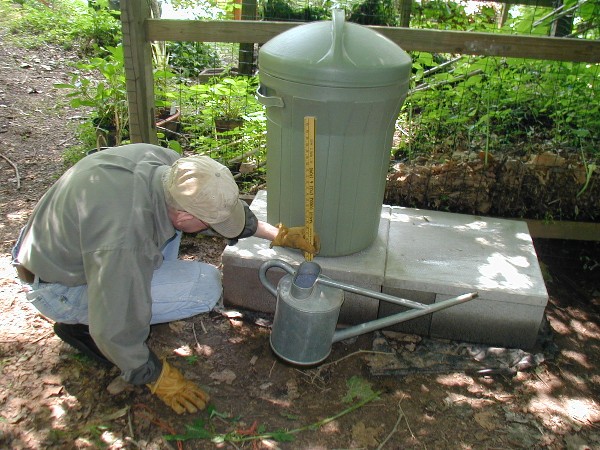 I like my rain barrels behind the tool shed. No shed, hence no gutters down in the woods.
But I could put some barrels down there. I made two nice sturdy platforms -
each from four concrete blocks and a 2 ft. X 2 ft. concrete pad, nice and level.
A sturdy plastic garbage can fitted with a hose bibb should do the trick.
Measure where to fit the hose bibb, ordered from Lee Valley Tools.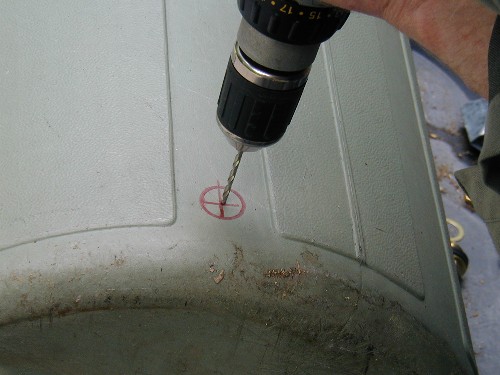 Mark, then drill a pilot hole.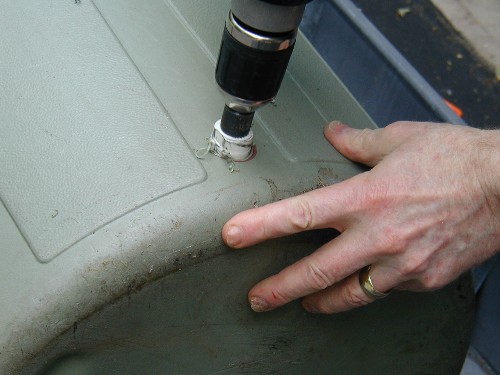 Use a hole cutting drill bit to punch out a circle.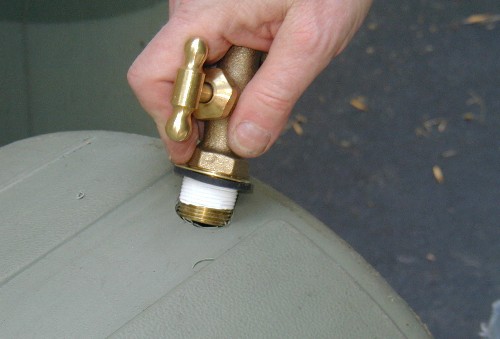 Some Teflon tape over the threads, slip on brass washer and rubber washer,
fit into snug hole. Rubber washer, brass washer, hex nut inside the barrel.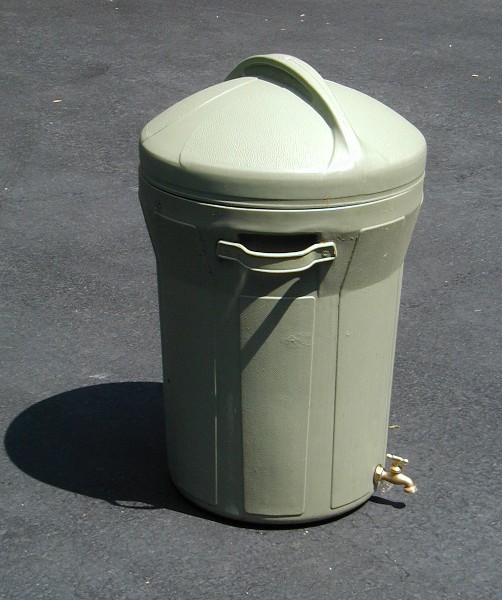 All assembled, and doesn't it look good!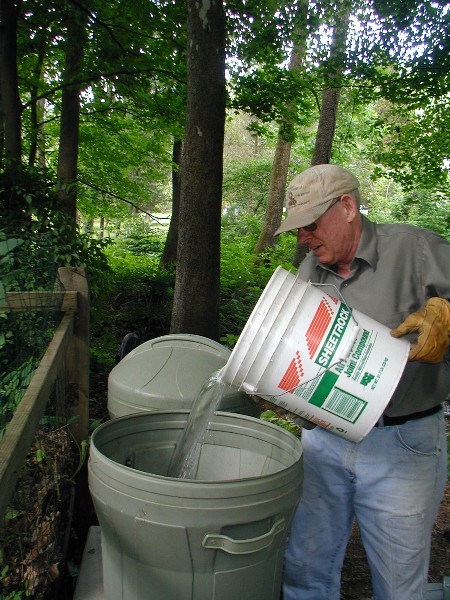 Still need to bring down sheet rock buckets filled with water, about five for each water barrel.
However they look nicer than a clutter of sheet rock buckets, hold more water than
the assemblage of sheet rock buckets, and will be convenient in more ways than one.
---
Wednesday, 27 June 2007
Thoreau-Inspired Art at at Wave Hill
Glyndor House at Wave Hill is the setting for art exhibitions. In April 2007 the focus was on Emily Dickinson, with the work of ten different artists who immersed themselves in the poet's live and writings, to create works of art inspired by her relationship with nature. The current show, through August 26, 2007, features the work of eleven artists exploring Henry David Thoreau's essays, speeches, and journal entries. Many of these artworks were created specifically for this exhibition.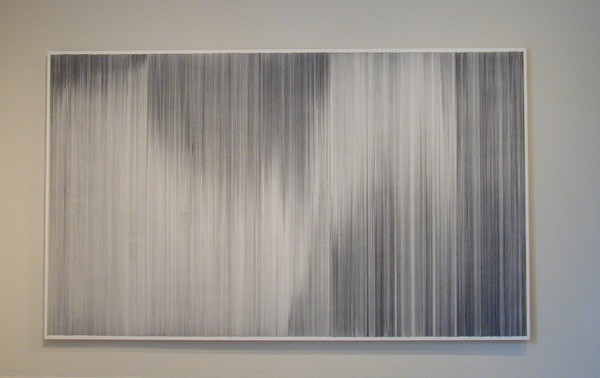 parallel 10, (plumbago), 2007, by Anne Lindberg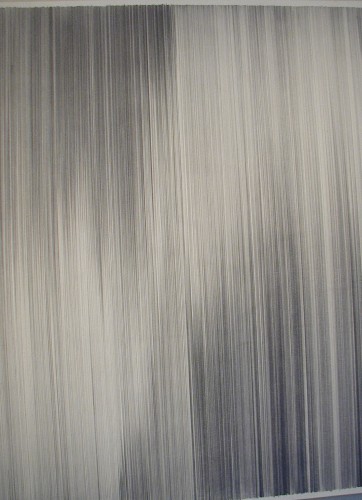 parallel 10, (plumbago), detail
Subtle variations in intensity and the full spectrum of graphite hardness form this deceptively simple work, one which develops a rich complexity with close study. While we think of him as a writer, a keen observer of nature, and someone who concerned himself with the relationship of the individual to society, Thoreau was also an inventor. In 1821 his uncle, Charles Dunbar, discovered graphite, also called plumbago, in New Hampshire. He set up a pencil making factory with his brother-in-law, John Thoreau, Henry's father. Who, later on, began manufacturing pencils in Concord, Massachusetts. The graphite was not of high quality. One of Henry Thoreau's inventions (he worked periodically in the family business) was the use of clay as a binder, mixed with the graphite to create a variety of pencil leads of graduated hardness.
Phantom Limb, 2007, by Ellen Driscoll with Golnar Adili and Aimee Burg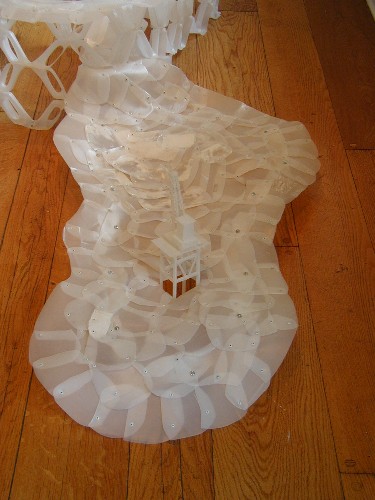 Ghostly in appearance, sturdy in structure. this room-filling work is created from
discarded #2 plastic containers, milk and water jugs, scavenged on trash nights
in the artist's Brooklyn neighborhood, and collected from Wave Hill staff and visitors.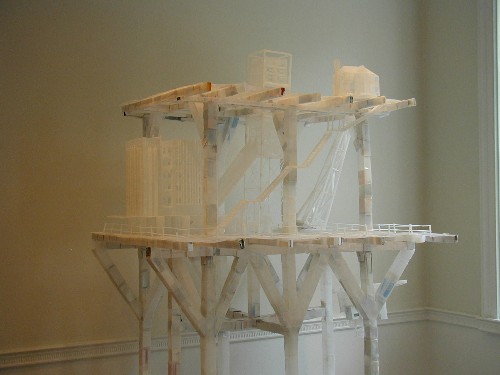 An abandoned North Sea oil rig supports a McMansion and other architectural structures.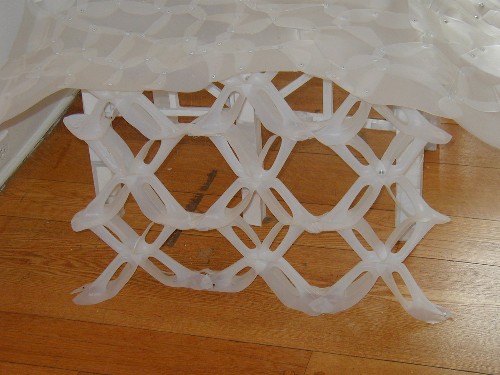 A delicate geometrical lattice provides support for the lava-like flow pouring outward from the oil rig.
(Most plastics are made from petrochemicals.)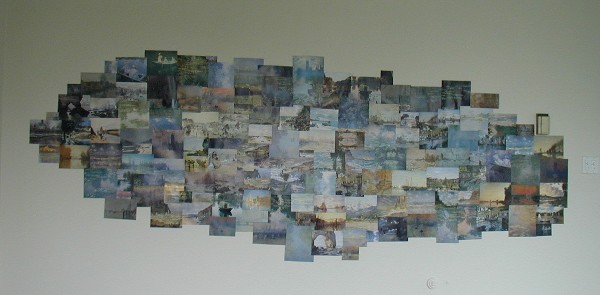 Spencer Finch, 2007, Walden Pond (Morning Effect, March 13, 2007)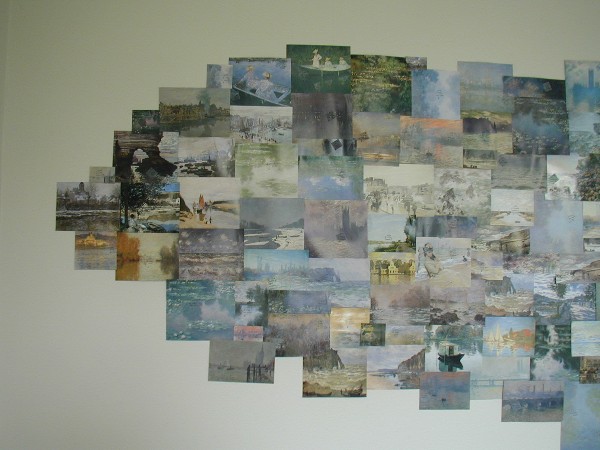 Visiting Walden Pond in mid-March of this year, the artist found an ice-free body of water
shifting hues of blue and green. Piecing together a collage from reproductions of work by another artist
intimately associated with water images, Claude Monet, Finch creates not merely the form of Walden Pond
but also shifting patterns of light and dark, depth and shallows of the body of water, reflecting earth and sky.
.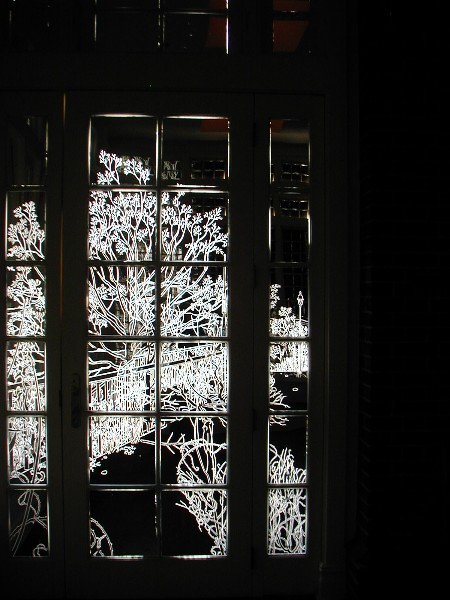 Ellen Harvey, A New View for Thoreau, 2007
"Please close the door to the sunroom" requests a sign on the door. Stepping in to the space
pulling the door shut behind me, at first the room feels dark and somewhat claustrophobic.
As my eyes adapt to the space I see silvery images on blacked-out windowpanes, using light as the reverse
of scratchboard resist. Glass has been replaced with hand-engraved mirrors,
incised drawings based on bare trees photographed in early spring.
.
A wonderful exhibit. Come visit. Enjoy.
Back to Top
---
Wednesday, 27 June 2007

Tuteurs at Wave Hill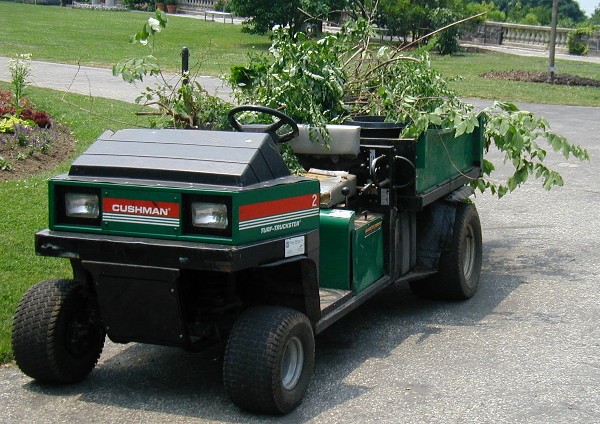 What do you see? Is it just a cart of garden debris, trash to be dumped on a brush pile?
Or does it offer possibilities?
Granted, the prunings seen here are not especially sturdy. But the concept is the same.
Waste not, want not. Be creative.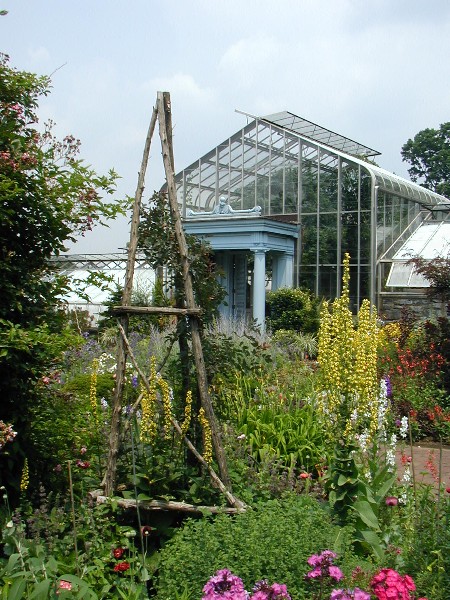 At Wave Hill, tree branches are used to make tuteurs.
What's a tuteur? Quoting from Taylor's Dictionary for Gardeners
(by Frances Tenenbaum, published by Houghton Mifflin Company, 1997)
"From the French for "trainer," a classic French design
for a trellis is the shape of an obelisk."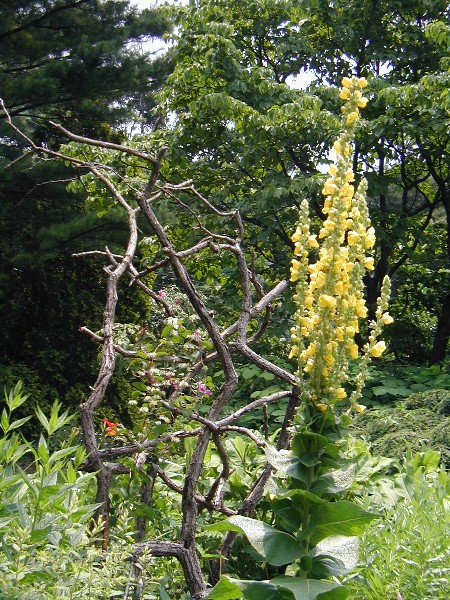 This one looks like an early attempt.
(The verbascum looks sturdier.)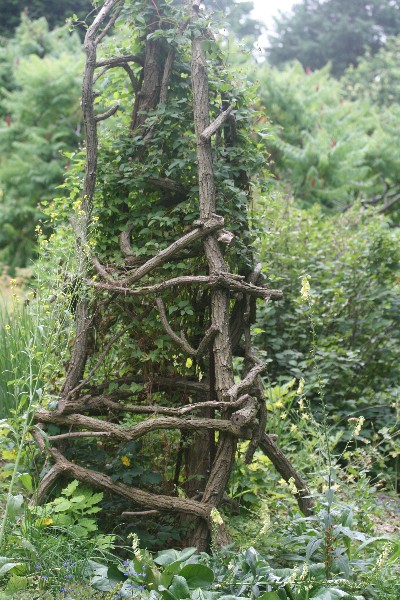 And this substantial model, sympathetic in style
to the Adirondack rustic fence and arbor of the front garden
is a suitable support roses and / or clematis.

.

Not making do, but making useful - and beautiful - objects
from what's on hand. Waste not, want not.
Be creative. Art in the garden.

Back to Top
---
Wednesday, 27 June 2007

A Bus Tour to Wave Hill

Back in last winter's short, chill days the Tohickon Garden Club planned a summer visit to Wave Hill. We might car pool. Perhaps charter a bus. The later was our transportation of choice, and a good choice it was too, as the weather was hazy, hot, and humid. No matter, a group of like-minded friends fond of plants and gardens are sure to enjoy themselves whatever the weather.
The conservatory at Wave Hill may be empty of plants for the summer but still serves as a magnificent focal point.
The Adirondack rustic style fence and arbor surrounds the front garden. And there's no such thing as the "June slump"
at Wave Hill, it's magnificently in bloom.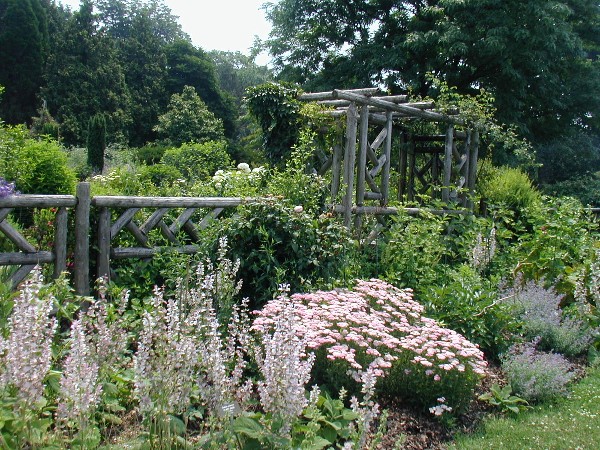 A closer look at the flowers just outside the fence, clary sage, Salvia sclarea,
and a soft pink yarrow, Achillea cultivar.
Up in the wild garden there's a marvellous combination of lavender and Callirhoë involucrata, purple poppy mallow,
native to the arid Plains States of North Dakota and Wyoming, Missouri, Oklahoma, Texas, New Mexico, and Utah.
Wonderful the way the two plants weave together into a tapestry, so characteristic of "the Wave Hill style."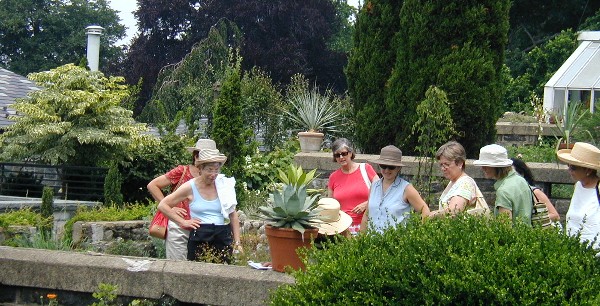 Part of our group admission fee includes a guided tour by three docents so we could divide into smaller groups.
The weather was getting stickier, more humid.
I had a second large iced latte, for refreshment, replenishing fluids, and re-energizing.
Shade beckons.
Even flowers appear hotter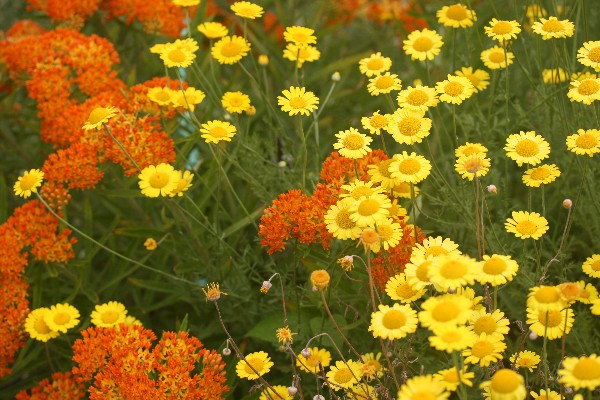 like these orange butterfly weed, Asclepias tuberosa and sunny yellow daisies.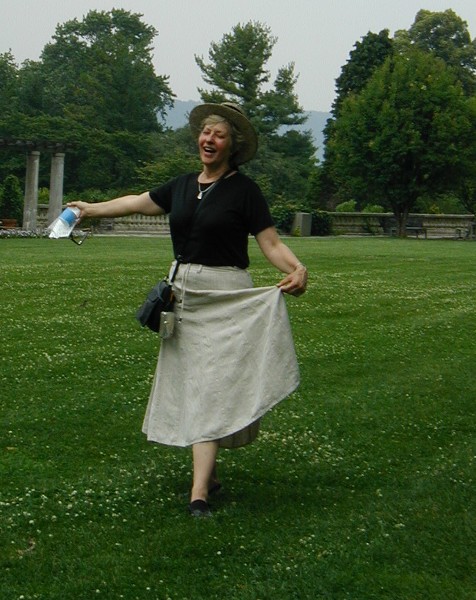 But it's clear that a good time can be had, any time, at Wave Hill,
as Shirley campily vogues her way across the lawn.

Back to Top
---
Sunday, 24 June 2007

Second Dvoor Farm Farmers Market

As I said last week, after the inaugural opening of the Sunday Farmers Market at Dvoor Farm, "Let's hope there will be more vendors as we get further into summer. " Today I was delighted to see that indeed there were more vendors: an additional purveyor of produce, someone selling handcrafted soaps and toiletries, a man with lovely young native trees, such as red oak, raised from seed, a couple of women selling an assortment of ordinary perennials that looked as though they were dug the day before and hastily potted in clay-ey garden soil, and a quartet of musicians with a bass viol, guitar, banjo, and fiddle. Lovely! A Sunday morning stop at Dvoor Farm is clearly going to be part of my summer-into-early-fall routine.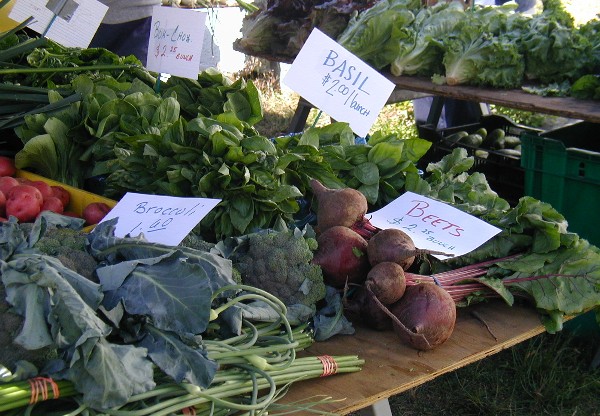 Beautiful produce. I bought spinach and arugala, a bunch of cilantro.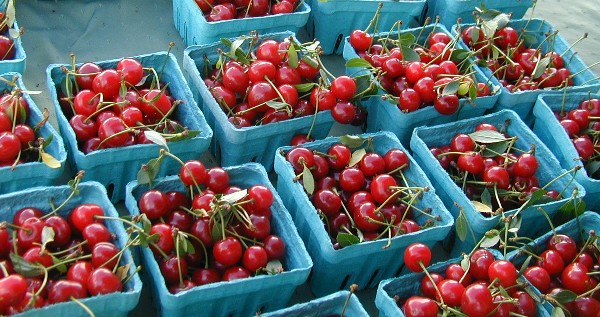 There were pints of sour cherries, but I'm picking by the bucket at Nagy's.
Wonderful for those who would not otherwise have access to these hard-to-find pie cherries.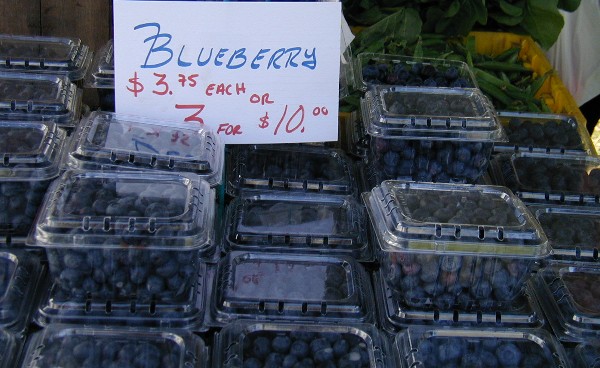 And early blueberries, whose cultivation is another of the Garden State's accomplishments.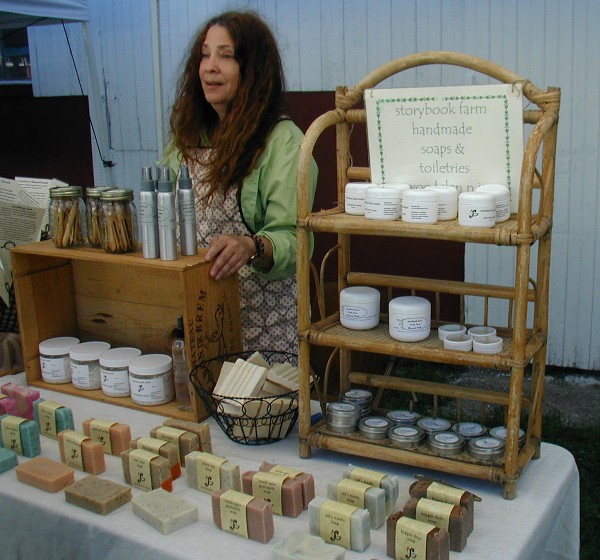 Carefully crafted and well-displayed hand-made soaps and hand creams from Storybook Farm.

Back to Top
---
Friday, 22 June 2007

Morning Light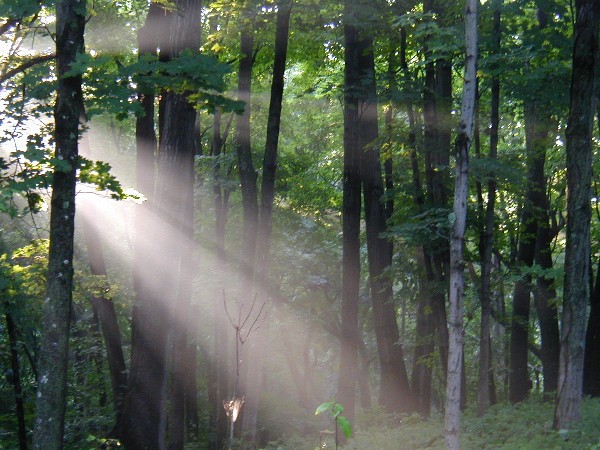 Back to Top
---
Wednesday, 20 June 2007

Evening Soirée at Willowwood

Garden parties. As I said, I really like garden parties. Can't you tell?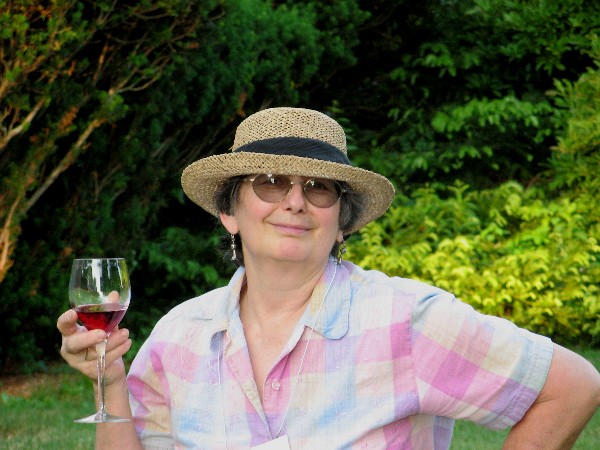 Photograph Credit Paul Glattstein 2007. All rights reserved.

And this one was no exception. The occasion: the evening soirée of the Watnong [New Jersey] Chapter of the North American Rock Garden Society. This year the event was held at Willowwood Arboretum, located at 300 Longview Road in Chester Township, New Jersey. Last night had a downpour, the morning was overcast and damp, and by afternoon it cleared to one of those perfect summer evenings.
There were tables inside the Stone Barn, and chairs outside. Where better than outdoors on a perfect June evening.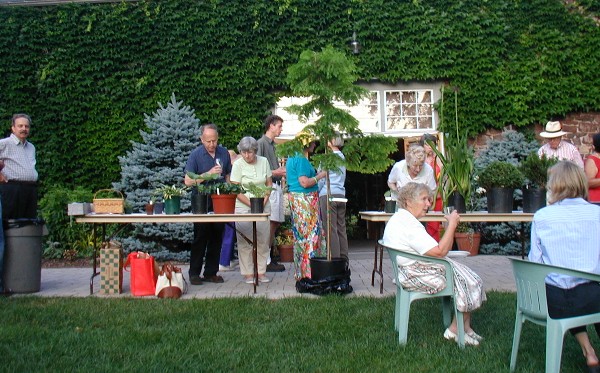 There was a silent auction of rare plants, as well as good company, delicious food, and a marvellous garden to enjoy.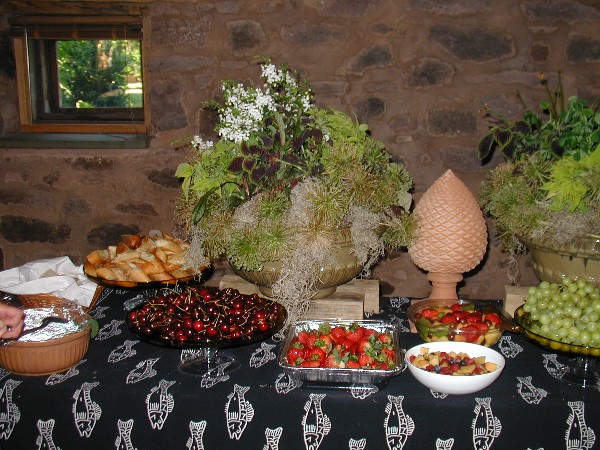 The buffet tables were generously filled with tasty food, beautifully presented.
Some potluck dishes and others provided by the chapter, beer and wine and lots of desserts.
Kudos to Benjamin, she feeds us well.
Several kinds of deviled eggs, summer food.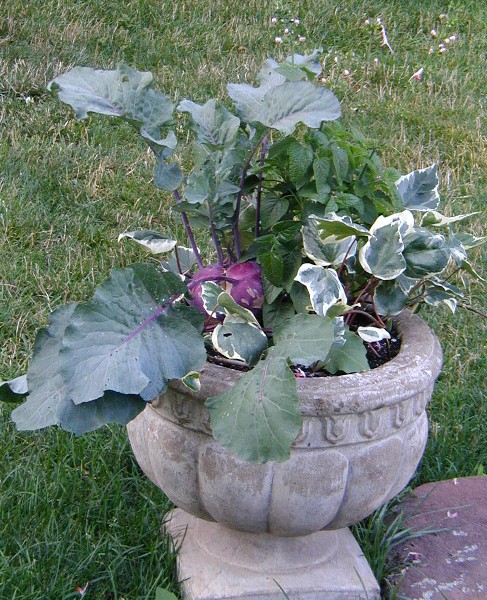 Even the gardens featured food. Do you like this urn, featuring a purple kohlrabi like a flying saucer has landed.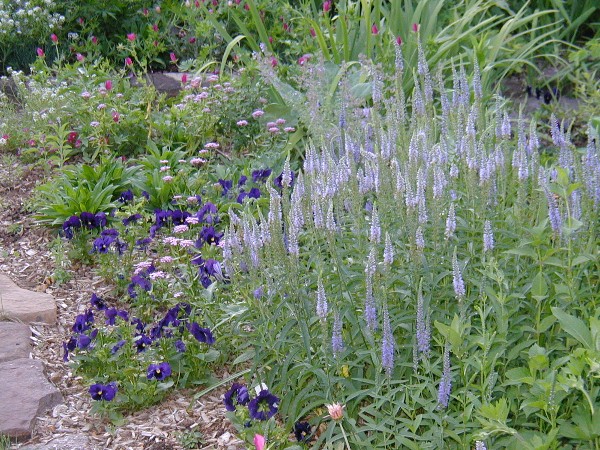 Violas and veronicas in lavender and purple.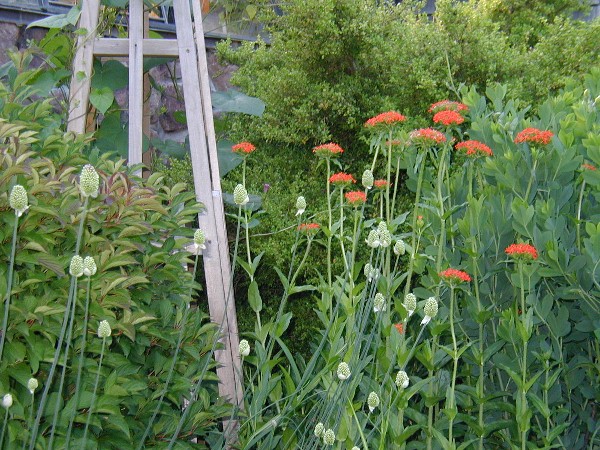 Drumstick alliums about to burst into wine-purple bloom.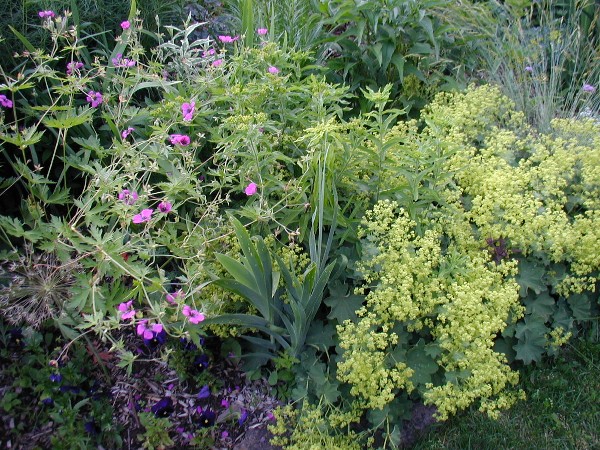 Frothy chartreuse billows of lady's mantle, Alchemilla mollis, splendid against the vivid pink of a hardy geranium
and the fading sphere of Allium christophii.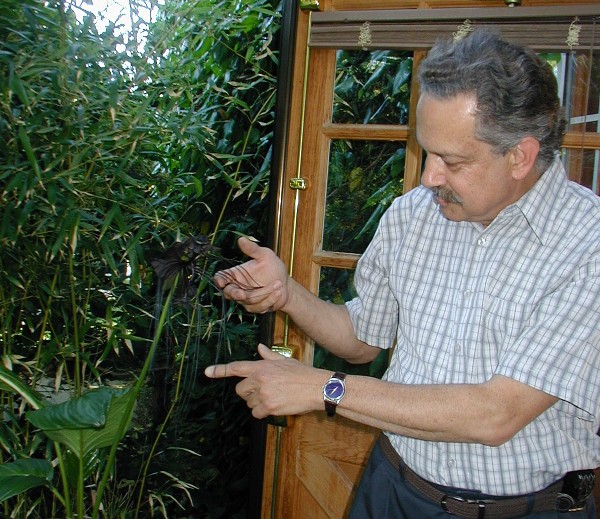 Pleased as punch, sharing the uncommon beauty of bat flower, Tacca chantrieri.
It's not an easy thing to grow, demanding shade, humidity, good air circulation, drainage coupled with moist conditions.
So what's the excitement about? This!
Satiny purple-black, upward facing buds, flowers that nod as they individually mature, and funky whiskers trailing down.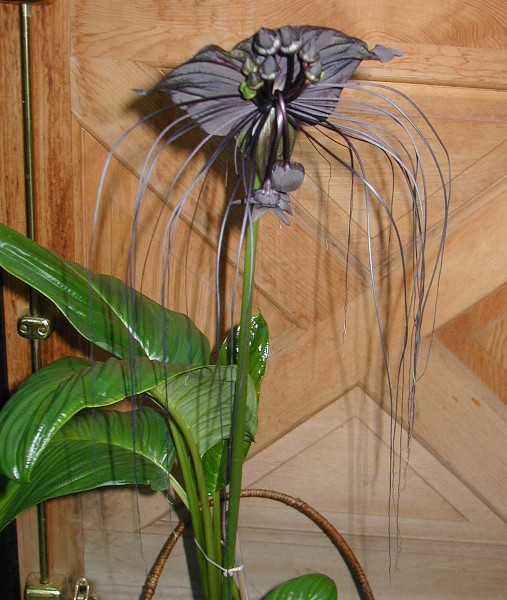 Back to Top
---
Sunday, 17 June 2007

Garden Party at Atlock Farm

I adore garden parties, don't you? And today is one of my favorites, the annual almost-summer event at Atlock Farm, 545 Weston Canal Road in Somerset, New Jersey. Oh sure, Ken Selody calls it an Open House. But we get to stroll around his beautiful demonstration gardens, there's summertime picnic food provided, and plants to purchase. How could it be better? Well yes, there's the weather to consider. Someone was listening to the request, because it was sunny, on the hot side of the thermometer, with cool breezes wafting from the shady parts of the garden. Just lovely.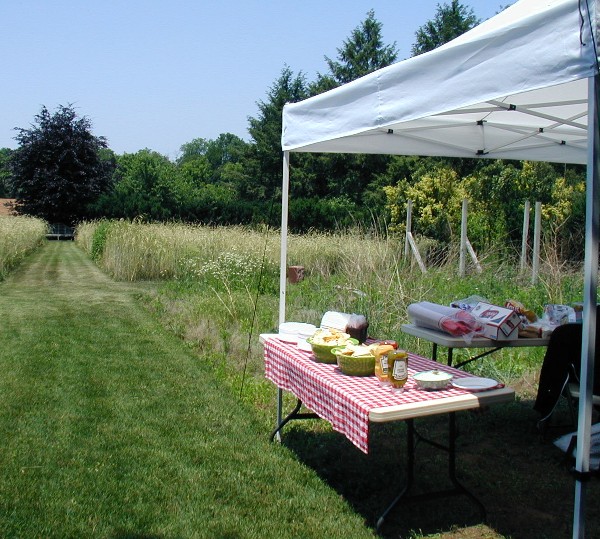 The food tent (that sounds crude, but what would you call it?)
Grilled hot dogs with finely minced onion, chili, and the usual green relish for toppings,
potato salad, bean salad, and for drinks: soda, bottled water, and a keg of root beer.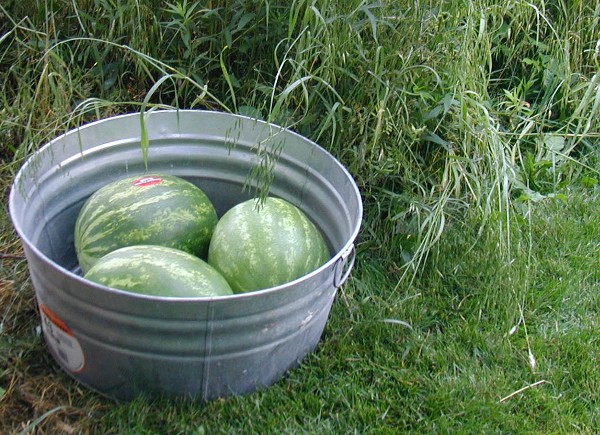 Watermelons in a wash tub, waiting to be iced down.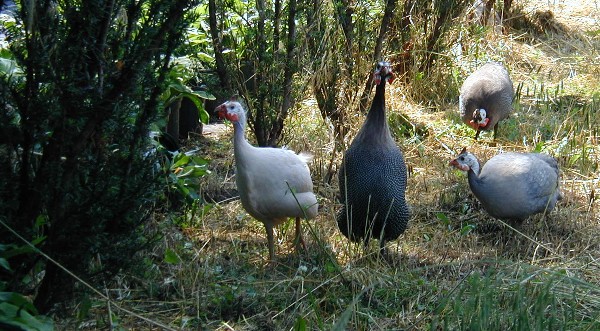 The tick patrol at work - Guinea hens. There's the typical speckledy one,
white, called pearl, and soft gray, called lavender. Periodically they'd cackle,
as Guineas do. No idea what caused the occasional bursts of excitement.
Odd shape: substantial bodies topped with a long skinny neck and those little wattled heads.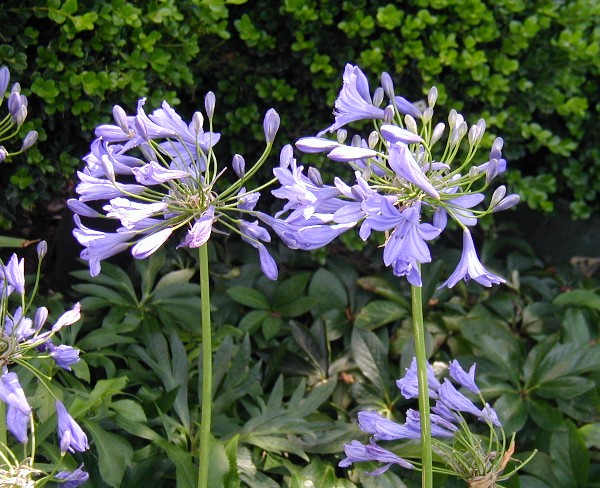 But the real reason to come to Atlock Farm is not the tasty food or amusing livestock. It's the plants.
Such as these magnificent Agapanthus, lily of the Nile, in sky blue.
If I didn't already have a potful at home for sure I would have bought one.
They're easy to keep, even over winter when benign neglect is the best method.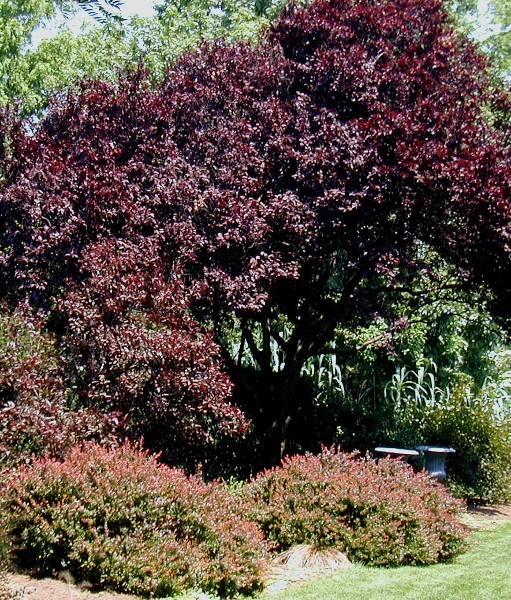 There are various garden "rooms" along a broad grass path, separated by hedges.
I'm especially fond of this pairing of thundercloud-dark purple-leaved plum, accented by
billowy mounds of softer copper-colored foliage. But then, you know how well foliage works for me.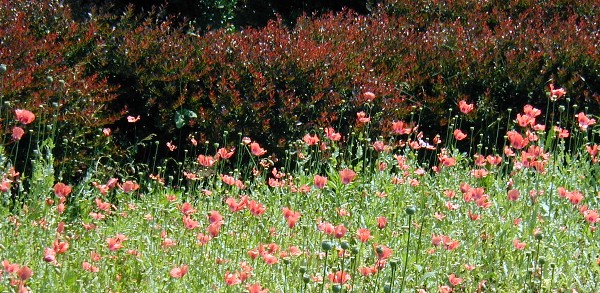 Perhaps you prefer flowers. We can compromise, with foliage and flowers both.
A dark background provided by Berberis thunbergii atropurpurea sets off the airy flowers
of these graceful salmon pink sleepytime poppies.
The greenhouses have been somewhat emptied out for summer.
Four ginormous lemon trees have been moved outdoors to one of the garden rooms.
There's still some potted plants embellishing this greenhouse. A brick wall
with a traditional lion headed fountain serves as backdrop to ferns and fabulous begonias.
(Those large leaves belong to Begonia gunnerifolia.)
Faded calico markings of white, sand, and soft gray camouflage puss in the dappled sunlight.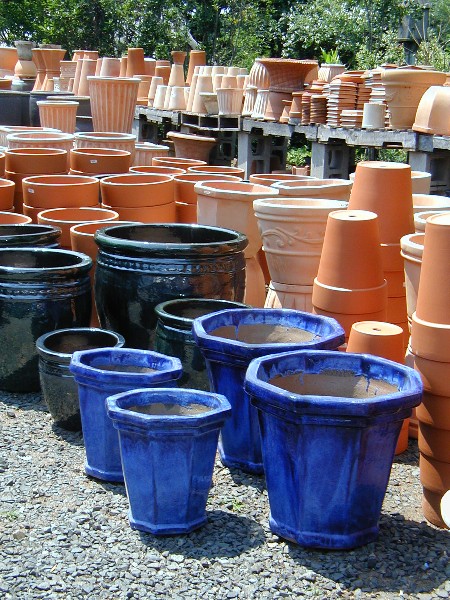 A plethora of pots is a variety of sizes, styles, and finishes offer possibilities for embellishing your garden.
One woman bought a huge fuchsia-flowered geranium, so big it had a trellis / cage to support it,
and had it then-and-there repotted into a cobalt blue glazed pot. Stunning. Or, for something more subtle,
consider one of those agapanthus. Options, possibilities, and garden dreams at Atlock's Open House.

Back to Top
---
Sunday, 17 June 2007

Community Farmers Market at Dvoor Farm

Today is the opening of the Dvoor Farm Community Farmers Market, at the Route 12 traffic circle with Route 523, in West Flemington, New Jersey.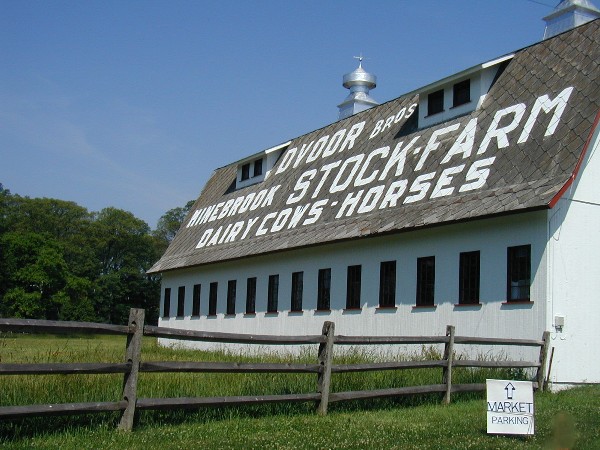 The land was originally owned by William Penn, who passed it on to his sons. In 1738 they sold it to John Kase, a German immigrant. Most recently used for horse and cattle trading, the Dvoor family farmed and sold livestock on the farm since the late 1800s. It is a classic example of the historical agricultural character of Hunterdon County. The farm includes a Dutch stone farmhouse constructed in 1790 and three barns that represent the history of barn building in the nineteenth and twentieth centuries. Hunterdon Land Trust Alliance became the owners of Dvoor Farm in December 1999.

This is a new community farm market. Let's hope there will be more vendors as we get further into summer. After all, mid-June is still early in the season. It will be nice to have a convenient source for locally grown produce. They're planning to offer a variety of fruits, vegetables, and herbs, meat, and cheese. One vendor was selling delicious cheddar and smoked cheddar cheese made from raw milk. Someone had organic popping corn. And there was buffalo meat for sale too. My understanding is that only farm products will be offered, no bakers or craft people such as quilters.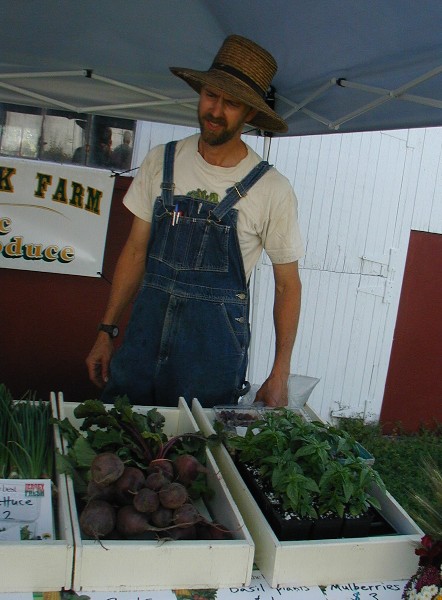 Here's one of the vendors.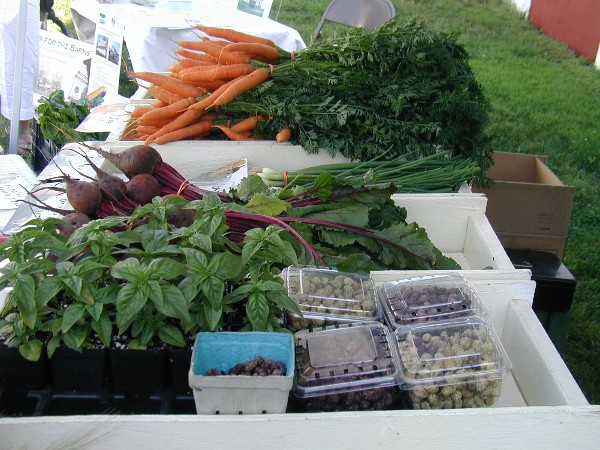 He had lovely vegetables, attractively displayed: carrots and beets,
rainbow Swiss chard, basil plants, mulberries,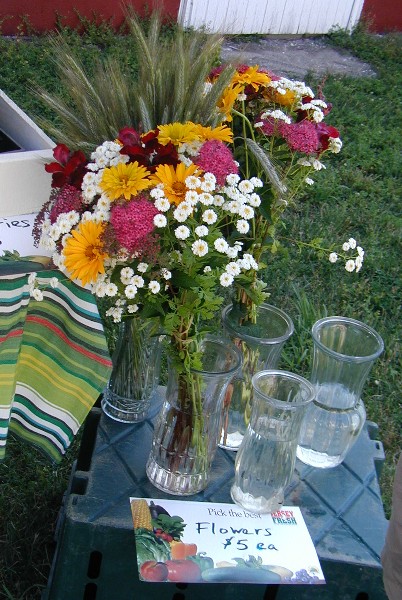 and flowers.

Hours are Sundays, June 17 through October 28, from 10:00 a.m. through 1:00 p.m.

Back to Top
---
Thursday, 7 June 2007

Assembly Line Plant Stands

It is not a good thing to have pots sit down directly on the ground, on a deck, on the floor. Water drips out the drainage hole(s) and mars the floor or stains the deck. In fact, water drains more poorly when the pot is in direct contact with a flat surface. It can, over time, clog with dirt and debris. Earthworms and other soil-based critters can climb out of the ground and into the pot. Have I convinced you? So the goal is to elevate the pot on a stand. I like slatted wooden stands. One style is made from 1 inch X 3 inch lumber, cut to 4 feet long. Four slats are spaced so the overall width is 15 5/8 inches wide, held together with two cross pieces. Why this width? It fits nicely over a horizontal concrete block. The other style is made from 1 inch by 4 inch lumber, cut to 14 inches in length. Three pieces for the top, two cross pieces, and four "feet." Paul has a well equipped workshop. He makes the plant stands. My role is as go-fer and assistant. I go fer the lumber and assorted supplies, hold things, mark board for cutting, apply glue, clean up, and finish the assembled plant stands. Here is how it works.
What is described as 1-inch by 4-inch by 8-foot long refers to the nominal size of the lumber.
In reality the boards are 3/4-inch by 3 1/2 inch by 8-foot or a little longer. First we measure the length.
If it is over 8 feet a very thin slice is taken off the end to neaten it up. Paul then measures 14 inch length.
Notice the lock-jaw pliers clamped to the end of the chop saw table. With the cut end of the board snug against this "stop"
the saw kerf will be at 14 inches. Cut, remove piece, slide board down to stop, cut, repeat - much quicker than measuring each piece.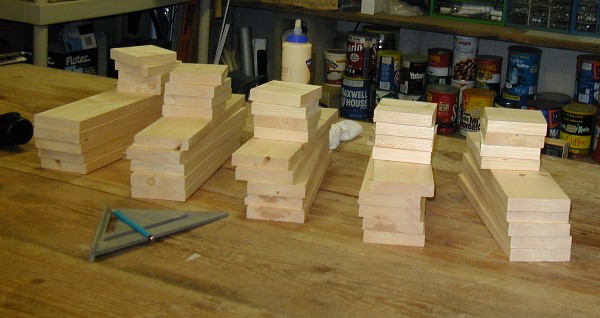 Here are the cut pieces for five plant stands.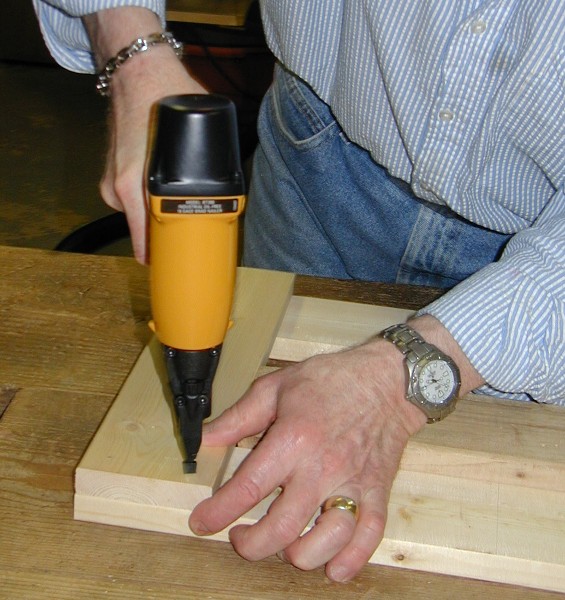 After I choose the better side on each board (which will be the top of each stand)
it is time to assemble them. A squeeze of wood glue, quickly spread over the area a cross-board will cover,
and fasten the pieces together using a nail gun powered by an air compressor. Good, but not good enough.
Paul set up two pieces of scrap wood and clamped them to his workbench. He'll slide each corner of a plant stand into place,
set with four 1 1/4 inch brads, turn the unit to the next corner, and repeat. Here he's assembled the five 14-inch long boards
and is attaching the feet. The time spent setting up the jig, checking with a try square, and clamping the boards
was well repaid in speed and accuracy in the assembly line production of the five stands.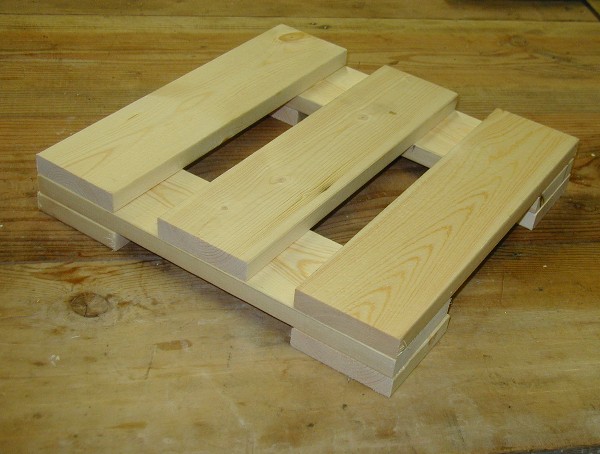 An assembled plant stand.

Next step: finishing. I used two parts oil based wood stain to one part boiled linseed oil and one part mineral spirits.
The stain provides a nice color, while the boiled linseed oil (it is purchased this way, you don't boil it at home)
is also, like the stain, a wood preservative. The mineral spirits thin the linseed oil and helps it penetrate into the wood.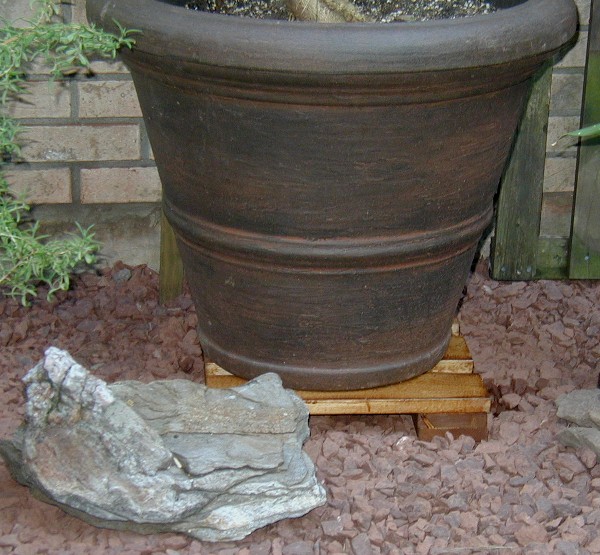 And here is a pot, a large pot, on a plant stand.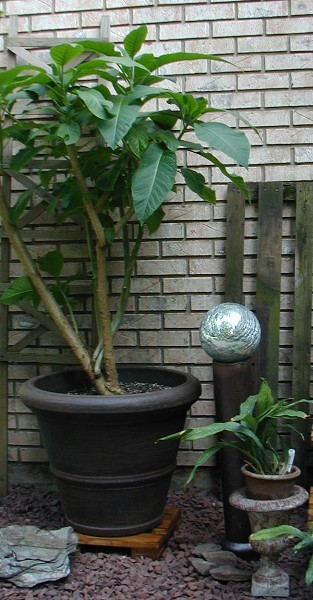 The plant stand is barely visible. It does, I feel, improve the display.
And I know the brugmansia will thrive, given it's elevation.

Back to Top
---
Monday, 4 June 2007

Long Tail Salamander

Today was quite damp and overcast after last night's rain, a good time to move yet more plants out of the greenhouse. I was cleaning up the area on either side of the front walk, including old leaves blown under a display stand supported on a couple of concrete blocks. See what I found!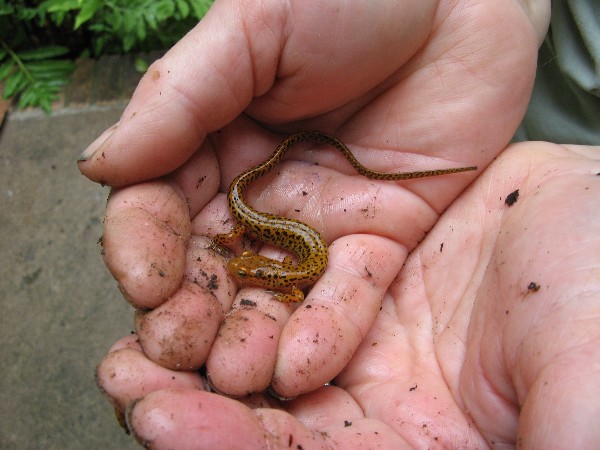 A Long Tail Salamander, Eurycea longicauda longicauda, doubtless uncomfortable in my warm, dry hands.
A couple of quick pictures and I let it go into a more secure pile of wet leaves.




Photograph Credit Paul Glattstein 2007. All rights reserved.

Back to Top
---