Garden Diary - May 2007
---
If you have any comments, observations, or questions about what you read here, remember you can always Contact Me
---
May
---
Tuesday, 29 May 2007
Presby Memorial Iris Garden
Mary and I had a leisurely lunch at a cafe's sidewalk table, sheltered from the strong sunlight by a grand umbrella. Then it was off to the Presby Memorial Iris Gardens. It was established 80 years ago, in 1927. Designed by noted Pennsylvanian landscape architect John Wister, the gardens were established to honor Frank H. Presby, an eminent horticulturist and a founder of the American Iris Society. "It's easy to find." Mary assured me. "We'll see them. The iris practically come right up to the road." We would, that is, were it not for the seemingly endless line of cars neatly parked parallel to the curb. And this on a Tuesday afternoon. I cannot imagine what the holiday weekend must have been like - a mob scene, no doubt, with milling iris viewers like schooling minnows. Occupied, very well occupied it was, but not an overcrowded-cannot-see-the-flowers situation.
If you somehow had doubts as to where you were, there was a sign.
Once inside the gate (having paid a modest admissions fee,) we each received a sheet with a printed guide to the 36 different beds arranged basically by decades: antique and historic tall bearded iris from the 1920s and 1930s, another bed of heirloom historic tall bearded modern tall bearded iris from the 1990s, Dykes Medal Winners, iris from 1500 to 1917 - and that's just the bearded iris. There are beds of Siberian iris, Louisiana iris, Japanese iris - you get the picture. Today, ah, today Mary and I were overwhelmed by the masses of bearded iris in bloom.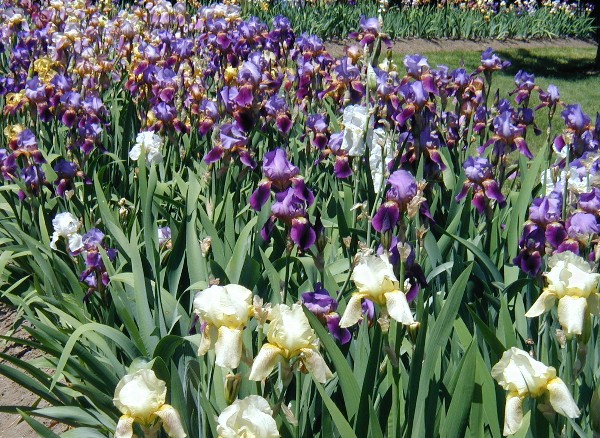 .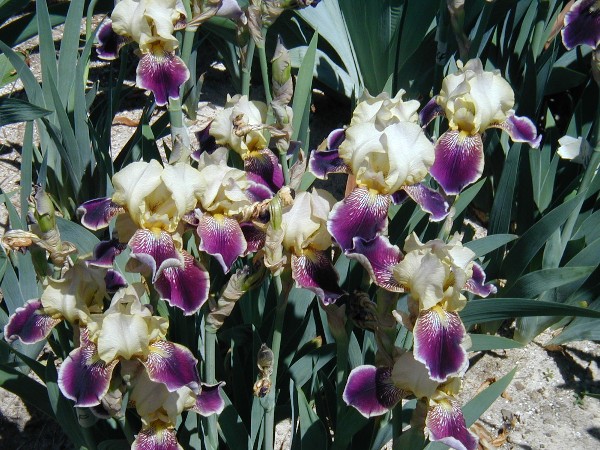 An old fashioned iris, closer to the wild type that gardeners called "flags," with smaller flowers reminiscent of the classical fleur-de-lys.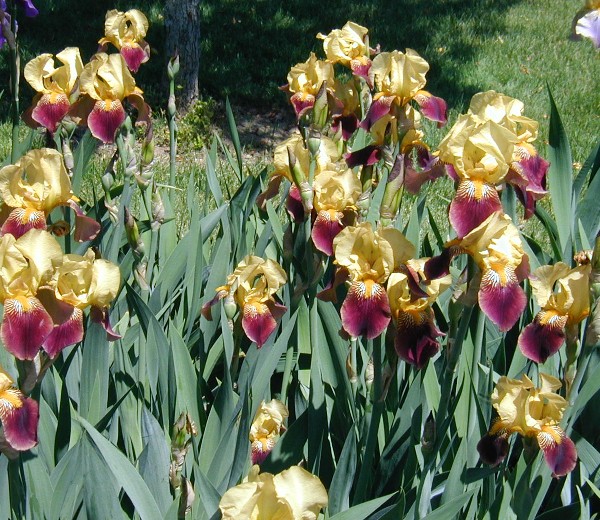 Careful breeding developed sturdy plants with larger flowers and stronger colors.
Not merely more saturated hues, but a wide range of colors. For Iris, you see was not only a messenger of the gods, Homer used her very name for the rainbow, whose arc was often seen spanning between cloud and sea. Goddess of both the sea and sky, her father Thaumas was a sea god, and her mother Elektra a shining cloud goddess. And in bearded iris her flowers come in a rainbow of colors.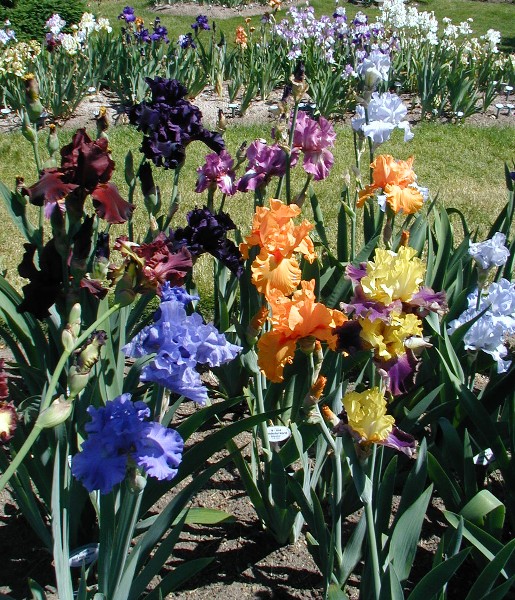 .
Clear yellow bearded iris glow in the bright sunshine, their color the most vivid our eyes perceive under such conditions.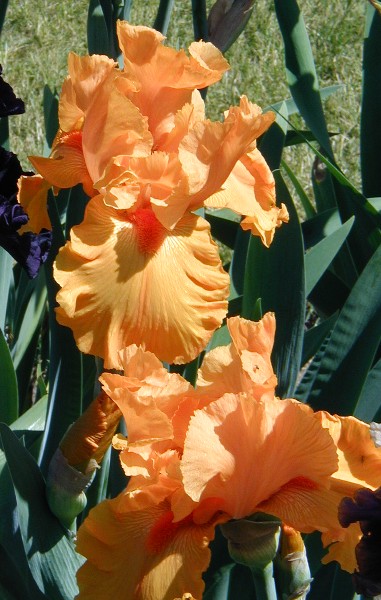 Unreal color, luminous apricot orange with a fiery red beard to guide bees to pollen and nectar.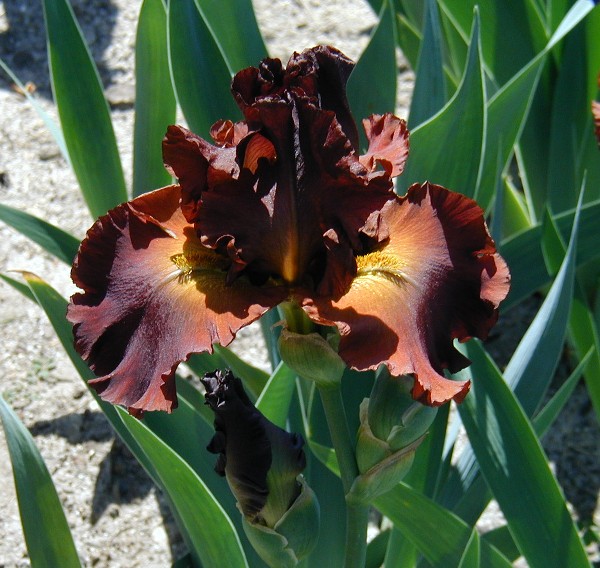 A glowing copper flower, appearing at once as fragile as tissue paper and as strong as the metal.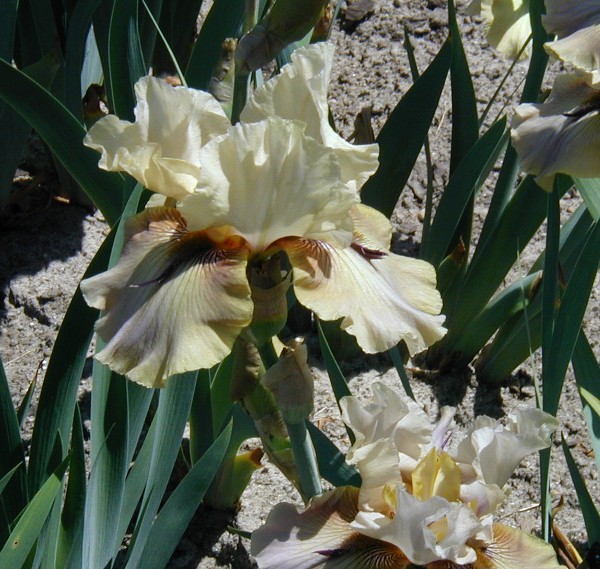 'Thornbird' fascinated me, its pale ecru standards and greenish tan falls set off by dark violet horns at the end of each bird.
Clearly it fascinated those more knowledgeable about bearded iris than I, for it was awarded a Dykes medal in 1997.
I needed an amanuensis. Every iris is labeled with the name of the variety, the year it was registered with the American iris Society, and the name of the hybridizer. But with approximately 2,000 varieties of iris on display I metaphorically threw up my hands and just took pictures without even attempting to keep track. It would have been a daunting task. To my eye there were look-alikes in every hue, distinguished by their placement in separate beds.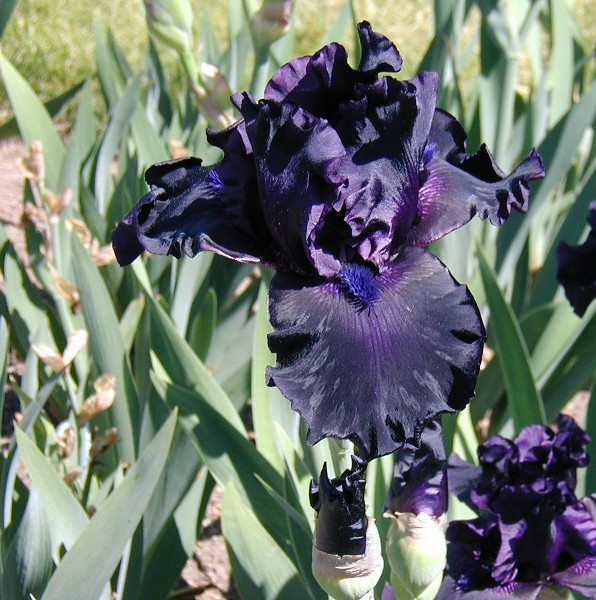 All were lovely. Some were knockouts, like this glistening blue-bearded, all-but-black, beauty.
And artists found their own techniques of interpreting / recording the flowers' passing beauty with more traditional methods than a digital camera.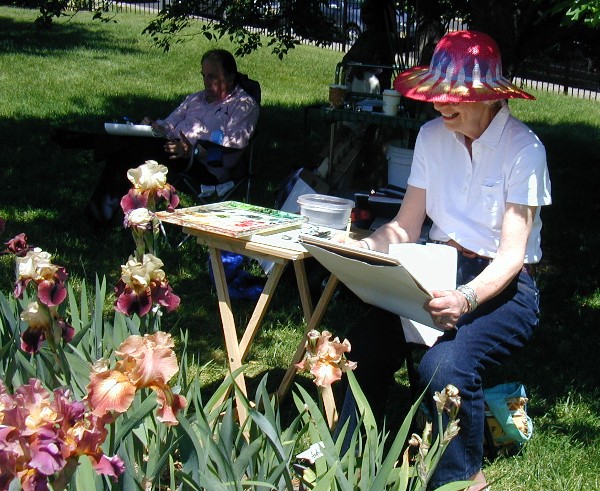 But we all brought home memories of a garden of wonder and delight, filled with irises.
Back to Top
---
Tuesday, 29 May 2007

A Visit to Van Vleck

An exceptional day. The humidity of the weekend and holiday Monday had vanished, making temperatures in the mid-80s very comfortable. Breezes, blue skies, a great day for garden visits. Mary and I had decided on the Presby Memorial Iris Gardens in Upper Montclair, New Jersey. And, suggested Mary, if we were going there, why not also visit Van Vleck House and Gardens in Montclair. She'd never been, did I know anything about it? I'd never been to either place.

Here's a little background provided in the brochure. In the late 1800s, over 125 years ago, the Van Vleck family had a large, private estate on nearly 6 acres. Three generations of the Van Vleck family lived here. The elegant main house, with classic architectural style of a Mediterranean villa on a grand scale, was designed and built by Joseph Van Vleck, Jr. in 1916.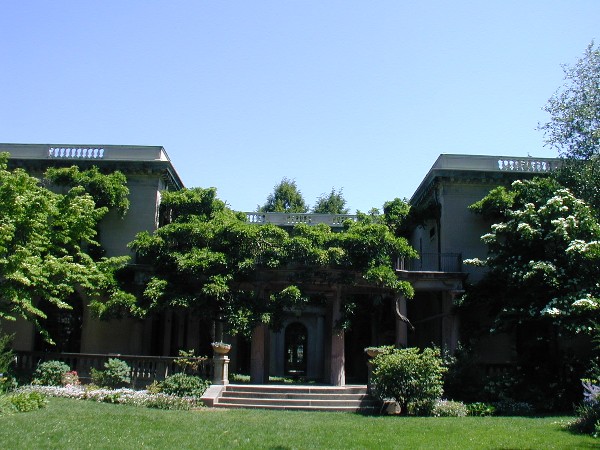 The rear facade of the house displays its formal, symmetrical design.
It is graced with an inviting terrace, classic balustrade, and central steps leading to the garden.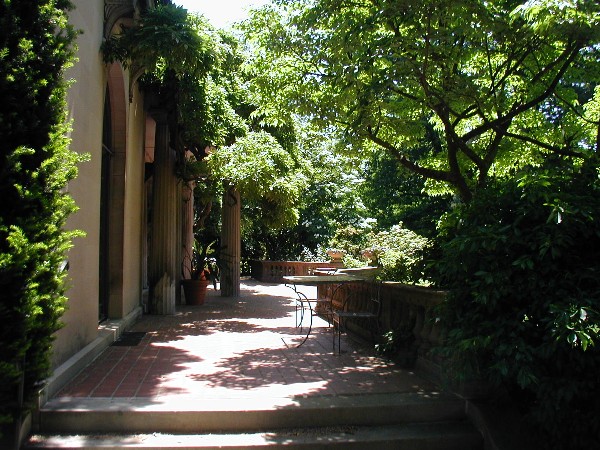 .
A small central courtyard with stately columns is swathed with massive Chinese wisteria, Wisteria sinensis.
Howard Van Vleck, last member of the family to live here, planted the vines in 1939.

The gardens were developed over the last century. Howard Van Vleck was especially interested in ericaceous (acid-loving) plants, which explains the gardens display of a diversity of mature rhododendrons and azaleas, pieris, leucothoe, mountain laurel, and more.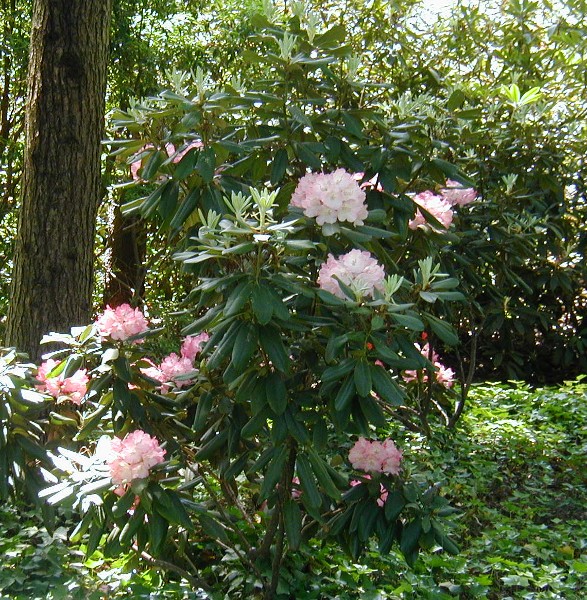 Apple blossom pink, the flower trusses of this rhododendron sparkle in the woodland shade.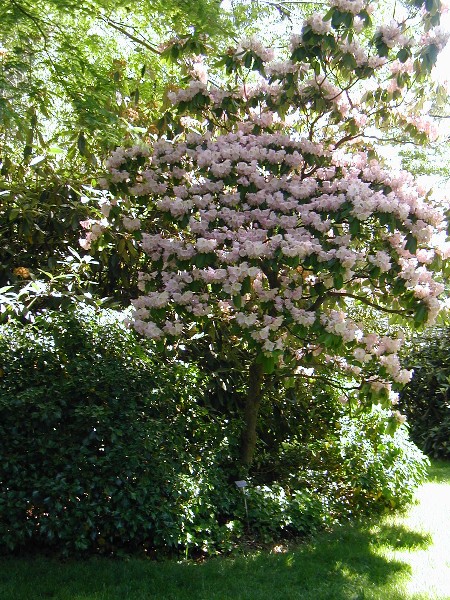 Native to China, Rhododendron fortunei is clearly very much at home,
growing here as a small tree with a single trunk, magnificently in bloom.
Clear true red. Mary and I saw two of these rhododendrons, quite tall, very stately,
the flower trusses glowing where sunlight sifted through to illuminate them.
It is Rhododendron 'Princess Elizabeth',

Many of the plants growing here would be familiar to gardeners with a modicum of knowledge. It's how they are utilized that gives the gardens their serene elegance. For example - a bed of tall mountain laurel, Kalmia latifolia, their sinuous trunks revealed, growing from a bed of pachysandra. That might seem rather stiff, were it not for the fact that hay scented fern, Dennstaedtia punctilobula is also underplanted here. And the tender green fern fronds fill the bed, mask the pachysandra, and soften the mountain laurels' dark trunks. Large shrub and tree bordered "rooms' are carpeted with grass. Intimate paths lead outward from the house and more formal garden, where a pair of flower beds behind the house were attractively in bloom. The elegance of the two borders, completely replanted in 2004, is created with simple plants: Siberian iris in soft blue or white; lady's mantle, Alchemilla mollis, with its apple green flowers; several clumps of a simple, green leaved hosta; heuchera; daylillies not yet in flower; Amsonia with its feathery foliage and steel blue flowers; and some ornamental onions, Allium christophii with metallic violet umbels and a contemporary, taller, white-flowered cultivar.
.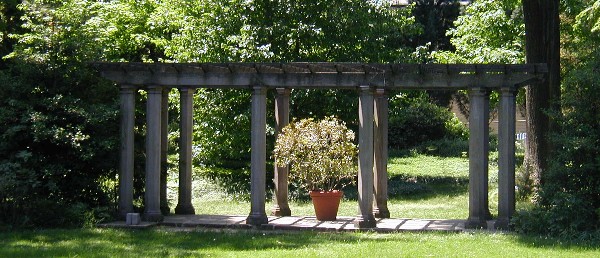 An arbor delineates one garden room from another,
and offers a modicum of shelter to a huge gardenia (unhappy with today's bright sunshine and breezes.)

My first visit here. I want to see the garden when the wisteria is in bloom. But why wait until next year. I saw foliage of Japanese anemone, Anemone hupehensis, which will flower in the fall when the pair of kousa dogwoods, Cornus kousa, one on either side of the terrace steps turn their autumnal hues. I envision the views from inside the house out into the gardens through the courtyard's Palladian windows, when snow dusts twig and branch and evergreen leaf. Enough. I have memories of today. And today was an excellent place to start.

Back to Top
---
Tuesday, 29 May 2007

Turkey Strut

It is a beautiful road we live on: great neighbors, lovely scenery, and attractive wildlife. I was driving back from the post office when I saw a solo turkey. This is odd in and of itself, because turkeys usually flock together. Further, he was laying down. I stopped the car, rollled down my window, and politely asked if everything was O.K. Turkey go to his feet (good, no broken leg), turned around, then laid down again. Stood up again, took a step or two, looked quizzically at me, and then displayed just how fine he was feeling.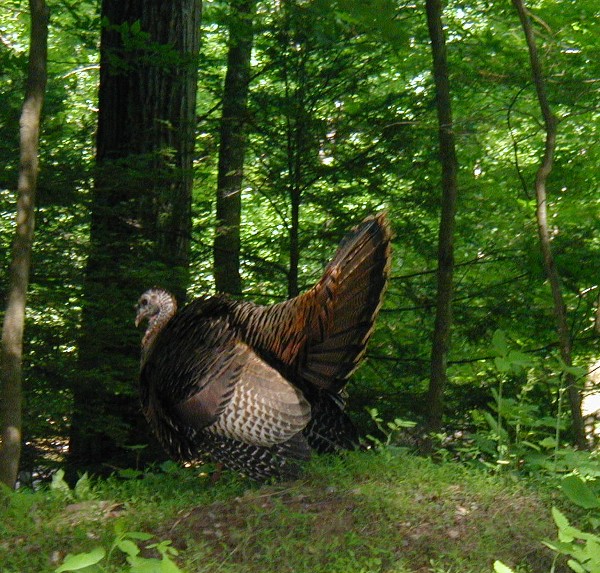 Back to Top
---
Wednesday, 23 May 2007

A Goody Box from Terra Nova

"You got a box." Paul told me when I got home. Hadn't ordered anything that hasn't been already delivered. But there was a label on the outside, inspected by an agriculture department. Goody, goody, it must be plants! I opened it up and found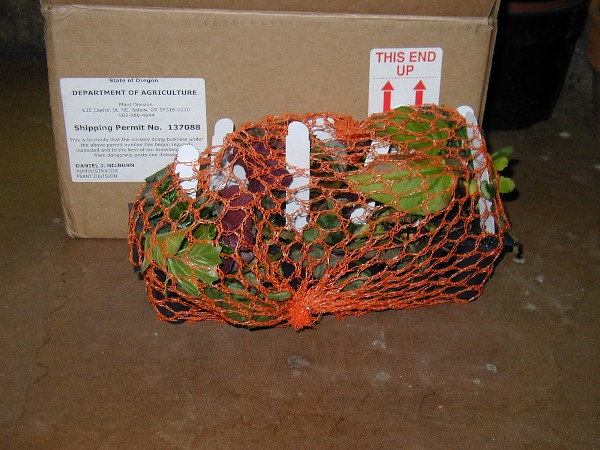 an orange-colored mesh bag stuffed full of plants.

Aha! a look at the labels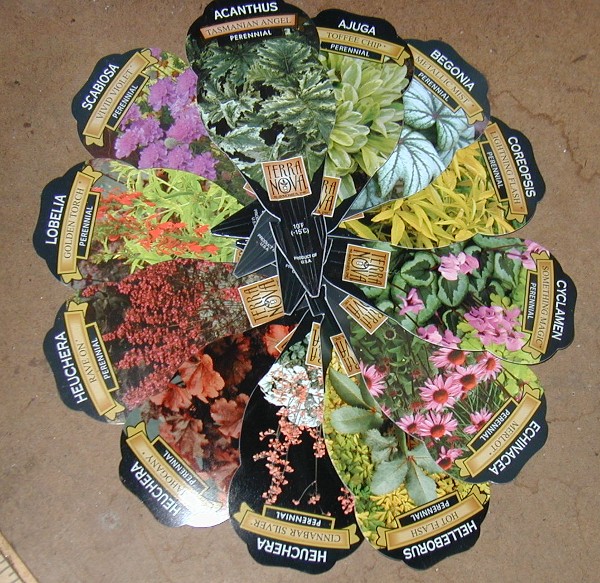 and I know it is a sampler pack from Dan Heims' Terra Nova nursery in Oregon.

Dan's the man when it comes to variegated plants. Heuchera and tiarella, for sure, and a plethora of pulmonaria. He has an eye for plants with foliage in anything but green. Thirteen years ago he and his business partner Ken set up their first propagation / tissue culture lab. Dan searches out the plants, and Ken makes sure there's enough for every gardener with a severe case of horticultural lust. Wholesale only, the nurseries select, propagate, and provide to the trade. In fact, I bought two of their Begonia 'Fireworks' this spring using its deeply cut, rose-purple and silver leaves together with their Heuchera 'Plum Pudding', the lacy silver fronds of Japanese painted fern, Athyrium niponicum 'Pictum', and trailing lavender flowered, silver leaved Lamium 'Beacon Silver' all together in my tool shed / gardener's cottage window boxes.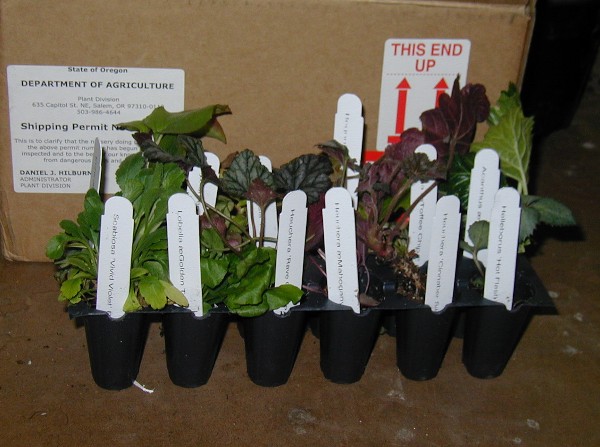 Unbagged, the plants look more sprightly. Except for the begonia. It had a difficult journey across country.
I'm confident it will come around.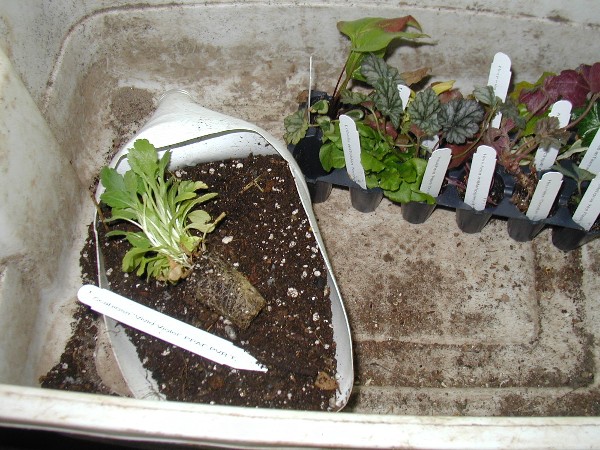 Look at the tight mass of roots on this Lobelia cardinalis 'Golden Torch'. Clearly it's ready to move on up to a bigger pot.

I don't like to set these long-distance travellers straight away into the garden. They're small, and - if scattered around hither and thither where I'd want to enjoy them, might get overlooked, neglected, and die. Sad but true, I get distracted. So my usual technique for young plants such as these is to pot them on, group them in an open cold frame where I can keep an eye on them, and then either move them into the garden in the autumn, or keep them potted but in protected conditions over winter.

First things first. I collect pots and potting soil, then mix up a dilute solution of Jack's Classic liquid fertilizer, with its 10-30-20 NPK analysis. One by one I unpot each plant, tease the roots apart and spread them out a bit. Then I briefly plunge the entire plant, rootball and leaves, into the weak fertilizer solution. Liquid fertilizers can be absorbed through the leaves as well as taken up by the roots. This treatment (good for all except fuzzy leafed plants) helps stressed combat transplant shock. Each is potted individually, before moving on to the next plant.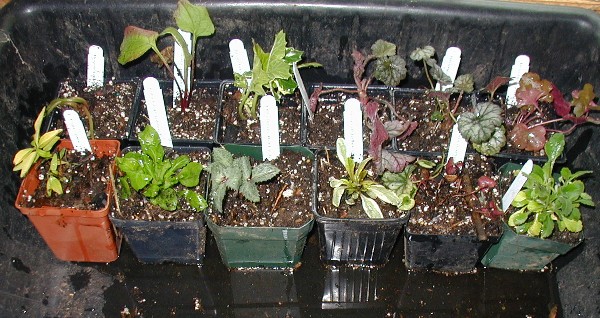 The plants are thoroughly watered with the same dilute fertilizer solution.

A few days in the shade, and sun-lovers such as gold-leaved Coreopsis tripteris 'Lightening Flash' and Echinacea purpurea 'Merlot' with deep blackish burgundy stems supporting 5-inch wide flowers (next year, I presume) can be moved to a brighter location. What fun! As much as a plant sale and I didn't even have to leave home.

Back to Top
---
Wednesday, 23 May 2007

A Hosta Garden in Pennsylvania

I love to visit gardens. Doesn't matter if it is a garden I've visited before, once or many times, or a first-time visit to a new-to-me garden. There is always something to appreciate, enjoy, learn. Today was the day for a Tohickon Garden Club outing, to Water Cullerton's hosta garden in Pineville, Pennsylvania. As parking is an issue we car-pooled, which always makes for a pleasant journey. A moderate drive on a beautiful day, and car after car (seven, if you want to be picky) pulled up and parked in the shade of some mature oaks. The garden is, and isn't, relatively new. Walter and his wife moved to Pineville in 2000. They'd thought the search for just the right place would take a while. Instead, they found this property on the very first day. It had a wet meadow, lovely trees, and - oh yes, a house. Walter moved a number of plants from their previous place in New Jersey. Some made it, others didn't. No matter, he's always finding more. And it's good stuff too. Along with hosta Walter is particularly fond of dwarf conifers. And specimen deciduous trees. Let's not forget shrubs. Hostas too, of course.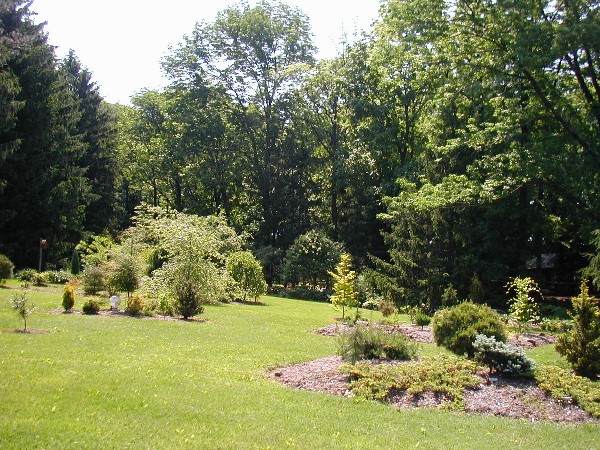 A view across the meadow, including several somewhat mounded beds for conifers and choice deciduous trees and shrubs.
It seems he's almost being swallowed by the foliage, early on in the tour Walter gave us.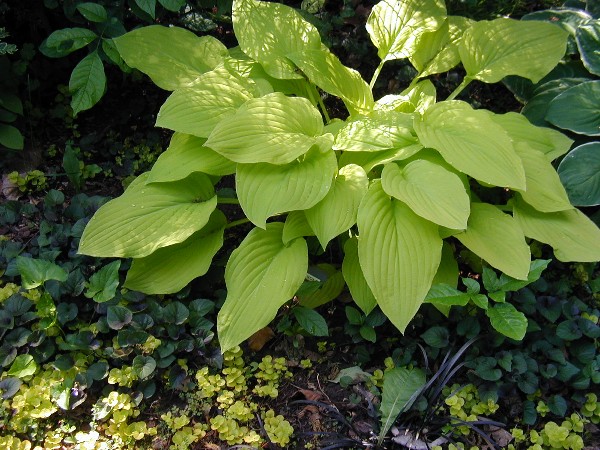 A lovely combination of golden leaved hosta with more golden foliage
in the form of yellow creeping Jenny, Lysmachia nummularia 'Aurea,
enhanced with the deep purple leaves of Viola labradorica.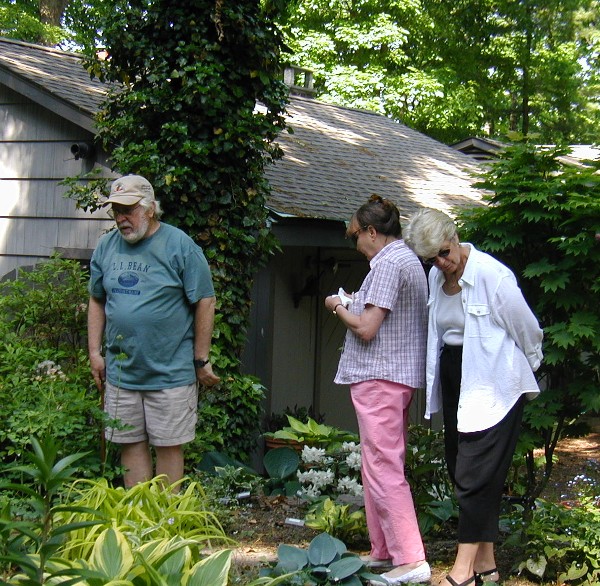 Azaleas and hostas and the golden leaves of spiderwort, Tradescantia 'Sweet Kate'
brighten the garden as much as the dappled sunlight.
One hosta that especially caught my fancy is 'Regal Splendor', an aptly named, crisply white-edged sport of Hosta 'Krossa Regal'.
Walter carried a golf club around with him, using it to point at plants
and also to lean on while commenting or answering questions.
I wonder, is it also used to behead weeds?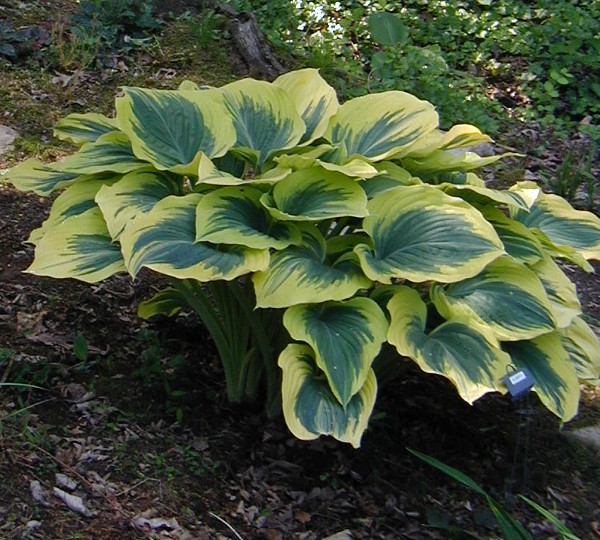 Another beauty is 'Liberty', a large leaved hosta with a wide yellow brim that's a sport of 'Sagae'.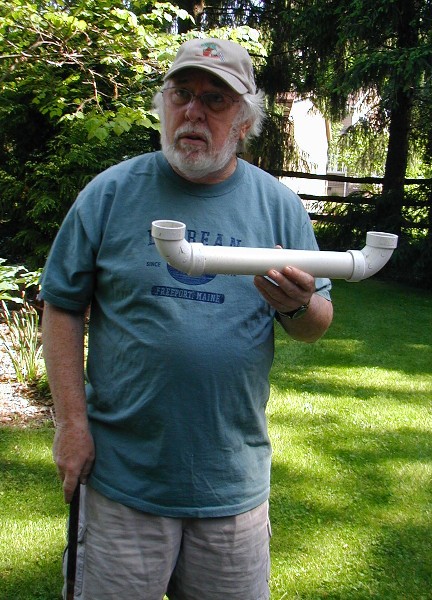 What's this Walter has in his hand? It is a vole trap. Why would anyone want to trap voles, you ask?

They're rather small, even for canapes, on toast. It is because voles tunnel underground and eat roots. With impeccable taste, they eat the roots of your choicest plants. They've eaten all my Japanese forest grass, Hakonechloa macra 'Aureola'. And, it turns out that last winter they are the roots off an entire planting of Hosta 'Halcyon', a lovely smaller blue leaved hosta. So, as Walter explained to all of us, here's what you do.

Buy a length of 1.5 inch diameter PVC pipe. (I went to Lowe's. A 10-foot length costs $5.87, while a 5-foot length costs $4.87.) Cut the pipe into 10- or 12- or 14-inch lengths. Press-fit an elbow on each end. (Basic elbows, no threads or flanges, cost 92 cents apiece.) Go to Agway, or a similar farm and garden supply place, and buy "Just One Bite" rodent poison in the waxy brick form - Walter explained that mice will cache grain, but eat the waxy stuff right away. And voles apparently do the same. Break off a piece of the poison and drop it in the elbow fitting, then push it just into the pipe. Lay the vole trap in the garden near the plants needing protection. The poison bait is out of sight, protected from children, pets, and birds. The voles eat it and quickly die, underground in their tunnels, thus avoiding any accidental down-the-road fatalities from a scavenger eating their carcass.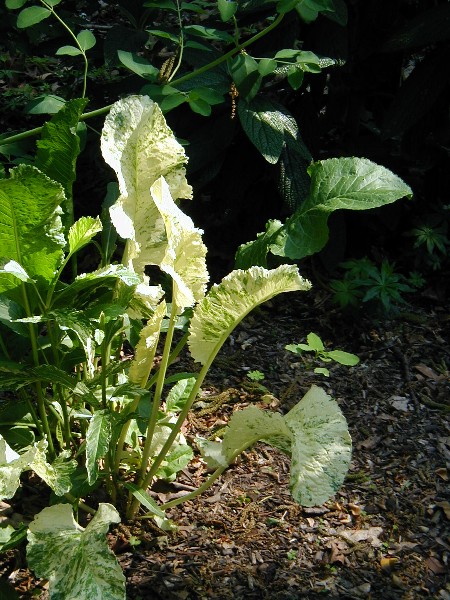 Now if all Walter had in his garden were plants like this admittedly exquisite Armoracia rusticana 'Variegata'
(horseradish to us common folk) it is unlikely that the voles would chew the roots. However he has hostas,
lots of hosta, Japanese maples (and voles will girdle the trunk, chewing off a ring of bark and killing the tree.)
Alas, gardening is not a simple matter. Pests, diseases, weeds, work, work, work.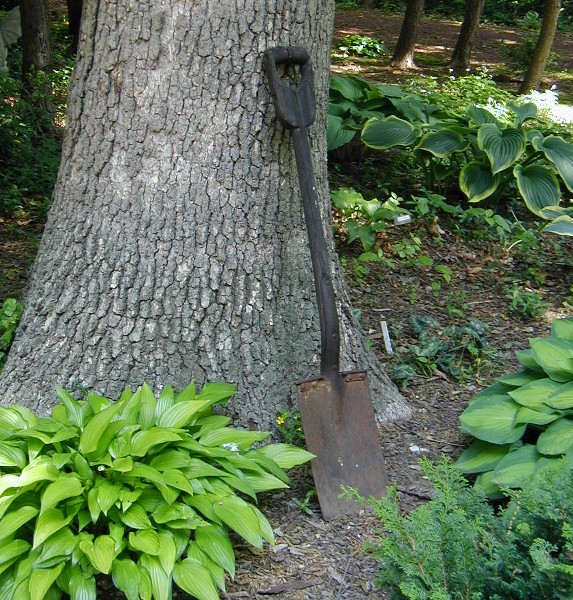 A shovel that's seen plenty or work. Also better days. There are several of these in Walter's garden,
retired from work and now enjoyed as works of art. How appropriate, in this artful garden.

Back to Top
---
Saturday, 19 May 2007

Black Vultures

There I was on Saturday morning, driving along Route 519 heading for its junction with Route 29. My goal was the herb sale mentioned in the following Diary entry. As I came up on a field of tall grasses I noticed a motley crew of black vultures. Though typically thought of as a southern bird, they are found here in Hunterdon County, New Jersey, very well fed on road killed deer. I'm assuming there was a downed deer somewhere nearby, given the number of vultures in the tall grass, as well as those perched on the fence.

I stopped the car, lowered the passenger window and quickly took a single picture. A car was coming up behind me and I didn't want to block the road. As I drove away I glanced in the rear view mirror. And was amused to see the car stopped where mine had been, also clearly fascinated by a closeup look at these huge birds, Nature's efficient scavengers and clean-up crew.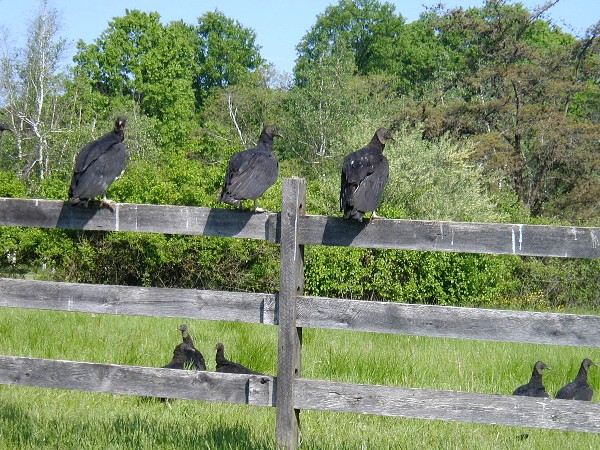 Back to Top
---
Saturday, 19 May 2007

Herbs for Sale

A sale, the newspaper said, hosted by the Delaware Valley Unit of The Herb Society of America. It would be held at The Holcombe-Jimison Farmstead Museum off Route 29 just north of Lambertville, New Jersey. The sale is held every year, on the third Saturday in May. Plants sales are a lodestone for gardeners. At this time of year I'm a collector, acquiring plants faster than they can be planted. No matter as long as I mass them together so pots can be watered and my guilty conscience pricked. So off I went for the modest drive down-river. The sale was in the new pole barn, rafters and joists still soft yellow. Not that I spent much time looking up at the roof's supports. More, at the tables along both walls filled with a wide array of herbs alphabetically arranged up one wall, across the back, and down the other side.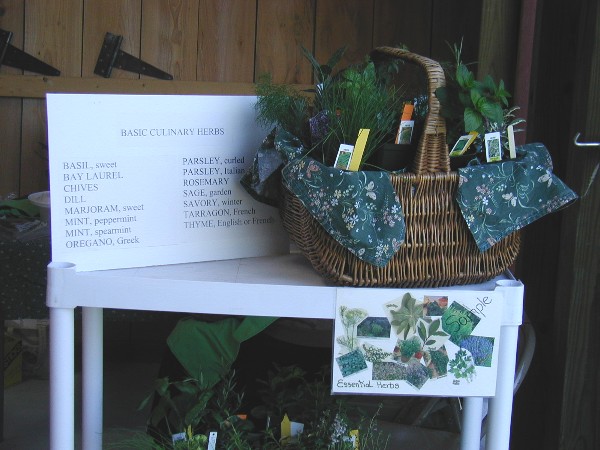 Before I even got to the sale plants I stopped by the door
to admire a decorative basket artfully filled with basic, familiar culinary herbs.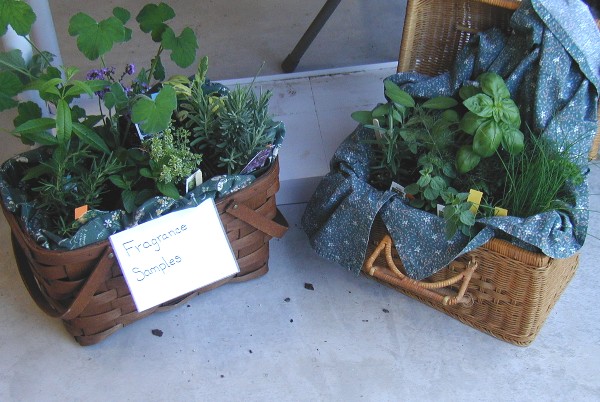 Two other baskets displayed fragrant herbs such as rosemary, lemon verbena,
peppermint-scented geranium, lavender, heliotrope, and more. The other basket
held basil, sage, chives, oregano, and other herbs popular for Italian cuisine.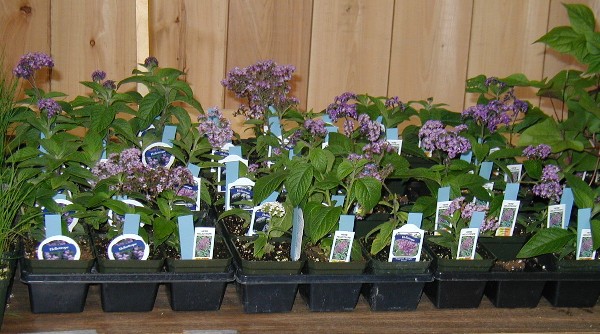 Just look at the pots of heliotrope, and see how lovely they are, sturdy plants already in flower.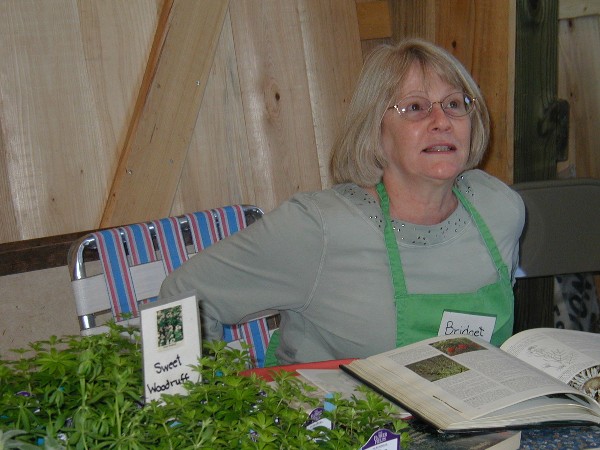 They had a Help Desk, staffed by members ready and willing to answer questions.
And if they didn't know the answers, they had books available where they could research the information.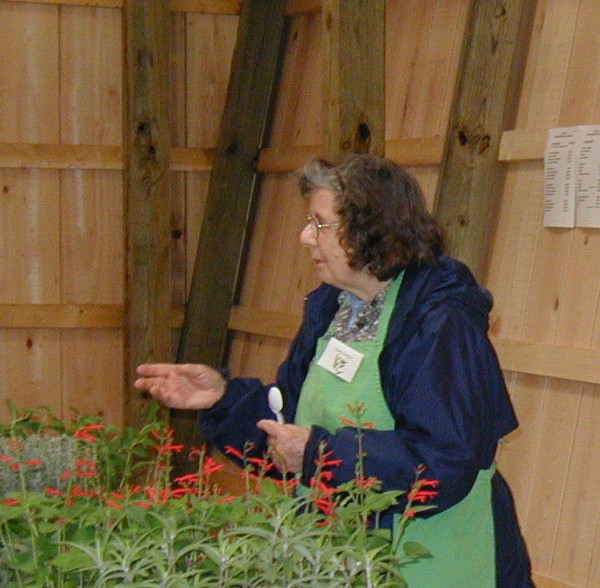 The same level of enthusiasm was clearly evident behind the sales tables, as here by the pineapple sage.

I bought heliotrope for a couple of summer containers, several pots of alpine strawberries, a couple of different basils (there were so many it was difficult to make a selection), a tall rosemary trained to a single pole-like stem, a lemon verbena, and more. What I really wanted though, wasn't there this year. Not to be confused with our native sweet cicely or sweet jarvil, Osmorhiza probably claytonii or maybe longistylis, just coming into flower in woodland and along roadsides, the other sweet cicely or garden myrrh, Myrrhis odorata, is truly a pass-along plant. Seed has an all-too-short viability, and older plants don't appreciate disturbance. It is one of the "sweet" herbs, and leaves are pleasant snipped and sprinkled over melon or a summer fruit salad. However that's not why I wanted it. Sweet cicely is one of the few herbs that grows in the shade, and its fern-like leaves and white Queen Anne's lace-type flowers combine charmingly with hosta.

"Betsy brought some in last year." I was told. "Talk to her." She was pointed out to me, and over I strolled pulling my little blue wagon with pots of herbs (and the big rosemary laid on its side before it could topple over on its own with potentially unhappy results.) Yes, she'd brought some to the sale last year, but had not this year. Why, suggested Betsy, didn't I come to her place, The Tinicum Herb Barn in Erwinna, Pennsylvania, and dig some seedlings. A few days later so I did (telephoning first) and came home with 6 young plants to settle into my garden. Betsy has a charming herb garden, an interesting barn, and a zany young dog with big upright ears, a pink nose, and pogo sticks for legs that propel her effortless around and over and along with the enthusiasm of all young critters in springtime.

There are two afternoon classes coming up at The Tinicum Herb Barn in June. A Bowl of Herbs is scheduled for June 3rd Students will plant a container of herbs for sun or shade, patio or windowsill, that they will then take home. Scheduled for June 30th is Spring Herbs in the Kitchen. Students will explore herbs growing in the garden, harvest a selection, then make some tasty treats to sample before going home with recipes to try out on their own. E-mail Betsy at Tinicumherbbarn@aol.com for more information about these and other up-coming events.

Back to Top
---
Wednesday, 16 May 2007

Consider the Leaf

Today I taught GAR 265 Fabulous Foliage for the Shady Garden at The New York Botanical Garden. Why foliage, what makes it fabulous, and why especially for the shady garden? Briefly: most perennials flower for about 2 or 3 weeks. Perennials in woodland gardens generally flower in the spring before the trees leaf out and close the canopy to sunlight. Some of these perennials, such as bleeding heart, Dicentra spectabilis and Virginia bluebells, Mertensia virginica, do what bulbs such as daffodils and snowdrops do. They go dormant shortly after flowering, leaving a gap in the garden. Leaves on the other hand, can provide garden interest for significantly longer, 6 or 7 months. Leaves don't need dead-heading or staking. With a little forethought to combinations, a garden all in green can be attractive throughout the growing season. What's more, there are perennials for shade with silver, gold, red to purple, and variegated leaves. So you are not even restricted to the various shades and hues, permutation of greens in order to have an attractive shady garden after the Spring fling.

If you want to know more, either sign up for the class when it's given next year, or buy my book. Or both.

Consider the Leaf: Foliage for Garden Design
"A substantial read for serious gardeners." - Bookseller
"Writing in an engaging style that should inspire gardeners regardless of skill level, . . . Glattstein shows her value as an instructor." - Booklist,

The day before class I had stopped at a garden center and bought several shade-tolerant perennials for show-and-tell: several heuchera, a hosta, a tiarella, a lady's mantle, a couple of different coleus and some fibrous-rooted begonias with copper colored leaves. I went into my garden and picked samples of Christmas fern, Japanese painted fern, lungworts spotted and silver, and more. These samples and examples, together with several different books for display and a carousel of slides would make an excellent presentation for the nine students registered for the class, even if the weather didn't cooperate. While the weather did segue from sunny to torrential rain, at least it waited until I was driving home, thus allowing me to take my students out on the grounds (one of the benefits of teaching here - we get to look at actual plants, not merely their pictures.)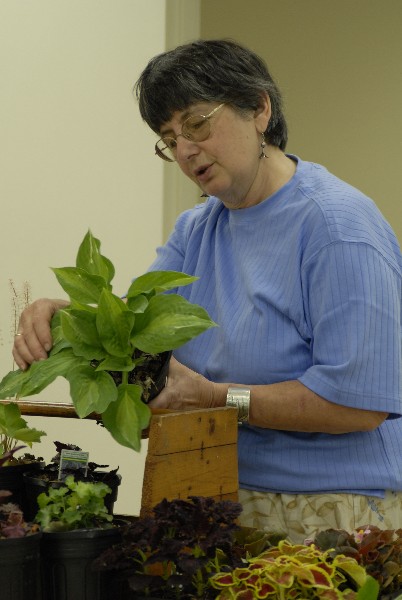 Photograph Credit Danielle Colburn 2007. Image courtesy of the New York Botanical Garden. All rights reserved.

I can't help it. I fondle leaves. Don't seem to be able to talk about them unless I'm making nice.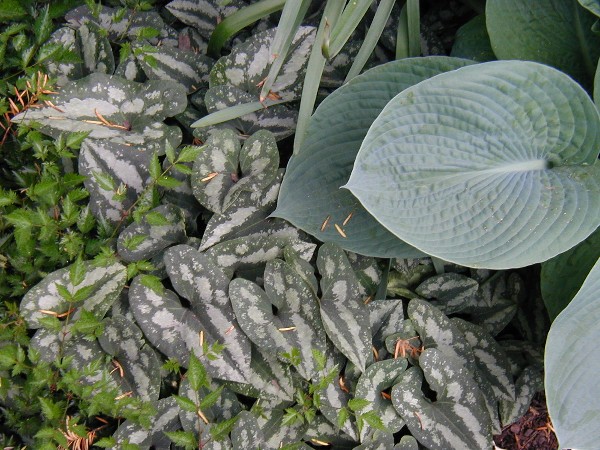 A glaucous blue hosta and an Asian ginger, Asarum splendens.
Attractive patterning on the ginger, but its leaf shape and that of the hosta are much the same.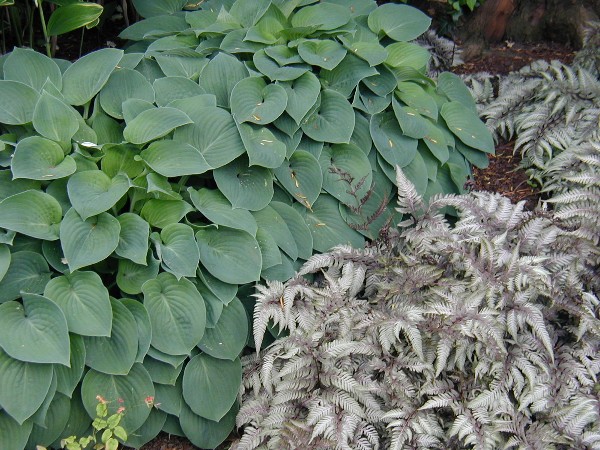 Perhaps, as Emeril likes to say, "Let's kick it up a notch. Bamm!"
What's not to like in this pleasing combination of a glaucous blue hosta and the silver fronds of Japanese painted fern.
I'd like to see the ginger and fern together. Now that would be quite nice.



Photograph Credit Danielle Colburn 2007. Image courtesy of the New York Botanical Garden. All rights reserved.

Out on the grounds I point out some aspects of foliage in the shady garden to my students.

At day's end I like to think my students went home with some practical ideas for improving their shady gardens. Often it is as simple as rearranging plants that are already growing there, just giving them more suitable partners. After all, what's a garden but a place where we grow plants, combining them so they look better together than they do separately. Especially in the shade where foliage can be - dare I say it, simply fabulous.

Back to Top
---
Saturday, 12 May 2007

Rutgers Gardens Spring Plant Sale

Really, it's all a matter of getting from here to there.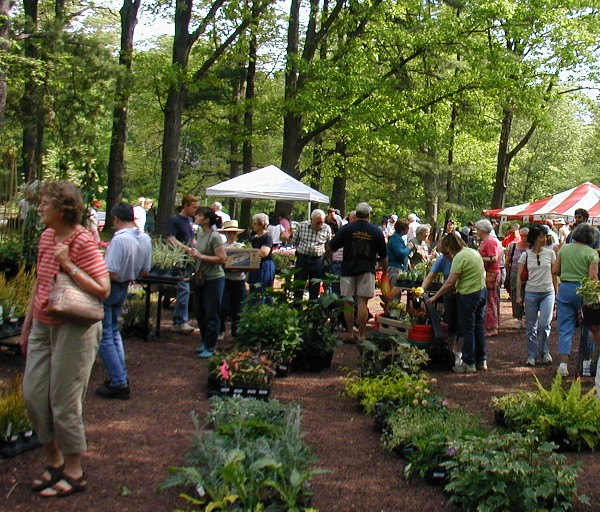 "Here" is where the plants are: trees, shrubs, perennials, annuals, bananas and cannas and more.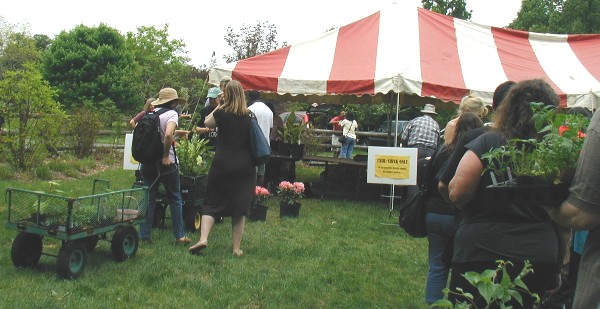 "There" is the check-out line where you hand over money - cash, check, or credit card -
and the plants become yours.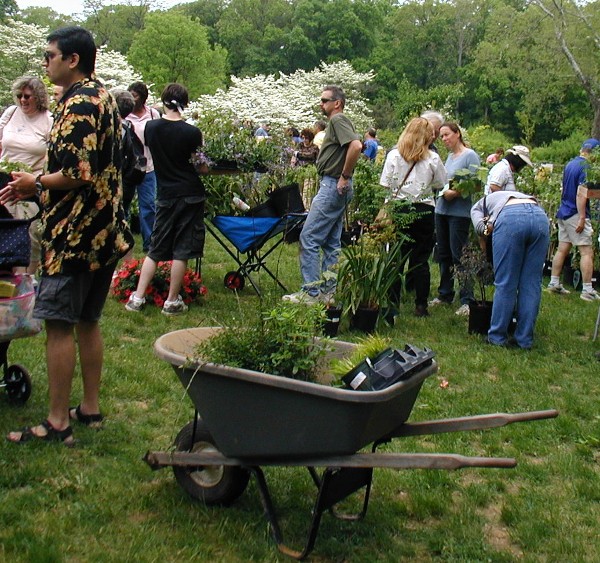 Honest horticultural lust means eager shoppers never settle for a single pot.
There's your basic wheelbarrow, unwieldy and likely to tip over. However,
eminently suitable for parting the throng to get to the next must-have plant.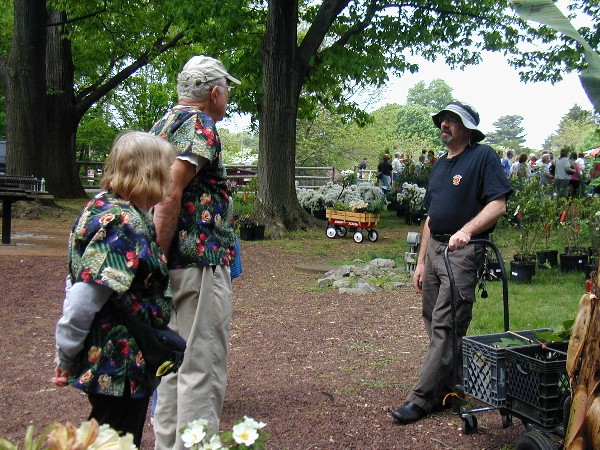 Bea and Jerry chat with a fellow who has cobbled together a nifty device
from several milk crates and a handcart.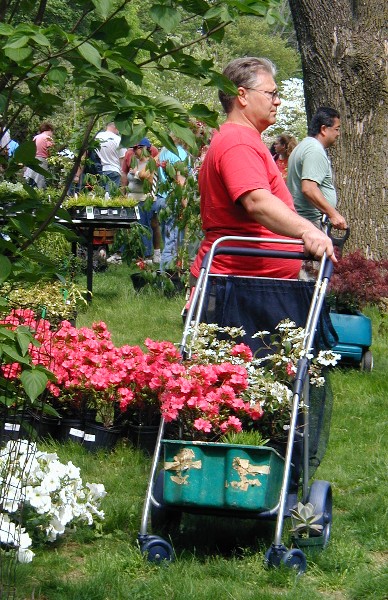 A baby stroller filled not with young children
but rather with young plants.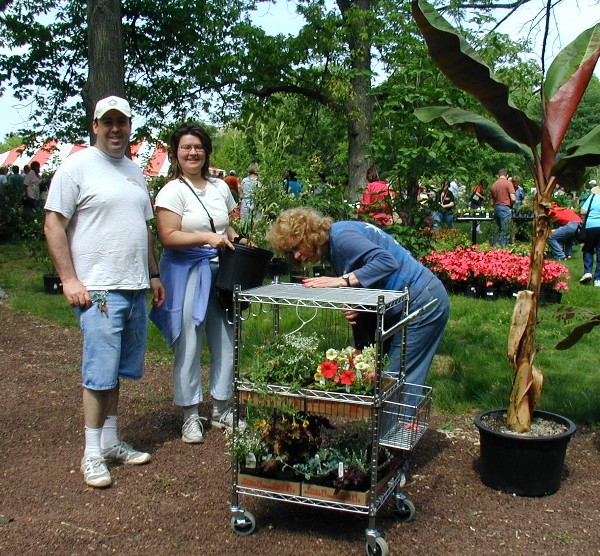 A rolling kitchen cart is suitable for smaller plants. Issues might arise
with larger ones. For sure that banana would present problems
even if it was hoisted up top.

Me, I brought my son's old coaster wagon, little red wagon painted blue. Amazing how some rearrangement
and dedicated wedging allows yet one more plant to be shoe-horned into an already filled cart.
And after I'm home comes the real work - getting everything planted!

Back to Top
---
Wednesday, 9 May 2007

Another Garden Near Baltimore, Maryland

Perspicaciously, I scheduled my return home on a midday train, thus allowing time for another garden visit in the morning. Going by the two gardens I visited, and the enthusiasm and expertise of the audience for my lecture I'd say horticulture is alive and well in the Baltimore area. This morning's garden is quite different from that of my hosts. Not merely that it is smaller, either. It is somewhat more formal, and definitely more colorful. Large tender plants are wintered over in a temporary hoop house erected over the drained lap pool - a clever dual-purpose use of the space. There's use of seasonal plants, both in the ground and in containers. Masses of tulips, successful thanks to the deer-excluding fence.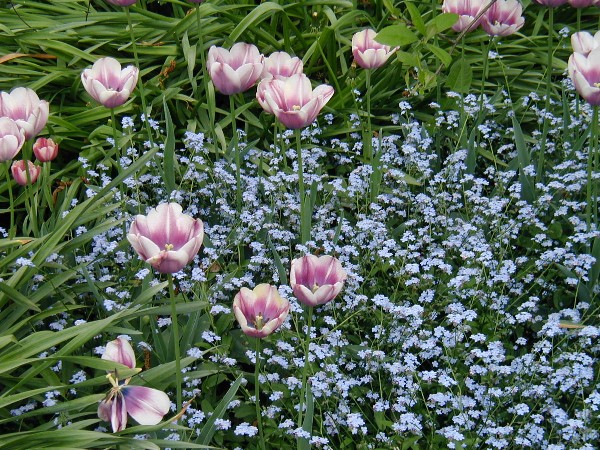 Sensitive pairing of tulips in a sea of soft blue forget-me-nots is a lovely evocation of Spring.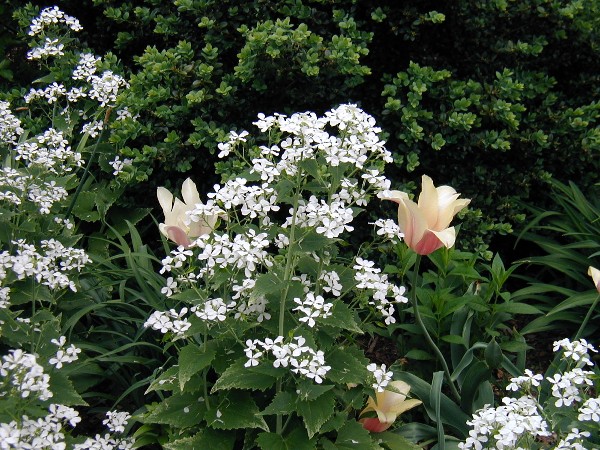 White flowers of honesty, also known as money plant, Lunnaria annua, pair charmingly with rose-flushed white tulips.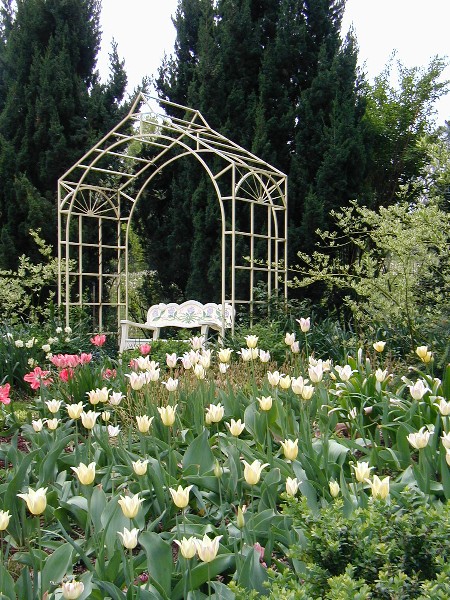 Masses of 'White Triumphator', a lily-flowered tulip, sweep up towards an airy gazebo / arbor.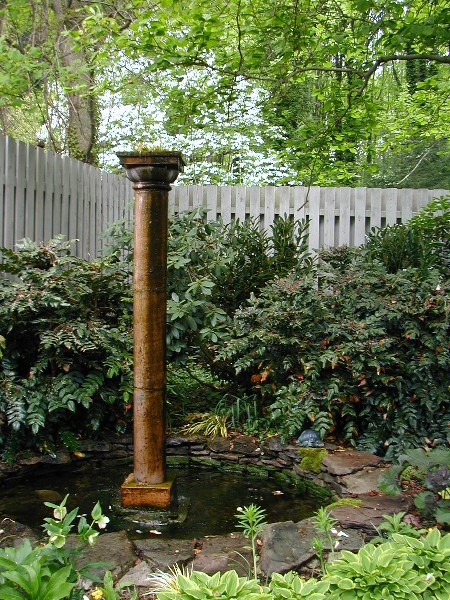 This garden presents its visitors with artful nooks offering a visual reward to a leisurely stroll.
A simple water feature gently drips water from a high column, a Little and Lewis piece of garden art.
A large flowered euphorbia, brought out from its winter quarters, clipped back, and
set in front of a waterfall of foliage provided by a Japanese maple, its leaves of similar rosy hue.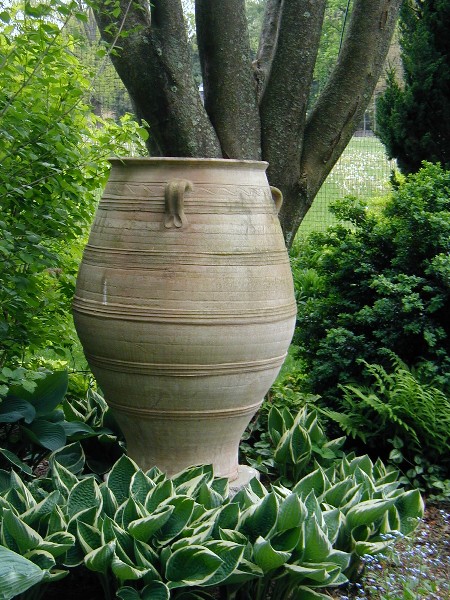 Containers in a garden are usually filled with plants. This splendid oversize jar is decorative on its own.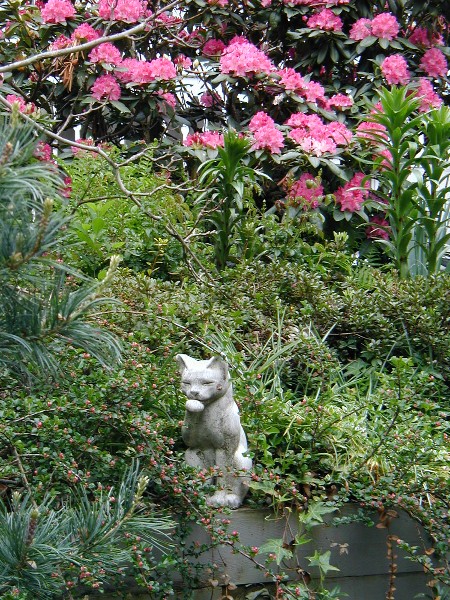 A charming statue of a cat sits partially amidst the shrubbery, sedately licking a paw.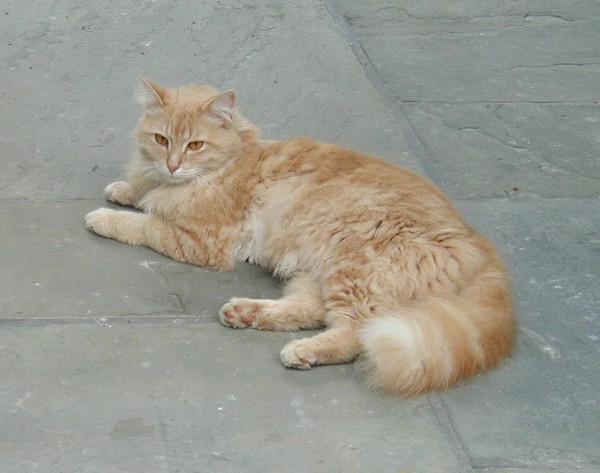 Puff lounges on the terrace, also (and deceptively) appearing sedate.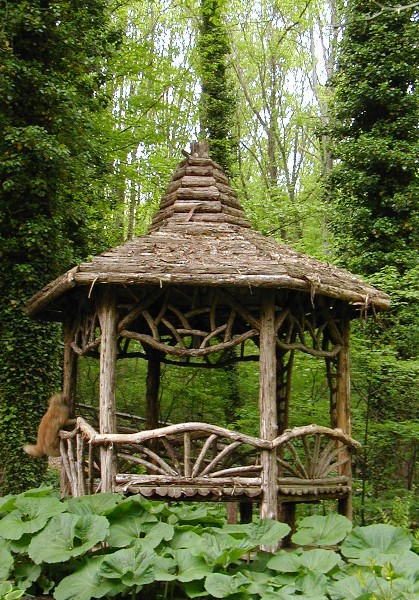 Accompanying us on our walk to the woodland garden Puff finds the rustic gazebo powerfully attractive,
scaling its heights in a flash of of orange fur, and plume-y tail for rudder-like balance.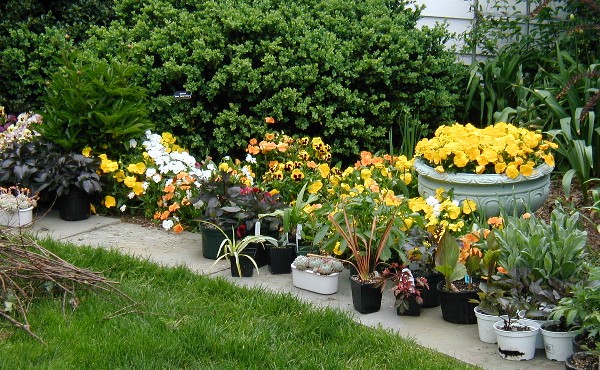 Pots of annuals grouped along the walk indicate a garden about to be tweaked and embellished for the summer.
Clearly, this is a garden that welcomes returning visitors with something new and delightful as they stroll down the garden's paths.

Back to Top
---
Tuesday, 8 May 2007

A Garden Near Baltimore, Maryland

Early in May I took a leisurely two hour journey by Amtrak to Baltimore, Maryland. That evening I was to give a lecture to the Maryland Horticultural Society, and thought a relaxing train trip would be more comfortable than driving there by car. I was met by my hostess, who took me out to lunch at a very pleasant place with a patio for outdoor dining. Refreshed by a chicken, bacon, and avocado sandwich, a glass of iced tea, delightful conversation (and my first outdoor meal of the year) off we went to her house.

Her husband bought the 10 acre property about 50 years ago. As first they just went there for picnics with their young family. Becoming enamoured with the stately trees native to the site, he began to study and learn about the sylvan community. With knowledge came the wish to develop the property. Not, as is so often done today, by stripping away all that made the land so attractive to begin with, but rather by tending the trees through selective removal and pruning, adding others, planting shrubs, perennials, ground covers and bulbs. Oh yes, they built a house ten years later, a low, one-story contemporary that fit into the landscape. Today there are winding paths that entice the visitor into a slow stroll into the 5 acres of Japanese maples, azaleas and rhododendrons, pieris, leucothoe, and more. Though mature, the garden is not done - as my hostess and I arrived, there were her husband and a worker planting more trees. He was the one with the shovel in his hand, briskly chopping at the soil to level it under the new tree's root ball. Gardening, I truly believe, getting your hands dirty, keeps you happy, keeps you young at heart and looking forward to another day / week / season in the garden.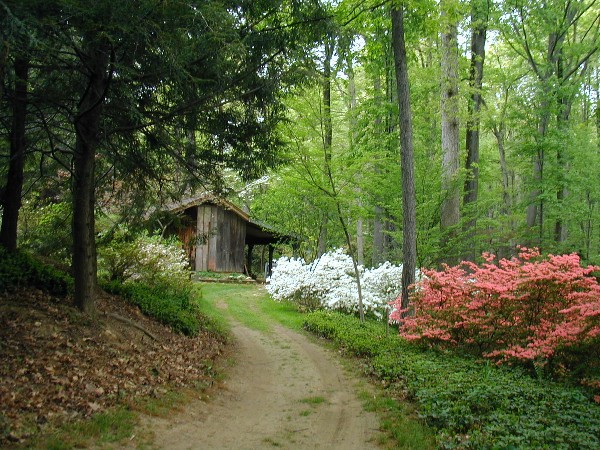 A broad path functions as a road along the back of the garden, leading to the building where tools and equipment are stored.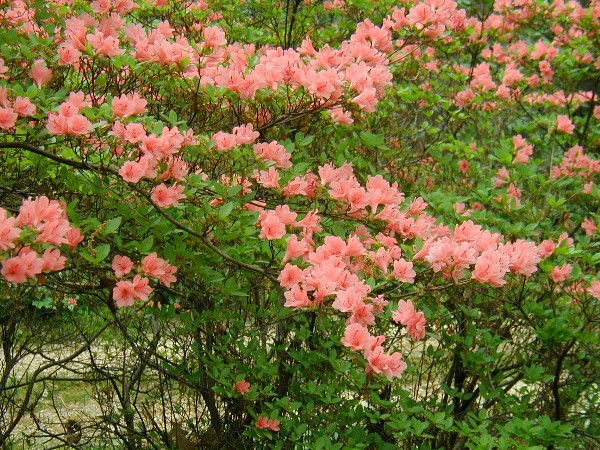 Safely fenced against voracious deer, azaleas thrive, draping themselves with bounteous May flowers.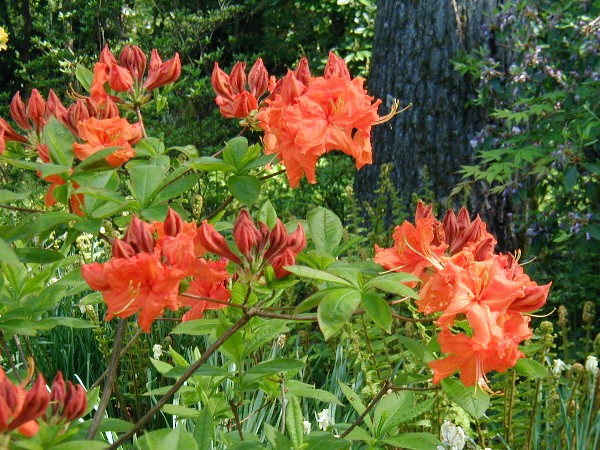 Some are soft pink, others scarlet red or pristine white. This azalea is flamboyant orange.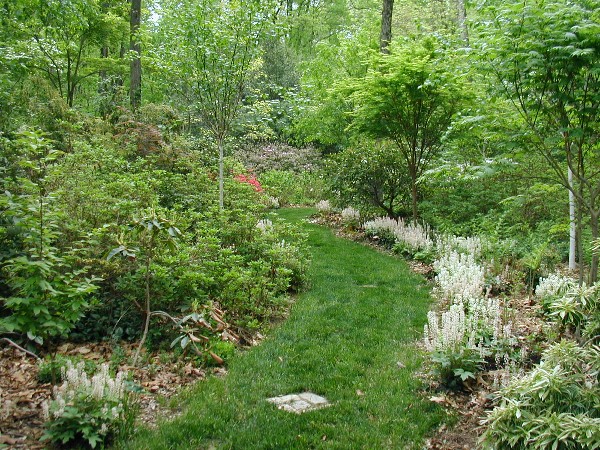 This grassy path is embellished with inset cobblestones, an invitation to the casual visitor.
Foam flower, Tiarella cordifolia, is a signature plant that edges several of this expansive garden's paths.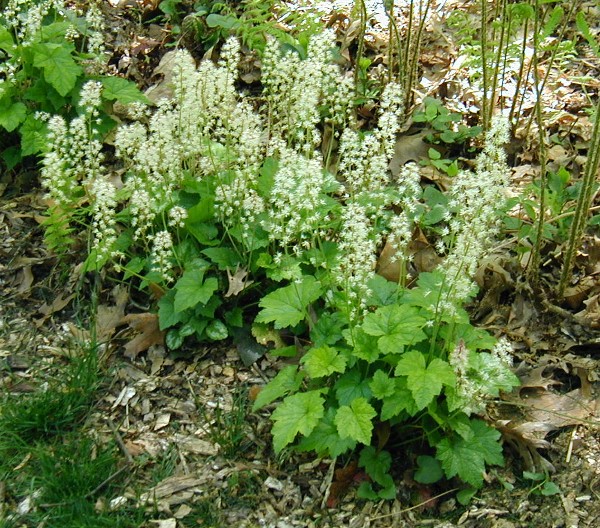 A closer view reveals its froth of flowers, and the pleasing foliage that will continue to appeal
even after the flowers fade away.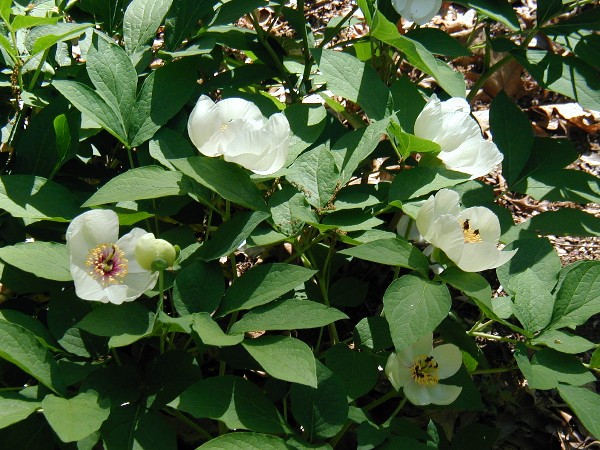 While trees and shrubs predominate in this garden, choice perennials are also well displayed.

The elegant white flowers of Paeonia japonica glisten in the dappled shade.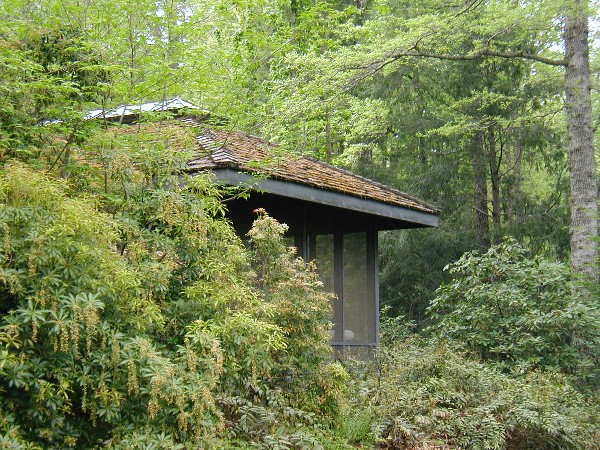 The shingled roof and screened "walls" of a summer house make it an inviting destination.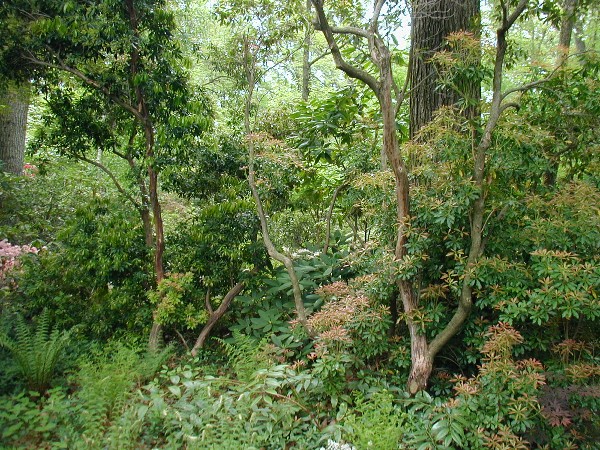 So often shrubs are pruned into dense, stunted, geometric, leafy masses.
Here skillful pruning is used to reveal the sinuous trunks of Pieris japonica.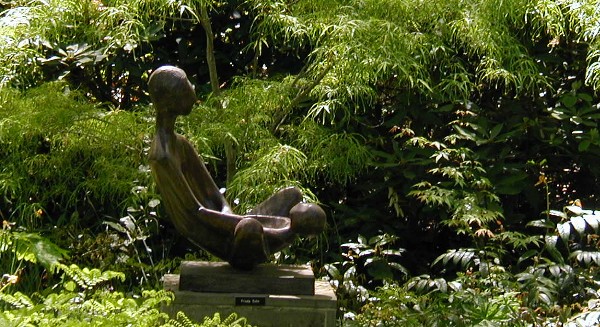 Statuary embellished the garden, in tandem with the plants.
A superb mature Japanese maple with leaves of soft green
creates a backdrop for this bronze of a mother and child.
A svelte fox alertly peers from amidst some ferns.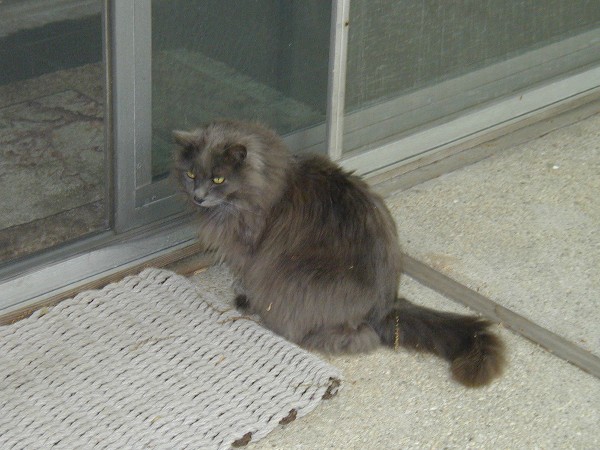 And what would a garden be without a working cat? Smoky is the organic pest control device
charged with reducing the mouse, vole, chipmunk population.

I'm sure this garden is splendid 365 days a year. However I cannot but believe that my all to brief visit in early May fortuitously brought me here on a wonderful day in May.

Back to Top
---