Garden Diary - February 2007
---
If you have any comments, observations, or questions about what you read here, remember you can always Contact Me
---
February
---
28 February 2007
Recycled Into An Endangered Species
The Tohickon Garden Club of Erwinna, Pennsylvania had a challenge for this month's meeting. Use recyclable materials to create an endangered species. The creativity necessary to take "stuff" and envision how to turn it into a model of something else is the sort of thing that leaves me at the starting gate. Clearly though, we have a couple of members well able to turn straw into gold.
Take a cardboard cracker box tube, and another tube from wrapping paper. Twist ties, twist closures from coffee bags, rubber bands, and a coffee filter. Include a brown paper grocery bag, some glue, and acrylic paint. Add 2 hours to create . . .
.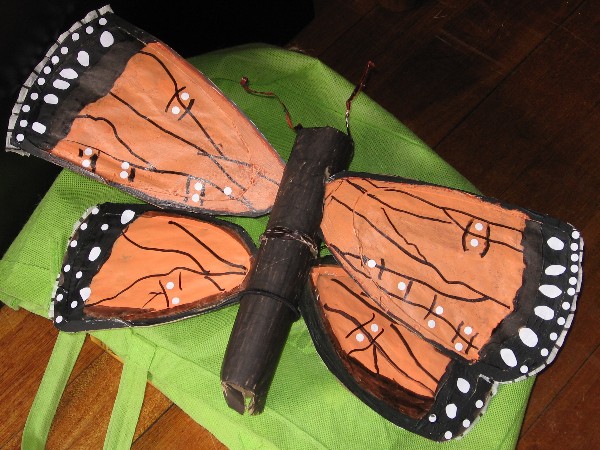 Lange's Metalmark Butterfly
Photo credit Joan Carter 2007
Or, with three 2-liter clear plastic soda bottles, toothbrush bristles, styrofoam meat trays, styrofoam hot drink cups, a packing sheet, plastic newspaper wrappers, tremendous imagination and endless patience . . .
.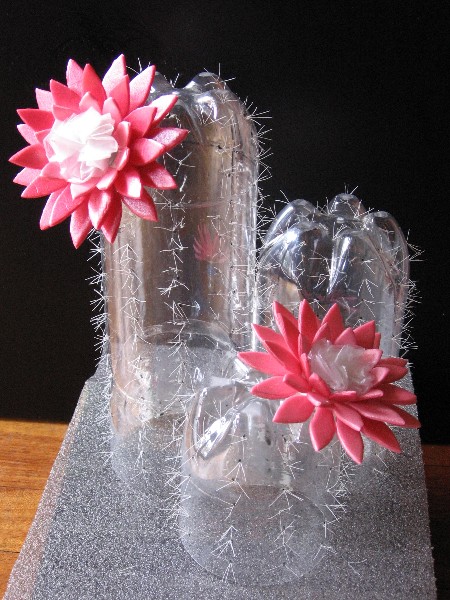 Black Lace Cactus, Echinocereus reichenbachii
Photo credit Joan Carter 2007
Phenomenal.
---
28 February 2007
Coming Up This Weekend
It's almost March, and that means flower show season is here, there, and everywhere. Maine is hosting the Portland Flower Show early in the month, and Bangor has one near the end of March. Early on there's the Central Massachusetts Flower Show , and the New England Spring Flower Show in the middle of the month. New Hampshire has the Seacoast Home, Garden & Flower Show so late it spills over into April. There's the mid-month Gardenscape in Rochester, New York. The major player in the flower show hoopla, the Philadelphia Flower Show, opens on March 4 and runs through March11. Rhode Island, Vermont, Long Island all have shows - and that's just the East Coast.
Me, I'm going to Charlotte, North Carolina.
The Southern Spring Home & Garden Show is a major garden event in the South, drawing over 60,000 attendees, to be held from Wednesday February 28 through Sunday March 4, 2007. This year, for the first time, Garden Design magazine is a media sponsor. And I will be one of their 'Living in Luxury' day premier speakers. In their words, "Judy Glattstein, a celebrated speaker and writer on garden topics. Expressing her passion for plants, Glattstein delivers the dish on Garden Design magazine's hot new plant selections for 2007. These showstopping plants - shrubs, trees, tropicals, grasses, bulbs, perennials and annuals - will be presented in detail for the benefit of residential gardeners. All guests will have the opportunity to see noted selections on display in our booth opposite the stage."
This is going to be fun! Of course I'll provide an update afterwards.
---
15 February 2007
Real Winter
It's not the North Pole he's headed off to. It's an expedition to the bottom of the driveway. We parked the cars down there yesterday, before the snow and spicules of ice came sleeting down. Interesting, because yesterday never got that close to freezing. Must have been a warmer layer of air where the raindrops formed, then colder near the ground so it froze on the way down, bouncing off the windowsills, rattling on the metal roof of the wood storage area.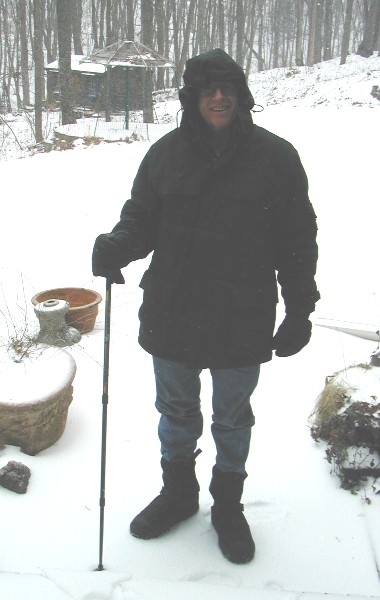 Dave plowed the driveway late yesterday afternoon, and today was sort of sunny, but also quite cold and rather windy. So Paul bundled up well before going down to shovel the cars out this morning. Came back up for the silk glove liners, his hands were so cold. Got his car (all wheel drive) up just fine, but decided mine (front wheel drive) wasn't going to make it.
I went out after lunch and scatter calcium chloride snow-melter around, especially in the tire tracks from his car. Waited until mid-afternoon to try to retrieve my car. Up the ski slope, I mean driveway, in low gear. Doing just fine until I got to the curve at the top where the driveway steepens just a little more. And the car just stopped. Bits of compacted snow spattering past the window, tires probably spinning, getting no where. Ease off the gas, step on brake, give it a little gas, skip a smidge forward, repeat, repeat, onto bare pavement, and forward we go into driveway.
When did they say it will be spring?
Back to Top
---
3 February 2007

Real Wood

It's winter (obviously), the weather has been bitterly cold with little snow, and gardening seems forever away. In other words, cabin fever. In part just for fun and in part for . . . not quite sure what to call it Paul and I are now Creek Road Crafts. I will be selling specialty preserves. And Paul will offer woodcraft items. Accordingly, off we went today to Agincourt Lumber in Hillsboro, New Jersey.
Now, I know one can trundle off to any of the big box stores and buy lumber. Feh! to call it lumber is to insult trees. I have to cherry-pick through a dozen boards to find one that is not cupped, warped, or otherwise defective. Then, force-fed like the arboreal version of a Strasbourg goose, the growth rings are so wide apart the structural strength of boards just isn't what it used to be. What's on offer is mostly softwood (grows quickly) with a little oak or maple. But characterless.

So as I said, off we went to Agincourt Lumber.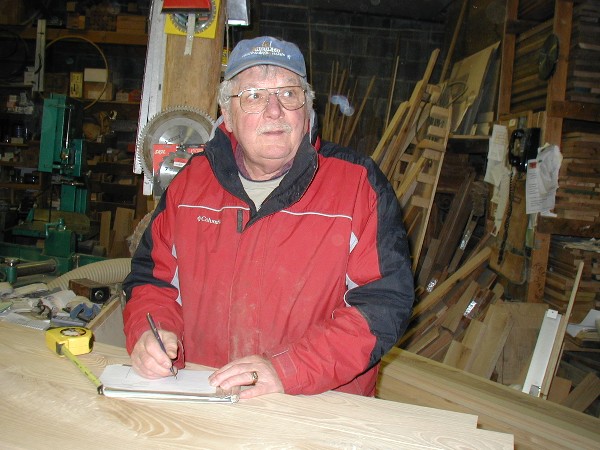 Frank Martin knows about wood. And those who appreciate wood, appreciate Frank. I called in the morning to be sure he was around. "He's off getting a couple of logs." I was told. "He'll be back later."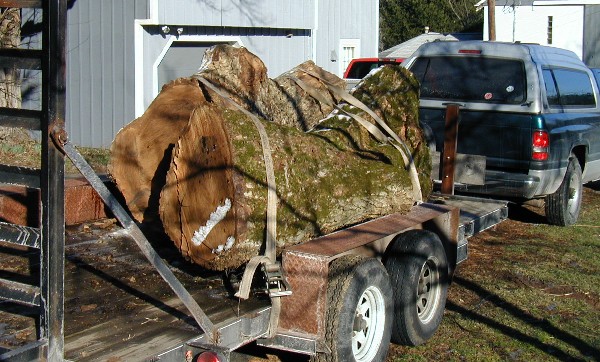 Logs. Two massive boles of English walnut.
Frank doesn't just sell wood, he makes lumber.
Agincourt has a sawmill to cut it, a kiln to dry it.
Band saw, planer, whatever is needed to produce quality lumber
from the raw material, logs.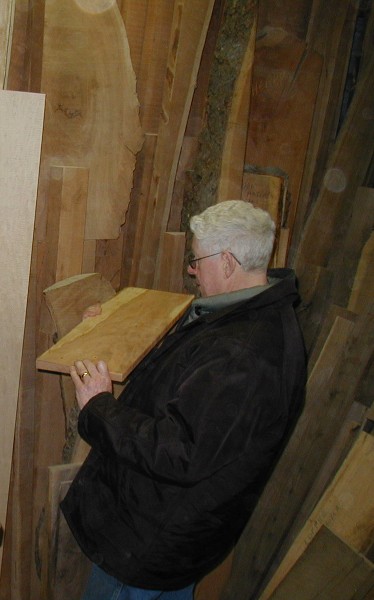 Dwarfed by boards stacked around the walls
Paul examines a piece of curly cherry.
It will make two lovely cutting boards.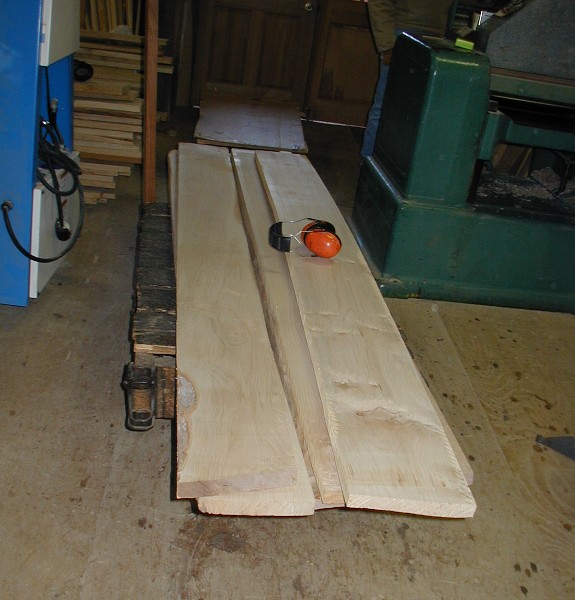 Frank had set aside a few maple boards for Paul to look at.
He chose the left-hand plank, with some attractive grain patterns.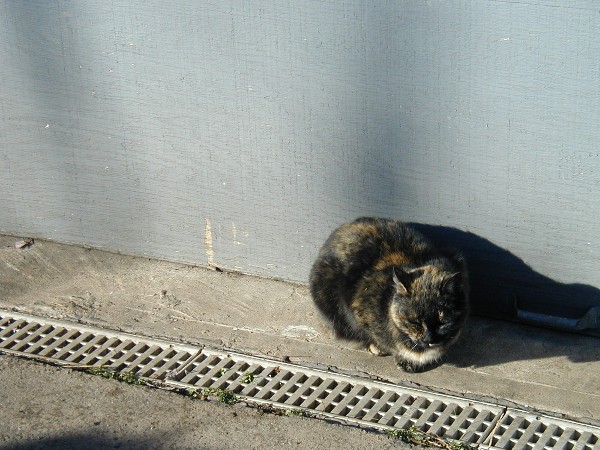 Pretty puss sitting in the sunlight. Her name, by the way, is Amelia Bedelia.
Equally contented we drove home with some lovely wood.
Lumber from real trees.

Back to Top
---