.
Garden Diary - January 2007
---
If you have any comments, observations, or questions about what you read here, remember you can always Contact Me
All content included on this site such as text, graphics and images is protected by U.S and international copyright law.
The compilation of all content on this site is the exclusive property of the site copyright holder.
---
January
---
Friday, 26 January 2007
Picking Lemons
On what was arguably the coldest day of the year I hied myself off to Atlock Farm on Weston Canal Road in Somerset, New Jersey. The sky was gray, the wind was blowing, and I'm sure my cheeks and nose were red. The occasion? Not a garden party, since the holding beds were covered with fleece held in place with nailed down battens. Rather, Ken Selody had graciously given me dispensation to pick lemons. No, I'm not joking. One of the greenhouses shelters all sorts and sizes of potted citrus, from kumquats to lemons. Not that he's running a Pick-Ur-Own fruit stand in the gardening off season. Just a favor from a friend, for a friend.
Wind rattled the plastic cover on the hoop house, spattering water droplets that had condensed on its surface like a little rain shower. I knew how cold it was outside by how quickly my eyeglasses fogged up. And there before me, gnarled trunks and thorny branches bent under the weight of the crop of lemons.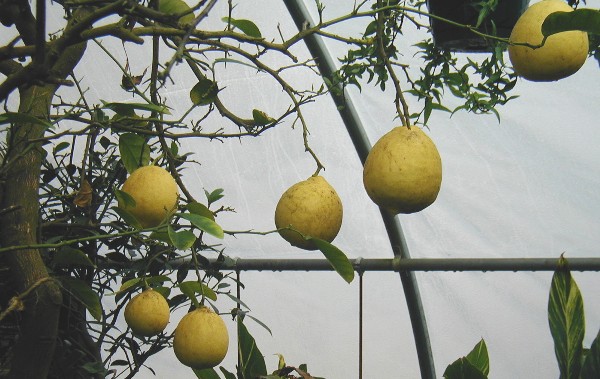 Ponderosa lemons are, well, ponderously large.
Ponderosa lemon is generally grown as an ornamental, rather than a production crop. Both the tree and the fruit resemble citron in most respects, bearing large, somewhat seedy fruit with a thick and bumpy rind. There is little doubt that Ponderosa is a hybrid between citron and lemon. Originating about 1887 as a chance-grown seedling, it was grown by George Bowman of Hagerstown, Maryland. Named for its sizeable fruit (weighing 1.5 pounds or more) and introduced into the nursery trade in 1900, it makes a nice container plant, with purple-tinged flowers and new growth, and its remarkable fruit. The cultivar is, however, sensitive to cold and very thorny.
By comparison, from the left: a grocery store lemon, a Lisbon, and a Ponderosa. Quite a difference, wouldn't you say!
Believed to be a seedling selection of Portuguese origin, Lisbon lemon is one of the most widely-grown in California and Australia. The fruits are medium in size, oblong, with a prominent nipple, a slightly textured rind which becomes yellow when fullly mature. Pale greenish-yellow flesh is very acidic and has few seeds.
Can we say "Marmalade?"
---
Friday, 26 January 2007
Jack Frost
He comes stealing around at night, leaving feathery patterns traced on glass in chilly winter weather. But Jack Frost is under-employed these days. Thermopane glass is putting him out of business. Poor Jack. Whether he originated in Viking folklore, a Russian fairy tale, or a Finnish epic, he doesn't come around much any more.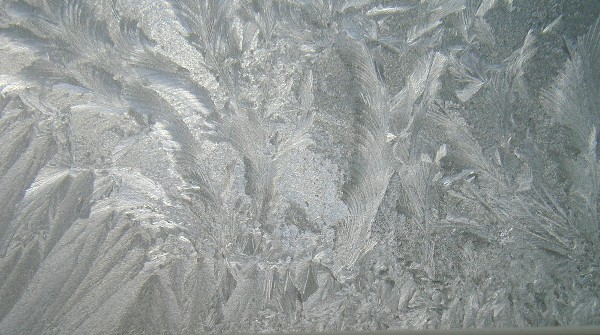 Bitterly cold at 9.3 degrees Fahrenheit last night, this morning there was a rime of ice at the bottom of the guest bathroom window, shut away from indoor warmth by a window shade. With a metaphorical "Aha!" I went to my greenhouse and looked behind its night curtain. The elfin artist had iced fern-like fronds in crystal frost across the glass. Evanescent, they melted away within brief moments.
I'm not looking for drafts, and for sure double glazing is more energy efficient. But I'm sorry children don't see the artistry of Jack Frost on a winter morning these days.
Back to Top
---
Wednesday, 24 January 2007

Yeast II: Rye Bread

I am still as enamored with making No-Knead Bread as when I first wrote of my experiences 3 weeks ago. True, my bluejeans are getting tighter so clearly the every-other-day baking needs to slow down. Meanwhile, I've been fiddling with a rye bread version that I think has been nicely tweaked to be what I wanted. Don't expect rye bread to have the same airy lightness and open crumb texture, since the bubble-trapping gluten strands aren't there. It is not as simple a matter as substituting rye flour for bread flour.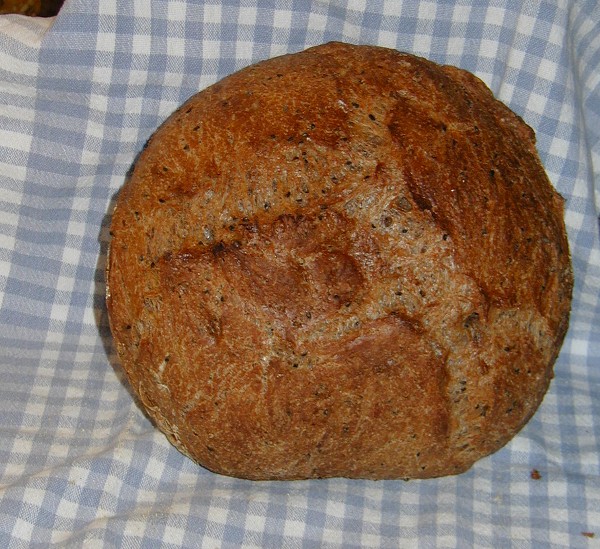 Rye Bread, final version.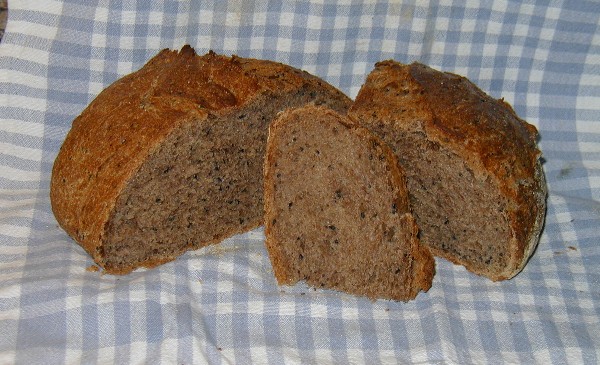 Firm texture, good crumb, nice color, and - most important, excellent flavor.

Here is my recipe.

1 5/8 cup water
two Tablespoons charnushka, black or Russian caraway (Nigella sativa)
one Tablespoon dark brown sugar
one Tablespoon butter

Place all ingredients in a small pot, bring to a boil, and boil for one minute.
Let cool to tepid.

Into a large bowl measure 2 1/2 cups bread flour
1/2 cup rye flour
one Tablespoon Dutch process cocoa
1/4 teaspoon instant dry yeast
1 1/4 teaspoon salt
Stir all together to combine ingredients.

Add tepid liquid ingredients, making sure to scrape charnushka into bowl.
Stir into dry ingredients to form loose shaggy dought.
If more water is needed, add a Tablespoon at a time.

Scrape down inside of bowl to form nice cohesive mass.
Cover with plastic wrap / cling film and let dough rise for 18 hours.
Tip out of bowl onto floured surface. Fold one end over middle, other end over middle.
Repeat folding from sides.
Cover with plastic wrap and allow dough to rest for 15 minutes.

Put a Silpat mat on a cookie sheet.
Flour the Silpat mat, and upend the dough onto it.
Cover with a floured dish towel, and let it rise for 2 hours.

Preheat oven and 3 1/2 quart lidded enameled cast iron pot to 450 degrees Fahrenheit.

Dust upper surface of risen dough with cornmeal.
Take heated pot out of oven, remove lid, and place dough - cornmeal side down - into pot.
Replace cover and put back in oven.

Bake for 30 minutes with the cover on, remove cover and bake for 20 minutes longer.
Turn out loaf onto rack and allow to cool.
And enjoy delicious rye bread, here with lentil vegetable soup.

Back to Top
---
Wednesday, 24 January 2007

What Do You Call a Collection of Geese?

There are collective nouns: a herd of horses, for example. Other animals also aggregate in herds: deer, reindeer, caribou, buffalo, and cattle. You could have a flock of sheep or a flock of chickens. Some nouns are fanciful, such as a murmuration of starlings.
These, however, are grackles. And I could not find an aggregate noun for them.
Deciding to coin my own, I propose a cluttering of grackles

This morning I saw a number of geese gleaning in a cut-over corn field. In general, one would refer to a flock of geese. But in searching for their collective nomenclature I discovered that the naming of geese is, in a sense, transitive.

In flight, that V of birds sketched across the sky, they'd be referred to as a skein or wedge of geese. Were they resting on the placid waters of a pond or lake, the flock becomes a plump of geese.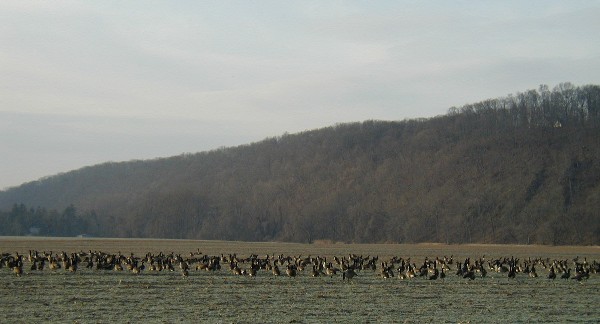 And these, earth-bound, are a gaggle of geese.

Back to Top
---
Wednesday, 17 January 2007

Seasonal Weather

Any other year, and we wouldn't think much of it, "it" being temperatures in the teens. In fact, looking at the previous couple of years in my garden journal that's exactly where the low temperatures have been in mid-January. The issue this year is the contrast between the absurdly high temperatures of early January and current readings.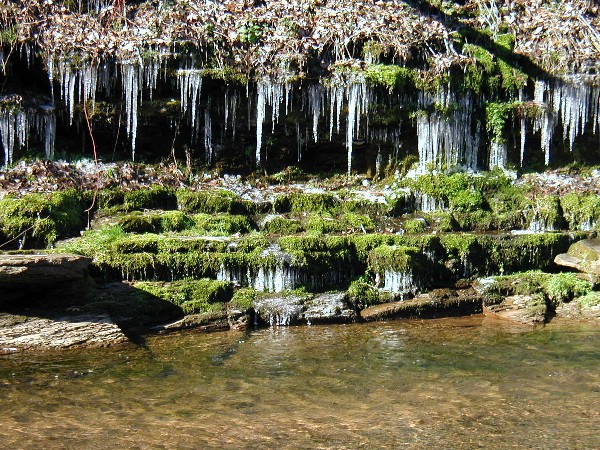 The ground had not yet frozen so water seeping through the crevices
perforce became icicles when it reached the open air.
Daffodils likewise froze, their stems drooping earthward. Some buds had vanished. Peculiar, as daffodils are generally untroubled by pests. Perhaps nipped off by a squirrel, vexed by the topsy-turvey weather.
I snapped some off, and brought them indoors.
And by Thursday, the very next morning, all the buds had opened wide. The sun is up a minute earlier, and sets a minute later. This too, a reassurance that every day is another day closer to Spring.

Back to Top
---
Saturday, 13 January 2007

Streptocarpella saxorum

I love this plant. Purchased a couple of years ago as an annual for a summertime hanging basket, it has never been out of bloom ever since. In the Gesneriad family and thus related to African violets, you'll sometimes see it offered as Streptocarpus. While the flowers are similar, Streptocarpella is a branching, trailing plant. Soft, velvety green leaves about two inches long grow in pairs along the stem, and from these nodes arise slender, almost wiry, four inch long scapes, each tipped with three to five flowers. The inch-long flowers widen from a narrow tube to 5-lobed pansy-like lavender flowers which seem to float above the foliage. Easy to grow, in summer the hanging basket goes outdoors to a somewhat shady place. In winter it happily thrives in my cool greenhouse, where the thermostat is set to 50 degrees Fahrenheit. What's not to love, with an unfussy plant that flowers year-round.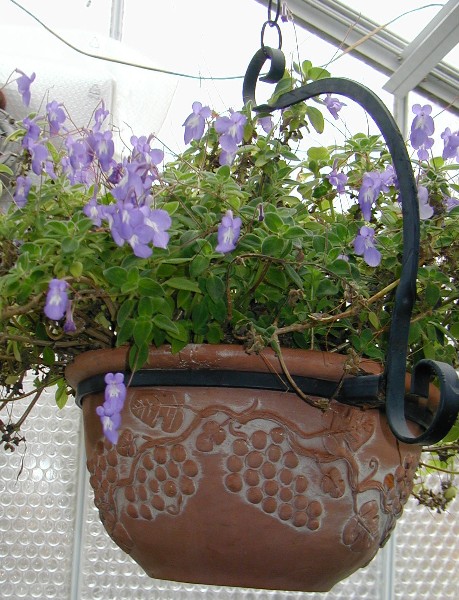 Back to Top
---
Saturday, 13 January 2007

Spring Flowers in the Winter House: Awakening

Back in October 2006 I wrote about potting spring-flowering bulbs for early flowers indoors while it is still winter outdoors. So far winter has been minimal. No matter, the bulbs (in the garage) are on their way to springtime bloom.
Stacked plastic flats filled with large-cell packs planted to hyacinths.
Stilt roots. George had mentioned this problem last October. I told him it comes of compacting the soil beneath the bulb with over-firm planting. Don't try to mash the bulb back into place. That damages the roots. You can try sifting some fine, rather dry soil around the exposed roots, then watering to settle it. Or, lift the bulb out of its individual cell and gently re-plant in a new pot at the correct depth.

Back to Top
---
Monday, 8 January 2007

January's Flowers

Early spring. Maybe call it English spring. They always write about flowers in the winter garden. It's been years, decades since I could do that. My garden in Norwalk, Connecticut gave me flowers in December and January, winter blooming crocus such as Crocus laevigatus fontenayi with its violet hued flowers and delicate fragrance. Once we'd moved to Wilton, 8 miles further from moderating effects of Long Island Sound and on the back side of the Merritt Parkway's ridge running course - well, that was the end of winter flowers. And even though New Jersey is further south, this wet clay soil takes more energy to warm than the high organic, moist yet well drained perfection of the Wilton garden. Previous winters here have been well nigh flowerless. This year though, this year is tantalizing, teasing me with a fast forward into spring.
A scant week from new year's day, and a different mahonia is prepared to flower.
Narcissus 'Rijnveld's Early Sensation' is not merely up,
there are flower buds, even some showing color.
Snowdrops are staunchly prepared to live up to their French name of
perce-niege, "snow piercer" (for surely it will snow before winter is out.)
And hellebores in the Early Purple Group display their dusky flowers.
Not just an isolated plant or two snuggled up against the house foundation.
These are down in the woods, prepared to dispute the season, as if to say
not winter's start, but its end.
Tender flowers have appeared among the sturdy, silver-spotted leaves of lungwort, Pulmonaria saccharata.

The cold will come. If snow arrives with it, an insulating comforter to blanket the bulbs and perennials, then no matter. How icy is Jack Frost's grip, that's another matter. Frost at night and temperatures above freezing in the daytime scare me not. Its teens and twenties, night and day, after day, after day that turns the soil to stony hardness. And foolish plants lured into early bloom will likely suffer. Meanwhile . . . meanwhile I'll enjoy January's flowers.

Back to Top
---
Tuesday, 2 January 2007

Yeast: No-Knead Bread

It's been circling through the blogsphere faster than Phineas Fogg circling the globe. Perhaps not at the speed of light, but certainly like Internet lightening. "What's that?" you ask. Why, it's Mark Bittman's article and the recipe for no-knead bread, which first appeared in the New York Times on 8 November 2006, and then showed up on more foodie blogs than this world ever dreamed of. The Secret of Great Bread: Let Time Do the Work is about Jim Lahey, owner of the Sullivan Street Bakery on West 47th Street in Manhattan. His technique: use just a smidgeon of yeast in a very wet dough. Let it rise for a long time, and bake it in a preheated, covered pot.

I've made bread for a long time, decades, in fact. It's good bread, and my family has enjoyed it. But I never made bread as excellent as this, fantastic crust and superb crumb.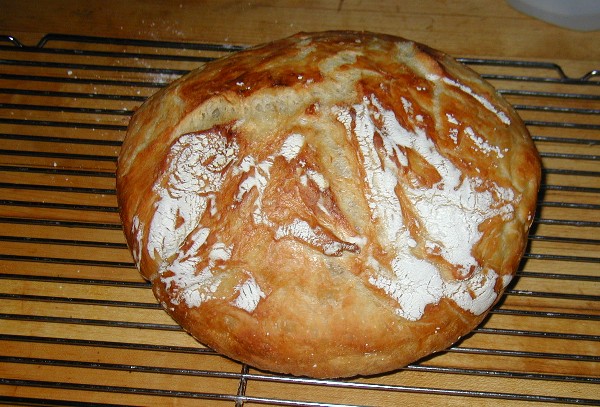 No sound effects, so you cannot hear the bread talking to us, little pings and crackles as it cools. You cannot smell it either. But look at it, in all its bread-y perfection.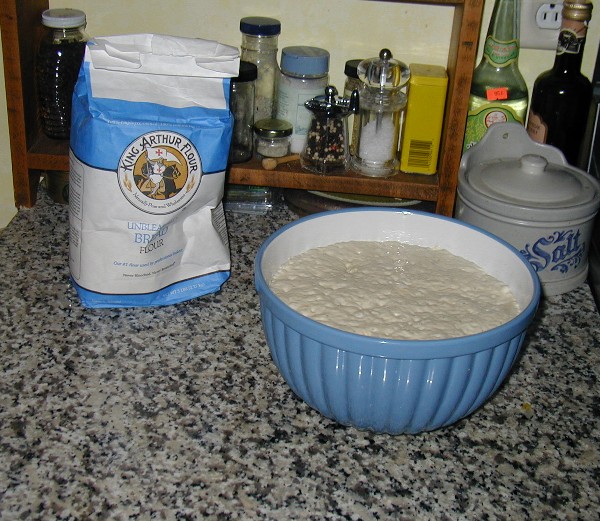 Here's the real deal:
Scoop up 3 cups of bread flour.
Add 1/4 teaspoon of instant rise yeast - that's right, just 1/4 teaspoon.
(A package of yeast is more than 2 teaspoons!)
Add a generous teaspoon of salt, and 1 5/8 cups of water.
Stir it up with a spoon or spatula until it looks shaggy.
Cover with plastic wrap, and go away for 18 hours.
That little 1/4 teaspoon of the yeast beast will slooowly get to work, and the dough will rise.

After 18 hours, a little less, somewhat more, whatever, floop the dough mass out onto a floured work surface. Turn one end over the middle. Turn the other end over the folded first end, cover with the plastic wrap and let the dough rest from this wild activity for about 15 minutes. The original article directs you to flour a dish towel (not, emphatically not, terrycloth with all its little dough-holding loops) and upend the dough onto it. Since you'll later be quasi-pouring the dough into a pot this seemed rather hazardous to me. My technique: put a Silpat mat on a cookie sheet. Flour the Silpat mat, and put the dough on that. Cover with a floured dish towel, and let it rise, slowly, slowly, for 2 hours.

Then comes the baking, 30 minutes covered, 15 to 20 minutes more uncovered, in a lidded cast iron or enameled cast iron pot that will hold up to the pre-heated 450 degrees Fahrenheit baking temperature.

Note, please, that this was actually the most difficult part of my bread baking journey. For the first two loaves I borrowed a pot from Jerry. It was 2 1/2 quarts, rather smaller than the 4 to 5 quarts suggested in the article. However my loaves rose to just about fill the pot, higher than would be the case with a larger pot. Three quart size, I decided, would be ideal. So off I went to buy a pot, never realizing I was entering into a Quest.

I tried Wal-Mart and T.J. Max and Cracker Barrel, Marshalls and Linens 'N Things, Crate and Barrel, on-line at Ikea . . . it's difficult to believe how many pots there are out there, completely unsuitable. Many contemporary pots have glass lids, nice if you want to peer in at what you're cooking but only oven-safe to 375 Fahrenheit Fahrenheit. Cushion-grip handles that wouldn't take the temperature. Non-stick coating, and I wasn't sure what pre-heating empty would do to the finish. There was one that was the right size, right material, but the handles were U-shaped metal held in place with set-screws. And Paul, by now accompanying me on this search, was concerned that repeated heating and cooling would, over time, loosen things up. (Besides, it was ka-ka brown, ugly, ugly. By now I wanted not merely a suitable pot, but a good looking one.) On 30 December we went to Liberty Village, an outlet center in Flemington, New Jersey. Le Gourmet Chef, nothing. Le Creuset . . . success. At a price, Le Creuset is not cheap, or even inexpensive. But it's a great pot, nice complement to the two larger Le Creuset pots I have, and useful, I'm sure, for more than baking bread.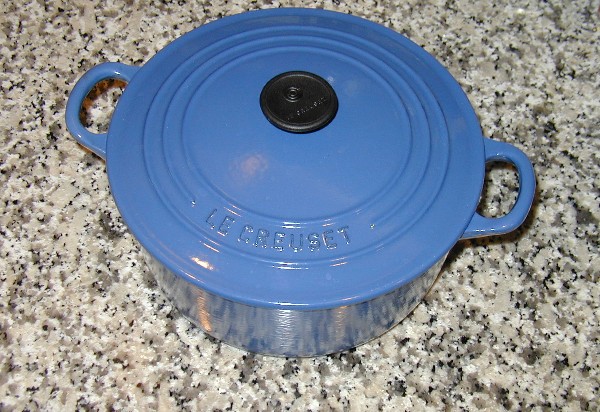 Home we went, pot in my lap as I wouldn't turn loose of it even for the ride home.
And started a batch of bread before I even washed the pot.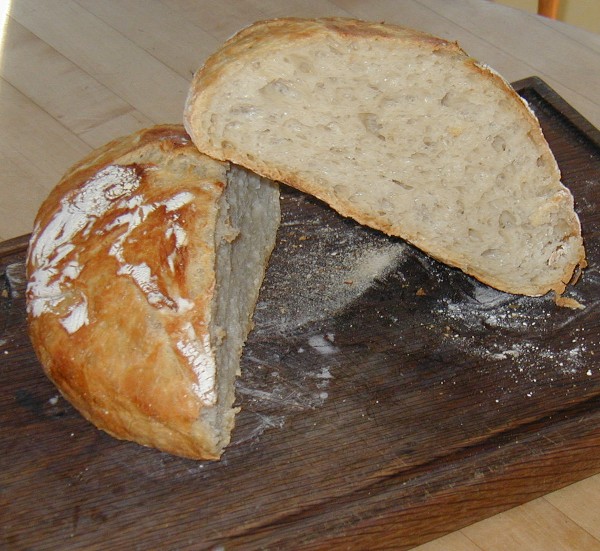 Doesn't this recipe and this pot make beautiful bread?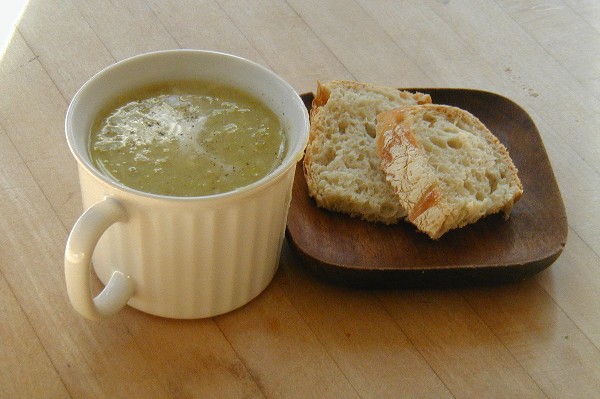 A perfect winter lunch - leek and potato soup, and home-made bread.

Back to Top
---
Monday, 1 January 2007

New Year's Day

A new day, a New Year. Weather - fortunately mild. Better than 2 inches of rain overnight, in the shift from last year to the new one. Had it been cold enough for snow we'd have had more than 20 inches of the white stuff. As it was the intermittent drainage creek along the edge of our property was in full spate.
Noisy water running over bedrock, flushing autumn leaves downstream.

New Jersey is technically in USDA Zone 6. That means winter low temperature range is -10 to 0 degrees Fahrenheit. (Let it be noted here that the major flaw with the USDA zone map is that it takes into account only the lowest temperature. There is no consideration of how long it remains how cold. Below freezing and remaining there, night and day, is significantly different from temperatures that drop below freezing at night but warm above those temperatures each day.) In the ten or eleven years we've lived here it has infrequently dipped just below zero. The coldest it has gotten this winter was 19 degrees Fahrenheit. I wish I could be certain it will remain this mild. But I'm a gardener. We worry. It will be (choose one extreme or the other) too cold / too mild, if winter, too cool / too hot in summer. Then there's always precipitation to fret over: too much, too little, poorly distributed even if the average is spot on.

Ah well, I'll take this day, overcast and showers, for what it brings me.
Evergreen foliage boldly splashed with silver, Asarum splendens
stands boldly forth against the fallen autumn leaves.
A promise of winter's end, the apple-green buds of bear's foot hellebore, Helleborus foetidus.
A day or two or three of sunshine, and Mahonia will open its fragrant yellow flowers,
nectar for early, foolish honeybees. Today may have reached 45 degrees Fahrenheit
but it won't stay there.
---
Back to Top
---