Garden Diary - September 2006
---
September
---
Tuesday, 19 September 2006
Seattle Travels: Day Six - One Last Nursery in Seattle
Seattle-bound, we drove under gray skies gradually clearing to broken clouds. An easy mid-day ride and we reached Diane's house by early afternoon. Gayle left for an appointment. I thought I'd start packing for tomorrow's flight returning me home to New Jersey but Diane had yet one more treat in mind for me, a visit to Wells Medina Nursery, just across the Evergreen Point Floating Bridge from the University of Washington in Medina, adjacent to the city of Bellevue. For the sake of my checkbook's balance it is probably a good thing I don't live in Seattle. Clearly, this is a nursery providing quality, hard to find and unusual plants as well as familiar, reliable standards.
Diane had brought me here to troll among the boxes of bulbs. And what a selection! Of course there were "the big three" - tulips, daffodils, hyacinths, as well as crocus, snowdrops, and more. I rate places not just by quality (was top grade) but also by the uncommon bulbs they offer. Here were not merely colchicums but named cultivars such as 'Dick Trotter'. And a couple more watsonias, probably hardy here in the Pacific Northwest, that will make a welcome addition to my greenhouse back home. I had a question, and Jim Long took me to their reference library. A peaceful room with a window looking out at the nursery, a sturdy table and chairs, and a wall of shelves filled with reference books on a wide array of gardening and horticultural topics. When this nursery says "full service" and "knowledgeable staff" they mean it.
Diane got a few bulbs too. Back at her house we spent companionable time planting some of them. And then time to pack up plants and bulbs and books, kitchen ware and my clothes. The memories will stay with me, of gardens and nurseries, of new friends and good times in Seattle.
---
Tuesday, 19 September 2006
Seattle Travels: Day Six - Two Gardens in Bellingham
Gayle and I had breakfast and wandered around Bellingham for a bit. Some interesting shops and a couple of bookstores caught our attention but alas, they did not open until 10:00 a.m. And that is when we'd meet Susann for visits to a couple of gardens. Perhaps another time.
A gray and misty morning, but anytime in a garden is a good time so off we went to enjoy ourselves. The first, a city garden in Bellingham, is just across the road from the water on a rather steep property. A retaining wall holds it up from the sidewalk. Amy and her small daughter Opal meet us.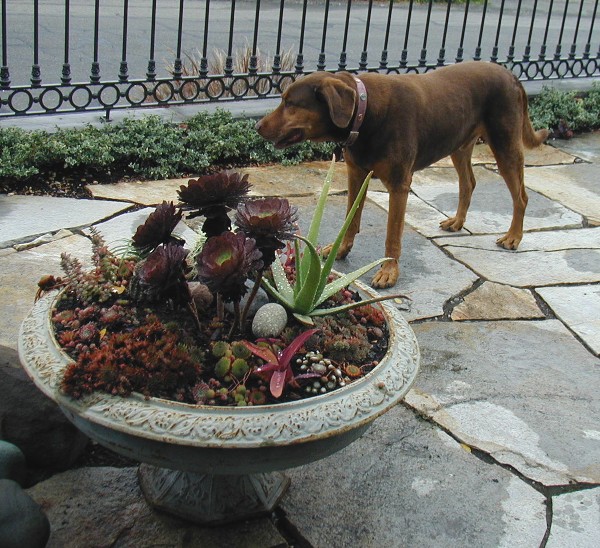 There's a terrace in front of the house, embellished with a classical urn filled with succulents, black Aeonium arboreum 'Schwartzkopf' and assorted hen and chicks.
A side garden brings us around to the back where there is a studio, playhouse, old-fashioned wooden hot tub, plants and stones and stuff. All very casual, eclectic, and fascinating. Amy, you see, has that enviable skill of bringing this and that together so the whole is so much more than the sum of their parts. Like rocks. "I've been collecting stones since I was six." Amy told us. Smooth stones, stones with wishing rings (those tilted white streaks through the darker matrix), geodes, and more. She went off to college and left them at home with her mother but eventually the time came when they all came to live with her. So Amy puts them in the garden, with an artful hand that rather than plopping them down any old where, places them with panache.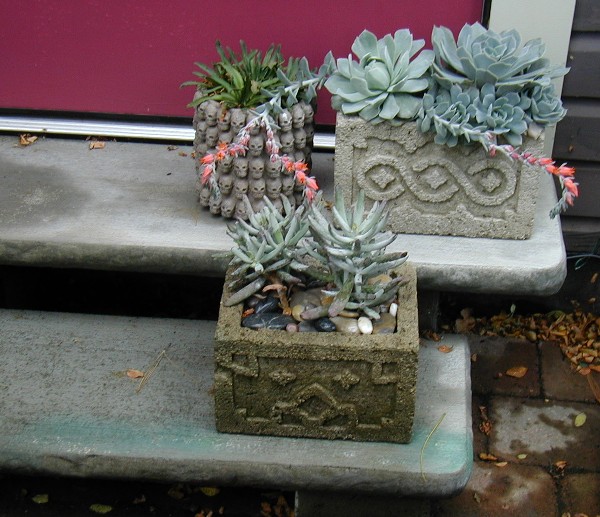 A trio of small pots filled with succulents cluster together on the steps by a door. From Mexico, one is textured with little skulls. The other two have vaguely Aztec geometrical patterns.
The studio / office was developed from a garage. There's the most adorable playhouse across from it, the two building tied together with a deck.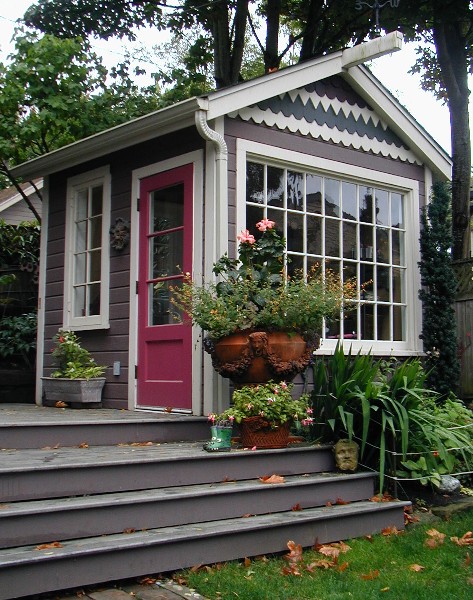 The playhouse is more than a place to get children and their clutter out of the house, with a snuggly settee for cuddling and reading stories.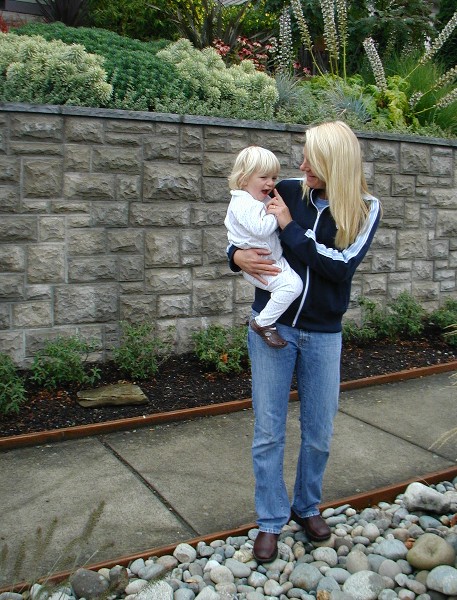 Amy and Opal share a giggle, after having walked us back to the street to bid us adieu.
---
Anita and John, the owners of the next garden, are not at home. However Susann has permission to bring us there. And after all, as designer of the garden she knows it intimately. We wind our way up Chuckanut Mountain. And up, and up some more. And when we get out of the car, walk around the house and onto the deck, and then turn around there is a view I could fall into.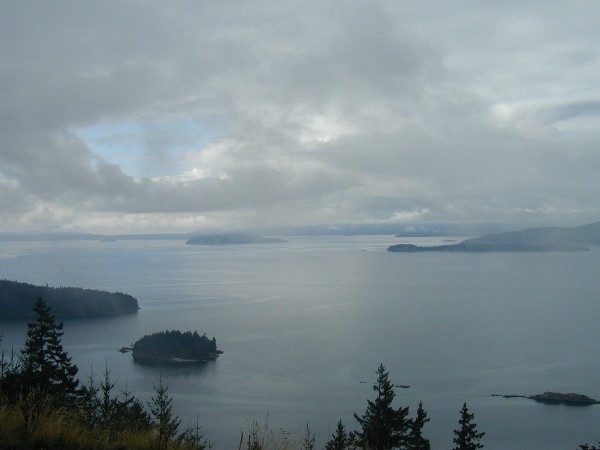 Endlessly beautiful, it must change with the weather and the seasons and the time of day.
The sunny garden is between the house and the road, a switchback path a goat would enjoy, with roses and grasses and a diversity of plants.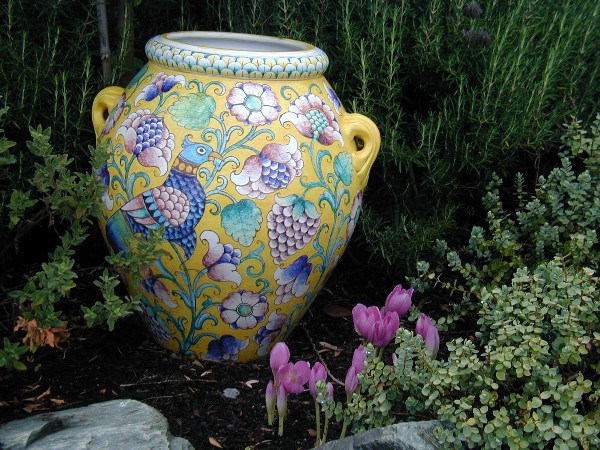 A polychrome jar has subtle tones the colchicums flaunt more blatantly.
However the garden that draws me into it is the one behind the house in the woods, subtly enhanced with shrubs that naturally find themselves at home in such settings.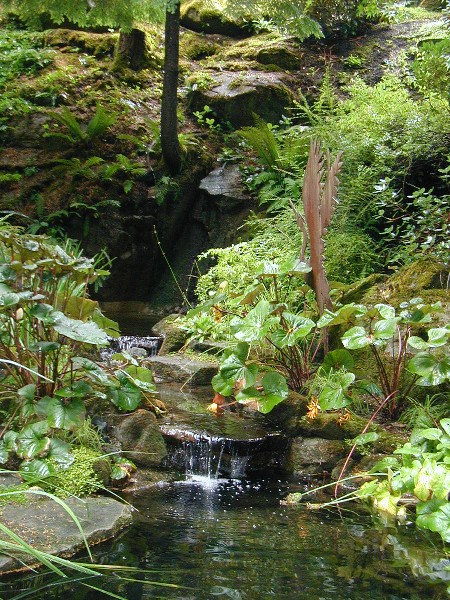 A little streamlet splatters its way over the rocks, gurgling into a pool and then rushing on.
Like a shadow of a heron, nearly two-dimensional, a metal sculpture perches on mossy rocks.
Stone of steps, stone of boulders, wrapped with moss that unifies and ties the two together.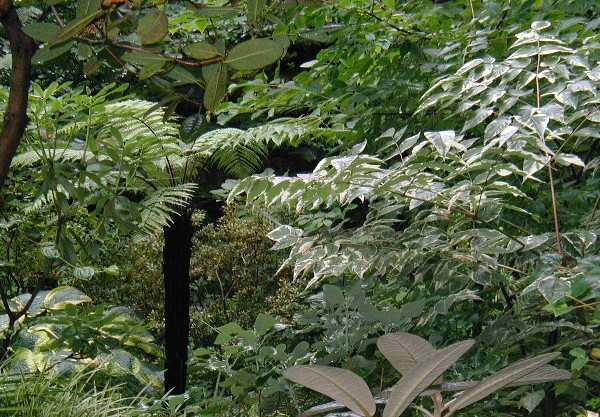 So gentle a climate that tree fern and large leaved rhododendron thrive in the shelter of the giant conifers.
Back to Top
---
Monday, 18 September 2006

Seattle Travels: Day Five - A Garden on the Way to Bellingham

The arrangements for my travels were predicated on my presentation of a lecture. If it is close to home, that's one thing. When it's coast to coast, that's a different matter. Two lectures make a win-win situation. There's even more of an inducement for me, and I can offer a discount to both groups. Which explains why Gayle and I are wending our way northward to Bellingham this morning. And of course, what else should be expected but that there would be a garden to visit along the way. And there was another reason to make this stop: Gayle had a huge piece of blackboard slate that was discarded from a university building remodel that Ted wanted for his granddaughters' playhouse. So the back of the car was occupied by a piece of plywood and the slate.

Ted and Sandy have a fascinating garden, made in a clearing created by logging out the conifers. A few of the big old trees were left, providing a noble sense of age to the property.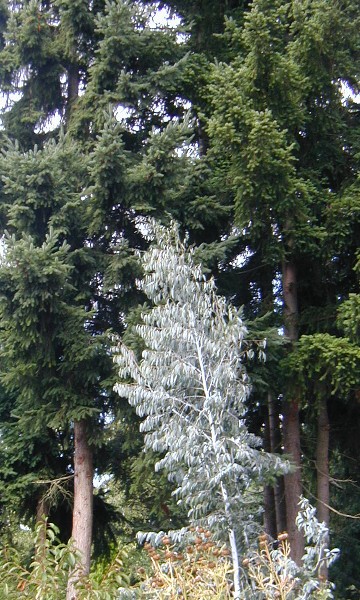 The silver-blue leaves of eucalyptus shimmer against the towering evergreen backdrop.

When the slash left over after the logging was burned, some of the material went into a berm along the property line, now planted to shrubs that screen the adjacent property. There's a great (in the sense of "grand" vegetable garden with tomatoes and leeks, an especially large seeded bean climbing three sections of chain-link fence, garlic and herbs and greens and more. Ted appreciates rock gardens and their plants, so the gravel underfoot in places coalesces into raised areas with stone outcrops and dainty plants. He likes to propagate plants, and quietly mentions that this shrub was begun from seed 15 years ago, or that cyclamen was brought to this property when he and Sandy moved here a decade or more ago.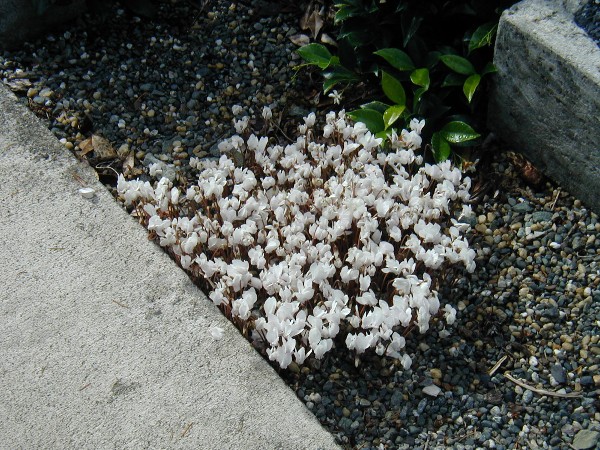 Clearly this white-flowered form of Cyclamen hederifolium enjoys its position wedged against the concrete paving.
Have you ever seen so many flowers from a single tuber?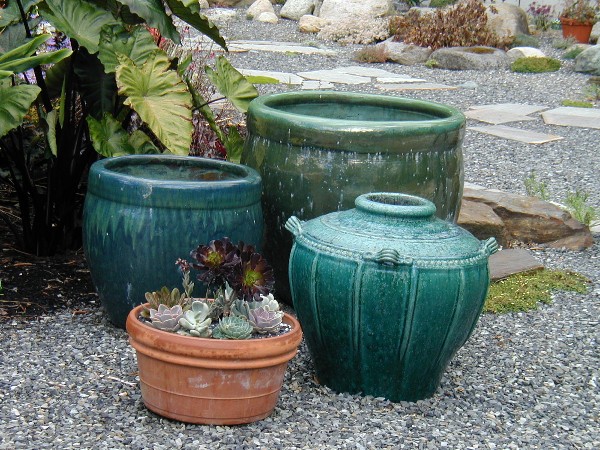 A few succulents in a terra cotta pot, a few glazed pots clustered together,
and another attractive vignette to enjoy as we stroll around the garden.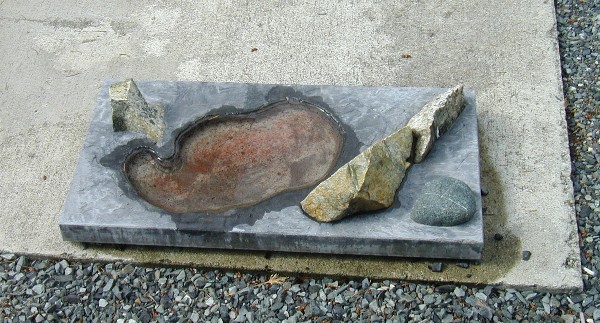 Ted makes these bird baths by hollowing out a free-form depression in a thick piece of slate.
A few stones create a Zen-like landscape. Not merely decorative objects - the little birds love to splash around in them.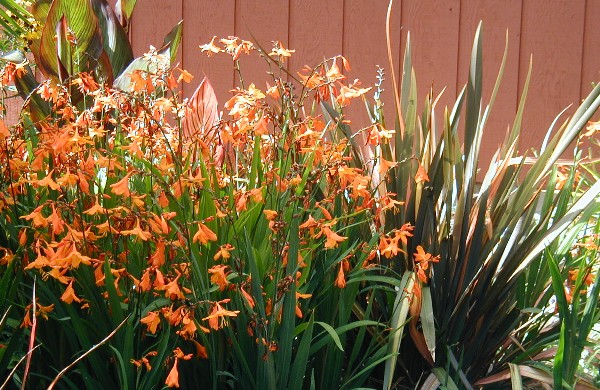 A marvellous clump of apricot-orange crocosmia partner with a dark hosta on the left and phormium on the right,
coalesce with an appropriate red barn backdrop.

And eventually we tore ourselves away from this kindly couple and their fascinating garden. How kindly? Ted drove as "lead car" to get us back to the highway by a shorter but more complex route than the way we'd come.

On to Bellingham (practically in Canada) and we register at the very comfortable inn where we'll be spending the night. Susann, lecture chair for the Whatcom Horticultural Society, met us at the inn. We went to the Squalicum Boathouse (a name, not a description) so I could have an idea of the facilities for my talk. To a restaurant for dinner with a few of the board members, then back to the venue for my lecture. Organized in 1989, the Whatcom Horticultural Society sponsors a variety of programs, events, lectures, tours and publications for Whatcom County area gardeners, including both novice and more experienced gardeners. An enthusiastic audience, good questions following my presentation, concluding with a book sale and autographing session.

And back to the inn for a good night's rest.

Back to Top
---
Sunday, 17 September 2006

Seattle Travels: Day Four - Kitchen Ware

My lecture - you know, that lecture, the reason I came to Seattle in the first place - is not until 4:00 p.m. So this morning there's time for me and Gayle to head over to Sur La Table and City Kitchen, two wonderful kitchenware stores. My kitchen mantra (which I do my best to hold on to) is that if I cannot think where to store it, I cannot buy it. So what did I come away with? Inconsequential but useful little objects. A simple round top-to-bottom reversible clean / dirty sign for the dishwasher. A small, nay, tiny stainless steel measuring cup good for up to 2 ounces, that is also marked with tablespoons. A pair of Wusthof kitchen shears on sale for under $10. And a six-pair set of very nice indeed corn-on-the-cob holder / jabber / stabber thingies.

We strolled around the Pike Place market, wandered into this shop and that one, including a Hispanic grocery shop where I found the dried hibiscus flowers for tea that I've been searching for.

And at one of the wonderful produce stores on a side street we saw these fantastic ristratas. Not just red chile peppers, but color-coordinated pepper groupings embellished with an occasion bulb of garlic and some purple statice flowers. Tres elegant.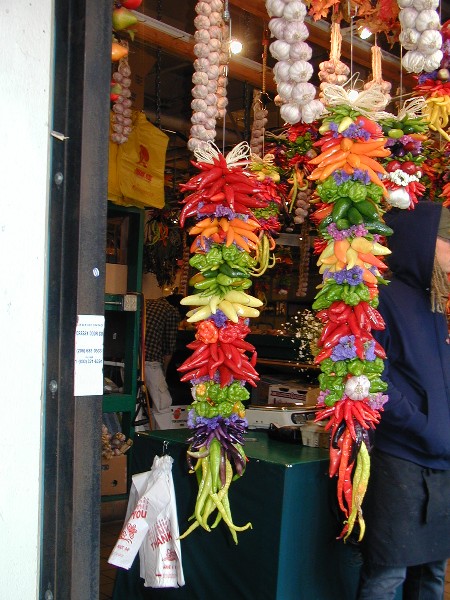 I'm pleased to say that my lecture on Bulbs for Garden Habitats was well received. A nice size audience, many quite knowledgeable, and everyone seems to have found something to appreciate and enjoy. Me too. And I'm not just referring to the plant sale either. It's always fun to share my passion for plants with others who have the same focus. A book signing after the sale, and then it was time for me and Diane to head off to the Bellevue Botanical Garden in Bellevue, Washington, where about 2 dozen members of Northwest Perennial Alliance and I had a potluck supper.

Why here? Because there is a special on-going relationship between the Northwest Perennial Alliance and Bellevue Botanical Garden. Just across the lawn and west of the Visitor Center is a huge perennial border, one which has received recognition in many horticultural journals and garden magazines. It was designed by Bob Lilly, Carrie Becker, Charles Price and Glen Withey of NPA, and was planted and is maintained by members of the Northwest Perennial Alliance. Don't think of tidy groupings of precisely arranged plants. This border spills over a hillside with massive drifts of plants. There's a path across its length, and incautious gardeners could vanish in the undergrowth. To my great delight Bob Lilly toured me around and through and out again.

In addition to the perennial border, the botanical garden's 36 acres include woodland and meadow and wetlands. There's Lost Meadow Trail, with western red cedar, Douglas fir, bigleaf and vine maples, and native shrubs, and a native discovery garden. Specific collections include an alpine rock garden, a dahlia collection, a fuchsia garden, a garden featuring different groundcover plants, a water-wise garden, and a Japanese-style stroll garden with maples, viburnums, hydrangeas called the Yao garden.

Dinner and conversation, laughter, and a good time. Then back to Diane's for a good night's rest before heading out to Bellingham on the morrow for another lecture.

Back to Top
---
Saturday, 16 September 2006

Seattle Travels: Day Three - Garden Visits

Gayle and I spent the afternoon visiting a couple of gardens. I must say that the level of skill presented in the gardens I saw was of the highest order both from the standpoint of design to the choice of plants, their placement and combination, and the skill with which they were grown. Nowhere was this as well displayed as in Linda and Roger's Valhalla Garden. The site slopes quite steeply in back, a 40 foot drop to a little stream, then rising abruptly on the far side. There's a path along the left side of the house, with a wonderful round pebble mosaic, a walkway lined with acanthus along the back (Linda collects the different kinds of acanthus), a bog garden with gunnera, borders along the steps on the other side of the house, and a lovely streetside screening garden with ornamental grasses.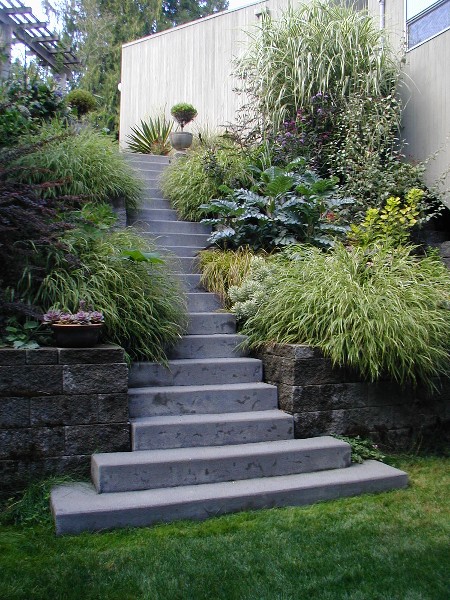 The steps down one side of the house provide an inkling of the awkwardness of the site.
The retaining wall terracing it at the base, the flow of the steps, and the lavish plants
change this into a boon rather than a bother.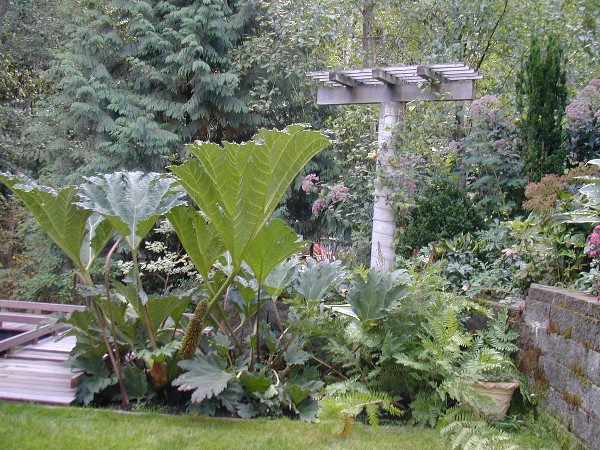 The bold foliage of gunnera ties together a retaining wall and boardwalk, whilst also anchoring a concrete pillar.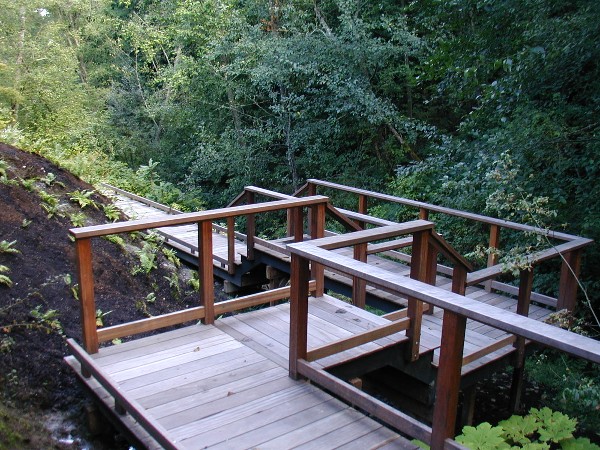 There are terracing retaining walls across the back of the property, on the upper portion of the slope .
Lower down is an elegantly designed boardwalk traversing the slope. Relatively new, ferns have been planted
and in time they will soft the space, while requiring little in the way of maintenance.
A concrete pillar supports a horizonal arbor platform on its head, which in turn supports clematis.
Below, a symphony of pink hydrangea, roses, and aster in harmonious bloom.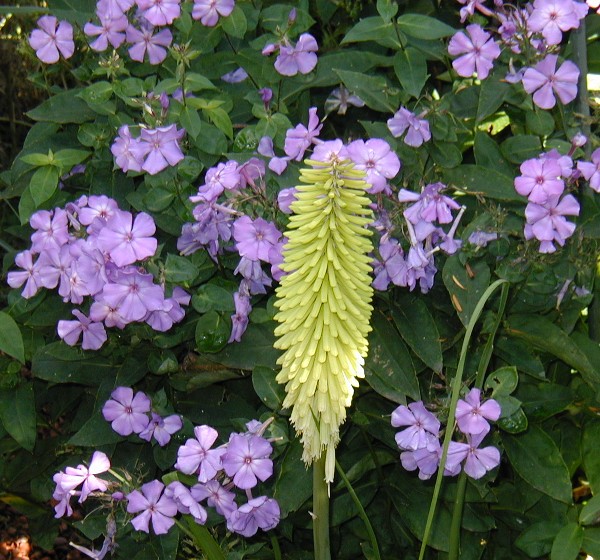 A cool yellow kniphofia contrasts with soft lavender phlox.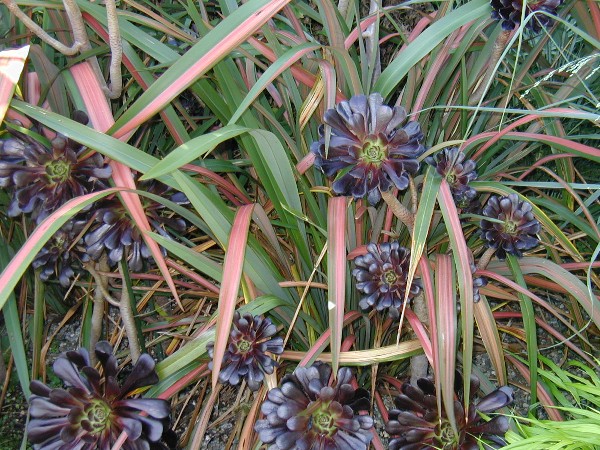 Phormiums are all over the place in Seattle, though rarely as thoughtfully paired
as with the black pinwheels of Aeonium arboreum 'Schwartzkopf'.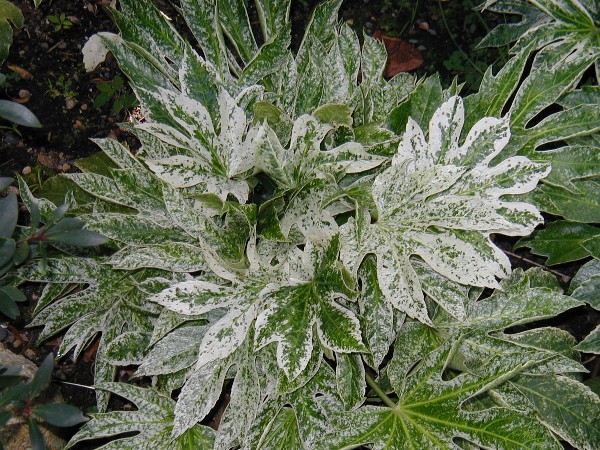 It looks dusted with hoarfrost and snow. Fatsia is another plant I cannot recall in gardens back East,
and certainly not this variegated form.

Back to Top
---
On we went to the next garden, that of Sue Moss. Her lovely home makes me think of Frank Lloyd Wright meets Japan. In retrospect, since the property is a small city lot, it should feel even more cramped and filled. Sue offers landscape architectural services, landscape counseling and planning, from a studio behind the house. There's a terrace with a raised rectangular pool. An arbor across part of the house is cloaked with grape vines, complete with grapes. (Cylinders of netting around the support pillars are an attempt to foil the grape-stealing raccoons.) There's a garden of golden-leaved plants lighting up a dark, narrow passageway alongside the house. I should have taken more pictures, but the three of us were entranced in conversation.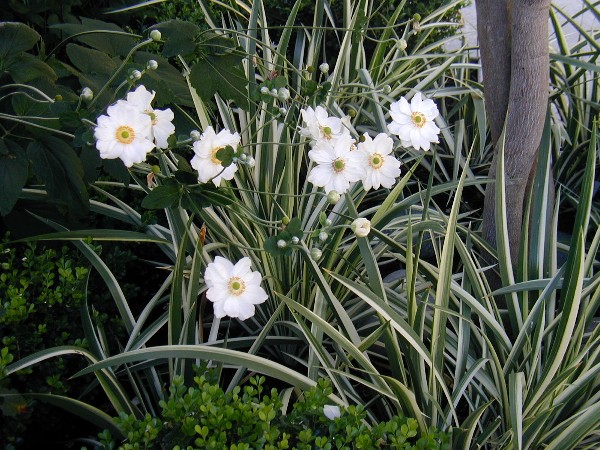 In front of the studio a couple of aspen trees. At their base, a square of variegated iris,
their crisp green and white sword-like leaves embellished with the swaying white flowers of
Anemone ×hybrida 'Honorine Jobert'.

Back to Top
---
Saturday, 16 September 2006

Seattle Travels: Day Three - Farmers Market

Gayle had been concerned about what to do with me in the few days between my arrival in Seattle and the afternoon of my lecture. I am so easy to entertain. Today the three of us, - me, Gayle, and Diane - headed off for the Seattle Farmers Market. There's one on Wednesday, another on Thursday, and your choice of two on Saturday and again on Sunday, all in different locations. Today being Saturday, we were going to the University District Farmers Market, Seattle's oldest and largest "farmers-only" neighborhood market. Founded in 1993, every week it offers a place for more than 50 Washington State farmers to sell their fresh produce and quality products. Opening day was May 6th, and this year the market is staying open until December 30th.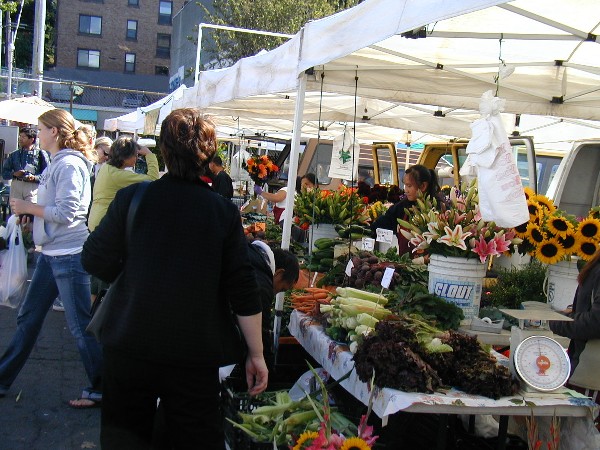 It's clear, looking at the thronging shoppers, that this is the place to be if you're looking for good food for the kitchen.

The market offers seasonal fresh fruit and vegetables. Many, I'd even say most of the vendors were selling organic products. As well there were stalls with fresh herbs, wild mushrooms, hazelnuts (later I was to see the broken nutshells used as mulch on a path in a couple of gardens), farmstead cheeses, free-range chicken and eggs, pastured organic beef, pork, fresh seafood (smoked salmon too), cider, honey, fresh cut flowers, fresh bread and other baked goods, numerous sweet preserves, tart pickles, and condiments made from local farm-grown products.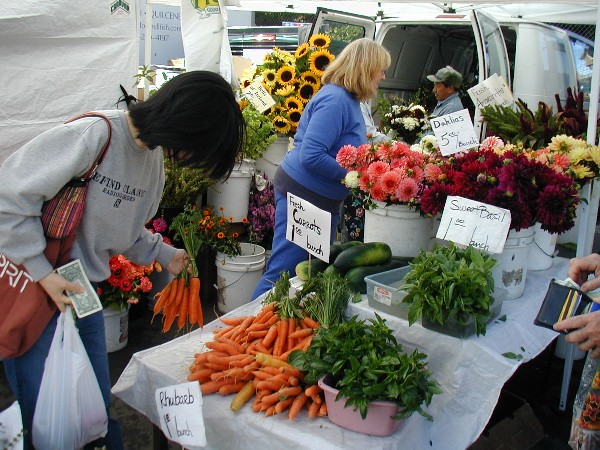 Picking and choosing is part of the fun. In fact, we walked all around the market before settling down to buy.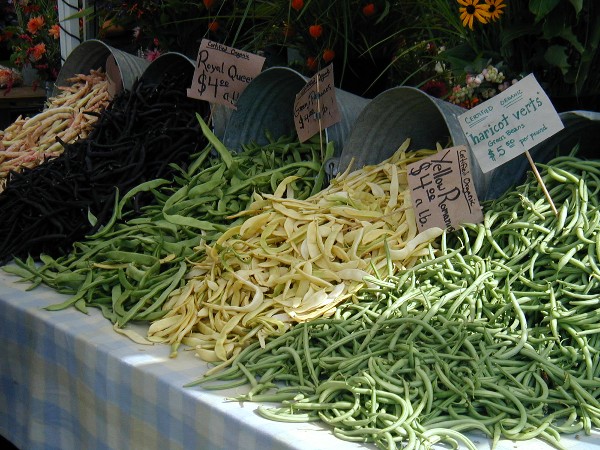 And what splendid choices. Not just "Shall we get beans?" but rather "What beans shall we get?"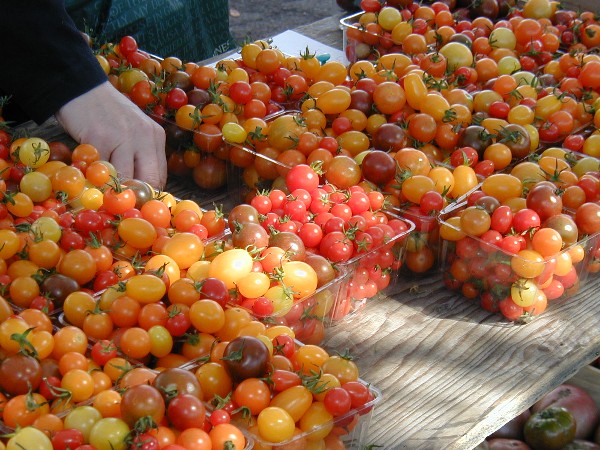 A marvelous melange of glistening little tomatoes.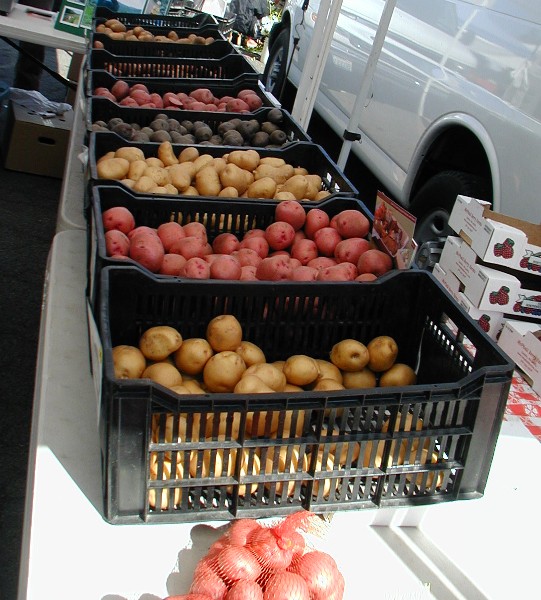 Crates of potatoes fresh from the soil, nicely scrubbed so the colors of all the different kinds may clearly be seen.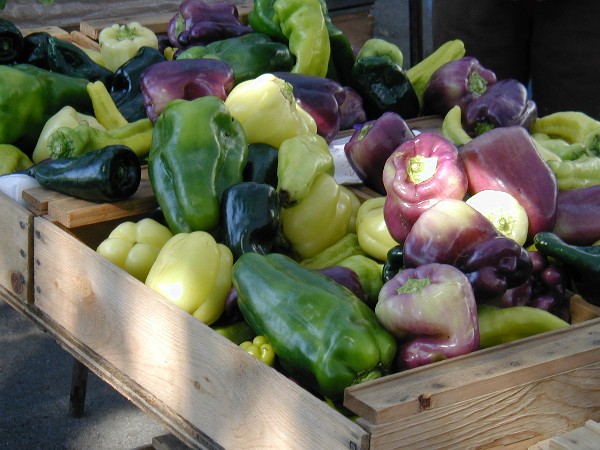 Beautiful peppers.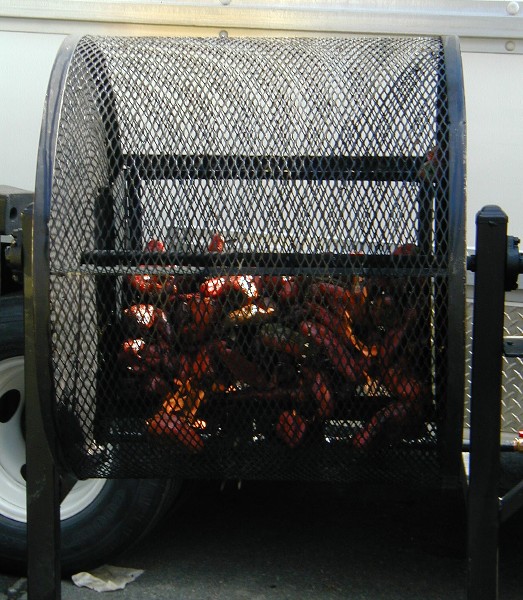 And, at a different stall, a man roasting peppers, right there on the spot.

Well known to Seattle area residents are Donna Westom, owner of Wild Things, and Jeremy Faber of Foraged & Found Edibles, offering wild gathered delights such as huckleberries and mushrooms for those who cannot get away to go picking or don't trust their mushroom identifying skills.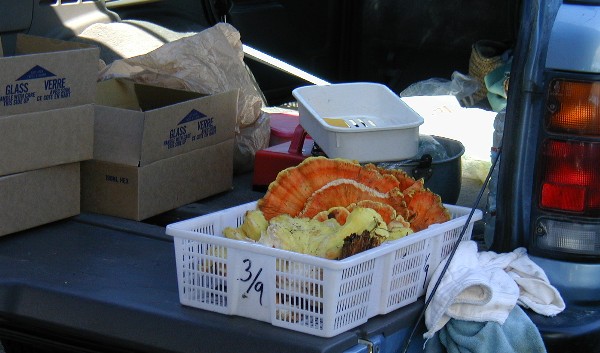 This booth sold fresh lobster claw and chicken of the woods mushrooms, and also dried ones.
How could I resist? An ounce of dried morels, just $7, so light and easy to carry onto the airplane.
Memo to self: find a way to return in the spring, when fresh morels would be available..

And remember that while bread is good, nourishing the body, flowers nourish the soul.
Back to Top
---
Friday, 15 September 2006

Seattle Travels: Day Two - Ferry to Vashon

The advantage of the three hour time difference is that you can sleep late in the morning while still arising at a relatively early hour. So by body time I was deliciously well rested when the clock said it was 7:00 a.m. Another geographical difference - being at the western edge of the time zone means the sun sets later than I expect.

Gayle came to pick up me and Diane. We were joined by Sue. No time to stand around and chat, for we were off to the docks for a ferry ride to Vashon Island. It's no great voyage, not very long at all, but great fun to cross the water by boat (short) rather than by bridge (too far to build one.) We were, what else, going to a nursery. Well yes, I suppose it could have been a garden. But DIG Floral and Garden at 19028 Vashon Highway SW is as good as a garden. And everything is for sale!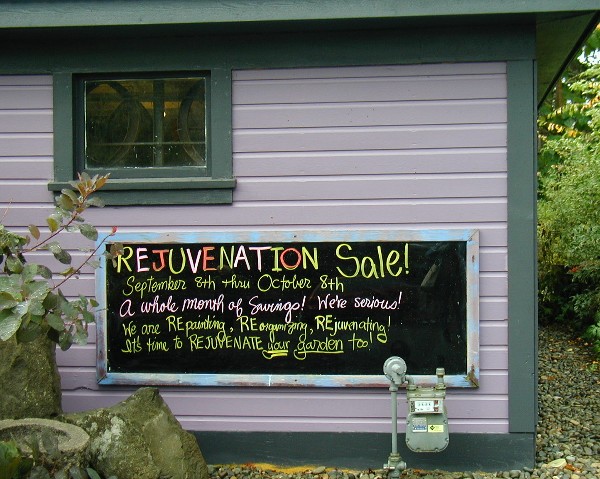 Literally. Not only for sale, but on sale too.

We were greeted by Sylvia Matlock, who then had to go off for an appointment. I'd like to say I missed her, but in truth I was fascinated by the nursery itself. Meticulously maintained, it was neat, tidy, weed free, and beautiful. There were groups of glazed pots arranged by color with appropriately color-coordinated plants. Never saw so many matching glazed pot feet either. Garden art. Mosaic spheres and palm-size decorative faux stones that somehow seemed Turkish to me, with vivid colors and bits of mirror. Soap-bubble-like spheres. Rusty metalwork. Excellent plant display stands, with somewhat sloping shelves that nicely show the material. Seemingly casual arrangement of stuff - until you realize the scattered groups of pots and plants have an attractive curving, winding layout in contrast to the standard straight line, grid style like a supermarket's aisles.
See what I mean?
Just look at this pair of elegantly glazed pots, the eucomis at their feet, a rusty metal garden gal behind them.
And a sword-leafed clump of pinky cream edged phormium to the right. Phormiums are everywhere in the Seattle area.
And they don't have to haul them in for the winter, the way I do.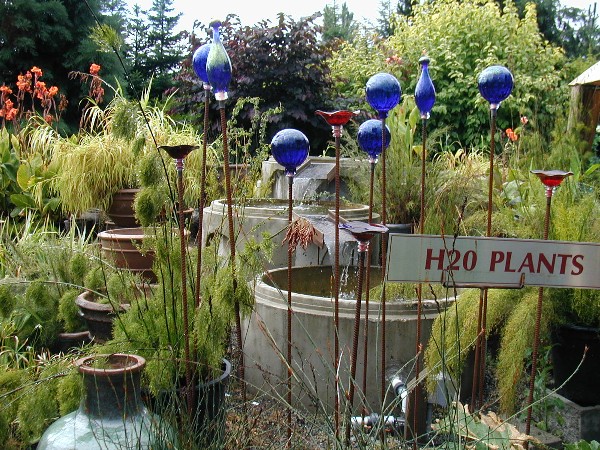 Three utilitarian concrete tanks. Bet they're some sort of sewer or septic units.
Set at different levels, a little plumbing hooking them together and . . . .
a water feature. Functional, yes, and also attractive, with appropriate plants
and blue glass bobbles perched on rebar, that even on with the overcast and drizzle capture a (subdued) daylight glow.

"Oh, you should go to Colvos Creek Nursery. Go down the road, turn left, the road goes right . . . . " Gayle is good at this. We went down the road, towards the water, along the shore, made the correct turns, and arrived. The focus appears to be woody plants and a few perennials, specializing in Northwest and West Coast natives, and drought-tolerant plants for the dry summer regions of Zones 7 to 9. Plants are propagated from seeds or cuttings. Dang, but the space limitations of that overhead compartment in the airplane home is going to seriously cramp my horticultural acquisitiveness! But they do ship . . . .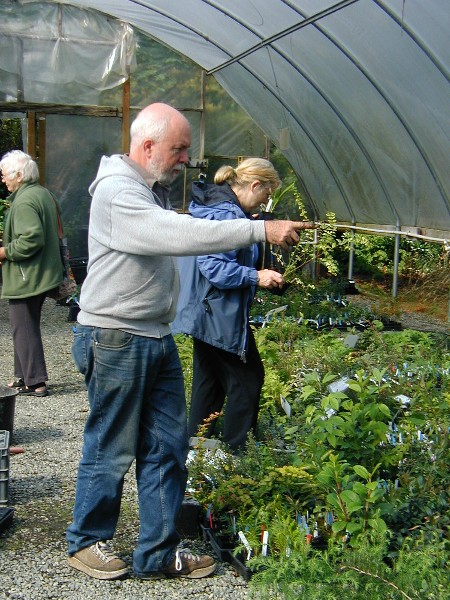 Mike Lee points something out to Gayle while Diane heads off in the opposite direction.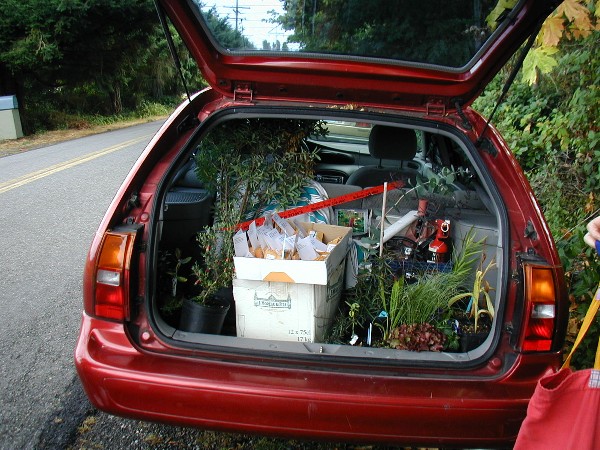 A look at Gayle's car shows there's not much cramping their plant buying style.

Lunch at an on-island restaurant, then back towards the ferry dock. It was important which ferry we caught, as Gayle had arranged an afternoon garden visit in Bothall, Washington. As we join the queue waiting for the next sailing I get out of the car to pick blackberries. It's a terrible thug here in the Pacific Northwest, but the juicy fruit of Himalayan blackberry make very good eating.

Cannot write about the garden now, as it's going to appear in Garden Design. Let me simply say it is splendid, and I'll update with images at some future date.

Back to Top
---
Thursday, 14 September 2006

Seattle Travels: Day One - A Seattle Sampler

Opportunities as good as this don't always come my way. I was asked to come to Seattle and speak to the Northwest Perennial Alliance about bulbs. It's a triple header: give a talk on a favorite topic of mine, in a great city in a wonderful part of the country, to an enthusiastic group of horticulturally entranced gardeners. Details were discussed, arrangements were made, tickets booked and in the middle of September I was on my way to the Pacific Northwest on that vanishing route - a direct non-stop flight from Newark Liberty to Sea-Tac Airport. It's about a 5 hour flight and, crossing several time zones, I arrived right around midday, leaving an entire afternoon for fun and frolic.

Gayle, who had made all the arrangements for my talk and travel met me at the airport. Off we went to Diane's house, where I would be hosted. A cup of coffee, and off the three of us went to show me some of Seattle's sights.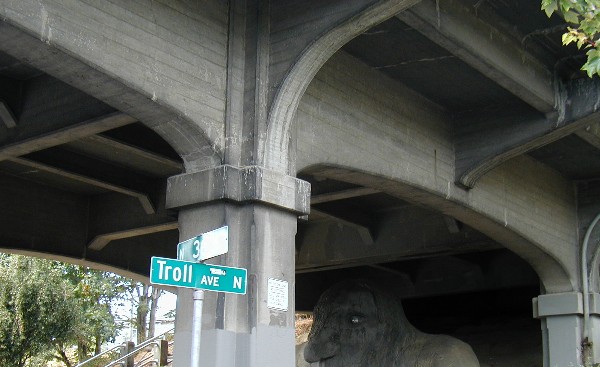 What could this be, lurking under the bridge? Surely not . . . .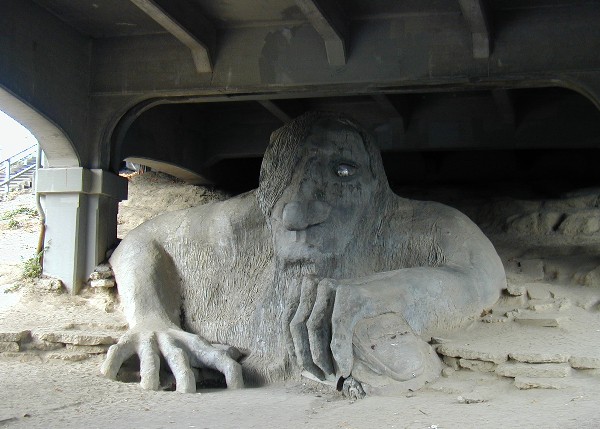 Yes! it is a troll! Apparently the Fremont troll has been lurking under the north end of the Aurora bridge since 1990. The shaggy haired, head-and-shoulders sculpture is 18-ft. tall and glares southward with his shiny metal eye - a hubcap? In his left hand, he crushes an old Volkswagen beetle. He was sculpted by four Seattle area artists: Steve Badanes, Will Martin, Donna Walter and Ross Whitehead, for the Fremont Arts Council.

Next, off to the Chittenden Locks to look at salmon. A project of the U.S. Army Corps of Engineers, construction of the The Hiram M. Chittenden Locks began in 1911and was completed in 1917. They operate the locks to this day, providing passage for boats moving between the fresh water of Lake Washington and Lake Union, and the salt water of Puget Sound. A popular tourist attraction, a botanical garden and park are also on the property, and visitors to the locks can also get an underwater view of salmon migrating up the fish ladders.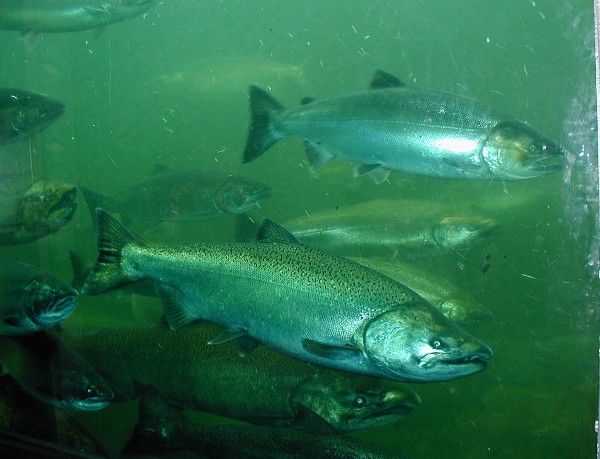 The best salmon run in ten years, Gayle told me. And looking at the number of fish working their way upstream I can believe it.

"There's a fence," Gayle said. "With the price of copper today no one could afford it. But you just have to see it. So many people knocked at the door when it was first put up he had instructions posted by the fence." O.K., I'm game. No idea what I'll see but why not.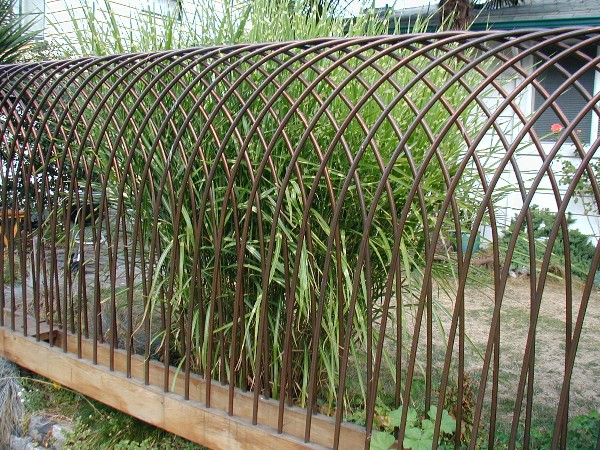 Definitely unique. I imagine that the copper pipe would have been filled with sand to bend it without kinking.
The two ends of each pipe are offset from one another, creating an elegant overlay between the two baseboards.

And off to our actual destination, Swanson Nursery, located at 9701 15th Ave. N.W. in the Crown Hill section. One of Seattle's oldest garden centers, the nursery specializes in plant selection. And with 265,000 square feet of retail space, that's room for a lot of plants. Great selection of interesting plants. Plus our timing is good - they're having a sale.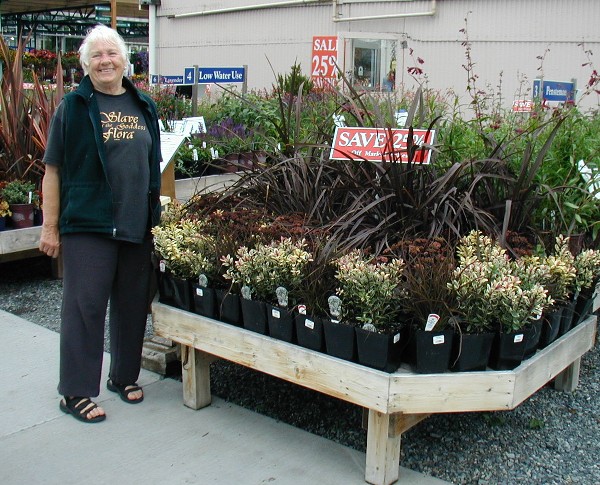 Why do you suppose Diane is laughing so-
could it be enthusiasm for the autumn sale at Swanson's?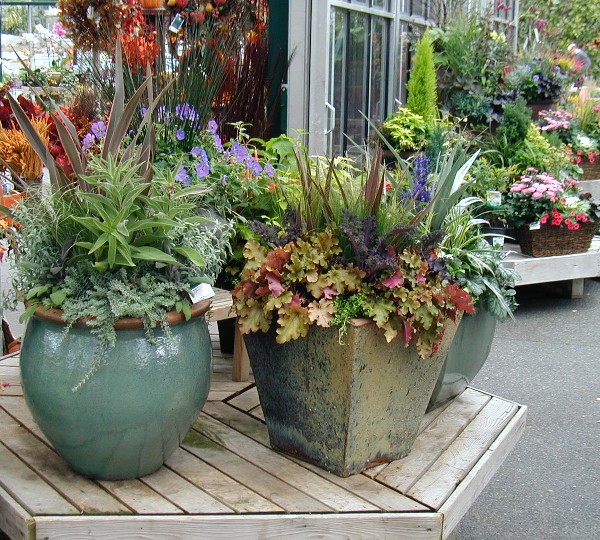 Wonderful containers planted with companionable plants are displayed on endcap tables, available for purchase.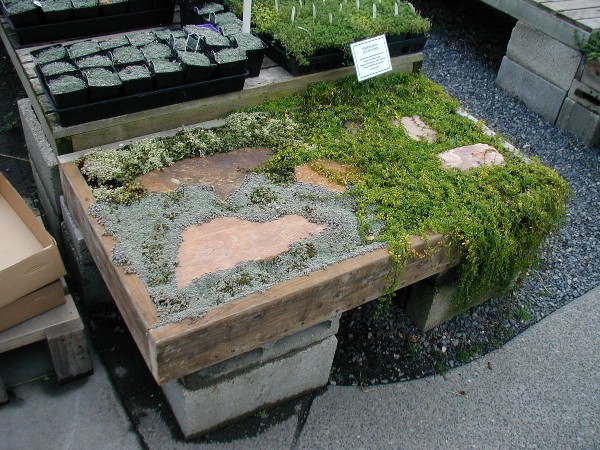 I was very much taken with their display of "walkable" plants, suitable for planting in pavement.
At the end of each bench was a display planter, neatly arranged with small stepping stones and some plants.

And at the end of the day back to Diane's house for dinner, before setting out to Meany Hall for the Performing Arts for the Elisabeth Carey Miller Memorial Lecture by Peter Valder on "The Romance of Chinese Plants: Their Role in Art, Literature, Symbolism, and Everyday Life." This is the kick-off lecture for the fall garden season, and over a thousand plant enthusiasts turned up. Supported by a generous bequest, the lecture is free. With Peter's knowledgeable presentation and accompanied by lovely slides, the lecture was informative. Alas, coming at the end of a long day plus three-hour time change (my body convinced it was not 8:00 p.m., but rather 11:00 p.m. and past my bedtime) I kept dozing off and coming to in the darkened auditorium. Did wake up for the luscious cookies, iced tea and fruit punch provided following the lecture.

Back again to Diane's house for a good night's sleep after a hectic day.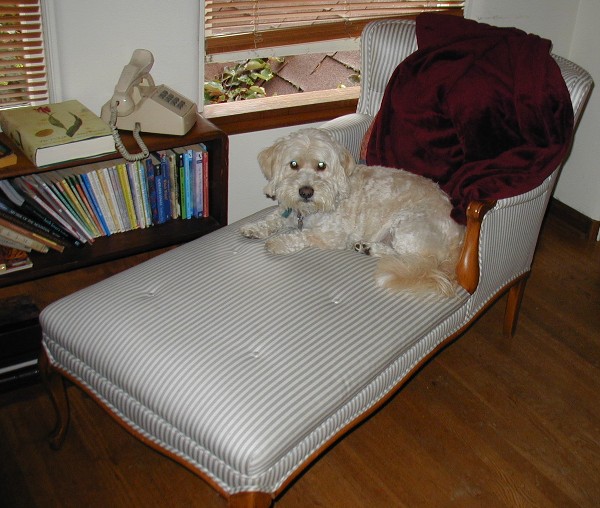 Clearly Humphrey, Diane's sweet dog, has the right idea as he makes himself comfortable on the chaise in my bedroom.
---
Saturday, 9 September 2006

The Sound of Dragons

An early morning sky, limpid and clear. There's a blurred roaring sound from behind the treetops. Floating into view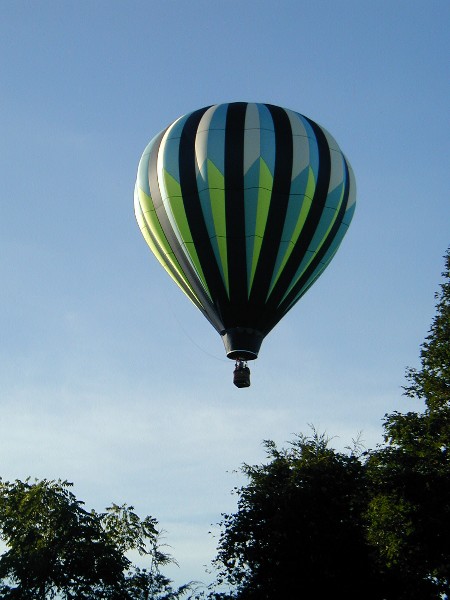 close enough that I could say "Good morning" to pilot and passengers, and they send greetings back.
---
Wednesday, 6 September 2006

Another Visit to the New York Botanical Garden

It's getting down to the wire. Buried Treasures: The Nature and Art of Bulbs is scheduled to open to the public on Saturday, 7 October in the gallery of the LuEsther T. Mertz Library of New York Botanical Garden. My work as curator of this exhibition has been on-going, as a look at my February and June Diary entries clearly shows. With only a month to go it's time once again for me to review case layouts, case labels, item labels, and all sorts of behind-the-scenes details. Capable hands are hard at work, but mine is the name that's out there as curator. The gallery has been repainted, some illustrations are being enlarged to hang on the walls behind the vitrines, art work needs to be framed, text reviewed, conservation department creates the supports for these wonderful books a century old, and older . . . . hustle, bustle before the curtain goes up.

Of course, once I'm there and necessary tasks completed, I might as well take some time to shop the Wednesday farmer's market that runs through October, and enjoy the garden's end-of-summer ambience.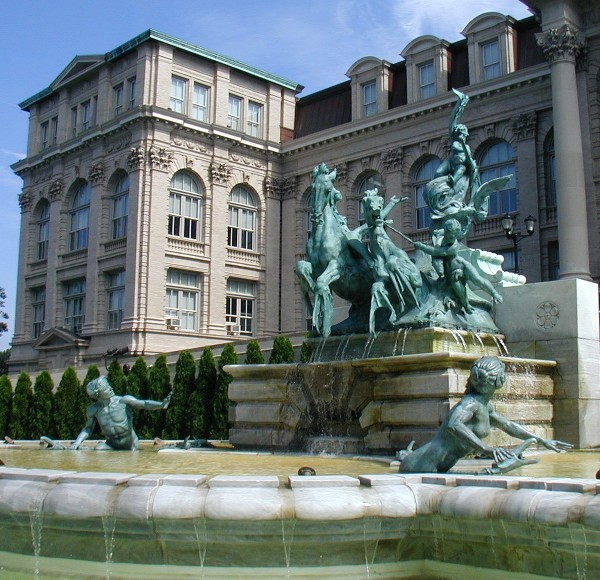 The wonderful fountain in front of the Beaux Arts Museum building has recently been restored and renovated.
Sea horses with flippered feet rear up (perhaps startled by the dolphin and its rider,)
in turn startling the mermaid and merman in the pool below.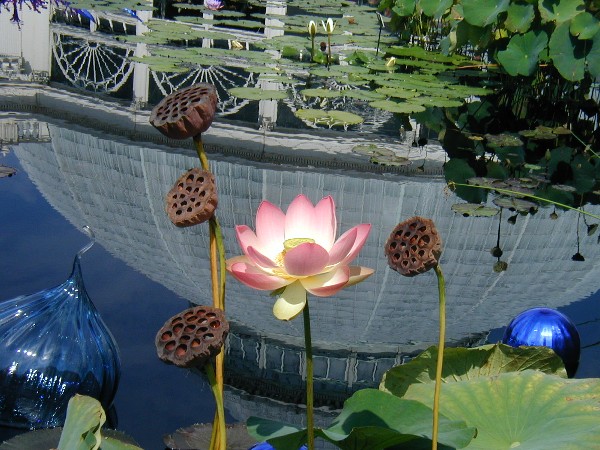 A lotus in bloom and several seedheads balance over the reflection of the conservatory's dome.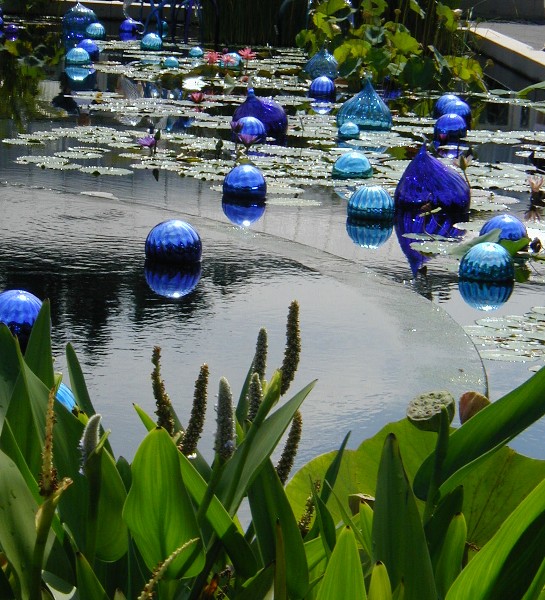 A flotilla of Chihuly blue onions bobble in the tropical water lily pool.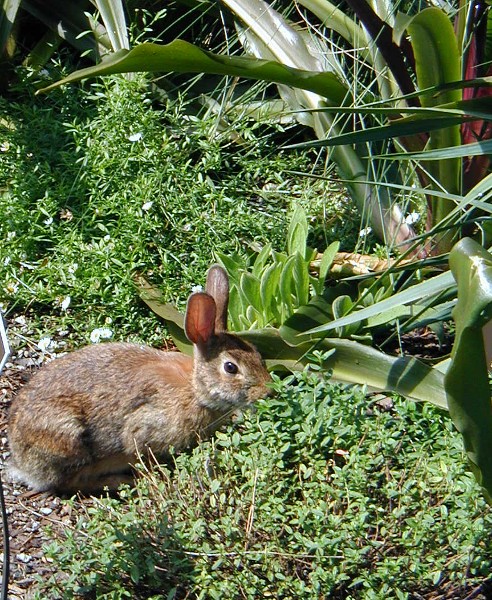 And, lest you think these gardens are untouched by those problems besetting ordinary folk like thee and me,
Peter Rabbit is caught in the act, looking up from lunch and twitching his wiggly nose.

Back to Top
---
And Another Visit to Wave Hill

Homeward bound means heading west on the Henry Hudson Parkway. Conveniently located before the toll booth is the exit for Wave Hill in Riverdale, New York. It's like a two-fer. Why visit only one garden when it's possible to visit two? And on such a lovely day. A delicious lunch, sitting outdoors on the terrace with a grand view of the Hudson River and the Jersey Palisades, then a stroll around the grounds. Delightful.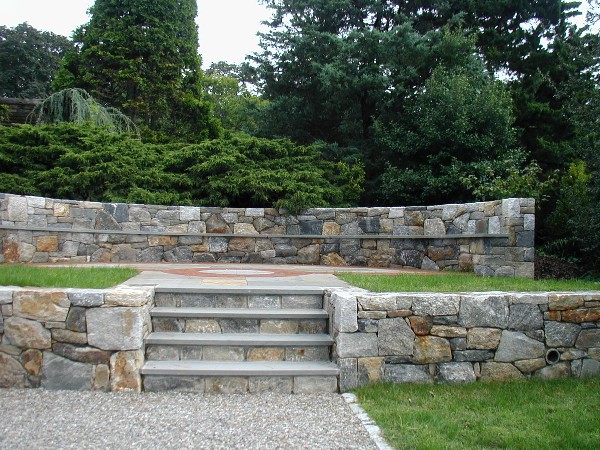 Here's a view of the new semi-circular stone bench that I'd seen for the first time last month.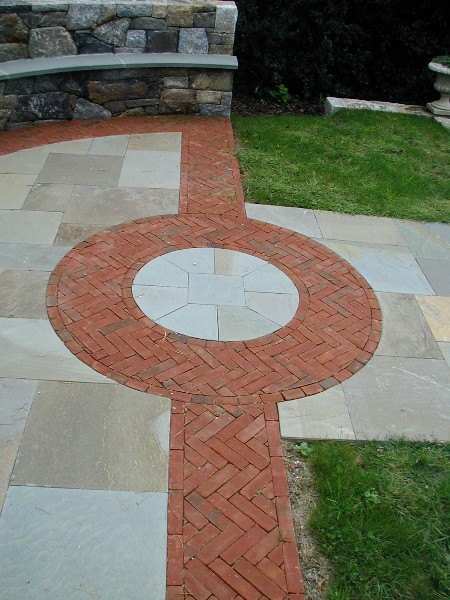 I especially like the brickwork detail in the paving.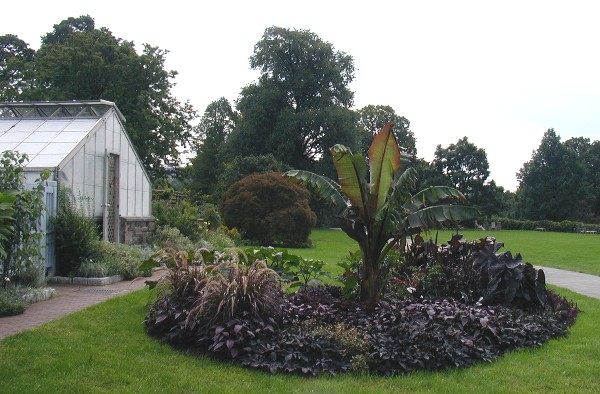 The annual "paisley bed", so named for its overall shape is reaching it's peak as summer begins its stealthy slide toward autumn.
. This summer Director of Horticulture Scott Canning planted a "Chocolate Bed" here, massing plants with dark foliage.
All sorts of purple-leaved plants, from banana to black elephant ear, Pennisetum setaceum 'Rubrum'
with its linear, arching blades of grass and plumy cat-tails, cannas and sweet potatoes, and more.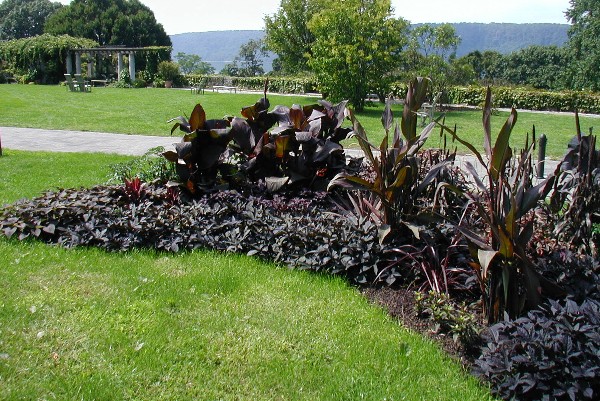 A closer view of the light-swallowing dark foliage.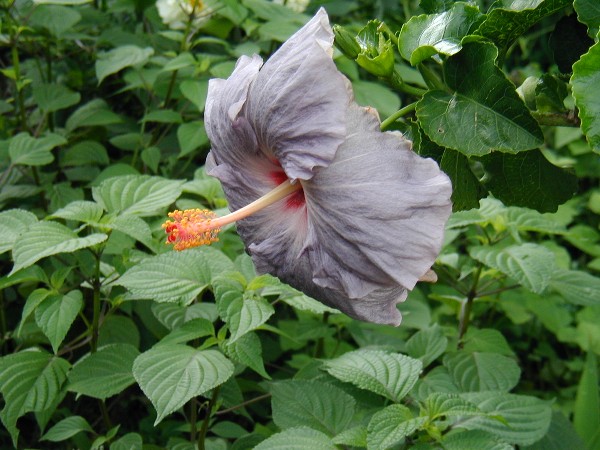 And in the garden in front of the conservatory a fabulous hibiscus. Can you describe this color?
I'm calling it lavender smoke, accented with a volcanic red throat, a golden pistil erupting from within.

Back to Top
---