.
Garden Diary - August 2006
---
If you have any comments, observations, or questions about what you read here, remember you can always Contact Me
---
August
---
Garden Writers' Get-Together
58th Annual Symposium; August 25th - 30th
---
Paul once asked me if the members of the Garden Writers' Association were writers afflicted with gardening, or gardeners afflicted with writing. Something of both, I think, since we're passionate about plants, and also about getting the word out: writing books and brochures, magazine articles and newspaper columns, photographing plants and gardens, teaching classes, talking on the radio and performing on television programs.
We talk about the iniquities of contracts, the vagaries of the publishing business, and editors with their blue pencils (at least it used to be blue pencils, now it's the "delete" key on a computer keyboard.) But not too grumpily, because editors and publishers are also members and besides, without them we'd be writing to ourselves.
Every now and then we get together for regional meetings. And once a year there's the Annual GWA Symposium. There are talks, a trade show of plants and horticultural products, and tours of gardens both public and private. This year, 2006, it's the 58th Annual GWA Symposium, held from August 25th through 28th, in Valley Forge, Pennsylvania.
---
Wednesday, 30 August 2006
Plant Lovers Discovery Tour: Progressive Women in Horticulture
Is anybody singing? I couldn't say. I do know that most folks left early on Tuesday, once the symposium itself had concluded with the lovely dinner at Chanticleer. Some stayed for the post-conference tours to the brandywine Valley, or northern Philadelphia, or the Lehigh Valley and Allentown area tour that I went on. But then there was the die-hard, 'tisn't over til it's over, bus-load worth of garden fanatics who joined the Progressive Women in Horticulture outing organized by Plant Lovers Discovery Tours™ and sponsored by the Valley Forge Convention and Visitors Bureau. Sharon Lee put together a fantastic program with its focus "on the visionary women of the first decades of the 20th century, who gave birth to the garden club traditions and laid the groundwork for horticulture as a profession for women and on the women who followed in their footsteps and created some of North America's finest gardens."
Temple Ambler
Our first stop is at Temple Ambler, the site of the Pennsylvania School of Horticulture for Women. Its goal of training women for carers in agriculture, horticulture, and landscape design was a radical notion when the school was incorporated. Founded by Jane Bowne Haines, who purchased the 71 acre grounds of the McAlonan farm on Meetinghouse Road near Ambler for the school in 1910, she declared that "The trained hand with the trained mind means mastery, power, and success." The very first classes were held in the farmhouse on February 11, 1911. Emphasis was given a practical, learn by doing, outlook. Women were taught botany and chemistry, but also hands-on pruning and bee-keeping. During World War 1, the school offered classes for the Women's Land Army.
Louise Carter Bush-Brown, herself a graduate of the program, directed the school for nearly three decades, from 1924 to 1952. Together with her husband, faculty member James Bush-Brown, she wrote America's Garden Book, first published by Charles Scribner's Sons in 1939, reprinted, revised, and last published in 1984. James Bush-Brown collaborated with Beatrix Farrand, a renown landscape designer, in the design of the stately, English style perennial garden, created in the late 1920s. Very much a part of the designed landscapes on campus, it has been renewed, revised, and tended by successive classes of students. Farrand, one of the 11 founding members of the American Society of Landscape Architects (and the only woman), is better known for more major projects such as the Bliss family's Dumbarton Oaks in Washington, D.C. and the the Harkness summer home Eolia in Waterford, Connecticut, currently preserved as Harkness Memorial State Park.
In 1958 the enlarged 187-acre campus was acquired by Temple University. Today Temple Ambler offers four year baccalaureate programs in Landscape Architecture and Horticulture, accredited by the American Society of Landscape Architects.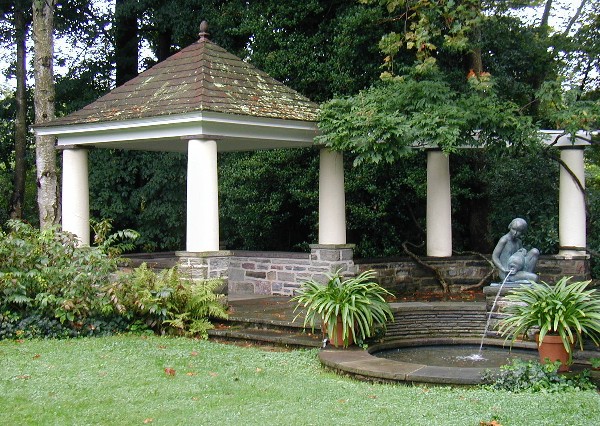 A pair of garden shelters, linked by a pergola and enhanced with a simple pool and boy with dolphin fountain
create a destination and strong visual finish at the paired borders far end.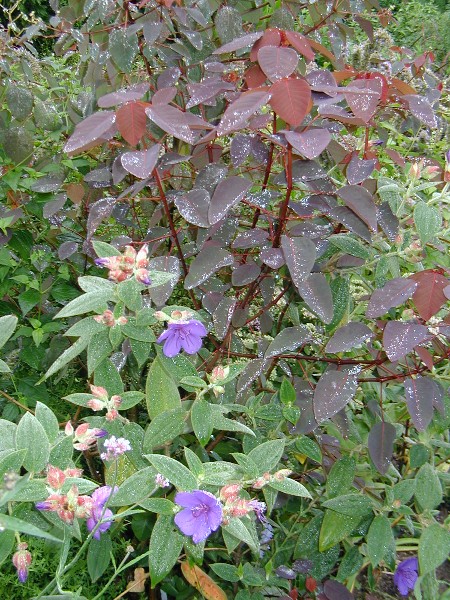 Like tiny moonstones, water droplets bead the purple leaves of Euphorbia cotinifolia
elegant in partnership with Tibouchina's purple flowers. Temperennials, both will succumb to winter.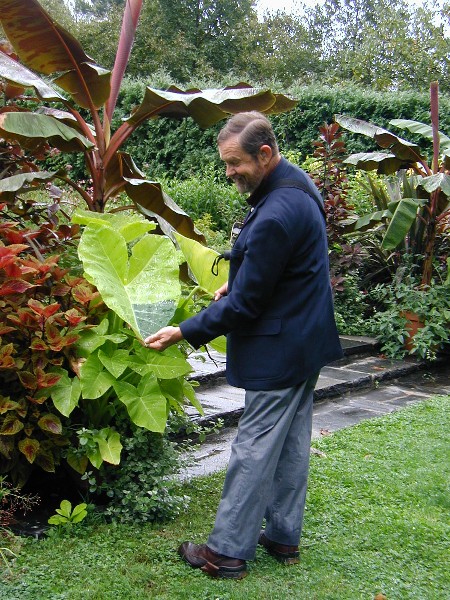 Brent Heath of Brent and Becky's Bulbs admires the sector variegation on a well-grown elephant ear
(and the banana in the background is rather impressive too!)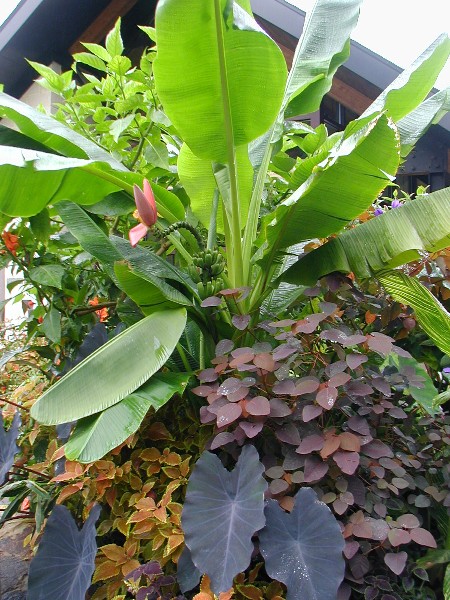 Elsewhere on campus my attention was caught by this banana in bloom
its lush foliage and pink flowers a handsome complement to the copper / russet euphorbia,
black elephant ear, and copper-hues coleus weaving through.
Back to Top
---
The Highlands

An 18th century mansion, in the 1920s the grounds of The Highlands were transformed by Caroline Sinkler into nationally acclaimed gardens. Briefly: first owned by Anthony Morris, who had a Necessary built in 1794. The mansion took two years for its construction, completed in 1795. He planned an elegant farm, incorporating innovative ideas such as crop rotation, and raised livestock to make use of the 200 acre property.

In 1808 the now 300 acre property was sold to Daniel Hitner, who in turn sold the property to Philadelphia wine merchant, George Sheaff, in 1813. The family would live here for the next century. By 1844, landscape architect Andrew Jackson Downing described The Highlands as "a striking example of science, skill and taste, applied to a country seat, and there are few in the Union, taken as a whole, superior to it." A thorough appreciation of The Highlands history can be gained from written records such as Anthony Morris' very detailed account book and the Sheaff family's observant and thorough diary entries.

Two years after the death of the last Sheaff heir, and though house and property had deteriorated, it was purchased by Caroline Sinkler in 1917. Under her ownership the property regained its elegance, in 1933 receiving a gold medal from the Pennsylvania Horticultural Society as a mark of the garden's excellence.

Today The Highlands is very much a restoration work in progress. Using historical photographs, letters, and other documents the character of Miss Sinkler's 2-acre formal garden will be restored to its glory days of 1925 to 1935. Working with Doell & Doell, garden historians and landscape preservation planners, work has begun in 2001 with the restoration of the screening wall at the east end of the garden.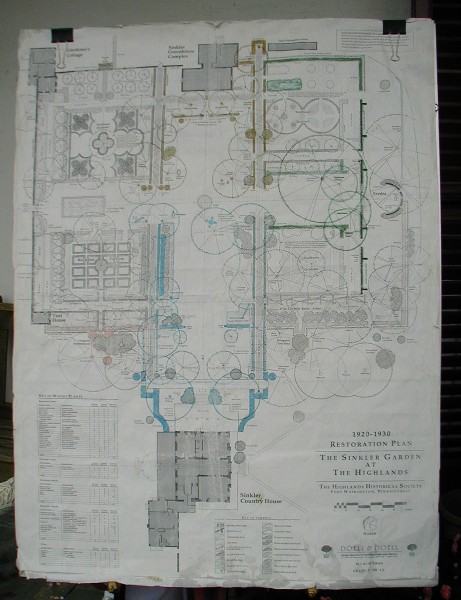 The landscape plan, a work in progress as the design in transmuted from lines on paper to plants in the garden.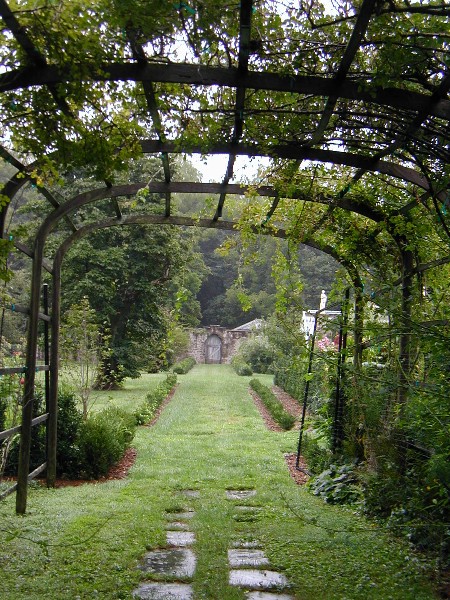 House at my back, looking through the arbor towards the brick wall that conceals the greenhouse.
Newly planted, the boxwood will grow into hedges that further emphasize the garden's structure,
rather like the house with four principal rooms around a central hall.

Turn right at the turf path bisecting the boxwood, then left, for view of the central "hall" with its garden art:
various urns, statues and a fountain for the focal point.
Apparently Miss Sinkler liked statuary, and in its heyday the garden was well endowed with nymphs and satyrs, heroes, gods and goddesses.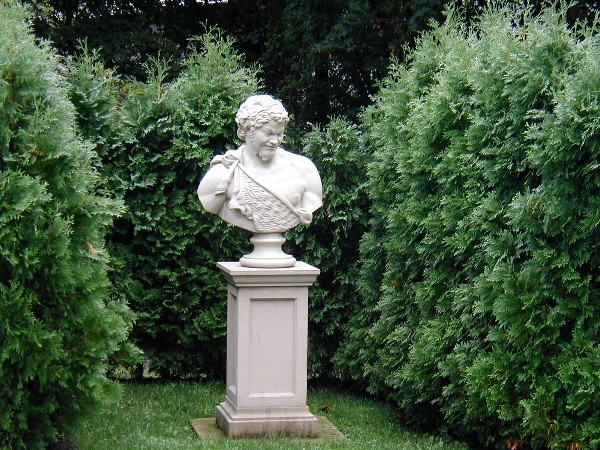 Back to Top
---
Morris Arboretum

The Morris Arboretum of the University of Pennsylvania, now the official Arboretum of the Commonwealth of Pennsylvania began as the elegant, eclectic, Victorian landscape of Lydia Thomson Morris and her brother John Thomson Morris. Lydia and John travelled the world, bringing seeds and plants back to Compton. In 1925 Lydia approached the president of the University and offered an endowed public garden, research and teaching institution, to be administered by the Botany Department for her trustees. It was not just the gift of the estate but in addition the bequest, that clearly illustrates the Morris sense of stewardship, of care-taking.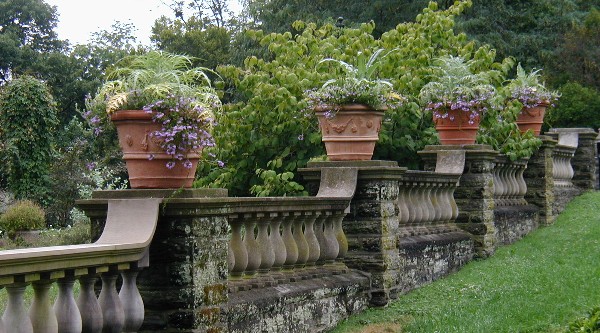 This elegant balustraded wall borders the rose garden, something Lydia had installed in 1924, almost a decade
after her brother's death. Replacing an earlier kitchen, herb, and cut flower garden, beginning at its inception
the rose garden has been highly regarded. It is not a rose-only garden, though they are the centerpiece.
Perennials and herbs such as lavender embellish the beds and borders where grow the eponymous blooms.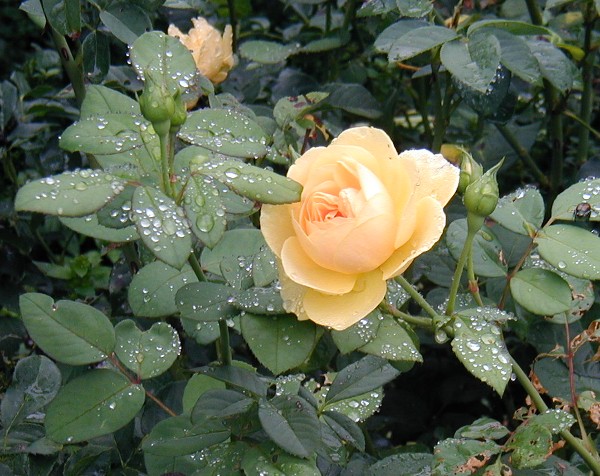 'Graham Thomas', a David Austin rose.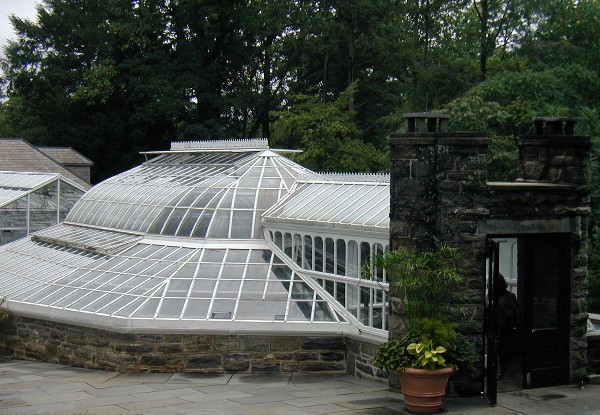 It is not a greenhouse sinking into the ground. Rather, it is a fernery, a glasshouse designed by John Morris
especially for the growing of ferns. The only remaining freestanding Victorian fernery in North America
the Dorrance H. Hamilton Fernery was built in 1899.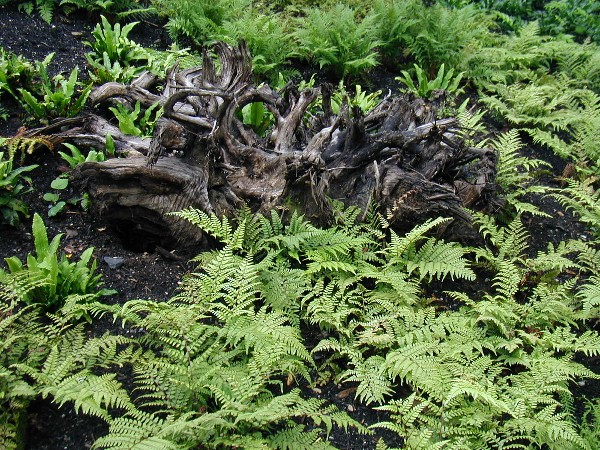 Across from the fernery is a stumpery. No joking. A stumpery is a pile of stumps.
Prince Charles has one at Highgrove. First created in the mid-1800s during the British Romantic Movement,
an artistic pile of stumps has its voids and pockets filled with leaf mold and soil where one grows ferns.
I may have to try this at home in BelleWood Gardens . . .

Back to Top
---
Stenton

The house is lovely, a Georgian mansion built around 1730 as the home of James Logan, secretary to William Penn. The three acres that remain with the property today are a scant remnant of the 500 acres of its heyday. In 1911 the National Society of Colonial Dames (who have administered Stenton 1899) decided that a historic house deserved an historic garden. Accordingly, a colonial revival garden was laid out by John Wister, appropriately enough a descendant of James Logan. Stenton is the site where the first meeting of the Garden Club of America was held.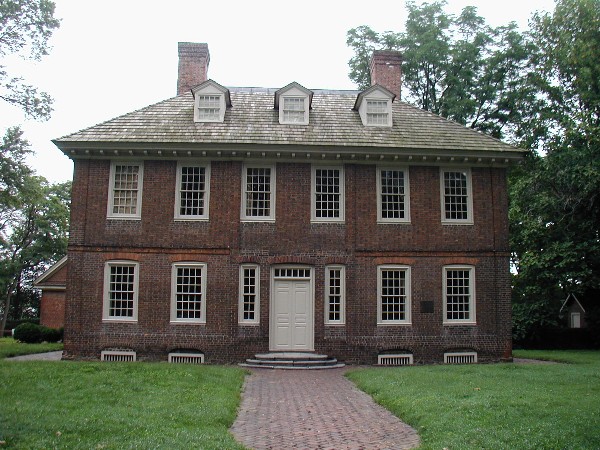 Back to Top
---
Tuesday, 29 August 2006

Optional Post-Symposium Tour in the Lehigh Valley and Allentown Area

There is, traditionally, an optional one-day post-conference garden tour. With options. I chose the Lehigh Valley and Allentown Area as A) it included three private gardens and B) I've already been to three of the five stops on the option 1 tour, as well as two of the four stops on the option 3 tour. Nice when we are offered easy decisions. So yet again the day begins, up and on a bus. The weather is not actively raining but it surely is, to use an Irish term, "soft" -completely overcast with a suggestion of moisture in the air.

Rothenberger Garden

The first garden is that of Scott Rothenberger. He refers to it as a contemporary farmhouse bungalow. As a first time homeowner and designer at Joanne Kostecky Garden Design Scott had to balance that tightrope many of us face: champagne tastes and a beer budget. He made it work, and work beautifully.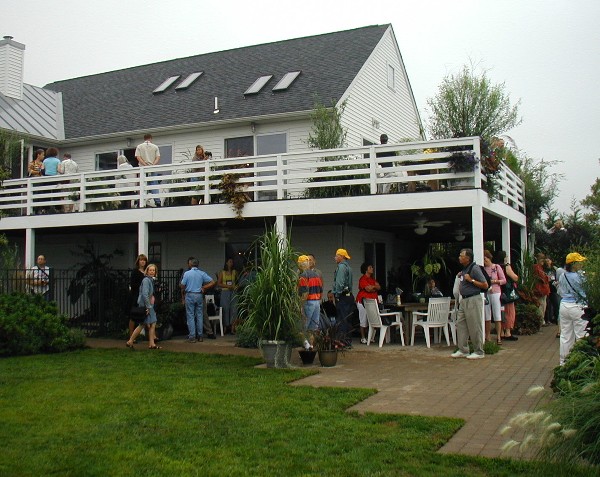 Though not huge, the house functions as a much larger building, blurring the line between indoors and outside.
Every room except the guest bedrooms has glass doors which, on the main level, lead to a spacious deck.
The space beneath the deck is beautiful living space, not storage for old bicycles and a leaky canoe.
White walls, three large, white bladed fans, and a delightful garden just a step or two away create an inviting space.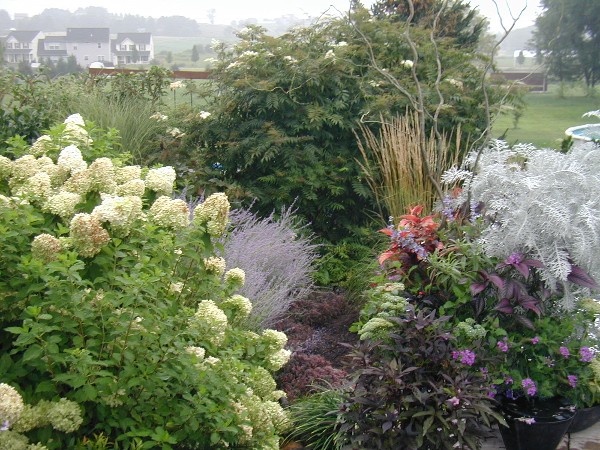 Plants are carefully selected and beautifully combined. Shrubs, perennials, ornamental grasses, and annuals mingle in profusion.
Notice the houses in the fog. These are Scott's neighbors, for his house is in a development.
First on the street, his property has a larger yard than the others because it includes the retention pond area.
Wildflowers encircle the area, and a turf path offers a means to stroll and enjoy what's now a beautiful view.



A custom shape (Scott's own design) makes the pool more than merely a place to swim.
There's a spa with waterfall, and a careful play on shape and scale with three cantilevered pieces of bluestone,
which is mimicked by the sawtooth intersection of hard pavers and and soft green grass turf seen in the first image.
Small wonder that in February 2006 this pool landscape won second place among nearly 400 entries
from Pennsylvania, New York, and New Jersey in a contest sponsored by Concrete Stone and Tile Corporation.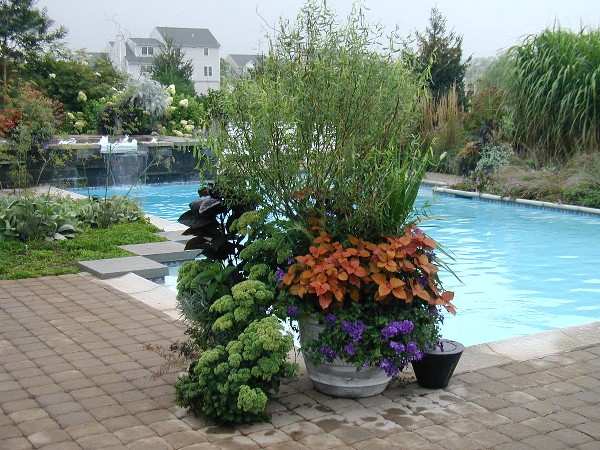 As well as gardens in the ground, Scott creates gardens in containers, grouping plants within large containers
and arranging containers with containers. Curly willow swirls from the largest pot, accompanied by coleus at its feet,
and sedum - still in its early, apple green broccoli stage - nearby. The willow will clearly have to move on.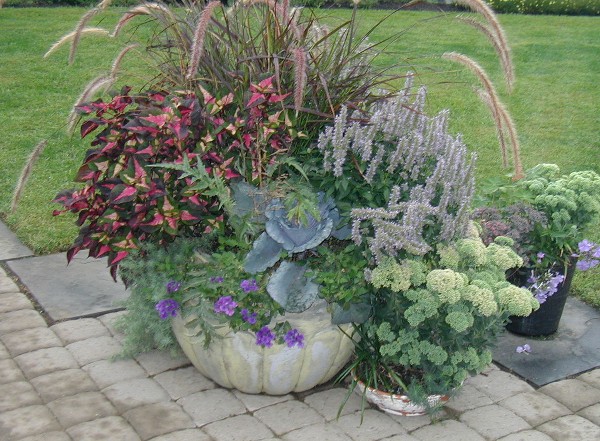 Another cluster of containers gives a nod to the seasons - summer's end embellished with an ornamental cabbage,
'Magilla' perilla, catmint, Pennisetum setaceum 'Rubrum', and a couple more pots of sedum.

Back to Top
---
Grossinger Garden

First there was an Olympic-size concrete pool. In-ground. And it leaked. So the concrete was dug loose, put back in the hole, compacted, and tons and tons and tons of soil were brought in to create a six-foot hight mound. We're talking a 21-foot change of elevation from the pool's bottom to the mound's top. Sculpting of the soil, creation of an ornamental koi pond, a little waterfall, a Zen style dry garden, fascinating plantings include such delights as rarely seen and difficult to obtain sweet fern, Comptonia peregrina, a native shrub with aromatic foliage that may be used to brew tea. Completed as a multistage project over the course of a couple of years, the Grossinger garden is a Joanne Kostecky Garden Design project.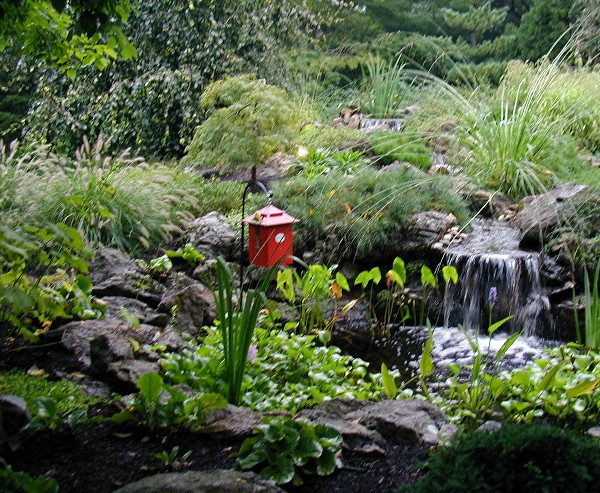 The appropriate red object overhanging the pool is an automatic koi feeder.
How nice when all the pieces come together in so tidy a manner.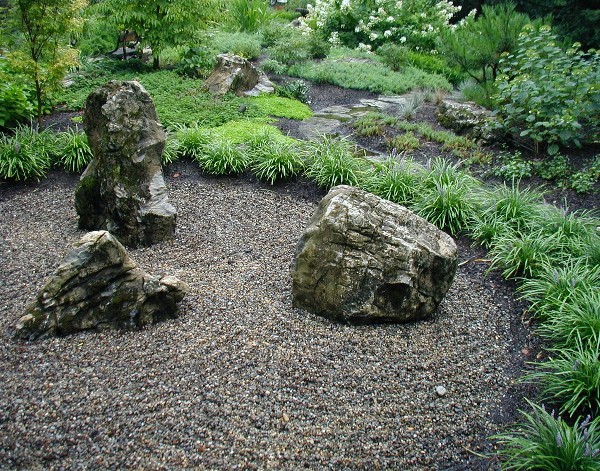 A fieldstone path skirts the linear border of lirope which frames the dry garden.
The rocks were individually hand selected and carefully placed.
A typical garden rake was reconfigured for use in creating the "waves" in the gravel sea.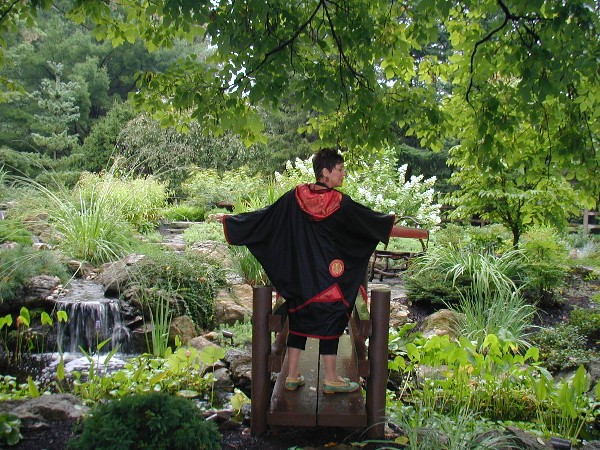 Joanne Kostecky stand poised on the bridge, her very raincoat an appropriate detail for this garden's ambience.

Back to Top
---
Kelley Garden

The third garden (and another Joanne Kostecky Garden Design) appears from the street as yet another typical oversize house in a new development. This project had to cope with a steep slope at the rear, coupled with some spring-fed wet areas.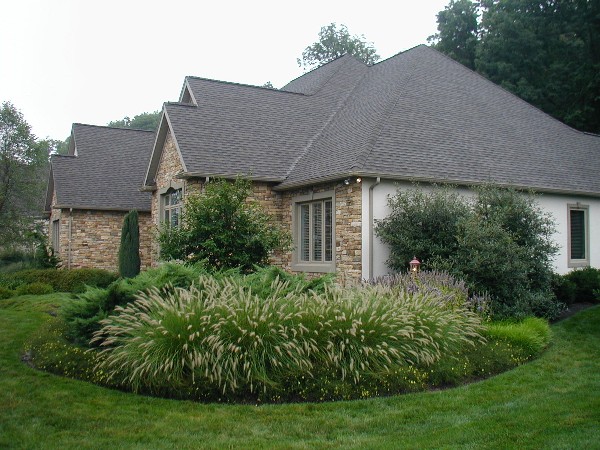 Notice the calm placement of a sweep of grasses, in this instance Pennisetum alopecuroides,
so well grown that even the morning's moisture does not flatten it.
Inclusion of both evergreen and deciduous shrubs provide both seasonal appeal and winter interest.
Underplanted with Mazus reptans, a copse of Winterberry Holly, Ilex verticillata, will take center stage when its leaves drop
and berries turn sealing wax red, remaining through winter to lend sparkle to the season.

Back to Top
---
The Rodale Institute and Farm

We'd picked up our box lunches and eaten as the buses cruised down the road to Maxatawny township, near Kutztown, Pennsylvania, where The Rodale Institute and Farm is located. A 333-acre working farm, they grow corn and soybeans as two of their cash crops. The fields may look weedy, but in this year's severe August drought the crops were less affected than in neighboring farms using non-organic methods. "It's all in the soil." we were told. As well as producing crops the farm conducts research. Accurate records are kept of field trials on commercial scale, allowing comparisons to be made between traditional methods that rely on fertilizers, herbicides and pesticides, and the organic techniques the farm is noted for. Next year, 2007, will mark the 60th anniversary since J.I. Rodale founded The Rodale Institute, to scientifically prove his philosophy of "Healthy Soil = Healthy Food = Healthy People®." Foremost among the Institute's goals is to promote and encourage the use of humus and other organic matter in order to maintain and improve soil fertility, prevent soil erosion, and improve human health.

In addition to the multi-acre farm fields there is a demonstration garden where flowers and vegetables grow, mingled together in raised beds. Composting for the garden takes place in compost bins. Additionally, the beds are mulched with grass clippings, readily available every time the turf is mown. Not only does it make a great mulch, it helps to control weeds and conserve moisture, as well as enriching the soil as it breaks down. The grass clippings are spread straight from the mower's collection bag onto the garden plots.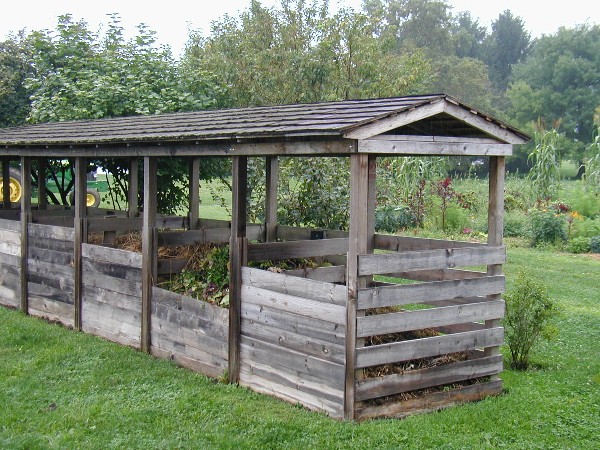 Chemical fertilizers are not used, nor are any animal-based manures.
All the garden scraps and weeds eventually end up in one of the 10 composting bins
where they're allowed to break down before being spread back onto the beds, between crops.
This compost is the only nutritive substance added to the soil.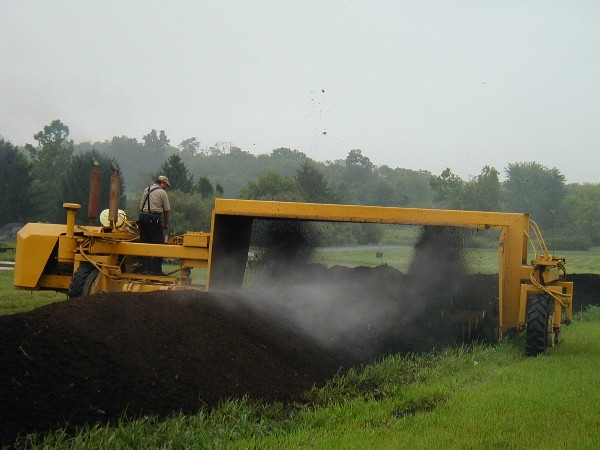 Something more is needed for the farm fields. Windrows of decaying organic matter
from autumn leaves to wood chips and grass clippings goes into huge windrows.
Delivered by commercial haulers who collect from municipalities, the material needs to be turned.
The Rodale Institute designed this nifty machine that straddles the pile and efficient stirs and aerates it.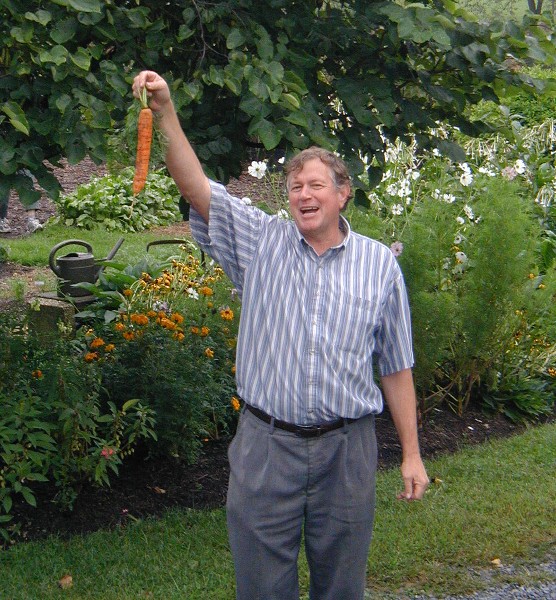 Organic matter is important in the development of a soil with good tilth.
One look at this carrot from the demonstration garden, not merely long and large but also nice and straight,
reveals that there's no rocks, roots, heavy clay, or other carrot-deforming material in this garden.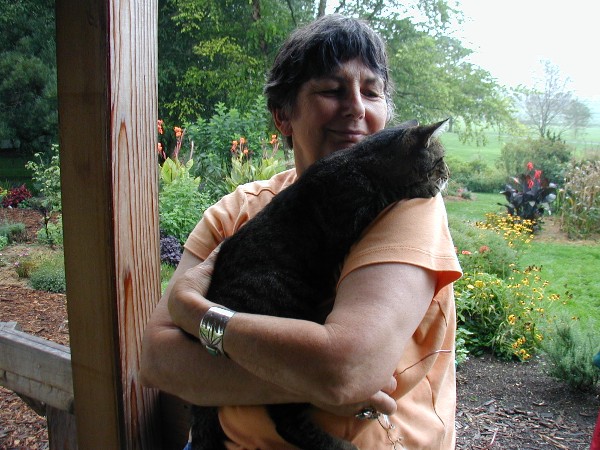 Photograph Credit Rick Ray 2006. All rights reserved.

It started to drizzle and I ducked into the nearby open-sided education center.
There was even a sweet cat to cuddle. Jolie and her sister Angelina were found on the road as stray kittens.
They're working members of the Institute, housed in the greenhouse where they control the rodent population.
And, just like the rest of the staff, very people oriented.

Back to Top
---
Campania

It was fortunate that our last stop of the day was an indoor venue, at Campania. Selling only wholesale and to the trade, their garden art and decorative containers are elegant, charming, and in many instances made right there on the premises. So meticulous is their work that their product line includes pieces based on examples at the Morris Arboretum, Longwood Gardens, and the firm is now working with the Smithsonian. Just imagine going into the storerooms of the Nation's Attic and rummaging around for containers, plinths, urns, and statuary to reproduce. What fun! But it is more complicated than you might think.
A mould from which the casting will be made must be created.
Since the mould material is flexible, it must be supported by a rigid form.
This sample is a plaster casting of a pineapple, and it is quite crisp and clean.
But a mould may only be used for a finite number of times (variable, with the complexity of the casting
and the material used for the casting) and the mould wears out, the lines of the casting becoming blurred.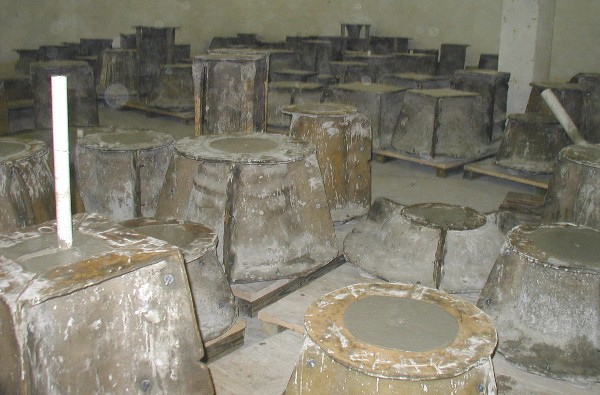 Here, concrete containers, good size flower pots, must sit until firm enough for the forms to be removed.
Each had been created on a low vibrating table, actively shaking the piece as its filled to eliminate air bubbles
which would weaken not only the integrity of the piece but also create unattractive voids and small pockets on its surface.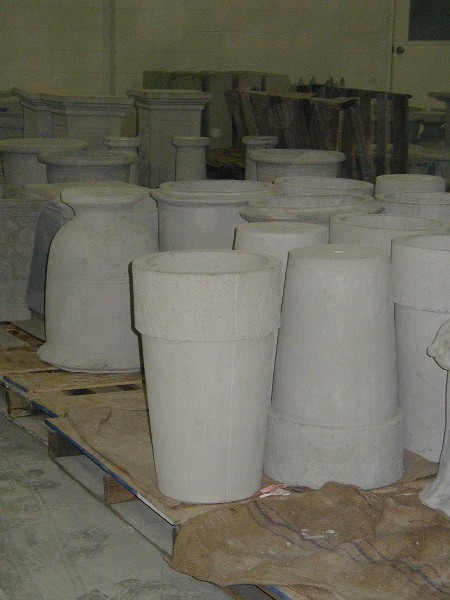 After a day or so the pieces are unmolded, but must continue to cure and harden.
Concrete cures forever, it seems, gaining in strength and durability as time goes by.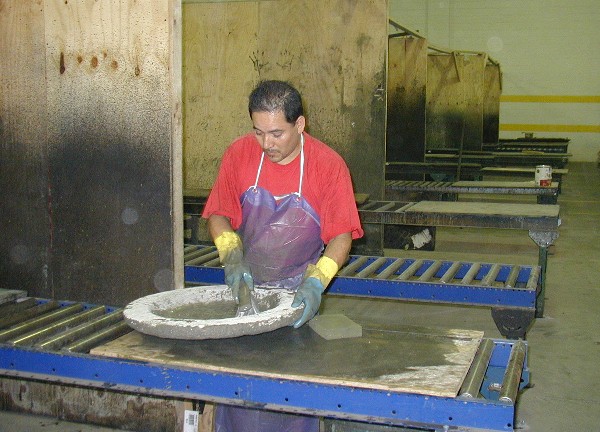 Campania has a staining technique for its pieces, a preferred method as the color actually sinks into the surface,
better than a surface finish which might weather away or become chipped and discolored.
Each finishing line uses only a single color. As an order is pulled, one worker applies the color to all the pieces.
That way the "hand" will be uniform for a more harmonious result for the pieces.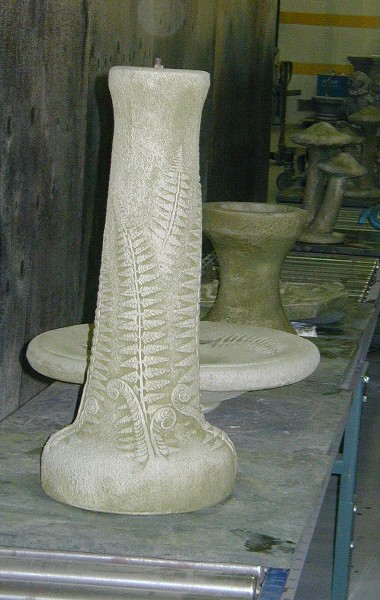 The color is not simply sloshed on and considered done. After the stain is generously applied
the piece will be wiped down. This avoids an artificially uniform surface appearance,
as stain is reduced on the raised surface of a design and more color remains in the recesses.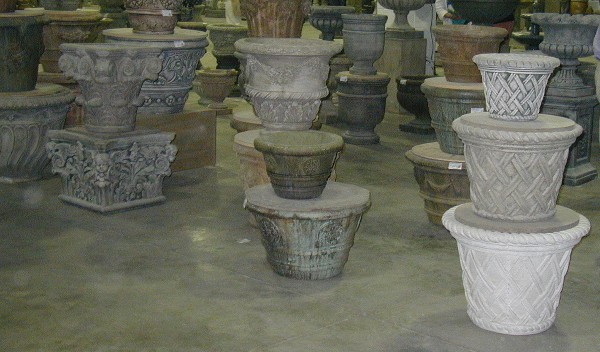 The showroom is filled with a plethora of pots in all imaginable sizes and styles
from ornate to simple, contemporary and vintage, classical and playful. Something for every garden
whether city or country, large or small, casual or cottage or formal.
Now if they'd only plant some up for a livelier display . . .

Back to Top
---
Monday, 28 August 2006

Fête Champêtre at Chanticleer

Back indoors for the afternoon's several concurrent sessions, refreshment breaks, more concurrent sessions. I confess to playing hooky. Some down-time was very much needed. I wanted to be refreshed, vivacious, and ready for the evening's events at Chanticleer. And what an event it turned out to be, meeting all expectations and then some - splendid gardens at their summertime peak, delicious food, rolling landscapes, locally brewed beer and wine to quaff, a tour of the house, wait staff circulating with trays of appetizers, permission to swim in the pool (with bathing suits and towels provided, of which I availed myself), musicians playing in the ruins, food and fun and flowers and friends - oh my!
At the forecourt where precisely raked gravel offered an elegant intimation of the attention to detail that's a hallmark of Chanticleer.
Splendid groupings of containers, lush with bold foliage in multiple shades of green, pink, and purple
embellished with a scattering of flowers.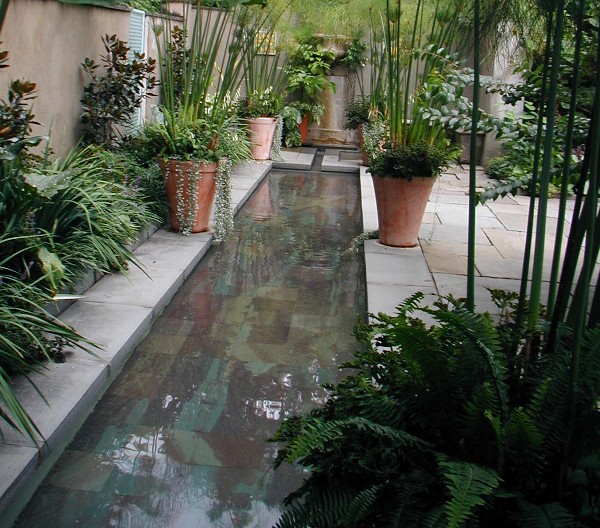 A shallow water channel in Moorish style, with tints and shades of slate for the bottom
accentuates a modest courtyard, accented with tall pots of papyrus.
Rough surfaced granite steps lead up to a terrace. The arbor, though open to the sky,
offers an intimation of shelter. Casual pockets of flowers - tall liatris and warm orange cosmos -
suggest this is the remains of a structure now returning to nature.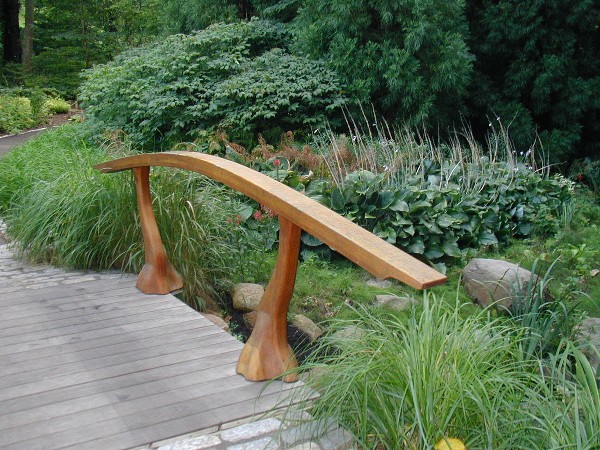 Everywhere my attention is captivated with the attention to detail.
Surely designed by a hobbit, an arched handrail whose gnarly / knob-like base appears to grow out of the bridge.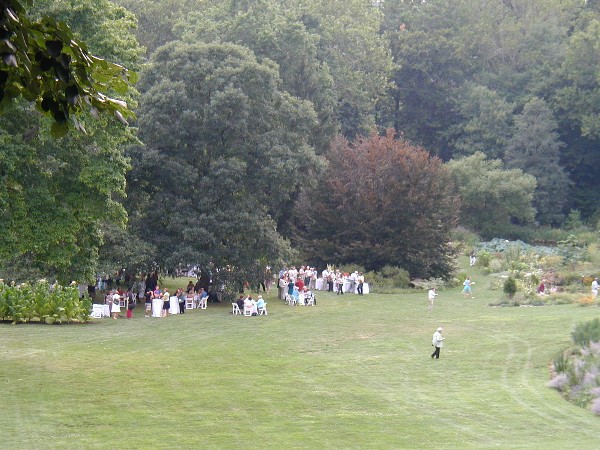 A fête champêtre, with tables set up on the lower lawn. A movable feast, as we sample, then saunter off to admire the gardens.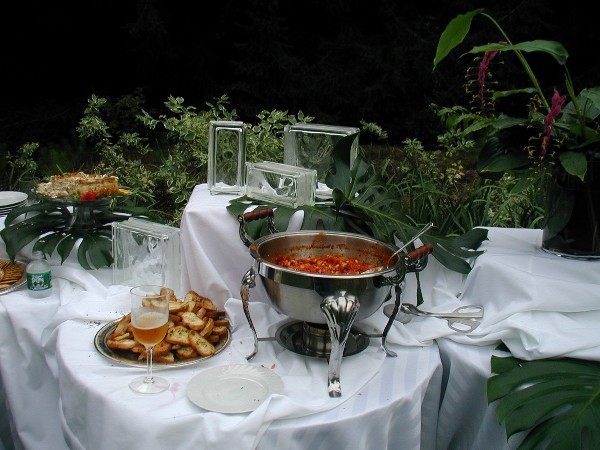 Fire roasted Jersey tomato, white bean and chorizo sausage ragout with herb bruschetta.
Just one of the delicious dishes available in the pond garden.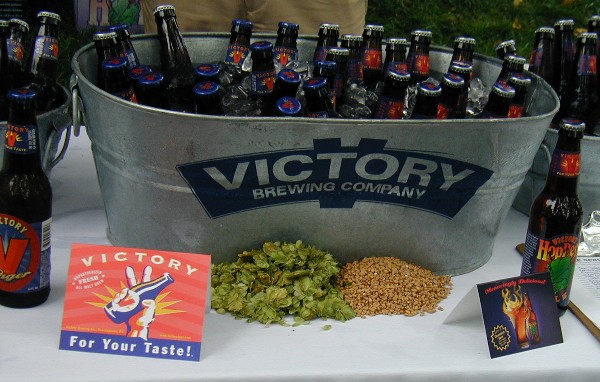 Whole flower American hops and German malts are used by Victory Brewing Company to make their award winning Hop Devil Ale.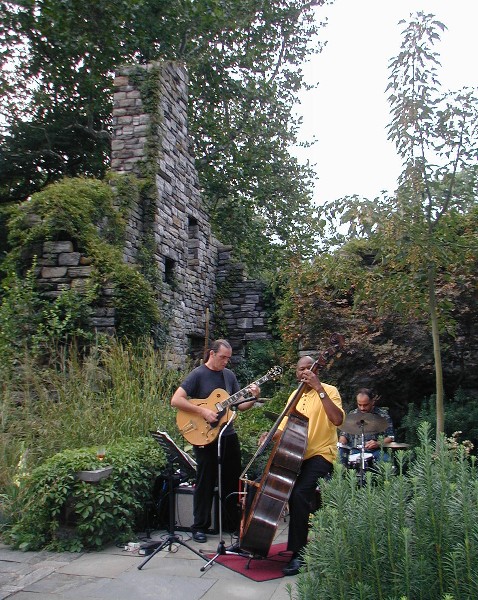 Music provided by the Gerald Benson trio: cello, guitar, and drums.
Jazz in the ruins, and Gerald has a mellifluous voice, like warm honey poured over the chords.
Changed the ruins from somber to sophisticated. Lovely.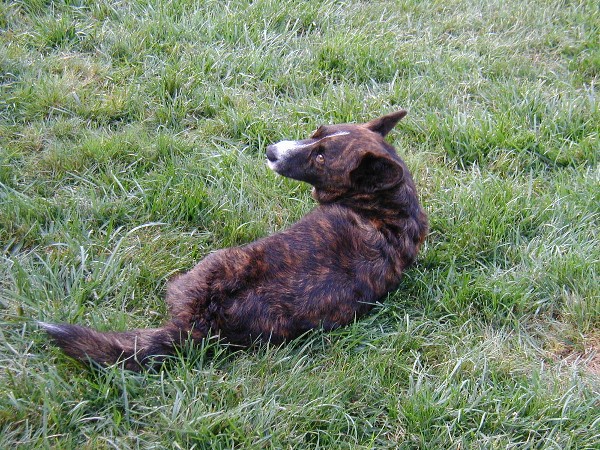 All too much for Jesse. After trotting around and accepting our accolades he took a well deserved rest.

Back to Top
---
Monday, 28 August 2006

Story Tours / Garden Visits

Today was supposed to start with an eager beaver early morning photo shoot, departing for the Morris Arboretum at 5:15 a.m. It was, fortunately, an optional event. Of the 110 who signed up for it, somewhere around 4:30 a.m. most of them must have looked at the dark, dank, overcast morning, rolled over, and gone back to sleep. Kudos to the 19 who actually boarded the bus. here's hoping they all got some spectacular images.

The rest of us boarded buses at a more reasonable hour for what's called story tours, visits to gardens that inspire us to write about them. Today's concurrent sessions would be held in the afternoon.

Ashland Hollow

Our first stop was Ashland Hollow, a 17 acre stroll garden created on a west to east valley carved by a stream. We were guided on a circuitous path through a portion of the property, enjoying a diversity of trees and shrubs, drifts of plants, water features, and more.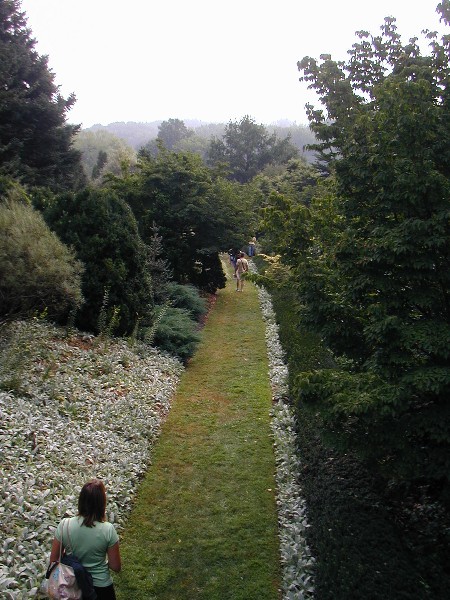 Cutting through a silvered slope, a turf path edged with more lamb's ear, Stachys byzantinna, with conifers and shrubs on either side.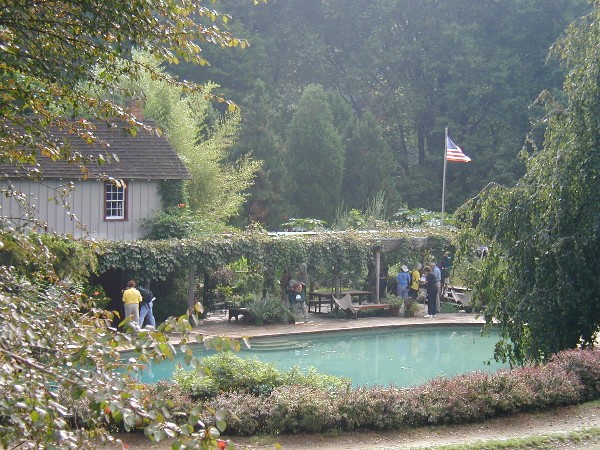 Numerous clusters of grapes dangle from a marvelous arbor alongside the swimming pool.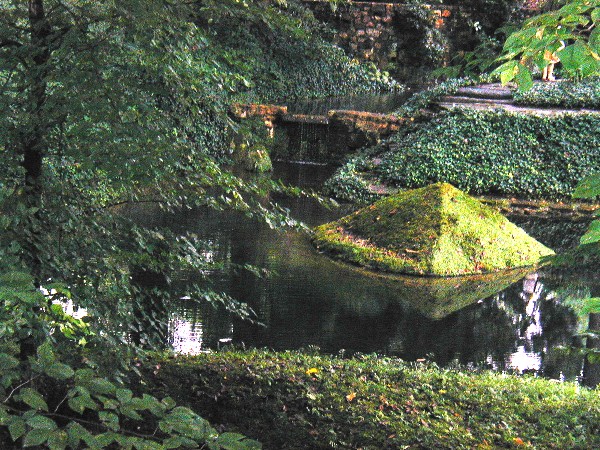 Carefully, geometrically formed, married to its reflection in the water's still surface,
a moss-covered pyramid appears buoyed on the dark water.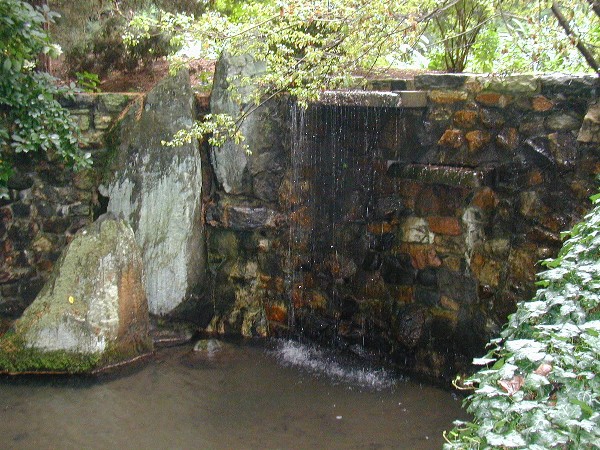 Set far enough away, just glimpsed in the preceding image,
a waterfall musically cascades, the white lace of its frothy arrival in the pool distant enough
that the surface barely trembles by the time it reaches the pyramid.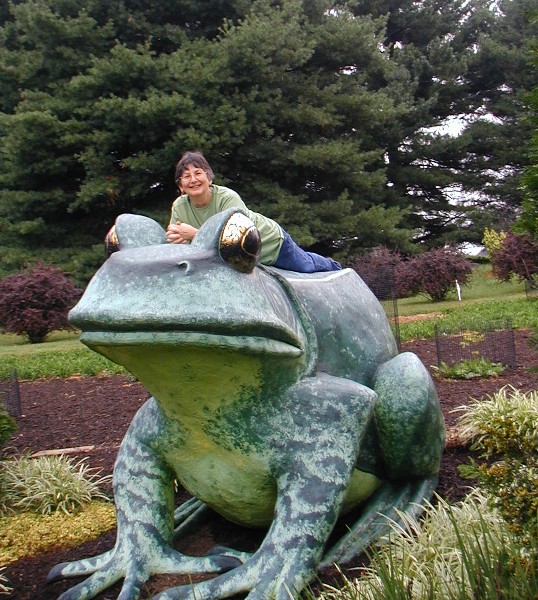 Photograph Copyright © 2006 Joe DeSciose. All rights reserved.
Sculpture by Linda Lee Strong, Lamy, New Mexico

There's this frog, a most marvellous frog, built of ferro-concrete on a framework of girders.
He and I are very happy together.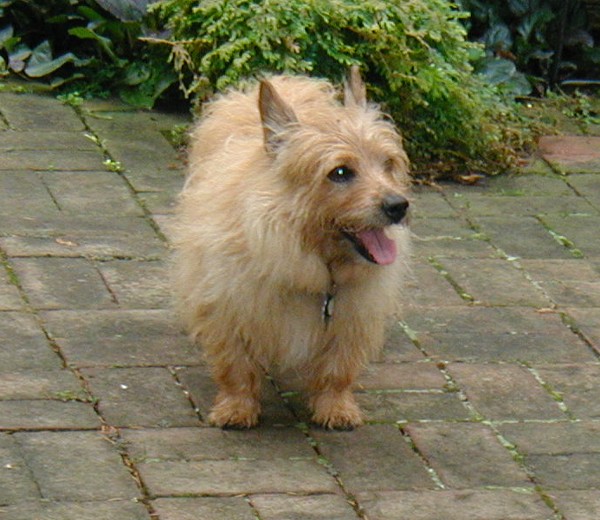 Charmingly, a little terrier welcomes us.

Back to Top
---
Frog Hollow

The next garden could easily have entertained us for hours and hours. From the moment I stepped off the bus until I was reluctantly shooed back on again there was always something fascinating to see. Island beds set in the lawn, with carefully composed, immaculately maintained plant groupings. I never got to see the award-winning three-level conservatory, didn't count the water features so I'm not sure I saw all seven. But what I did see was a matter of pleasure and delight.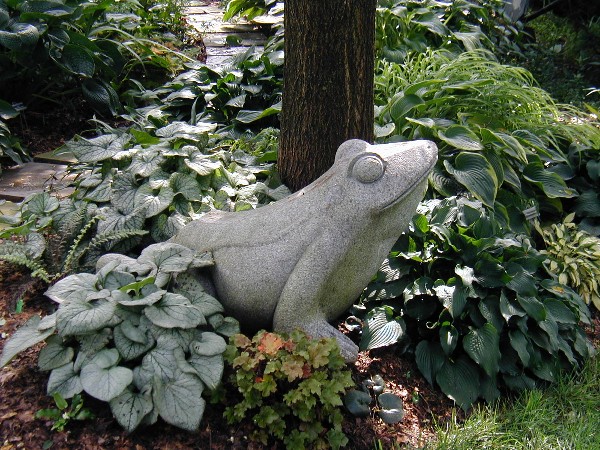 There were, of course, frogs. After all, it's Frog Hollow. (I even spotted a live one in a small ornamental pool.)
Wonderfully planted containers, imaginatively grouped together, as here in front of the house.
"God," said Mies van der Rohe, "is in the details." Look closely at the weathered, hollowed branch casually set down among the planters.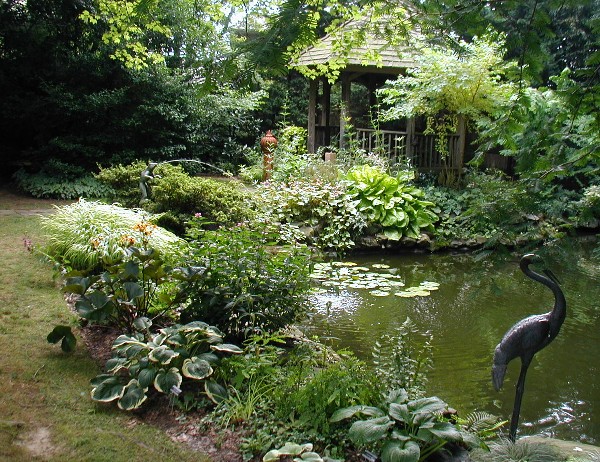 At the back of the garden there is a country-like pond, with a rustic gazebo set nearby.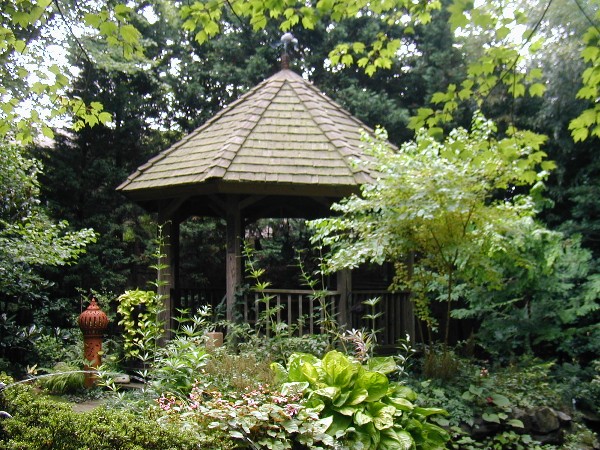 Dark wood, a cedar shake roof, and a richness of plants embellishing the water's edge.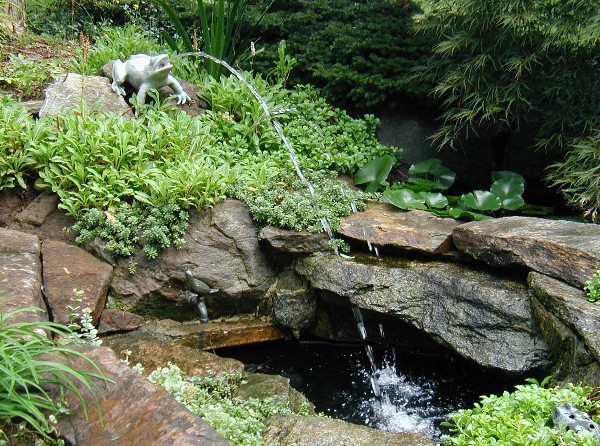 And a frog, spouting water into the pond.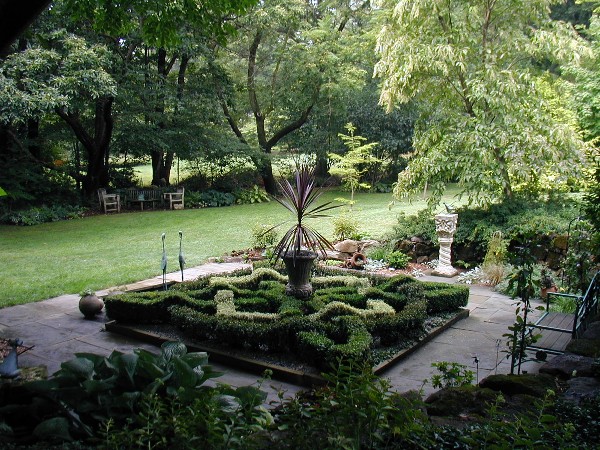 Set off in its own display space, a sumptuously elegant knot garden,
the triple hedging interweaving, flowing over, impeccably clipped in a tidy manner.

When I was muttering about too little time, I was asked if I'd rather have longer in two gardens or less time and see three gardens. No hesitation. "Two." I said firmly. But this one? This one I want all alone. And all day.

Back to Top
---
Fox Hollow

Third of our morning's garden-hopping outings, the buses wind up a tree-shaded country lane passing horse pastures. We're unloaded from the bus to walk the last portion and arrive at Fox Hollow. Inta Krombolz is an artist welding graceful sculptures from discarded machine parts, which are then colored (but whether painted or enameled or some other technique I am not certain) to blend with the garden beds and borders where they are incorporated. Her artist's eye is also evident in the garden's fabulous use of color - purple foliage and flowers mingling with apricot and orange flowers, the simmering brew soothed with silver foliage. The house and its garden are on separate levels, with the house up by the road and a gentle slope behind it leading down to the garden and a marshy streamlet at its back.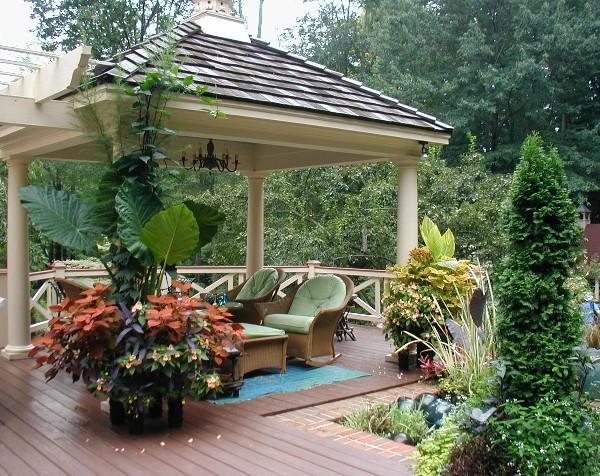 An elegant gazebo invitingly occupies a portion of the deck behind the house.
Lush container planting provide a tropical ambience.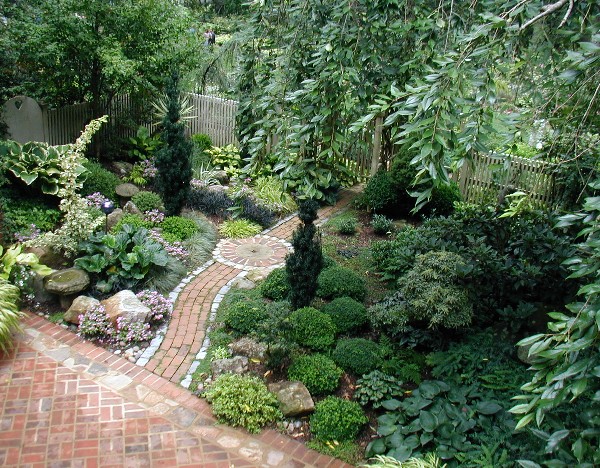 Another part of the deck offers a delightful overlook. The gardens closer to the house are more structured,
with tidy brick path, circular hub, and well-clipped little shrubs.
Further from the house the garden takes on a more casual ambiance.
With a certain air of southern gentility and rustic deshabille,
this elegant potting shed seems rather small to be a functional structure
filled with bags of compost, stacks of pots, and a work bench.
Who cares. It's lovely.
I love it! Notice the rustic blue chairs set in a glade-like opening,
the matching blue planter, and blue spheres set in the liriope.
Take a closer look at the planter.
It's made from a tire on its rim! then painted to match. Fabulous.
An Adirondack style rustic arbor (I seem to keep coming back to that word) made from saplings.
Look closely, and you'll see the deer netting on the property's perimeter.
Great combination of coleus (looks like 'Alabama Sunset') and 'Ace of Spades', a purple-leaved sweet potato.
The small tree is a purple-leaved peach, one of a pair set on either side of the path.
It creates a color echo for the larger purple-leaved sand cherry off to the left,
and emphasizes the soft chartreuse foliage and pale orange flowers of begonia and salvia.
I was really taken with this casual edging. Aesthetically it suits the character of this portion of the garden
and functionally keeps mulch out of the lawn.
The edging in the previous image also harmonizes with small, one-person paths that wind through the garden,
distinct and inviting, clearly intended for a slow stroll rather than a working expedition with tool-filled garden cart.

Back to Top
---
Sunday, 27 August 2006

Dining and Dancing at Longwood Gardens

Purchased by Pierre du Pont in the summer of 1906, the land near Kennett Square, in Chester County, Pennsylvania that has become Longwood Gardens this year celebrates one hundred years of garden splendor. Known to an wide array of gardeners - those who visit regularly, others who make a memorable single pilgrimage, and those who are planning to arrive at this iconic garden"sometime," Longwood delights both the avid gardener and the more casual visitor with more than mere rarities, displaying ordinary plants grown exceptionally well, beds and borders bursting with color, demonstration gardens, a conservatory that a garden under glass, and much, much more.

Garden writers who had never been here before took advantage of a bus departing early from Wilmington's walking tour, providing additional time to view Longwood's horticultural riches. Having had the good fortune to visit on several previous occasions, I was content with a later arrival. Once there, I remained within the conservatory, enjoying its elegant renovations and the summer splendours of the water garden that shelters in an enclosed courtyard.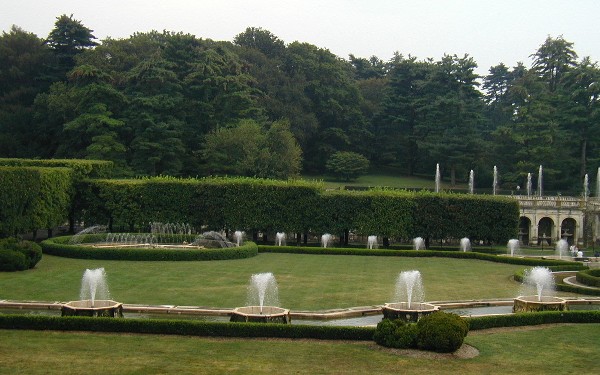 A slow stroll from the visitors center toward the conservatory requires a pause to enjoy the Italianate water garden and its fountains.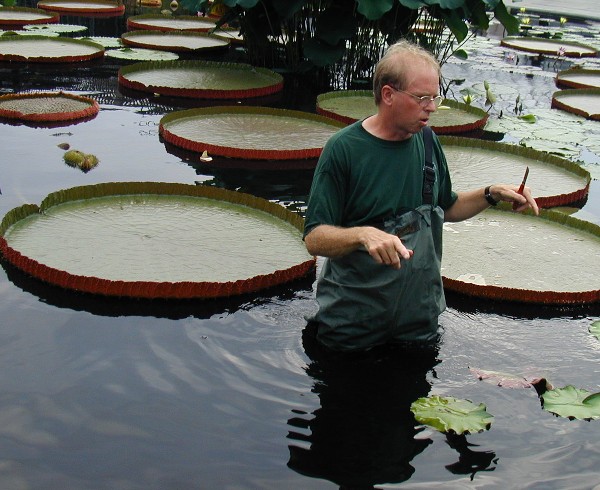 Tim Jennings stands hip deep in the pool, clad in waders.
The floating, flying saucer-like leaves belong to Water-platter, Victoria 'Longwood Hybrid', a cross betweenV. amazonica and V. cruziana
Grown as an annual, seeds are started indoors in February, and planted outdoors at tomato planting time.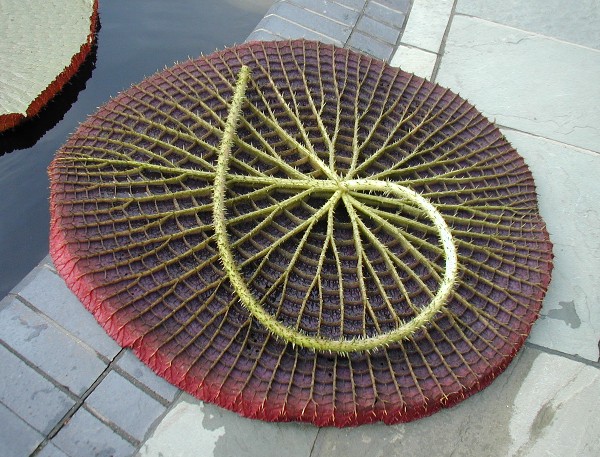 The prominent (and thorny) network of veins on their underside supports the large leaves,
and can even support a child standing on one (provided weight is distributed with a board.)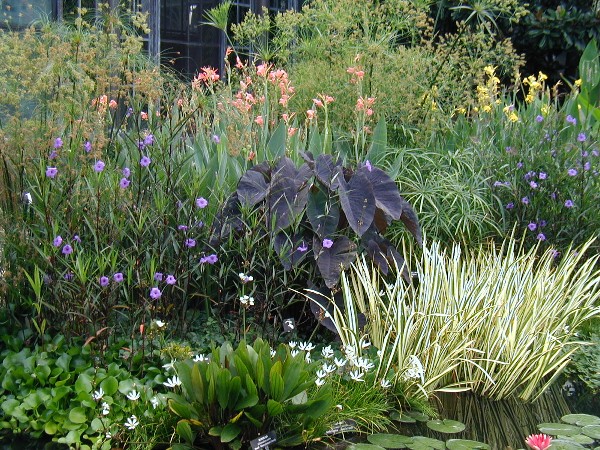 Water lilies both hardy and tropical are not the only plants grown to perfection and placed on display in the water garden.
In the back are salmon pink 'Erebus' and pale yellow 'Ra' Longwood Hybrid Canna,
with lavender flowered Ruellia dancing before them.
the bold black leaves of Colocasia 'Black Magic', umbrella-rib leaves of papyrus,
and crocus-like white flowers of water-loving Zephyranthes candida.

Sponsored by Longwood Gardens, we're invited here for a gala reception, dining and dancing and fireworks, celebrating Longwood's 100th anniversary. And do they ever know how to throw a party!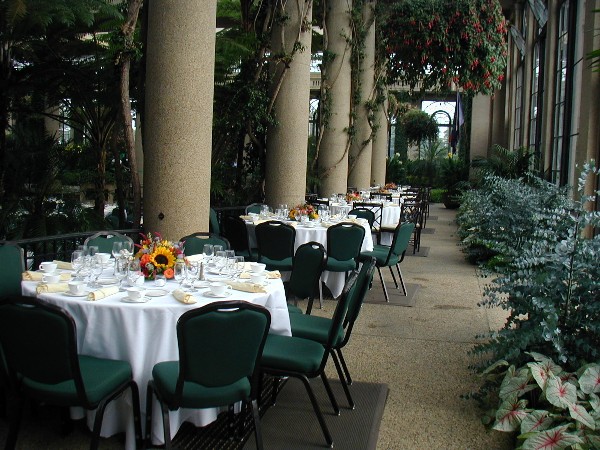 Tables set with linen and flowers in the Conservatory's Exhibition Hall in readiness for our fine dining.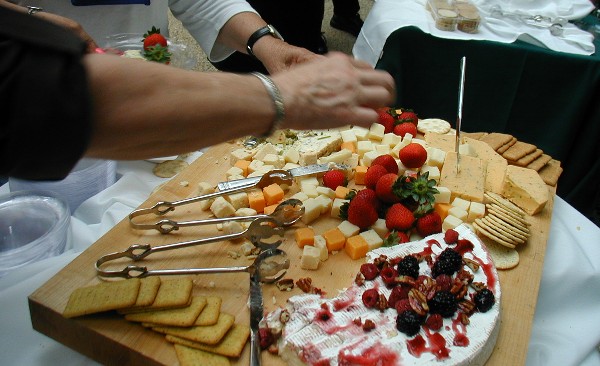 Local wineries and micro-breweries were set up here and there in the conservatory,
and the tasty nibbles accompanying these sampling stations included the most fabulous brie,
topped with glazed walnuts, blackberries, raspberries, and a swirl of raspberry sauce.
Can you tell how popular this was?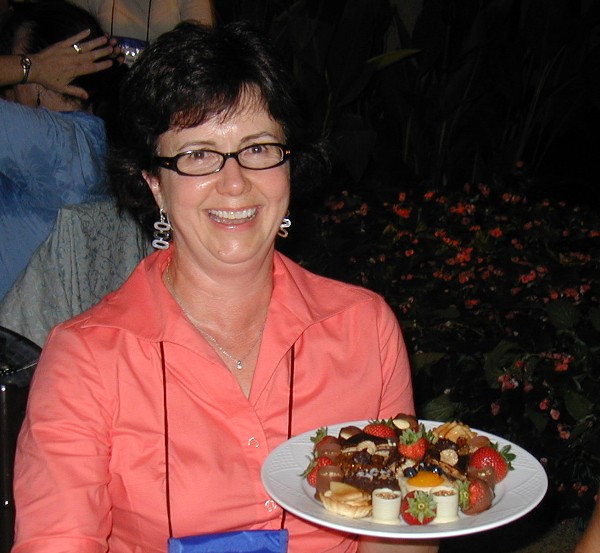 After the buffet dinner each table was handed a delectable platter of dessert.
Just look at Barbara's delighted smile.
Our table kept it circling until there was nothing left, which didn't take very long at all.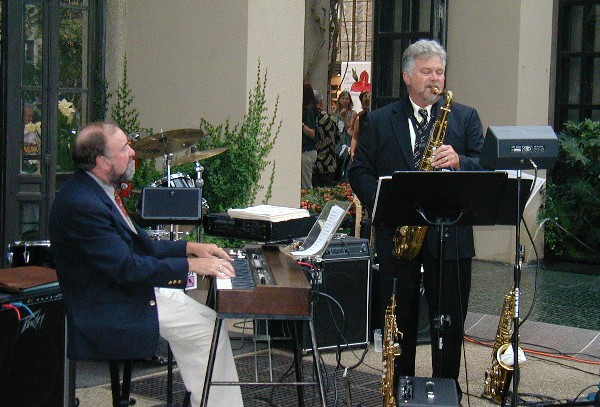 Live music, a guitar trio for background, and later on this keyboard and clarinet duo for dancing.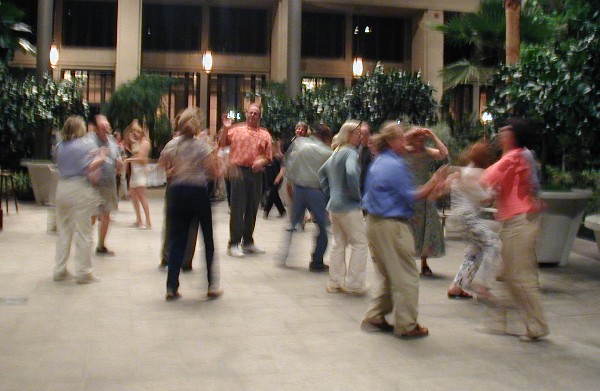 Garden writers in a blur of motion, dancing the night away.

After dark we went outside, for an absolutely fabulous music, fountains, and fireworks performance. The sky rockets in the night were the finest I've ever seen, a dazzling spectacular as sparkling throughout as others' finale. Then adieu, into the buses, and back to our hotels. I slept, delightfully tired from the day's multiple, wonderful events.

Back to Top
---
Sunday, 27 August 2006

A Wilmington Walking Tour

After the morning's concurrent sessions (including a very practical and useful writers' panel on Magazine Queries 101, sharing experiences, ideas, and suggestions of what works and what doesn't) we were - no surprise - again back on buses, clutching our box lunches and on our way to Wilmington, Delaware. Once we arrived at Trolley Square and Rockford Park neighborhoods in the northeast corner of the city, we were turned loose to visit five private gardens and historic public gardens. A small shuttle bus ran in a continuous loop, providing a time-saving transit between the furthest points. Having been given the advice that this was an á la carte tour, my decision was to go for the private gardens. After all, should I ever return to Wilmington the public gardens would always be accessible. So off I went, down the tree-shaded sidewalks and attractive homes in quest of the first garden.
---
Garden of Mr. and Mrs. Walter S. Roland

You'd never know you were in the city. Enclosed by a brick wall, stately trees, a grand sweep of lawn, and a Tudor style house more than a century old combine to make this a serene and private retreat. (Of course, Sunday's reduced traffic added to the peaceful ambience.)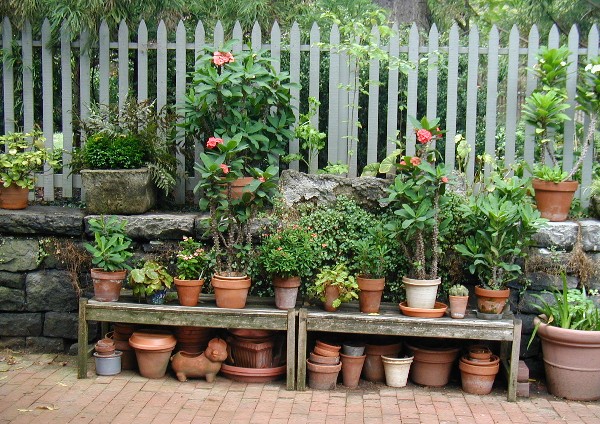 I found this pair of benches very appealing, serving both as display stand for potted plants and shelter for pots awaiting use.

Back to Top
---
The Garden of Audrey Boys

The next garden was more modest in size, with charming personal accents at every turn, such as a single decorative metal fence section mingled with shrubbery and guiding visitors down the garden path. One aspect I really appreciated: formal, rectilinear rose beds cut into the lawn and backed by the neighbor's low brick house appear part of the this attractive garden with flower beds in both sun and shade. What a pleasant partnership these neighbors have with each other.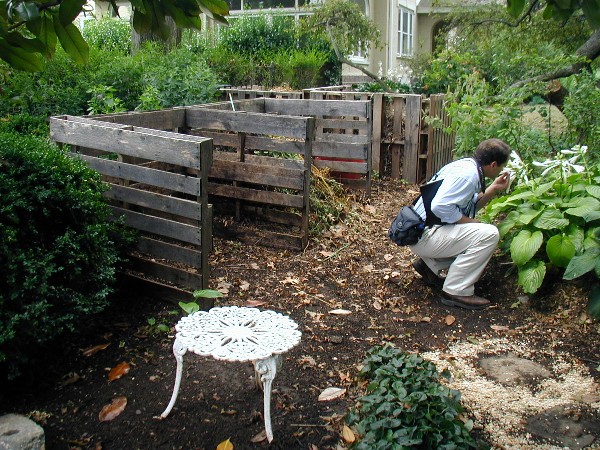 It's a working garden, with a proper 3-bin compost system.
Chris Wiesinger, of Southern Bulbs enjoys the sweet fragrance of August lily, Hosta plantaginea.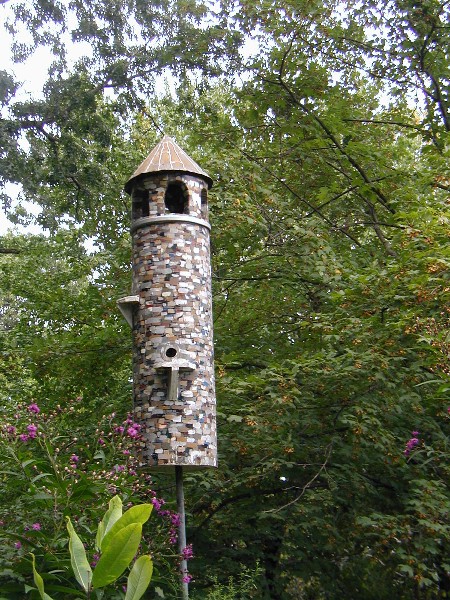 What birds do you think will inhabit this nifty replica of Rockford Tower?
It was built by Thomas Frazer Burke of Castles in the Sky, in Wilmington.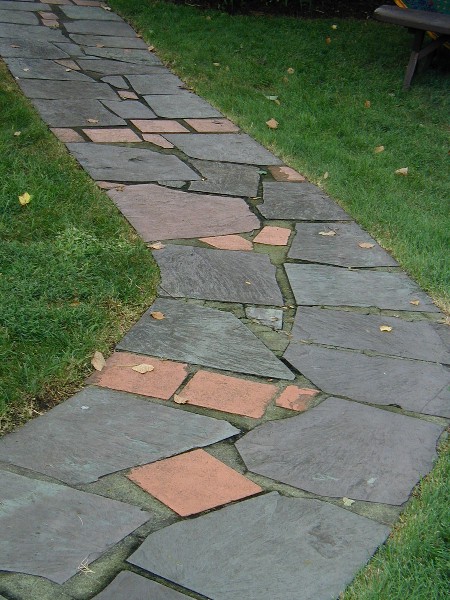 Built many years ago, I especially like this stone walk, it's somber slates enlivened by random inserts of rosy terra cotta tiles.

Back to Top
---
Mary Lou's Traffic-Stopping Traffic Island

Traffic swirls around this three-way intersection, embellished by a sun-loving mix of hot yellow, gold, orange, red, and lime green annuals and perennials. That's this year's theme colors, which have varied over the 20 years Mary Lou has devoted to this guerilla garden.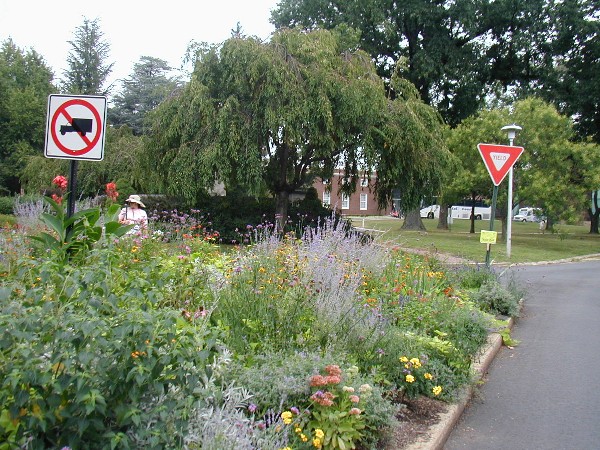 No traffic accidents, but we're told that surreptitious bouquet thefts do occur.
---
The Garden of Mary Lou Gross

At home, Mary Lou's garden is quite different. Her townhouse just about fronts on the street, across from the traffic island. The modest garden is in back, and is mostly shaded, thus a very different situation. Six years ago she improved the site, double digging and adding peat moss, composted mulch, cow manure, and sand. There's an impressively tidy tool shed at the rear, a deck and small patio of the back of the house. And between the two are paths, small trees, herbaceous perennials, and funky, colorful garden art, much of it by local artists.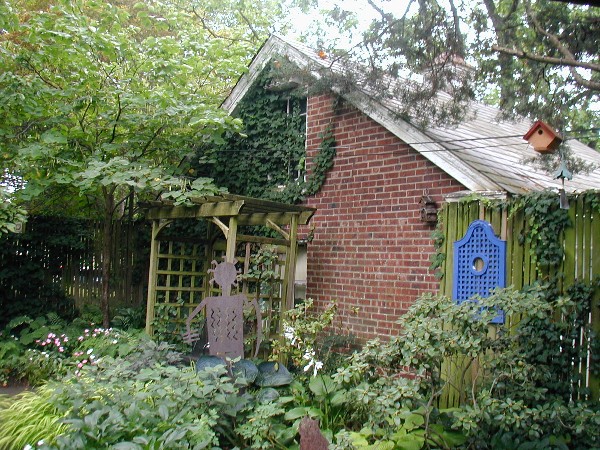 The neighboring garage forms a backdrop for a dainty arbor over a bench.
A brilliant blue grate hung on the fence, a sheet metal cat, and a dancer erupts from the plants.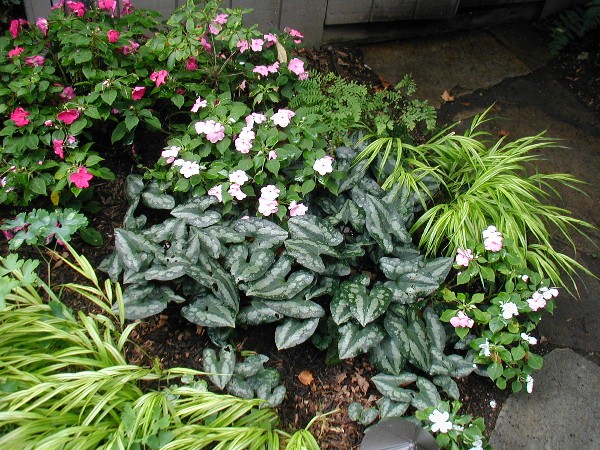 Enticing vignettes abound, such as this lovely silver-blotched Asarum splendens
partnering with Japanese forest grass, Hakonechloa macra 'Aureola', and a scattering of impatiens.

Back to Top
---
Garden of Anne and Terry Priebe

Presenting a rather modest face to the street, then a narrow path around to the back, and wow!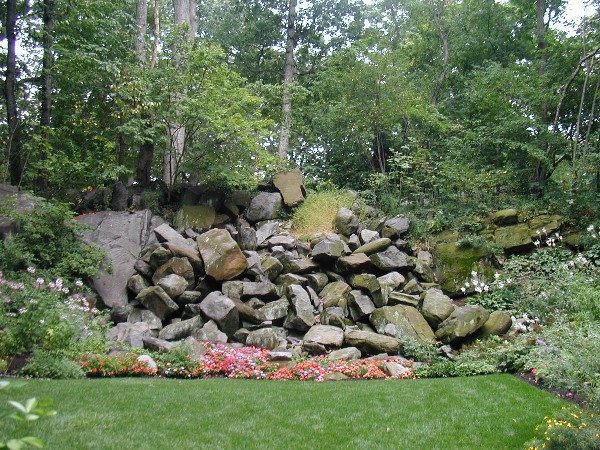 The backyard terminates with a gigantic spillikin of boulders. Rather than thinking it unsightly and wretched, Anne and Terry made it the focal point. A frothy skirt of impatiens, cleome on the left and some August lily, Hosta plantaginea, to the right, a crisply edged lawn, and the lichen-covered boulders enhance the garden scene.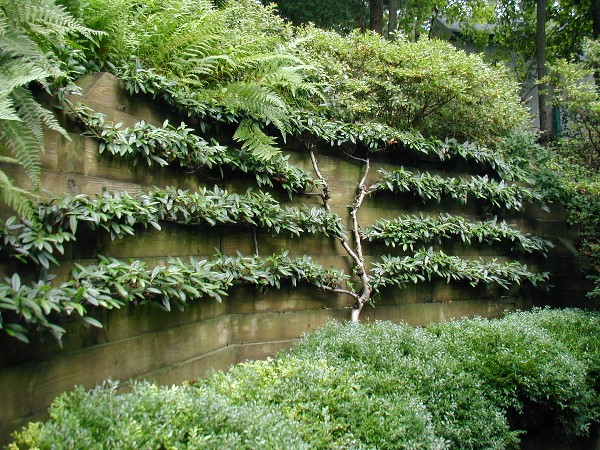 A wonderfully espalliered cotoneaster creates an elegant pattern against a timber retaining wall.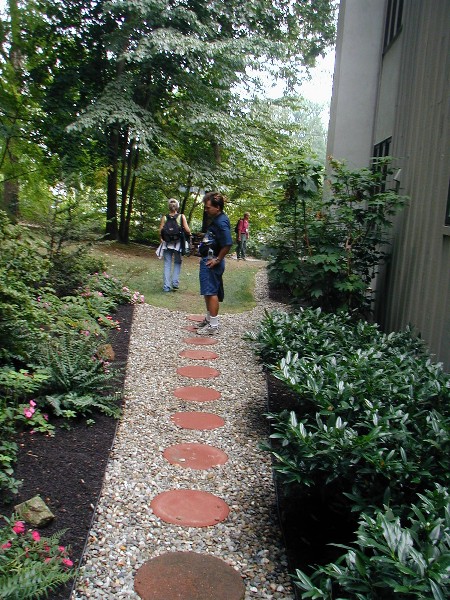 Having circled around, now out to the street on the opposite side of the house.
Crisp and tidy, a line of concrete stepping stones marching down the center of a gravel path.

Back to Top
---
The Garden of John and Sumako Solenberger

I'm so glad that this was the last garden to be visited on my scurry around on the Wilmington Walking Tour. It speaks to my heart. Had I seen it earlier, my pleasure in the other gardens would have been lessened.

What a garden. Saying the site is challenging is an understatement. Formerly a granite quarry, many stones still display the drilling marks where pieces were split away. The house is up top, and the cliff-hugging paths wind down to the bedrock, uncovered when John began clearing soil away. Thomas Eddison said genius was 10 percent inspiration and 90 percent perspiration. So it is for this garden.

Rocks, I've decided, are always downhill from where you want to place them. This garden is no exception. Twenty-five years ago John and his father began hoisting rocks out of the quarry bottom and building paths. It involved engineering and the laws of physics, cables over the trees and the use of winches. All the stone, anywhere you see it in the garden, originated on site.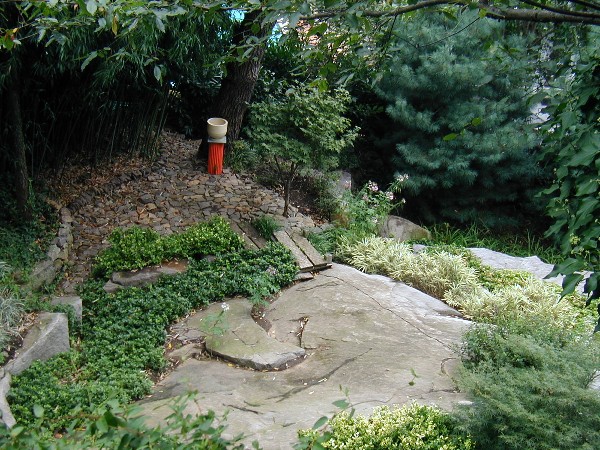 A view from above, down to the sheet of bedrock and a carefully pieced little terrace
ornamented with a column made from piece of plastic scrap in Heian red.
A little zig-zag footbridge, confusing to bad spirits,
and a line of white striped bamboo implacably confined between the rocks.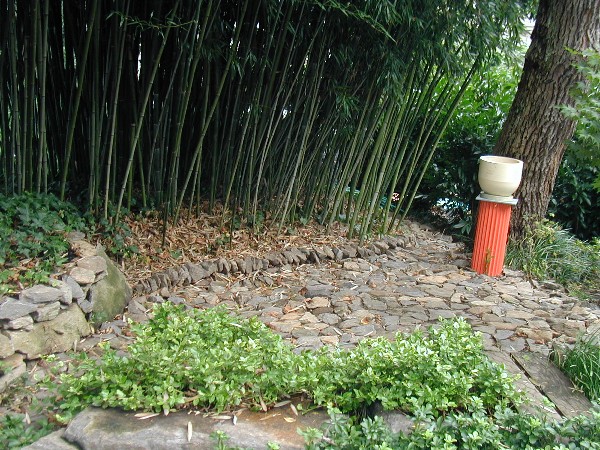 An adventurous descent of some 40 feet along the rocky cliff-side trail brings visitors down to the terrace
where details can be more closely observed and appreciated.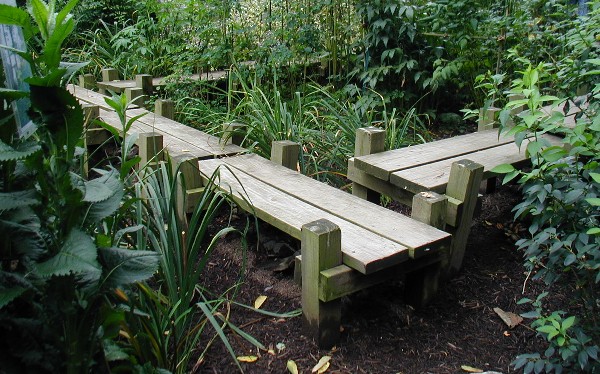 There's a soggy place down-along. Even after August's month-long drought the few days of rain have made it muddy.
In spring, water sheets across the rock. And the charming, simple footbridge cum path offers a way to cross dry-shod.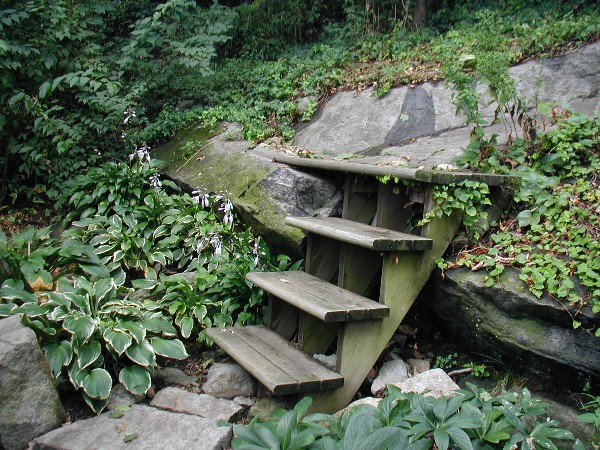 Paths angle across the cliff face, winding now gradually, then more steeply.
There comes a point when more is needed. A flight of steps, not much removed from ladder-dom, makes the connection.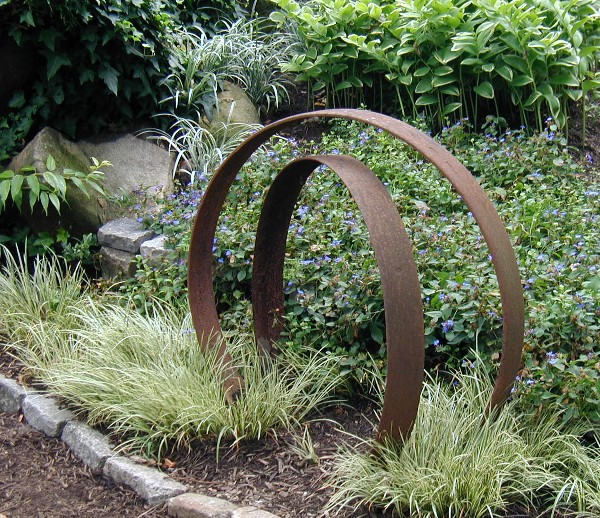 Found art. A pair of rusty hoops, enticingly offset, attract the eye.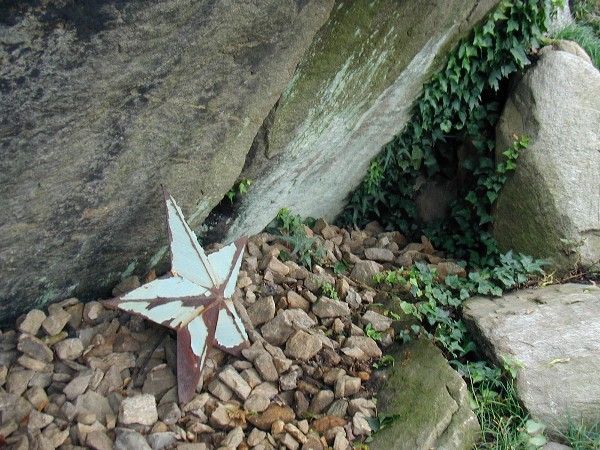 Set under a tilted outcrop, a verdigris and rusted star mimics the faded turquoise lichens on the rock.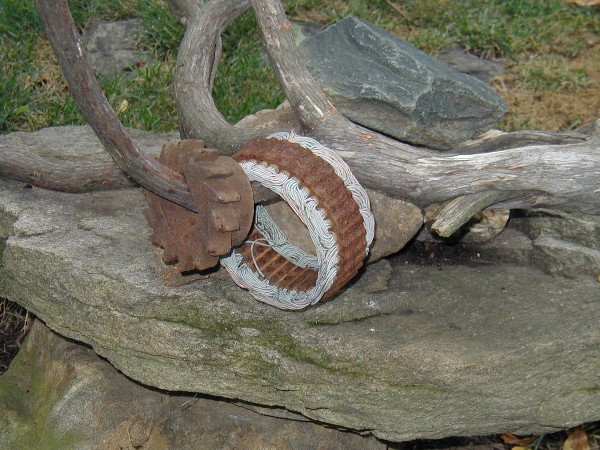 The peaceful sense of passing time.
A piece of an electric motor, copper windings oxidized to verdigris and held within oxidized iron = rust.
Bound in wabi, simplicity and quietude and rustic beauty, both that made by nature, and that which is made by man.
Sabi, beauty from the patina of age, and shibui, a profound, unassuming and quiet feeling.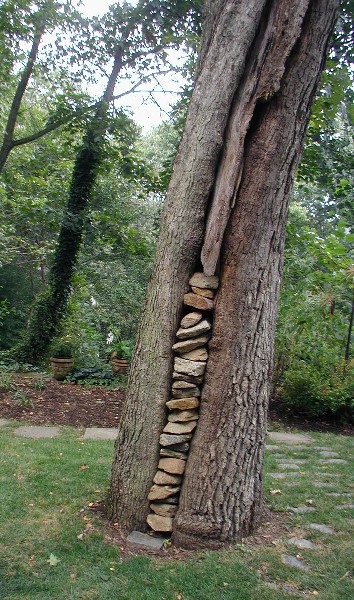 Emptiness filled. A hollow split in a tree filled with stones, Andy Goldsworthy style.

A garden I could come back to again and again. As snow softens outlines, leaves turn from green, drop and drift in the air, and tender spring green hazes bare branches. Rigid in its stone embrace, ever changing with the seasons, a garden of pleasure and delight.

Back to Top
---
Saturday, 26 August 2006

Conard-Pyle

Mention Peace® or Knockout® roses and there's instant recognition. But where they came from, and how they got to our gardens is often a different matter. Conard-Pyle has a nursery in West Grove, Pennsylvania, and another in Maryland. They hybridize roses, producing thousands from seed and rigorously culling not merely for beautiful flowers but also overall growth habit, attractive foliage, weather-proof vigor, and disease resistance. Founded in 1897, next year the company will celebrate its 110th birthday.

Star® Roses are not all that Conard-Pyle produces. Their Star® Plants include perennials, groundcovers, and shrubs such as the smaller, more compact Caryopteris Grand Bleu™, with deep blue flowers from August until frost, and a charming, compact Buddleia 'Peacock' that won't tower over neighboring plants, modest enough (4 feet by 4 feet after five years) to use as a container plant, without diminution of flower power and butterfly appeal.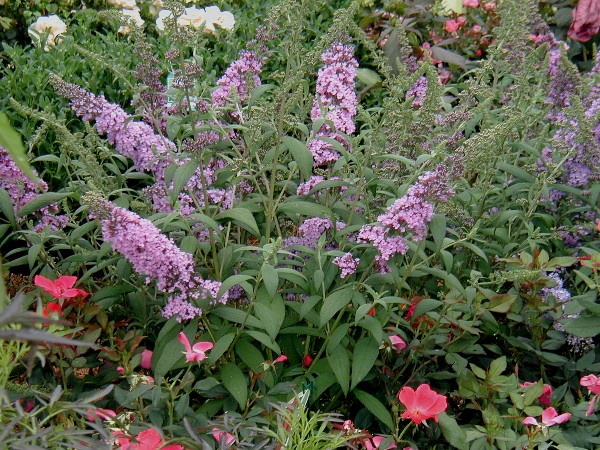 Buddleia 'Peacock' has tremendous presence for such a compact plant.
It will be a grand addition to the herbaceous border, mingling nicely with nearby perennials.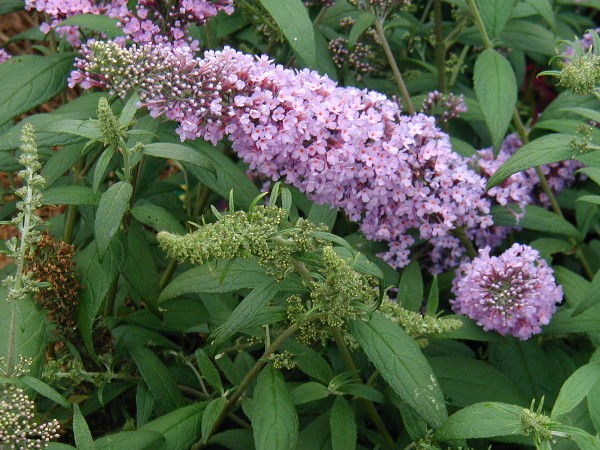 A close-up of just one flower truss amply displays the panache 'Peacock' has to offer.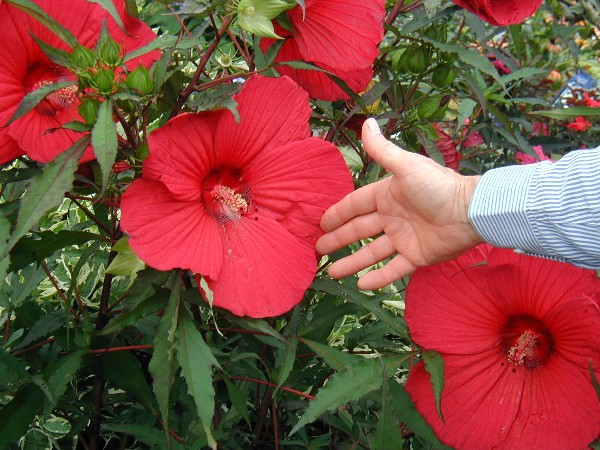 Don't for a minute think that all Star® Plants are dainty.
This hibiscus has flowers that are anything but. Just compare the size of the blossom to Rick's hand.
---
Saturday, 26 August 2006

Private Garden Tour in Chadds Ford

Then it was out the doors, and onto buses, with box lunches to eat along the way to a most magnificent house and garden. Remarkable, considering that it looks very much as if it had all been lifted wholesale from the Cotswolds the house is new construction, set into beautiful rolling countryside.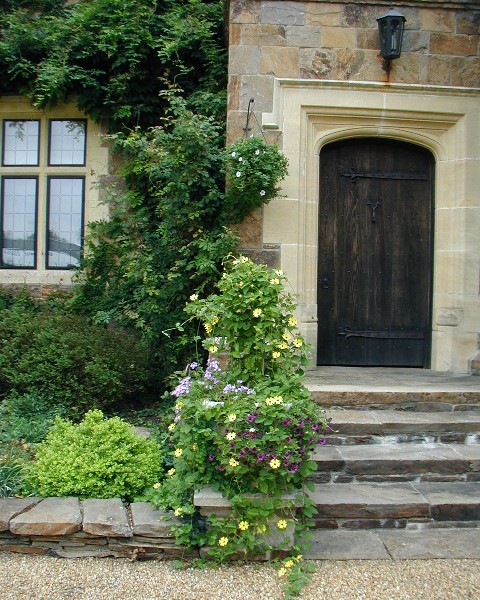 A long drive on an unpaved entrance road, passing pastures and fields.
Once off the bus I stopped, as did many others, at the entry court and front door,
where a bountiful pot of black-eyed Susan vine, Thunbergia alata, spilled over the stone.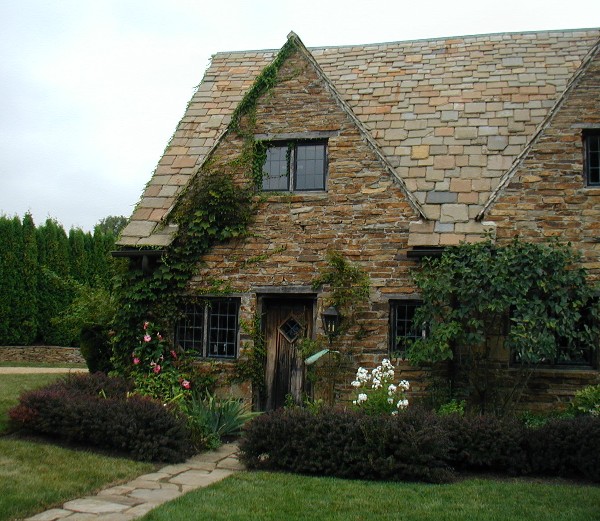 Built of warm honey-colored stone, this cottage off to the side of the big house had many of us murmuring
that it certainly looked good enough to live in, and the little entry garden wasn't bad either.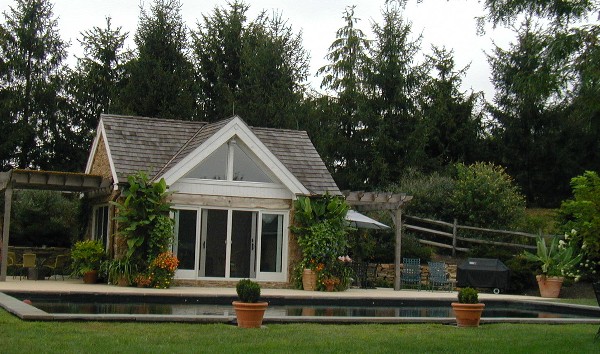 The pool house would also make a charming residence, though more modern in appearance.
Everywhere you looked, the attention to detail was pleasingly obvious, never blatant.
Stone steps were divided in an interesting manner, visually attractive and certain to appeal to roller-blading adolescents.
The lands slopes away, and so the vegetable garden is sunken at its front, enclosed by a brick wall at the back.
Designed by Rosemary Verey, it is clearly attractive to our group.
Notice the rustic arbors made from saplings, and the exquisite lead water tank in the corner.
There's a matching tank on the other side.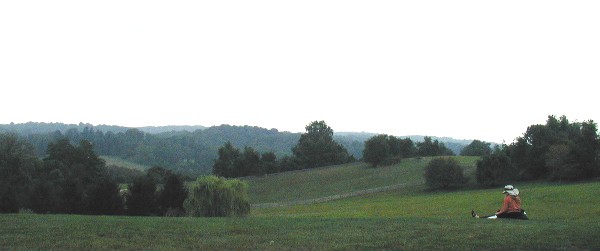 One of our members was smitten with the gently rolling landscape.
Garden artistry, she took out a little water color set, suitable for traveling, and dashed off a sketch.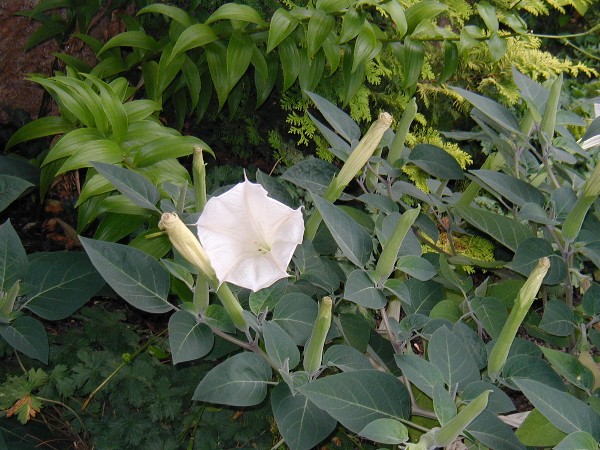 One thing overcast light does well is provide suitable conditions in which to photograph white flowers.
Doesn't this thorn apple, Datura species, look just elegant.
As does this horse. Full of himself, he'd prance away on his unshod hooves,
picking up his feet in dressage-like grace, then stop and pose so I could admire him.

Back to Top
---
Saturday, 26 August 2006

Keynote Address

The morning was taken up with an excellent keynote lecture by William McDonough, internationally renown for the quality and environmental sensitivity of his architectural designs, environmental sensitivity, and functional effectiveness. In discussing one design, he said that the buildings they design provide "life support systems for people who work, not work support systems for people who don't have a life."

Pithy sayings were used to make his points: Being less bad is not the same as being good. Once, when making a presentation at The White House, he was asked what he thought of clean nuclear power. His response: Gardens are nuclear powered. It's 83 million miles away, takes 8 minutes to get here, it's clean, it's wireless. What's not to like? Gardens, he continued, are solar income.

Coauthor of "Cradle to Cradle: Remaking the Way We Make Things", I was not the only one who regretted that copies were not available for purchase. Two concurrent sessions followed.
---
Saturday, 26 August 2006

Stormy Weather

August has been dry. From the beginning of the month and right up to August 25th there'd been less than a half-inch of rain in my gauge. By the end of the month we're well where we should be, but if I knew who to talk to I'd have something to say about the distribution.

Accompanied by heavy rain, a tornado touched down overnight, practically in the parking lot of our hotel. As tornadoes go, it was minor. But we're not in Kansas, and Pennsylvania is not exactly Tornado Alley. So trees wrenched apart are rather more excitement than is needed.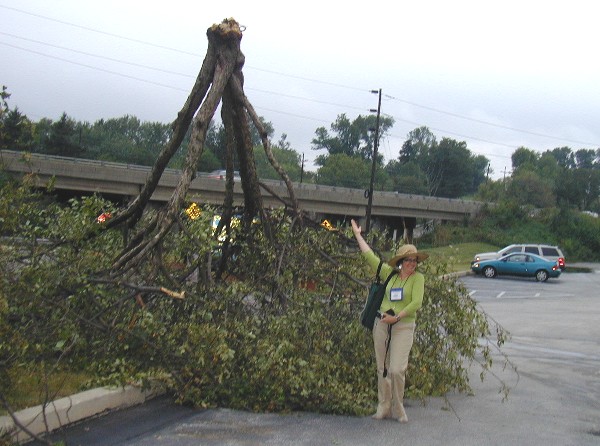 Barbara, here for the conference from Ontario, waves enthusiastically at the top of a tree deposited at the side of the parking lot.

Back to Top
---
Friday, 25 August 2006

Off to the Conference, and a Visit to the Trade Show

A gazillion things to do before I leave. Remarkably, I was in my car and heading down the driveway at noon, scarcely two hours later than my original intention of a 10:00 a.m. departure. A simple 90 minute drive and I was there and checking in to the hotel. When you consider that the registration list of 662 people included members from the West Coast, the Midwest, both coasts of Canada, as well as locals and every place inbetween it's easy to see how happy I was with my drive. Dump the luggage in my room and head off for the trade show.

Fifty or more booths: familiar names such as Conard-Pyle, from Peace to Knock Out® a leading producer of roses for the last hundred years; Timber Press, publishers of so many great gardening books that one look at a gardener's bookshelf and you'd think they own stock in the company; Ball Horticultural Company, internationally reknown plant breeder, producer, and wholesale distributor of such popular and familiar ornamental plants as Madness® and Wave® petunias; The Espoma Company, leader in natural organic plant foods and soil amendments since 1929: Campagnia International, Inc., manufacturer, distributor, and wholesaler of quality cast stone, terra cotta, fiberglass, and resin planters, pots, and garden accents. Others, perhaps less well known, were also there, such as "The Bulb Hunter," Chris Wiesinger, of Southern Bulbs who was up from Texas. And more, and more, and more.

From Virginia, Brent and Becky's Bulbs had a booth embellished with a beautiful bouquet of summer bulbs: crinum, amarcrinum, lycoris, and Mexican tuberrose.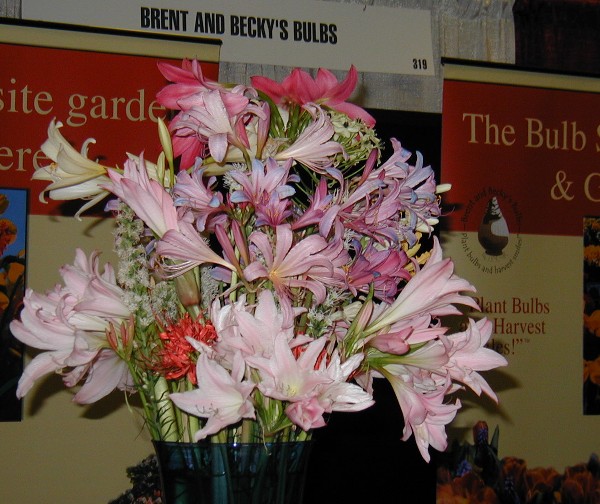 Splendid to look at and fragrant to smell.

In addition to horticultural "stuff", that is, plants, there were what you need to make it grow: fertilizer, watering devices, soil amendments . . . and tools. The Fiskars booth was especially popular, gardeners - opps, I mean garden writers - squeezing clippers, testing loppers on thoughtfully provided branches, and in general having a high old time.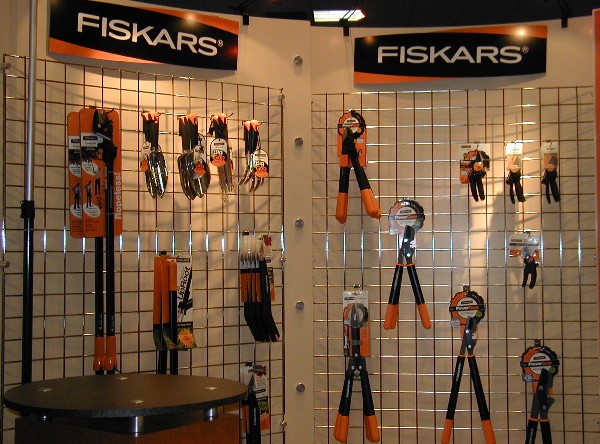 The trade show is only open for set hours over two days, and never when there are meetings or garden tours. No playing hooky and hanging out around the booths.

Back to Top
---
Saturday, 19 August 2006

What's Brewing at The Ship Inn

We had intended to attend the Farm Food Feast hosted by the Delaware Valley Farm Study Center for Sustainable Living, just across the Delaware River at Schneiderwind Farms.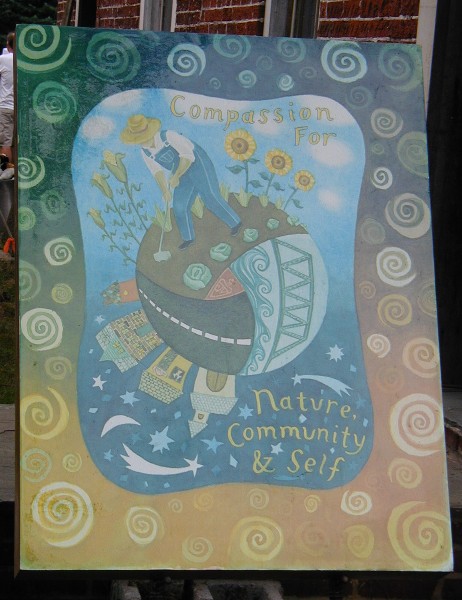 It sounded interesting: locally grown farm fresh foods prepared by area restaurants, an Earth to Entree contest where people could enter a dish prepared from home-grown food, and a pig roast. Scheduled to start at 4:30 p.m., that's when Paul and I arrived and paid our $10 per person donation, which would go to support future community and educational programs on sustainable living at the not-for-profit center. I had no interest in purchasing tickets for the raffle, which was for a large Bradford pear. Why not a fruit tree, I thought, if food and sustainable living are the focus of the event. Next, I was disconcerted to see that there was a $1 charge for bottled water or soda. I would have thought drinks would be included in our donations. Most disappointing was that time went by and nothing was happening. It got to be 5:00 p.m., it got to be later. Earth to Entree food was on the table, other food was set up on under the tent, the pig was roasting in its covered barbecue. Nothing was being served, there was no announcements or explanation of the delay. Not even a discussion of the farm study center's goals and the aims for this event. Poor organization, with people were just milling around unsure what was happening. So we left. Unfortunate, but we'd spent the afternoon working on firewood - cutting down two standing dead trees on the slope near the drainage creek, cutting the wood to stove length, rolling them down the hill and stacking the wood for later retrieval with quad and cart. We were hungry!

Our default for "let's eat out tonight" is The Ship Inn in Milford, New Jersey. The state's first brew pub, they have good beer and burgers, and fancier grub and bottled beer if that's what you want.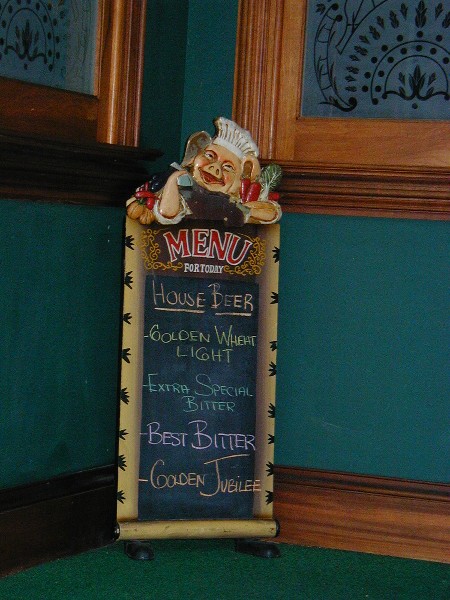 Tonight's on tap, brewed on the premises are listed on a sign by the door.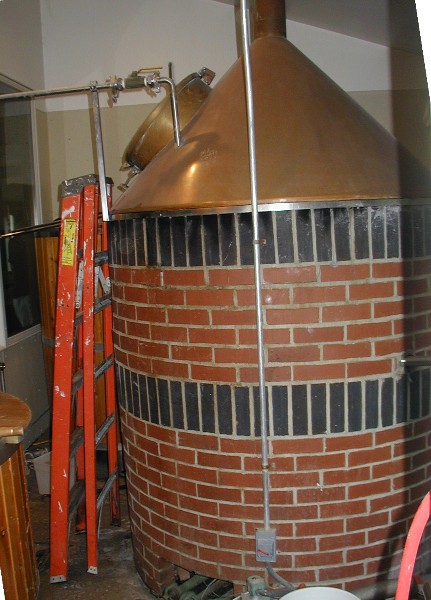 The brewing room contains a huge copper-topped brick-walled brewing vat and a couple of equally huge wooden barrels.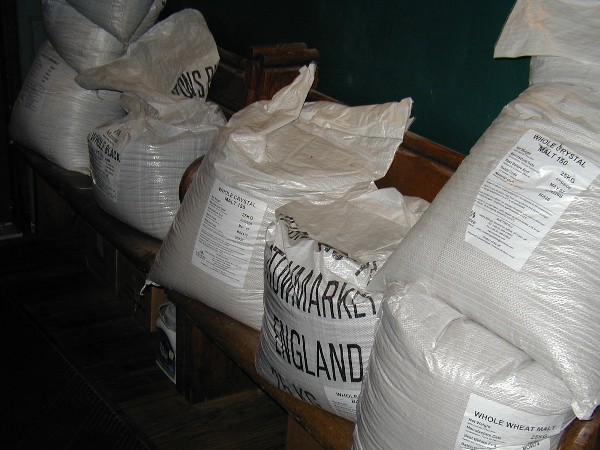 The side hall behind the brewing room has large bags of hops and malt for the brewmeister's endevors.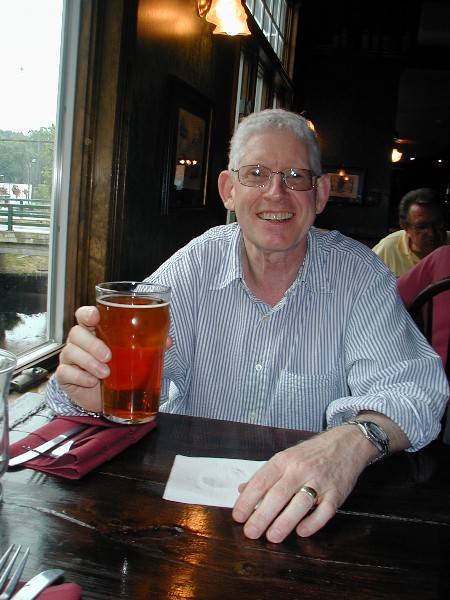 And as you can see from Paul's happy smile, his pint of Golden Jubilee is very much to his taste.
This is a summer special, unlike Better Bitter and ESB which are available year-round.

Nourished and refreshed, our evening ended well. Tomorrow will see us back at work on firewood. After all, winter is coming.

Back to Top
---
Wednesday, 16 August 2006

Garden Improvement - Art at Wave Hill

The clock having tick-tocked around to 1:00 p.m. Mary and I left the New York Botanical Garden and headed over to Wave Hill, located at West 249th St. and Independence Avenue, on our way homeward bound. (See my January and March 2006 Diary entries for other visits to Wave Hill.) First we had a delicious lunch, eating on the terrace with its grand view of the Hudson River and the Palisades.

Next a brief visit to the herb garden, a placid moment seated on the new semi-circular stone bench with its own view across the river, then up into the Wild Garden and another pause in the Adirondack style gazebo.

Before we departed, a stroll across the lawn to Glyndor Gallery for a view of the Garden Improvement art show. Created specifically for Wave Hill, thirteen idiosyncratic, spirit-of-invention, ingenious and experimental projects presenting alternative views of the relationships between nature, gardens, and people.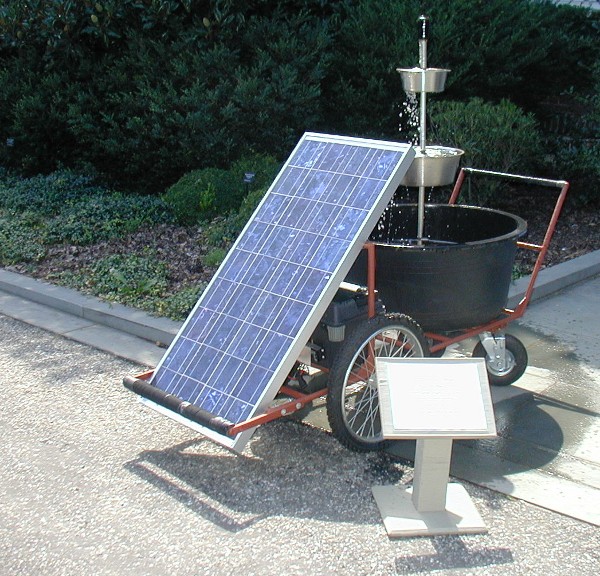 First to be seen was this solar-powered, movable water fountain, just outside the building's entrance. Granted, the red cart and solar panel means it will splish-splash anywhere you care to tow it, provide the sun shines. It's "green", environmentally sound, functions as a fountain . . . is it pretty, is it artistic? Art should make us think, and see in different ways. The catalog description notes that its "stripped down design emphasizes its elemental mechanics." Further, that "As a "public" fountain, it can travel beyond the garden to places that lack a connection to nature." It this a fountain? Most definitely. Is it art? I'll let you answer that one.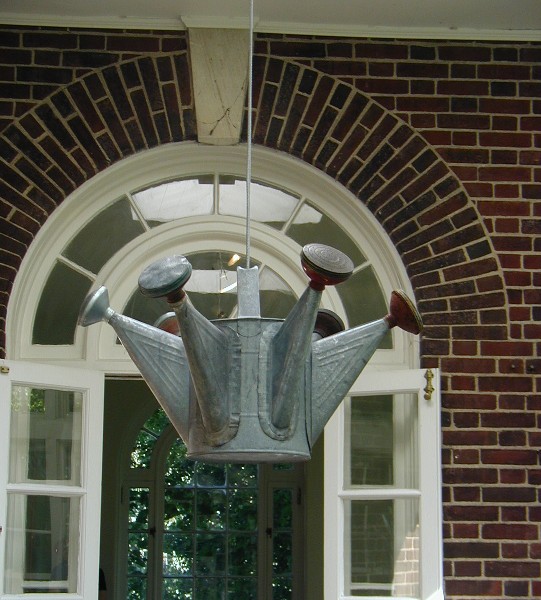 There are a few other outdoor pieces. In the sun porch, an indoor space with a connection to the garden, Mary and I saw three watering cans transmogrified into art. The one seen here, hanging in space, has six spouts radiating around it. The catalog mentions that "With this suite [of three sculptures] she anthropomorphizes the watering can, a basic garden tool that enables plants to flourish indoors and out." Not sure why, but this object makes me think of origami. And wonder just what would happen if you did fill the can with water, and then tilted it . . .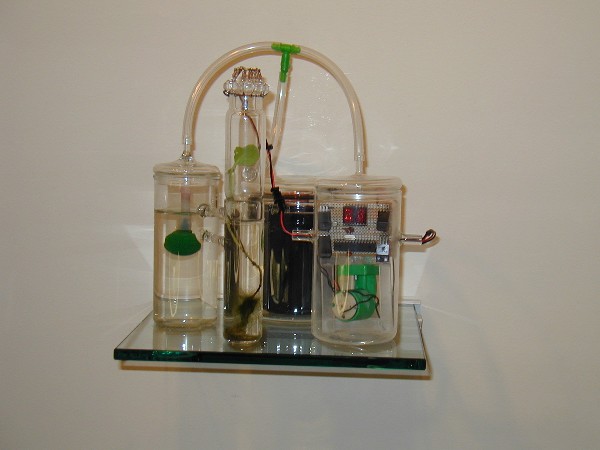 A Wardian case allowed plants to travel on slow sailing ships yet be brought back alive from foreign climes. The glass enclosure recycles moisture so plants do not dry out and dessicate. Terrariums, gardens in a bottle, are (or so we are told) making a come-back in popularity. Here we see a "project that enables plants to flourish in environments that substitute technology for human care. Junior Return, a self-contained survival capsule for one plant, . . ." First a fountain that travels to places unconnected with nature, here a plant growing similarly, unconnected to nature.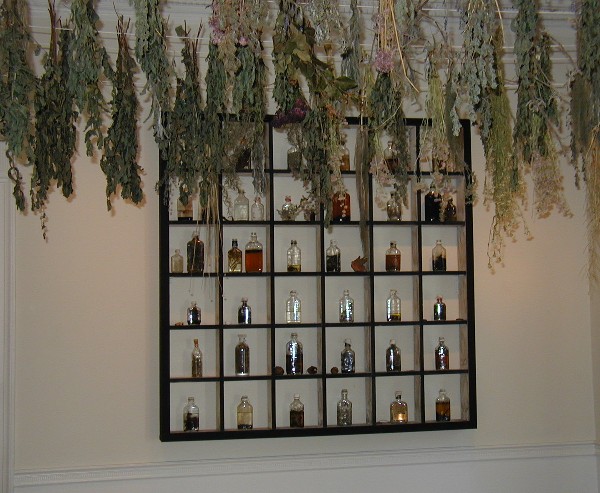 This olfactory installation or 'Scentorium" is a display of fragrant plants suspended from the ceiling and preserved in jars. Three crockpots arranged on the hearth simmer away. Dried plants including witch hazel, pine, juniper, mints, and other herbs. Interesting concept, reminds me of an apothocary's shop, a tool shed or cottage kitchen. However neither Mary nor I found much in the way of fragrance. The show opened two months ago, on June 11. Perhaps if there was a bowl filled with flower petals and foliage, even dried, that we could stir with our fingers there'd be more to experience.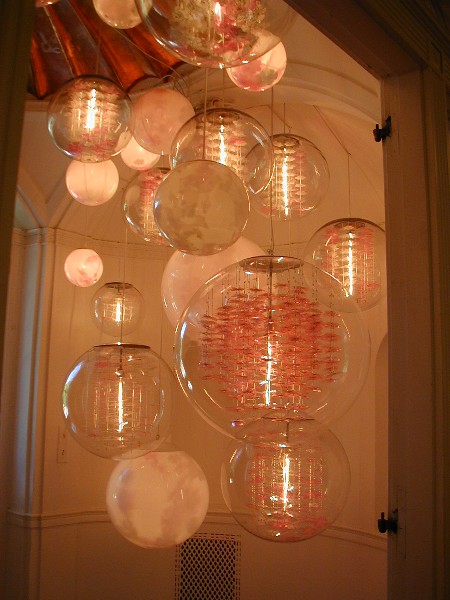 We'd taken a quick look at these Blossom Bombs (horrid name) on our way in, then stopped to admire them in more detail as we left the building. The oval entrance foyer has a lovely ceiling, done in copper leaf for a several-years-back exhibit and so admired that it remains. As ethereal as soap bubbles, captivating and charming, the various sized plastic globes - some clear and some translucent - are filled with pastel flower shapes and rods of light. "These contemporary vanitas" notes the catalog, "capture the brevity and fragility of life, . . ."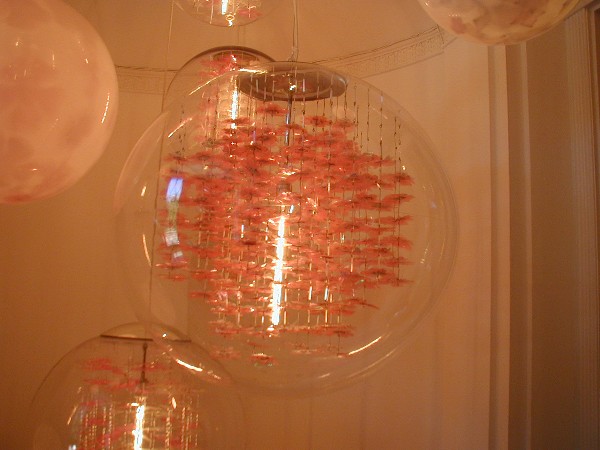 And then there were these angel trumpets, dangling flowers of Brugmansia. Hand-knit and felted, the artist "studied ornament and border designs based on nature as well as venerian chandeliers, particularly the ones with dangling glass fruit. Through careful study of a singular plant, . . . plays on the tradition of celebrating and taming nature through decor."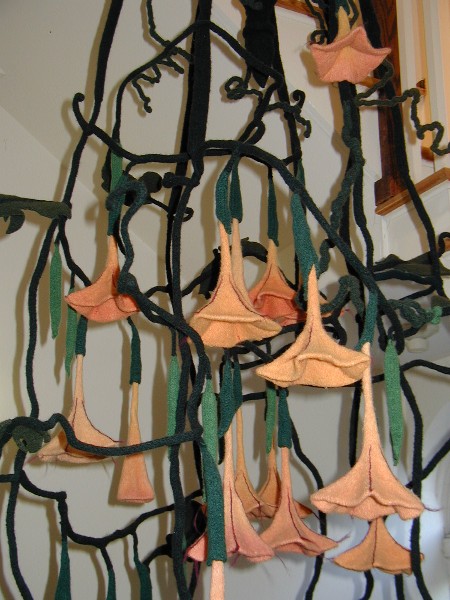 The Garden Improvement exhibit will remain on display at Glyndor House, Wave Hill, through August 27, 2006.

Back to Top
---
Wednesday, 16 August 2006

Art in the Garden: Chihuly at the New York Botanical Garden

"If Wednesday's weather is good," I e-mailed Mary, "I'm planning to go to the New York Botanical Garden to see the Chihuly exhibit. Would you like to join me?" Well, it turned out that the weather was delightful, Mary had never been to the botanical garden, and yes, she would indeed be pleased to join me. Off we went, the drive made even shorter by our conversation. A quick stop at the Library, so I could return a book and find out how things were going with preparations for the bulb exhibition of which I am curator. Then to the once-a-week farmers market where I bought some white peaches for jam, and thence to the conservatory for the exhibit of Dale Chihuly's glass in the garden.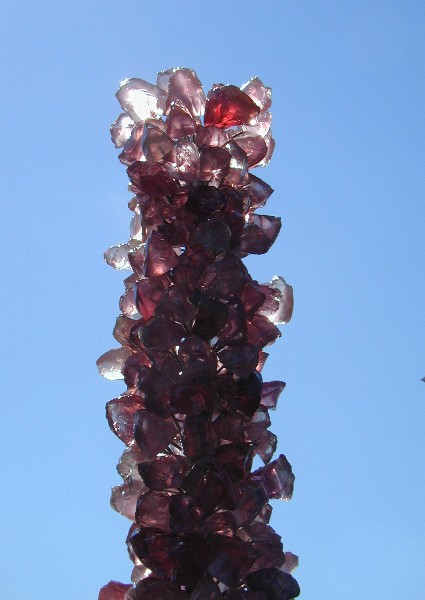 Cullets of rose-pink glass glisten in the sunlight.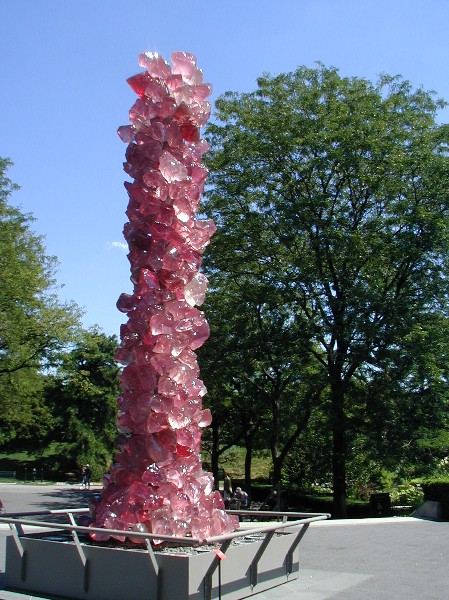 They are assembled into a 20-foot-tall Rose Crystal Tower, an exclamation point in front of the conservatory entrance.

In the Palm House, rising from the circular pool of black water was a massive, fascinating sculpture of glass, wriggling like a tangle of worms as it shaded from a vivid chartreuse at the top where it mingled with palm fronds to bright blue at the base, merging with its reflection in the dark water.
Wanting to see how glass and water were arranged to interact with lilies and lotus in bloom, Mary and I went through the conservatory and, once outdoors again, to the pool of hardy water lilies on the right. Hardy water lilies are all day blooming, with white, yellow, pink, or red flowers. We discovered that here the glass objects were primarily in warm colors of yellow and orange. A rowboat floated on the water, filled with vegetables. To me, they look like deep dark purple eggplants, yellow onions, green squash, and green-beany shapes.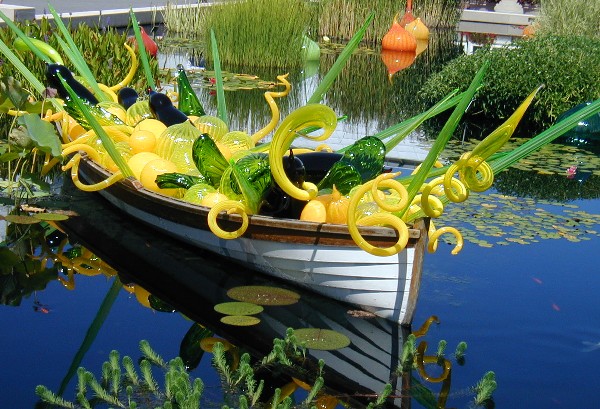 As well, there were Walla Walla floating on the water, so named for their pointed tips that provide a resemblance to the famous sweet onions of eastern Washington state.
They placidly rest on the bossom of the water with an audience of bright goldfish cleaning algae at the waterline.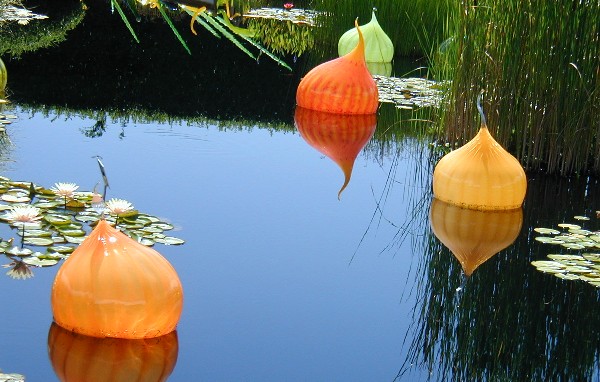 Fascinating as the pool appeared as an entity, individual vignettes captured my attention: a subtle translucent green blending with water plants,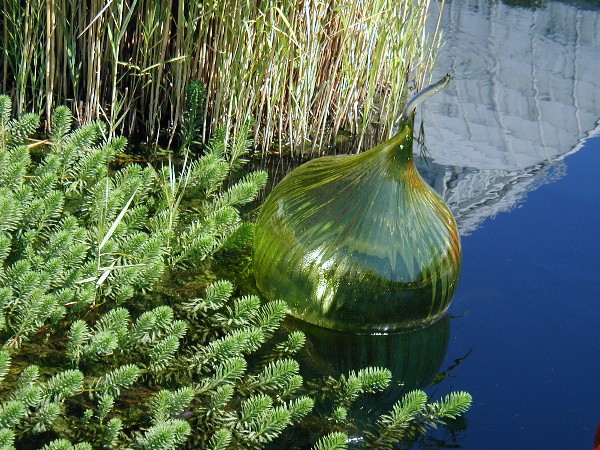 a vivid blue reminiscent of Cerenkov radiation, fission decay beta particles travelling through water faster than light.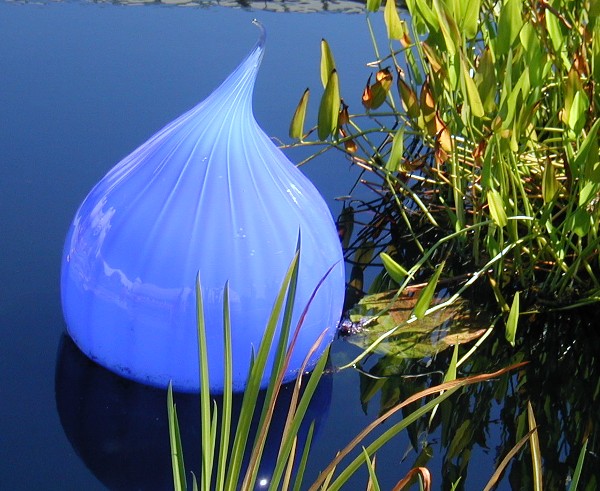 Vivid against the summer whitewash that coats the conservatory glass, a army of red exclamation marks marches towards the central plaza.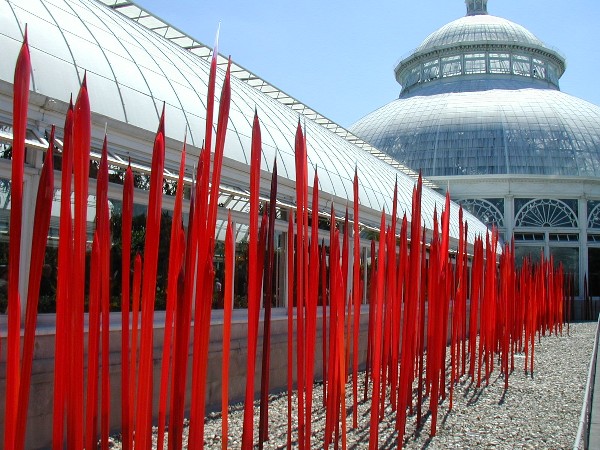 Continuing, Mary and I enter the tropical water lily courtyard. Tropical water lilies may flower at night or in daytime, and include blue and violet in their palette of colors.
The Chihuly glass on display here complemented these hues.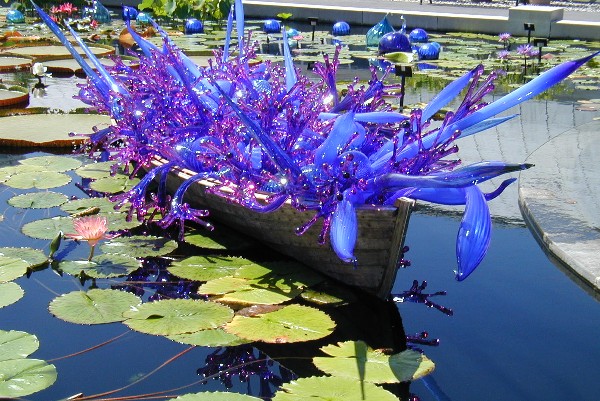 Herons cluster at one end of the pool. Chihuly named these forms for the shore birds of Finland, where this series originated.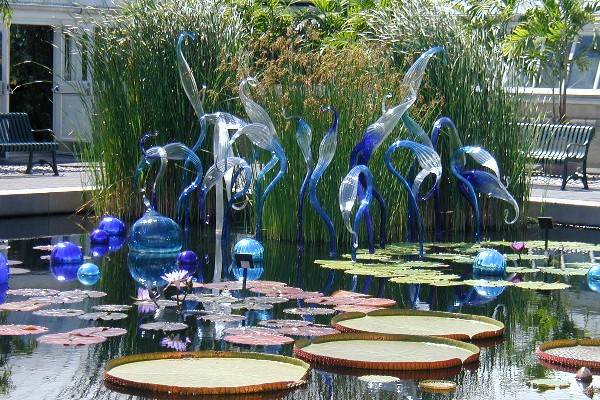 The exhibit continues inside the glasshouse, mingling with the permanent plantings and the coleus, cannas, and caladiums of the Victorian bedding plant display.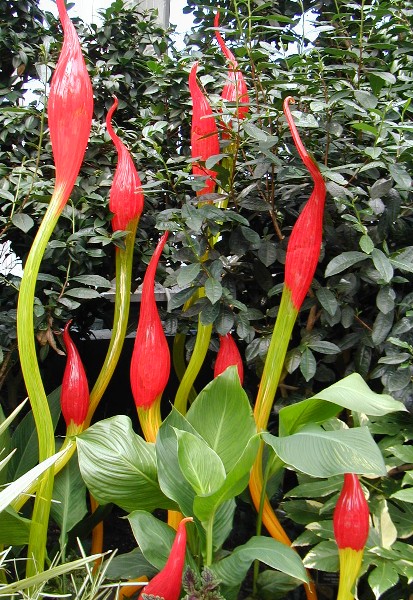 There's more to the Chihuly exhibit than just what's in and around the conservatory, with additional pieces on display elsewhere on the grounds.
Continuing until October 29, 2006, there's time for repeat visits amid the changing seasons.
---
Back to Top
---