Garden Diary - June 2006
---
If you have any comments, observations, or questions about what you read here, remember you can always Contact Me
---
June
---
Friday, 23 June 2006
Pleasant Run Nursery
After lunch and a last small tour to look at mature specimens of Dr. Orton's hybrid dogwoods we headed out to Pleasant Run Nursery in Allentown, New Jersey, about an hour away. The parents and grandparents of Richard and Heidi Hesselein were in the nursery business. Perhaps it was only natural that they opened a nursery. But what a nursery. Selling ornamental plants from trees and shrubs to perennials and grasses, wholesale only, the nursery is a fabulous place offering both reliable old favorites and new introductions. The place is immaculately maintained. Growing houses are laid out in precise rows. Where shade plants are being nurtured, the shade cloth has been lifted off the sides and stretched over the space between the houses, increasing the area for these plants. Covers removed for the summer from other houses, leaving the hoops exposed like the ribs of enormous metal whales.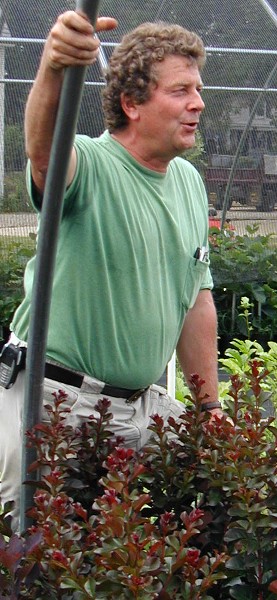 Richard Hesselein, giving our group some of the history, aims, and goals of this relatively young nursery.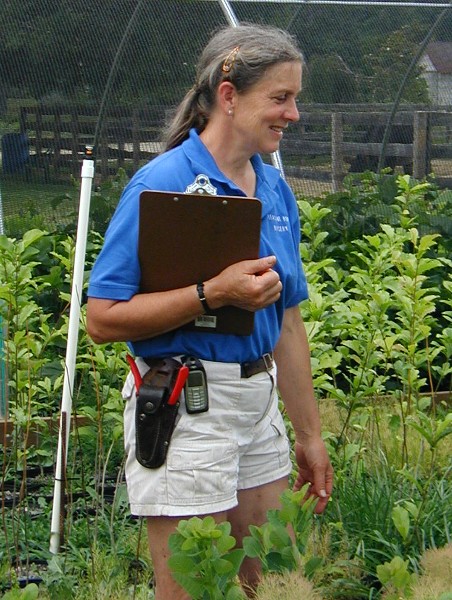 Without a pause Heidi takes over the narrative thread, and continues the story without a pause.
As Heidi and Richard toured us around I fell further and further behind, pausing to peer into a hoop house, racing to catch up, saunter off - and then I wandered around one corner too many and lost the group. No matter, I just kept on looking at plants. Finally one of the employees asked if I was with the writers. When I said "Yes" she directed me to the new pump house. No wonder I couldn't find them. But I was glad to catch up in time to hear about the well system.
A new well was dug after last year's drought. The water is rather high in iron, leaving unsightly brown spots on the leaves. Moreover, pumping is irregular, dependant on whether nothing's being watered, one system is on, or several zones are running. The high-tech system uses a variable pump, which spins more rapidly for greater demand, slower for lower demand. The output is constant, rather than the pulsation of traditional motors. Water comes out of the ground at around 50° Fahrenheit. Between the water holding tanks and treatment tanks, the building is so cool I thought it was air-conditioned. The system easily has the capacity to handle future expansion of the nursery, for which they already have the land.
Opperating on the scale that they do, golf carts are used to pull plants for smaller orders.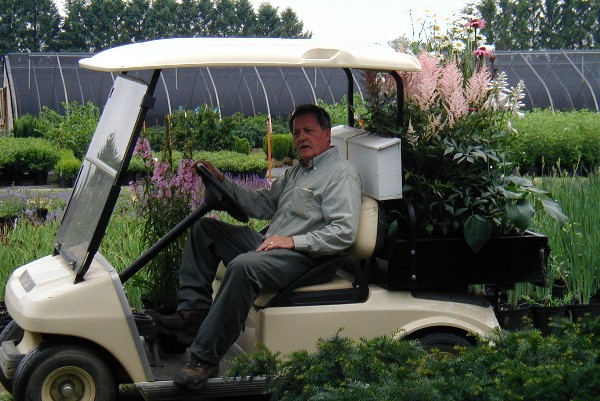 I was very impressed with the diversity of smokebush they have growing.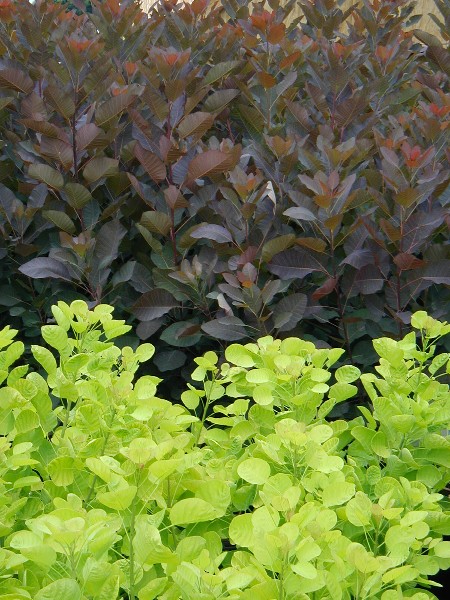 Cotinus ×Grace, with deep rudy-hued leaves contrasts with the summertime chartreuse foliage of Cotinus coggygria Golden Spirit™
I am very enthusiastic about foliage, as much or perhaps even more so than with flowers. That should be obvious to anyone who knows me. After all, I did write two books on the topic: Garden Design with Foliage, published by Story Communication, Vermont, 1991 and, more recently, Consider the Leaf, published by Timber Press, Portland, Oregon, 2003. So I was delighted to see such lovely shrubs as Rhus typhina Tiger Eyes®, with its finely dissected brilliant yellow leaves, and typically vivid orange and red fall color.
Not that I'll ignore a pretty flower. Far from it. I was pleased to see Himalayan Indigo, Indigofera gerardiana, with its dainty, grayish-green feathery foliage and rich pink clusters of pea-like flowers, in bloom from June until fall. Impressed enough that one came home with me. But then I've been wanting one ever since I saw it while accompanying a Delta Queen riverboat trip up the Mississippi River from New Orleans several years ago. Plesant Run Nursery also has Indigofera amblyantha, at 4 feet high a little taller growing, with softer pink flowers. It doesn't take much imagination to figure out that one also accompanied me home.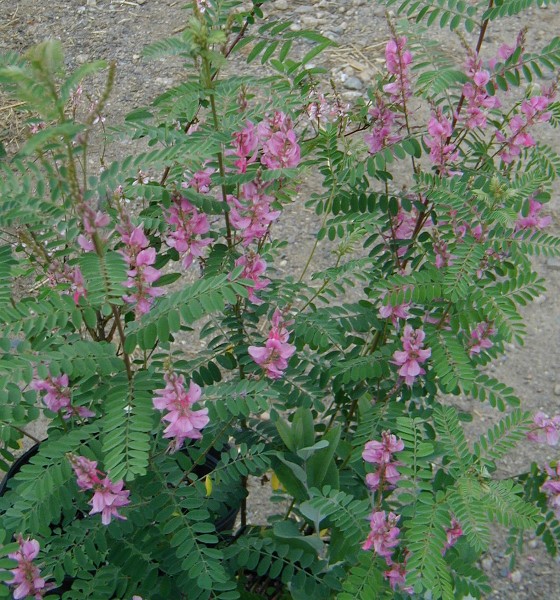 Himalayan Indigo, Indigofera gerardiana
I wasn't the only one with horticultural lust. An astonishing assortment of magnolias, hydrangeas, smokebush, and more was wedged into cars and vans. As we headed towards the house the heavens opened up with some thunder and lightening and torrential buckets of rain. A dash indoors for refreshments and pleasant conversation until the rain stopped. Then outdoors. The lovely two-level deck designed by Bruce Crawford is made of ipe. It provides a lovely view of the garden. But gardens beckon, and we were soon sauntering through Richard and Heidi's garden. A prefect conclusion to a wonder day.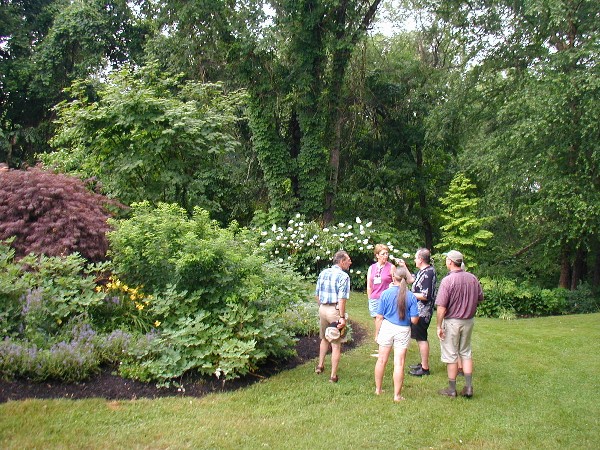 ---
Friday, 23 June 2006
Garden Writers Meeting
Garden Writers Association is a professional organization for garden communicators. That includes newspaper gardening and lifestyles columnists, garden magazine editors and writers, authors of gardening books, people who write PR releases for horticultural products, plant and garden photographers, and just about anyone else who wants to crowd in under our umbrella. If that sounds stodgy and dull, let me change your mind. I'm not sure if we're writers aflicted with gardening or gardeners aflicted with writing. What I can say is that we really enjoy our time in gardens. And today's meeting of the Region II chapter (which includes New Jersey, Delaware, District of Columbia, and Pennsylvania) was no exception.
Typically, the format of our regional meetings is an early morning photo shoot, a couple of lectures, and garden touring. Today's meeting, held at Rutgers Gardens was no exception. Rutgers Gardens are east of the Route 1 and Ryders Lane Interchange on the Cook College Campus of Rutgers University in New Brunswick, New Jersey. The 30 acre research and display garden showcases includes numerous mature trees and shrubs, special collections such as hollies, an All American Selections Display Garden, and more.
Today's turnout included Region I members from Connecticut and New York, with one eager early bird from Litchfield, Connecticut who arrived at 5:30 a.m. for the early morning photo shoot. The overcast weather gave just the right softening of morning light (after all, we are just two days past the solstice) for some great photography. By 8:00 a.m. we were gathering in Holly House for networking, coffee, bagels, muffins, and pastries. I gave a talk on sizzling summer bulbs followed by Dr. Bruce Hamilton, who told us about the history of Rutgers Gardens, and Dr. Elwin Orton's breeding programs for hollies and flowering dogwood / Japanese dogwood hybrids. Then, as the skies were getting darker, out we went for a walk.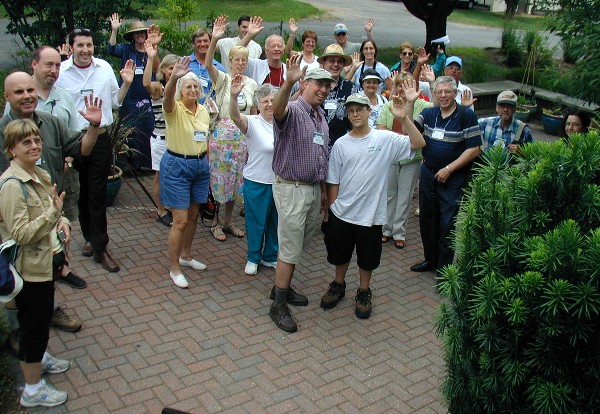 Clearly, everybody is having a good time, ready to look at plants even if we'll be dodging some raindrops.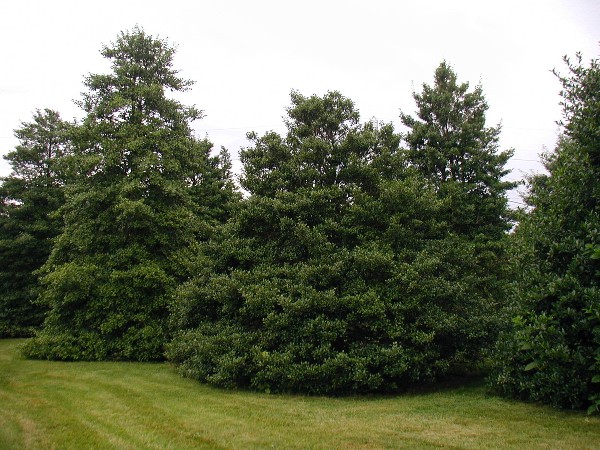 Mature specimens of American holly. Rutgers Gardens has what is arguably the largest collection.
Dr. Orton's goal was to develop American hollies, Ilex opaca, that would have foliage as glossy as the less hardy English holly, Ilex aquifolium, be hardy in our region (American holly is native to eastern and central United States), and the female trees should bear heavy crops of the bright red berries for which the genus is known.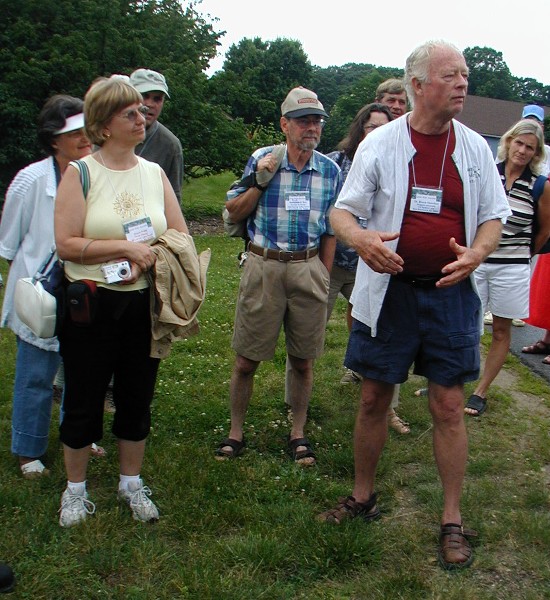 Dr. Hamilton discusses the hollies and their history to our attentive group.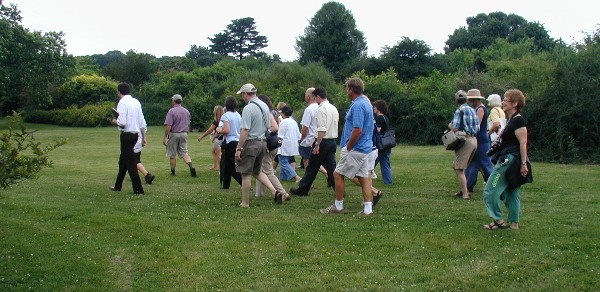 From the holly collection we set off to see trees, shrubs, hedges, annuals,
and more and more.
Standing beneath Sweet Bay, Magnolia virginica, Bruce Crawford, director of Rutgers Gardens,
knowledgeably discusses its natural history.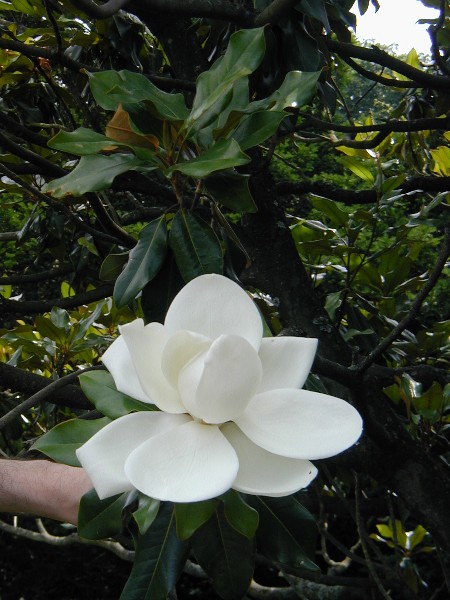 There are other wonderful magnolias on the grounds, including Bull Bay, Magnolia grandiflora.
Each blossom is as large as your head. And, like Sweet Bay, this is also a native species.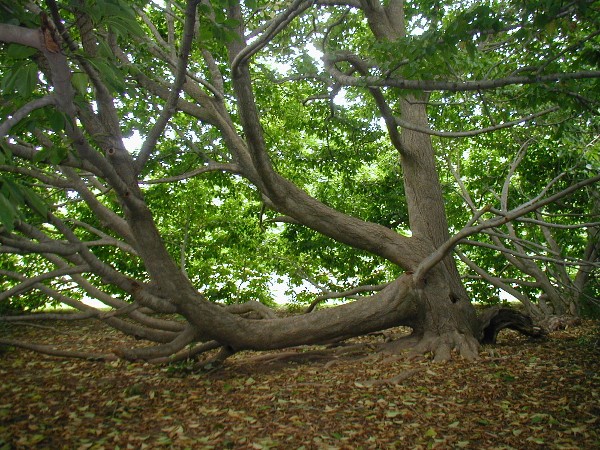 This Magnolia kobus is a wlking tree. Soon after it was planted it fell over. Look to the right, and you can see where a branch rooted down and has begun to grow. But it is the graceful swooping branch to the left that fascinates me, looking like a comfortable invitation to have a seat under the canopy roof of this mature tree. Kobus magnolia is slow growing, and doesn't flower especially well. But what a grand specimen it makes at maturity.
We lloked at flowers, succulents growing in terra cotta flue tiles, blue glazed pots with phormiums and sweet potatoes, a little water lily pond . . . ideas for articles, ideas for gardens.
One area that never fails to fascinate me at Rutgers Gardens is the bamboo forest. The folk tale is that one professor, told that the stakes he wanted could not be purchased, planted the bamboo to grow his own. In reality, the bamboo, Phylostachys nuda, was planted to shelter some bee hives. The bees are gone but the bamboo is still there. And how! Limited only by the road and a stream, the bamboo (described in the RHS "Index of Garden Plants" as "robust" ) has filled in between these boundaries.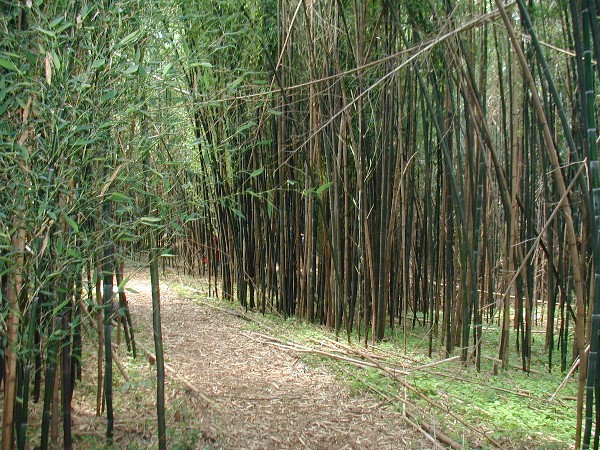 An excellent morning. Lunch, more networking, and then off to Pleasant Run Nursery, which provides ornamental plant material to the wholesale trade.
---
Friday, 16 June 2006
Praying / Preying Mantis
I've always been fascinated by praying mantis.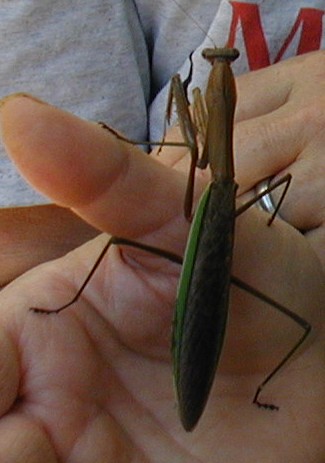 To begin with, why Mantis religiosa? They don't pray, they are predacious. But that's the European mantis, often deliberately introduced. There's a Chinese mantis, and a native, the Carolina mantis, found in the southern United States and west to Arizona, both of which are different genera. But I digress.
When I was speaking at Garden in the Woods back in April I saw a wonderful sculpture of a mantis. That evening when I phoned home, I enthused about it to my husband. "If you like it so much," he said, "then I'll get it for you, for your birthday." I told him it was expensive, it was large, it would be difficult to get home . . . and he calmly kept telling me that if I liked it I should get it.
So I did.
Now, how to get it home. The airplane I was flying on was an Indiana Jones type plane: everybody gets a window seat, everybody gets an aisle seat, there's no cabin attendant and no restroom. Clearly the mantis wasn't travelling home on the plane with me. Greg Lowenberg, director of education said not to worry. He'd have it shipped. Not so easy. DHL wouldn't touch it. UPS wasn't an option. Forget USPS.
One of the New England Wild Flower Society board members belongs to a garden club planning a garden tour. In June they'd be travelling from Massachussets to Pennsylvania by bus. The mantis would be boxed, put in the belly of the bus, and we'd meet up in King of Prussia, Pennsylvania. So that's what we did.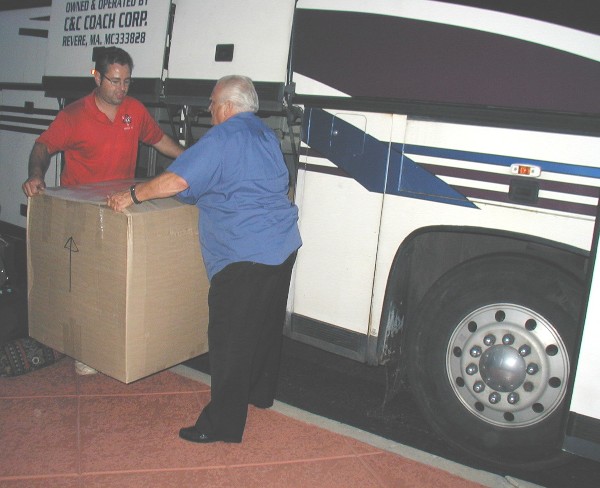 My friend John, in the red shirt, and Stanley, the bus driver, edge the box out of the bus.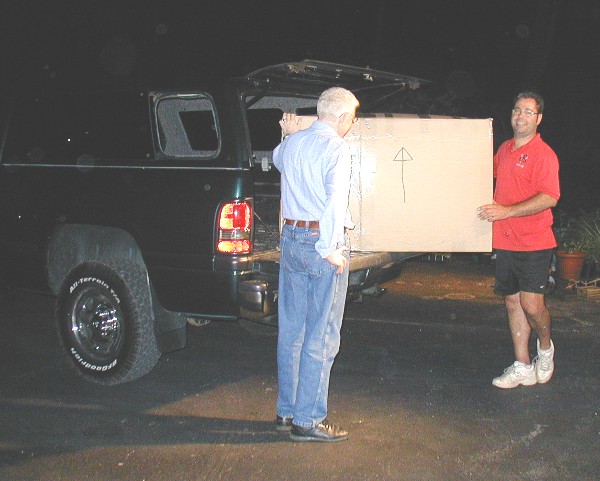 Once home, Paul and John shift the box out of John's pickup truck.
Thanks to the kindness and cooperation of so many people: Greg, Jackie, John, and Paul -
the mantis is now at BelleWood Gardens.
Looking very much at home, don't you agree?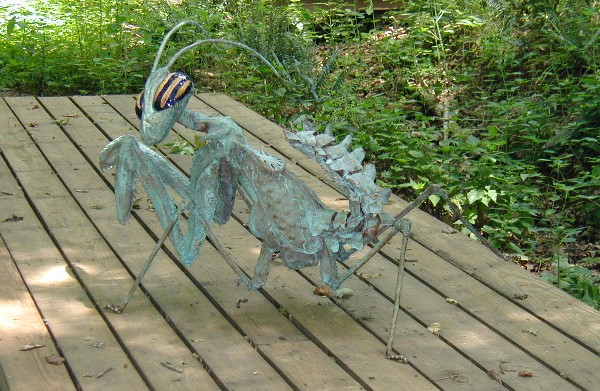 Happy birthday.
---
Wednesday, 14 June 2006
Zoysia Problems
I regret that I ever decided to purchase zoysia from Zoysia Nurseries in Taneytown, Maryland. It has been six weeks since I placed my second order on April 28, 2006. The zoysia is not here and I get confusing explanations when I telephone. I ordered 1,000 plugs plus 900 bonus plugs. This time I paid by check rather than credit card, in order to take advantage of a 10% discount coupon which came with my first order. Today is Tuesday, June 13. It is six weeks later and my order has not yet been delivered.
If you want the background, here's a synopsis. For more detail, read the April 2006 Diary entries. Basically, the front lawn was developing ruts from repeatedly driving the Quad and a cart full of firewood over the lawn again and again and again every year. It takes 2 1/2 to 3 cords of wood to see us through the heating season, and that adds up to a lot of trips. Zoysia, we were told, would hold up to this.
In March I ordered 1,000 plugs of zoysia from Zoysia Nurseries, 3617 Old Taneytown Road, Taneytown, Maryland. That quantity comes with a bonus of 900 additional plugs and a power auger attachment for an electric drill. The drill attachment doesn't work well, and I never was able to figure out how to cut plugs from the 10 inch by 15 inch pieces of sod. Instead I loosened individual stolons and planted them out. Crawled over half the lawn installing zoysia - make a furrow, water it, place stolon, cover with soil, pat into place. Watered planted zoysia every day for several weeks, as directions instructed. Tedious, very tedious. But I got it done, sprigging half the lawn. It is so laborious I was very glad Paul had insisted I only get half of what was needed, plant it, then order the rest.
Having sent off the second order on April 28th I e-mailed in mid-May, to inquire where my zoysia was, but never got a response.
I telephoned Zoysia Nurseries at 410-756-2311 the week of May 22nd to ask where my zoysia was, and was told that they "hope you'll have it by June 1."
I telephoned on Monday, June 5th and was told that the order was packed and waiting for UPS pick-up.
I telephoned on Friday, June 9th and was told it went out on Wednesday, June 7th and I should have it on June 9th.
I telephoned on June 12th and was told that the UPS truck with my order of zoysia on it had gone to Illinois. But it was now headed in my direction and I would receive my zoysia on Wednesday, June 14th. It wasn't really packed that Monday, what I should have been told was that the shipping label was printed. When I expressed my dismay I was rather curtly told that the zoysia would be fine, they ship to California and it takes longer than a week.
I said that I placed the order at the end of April so I could plant in early May when weather conditions are suitable. The brusque reply was that zoysia loves hot weather. Crawling over 1,000 square feet of lawn planting zoysia in the middle of June is not something I am going to love. I was by now talking to a supervisor. I told that I was unhappy with their service and regretted every deciding to plant zoysia. No apology, no explanation of why it had taken so inordinately long to be shipped.
The previously planted zoysia is taking hold and sending up new green blades of grass. Of course the rest of the lawn is also green, with dandelions, plantain, various other weeds and the old turf which is coming up through the topsoil which had been spread over the lawn to fill in the ruts before the first zoysia order had arrived.
My wandering zoysia did indeed arrive today, looking surprisingly good for its travels. Perhaps that is because this batch is clay-based rather than extremely sandy soil. It will get planted. I'm hoping for reasonably quick coverage since I'm planting 6 inches on center rather than the suggested foot apart. Perhaps next year the lawn will have filled it. I'm prepared for it to look ugly this year.
I am not looking forward to planting zoysia in June.
I regret that I ever decided to purchase zoysia from Zoysia Nurseries in Taneytown, Maryland.
UPDATE18 June 2006: Someone sent me a link to member reviews of Zoysia Farm Nurseries at Dave's Garden. As the first person there says, wish I'd seen it first, before I ever ordered.
UPDATE 24 June 2006: Just as I thought, planting zoysia in hot and humid June weather is disgusting. Moreover, I am concerned that teasing the 10 inch by 15 inch sods of zoysia down to rhizomes will lead to a greater failure rate than when I did so in April. Accordingly, I am planting in chunks. (Forget the information provided by Zoysia Farms that the sods are partially pre-cut into 1 inch by 1 inch plugs. They aren't. This means I do not have sufficient zoysia to finish the lawn. If you think I am ordering more, you are as crazy as I was to start on this. Making the best of a bad situation I am planting zoysia in strips parallel to the driveway, separated by wide, unplanted strips of weeds. Eventually the zoysia should knit together and fill in. But it won't be next year. Or the year after that.
---
Sunday, 11 June 2006
Oyster Mushrooms
"Come to dinner," Carol said, "I found some oyster mushrooms." This was exceptional, since oyster mushrooms appear in the fall. However Carol had made a spore print and confirmed her identification. Our assumption is that the few days of 90° Fahrenheit weather followed by cool wet weather confused the fungus. No matter, here they were, whetting our appetites.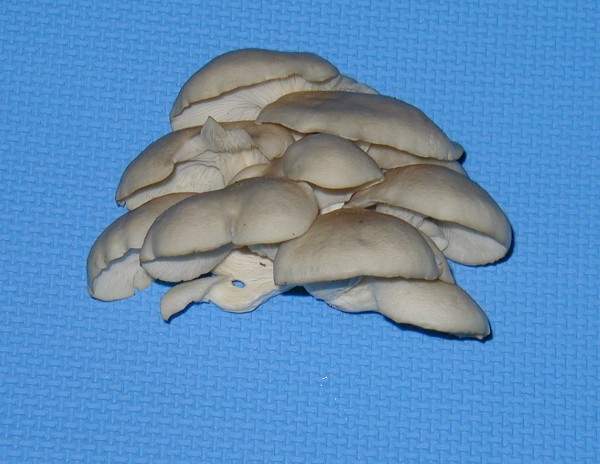 A simple saute in butter, served with grilled steak, John's inimitable chips (French fries to the non-English), and sugar peas from their garden made a delectable meal that was finished off with a cherry crumble. Their own cherries too, wouldn't you know. Carol may insist that they are not big on dessert, she doesn't bake, etcetera but her crumble recipe is superb with whatever fruit she tops with it. A dollop of cream, and a yummy finish to a tasty meal.
---
Saturday, 10 June 2006
Two Garden Visits: Second at the Coutins
"She lives on a narrow road," we were told, "so car-pool." I joined the Barads and we drove out their driveway, turned right, another right, a left, and we were a Sheila Watson Coutin's garden, studio, and home. The two gardens, probably not more than a mile apart, are very different from each other. Sheila's is perhaps an acre in size, flat by comparison with a 5-foot drop across the site. There's a wonderful shallow stream meandering along one side. English by birth, Sheila is an avid gardener, something evident in the tranquil garden she's created here.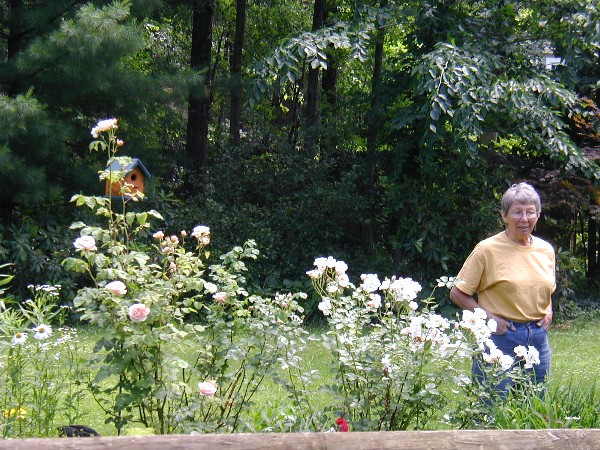 Hands in pockets, Sheila stands amidst her roses, pausing to answer a question from a garden visitor.
"It floods." Sheila said about the stream, when asked about last week's heavy rains. The garden has a deer fence surrounding it (as does the Barads) so roses and other deer fodder bloom magnificently. Sheila's husband is an architect, and has designed and built all manner of delightful gates. Adjacent to outbuildings, trees and shrubs, they guide the visitor in a meandering path through various garden rooms, giving the garden the feel of a much larger place. Each gate is distinct and different from the others yet harmonious in appearance.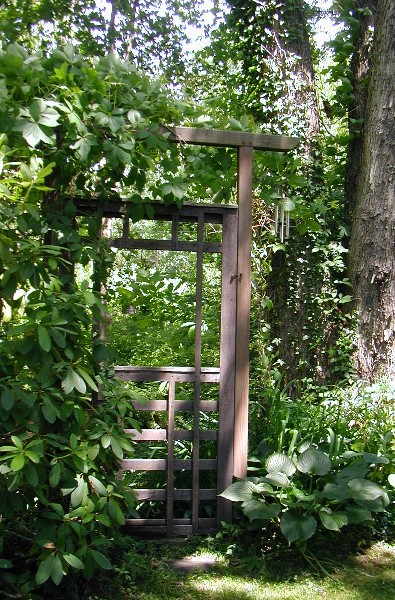 Framing the view, this simple, well-proportioned gate defines one garden space from another.
Primarily a shady, woodland garden, tall trees and shrubs such as rhododendrons provide the framework. Simple plantings of hosta, various ferns, and other such plants needing little in the way of maintenance are the herbaceous layer. It is the sunny areas near the house, and between the house and Sheila's studio that offer more complexity: a small vegetable garden with simple raised beds, one of which provides a summer home for amaryllis, Hippeastrum. It includes a miniature 3-bin compost heap, and an outhouse-shaped tool shed with a dancing lady cut-out in the door, rather than the traditional crescent moon. The gate to this potager has a pair of pussycat head cutouts. Between the house and studio there's a cage of blueberry bushes, so laden with fruit that their branches are drooping. Roses, some daylilies, and other sun-loving plants fill in without overwhelming the spaces.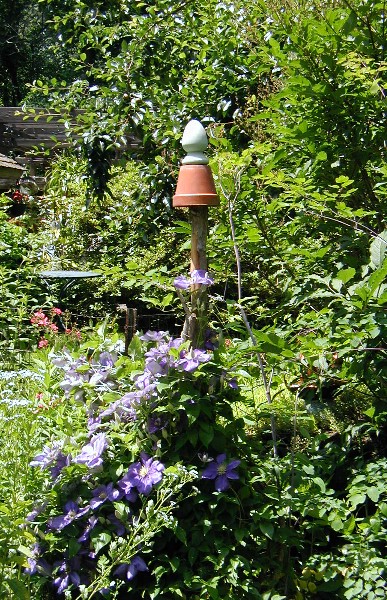 A superb purple clematis twines up a rustic cedar pole crowned with a flower pot and fence post finial.
There are several such poles here and there throughout the garden.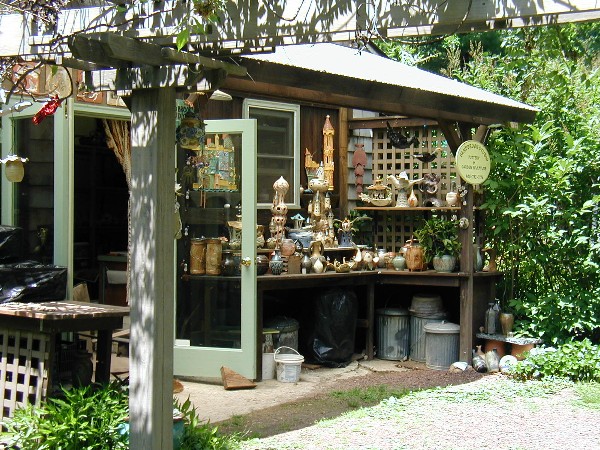 Retirement from her nursing career several years ago Sheila's become even more serious and passionate about her pottery.
The veranda of her studio offers an intriguing glimpse of some of the fantasy shapes she creates,
working with medium fired stoneware to create sculptural and functional objects that combine natural and manmade forms.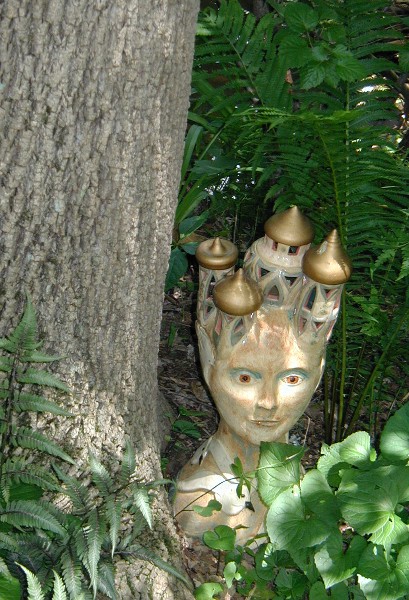 A dryad's face peers out from where it nestles against a tree, a magical castle growing from her head.
Having lived on a houseboat in her early childhood, this early influence weaves through her life, a fascination with boats and the sea resulting in her interests in scuba diving, canoeing, and sailing. These carry over into her pottery, where fish grow wings and ships sail off with marvellous cargo.
The Owl and the Pussycat, by Edward Lear.

The Owl and the Pussy-cat went to sea
In a beautiful pea green boat,
They took some honey, and plenty of money,
Wrapped up in a five pound note.
The Owl looked up to the stars above,
And sang to a small guitar,
'O lovely Pussy! O Pussy my love,
What a beautiful Pussy you are,
You are,
You are!
What a beautiful Pussy you are!'

Pussy said to the Owl, 'You elegant fowl!
How charmingly sweet you sing!
O let us be married! too long we have tarried:
But what shall we do for a ring?'
They sailed away, for a year and a day,
To the land where the Bong-tree grows
And there in a wood a Piggy-wig stood
With a ring at the end of his nose,
His nose,
His nose,
With a ring at the end of his nose.

'Dear pig, are you willing to sell for one shilling
Your ring?' Said the Piggy, 'I will.'
So they took it away, and were married next day
By the Turkey who lives on the hill.
They dined on mince, and slices of quince,
Which they ate with a runcible spoon;
And hand in hand, on the edge of the sand,
They danced by the light of the moon,
The moon,
The moon,
They danced by the light of the moon.
Please note: Botanically, runciniate refers to something such as a leaf, pinnately incised with the lobes or teeth curving backwards. The term runcible spoon was coined in 1871 by Edward Lear. A fork-like utensil with two broad prongs and one sharp curved prong, it could be used for serving hors d'oeuvres.
---
Saturday, 10 June 2006
Two Garden Visits: First the Barads
The Watnong Chapter of the North American Rock Garden Society had visits to two gardens scheduled for today. Remarkably, considering the wet weather of the last 8 days or so it went off without a hitch - sunshine, scudding puffy white clouds, wind tossing treetops about, and brisk temperatures. About three dozen people came, some, like me, relatively local and others from afar (well, Westchester County is New York, meaning they were crossing state lines.) We began with a visit to the garden of Jerry and Bea Barad. You'd think that given how many times I turn up at their garden I'd be bored with the place. Far from it. I always find something new to admire. Besides, I adore their company. And, just as the German language has Schadenfreude, the enjoyment of another's misfortune, in Buddhism there's the concept of mudita, sympathetic joy or happiness in another's good fortune. Visiting a wonderful garden on a pleasant day in June, in the company of a group of friends certainly qualifies as good fortune.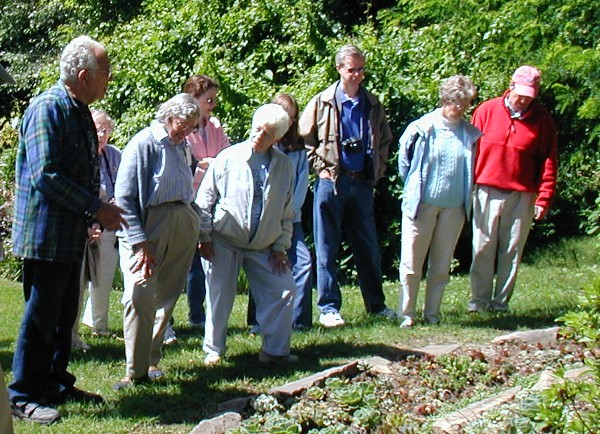 An attentive audience listens as Jerry discusses this patterned carpet garden of tender succulents.
Tolerant of a few degrees of frost the plants are set out in April, growing in a lush manner over summer.
Cuttings are taken late in summer for the following year, and the display succumbs to cold around Thanksgiving.
Preen, a germination inhibitor, is used to reduce maintenance.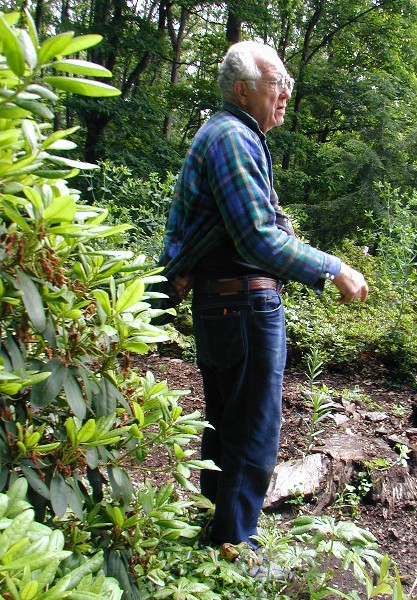 Jerry relates the development of this area of the garden.
About 10 years ago Bea mentioned that there was nothing interesting to see from the kitchen window. Ever willing to take up a horticultural challenge, Jerry created a rhododendron garden and a bed of hostas. The area receives rather more sunshine than it originally did - a couple of years ago an 80-foot-tall oak tree toppled over. It crashed across the lawn and into the koi pond. The pond itself was damaged, and ten large koi died. When the pond was restored it was made larger, and a bog garden was created nearby, lined with pieces of the old liner. This way it is not water-tight like a pond but water seeps slowly away, keeping the area quite moist. It is filled with 7 tons of sand mixed with 12 bales of peat moss, which had been turned and churned together in a space where sheep manure had previously been stockpiled. So basically it is a lean, sterile planting medium with just a little organic matter, suitable for pitcher plants, Sarracenia hybrids, candelabra primroses, Primula japonica, and other interesting plants.
Back to the woodland garden: One of the unusual plants here is Devil's Tongue, Amorphophallus rivieri. Note: You can see it in flower in the April 2006 Diary entry Stink, Stank, Stunk. A member of the Aroid family, this tender relative of Jack-in-the-Pulpit grows from tubers stored over the winter under a bench in the greenhouse. They flower, unplanted. Jerry pollinated the one by putting a finger into the flower of another one, then into the spathe of the largest tuber.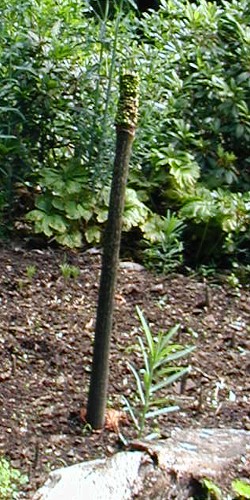 Now planted out for the summer, the enormous tuber sets seed on a comparably large stalk.
After touring about the garden and talking about the annual beds and wintering method for the enormous brugmansia; Peruvian daffodils, Hymenocallis narcissiflora, and the banana grove both underplanted with coleus (a new technique this year); a tour of the greenhouse we settle down at the tables set up around the pool for brown bag lunches with coffee and cookies provided by the Barads.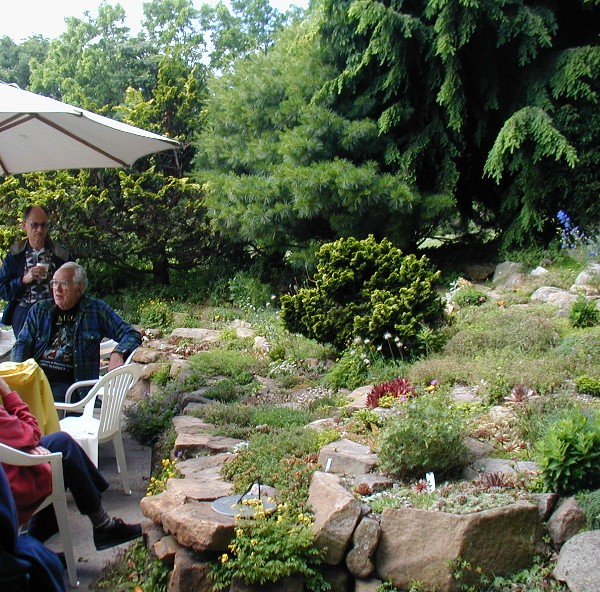 Jerry relaxes and answers some questions, having discussed the creation, plants and planting of the adjacent rock garden.
Hours after we arrived, the group gathers itself together to carpool to the next garden. Reluctantly, people depart, taking memories and, in a few instances, pieces of some plants Jerry generously shared with those who wanted them: seedlings of hardy orange from the self-sown hundreds under the parent tree, or hardy Begonia grandis whose self-sown tubercules have sprouted into a carpeting throng.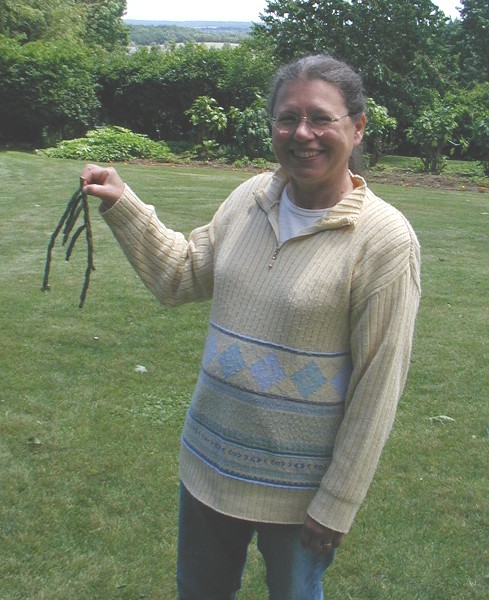 Gingerly, Laura holds a piece of winter-hardy Opuntia kleinae that Jerry gave her.
She'll cut it into several pieces, root them, and then grow the plants in her own garden.
---
Friday, 9 June 2006
Hydrangeas, and Chemistry in the Garden
This is the season for hydrangeas. Suddenly I find them all over the place, pots of them at Home Depot, pots of them at WalMart.
A rack of pink mophead hydrangeas glow in the midday sunshine at a WalMart in Clinton, New Jersey.
It is not as if this is a yearly thing, regularly repeating like bulbs of daffodils and tulips in the fall. True, pots of hydrangeas crowd the shelves along with Easter lilies whenever that holy day comes around in March or April. But it's June now. And I'm not even sure what relationship there might be, of hydrangeas and holiday. Whatever. There's a grand connection between hydrangeas and horticulture.
Most familiar are the hortensia, or mophead hydrangeas.
Hortensia is a French name, one applied to cultivars of Hydrangea macrophylla having a huge rounded head of large, decorative, sterile flower-like enlarged sepals. Something that appears every now and again in the wild, this trait was selected and widely developed in late 19th and early 20th century Europe. Many were intended for pot culture. Another affectionate term for these super-size flower clusters is "mophead." Lacecaps are generally intended for use as flowering shrubs in the garden, with large sterile flowers surround tiny fertile true flowers. White lacecaps usually display pink or blue fertile flowers at the center of the flower cluster.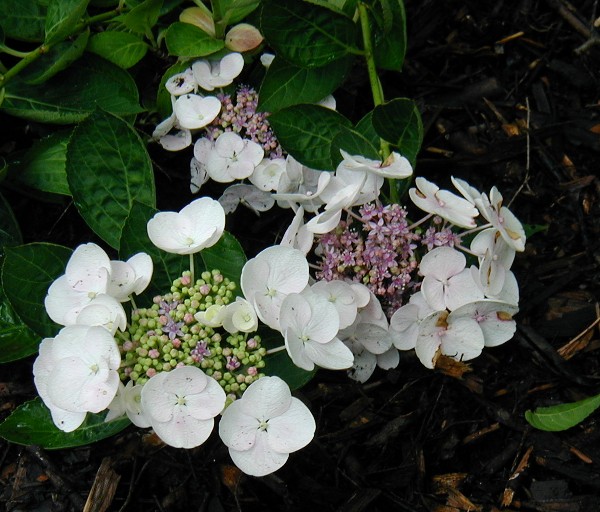 Hydrangea macrophylla 'Libelle' has lacecap flowers.
Color in hydrangeas provides an interesting example of chemistry in the garden. Each cultivar has an inherent color. Whether lacecap or mophead, flowers may be white, pink, or blue. Blue hydrangeas may be pale or deep blue, while pink hydrangeas may be pale to deep pink or crimson. Blue hydrangeas are at their best in acid soils, and will turn purple in alkaline soils. The acidity or alkalinity of soil is measure by its pH, puissance de Hydrogen, with 7.0 neutral. Puissance is French for "power" as in "exponent." Anything lower than 7.0 is acidic, anything higher is alkaline. Because pH is a logarithmic scale, any change of a full integer is a ten-fold change. When compared to 7.0, 6.0 is ten times as acid. Soil pH plays an intricate role in the iron metabolism of plants. Moreover, for hydrangeas, an acid soil allows the uptake of sufficient aluminum, which is necessary for good rich blue color. In alkaline soils, aluminum forms an insoluble compound that the plants cannot utilize. Lovely blue hydrangeas, and just a few red flowered cultivars, thrive on acid soils, pH 6.0 or lower. A lower level of potash (phosphate) also aids in development of the best blue color. Pink and crimson hydrangeas have good color in alkaline soil, and whites remain white whether growing in alkaline or acid soil.
---
Thursday, 8 June 2006
Perennial Annuals
Botanically speaking, annuals are plants that grow from seed, reach maturity, flower and produce seed, then die, all within one growing season. Some annuals are temperamental, needing just so conditions for germination and growth. Others are more enthusiastic, prodigiously volunteering their offspring as garden inhabitants in subsequent years. It is amazing what plants follow through in this manner.
For example, take poppies.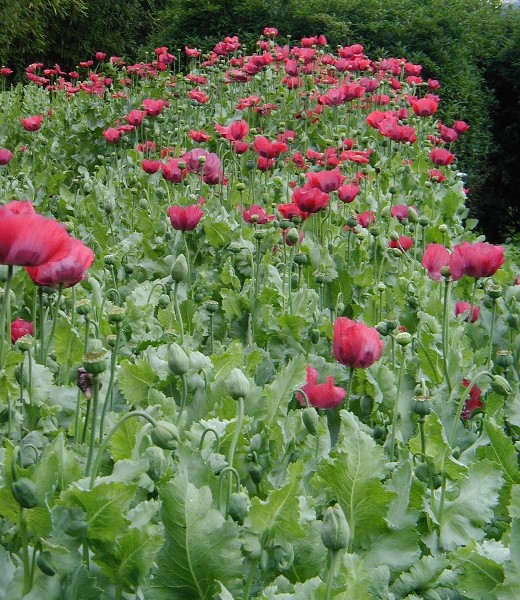 Tightly furled buds, wind-dancing cerise-pink flowers on slender stems,
and seed pods already forming in the rush to complete this year's cycle of growth.
And quick they are, from germination to flower in a matter of weeks, then equally quickly fading away.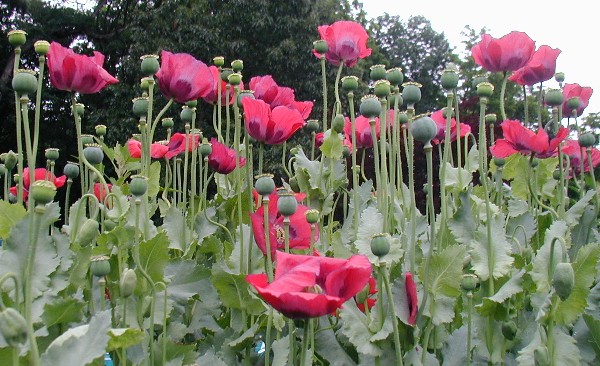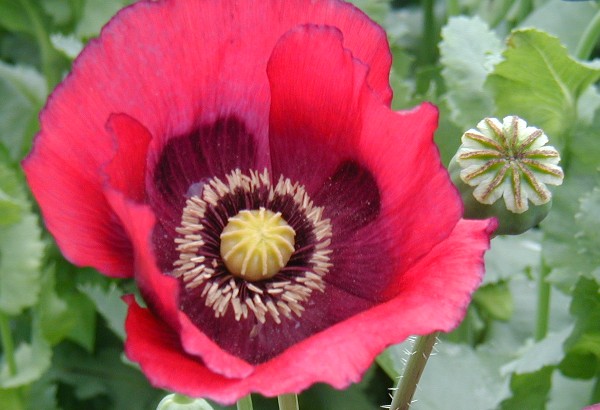 Flower, and next year's expectation of flowers
as seed forms in the pod.
Poppies, ever new, returning year after year.
---
Friday, 2 June 2006
Buried Treasures Preview
Work continues on the gallery show about bulbs scheduled to open on Saturday, October 7th, 2006 in the William D. Rondina and Giovanni Foroni LoFaro Gallery of The New York Botanical Garden's LuEsther T. Mertz Library. If you have been following along (Mini-Preview for the Bulb Exhibition, first week of February and Another Mini-Preview for the Bulb Exhibition, first week of March 2006 Diary entries) then you know that for months now I have been pouring through books: in the Rare Book Room, in the stacks, and examining exquisite art, loose plates of botanical drawings. Fourty-five items have been selected. That may not sound like many. Trust me. With the size of some of the large folios, it's going to be tight getting all of them nicely arranged. Friday was the first "real" preview, not just me, library and conservation staff, but with "outsiders" come to see what the exhibition will be all about.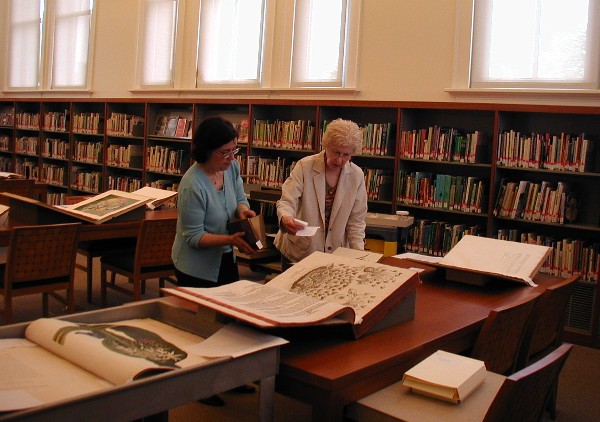 Hard at work, Olga (seen here on the left) and Marie arrange the books, case by case theme, on the reading room tables.
Conservation is Olga's purview, and hers is the final word on whether or not books are in acceptable condition for display.
Hers was the guiding hand that saw to their support for the brief couple of hours of this preview.
Hers will be the responsibility to see to their proper support for the months of the exhibition.
My goal for the exhibition is two-fold. First, to offer for display to the public some of the fabulous material in the Library's collection. And secondly, offer an exhibition with themes from a gardener's perspective. We are but the contemporary link on a chain stretching centuries into the past, forged of a passion for these plants. One which will, I have no doubt, reach forward to gardeners yet to set foot on the garden path.
So. Case One has for its theme, What's a Bulb? Among what gardeners loosely name as "bulb" there are true bulbs, corms, tubers, and rhizomes. And for each type the exhibition has an attractive, accurate image.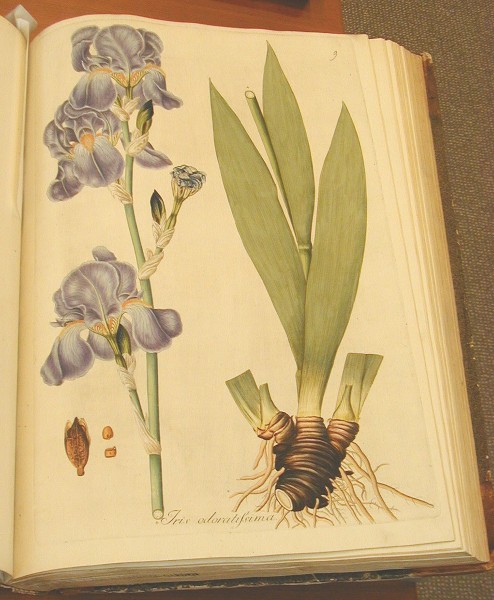 Rhizome. Iris odoratissima from Jacquin's Plantarum rariorum Horti Caesarei, published 1797 - 1804.
Tuber. I chose this image of Arum guttatum from Wallich's 1830-1832 Plantae Asiaticum
(That was it's name then. Today it is known as Sauromatum venosum.)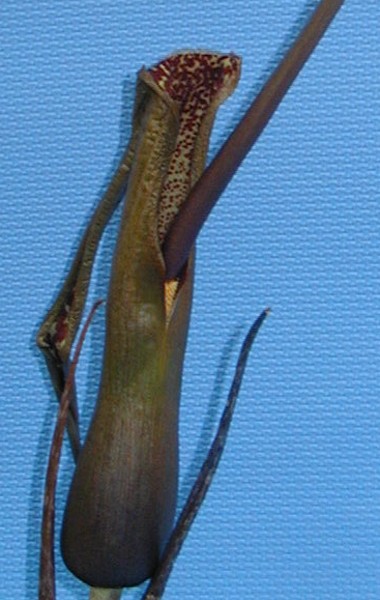 A slight digression - I grow this tuber in my garden. Here's an image of an actual flower. Every year they insist on blooming nakedly, in bag or box, well before I get them planted late in the spring. The somewhat stiff spathe always cracks and folds backwards as you see here. Perhaps, no, let's make that - no doubt conditions are different where it is at home in southern India and the Himalayas than it finds spending the winter in my garage.
The theme for Case Two is Beginning with Bulbs in Your Garden. After all, gardeners want to do more than merely obtain information. We want to obtain plants. And grow them.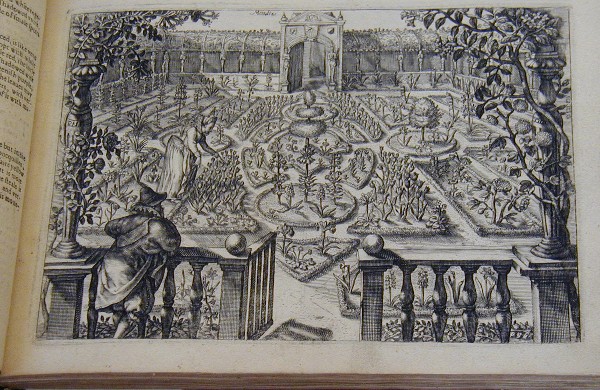 The frontispiece, Garden View, from Crispin van der Passe' lovely, lively, appealing Hortus floridus.
Look closely, there are all sorts of bulbs in this springtime garden - tulips, crown imperial, and more.
Case four, Tulipomania, explores the fevered madness for diseased tulips that took place in 18th century Holland.
And the case has some wonderful images.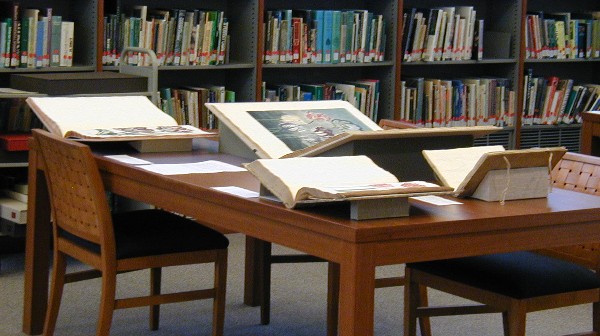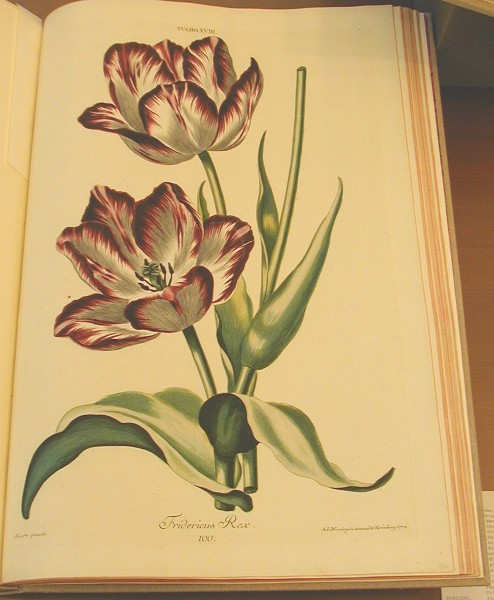 As, for example, Fredericus Rex, from Trew's Hortus Nitidissimis, published in Nurenberg between 1750 and 1786.
But the best, the most marvellous image, one that I find ravishingly beautiful every time I see it, is placed, solo and where else but in Case Eight, The Beauty of Bulbs.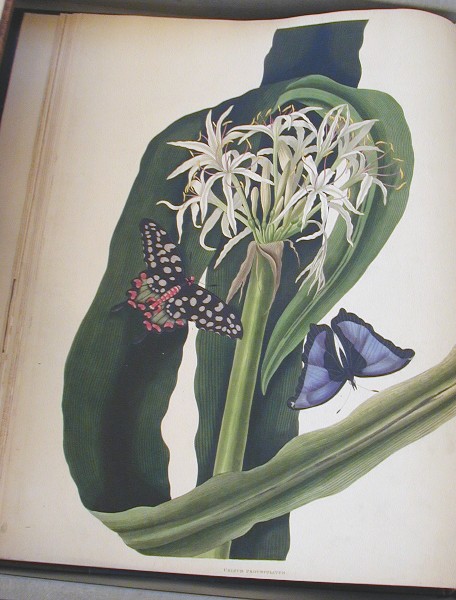 Crinum pedunculatum from Mrs. Bury's A selection of hexandrian plants, published in London, 1831 - 1834.
Back to Top
---